In this Bermuda travel guide I'm sharing 10 things to do on the island including one seasonal bonus. Let me help you find the island's famous pink sand beaches, the magic of the crystal caves and where to try local dishes and their world famous original cocktails. I'm also explaining some super useful insights into how to hang on to your Twizy rental and the truth behind Bermuda's pink sand.
Bermuda is a small island in the North Atlantic Ocean. Perhaps best known for their pink sand beaches, Bermuda is also home to an exciting variety of fresh seafood, luxury hotel resorts with fabulous restaurants, a beautifully rugged coastline surrounded by luminous turquoise waters and a casual 30 million year old crystal cave. Here's 10 things that will make the most of your time getting to know Bermuda: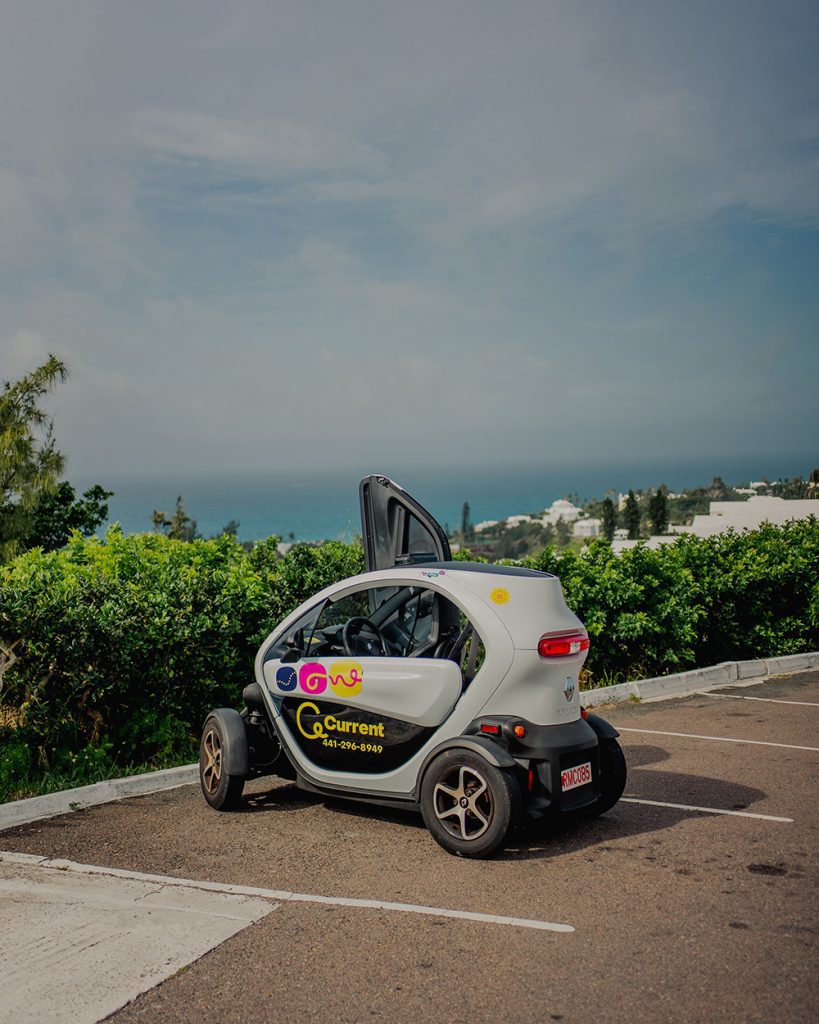 Only residents of Bermuda are allowed to drive cars on the island, and even then they're limited to one per household. For this reason there are only two ways to explore the island and that's by taxi or by Twizy.
What's a Twizy? Good question, a Twizy is a two-seated electric vehicle that allows you to navigate Bermuda with ease that's a whole lot of fun for your inner child and good for the environment – can we get an hallelujah for zero emissions!
To be be able to rent a Twizy you must first download the Current Vehicle app, enter your personal information along with the details of your driver's licence and once you are approved you will be invited for a tutorial on how to operate a Twizy.
A fully charged Twizy has a range of 56 miles which is enough to get you from one end of the island to the other but keep in mind that it will take 3 hours to recharge to its full capacity so plan ahead to park at charging points which can be found on the app.
As you can imagine a Twizy is the preferred method of transportation for those without a car so they can be difficult to secure, especially during peak periods. To avoid disappointment or to make sure you have one available for your next day of adventuring, don't end your ride when you pop it on to charge. Definitely don't end your ride if you're using it throughout the day as you don't want to risk getting stranded at one of the beaches for example.
To book a Twizy – much advised – be connected to the internet and check the app regularly to be able to secure one as soon as it becomes available. Don't trust that one will be available when you need it, I saw many people disappointed because they either thought or were told that they're always available. Just because you see plenty parked and charging, it doesn't mean they're available, they could all be paused by other riders. It's just one of those things that's really unfair until you get one and then you understand why people won't let them go.
PFH top tip: If you're the passenger of a Twizy take note that it can get really windy back there so if you're precious about your hair I recommend wearing a headscarf to keep it in place.
Remember, Bermuda is a British territory and so they drive on the left. The speed limit on the island varies but you shouldn't drive any faster than 50 KPH.
$1 unlocking fee
50¢ per minute
$15 per hour which is capped at $120 for 24hrs
$5 for the collision damage waiver
Now, there is an option to rent a four-seater electric car from Current Vehicles but it is more expensive so unless there's 3-4 of you travelling together you are better off squishing in for the experience.
As I previously mentioned the other way to get around Bermuda is via a taxi. The taxi services on Bermuda are not cheap, not at all. Be prepared to spend to spend about $50 one way to do the trip between St. George's to Hamilton. If you are flagging down a taxi or booking one via your hotel then you will need to carry cash to be able to pay – Bermuda's currency, the Bermudian Dollar, matches the value of USD and both currencies are accepted on the island.
Alternatively you can use your card by downloading the Hitch app which is like Bermuda's UBER.
A Bermudian fish sandwich is a fried fish sandwich – usually the local catch of the day which could be snapper, wahoo or rockfish – and is served on toasted raisin bread. The combination of savoury, fried fish and sweet, fruity toast doesn't seem like it should work but Bermudian's know what they're doing.
Getting a fish sandwich will be recommended by the islanders about as many times as you'll find grains of pink sand on the beaches of Bermuda so if there's one local dish you need to try it's this. Nine times out of ten we were being told to go to Wahoo's to get one, so that's what we did.
Wahoo's Bistro & Patio, named after the subtropical fish caught off the coast of Bermuda, is a humble waterfront restaurant in the Town of St George's. Join the locals with a pint inside to watch a golf tournament or head out back to their patio for unobstructed views of the harbour.
Get the fish cakes as an appetiser, they won't disappoint.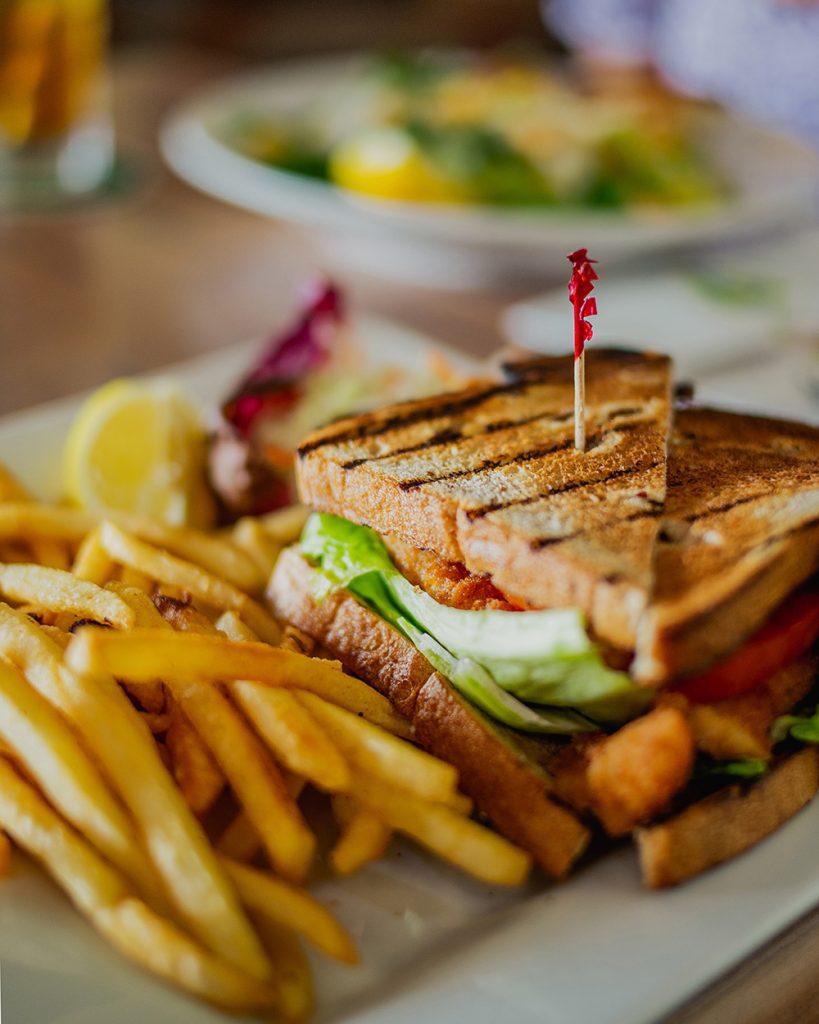 Where better to enjoy the glossy turquoise waters of Bermuda's shores than from them? Take a cruise at sunset for incredible golden hour content opportunities before watching the sun melt into the horizon.
Unfortunately the day we took a sunset cruise was overcast but I've seen the potential (and footage of a clear sky) and I can tell you that you shouldn't miss out on this opportunity. Whatever the weather, who doesn't love the opportunity to look boujee AF on a yacht.
In Bermuda for something special? Customise your very own private charter with "Bermuda's celebration yacht", ÜberVida.
The sunset cruise with ÜberVida that we went on whilst in Bermuda was for our friends' wedding. The service was friendly and so attentive, the DJ's dance between soca hits and nostalgic R&B meant the dance floor could never be empty and there were plenty of photo opps across the yacht.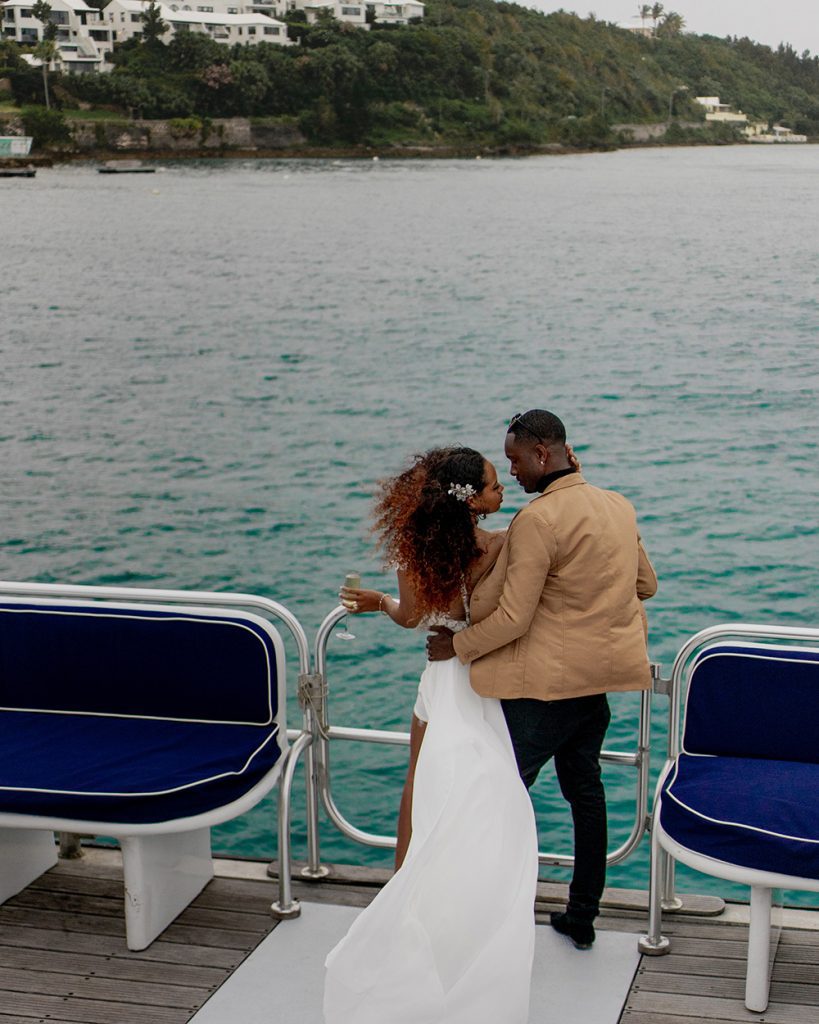 4. Drink a Rum Swizzle & a Dark and Stormy
The Rum Swizzle and Dark and Stormy are rum based cocktails that originated in Bermuda.
The Rum Swizzle is a sweet and fruity cocktail mixed with multiple rums, citrus and pineapple juices, bitters and Bermuda falernum (a spiced lime cordial).
The Dark and Stormy was created by the island's favourite and historic rum, Goslings. Made with Goslings Black Seal rum, a rum that originates from the early 1800s, and their own ginger beer makes the Dark and Stormy a simple but super refreshing cocktail. Pick up a can of Goslings Dark and Stormy to enjoy responsibly or find one at any self-respecting restaurant or bar in Bermuda.
Both of these cocktails can be found on pretty much any bar menu throughout Bermuda and make a great souvenir. There are so many variations and different brands available on the island – our taxi driver even pitched his Rum Swizzle, Let's Get Swizzled, to us on the ride from the airport.
Please drink responsibly and don't drive intoxicated.
5. Explore the Fantasy and Crystal Caves
Discreetly hidden away beneath Hamilton Parish lies the crystal caves of Bermuda, one of the island's most popular attractions.
The two crystal caves of Bermuda, Fantasy and Crystal, date back 30 million years and yet we've only known them for a little over a century. Isn't that wild? Crystal cave was founded in just 1907 when a couple of whipper-snappers went on an unexpected expedition to retrieve their cricket ball that disappeared down a hole in the ground. With just a rope, crowbar and a kerosene lantern that offered about as much light as you can handle with the rottenest of hangovers these two daredevil teenage boys descended into darkness.
In the years following, the underground lake with water so clear that you can see all the way to the 50ft deep bottom and the hundreds of thousands of stalactites that both cascade down and protrude up from the cave, it became a tourist attraction made accessible by a ramp and a path of floating pontoons.
The tour for Crystal Cave will last approximately 30 minutes including the descent and ascent of the cave. If you wish to visit the Crystal and Fantasy cave the tour will last around 75 mins.
Ticket cost for Fantasy and Crystal Cave
Individual cave tours cost $24 per adult, $10 per child aged 5-12 whilst the combined cave tour costs $35 per adult and $12 per child aged 5-12.
Tours depart every 30 minutes from 9.30am to 4.30pm.
6. Sunbathe on pink sand beaches
The biggest Bermuda attraction is without a doubt their famous pink sand beaches.
Now I'mma be frank with you here. If you've done a google of Bermuda's pink sand beaches and are going in with the expectation of candy-floss pink beaches then you might be taken aback when you see them for yourself. Here's why…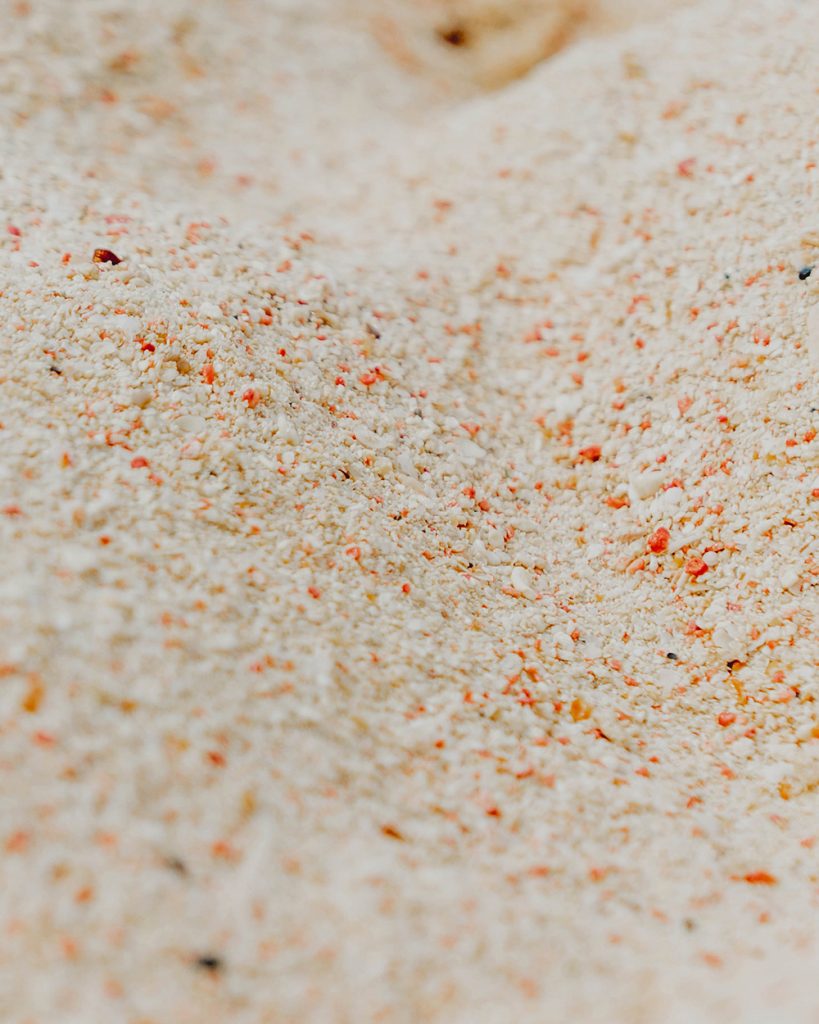 Why there are pink beaches in Bermuda and what makes the sand pink
Does Bermuda have pink beaches? Absolutely, but they're a very subtle pastel pink, so subtle that it could almost pass as a trick to the eye and that's because it isn't the actual sand that's pink.
The grains of "pink sand" found on these famous Bermudian pink beaches are the shells of a single-celled planktonic red foraminifera, specifically a Homotrema rubrum (you're darn straight your girl did her research!). In a Homotrema-rubrum shell these teeny-tiny creatures create a hard casing around themselves to protect them from predators of the deep, as they grow – to a maximum of 3mm – they shed their shells to make a new one.
When the red foraminifera shells are discarded they fall to the seabed, as do the creatures themselves when they die.
Bermuda's marine ecosystem is home to an abundance of red foraminifera so their shells are forever washing up onto many of the island's beaches and that's how the pink beaches in Bermuda get their blush.
I did enjoy a chuckle at the rumours that the pink sand is Bermuda fish poop… okay fine, I believed it until I enquired further and did some research.
Why isn't the pink sand in Bermuda brighter?
Though there's bajillions of these tidally pinky-red shells coming ashore they're greatly outnumbered by the multitude of grains of soft white sand. As the majority of the sand is white the pink beaches aren't going to present as bright pink, instead they're a very subtle hue of pale pink.
The pink colour is more identifiable right at the edge of the shore where the sand is wet and I found the beaches to look the most pink at sunset on a clear evening. The pink hue appears more recognisable with the low light.
PSA: don't take the pink sand from Bermuda's beaches, leave it alone for the next person to see.
Pink beaches to go to in Bermuda
We went to these three pink beaches in Bermuda:
Best for checking off your bucket list.
Horseshoe Bay pink beach gets it's name from its shape and is the most popular pink beach in Bermuda. Expect family-friendly soft, white sand and for it to be busy during peak season. During the summer months there's a café, toilet facilities and lifeguards on duty.
The car park and bus station located right behind the beach makes Horseshoe Bay super accessible. The drive from Hamilton will take a mere 15mins and about 40mins from St. George's.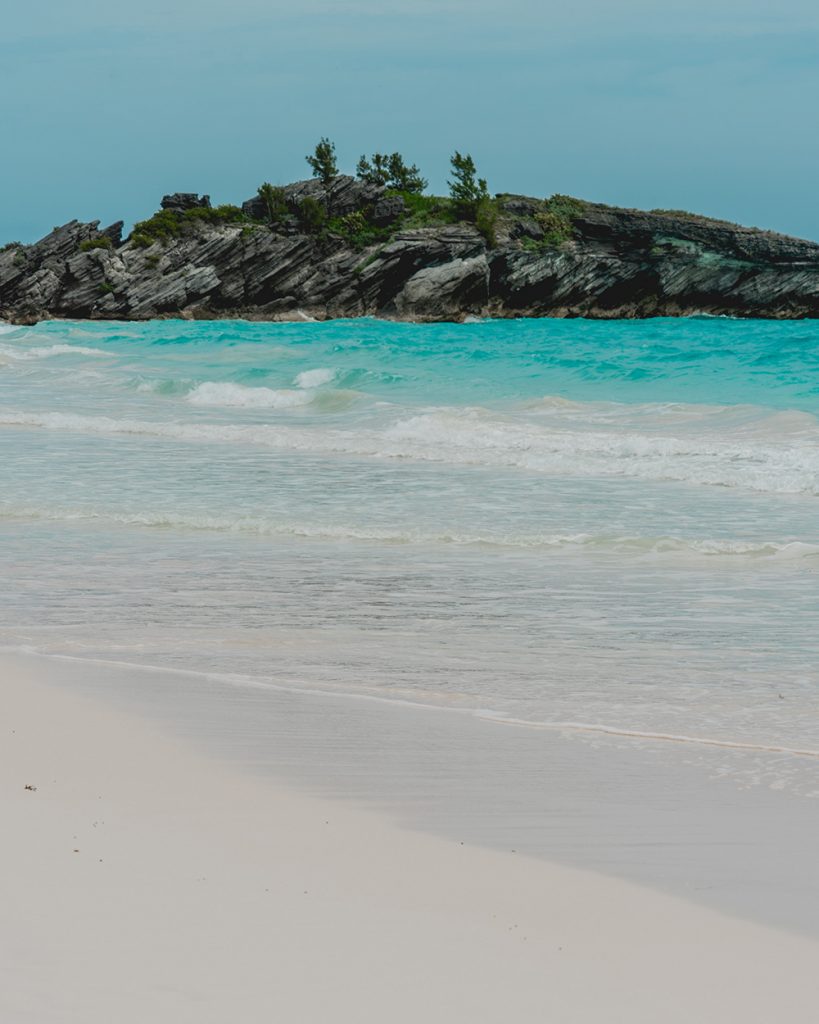 Best for enjoying the view with a cocktail.
The Pink Beach Club is a restaurant at The Loren Hotel and is located between the East and West Pink Beaches. From the deck of The Pink Beach Club you can take in the vibrant blue waters and see their tiny patch of pink beach from above – which arguably makes the pink colour more identifiable.
The Pink Beach Club is best enjoyed during golden hour and sunset on a clear day, the pink beach definitely looked more pink as the sun dipped below the horizon.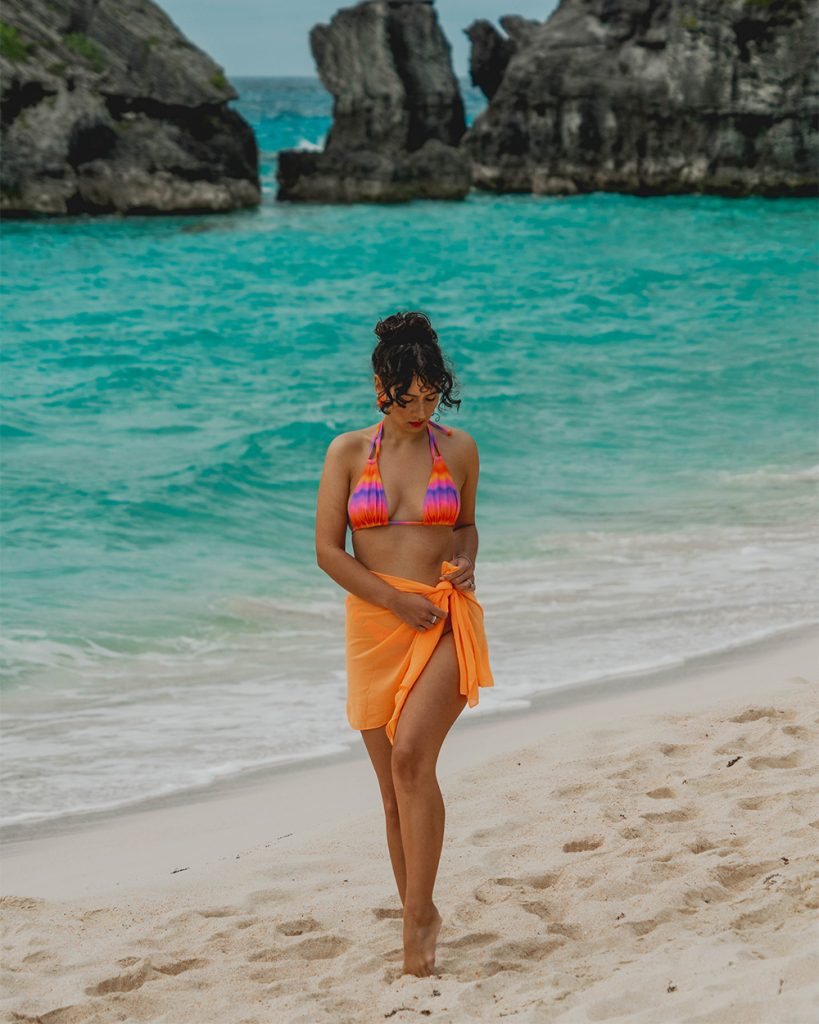 Best for peace and quiet.
My beautiful Bermudian friend (whose wedding we were there to attend) recommended Warwick Long Bay as her favourite pink beach on the island as it's lesser known to tourists and quieter. It still gets the odd tour bus come through but they don't stay for long.
I agree that it's a much nicer pink beach to visit than Horseshoe Bay as its rugged sea stacks and tropical foliage that outlines the bay both make for a far more interesting spectacle. Whilst here, take the little trail over to Jobson's Cove.
There's a small car park just behind the tree line bordering the beach.
7. Spend time in Hamilton, the capital of Bermuda
Aside from taking a stroll and shopping on Front Street, the most exciting thing to do in Hamilton is eat. Here are my favourite places to eat in Bermuda's capital city of Hamilton:
l'Artisan Boulangerie is a French bakery and coffee shop serving up authentic pastries, sweet treats and baguettes.
Their ham and emmental baguette was so deliciously nostalgic to my days of living in Paris in my early 20s.
Seating is limited so be mindful of the time of day when you go.
The Princess Hamilton, famed for it's pastel pink exterior, is probably one of the most Instagrammed places in Bermuda. Between it's blushing walls, extensive collection of modern art, and harbour views there's plenty of opportunities to create content here.
You can also get a cute pic with a coffee at The Duchess Café and Gelateria located within the hotel to the right of the lobby. Their tropical wallpaper and elaborate milkshakes will put a spring in your step.
Fancy Mexican with views of Hamilton Harbour? 1609 Restaurant, found outside the main hotel and over the water offers exactly that. It's also a jolly good spot to enjoy a rum swizzle or dark and stormy.
Port O Call was my favourite of all the places we dined in Bermuda mostly for their fish cakes *chef's kiss*.
Port O Call is an award-winning fine cuisine restaurant in a prime spot on Front Street. Their contemporary menu serves up the best of Bermuda's local produce that's perfect for an intimate dinner.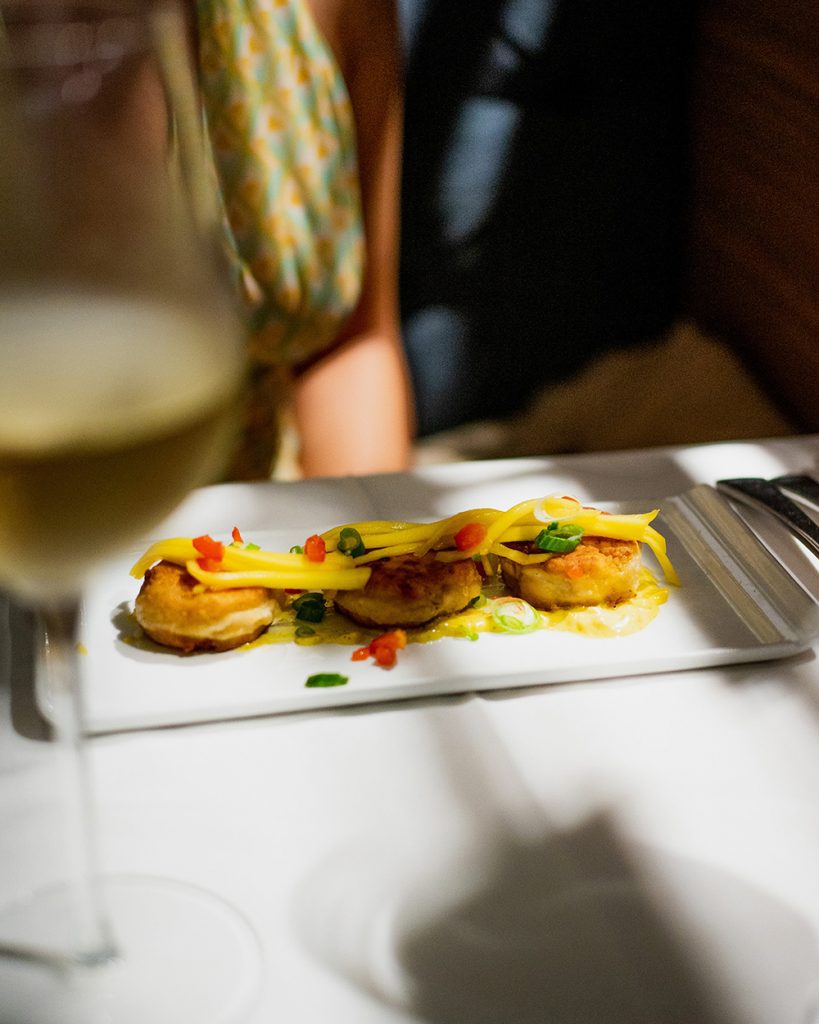 The Cloud at The Waterfront
Curiously located within an office block on The Waterfront is The Cloud: the perfect spot to enjoy brunch on a quiet rooftop with views of the sea.
Bright open spaces indoors offer a cool sanctuary from the sun on a hot day whilst the partly-covered terrace serves up Mediterranean vibes.
8. Climb Gibb's Hill Lighthouse
Gibb's Hill Lighthouse in Southampton Parish is one of two historic lighthouses in Bermuda. The other is St. David's Lighthouse on St. David's Island.
Gibb's Hill Lighthouse was built in the mid 1800s and is one of the first lighthouses in the world to be made from cast-iron. At 118 ft (36m) tall it's the tallest of the two lighthouses on the island and it's this reason that it's worth making the journey to the top.
Unfortunately there is no elevator so if you aren't able to walk the 185 steps know that you can still get a pretty neat view of the coastline from the car park, even if it's not panoramic. It's actually the only view we got as it turned out the lighthouse was closed when we got there but I had to pop it on the list in the hopes that you can enjoy the 360° views I missed out on – send me pics, okay?
Open hours for Gibb's Hill Lighthouse
Tuesday to Sunday: 10am-4pm
Closed on Mondays and throughout February
Tickets for access to the top of Gibb's Hill Lighthouse are $2.50 each.
9. Go gin tasting at the Rosewood Bermuda Hotel
Located in Tucker's Point is The Rosewood Bermuda Hotel, one of the island's most luxurious hotels. It boasts seven bars and restaurants, a golf, tennis and beach club, two pools, spa and views down to Castle Harbour.
Don't have the budget to stay there? Relatable. You can however enjoy the view from the Conservatory Gin & Tea Bar from their indoor-outdoor terrace with tables nestled under white-washed arches that open out to views of the ocean blue.
The Conservatory Gin & Tea Bar has an extensive selection of gins with just about every tasting note imaginable. It's a very impressive space to enjoy lunch with a couple of G&Ts or sunset with their craft gin cocktails. You can also book ahead for British afternoon tea with a Bermudian twist at the Conservatory Bar for the mid afternoon.
10. Visit the town of St. George's
St. George's is the first English settlement on Bermuda. Bermuda was colonised by the British Empire in the early 1600s when Sea Venture, a ship originally bound for Jamestown, Virginia ran around a reef during a storm. The survivors built two ships, Patience and Deliverance (a replica of which can be found in St. George's).
Explore the colourful buildings of St. George's, grab a fish sandwich for lunch at Wahoo's, potter through the town's stores offering all sorts of charming trinkets and visit one of the many museums documenting the history of Bermuda.
BONUS: Whale Watching during the season
Expanding on what I said about the view from Gibb's Hill Lighthouse, you can whale watch in Bermuda!
In March and April pods of humpback whales pass by Bermuda on their big old migration north back to Canada, Greenland and Iceland.
Though Gibb's Hill Lighthouse offers panoramic views that are ideal for whale spotting, you don't actually have to be up high to catch a jolly good slap of a pectoral fin or witness these majestic giants breaching. You can literally spot them from the beach! We watched a floppy bubba humpback breach on repeat for a good 5 minutes just from the beach out front our hotel – the St Regis Bermuda for reference.
Sightings aren't as common as you'd expect on Maui or the Canadian coast but it's worth keeping an eye on the sea on days in March and April when the waters are as smooth as a fresh stick of butter.
.
Do more on & for the planet,
Gabriella