This pumpkin spice hummus recipe for Thanksgiving or Halloween is a really easy way to make a festive dip for the autumnal holidays.
My pumpkin spice hummus dip is made with pumpkin purée and is a no cook recipe that's vegan and gluten free. It's perfect for Thanksgiving gatherings or Halloween parties for guests with allergies or not.
I first made my pumpkin spice hummus when we were invited to a very fabulous Halloween party. Our catering guidelines were to accommodate for vegans, gluten allergies and make it finger food. We had come back from a trip the day before and I needed to come up with something I could make quickly but I also wanted it to be festive. 
Michael, my fiancé was baking a pumpkin spice cake (shaped as a person with all of its internal organs, which were gummies, on display) and I figured I could do something with the leftover pumpkin purée.
Blending together some cupboard staples to make this very quick pumpkin spice hummus is such a simple and cost effective way to make something festive, delicious and healthy. The best part is, unlike most "healthy halloween snack" results on Google and Pinterest, it's not just something for children with candy eyes stuck to it—no shame, you do what you've gotta do to get fibre into the little devils. This pumpkin hummus however is sophisticated enough for an adults grazing board for the holidays and still appropriate for children – you can use it to glue on those eyes to celery sticks too… Can you tell I don't have kids?!
Serve this festive hummus as an appetiser before Thanksgiving dinner while your guests arrive or add it to a sharing table for a Halloween party or Fall get-together.
Before I share the recipe I'm going to take a shot at improving the visibility for this blog post by answering some made-up questions people might search in order to find this recipe. If you don't need these answers then jump down to the recipe below!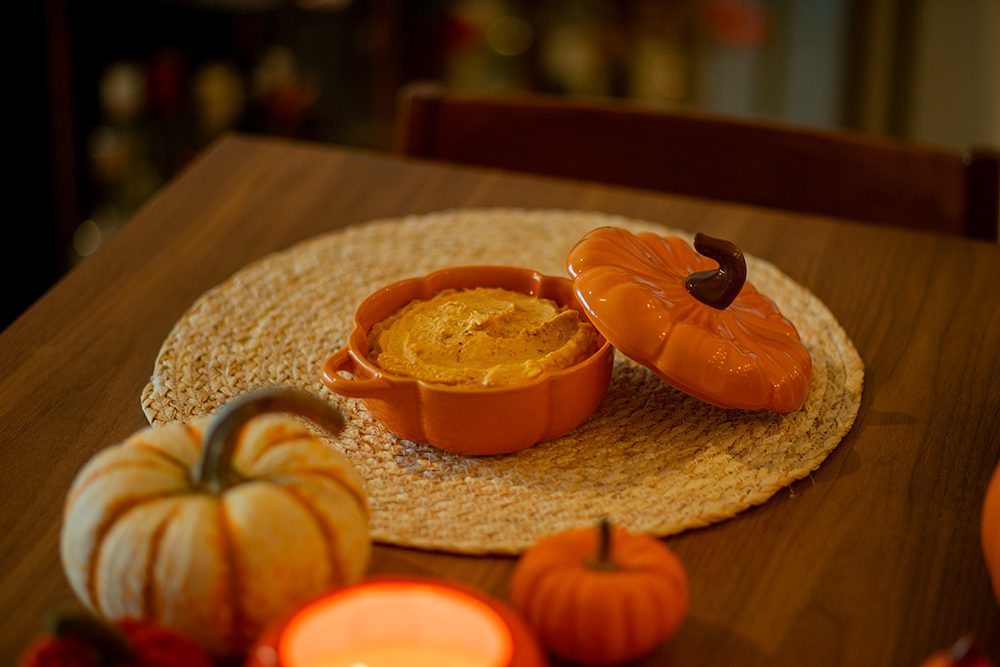 Does this pumpkin spice recipe actually have pumpkin in it?
Yes, unlike the first Starbucks Pumpkin Spice Latte (PSL) pumpkin is actually present in this pumpkin spice hummus recipe. It uses tinned pumpkin purée so you don't have to worry about cooking yet another dish this holiday season.
Does this pumpkin spice hummus recipe require cooking?
This is a no cook recipe for pumpkin spice hummus. As long as you have a blender, smoothie maker or food processor you can make this festive pumpkin dip.
If you don't have a blender, smoothie maker or food processor but love the idea of making this pumpkin spice hummus then you can cut corners and whisk together a pre-made pot of hummus with some pumpkin purée. If your friends judge you, you need new friends. Okay?
How to serve pumpkin spice hummus
Like with any hummus dip you could serve it with chips, flat bread, apple slices, falafel or crudités.
When I made this pumpkin spice hummus dip for a Halloween party I served it with blue corn tortilla chips from Trader Joe's because they are black which was in keeping with the theme. Plus they're gluten free.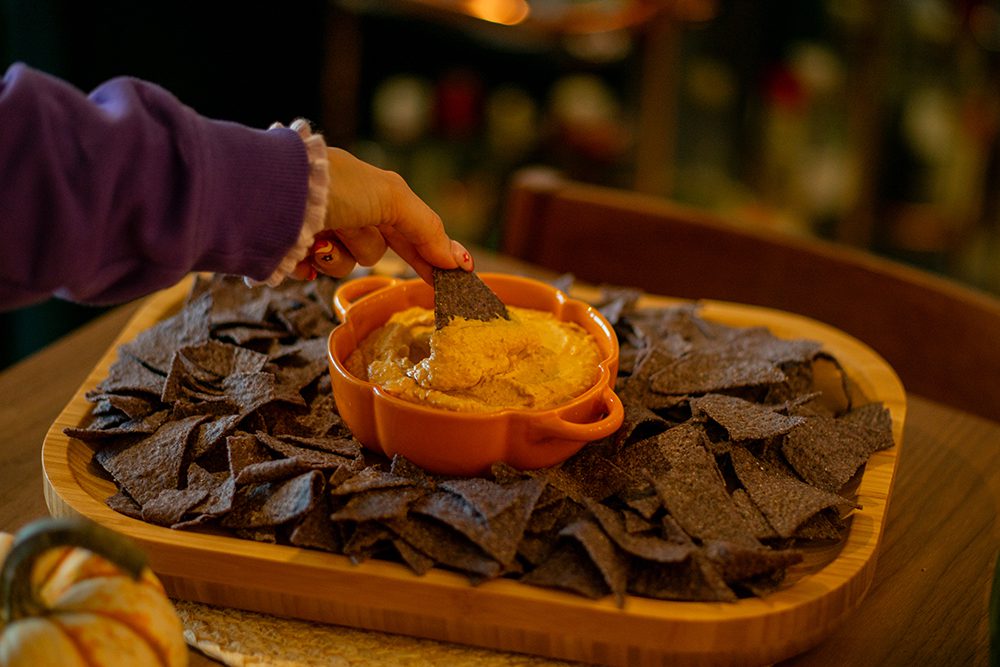 Where is the pumpkin-shaped dish from?
My pumpkin-shaped dish that I've served my pumpkin spice hummus in is from HomeGoods. It is oven safe and it's primary purpose is for baking brie. I love it and it was under $20.
Why do I use garlic purée instead of garlic cloves?
My food processor is an adaptor for a smoothie maker and though it does a good job it's not as powerful as a proper food processor. I use garlic purée because I like the distribution of garlic throughout my hummus better.
How much hummus does this recipe make?
It makes a bowl of hummus.
How long does it take to make hummus?
It takes no longer than 15mins to make this pumpkin spice hummus.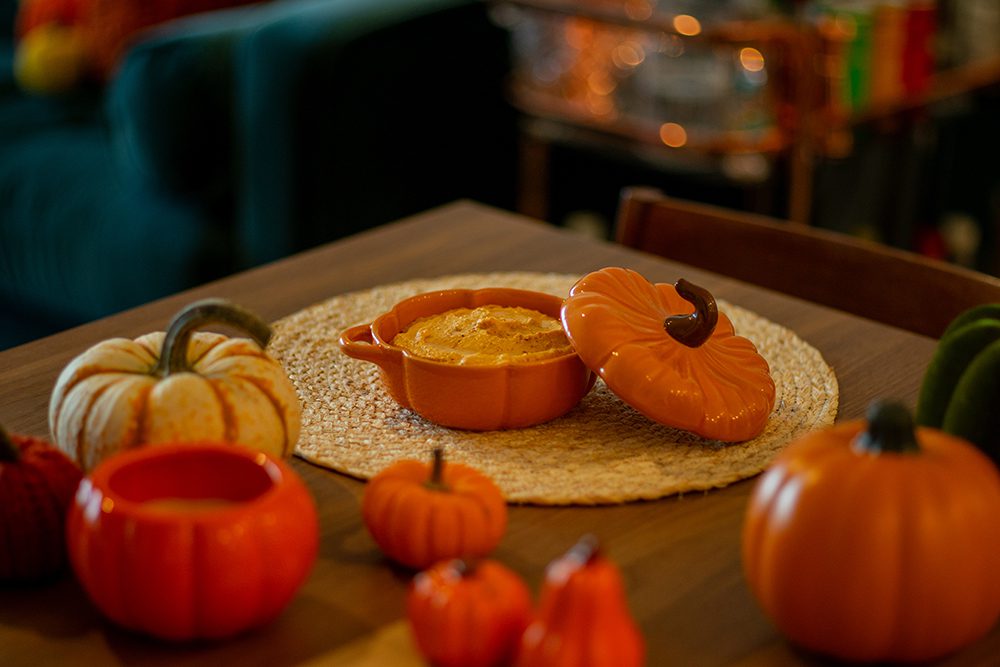 Equipment needed to make pumpkin spice hummus
Blender, smoothie maker, food processor
Spoon
Tsp measurement
Tbsp measurement
Measuring cups
Scales (optional)
Ingredients to make pumpkin spice hummus
1 tin (398ml or 400g) chickpeas (also known as chick peas or garbanzo beans)
60ml or ¼ cup of cold water
4 tbsp or 60g of pumpkin purée
3 tbsp tahini
2 tbsp lemon juice
1 tbsp olive oil (extra to drizzle on top)
1tsp garlic purée (or 1 garlic clove)
1 tsp pumpkin spice seasoning (a blend of cinnamon, ginger, nutmeg, allspice, and cloves) plus extra to sprinkle on top
Ingredients to make pumpkin spice hummus
Drain and rinse chick peas.
Add chickpeas and water to a food processor and blend until it's close to smooth.
Add in the pumpkin purée, tahini, lemon juice, olive oil, garlic and pumpkin spice seasoning and blitz until a smooth, creamy texture. If it is too thick add another tablespoon or so of water.
Empty contents into a dish of your choice and garnish with a drizzle of olive oil and sprinkle over a little pumpkin spice seasoning.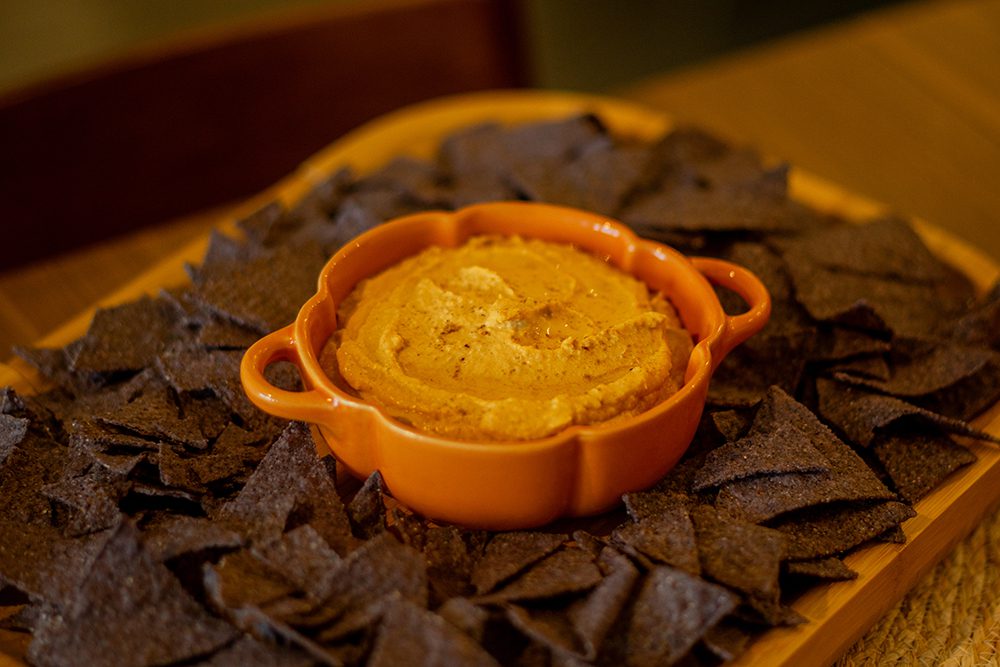 Serve with chips, flat bread, apple slices, falafel or crudités.
Do more on & for the planet, Gabriella