When travelling it should always be a priority to try local or national food and drink (as long as your dietary requirements allow, of course) from your destination. If you're planning a trip to Canada I've got your research covered with this list of 10 Canadian foods to try when you visit Canada. 
This lists features sweet and savoury along with three drinks. There's cult classics and Indigenous staples along with lots of maple goodness.
Please don't come at me if your favourites are missing on this list of 10 Canadian foods to try when you visit Canada. I know I don't have every Canadian delicacy, these are just the top ones that I was told I had to have when I moved to Canada or they're things I stumbled across since living in Vancouver that I've learnt were created here.
If you're visiting Vancouver, drop me a comment on this blog post and I'll let you know where some of the best places are to try these 10 Canadian foods to try when you visit Canada.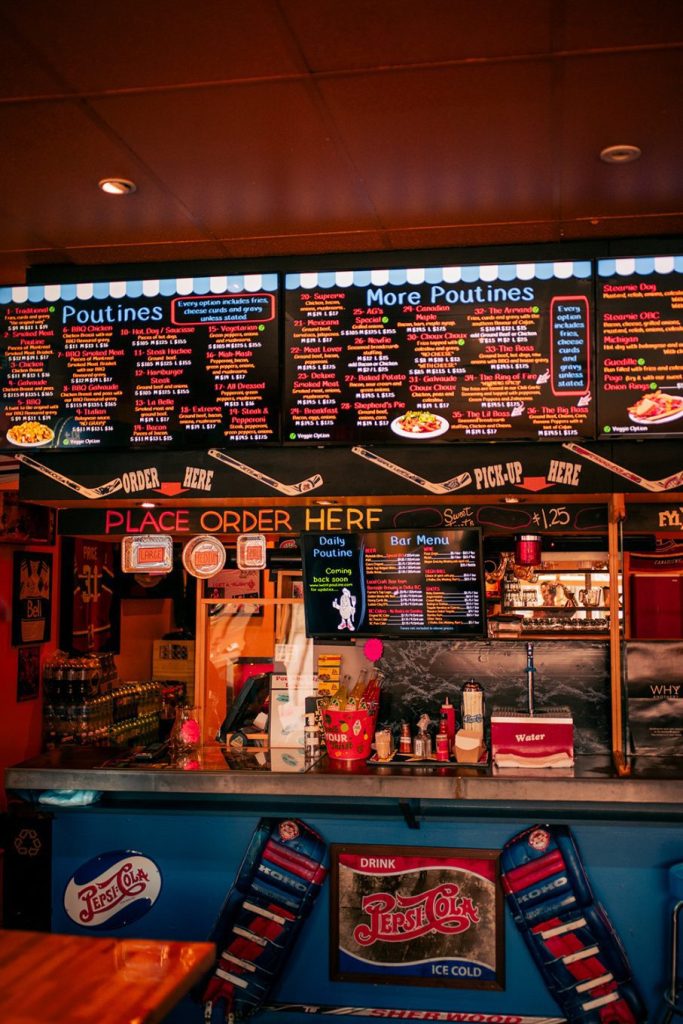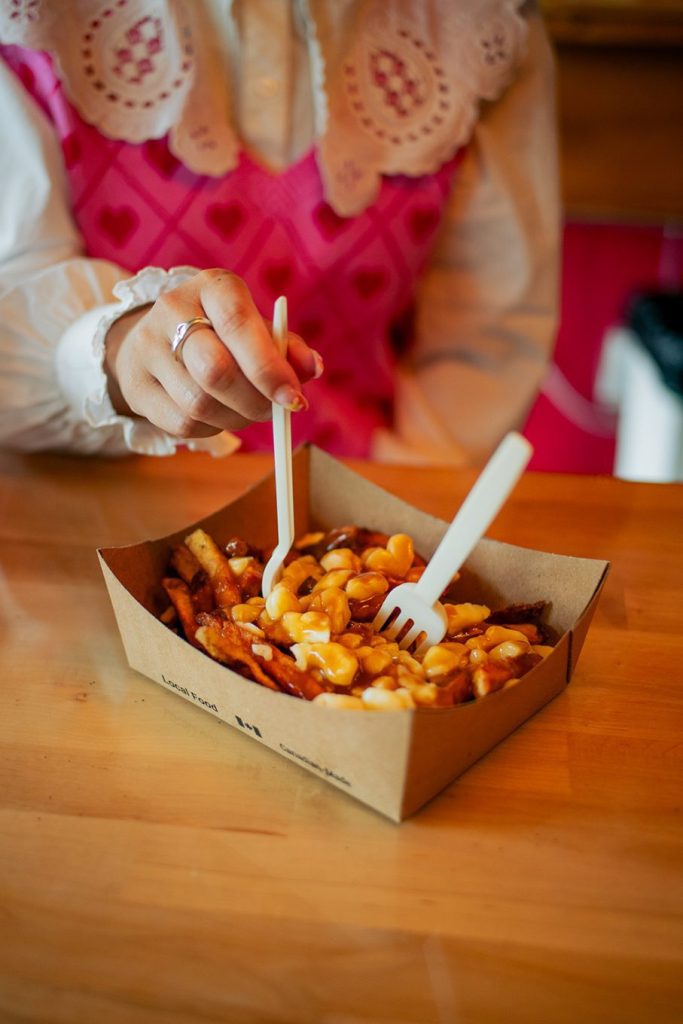 The most Canadian dish on this list of Canadian foods to try when you visit is poutine.
Poutine is fries with cheese curds topped with gravy. It's a heavy, beige meal that offers little to no nutritional value but as with all food like that, it's delicious. 
Poutine is a French-Canadian specialty that can be found all across Canada with all sorts of additions to switch up the flavour and texture.
Much like getting a banging fry-up in England, you don't need to seek out fancy restaurants to enjoy poutine, the equivalent of a greasy spoon will suffice.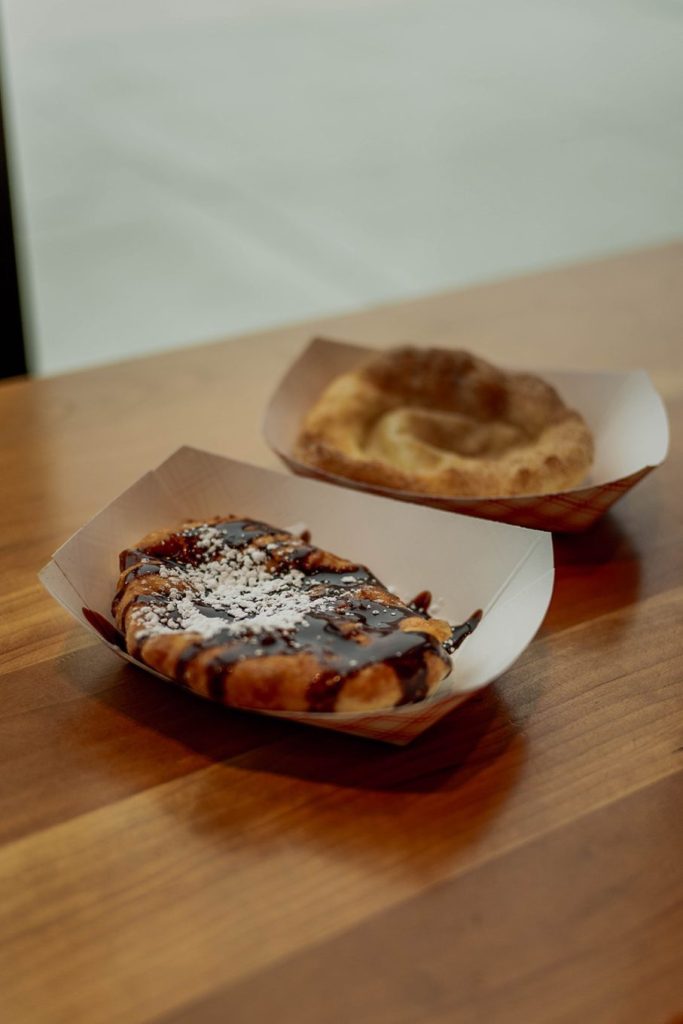 Bannock is recognised as an Indigenous bread. It is flat and oval shaped and can be eaten savoury or sweet. 
There's controversy over bannocks origin, as there always is when colonisation and the obsession with claim is involved… 
Some believe it to have Scottish origin and was introduced to the Indigenous peoples by fur traders in the 18th and 19th centuries. However, Indigenous peoples were known to be making different forms of breads long before.
Either way, when the First Nations land was colonised and the Indigenous peoples were forced from their homes and hunting grounds, their rations included wheat flour and so bannock became a staple in their diet to avoid starvation.
To try bannock in Canada, seek out a cafe or restaurant owned by Indigenous entrepreneurs.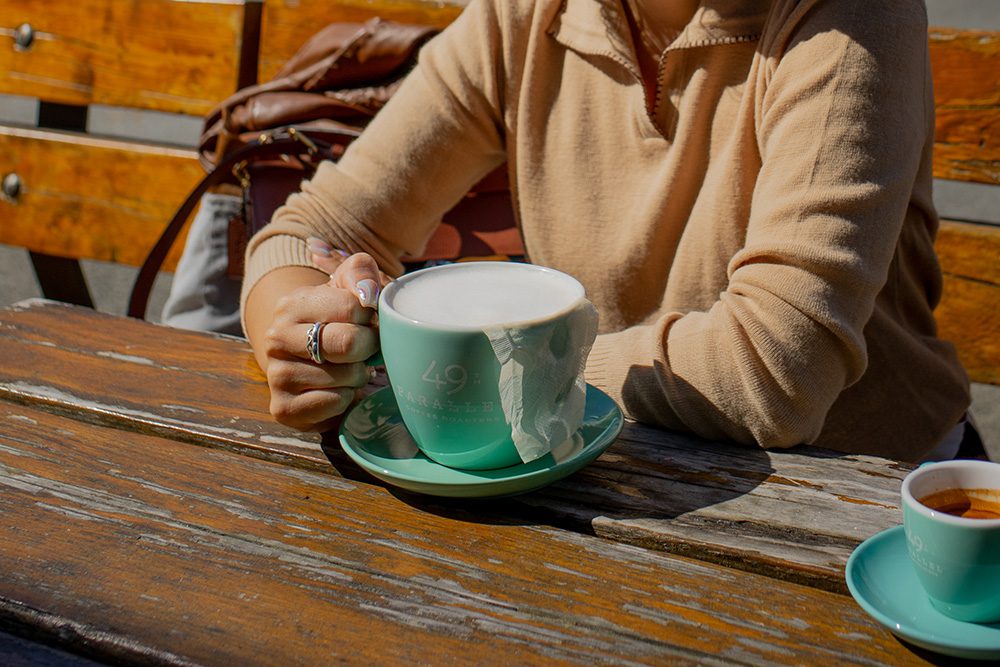 Otherwise known as an earl grey tea latte, London Fog is a welcomed mug of bliss in the cooler months in Canada. 
London fog is made with steamed milk, earl grey tea and vanilla syrup. When made right it's rich, creamy, and sweet with floral notes on the nose.
Despite being called London Fog, the hot drink was created in Vancouver, Canada allegedly by Mary Loria. The story goes that Loria created the drink to enjoy whilst she was pregnant in the 90s and would order it wherever she went. As friends and family who visited brought the idea home to the east coast it caught on fast and swept the country. Other establishments around Vancouver argue that they created London Fog but one thing that is for certain is no one actually knows where the name London Fog came from.
You can find London Fog on the menu at most coffee shops in Canada including Starbucks. The best one I've had so far was at Fairmont Chateau Lake Louise in Banff National Park, Alberta.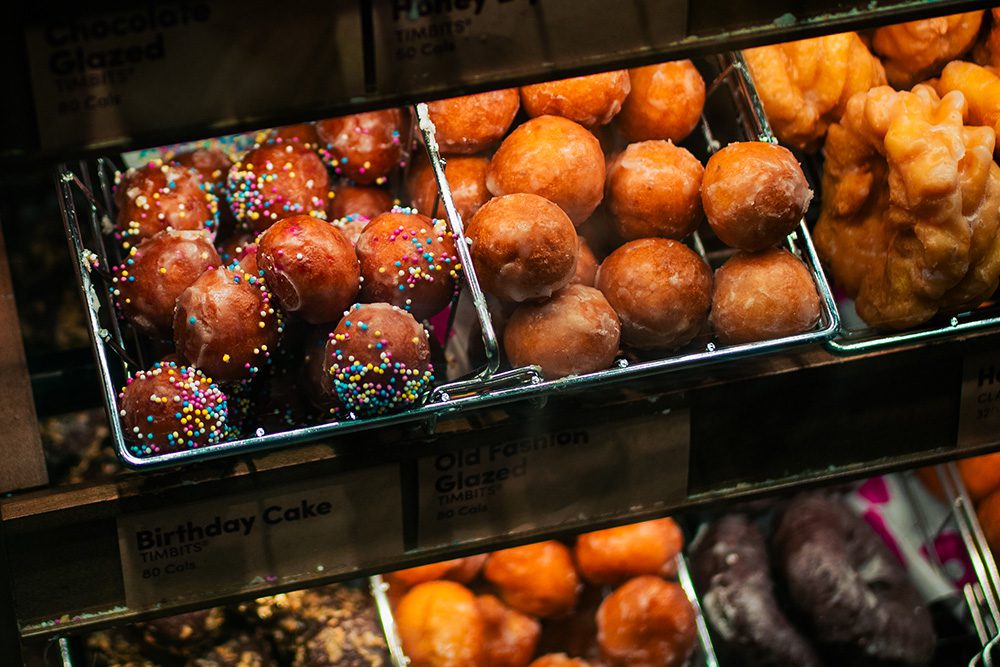 Tim Hortons is like the Starbucks of Canada except it hasn't quite the same calibre. Though you won't see an intimidating group of pre-teens strolling down the street with an hysterically large cup of Timmy's the way they do with Starbucks, you will get Canadian celebrities defend Timbits to their core. Cue Kenadians Simu Liu and Ryan Gosling saying that their Ken's ultimate accessory is a box of Timbits when asked at the Toronto PR event for the Barbie Movie.
Let us not forget the time Justin Bieber collaborated with Tim Horton's to create his own Timbiebs and the hype was so out of control the empty boxes were being sold on ebay!
So what are Timbits? Timbits are bite-sized doughnut balls that come in various flavours. Buy one or fill a box but as with all baked goods, it would be wise to seek out your Timbits early as they can get pretty stale by the end of the day.
5. All dressed, ketchup & dill pickle chips
Canadians go hard for their own potato chip (crisp) flavours, so much so that they created one that combines their favourites all in one. May I present to you, the all dressed: a concoction of ketchup, barbecue, sour cream & onion and salt & vinegar. It really shouldn't be but it's actually very good.
Pick up a bag of ketchup, dill pickle or all dressed chips from any corner shop or grocery store in Canada.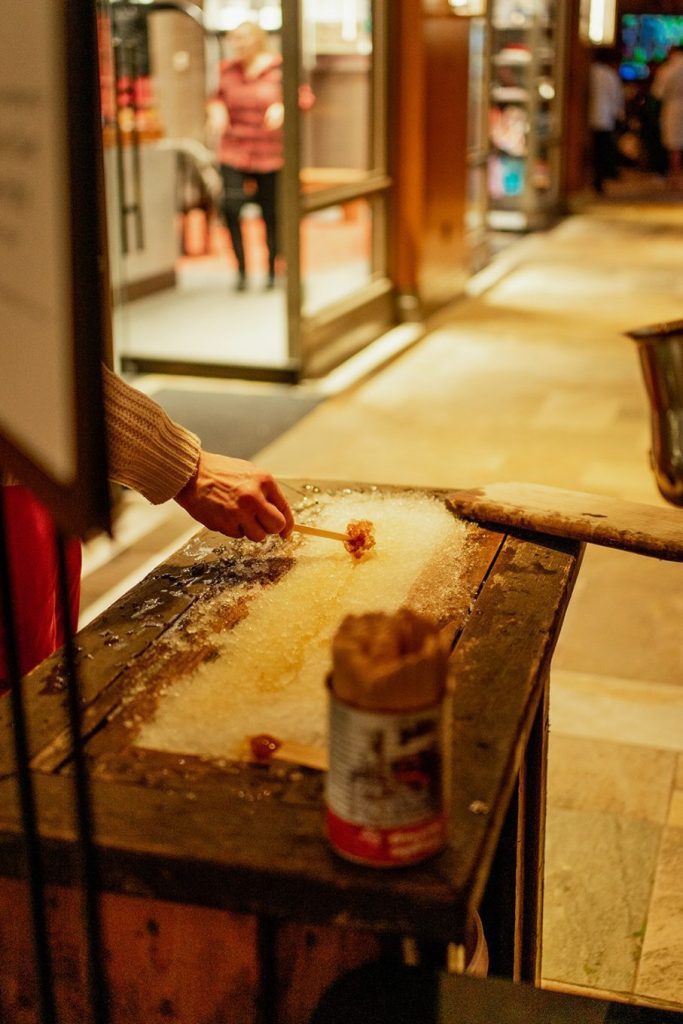 I believe maple taffy is the most Canadian thing on this list of 10 Canadian foods to try when you visit Canada.
Maple taffy is made by pouring hot, condensed maple syrup over snow which is then rolled up onto a stick ready to enjoy. It's super sticky, sweet and really fun to do.
Maple taffy originated in Quebec, home of Canada's maple syrup industry. If you have some time I recommend watching Netflix's documentary, The Maple Syrup Heist, which details how $20 million of maple syrup went missing in Quebec.
Other Canadian maple treats include hard maple candies, maple chocolates, maple toffee, maple cookies, maple syrup Coca Cola (find it in glass bottles in grocery stores) and the OG maple syrup.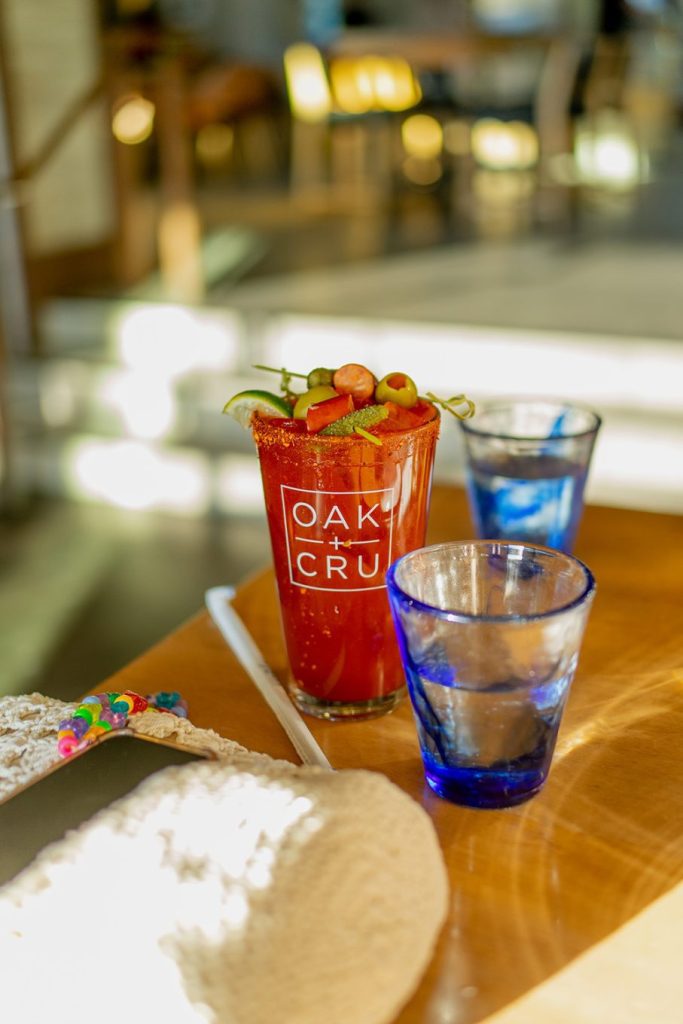 The Caesar is undoubtedly the most recognisable Canadian drink on this list of 10 Canadian foods to try when you visit Canada.
Love a Bloody Mary? Then you'll love a Caesar. 
There's only one difference between a Bloody Mary and a Caesar and that's the juice. A Bloody Mary is made with tomato juice whilst a Caesar is made with Clamato juice. IF your brain has already gone there and you're trying to reason with it because there's no way it could be clam-tomato juice, stop, that's exactly what it is. Yep. 
Truthfully the clam juice isn't a forward flavour in this savoury cocktail.
The iconic Caesar was created in Calgary in the late 60s by Walter Chell, the restaurant manager at the time of the Calgary Inn, now known as the Westin Hotel.
You'll be able to order a Caesar in virtually any bar or restaurant in Canada, I'm yet to see one that doesn't serve them. More upscale bars will typically have their own interpretation of a Caesar on their menu whilst a classic dive bar will have the most ridiculous toppings from onion rings to a burger or grilled cheese sandwich! 
The most common garnishes for a Canadian Caesar are celery, a pepperoni stick, olives and pickles.
A Caesar is most commonly ordered at brunch but best when you're feeling snacky.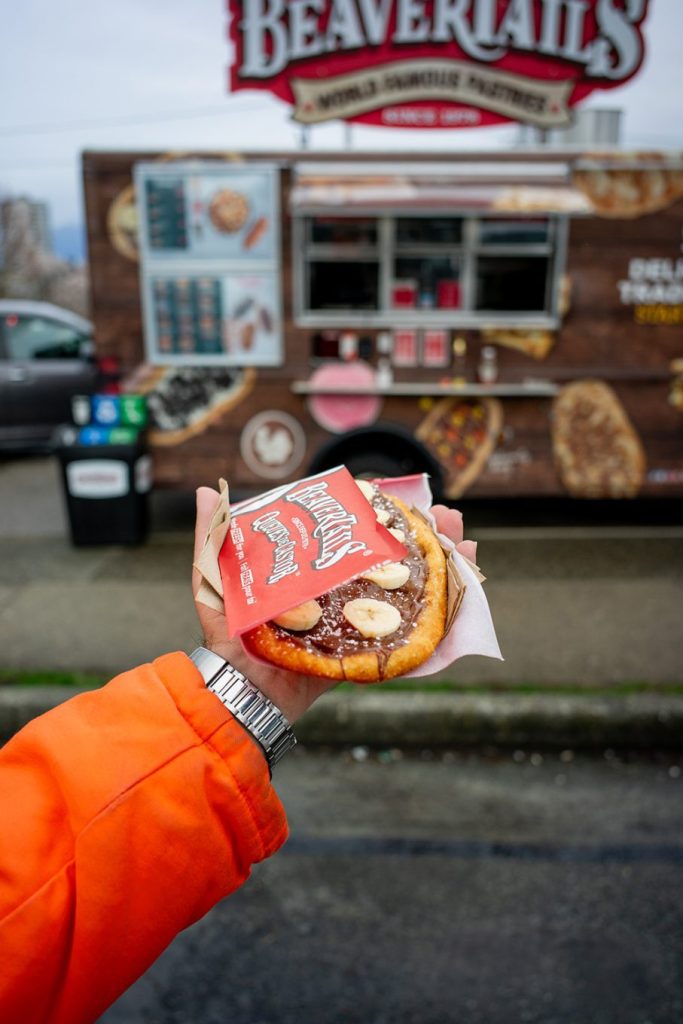 BeaverTails® are a Canadian pastry shaped like the tail of a beaver — one of the national emblems of Canada – that is smothered with all sorts of sweet toppings including (but not limited to) cinnamon sugar, Nutella and banana, strawberry cheesecake, Oreo cookies and apple pie.
Vegan options are available.
The hand-stretched, fried pastry is not unlike a Bannock, which is number 2 on this list of 10 Canadian foods to try when you visit Canada.
BeaverTails have been serving up this Canadian pastry since 1978 and their shops and food trucks can be found all over Vancouver including the top of mountains.
9. Nanaimo Bars & Butter Tarts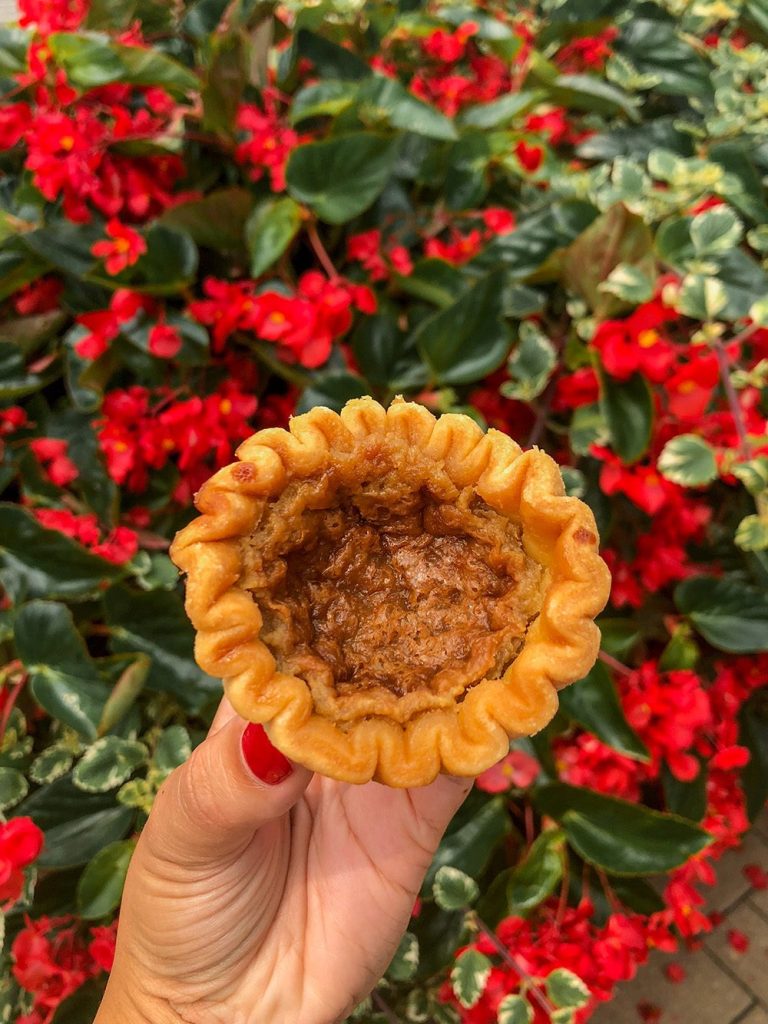 I'm honestly not sure that Nanaimo bars and butter tarts are as easy to find across Canada as they are in their home provinces so I rolled them into one to cover both coasts.
Nanaimo bars are a creamy, chocolate treat that were first created in the city of Nanaimo on Vancouver Island, British Columbia.
The three layered bar consists of graham cracker crumbs, coconut, custard and chocolate. 
Nanaimo's official recipe by Joyce Hardcastle can be found here.
Butter tarts are very small pastries made of a buttery, crumbly pastry casing that's filled with a sweet and gooey centre made from butter, sugar, syrup and eggs. 
There's unfortunately too many contradicting claims to the origin of the butter tart in Canada, some say it goes back to the 1600s, others say the 1900s. Either way, I've found butter tarts to be as popular on the east coast as Nanaimo bars are on the west.
Nanaimo bars and butter tarts can be found in bakeries but there's also some really fun alternatives to these iconic Canadian treats such as Nanaimo bar liquor or butter tart ice cream.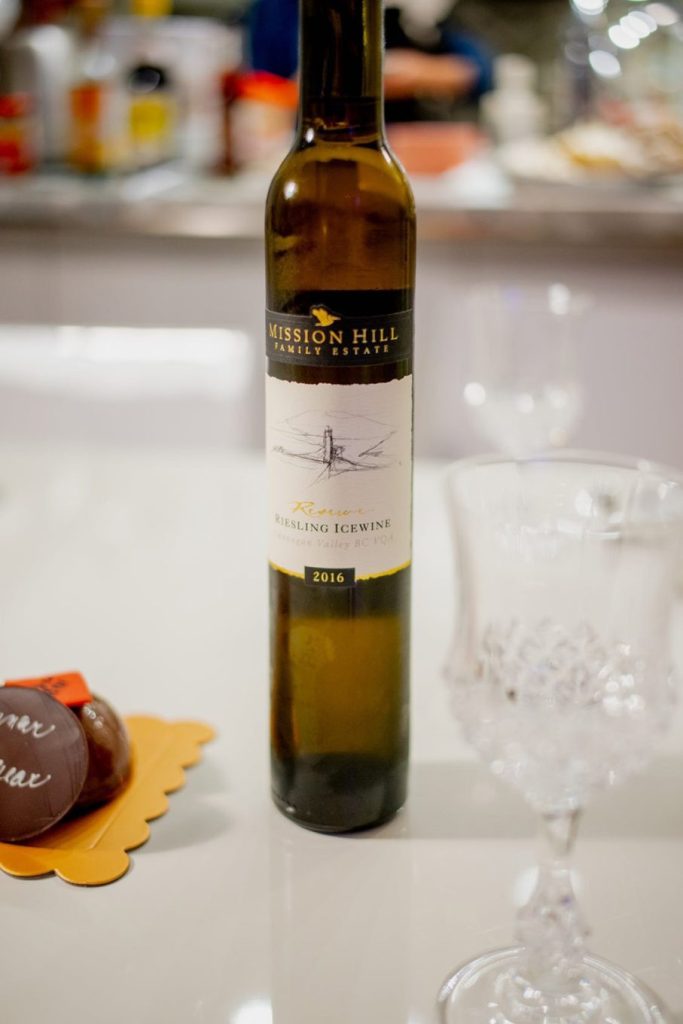 Ice wine is a dessert wine that is very sweet, rich and almost syrup like in taste, made from grapes during the winter months. 
The Okanagan Valley in British Columbia is Canada's largest wine producing region. Its desert-like climate surrounded by mountains creates ideal conditions in summer for multiple varietals of grapes for winemaking. Being that it's still Canada though, the Okanagan still receives snow fall. Utilising the drastic change in climate, vineyards use their grapes to make ice wine. 
Ice wine is made from grapes that have frozen on the vine. Whilst the water freezes the sugars do not which allows for a more concentrated grape juice to be pressed from the frozen grapes.
As ice wine is harder to make and produces such little yield it is more expensive to drink and sold in far smaller bottles than wine. Pick some up from most liquor stores, try at a restaurant after dinner or better yet, take a trip to wine country in Canada to try it straight from the source.
I hope you feel more prepared for your trip to Canada and have created your must-try list of food and drink when you get here.
If you think I missed something super important be sure to drop it in the comments below for others to try! 
Do more on & for the planet, Gabriella