This list of the best second-hand, vintage and thrift stores in Vancouver will have you covered for both fashion and home furnishings. Whether you're looking for unique pieces to complement your personal style whilst saving money (particularly in these trying times) or you need to furnish your home on a low budget whilst preventing things from going to waste, I've got amazing second-hand  steals for you on this list.
My three favourite places to thrift or go vintage shopping is England (I'm not limiting myself to just London), San Francisco (Haight Street will forever have my heart) and Vancouver, which honestly was a wildcard for me. I've picked up some of my favourite pieces in Vancouver so here I am sharing all the best best second-hand, vintage and thrift stores in Vancouver that are my go-to places to shop in and around the city.
Why shop second-hand, vintage and thrift? 
It saves you so much money. When I first moved to Vancouver I quickly realised there's nowhere to buy reasonable costing home furnishings.
It's the better choice for the planet. Where possible, shop second-hand or pre-loved to prevent excessive waste, slow down mass consumerism and work towards living a more sustainable and low-waste lifestyle.

 

Shopping second-hand and vintage gives you the opportunity to find unique pieces that can either elevate or complement your personal style both within your wardrobe and home. It's never not exciting to own something others don't. Express yourself!
Here's my list of the best second-hand, vintage and thrift stores in Vancouver:
Vintage stores in Vancouver
The following second-hand stores in Vancouver are vintage stores with curated collections. All of them have a location on Main Street (or very close to) which is the absolute best for buying vintage clothing and accessories in Vancouver.
Burcu's Angels is my favourite vintage clothing and accessory store in Vancouver. My close friend here took me to it one rainy Monday in the early days of me living here and I have frequented it ever since. 
Together Michael and I have bought some of our most memorable and sentimental vintage outfits from Burcu's Angels including his suit for our engagement parties, a 1950s polkadot dress I wore to multiple summer events, the house coat I wore for our UK engagement party and I've even tucked a few bridal outfits deep into my vintage wardrobe for the day we feel ready.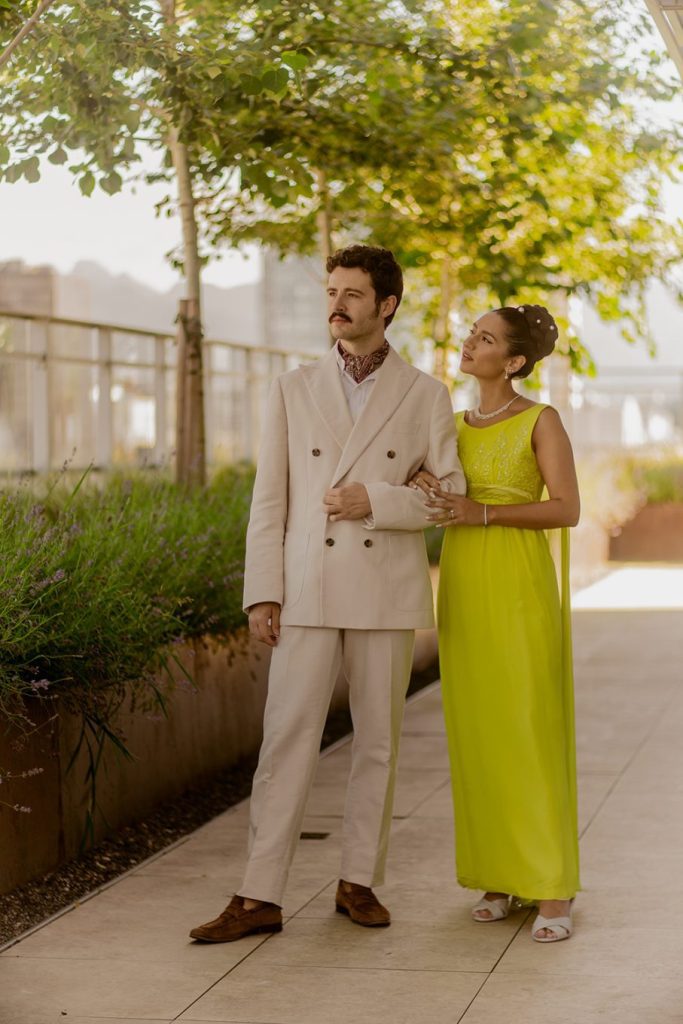 One of our favourite additions from Burcu's Angels is a 1970s denim suit complete with bell bottom pants/trousers that my Mum purchased for Michael for his birthday. His fabulous vintage western boots are also from Burcu's.
Burcu's Angels was established by the wonderfully eccentric Burcu in 1995. Each of her vintage pieces are highly curated across decades from the 1920s through to the 90s and everything is dry cleaned so you can wear it immediately.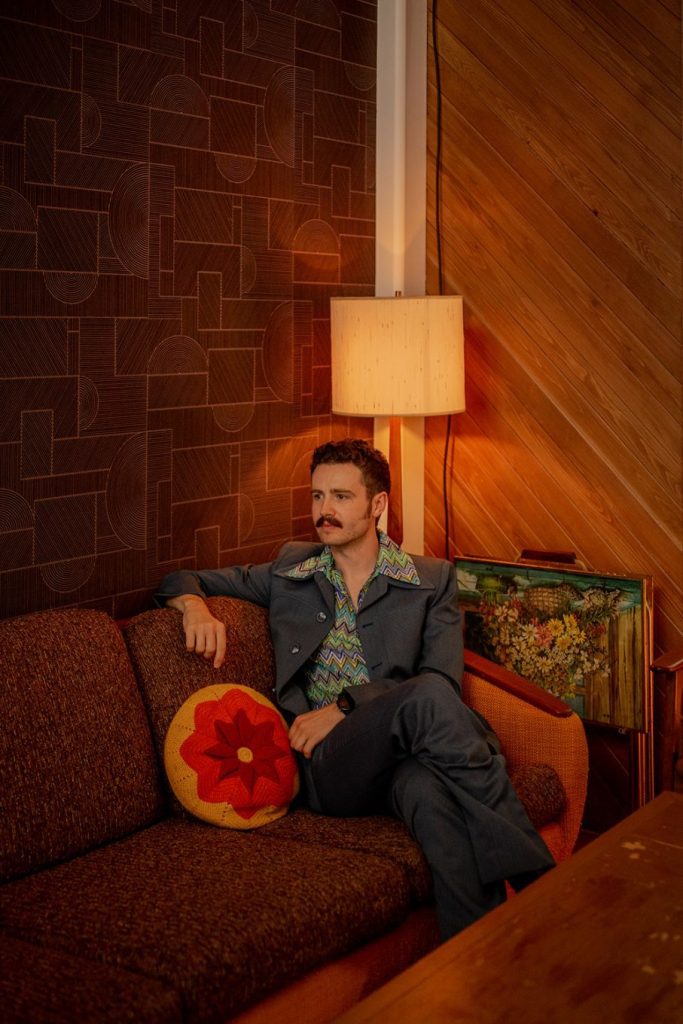 Burcu's Angels divides loosely into three sections. The first is where you'll find her most gorgeous dresses and gowns, exquisitely organised by colour. Second-hand bags, scarves, belts, footwear, mens shirts and jackets also hang out here along with a cabinet of colour coordinated jewels.
Bridging the front and back room is where you'll find a 360° display of vintage hats, a wall of delicate bags, brooches, earrings, necklaces, bracelets and there's even a few second-hand western boots knocking around.
Enter the backroom to find aisles of vintage coats, jackets, matching suits, nightgowns, skirts, pants/trousers, footwear, bags and more.
Burcu often works with Vancouver's highly successful film industry and has helped source costumes for various period pieces but not only this, she also takes stock from movie wardrobes. So you might be able to find a gem fresh off a set if you're lucky.
Burcu and the team know their vintage stock so impeccably that they can respond to any challenge and won't hesitate to pull something out. Burcu's experience has given her the indisputable talent to know exactly what will fit your body — and style for that matter — and before long the fitting room will become your personal catwalk back in time.
My final reason to be totally enamoured by second-hand shopping at Burcu's is that she allows you to exchange the item you buy after you've worn it so that someone else can enjoy it and you can wear something else. This is perfect for any events you have where you're unlikely to re-wear the outfit or if you frequently change up your wardrobe. I actually haven't taken her up on this offer yet because I can't bear to part with what I've bought but it's such a brilliant idea!
What is Burcu's Angels best for?
Burcu's is best for statement pieces. If you have any events coming up or need a look from a specific era then Burcu's Angels is the place to shop. 
If you have a formal event that requires a hat, such as a wedding or perhaps you're attending The Cup, Burcu's has a gorgeous collection of vintage hats from multiple eras.
Burcu's Angels' extensive vintage accessory collection is unrivalled. She even has a huge collection of vintage buttons if you're looking to make or transform something you already own.
Bohemia Gallery Inc. is a two story vintage store that opened in 2004. It sells both male and female clothing and accessories. 
Expect everything from retro pieces that will slide right in to your everyday wardrobe to the most eccentric feather-hemmed gowns.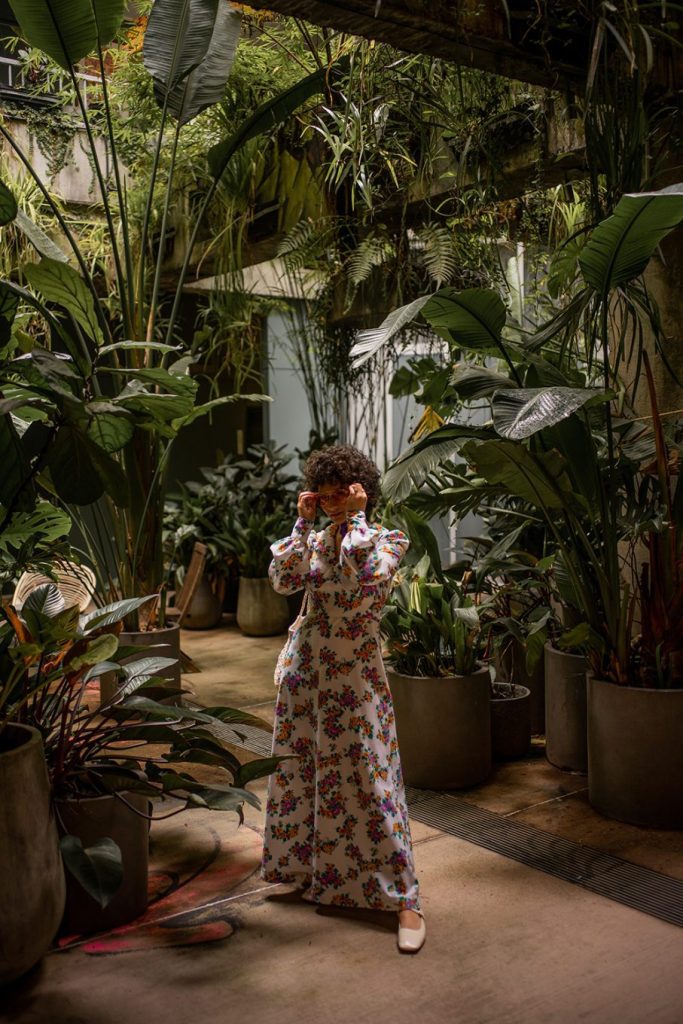 One of my favourite spring/summer 70s vintage dresses came from Bohemia Gallery Inc.
If you're looking for sophisticated occasion wear then Bohemia Gallery Inc. might have what you're looking for. They have a really lovely collection of vintage gloves for that little je ne sais quoi to your outfit and they also have a fabulous collection of vintage hats in all shapes and sizes.
The staff are always such a wonderful hype team that will help you find outfits in your size that will complement your personal style.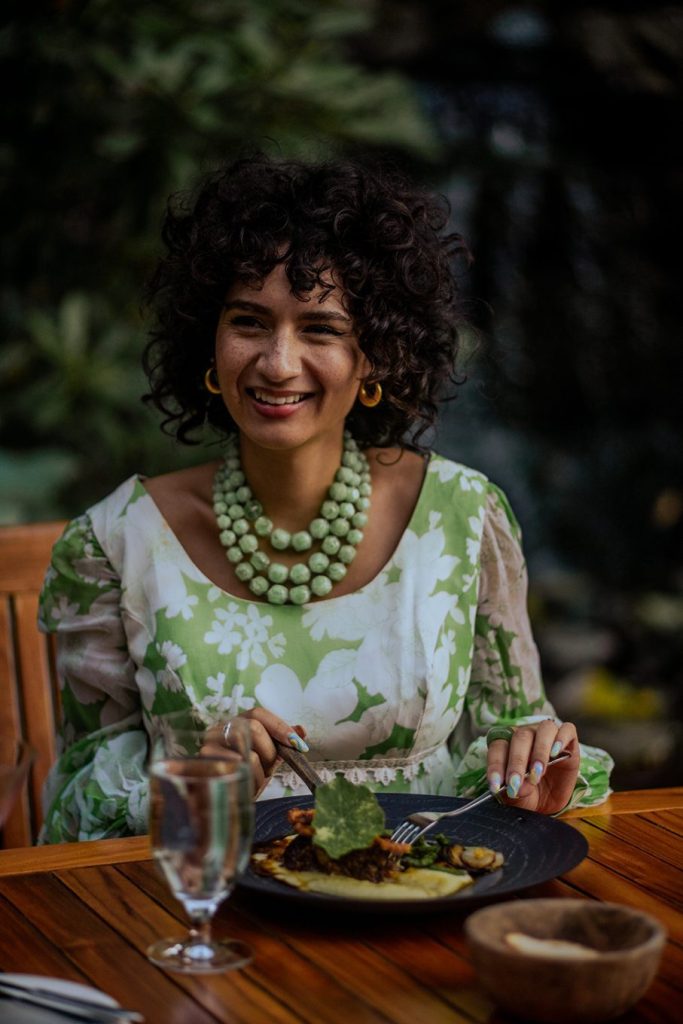 This green 60s/70s dress had significant damage so they gave it to me for free with a purchase I was making to fix up and after a trip to my local tailors (Money's on Helmcken). I was able to wear it in a campaign for Fairmont Chateau Whistler.
What is Bohemia Gallery Inc. best for?
Bohemia Gallery Inc. is best for vintage suitcases and retro dresses. Plus their vintage jewellery is much more affordable than other vintage stores down Main street but equally charming.
Where is Bohemia Gallery Inc. in Vancouver?
Bohemia Gallery Inc. is located at 3243 Main St and is just one minute walk from Burcu's Angels (mentioned above).
Mintage has multiple locations across Vancouver and are known for vintage and second-hand clothing. In their Mintage Mall alone there's approximately 8 rooms covering second-hand denim, old band tees, retro dresses, pre-loved sweaters/jumpers, vintage jackets and more.
Mintage's newer location on Robson St means you can do a spot of vintage shopping in the middle of downtown rather than making the trip out to Main St.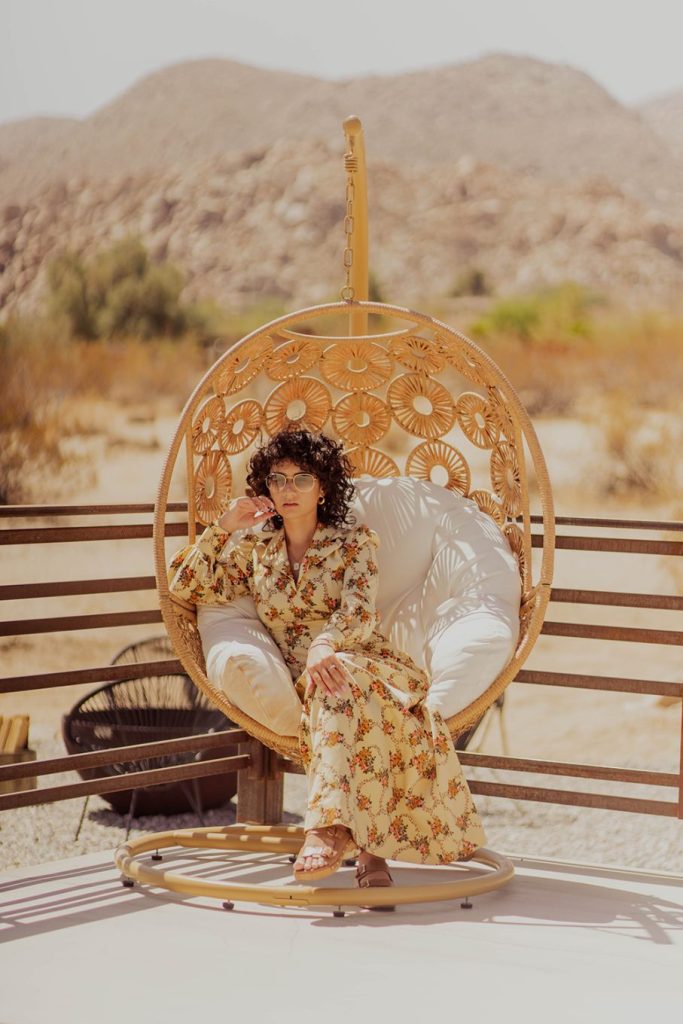 I found one of my favourite dresses in Mintage Mall on East Broadway, the dress that pivoted the way I dress myself for good. I had not long gotten my haircut by Dawn Archer (the Curly Queen of Vancouver) and I was beginning to see volume in a way I never thought I'd see from my hair. I found the floral 70s maxi dress in autumnal colours and took it to the fitting room. It fit in a way that convinced me that it was made just for me. I took one look at my reflection in this dress with my curls and in an instant my whole style identity evolved into what you see today.
That is the magic of shopping vintage and second-hand.
Keep an eye out for major bargains. We once got Michael a silk scarf from a certain prestigious British store for just $5… it's entirely plausible that they didn't know what they had. He ended up wearing it for our engagement parties.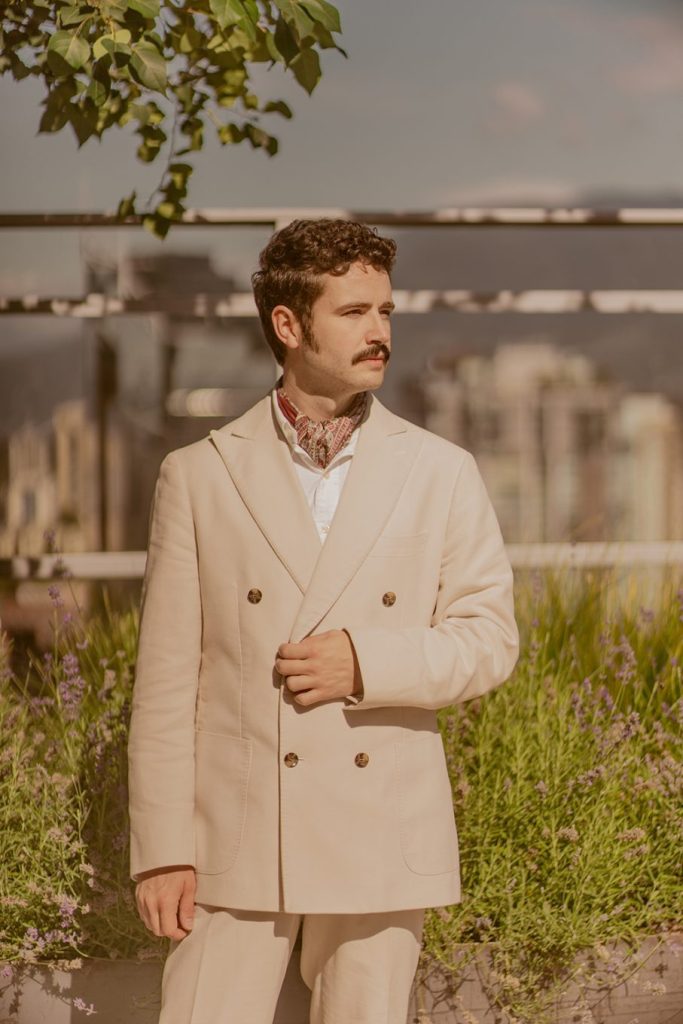 What is Mintage best for?
Mintage is best for vintage coats and jackets and vintage band tees. 
Michael and I both bought *amazing* vintage tan leather jackets from Mintage Mall complete with big 70s collars. We never don't get compliments when either of us wears them.
Where is Mintage in Vancouver?
Mintage has three locations across Vancouver and one on Dewdney Trunk Rd in Maple Ridge . 
Their Mintage Mall is located at 245 East Broadway and is just off Main Street, Mintage Cafe can be found at 1008 Robson St in downtown Vancouver and there is another one at 1714 Commercial Drive.
Accessibility notice: Mintage Mall and Mintage Cafe are both accessed by a staircase.
Named with intention to woo you with their glamorous vintage fashions, Woo Vintage Clothing is a treasure trove of second-hand clothing that dates back as far as the 1920s. 
Expect men's vintage shirts in groovy prints and patterns, mid-century skirt suits, groovy swimsuits and a multitude of delicate accessories.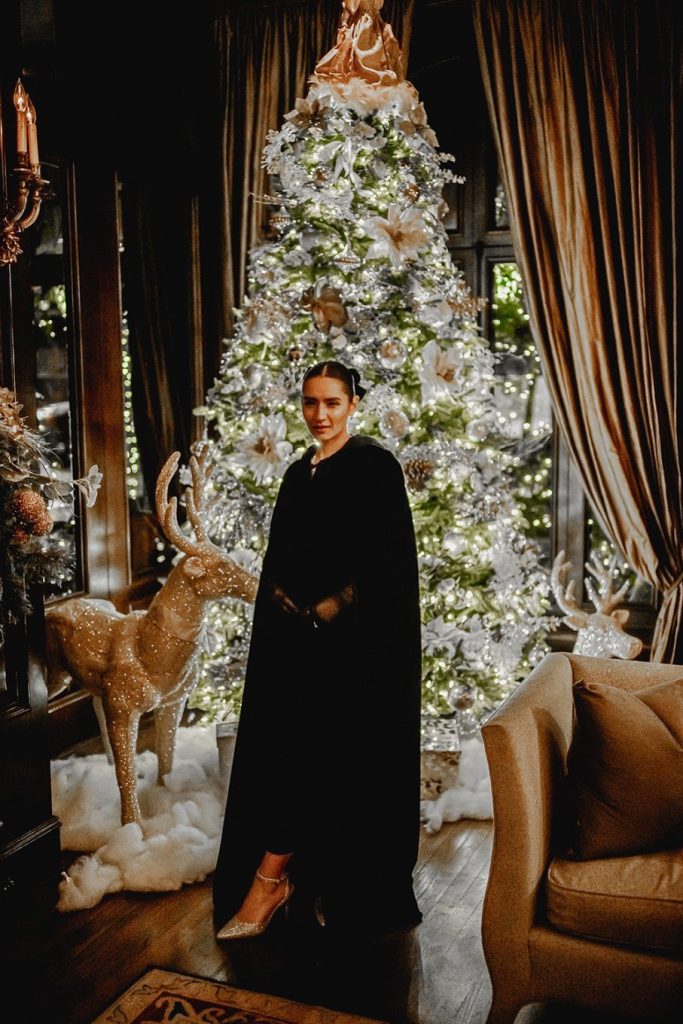 One of the most eccentric and impractical but fabulous and mood-shifting second-hand garments I have bought came from Woo Vintage Clothing. I bought a vintage 1970s black, velvet opera cape. It has come out on two occasions: halloween (major witchy vibes) and the Boxing Day dinner at Bacchus with friends that we decided to make a black tie occasion.
Speaking of witchy vibes, Woo Vintage Clothing works closely with Vancouver's TV and movie industry and often supplies and receives costume from various productions filming in and around the city. One of witch was the Netflix series The Chilling Adventures of Sabrina the Teenage Witch.
What is Woo Vintage Clothing best for?
Woo Vintage Clothing is best for vintage evening dresses and gowns, they get some truly marvellous 1950s dresses in. If the teen in your life has a flair for classic, Woo Vintage Clothing would be ideal for finding a vintage prom dress.
From my experience they specialise best in 1950s and 60s garments.
Where is Woo Vintage Clothing in Vancouver?
Woo Vintage Clothing is located at 4393 Main Street. It's farthest away from Mintage Mall with Burcu's Angels and Bohemia Gallery Inc. in the middle, so if you're spending the day vintage shopping on Main Street I'd advise starting here and then walking down towards Mintage. This way you get a view of the North Shore Mountains if it's a clear day.
Woo Vintage clothing also has a presence on Etsy. 
Thrift stores in Vancouver
The following second-hand stores in Vancouver all raise money for community causes and are the best places for thrifting an absolute bargain.
Wildlife Thrift Store was founded in 2001 and sells second-hand clothing, shoes, bags and select homeware. You can also find second-hand books and records at the back and there's a small used sporting goods closet and another with second-hand paintings and prints towards the front window display.
Though they sell for profit they have always prioritised supporting organisations that offer support for mental health, addiction and homelessness. They donate quarterly to Coast Mental Health, The Gathering Place, Greater Vancouver Food Bank and have an ongoing partnership with Covenant House. 
Their second-hand clothing is very reasonably priced and ideal for anyone who needs something simple on a budget.
Wildlife Thrift Store is also great for second-hand glassware at really great prices. We bought many of the vases that displayed some of the food at our Canadian engagement party from Wildlife Thrift Store and each piece was under $3.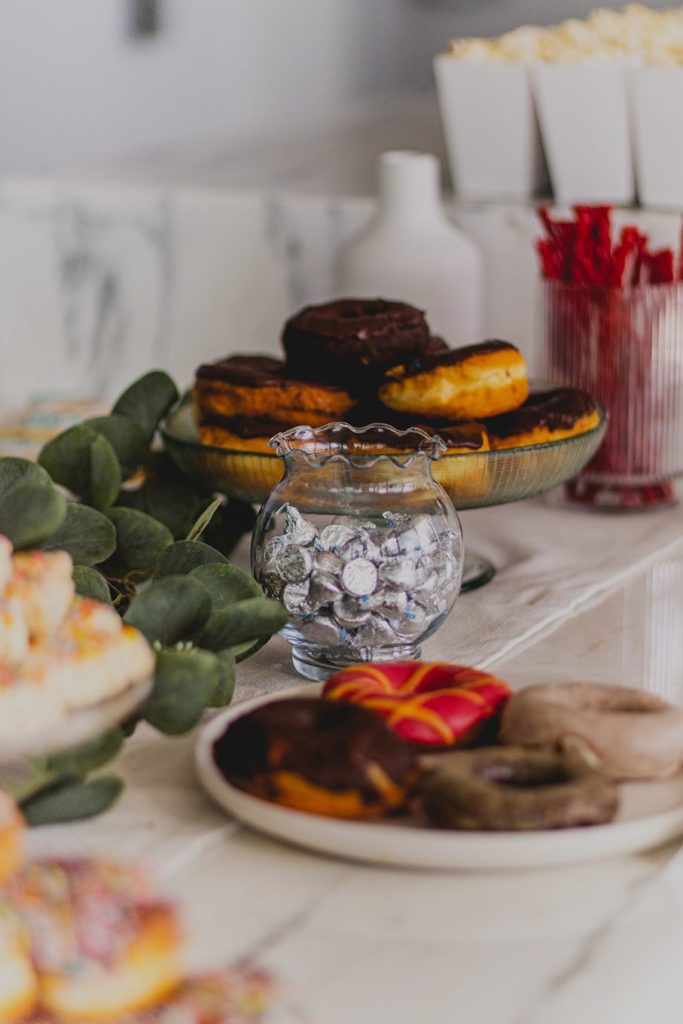 What is Wildlife Thrift Store best for?
Wildlife Thrift Store is best for affordable second-hand clothing. 
Where is Wildlife Thrift Store in Vancouver?
Wildlife Thrift Store is on the corner of Granville and Drake in Yaletown. Fun fact, the building was originally a Ford dealership.
My Sister's Closet is a thrift store that opened in 2001. All profits from sales go towards Battered Women's Support Services, an organisation that supports women experiencing gender-based domestic and sexual violence. I can't say it's the most empowering name for an organisation such as this but it can't be denied that they're raising money for an important cause.
When My Sister's Closet had their Yaletown location I used to pop in there regularly. They have some decent Y2K pieces at super reasonable prices and pieces made by local female artisans.
My Sister's Closet sells both male and female clothing and accessories.
What is My Sister's Closet best for?
My Sister's Closet is best for finding casual basics at a great price. They also have higher end labels such as Kate Spade and Ted Baker if you're in need of affordable work attire.
Where is My Sister's Closet in Vancouver?
My Sister's Closet has two locations in Vancouver, one at 1830 Commercial Drive and the other at 3958 Main Street.
You can also shop online here.
Value Village is a North American cult favourite for thrifting and is recommended most within Vancouver for killer thrifting. With stores in the US, Canada and Australia they've come a long way since their single, San Francisco store that was founded back in 1954.
Value Village buys their stock from non-profits as well as community donations and on average keeps 700 million pounds of reusable items out of area landfills every year. Their prices are unbelievably low that it not only offers relief to low-income homes and everyone feeling the recession but it also makes every purchase feel like a euphoric steal!
A day spent thrifting in Value Village is the dose of serotonin needed on a rainy Vancouver day.
Value Village is one of my very top recommendations for thrifting in Vancouver. The one in Richmond has got everything you could possibly want from a thrift store including but not limited to: second-hand furnishings, kitchen items, stationery, electronics, furniture, clothing, shoes, accessories, sporting goods, toys, towels and bedding.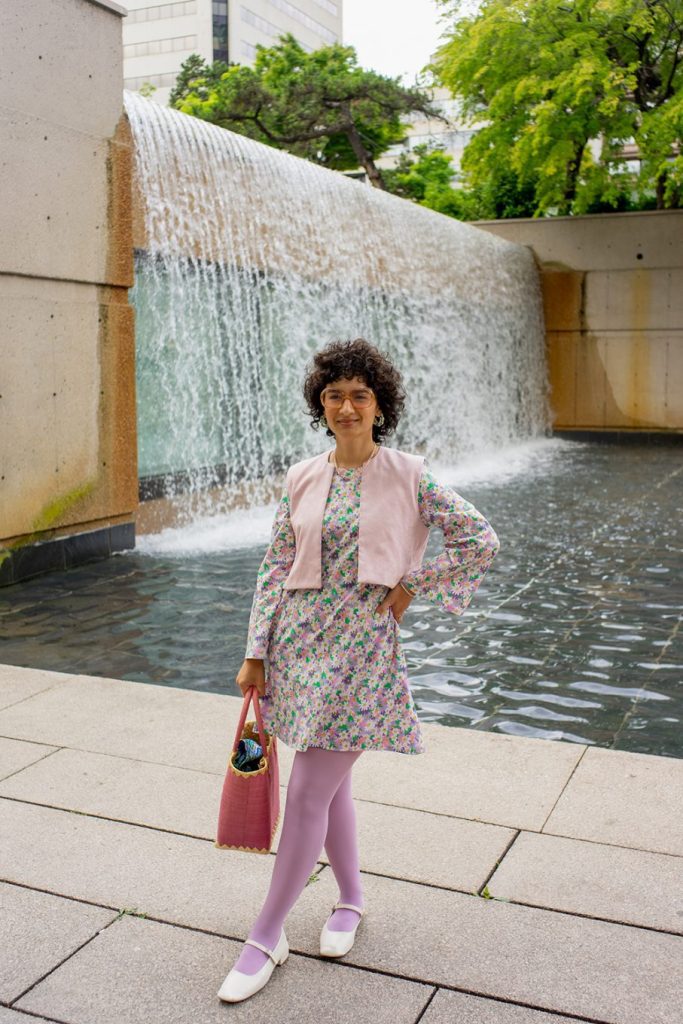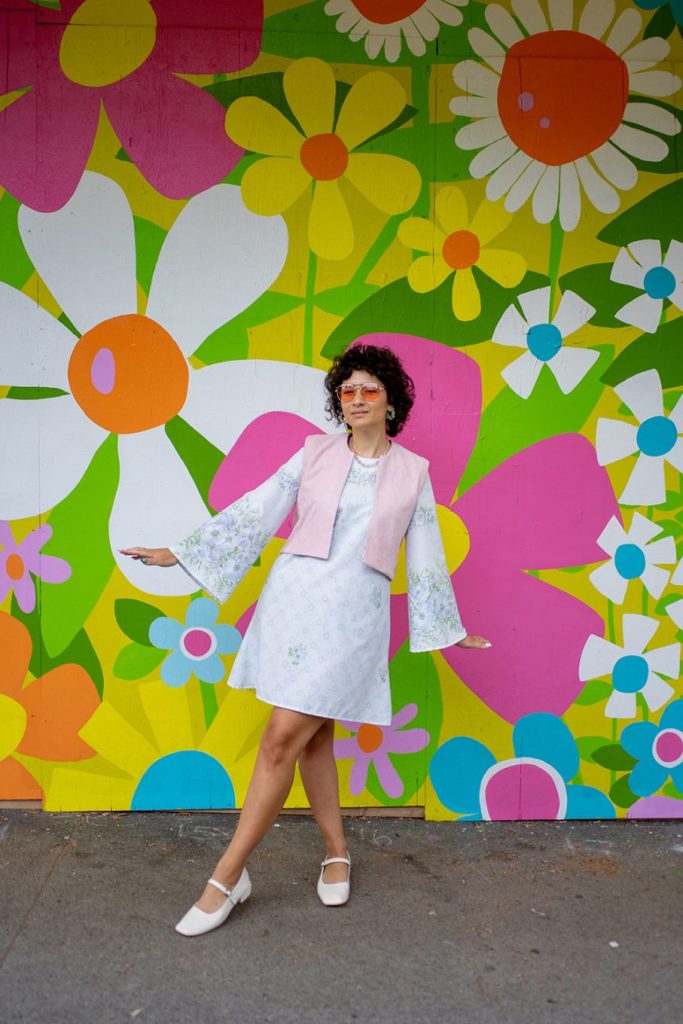 On my last trip to Value Village in Richmond I spent under $100 and got a bunch of second-hand curtains, towels and bedsheets to make clothing from (as well as a few 70s pieces of clothing). To my great surprise after washing up a gorgeous, floral comforter that I picked up for just $20 (with the intention to make a coat from it) I found it was a Martha Stewart piece and was in such great condition that I kept it as a summer bedspread. Every time I see its pretty floral print on my bed I can't believe how much it cost.
The remaining curtains and bedsheets got put to my intended use. I made one of my favourite dresses ever from the blue vintage fitted sheet that cost just $7 and a $10 dollar faux suede curtain got made into a retro inspired vest with plenty leftover for a potential matching skirt.
Be sure to sign up to their free rewards system, Super Savers Club, to collect points and to receive vouchers and discounts!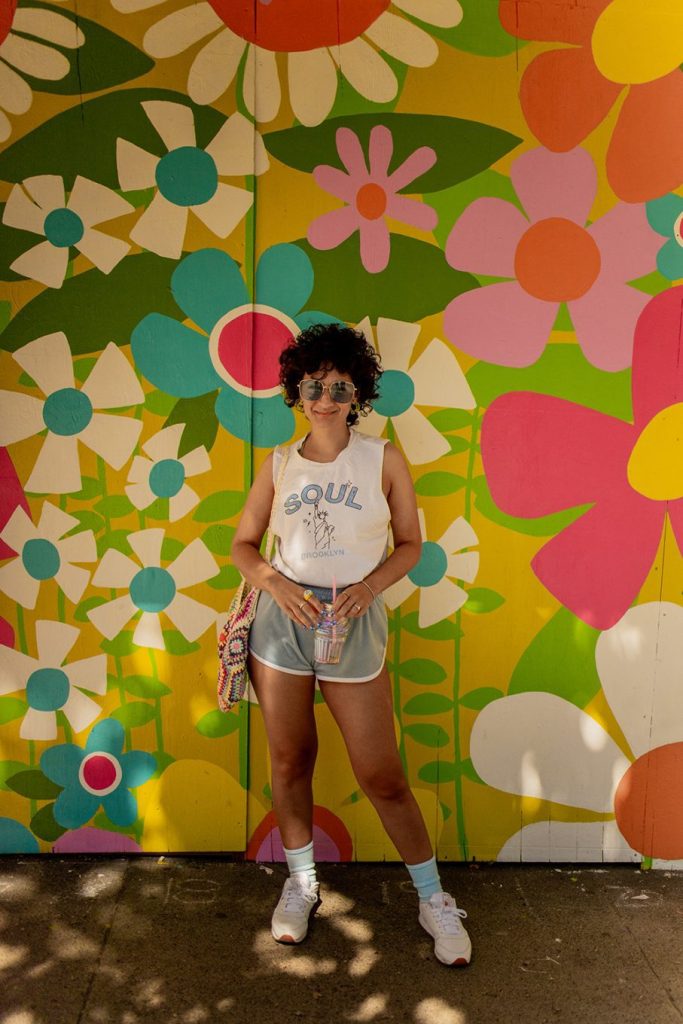 What is Value Village best for?
Value Village is best for everything that you would expect to purchase from a thrift store. The best all-rounder second-hand store on this list for sure.
I've seen all manner of gorgeousness in Value Village from vintage tennis racquets not unlike the ones Billie Jean King would have wielded to a pink velvet armchair that I still regret not taking home.
Where is Value Village in Vancouver?
There are multiple Value Village thrift stores across Vancouver. 
The three closest to the city can be found at 2354 Granville St (though this one is just clothing and accessories), 6415 Victoria Dr in East Vancouver and 8240 Granville Ave in Richmond.
Others can be found in New Westminster, Coquitlam, Surrey, Langley and Maple Ridge.
Salvation Army Thrift Store
Thrifting not only saved me a bonkers amount of money in my kitchen but it also gave me some really unique glassware. 
When we moved to Vancouver I gave all of our kitchenware to friends and family in order to save money on shipping it all over. Little did I know how much more expensive it would be to buy everything again in Vancouver. In an effort to save money we went to the Salvation Army Thrift Store on Fell Ave in North Vancouver and I was thrilled with the gems and bargains we found.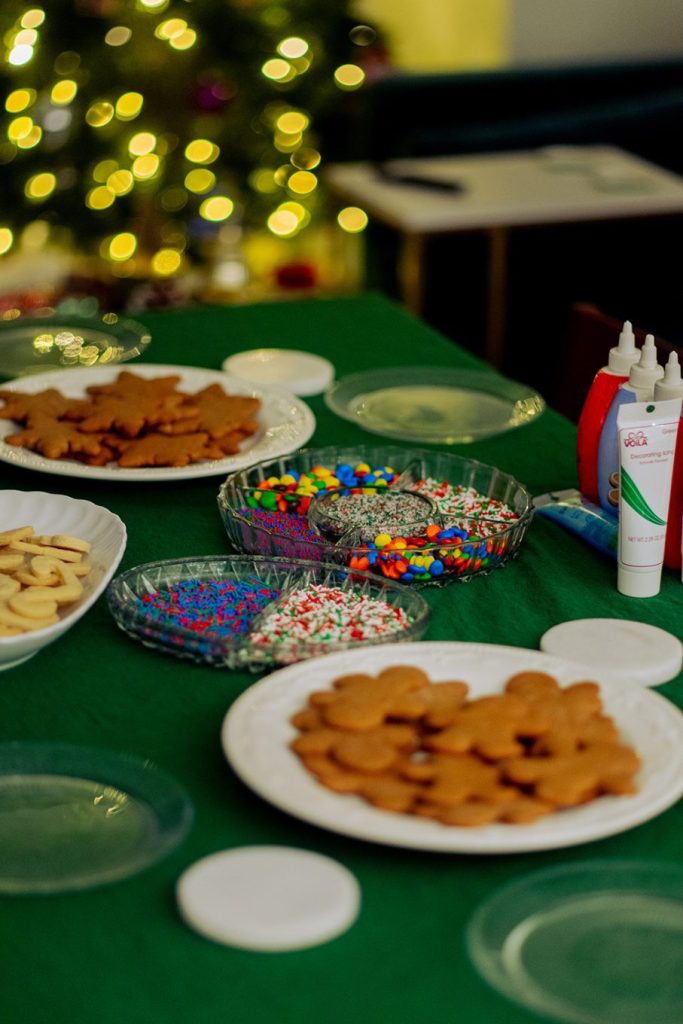 It goes without saying that you cannot expect to get everything you need in one shop but with a few visits we managed to buy the majority of our glassware along with mixing and serving bowls, plates, a gravy boat, a pitcher and decorative vases for under $100.
Salvation Army Thrift Stores raise money for low income and homeless communities so you know your money is going to a good cause. Unlike England, where charity shops are easier to find than a fish and chippy, there aren't a lot of second-hand or thrift stores in Vancouver that raise money for community causes.
The Sally Army/Salvos is ideal for people on a low budget, unlike vintage where collections have been curated and marked up, items remain at a reasonable price to serve the community.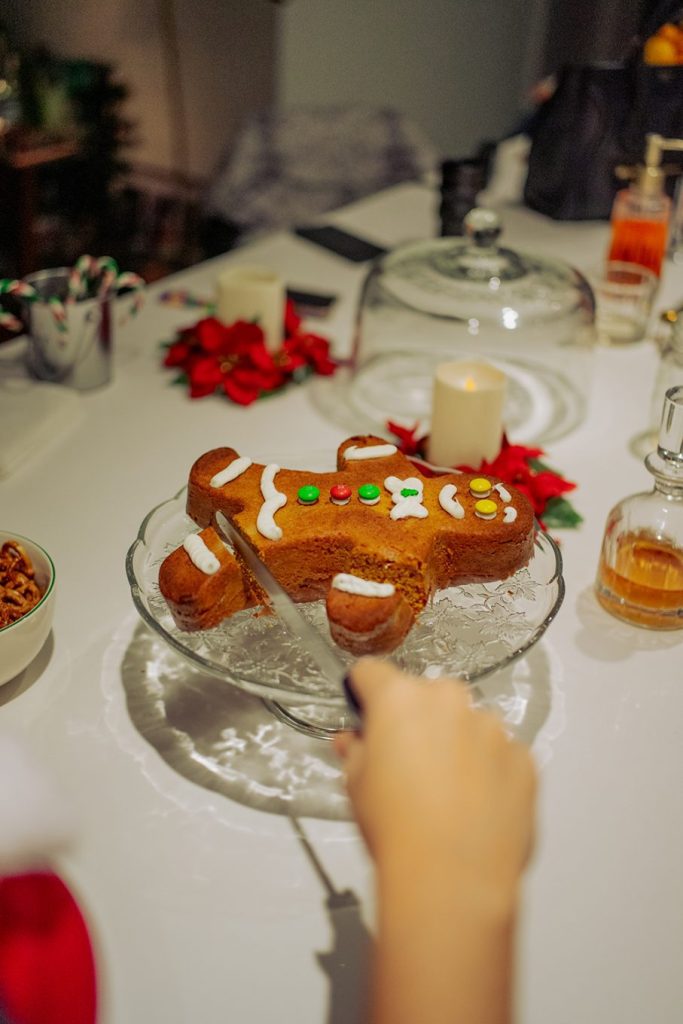 What is Salvation Army Thrift Store best for?
On this list of the best second-hand, vintage and thrift stores in Vancouver I believe the Salvation Army Thrift Store is best for kitchen items. 
Their glassware is the best by far and in all my visits I've always seen matching sets of four to eight glasses for under $5 each. We found our six matching wine glasses at just $1.99 each.
Where is the Salvation Army Thrift Store in Vancouver?
There are multiple Salvation Army Thrift Stores around Vancouver though none are located in downtown, unfortunately. 
In my opinion, the best Salvation Army Thrift Stores is located at 1451 Fell Ave in North Vancouver. It has kitchenware, home furnishings, electronics, clothing and accessories.
Others can be found in New Westminster, Coquitlam, Surrey, Langley and Maple Ridge.
Second-hand stores in Vancouver
The following store has a curated collection of pre-loved items.
Mine & Yours is a consignment store that sells second-hand and pre-loved designer items. They have an extensive collection of luxury clothing, accessories, shoes and bags across their two downtown stores.
Founded by Courtney Watkins in 2013, Mine and Yours delivers luxury items at more affordable prices whilst actively closing the loop on overconsumption in the fashion industry.
Dream of owning Chanel, Louis Vuitton or Dior but can't keep up with the annual (and bi-annual) price increases? That's where second-hand luxury/consignment stores can help you out. Not only are you helping the planet out by participating in circular fashion, you also have the opportunity to save money.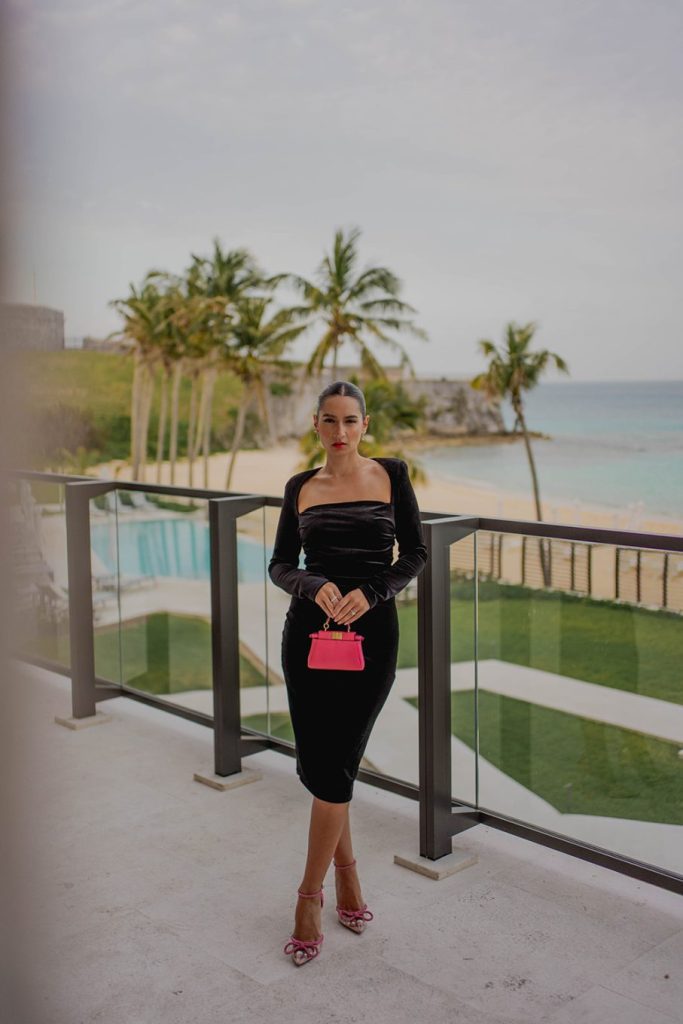 Use code "PFH10" for a 10% discount on your Mine and Yours purchase.
I bought my Micro Fendi Peekaboo from Mine & Yours and I was super impressed with the quality of this second-hand bag.
I always recommend viewing luxury and designer pieces in-store before purchasing because many of the pre-loved pieces at Mine & Yours have been really loved with others potentially recovering from some ugly breakups. Of course the value of some vintage and investment pieces can weather the scuffs and such but always check before investing in more expensive pieces.
What is Mine & Yours best for?
Mine & Yours is particularly great for second-hand designer handbags and small leather goods so you can get that luxury look without the same price-tag.
Where is Mine & Yours in Vancouver?
Mine & Yours has two locations in Vancouver. One can be found in Yaletown at 418 Davie Street and the other in downtown at 1025 Howe Street. 
I hope you found my list of the best second-hand, vintage and thrift stores in Vancouver helpful. If you did, please let me know in the comments below!
Not every second-hand shop in Vancouver made the cut for my list of the best for various reasons but if you think I've missed something important be sure to drop it in the comments for others! 
Happy thrifting! 
Do more on & for the planet, Gabriella