In this blog post I'm sharing all the details from my first engagement party hosted in Vancouver, Canada for my friends based in North America. I will be sharing how I created my Something Old, Something Borrowed theme to combine our love of vintage and environmentalism. I'm sharing the details of our engagement party on Postcards from Hawaii for the same reason I share travel content, to inspire you to do more on & for the planet.
Every decision made for our engagement party combined vintage glamour whilst being mindful of preventing waste all the way from the vintage dress code to the second-hand plates the food was served on.
Please read on for the story of our engagement party and the planning of the little details that made our vintage inspired engagement party quite the soirée.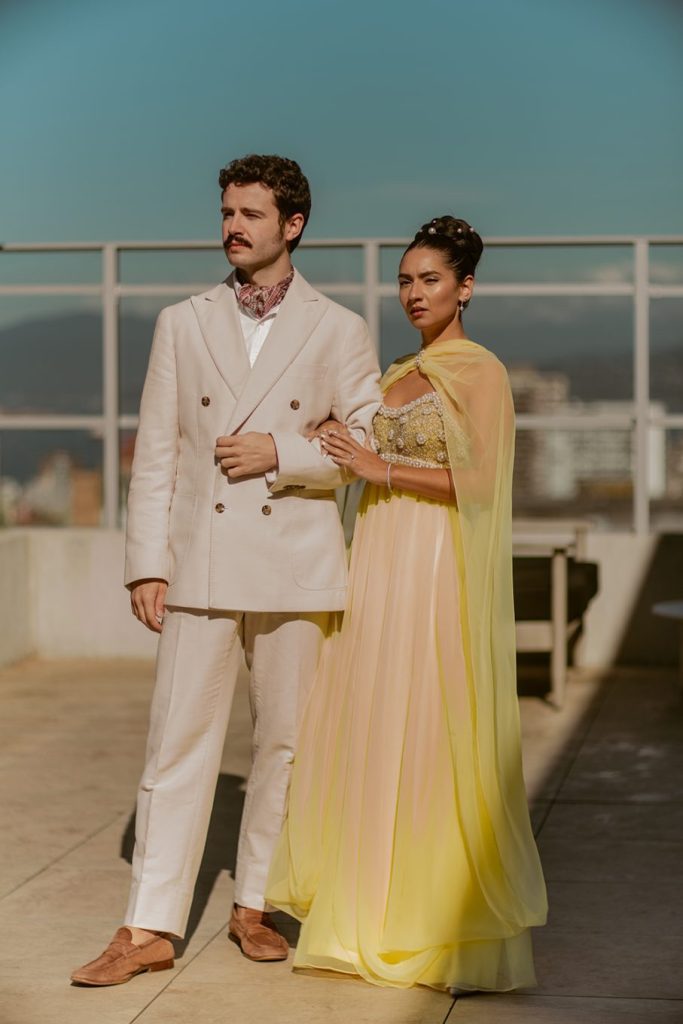 Something Old, Something Borrowed (Theme from Gabriella & Michael's Engagement Party)
If the fact that I co-planned the vision of mine and my fiancé, Michael's, engagement hasn't already given you a good idea, I have a very specific creative vision for life's most celebratory moments. 
"Why are you so fanciful? Why do you make everything seem so special?" – Robert Redford.
"Because it is." – Natalie Wood.
This Property Is Condemned, 1966
Natalie Wood's character, Alva Starr, has it absolutely correct, it is.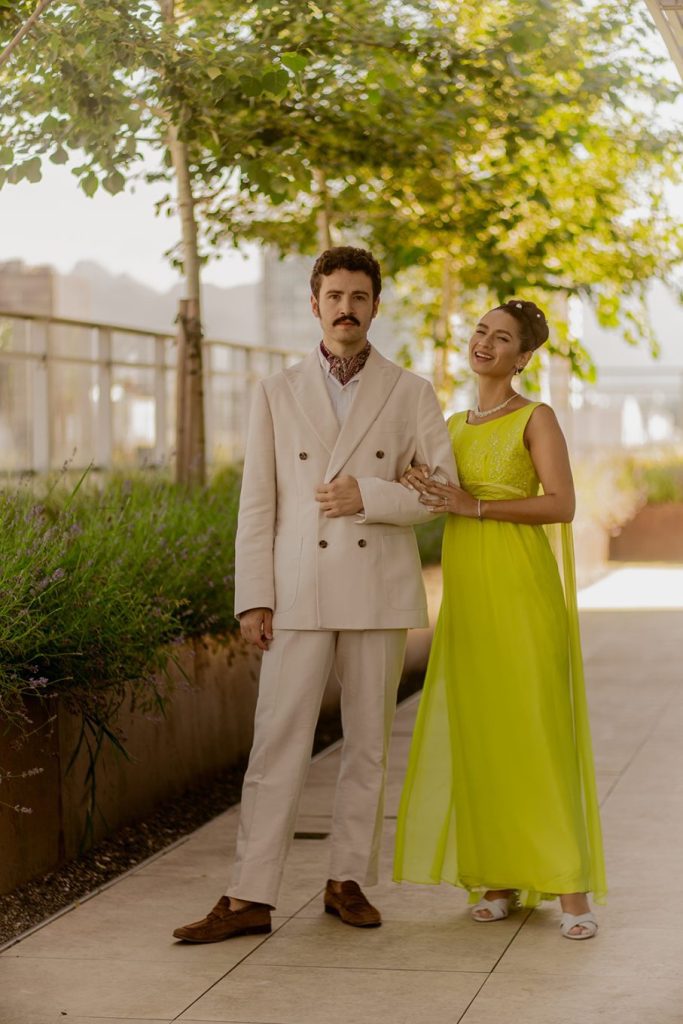 Our theme of Something Old, Something Borrowed; Tasteful Vintage Glam was inspired by our current love for vintage clothing circa 1950s-70s that elevates our individual style but also repurposes something pre-loved over buying new. 
I played upon the western-wedding bridal tradition of "Something Old, Something New, Something Borrowed, Something Blue", dropping the Something New and Something Blue using it as a means to encourage guests to dress in something they already – or someone else previously – owned.
It was a theme we carried through not just in the dress code but across the entire aesthetic of our engagement party.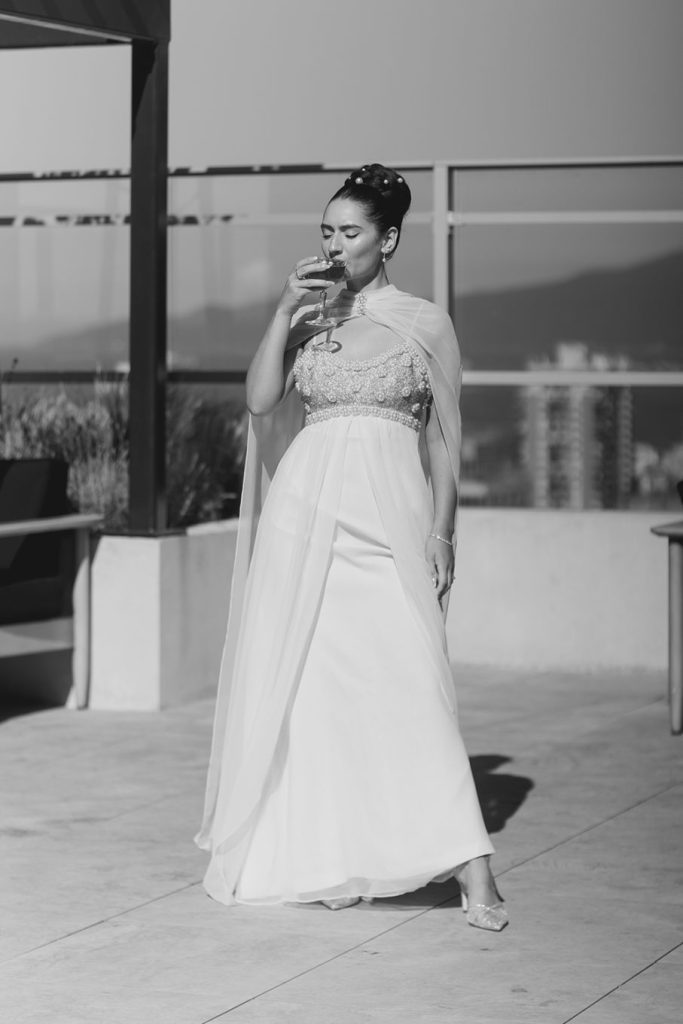 Connecting the vintage dress code to the full concept of the party I was inspired to draw upon elements of times gone by. We had multiple playlists that spanned across four different decades, we served a selection of our favourite traditional cocktails, Michael made a home movie inspired by silent motion pictures and our photo booth printed strips of images were in back and white.
Finally, our Tasteful Vintage Glam theme was also intended to match the mood, vibe if you will, of our actual engagement back in January 2022. My favourite movie of all time is High Society (1956), the MGM musical adapted from the Broadway play and 1940 film of the same name: The Philadelphia Story. 
Our engagement was themed around High Society as it was my earliest memory of cinema, was the key influence to my attraction to the fanciful and inspired my uncompromising and resolute decision that I would only say yes to an engagement ring from Cartier. To this day I still don't know how a very little Gaby found out the breathtaking (truly, I've seen all 10.5 carats in person) engagement ring Grace Kelly's character, Tracy Lord, was from the highly esteemed French jeweller, Cartier. Or that I didn't make the connection that it was her real engagement ring given to her by the Prince of one of the wealthiest countries in the world and is still one of the most expensive engagement rings in the world (how Gaby?!?!). But she did and with a decision that she too deserved nothing less it inspired our engagement from the ring all the way to how we dressed for the occasion. 
Our theme of Something Old, Something Borrowed; Tasteful Vintage Glam was inspired by our current love for vintage clothing circa 1950s-70s that elevates our individual style but also repurposes something pre-loved over buying new.
The dress code was created to encourage our guests to wear something they already owned, vintage or thrifted. In knowing that Vancouver is not known for fashion, or to be frank style altogether, we were invested in curating an event that gave everyone an opportunity to express themselves through their clothing and be their most theatrical selves. 
The guideline that prohibited costumes were to draw inspiration from eras of style throughout the 50s to the 70s. 
"Think Golden Age Hollywood, a Mad Men dinner party, Studio 54, 80s cocktail parties, early 90s high society affairs or any James Bond before Golden Eye."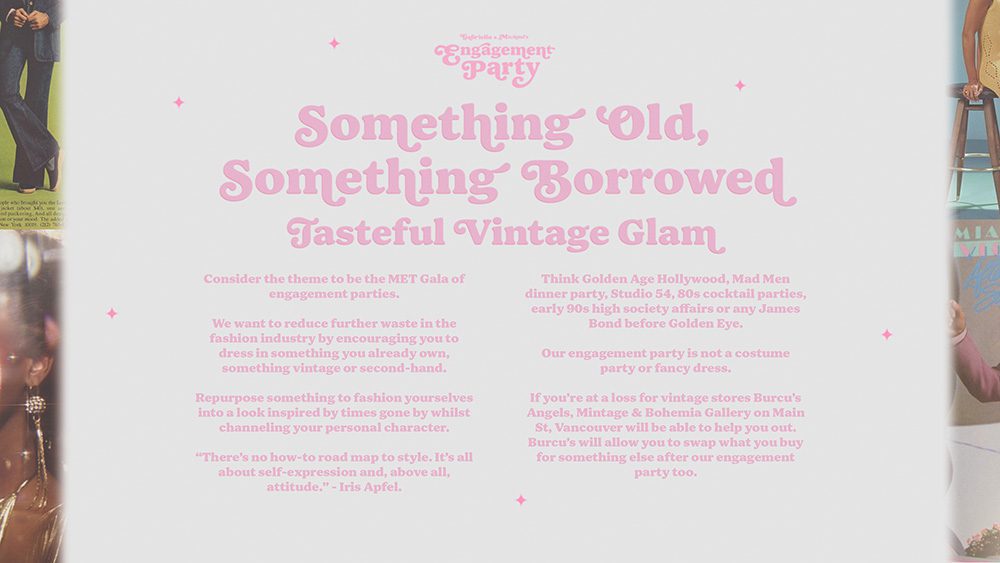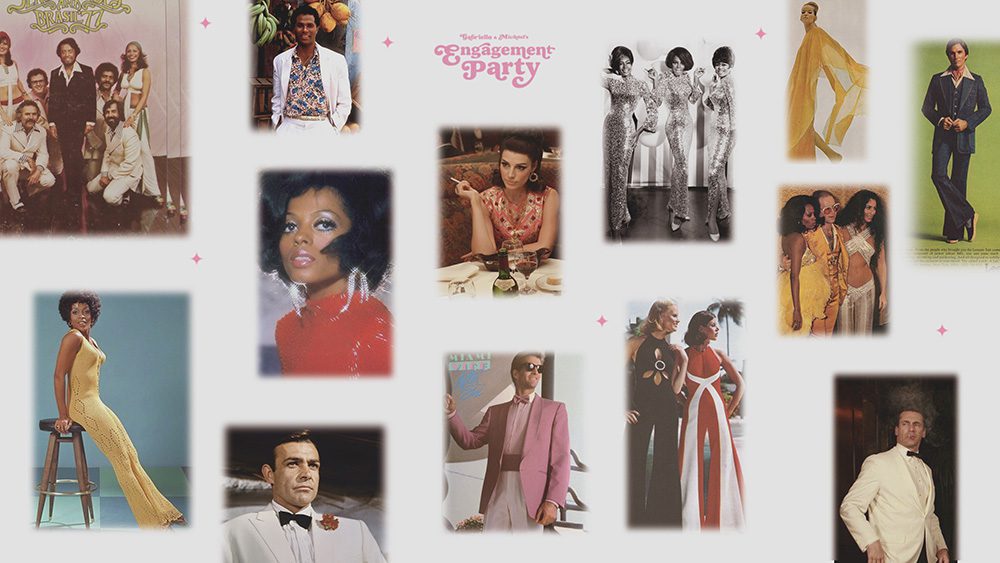 Not only did this reduce waste within the fashion industry preventing the desire to buy a whole new look but it also gave them the perfect ice-breaker and topic for an engaging (pun intended) conversation.
A sequinned ballgown bought for my black-tie 30th birthday dinner that got cancelled because of Covid and never got worn, a number of thrifted handbags/purses, a Karl Lagerfeld belt handed down from Mother to daughter, a thrifted silk scarf worn as a bandana, a vintage handmade waistcoat, a matching ensemble that was their birthday party that was also cancelled due to Covid and colourful men's suits and patterned shirts pulled from their closets came together in a spectacular fashion.
As I looked across my treasured guests and the effort each and every one of them put in to dressing up for us, proudly sharing which era inspired them, the film and TV characters they channelled and what from their outfit was second-hand, I was immensely proud and humbled by their mutual respect and love for Michael and I. 
Whilst road tripping the west coast from Vancouver to Los Angeles and back we spent time in San Francisco updating my most read blog post, 8 of the best places to get photos with the Golden Gate Bridge. Whilst there we also spent an afternoon vintage and thrift shopping along Haight St and it was here that I found the store, Relic Vintage, where I would purchase my three future engagement party outfits.
One by one I slipped into 1960s evening gowns that fit as though they were made just for me. My wildest Gina-Lollobrigida-in-Come-September-and-Grace-Kelly-in-just-about-every-film-she-made dreams came true. Intricately beaded embellishments and deliciously draped chiffon that billowed in precession as I floated across the store melted my core and set my heart on fire.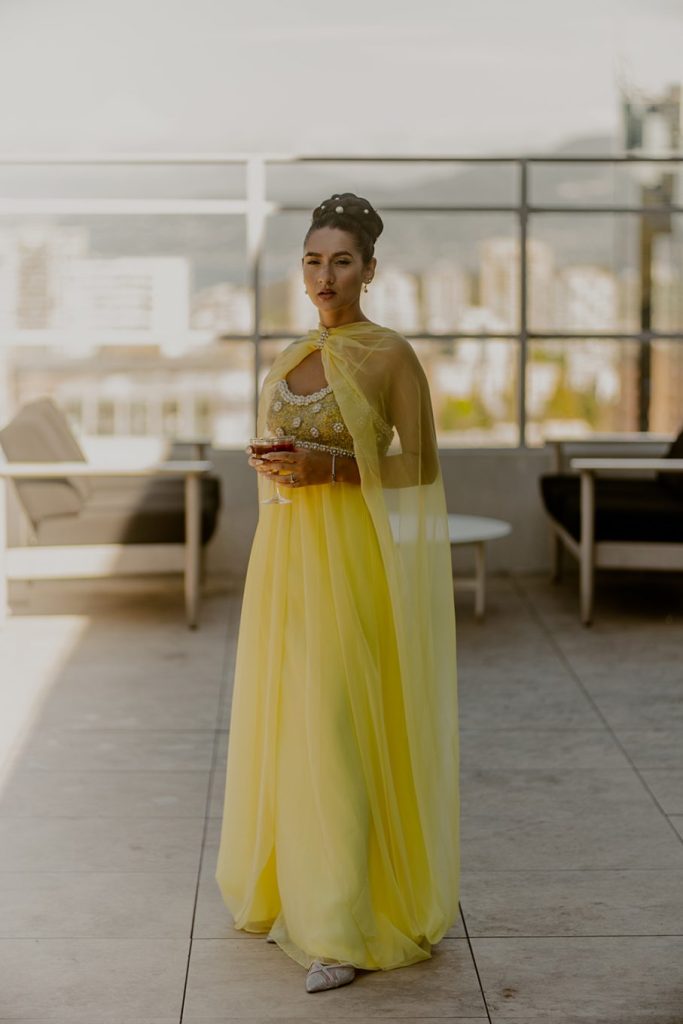 Incapable of making a decision between two I bought both with the intention to do a casual outfit change in the middle of our party. Little did I know how grateful I would be for this decision. Various little dramas has caused a delay in Michael and I getting dressed in time and right at the moment guests were arriving Michael was too hasty in zipping up my first and most spectacular dress of the evening and yanked the zipper pull right of the teeth leaving me in a dress that wasn't going to do up.
Whilst Michael ran out to get the zip replaced and after a narrowly avoided meltdown, I reversed the order of my outfits and put on my other dress. 
The two pairs of shoes that I wore with each dress were an engagement gift from Dune London. The two styles were Diane in Silver and Mitsie in Metallic and were both chosen for their vintage-inspired style.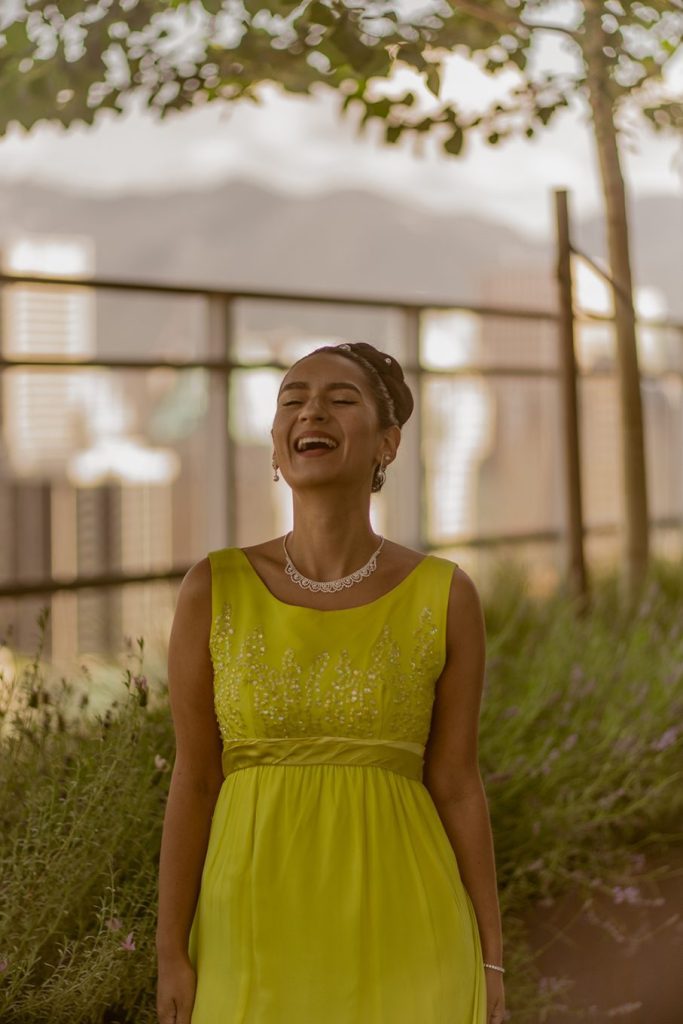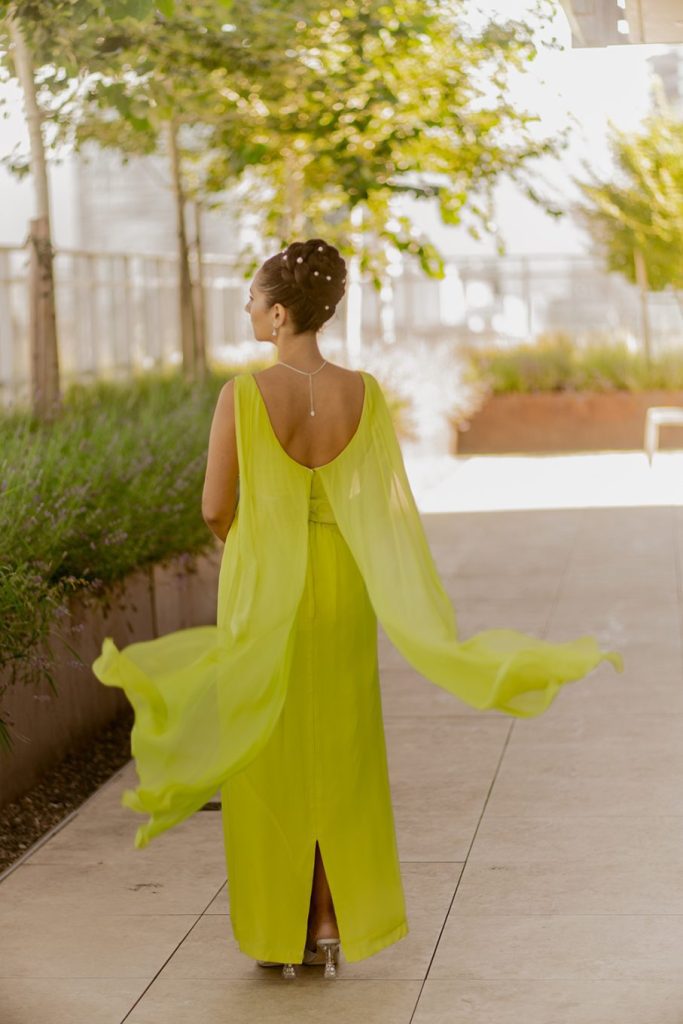 My hairstyle was inspired by an image of Princess Grace Kelly of Monaco's large braided updo from the 60s. I adorned it with pearl hair pins to match the pearl beading on my yellow gown and the Mikimoto pearl earrings that were my Mum's. I created my up do with three sets of braided extensions from previous hairstyles that I had kept in tact over the past few months to be able to use for this.
For my manicure I went for a nude nail with a lemon yellow ombré French tip, to match my dress, and had a layer of yellow chrome applied to the top. My manicure was done at my favourite salon in the city, Ella Bonita Beauty Lounge.
I have never felt so glamorous as wearing those two outfits and I am deeply proud that they were second-hand and will one day be a part of someone else's precious memories.
For Michael's outfit we channelled 1960s Cary Grant in the form of a double-breasted suit styled with a silk scarf we fashioned into an Ascot. 
We had been to all of our favourite thrift stores all across the city before heading over to Burcu's Angels on Main St here in Vancouver. We had left Burcu's to last as she has recently been increasing her prices as she moves towards her retirement but she always delivers and this time was no different. When she spotted us pulling beige and cream double-breasted jackets she came out from the back of the store with the most gorgeous, pristine, cream double-breasted in Italian velvet cotton. Love hearts appeared in our eyes as we ran our fingers over the buttery soft texture and just as she expected it fit almost perfectly, we just had the waistband taken in at Money's.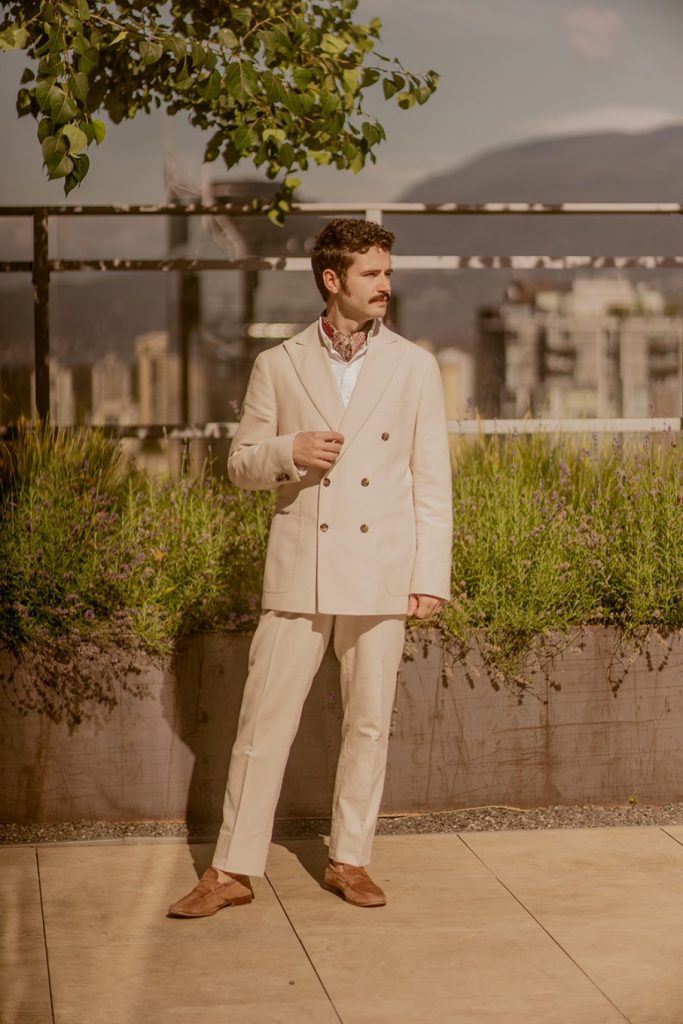 His Ascot was a Liberty of London silk scarf that we thrifted for just $5. Clearly they did not know what they had as a new Liberty silk scarf will set you back $120 minimum.
His Ralph Lauren shirt was pulled from within his wardrobe as were his brown, suede loafers which were a previous gift from Dune London. His O'Malley Sun Oliver People's sunglasses were a 30th birthday gift from me.
Michael looked so dapper and sophisticated. This to date is my most favourite outfit I have ever seen Michael wear and my heart swoons whenever I see the photos of him.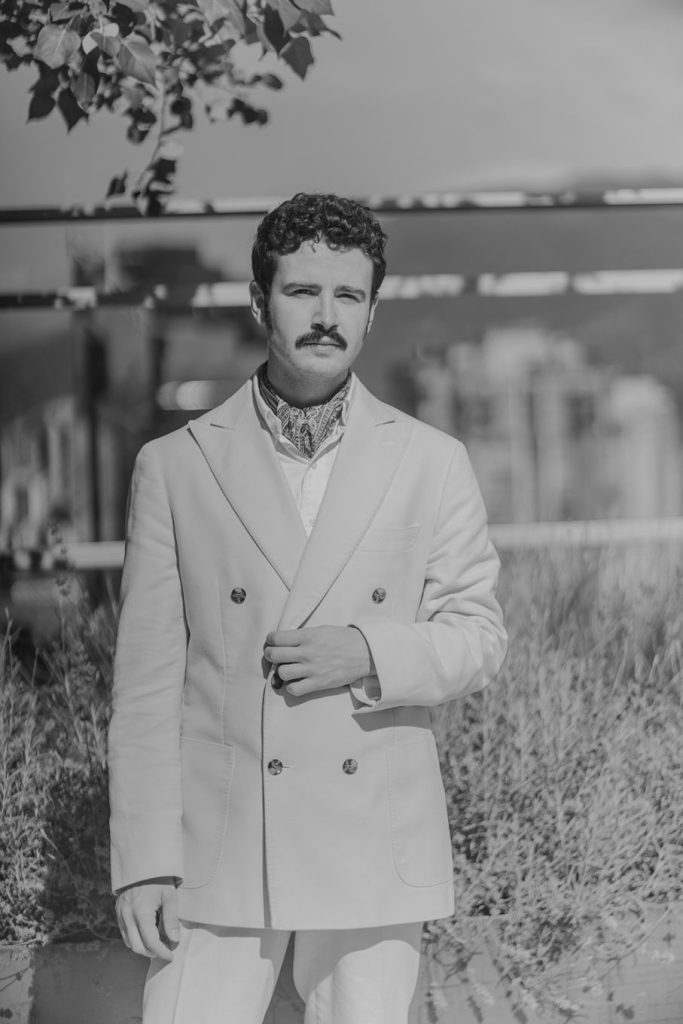 As the invite design was all Michael I'm passing you over to him for a moment to explain his creative process:
"Although I usually go down the illustration route for things like this, the magical setting of a Vancouver roof terrace lent itself to a photography-based approach. I had a few photos I'd taken of the incredible view from our building and played around with a hazy pink edit, complete with fuzzy chromatic aberration (light-fringing that is reminiscent of old cameras) and a healthy serving of grain.
Bogue is a font designed by melvastype, it was the perfect primary font for our event with its playful vintage-inspired serifs. Each character comes with a bunch of stylistic alternates so you can dial up the personality of individual letters to create truly bespoke finishes."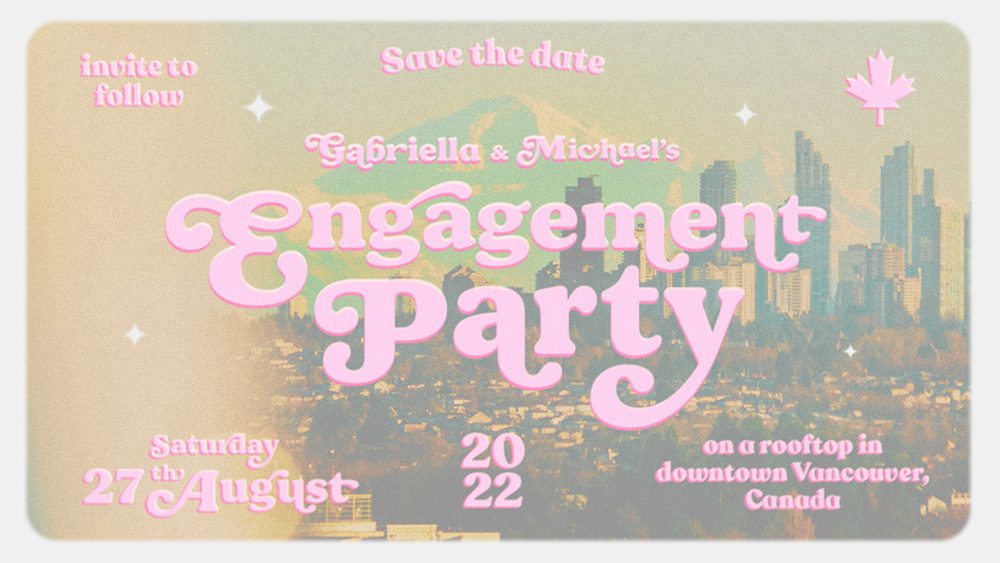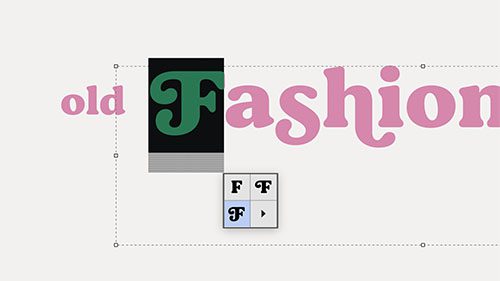 The save the date set the tone for the final invitation and the rest of the printed matter which took a slightly more elegant approach. We omitted the photography for anything that would be printed as we couldn't control the printing quality of certain pieces and sticking to solid colours meant it would look great even if the print quality wasn't good.
For continuity we used the same font across all of the signage at our party, on the open-air photo booth, on the photos themselves and on the opening title to our home movie.
The signage included:
One for the door so guests knew they were in the right place
To label the hand sanitiser and differentiate the vegan snacks
The cocktail menu
A label for the gift table
Stickers on the popcorn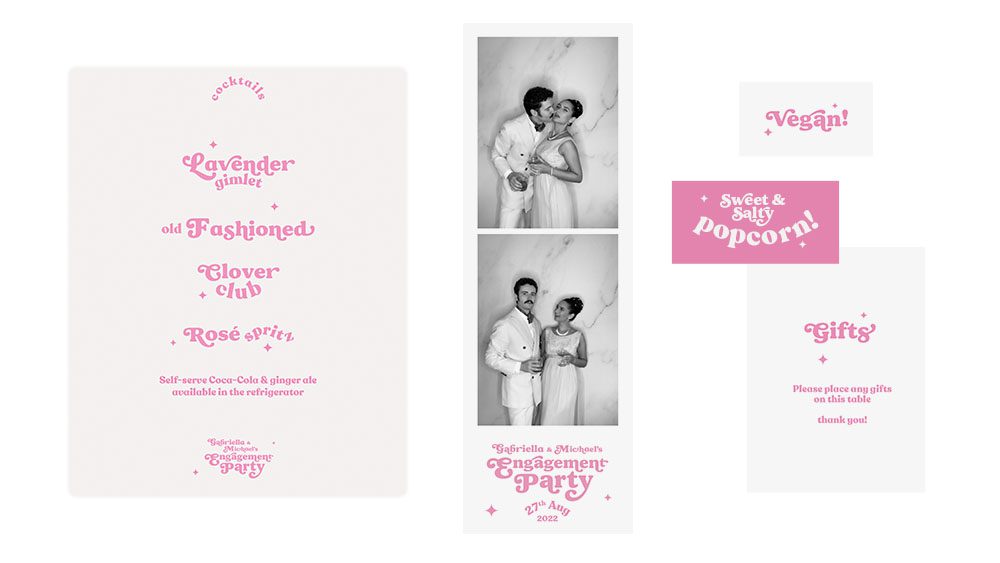 When we decided we were going to host our engagement party in the summer we decided that our first choice for venue would have to change as it has no outdoor space for people to get fresh air. 
Back in May, as we struggled to find someone that had both indoor and outdoor space we hosted our first BBQ of the year on our balcony. When the sun was no longer shining upon us we moved up to the rooftop patio of our building where its gloriously warm rays were not obstructed. It was up there that my friends suggested I enquire about renting the Sky Lounge attached. 
Our rooftop offers 270 degree views of all of Vancouver from downtown all the way to the North Shore mountains and out to sea. It held the promise of a glowy sunset, that just about delivered beneath a layer of cloud, and as a gentle breeze passed over us now and then it brought with it the scent of fresh lavender off the bushes planted when I booked the space for our party.
After finding out we could – and for a fraction of the cost of our first choice – we booked it and kept our fingers crossed for good weather throughout the rest of spring and summer. Luckily for us we narrowly avoided the forecasted rain and it was a beautifully bright and warm day.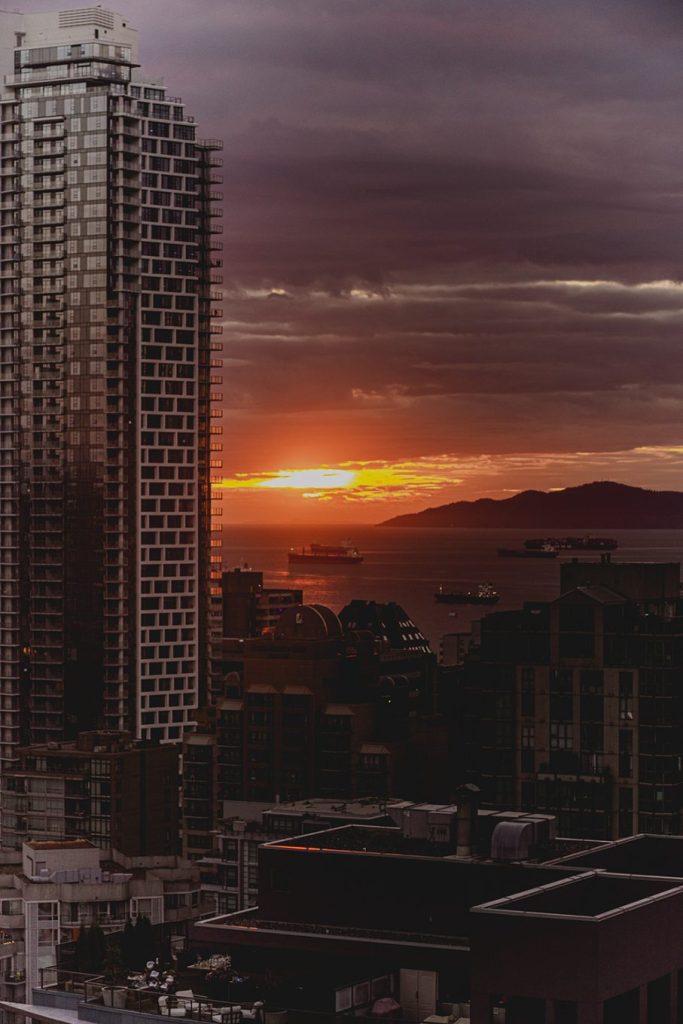 We created three Spotify playlists for our vintage inspired engagement party that spanned four decades from the 1950s to the 80s. All three of these playlists fill me with so much joy and nostalgia over our engagement party. I've linked them all below so you can listen to them depending on the vibe you are after.
The first was complied of 50s and 60s instrumental jazz, French MOD, Bossa Nova and a couple of iconic theme songs from select James Bond movies. We curated this playlist to set an elegant and sophisticated tone that created a mood but still allowed conversation to flow over the top. These songs complimented our home movie beautifully.
After we nervously poured our champagne tower and delivered our toast that neither of us can recall what the other said, we popped on our brief transitional playlist. It comprised of just nine songs from the 70s which would delicately carry us from the smooth jazz that supported introductions and long awaited catch-ups and towards the part of the evening where we've all enjoyed a number of cocktails, feel well-acquainted and ready to party.
After the sun went down, guests adjourned from the patio to indoors and we reached the end of our short transitional playlist, we moved to our third and final playlist of the evening. This playlist was comprised of some of our most favourite hits and ballads from the 70s and 80s, complied with the intention to get people to enjoy a little boogie.
The Sky Lounge we hired for our Canadian engagement party has a TV and we knew we wanted to put something on there but I was adamant that a slideshow of photos wasn't going to cut it for me.
We had settled on the idea of playing High Society without sound until we went out for dinner in Las Vegas earlier in the summer. The restaurant we were in had a montage of black and white movies projected onto the wall and I thought it would be amazing if we did the same thing but with our own videos from our travels.
We put the film on a loop so it would play throughout the evening as our playlist set the mood. It ended up being a huge hit and we truly didn't know what to do with ourselves with all the compliments. We believe in capturing and memorialising the purity of all of life's moments, especially the ones in-between the ones people are usually seeking out. Our film is primarily made up on moments before and in-between our photo shoots.
I've embedded it within the introduction of this blog post to reflect the experience our guests had entering our party. You can also watch it below.
Luckily for me my fiancé is a creative genius with a big flex right now for making cinematic magic with the little in-between moments of life caught on film.
He compiled 15 minutes of video that we had shot of each other or via a tripod, created a custom-made filter that gave the effect of an old black and white film reel projection and he added a title in the matching font to the invites and signage of our engagement party.
Our main source of entertainment outside of my tipsy theatrics and the look on everyone's face as they found out Michael broke my dress moments before the party started, was our photo booth. 
I LOVE a photo booth and we know I don't need to explain why.
With very little luck in booking one, my close friend here recommended DAZI CREATIVE and luckily they were available. Jeremy was amazing throughout the whole process of us giving the specifics of what we wanted the images to look like. 
I wanted to do vertical strips like the original 1970s photo booth that can be found in Selfridges in London (find out exactly where here). We chose to only do two images rather than four with the guidance of Jeremy that you can capture more detail within two larger images than four smaller ones. 
We chose black and white to keep within our vintage glam theme which was very well received by our guests. Black and white also helped to make everyone using the photo booth look more cohesive in their outfits from varying eras, whilst not losing any of the character of their ensembles.
We originally wanted a white backdrop but one wasn't available so we chose marble to match the walls in the Sky Lounge and it actually worked very well.
We had some complications at the start with a late set up but aside from that, they were absolutely amazing. We made the most precious memories with it which you can see scattered throughout this blog post. The photo booth was the best decision we made for the party.
We chose to hire a bar over making our guests serve themselves. The one thing that we wanted for both parties here in Canada and in England was cocktails. We loved looking across our guests and seeing them with beautiful cocktails in hand as they laughed and mingled in the sunshine. 
I found The Bar Guys online and was drawn towards their glassware. 
It was very important to me that we used glasses, not only because they look elegant but because they are reusable. It wasn't until the very end of the party that we were given a few single use cups to drink what was leftover when the bartenders had finished.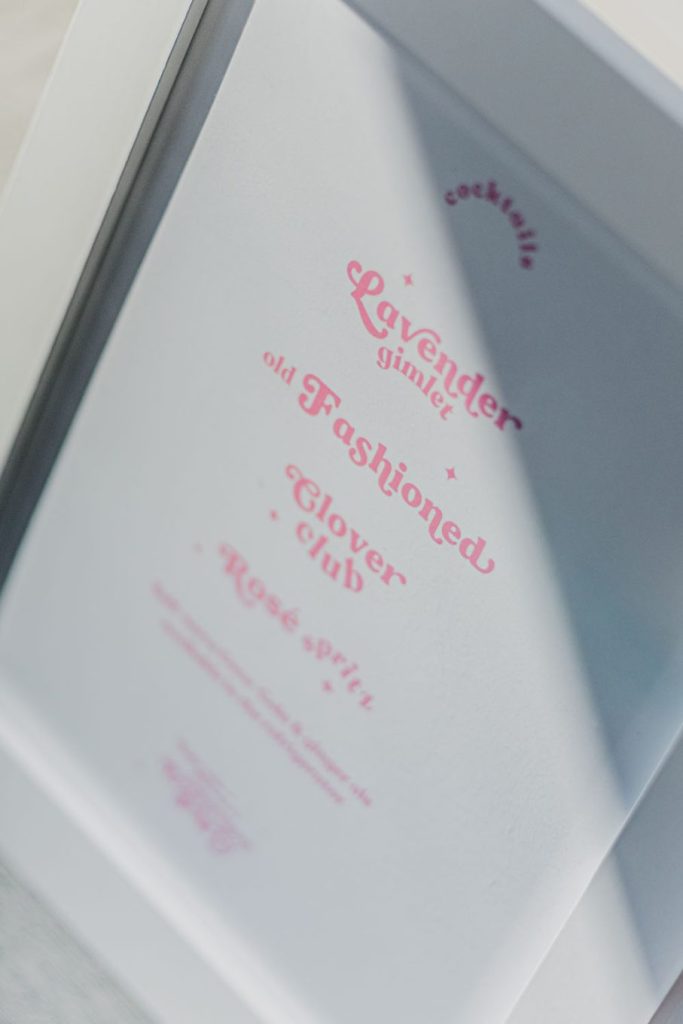 We chose four cocktails based off of our favourites and what we knew our guests would enjoy. 
Lavender Gimlet – I love a Gimlet and for this one we chose lavender to match the lavender planted on the rooftop patio, plus it's my favourite! It was made with Empress 1908 Gin which is a local BC gin.
Clover Club – Unfortunately The Bar Guys couldn't get their hands on raspberry syrup so we ended up with a variation of the Clover Club featuring blackcurrant. The Clover Club is again one of my favourite cocktails and on the sweeter side to a gimlet.
Both of those drinks are served in coupes which was really important to me as I love coupes and they are a glass that defined the era we were trying to emulate.
Old Fashioned – It's Michael's favourite cocktail and one of the most classic ones out there.

 

Rosé Spritz – this gave our guests the option of a wine based cocktail rather than spirits. I knew many of my guests love a spritz in the summer so we chose this for them.
We also stocked the refrigerator with sodas for anyone who wasn't drinking.
Towards the end of the evening – once I had received my original party dress from the alterations and made my outfit change – we gave our toast. Purely for a nod to vintage glamour we had a champagne tower for our toast. Just as I've mentioned the best decision we made was getting the photo booth, well the champagne tower was the worst. It was assembled far too early leaving us to serve warm drinks to our guests for the toast. Plus it was ridiculously expensive for the quality. Please learn from me here if you want a champagne tower, it will cost you significantly less to buy the glasses and bubbles and make it yourself. 
The staff were charming and efficient and no empty glass was left unattended for long which is an often overlooked but crucial detail to how a party looks on the evening. The bar service, for the most part, took a lot of the responsibility of the night off our hands and helped contribute to our engagement party looking and feeling glamorous and elegant.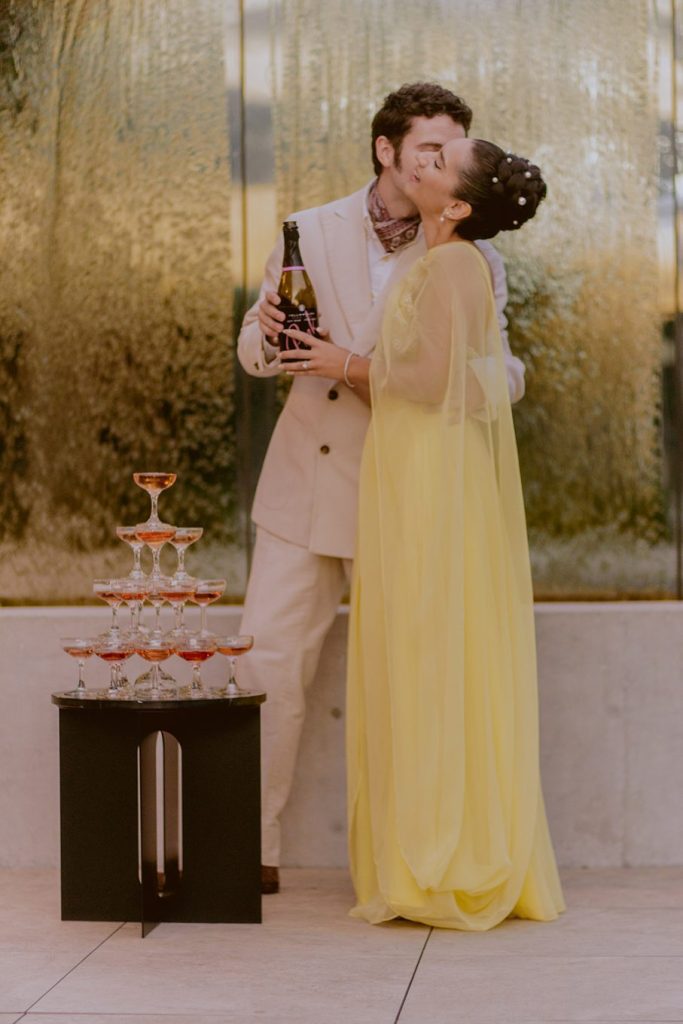 As we were serving alcohol we knew we couldn't leave our guests without sustenance but we really struggled to think of what we could serve that would hold up sitting out for 5+ hours. We had been to various events over the summer and even hosted a few where the cheese on charcuterie boards was sweating, sandwiches had gone dry or things had gone warm/cold. 
Whilst watching Desi Perkins' Instagram Stories of her baby shower, I saw her friends had created a gorgeous dessert table. Cakes, donuts, pretzels and more were displayed across varying levels and so that's what we decided to do. It also helped us keep the cost down after hiring a photo booth and bar.
The two main stars of our snack table were the 48 doughnuts we ordered in from local shop, and Seth Rogan's favourite, Lee's Donuts on Granville Island and homemade shortbread cookies/biscuits in the shape of engagement rings. Shoutout to our friend who stayed up until 2am helping us ice them the night before.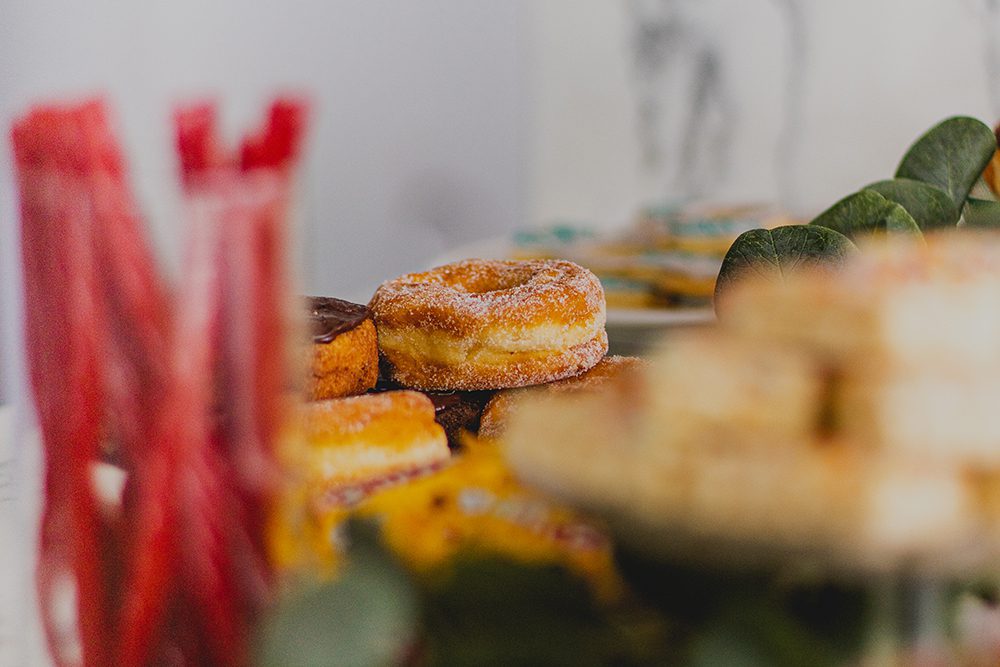 We purchased giant bags of popcorn which we served in mini boxes (an idea from another friend) which we personalised with sticky labels that matched our invites.
Other snacks included Hersey's Kisses, Red Vines, Coffee Crisps, maple leaf cookies, rice crispy treats and cheese straws.
The food was displayed all on second hand plates, cake stands and vases that I had bought across the year since moving here for just a few dollars each. They mostly came from Salvation Army thrift stores and local thrift store, Wildlife. Beneath the plates was one of my table runners and an artificial Eucalyptus garland which I got from the craft store Michael's for free when I purchased another piece of autumn decor.
We ordered 48 doughnuts because it was the only way we could skip the giant Saturday morning queue on the day. For this reason we were left with a lot of doughnuts. After eating a few over the following days as we recovered from the party we were left with about a dozen. Instead of wasting them I chopped them up and made a bread and butter pudding with them. Delicious! I froze what we couldn't eat.
The Golden Era of Hollywood cinema didn't come without its drama and neither did our engagement party. It wouldn't sit well with me to not share some of the moments where our celebrations experienced some hiccups – some more sizeable than others. I've always been transparent on my Instagram and blog about things not being as perfect as the social media realm would have you believe and this blog post will follow suit.
We've already spoken about how Michael ripped the zipper off my dress as our guests were arriving, well that was a big one. 
We also had issues over a miscommunication within the company we hired our photo booth that meant they arrived late and were setting up after my guests started arriving. Just an FYI, they've since been graceful enough to compensate for this.
The playlist was connected to Michael's phone and he had ran off with it to the alternations shop so we didn't have our carefully curated playlist playing for about 45mins. 
The laptop got accidentally pulled out of the wall that meant we didn't have the home movie playing as our guests entered like we wanted.
Not all of our guests could make it to celebrate with us.
The bartenders left our champagne tower in the sun all afternoon then served our guests warm, flat drinks for our toast.
We forgot to turn on the fire pits and string up the fairy lights we bought for the occasion.
Then there was the extremely frustrating situation of residents in our building breaking the one toilet available to all of our guests – not ideal!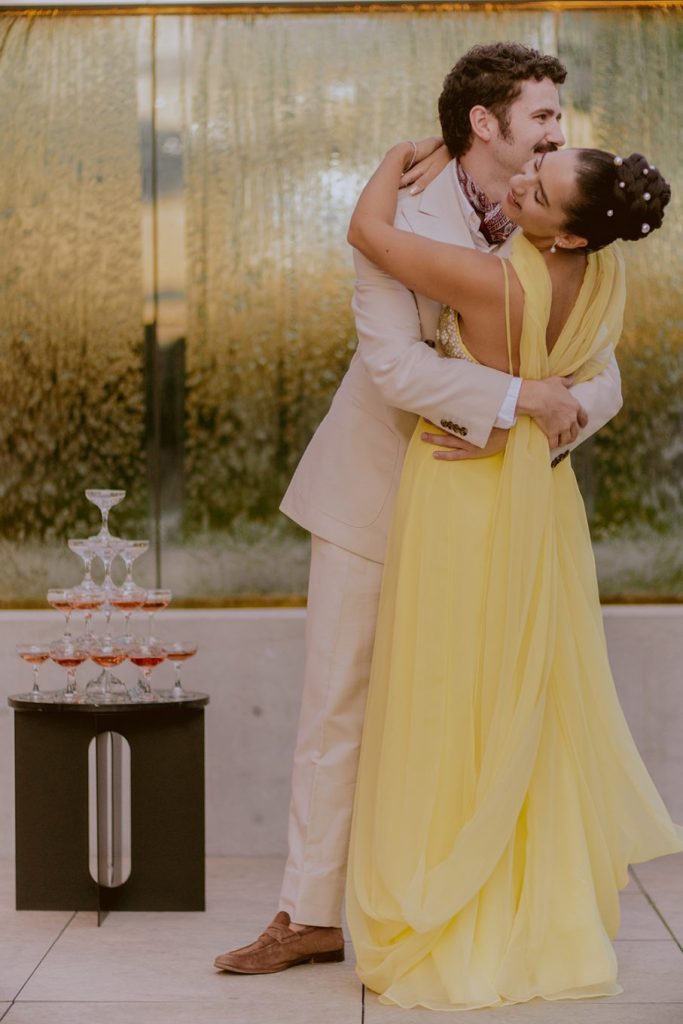 The point is, things went wrong. Are they sticking with me because my moon sign is in Virgo and I am a very particular person when it comes to executing my creative vision? Yes. The reason I'm sharing these though is because it's important that you know not everything was as perfect as it appears and it isn't realistic to expect it to be. 
After our party, friends who married this year shared with me how things had gone wrong at their weddings and it made me feel so much lighter. I had been caught up in that time old comparison game and to hear that I wasn't alone in my feelings of "it wasn't meant to be like that" was reassuring. So I hope that being transparent about the things that didn't go to plan can help you if you ever feel the same.
Ultimately we had a wonderful time being surrounded by friends, who, even though they didn't all know each other, were all there for one magical reason. To support Michael and I and celebrate our unconventionally beautiful love and respect for one another at an engagement party seven months after I said "hmmm, okay!".
Do more on & for the planet, Gabriella