Looking for the best sail charter in Vancouver? Look no further than Orca Wind based in Horseshoe Bay, West Vancouver, just a half-an-hour drive from downtown Vancouver. This is my account of one night spent at sea kayaking, crabbing, stargazing and sailing into the night with the intention of both inspiring you to seek adventure with Orca Wind but also tell a story so dreamlike, I still can't believe it myself.
In the time since, the stories from our overnight sailing adventure with Captain Michael Bromley, owner of Orca Wind Sail Charters, have been told at dinner parties, on phone calls, over morning coffee and even to ourselves, each time in total disbelief. Did that really happen? 
Did we really dance on the waves to old CDs of Fleetwood Mac, kayak out to pull crab traps from the depth of a secluded bay and sip rum beneath a sky full of twinkling stars? Did we rest our eyes as the gentle sway of the boat rocked us to sleep, startle awake to the echo of wolves howling under a full moon and pull up anchor to sail into the moon in the wee small hours of the morning?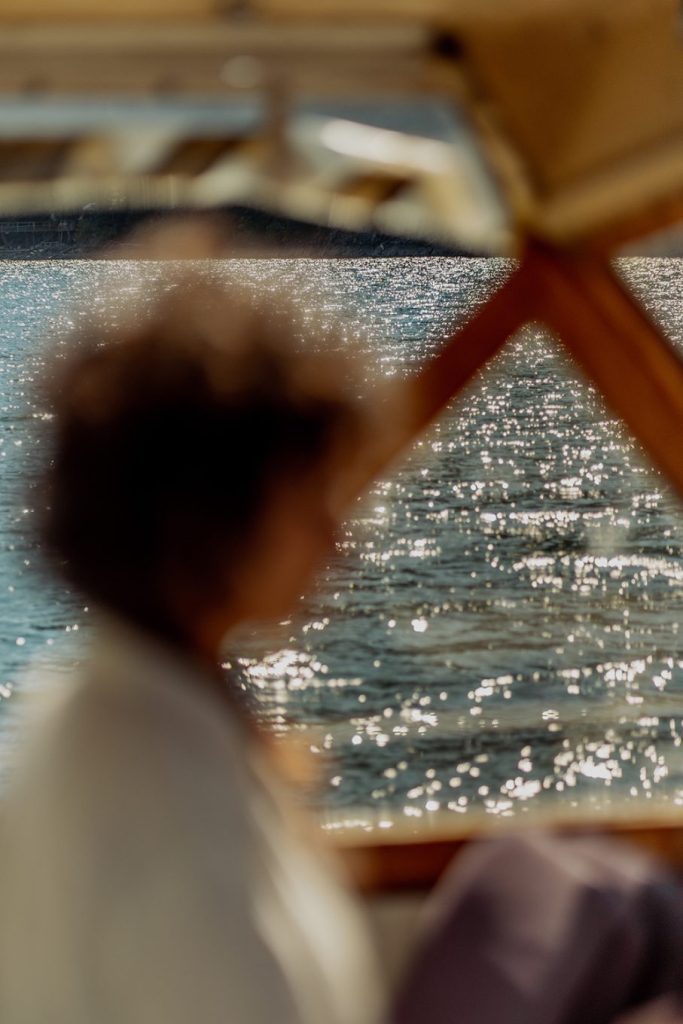 Whenever told of our dreamlike experience with Orca Wind, we are always asked, how did this happen? How did you meet this Captain? 
I met Captain Michael Bromley in May 2022 when a new friend invited me to celebrate her 30th birthday on the sailboat she had chartered for the day. In a conversation that started about my bright orange suit – thank you M&S – I wanted to know more about his life at sea. We didn't chat for long but there was something within our mutual fascination in what the other did for work that led to us exchanging email addresses. 
The next day I dropped Michael an email that started a conversation about working together and soon after we were planning an overnight sailing trip for the end of summer. An offer, he said, that doesn't get made often but according to him he knew he needed to make this happen. He wasn't yet sure why but his intuition was telling him he needed to take us on this sailing adventure. Magic was most certain at play.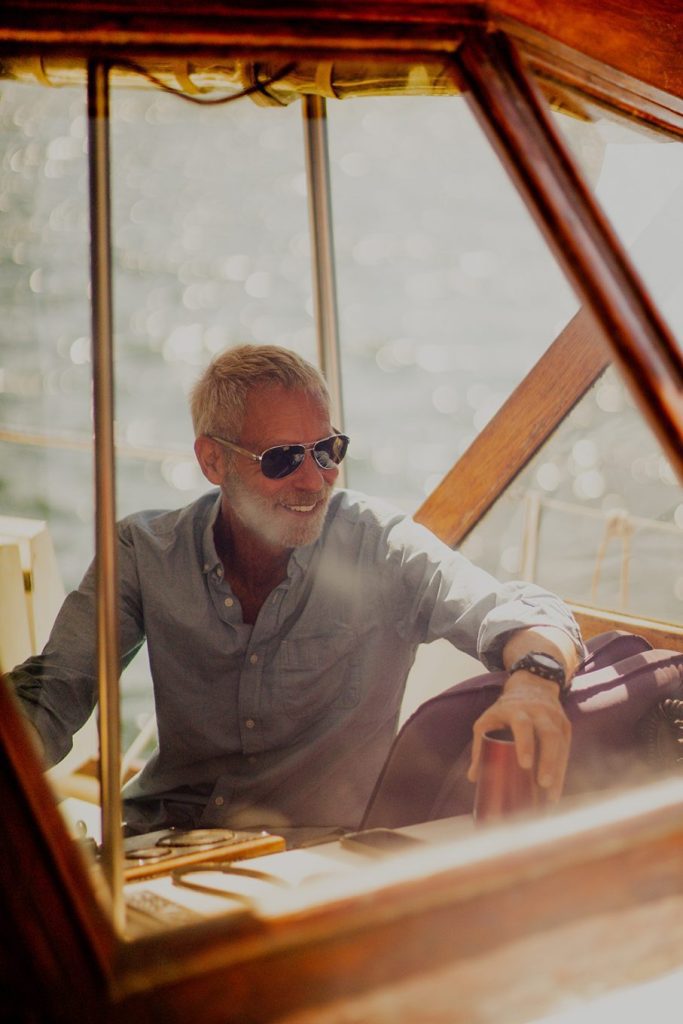 This blog post, unlike the others on Postcards from Hawaii, is going to be more of a personal account, a story if you like, of our sailing trip with Orca Wind. It will be less about answering questions on how to hire Orca Wind for a private charter and more why. Allow me a moment to serve some up some inspiration for you to leave your worries behind at the marina and sail into your wildest dreams.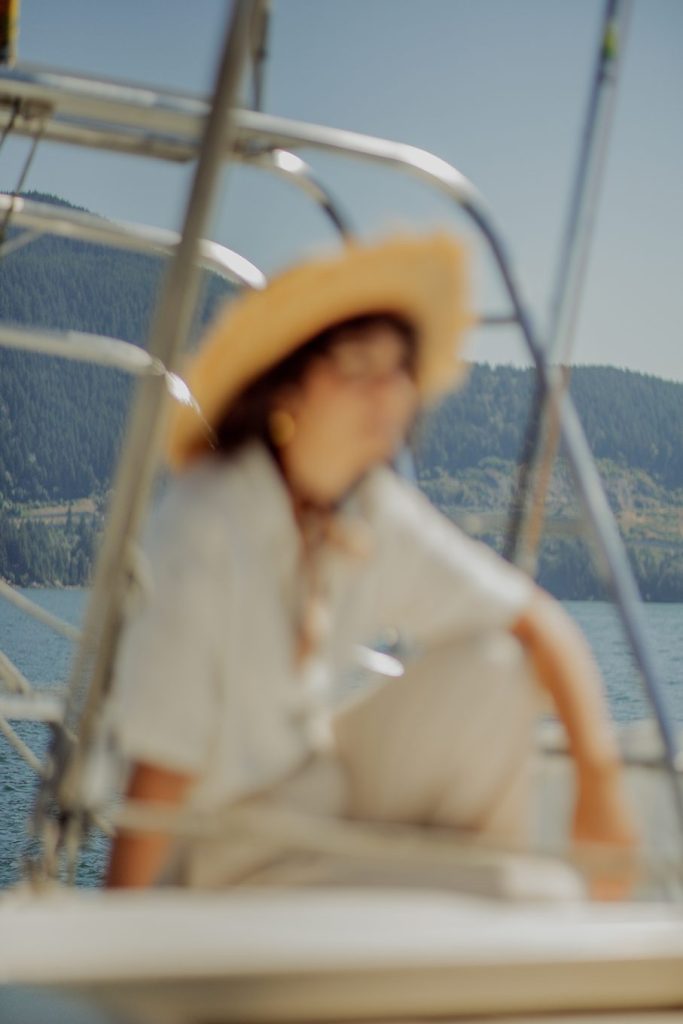 Orca Wind is moored in Sewell's Marina, West Moorage at Horseshoe Bay, West Vancouver, which is just a 30 minute drive from downtown Vancouver.
To get there you need to walk to the far left side of the bay and walk past the new luxury apartment buildings. You'll find a locked gate with a sign above it saying Sewell's Marina, West Moorage. This is where you will wait for your captain to greet you and give you access.
Setting sail on Orca Wind
We met Captain Michael Bromley at the entrance to the West Marina a little after 1pm on a warm summer's afternoon, nary a cloud in the sky. After a quick safety briefing and familiarisation of the boat we set sail for our destination, Port Graves, Gambier Island, located about 2 hours from Horseshoe Bay.
Whilst making our way out of Horseshoe Bay we passed a small herd of seals with eyes so big they make your heart melt, sunning themselves on rocks, reminding you to savour the precious moments of warm weather when we get it in Raincouver. From the water we even got a clear view of The Black Tusk near Whistler, over 75km away.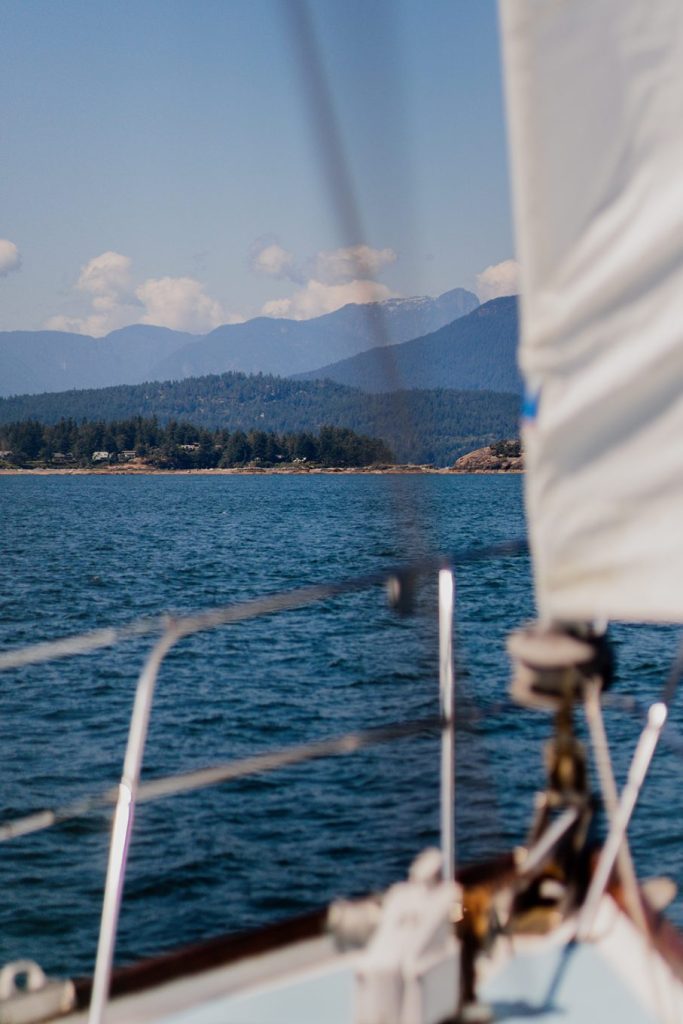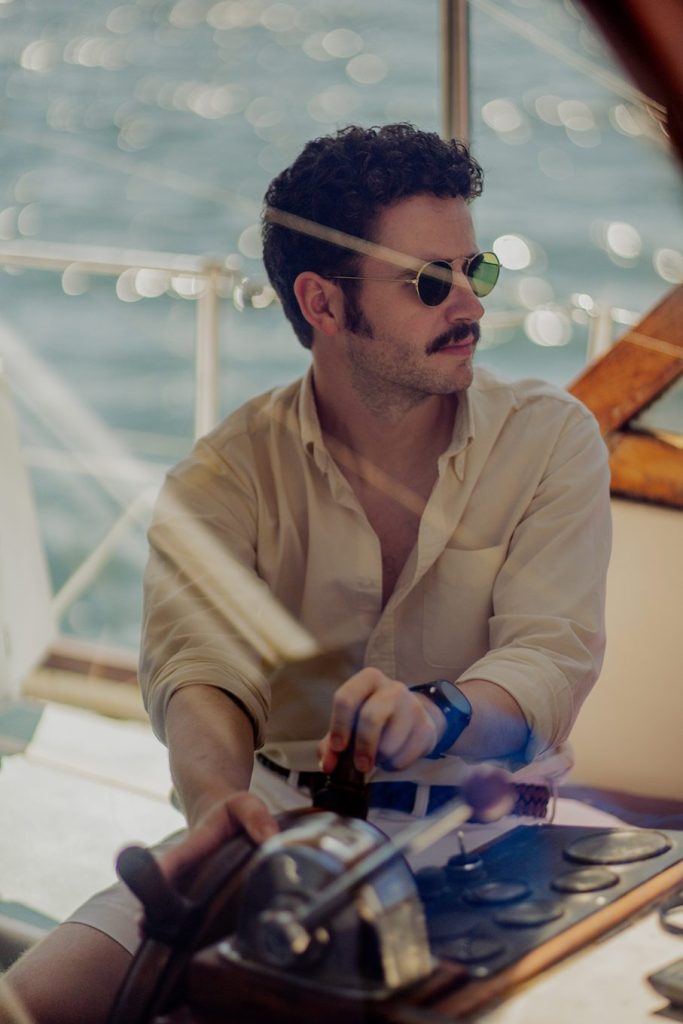 It wasn't long before the cork was pulled from a bottle of wine and the three of us sat in fascinating conversations of sailing tales, liberated youth, destiny and our future hopes and dreams. 
As a gentle breeze blew off the waves and through my curls, I sat in bewilderment as Captain Michael gave us a lesson in etymology, enlightening us on the meanings of common phrases and words used so frequently that I'd never stopped to question their origins. As I learnt where "posh" and "three square meals" came from, I was amused to find out how many related back to naval history.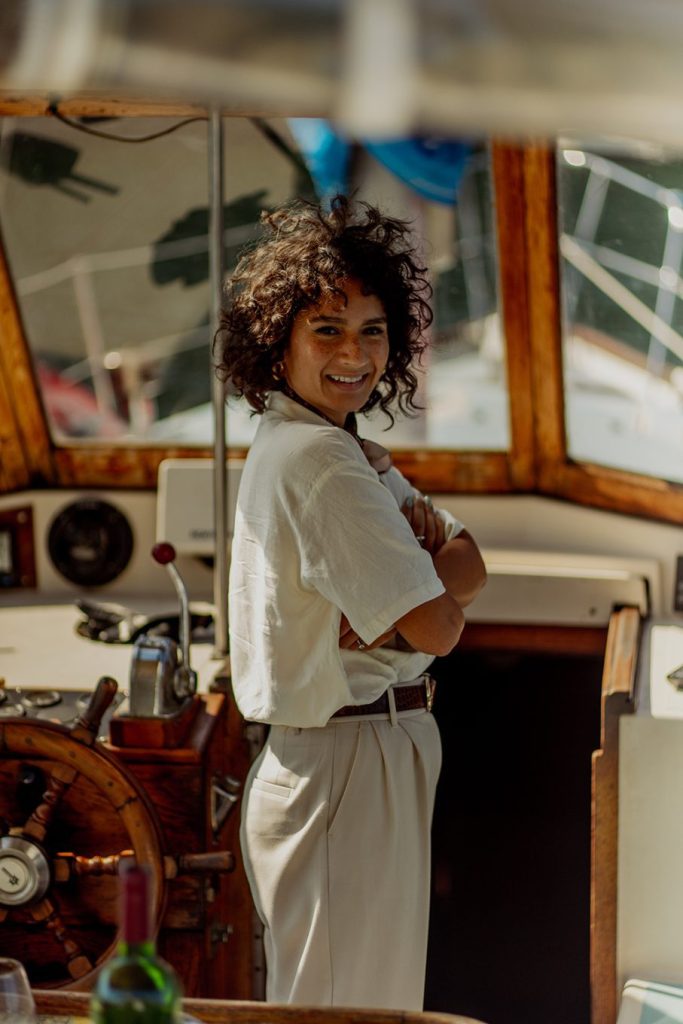 Around halfway into our trip, Michael (the one that's my fiancé) and I stepped out onto the deck where we laid out in the sun as the headsail fluttered above our heads. With wine in one hand and Michael's in the other I took a deep, intentional breath to fill my lungs with the clean, salty air and exhaled any lingering doubts over our decision to move from London to Vancouver. 
Then just when I thought the moment couldn't get any better, I heard the rippling synth of the intro to Fleetwood Mac's Everywhere drift over from our Captain's stereo. In that very moment I closed my eyes and became highly conscious that this was a core memory in the making, one that I would be able to summon visceral feelings of bliss for quite some time to come.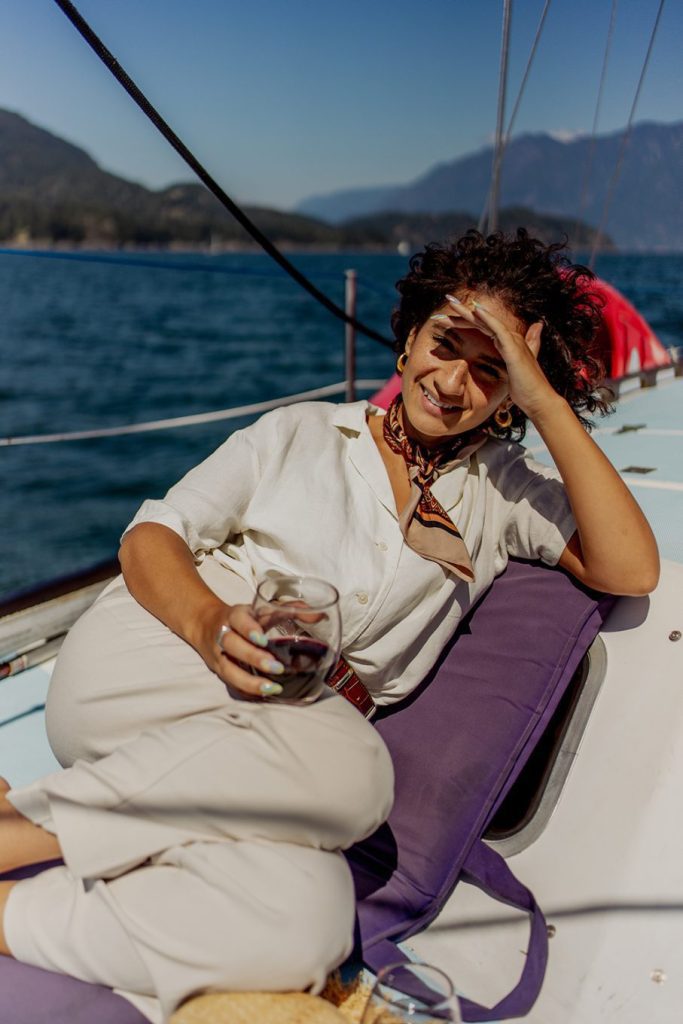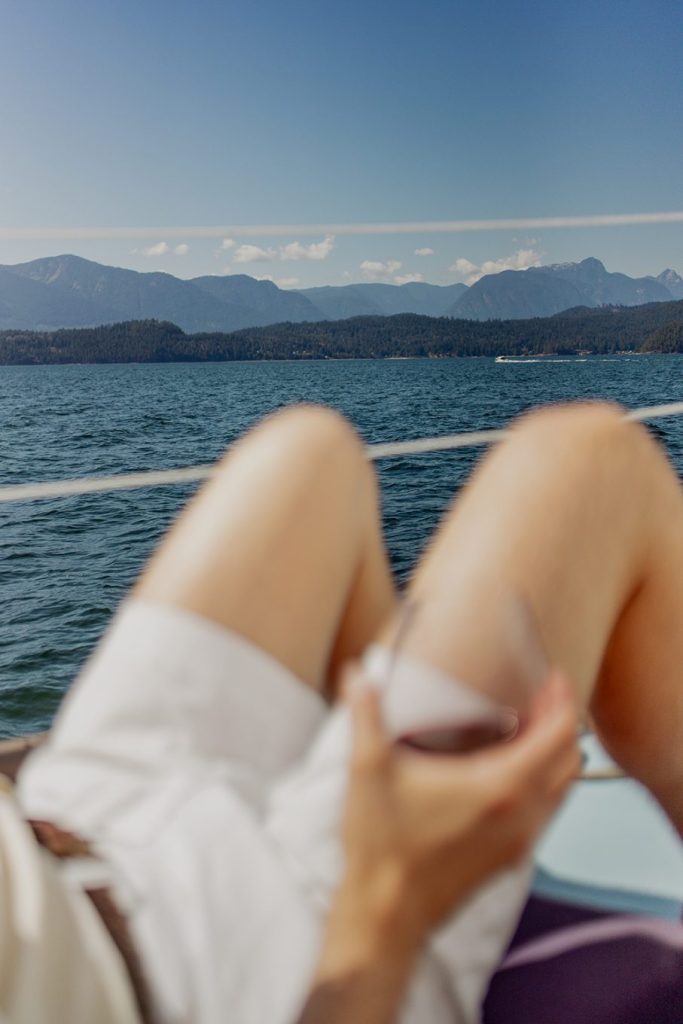 Arriving at Port Graves, Gambier Island
As we drew closer to our destination, Captain Michael prepared a crab trap that he released just before finding a safe spot to drop anchor for the evening. 
Port Graves is the longer of the three neighbouring bays this side of Gambier Island. On this particular late afternoon it was quiet with just a handful of other boats whom hardly made a sound unless they were heading out to check the yield of their crab traps.
After helping our Captain drop the anchor we changed into our bathing suits. As we emerged from the cabin we were greeted by an afternoon appetiser of homemade saganaki and crackers.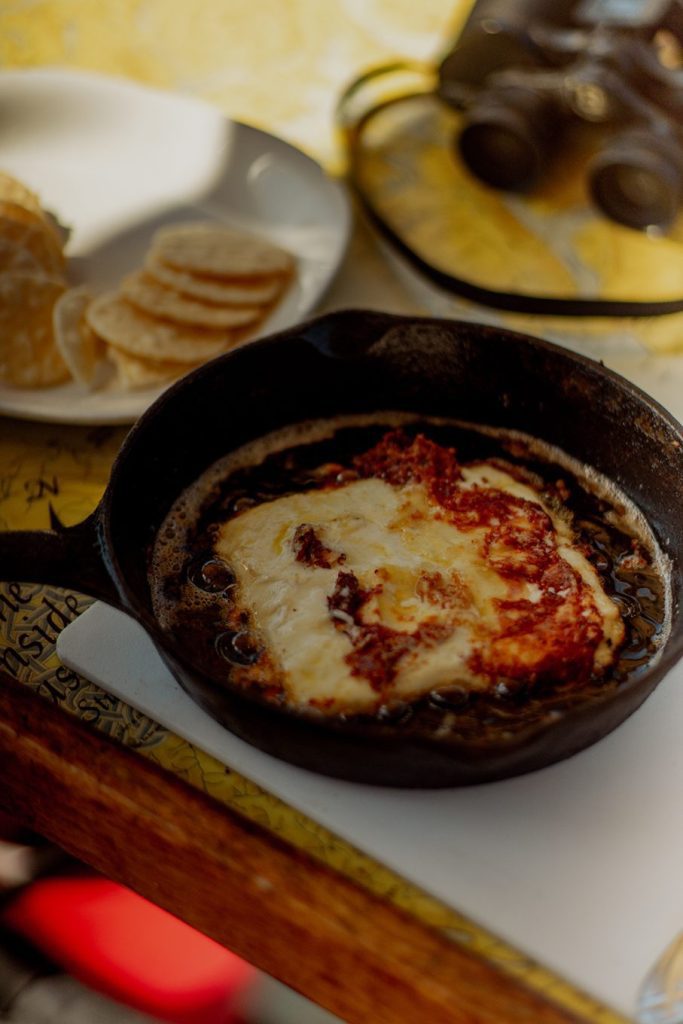 After enjoying this delicious snack Michael and I donned our life jackets and headed out in the kayaks for a paddle around the bay. After a few inevitable arguments (we always get a little bitchy with each other whenever oars are involved) we got into a flow and managed to coordinate taking photos of each other while exploring our surroundings. With a slight current moving through the bay, the journey back to Orca Wind was slightly more challenging but only contributed to working up an appetite before dinner. On our route back we made a stop to check the crab trap which could only have been amusing to watch as the two of us fumbled around with 40+ feet of rope and a cage neither of us particularly knew how to handle. With no crab in sight, we released the trap back to the depths and returned to Orca Wind.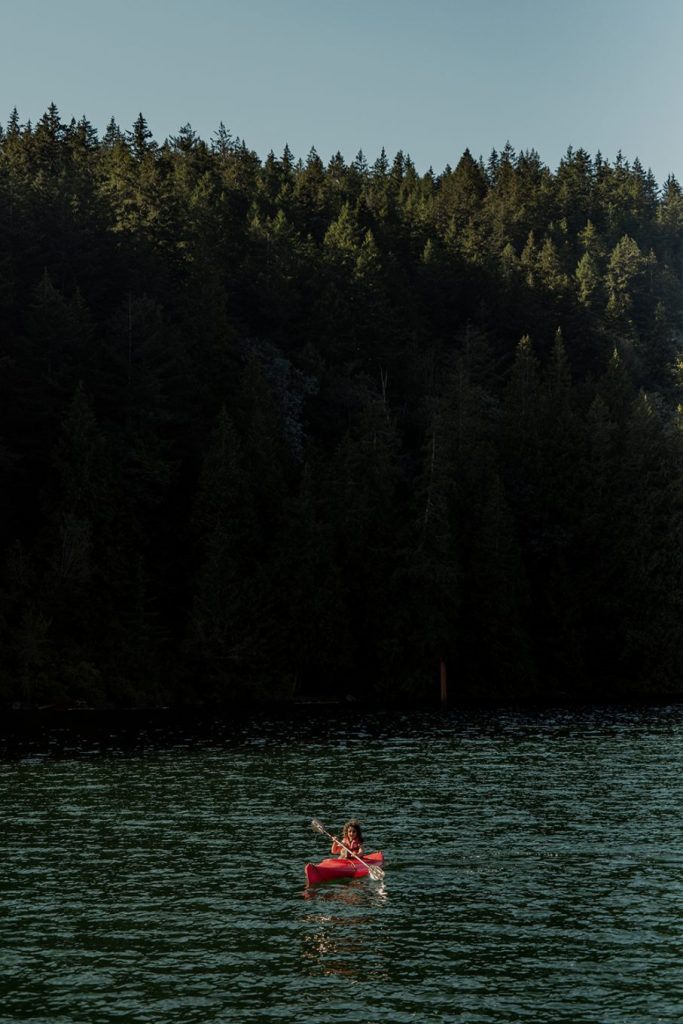 After a little scramble back onto the boat we decided to cool off before dressing for dinner. Easier said than done. Though we both thought jumping off the side of the boat into the cool dark waters below would be fun, the pair of us froze on the edge. My legs became so heavy and toes curled into a grip so tight I thought they would never let me go but in a fit of laughter as both Michael's hyped me up and threatened to push, I allowed myself to spring off the side squealing as I went. What was first a shock as I dropped into hella crisp waters, I emerged with the help of my life jacket to bob gleefully on the surface which was still warm from a day of sun.
Michael, who took a little extra coaxing into the water, eventually awkwardly slunk into the water in a manner that made him appear to be attached to the boat by a magnetic force. Either way he made it in and in the few moments before the sun dipped behind the trees beside us, we floated in celebration for overcoming fear. In those moments, I allowed the life jacket hugging my body to bear its weight and along with it I also released anything weighing on my mind and just floated in a state of contentment.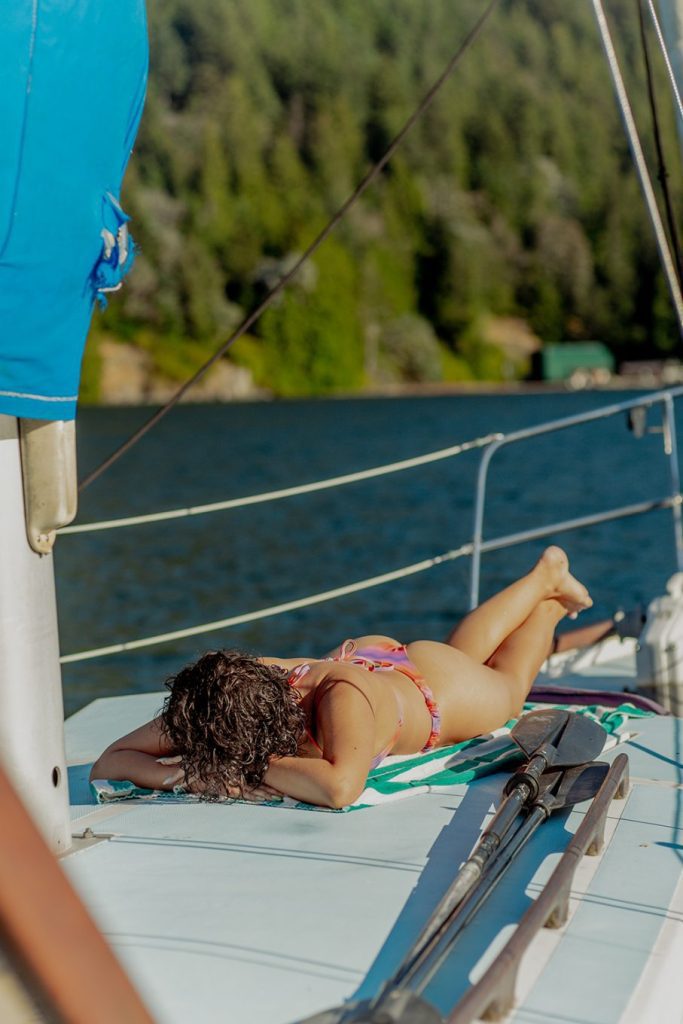 Dinner date with the ocean
After drying off and changing into something more practical and comfortable I hung my bikini on the ropes of the boat and looked in amusement at the scene I'd actually pinned onto my Vision Board earlier in the summer.
We convened in the cockpit for an aperitif and an education in Canadian musicians. Then whilst Captain Michael prepared dinner, my Michael and I went out onto the deck where we took the photo that now sits in a frame beside our bed and enjoyed a rather uncoordinated but joyous little dance.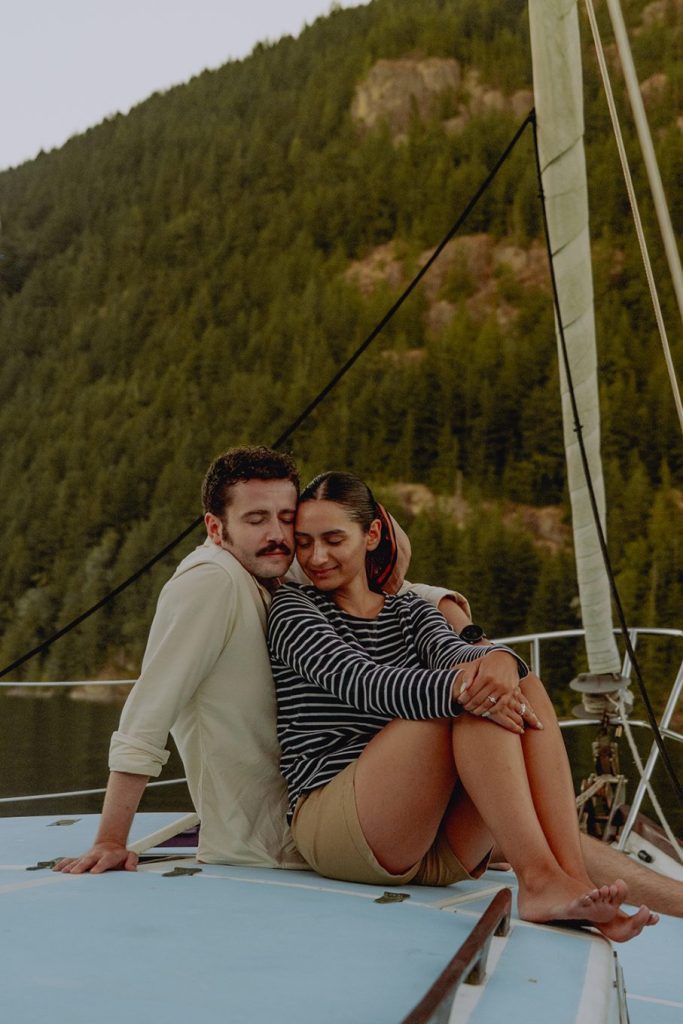 As the sun dipped behind the tree line we dined on a delicious home-cooked meal. Salmon baked in corn husks, corn on the cob, boiled potatoes and a salad dressed with a homemade vinaigrette that Captain Michael won't give up his secret recipe, no matter how many ingredients you guess, made for quite a feast. Chocolate cookies followed, satisfying cravings for something sweet.
Whilst we ate, the bay settled as though someone had taken a palette knife and smoothed over the ripples like frosting on a cake. Golden hour came and turned the same water a luminous green from the reflections of the fir trees that surrounded us, a sight, we were told, that was not seen often. Mother Nature was putting on quite a show and wasn't even close to her finale.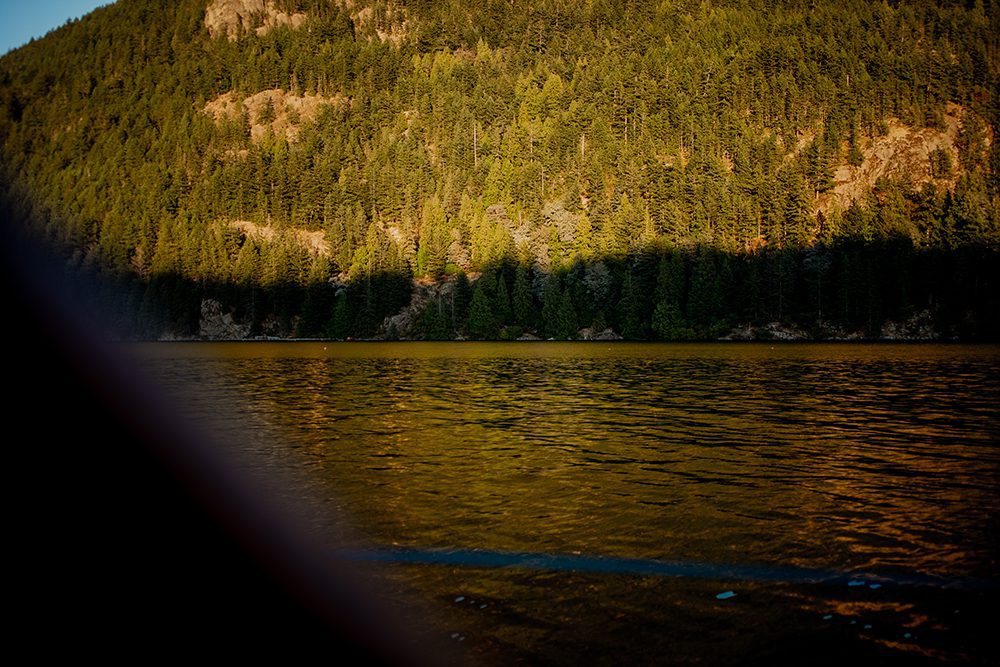 As the sky turned the few wisps of cloud into pink cotton candy, I sat in bewilderment as Captain Michael Bromley shared stories of his fascinating and often mind boggling life. In just shy of 60 years he has been a wedding photographer, reserve firefighter, first responder and ski instructor with time spent working abroad in Japan. He currently works as a grain inspector alongside his business of operating cruises from his floating homes, one in West Van and the other in the Caribbean. We held our breath as he recalled the times he nearly died at sea, the story of how a previous boat of his got annihilated by a rogue BC Ferry and at the staggering seven times he's saved a person's life by being in the right place at the right time. We flipped through photo albums, shared a laugh over misadventures and held space for the one that got away.
In a moment of self reflection, our voices tapered off and we were left with silence. True silence. A quiet so pure that our city ears have become unaccustomed to it and was willing to play tricks. With it brought a feeling of nostalgia for our childhoods spent in the countryside where the same tranquility could fool you into thinking you were the only person on Earth.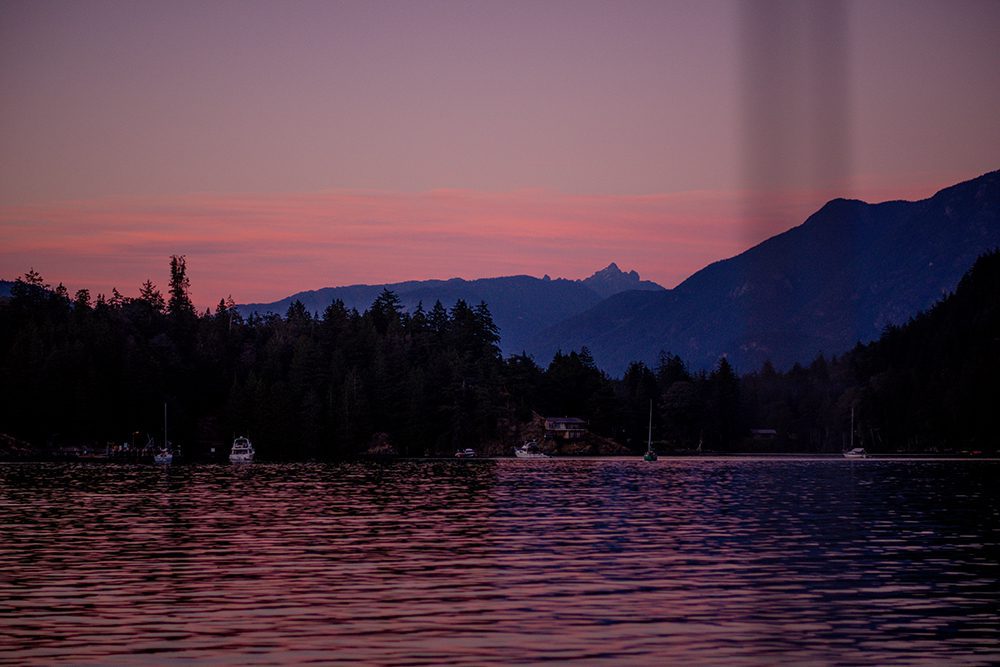 As darkness called upon us and the stars emerged we pulled cushions out onto the deck and laid beneath the night's sky, counting the multitude of orbiting satellites and picking out the few constellations we knew. With a thick blanket and glass of Flor de Caña rum to keep us warm, we snuggled into an embrace loaded with disbelief and gratitude for how lucky we were to be on this trip.
With the promise of a full moon and no cloud in sight we collectively made the decision to sail into the night, as Captain Michael put it, which meant returning to Horseshoe Bay, guided only by his instinct and the light of the moon.
As heavy eyes waited for the moon to rise high enough in the sky, we drifted off to the gentle rocking of the boat, waking sporadically to the sound of wolves howling into the night. Little did we know at the time, the rising moon that triggered these echoing howls was a full moon. Something I'm fortune to have not known at the time – the mistake my parents made by showing a young Gaby An American Werewolf in London (1981) has not been forgotten. 
However, knowing we were surrounded by the safety net of water, concern was not a feeling that participated in the evening's events. We listened in awe and drifted back to sleep until we were bathed in enough light that we could make a move.
At approximately ten to midnight the two Michael's paddled out into the cover of night, where the trees cast a shadow and my eyes couldn't track them. Their mission was to retrieve the crab trap which had since captured its intended bounty.
I resumed my position at the helm to help our captain pull up anchor then we readied ourselves to set sail for the moon. Unfortunately little wind meant we weren't able to rely on just the wind but, you know, same notion.
As we made our way across the open water, Michael and I watched out for drifting logs shining a torch upon those that float in our path. A task we took a comical amount of pride in as we bickered over who got power over the torch.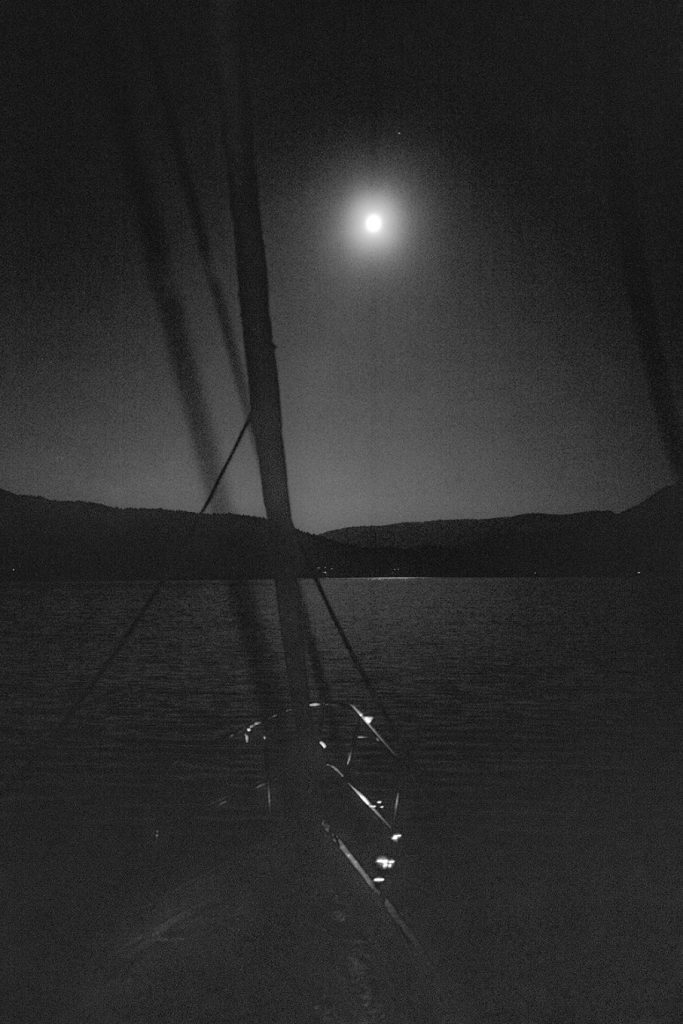 Around 1am Captain Michael approached us with the cooked dungeness crab they had retrieved from the depths of the bay a mere hour before. It didn't take long for him to realise that neither of us had ever cracked open crab legs before and so there we sat, in the wee small hours of the morning, out at sea, learning how to eat crab.
I'm fairly certain that this crab was the freshest seafood I have ever eaten to date and it's delicate flavour most certainly lived up to our captain's promise that it would taste like no seafood we've ever tried before. 
Whilst we continued our journey into the night, working our way back towards Horseshoe Bay, we watched the moonlight dance upon the rippling waves as shooting stars blazed across the sky above our heads. 
About 2.30am, after docking, I slipped into bed and fell asleep to the soothing creek of the boat as it pulled against tethered ropes.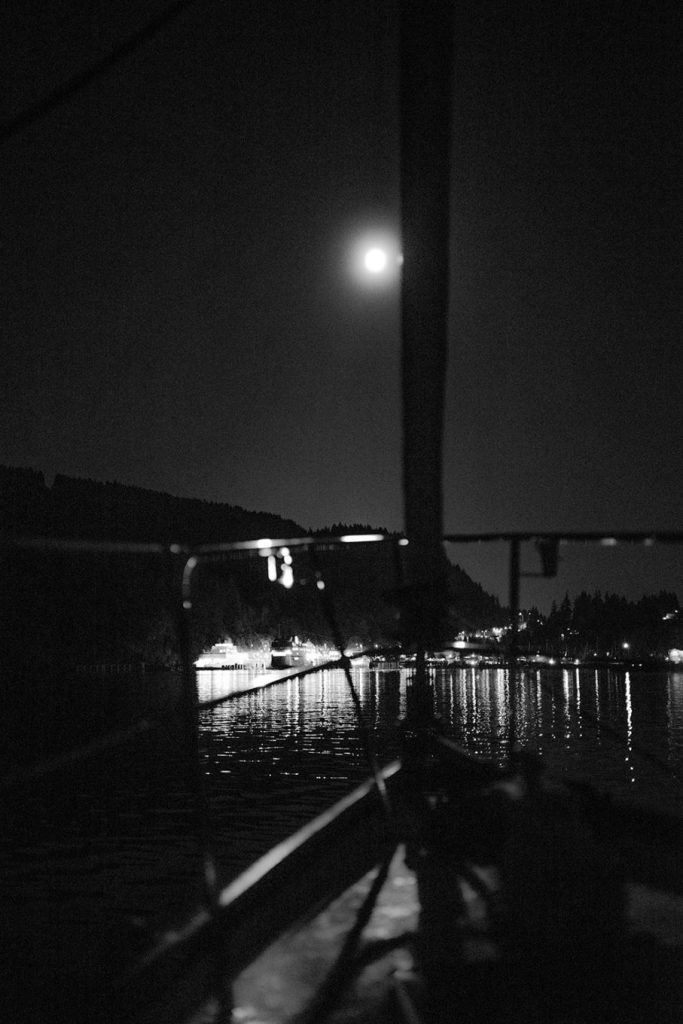 The morning after the night before
I woke up as the summer sun came pouring in through the port hole on my side of the bed. I got dressed for the day and made my way up to the top deck, mindful not to wake anyone as they recovered from our late night at sea.
As my toes met the early morning dew on the deck I was careful not to ruin my efforts to be quiet and carried out a cushion which I laid upon out in the sun where I waited for the other two to arise.
I pulled out my phone to check my emails realising this was the first time since stepping aboard Orca Wind that I had used it. I praised myself for switching off for as long as I did and promised to implement a similar boundary when I returned home.
About half an hour later I could smell the pot of coffee brewing on the stove top drifting up to where I lay. We then enjoyed breakfast as we righted the wrongs of the world in conversations about the environment before departing to go home.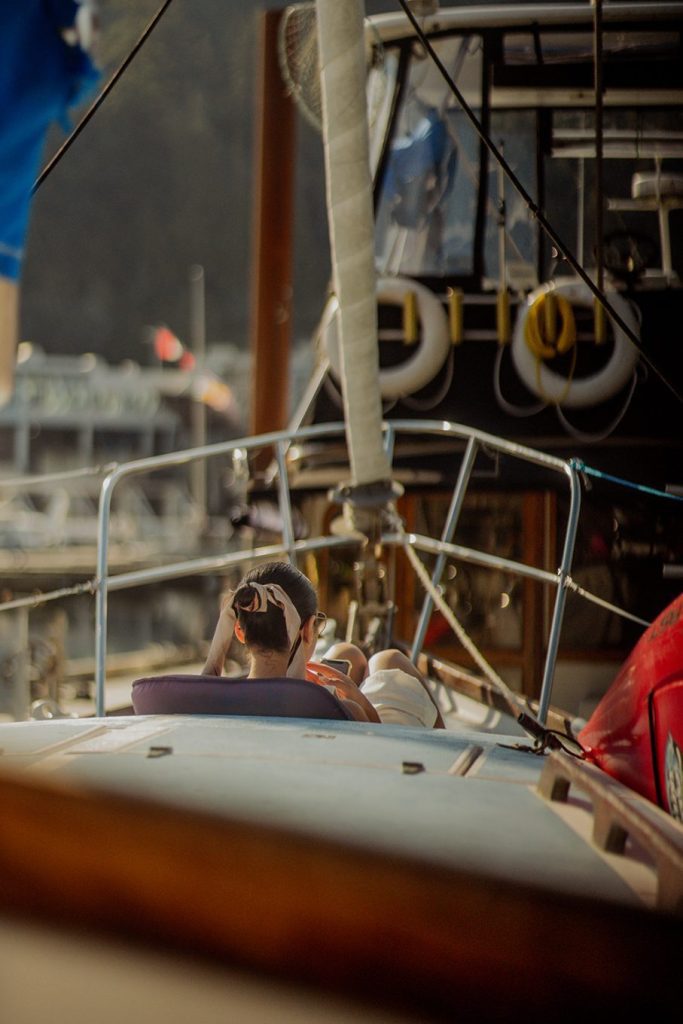 Our time spent with Captain Michael Bromley upon Orca Wind was like nothing I've ever experienced and has most definitely shaped my newfound sense of gratitude for my new home in Canada. It has humbled me as I reflect upon the possibility of a self sufficient lifestyle and inspired me to continue working towards achieving my goals to live the life of my dreams, just as Michael Bromley does. 
If you ever find yourself in need of a break away from routine or a reset to help you re-evaluate life's simple pleasures then please consider a charter with Orca Wind. 
Orca Wind offers: 
Day charters which are great for social gatherings
West coast dinner cruises which are ideal for celebrating a special occasion
Spa sails where you take self care to the next level and enjoy a treatment on the waves
Overnight adventures of varying lengths for anyone looking to explore BC's stunning coastline and switch off from the outside world
If you would like to enquire about a sail charter with Orca Wind then you can reach Captain Michael Bromley at info@orcawindsailcharters.com or the incredibly charming number of 604-729-SAIL (7245).
If you have any questions reach out via the comments below. 
Do more on & for the planet, Gabriella