This sugar cookie recipe is super simple, needs very few ingredients but makes delicious and really cute biscuits that can be enjoyed on any occasion. As you'll see from the photos I love making them for Valentine's Day but I also make them as Christmas cookies or whenever there's a party – ahh remember what parties were? Those were the days.
I'll be honest with you, being a travel blogger in a time when international travel is illegal is getting to be somewhat tricky and makes me feel like some kind of dirty accomplice. Sharing fresh travel content not only during the UK's 3rd lockdown but also having not left the country for over a year now isn't easy but of course I want to provide you with useful content that can at least keep you occupied in your spare time whilst you're not working from home and you can't travel.
So with that said, here's my sugar cookie recipe for the cookies that I will most likely bring to your party when they're legal again but until then, you can bake these little bickies (that's Brit slang for biscuits which are cookies, yes I know you're now practicing your English accent) yourself for your zoom party or whatever sad thing we're all doing to feel alive on a weekend during the pandemic.
What if I don't want vegan sugar cookies?
I've been reducing my dairy intake for the last 3 years but I've been baking these sugar cookies for so much longer. Originally I was baking them with an egg and butter before switching to margarine and vegan eggs.
Sure, they're richer with butter but they are delicious baked with dairy or vegan ingredients so I would urge you to try the vegan option for the future of the planet but either way, they will taste amazing!
How to make gluten free sugar cookies
Simply switch out the plain flour for gluten free plain flour and use double the amount of egg or vegan egg replacement if you want to make these easy sugar cookies gluten free. I will say that despite the vegan eggs and butter making no difference to the taste or texture, the gluten free flour does make the sugar cookies dryer. I always counteract this by using piping icing so you don't notice it quite so much. They will look at lot more pale than if they weren't gluten free so don't bake them for longer than 10mins.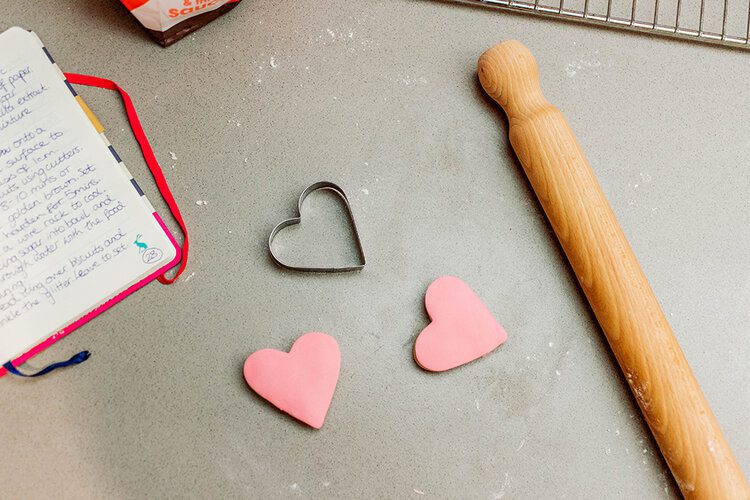 How long sugar cookies will last
Sugar cookies will last 2 weeks if stored in a dry, airtight container for 6 weeks in the freezer.
If you have an event coming up such as Valentine's Day or Christmas and you're short on time, you can use this recipe to make them in advance and then freeze the sugar cookies. Just take them out of the freezer to defrost for at least 2 hours to be sure they're ready to eat.
How to decorate sugar cookies
If I have a lot of time I will mix up icing sugar with water and food colouring and smooth the icing over each one, but it's very time consuming and usually something I do for Christmas. If you choose to do this you will need to leave them to set overnight.
If you want to add sprinkles then add them before you leave the icing sugar mixture to set.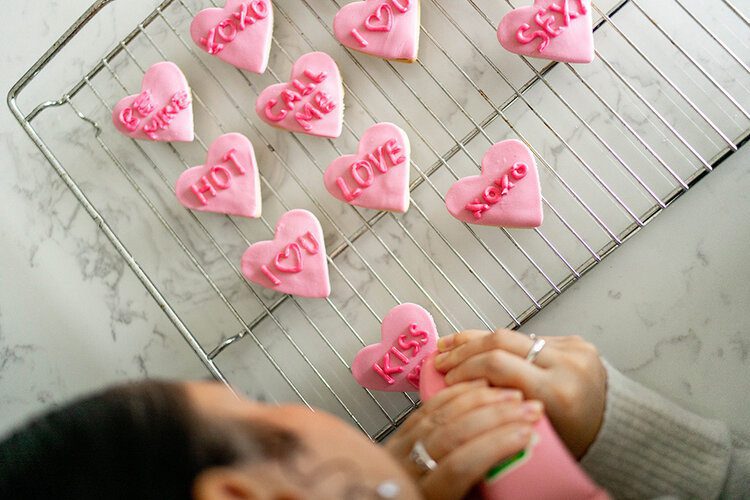 When I'm short on time, I use the same cookie cutter to cut out fondant icing which I'll stick on with a little icing I've made with water and icing sugar. 
Add a little something extra by decorating them with piping icing. My tip for using piped icing is to go slower than you would think necessary to keep your pattern or writing consistent.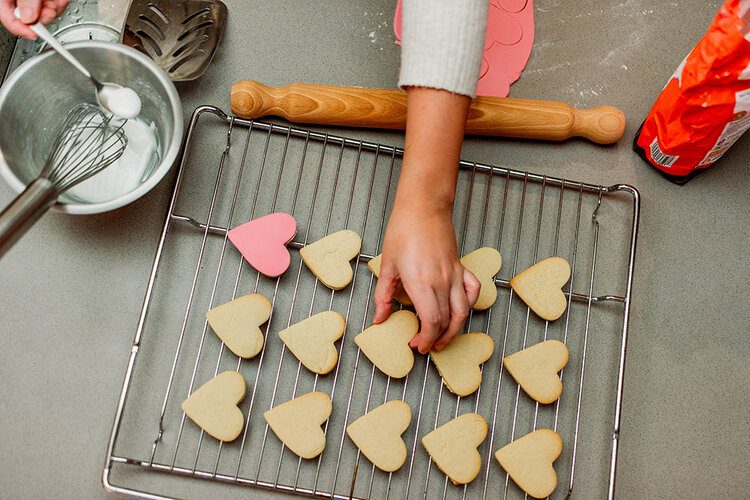 This recipe will make approximately 36 sugar cookies.
Ingredients
Sugar cookies
275g / 2¼ cups plain flour
100g / ½ cup caster sugar
100g / ¼ cup and 3 tbsp vegan margarine or butter
1 free range egg / 3 tbsp vegan egg replacement for baking, check the packaging for the brand you use (I used Oggs) 
1 tsp vanilla extract
Icing 
Piping icing with:
400g icing sugar mixed with 3-4 tbsp water with ½ tsp of food colouring
Or 
250g fondant icing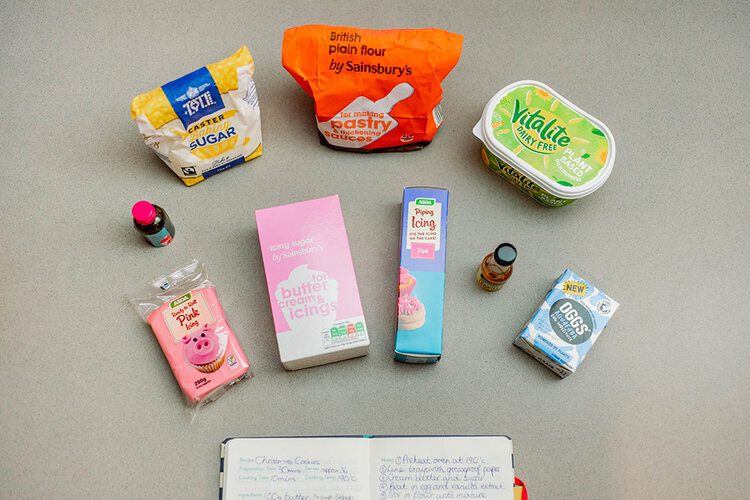 Equipment 
Mixing bowl
Scales or measuring cups
Measuring spoons
Wooden spoon
Rolling pin
Cookie cutter in shapes of your choice
Cooling wire/rack
Method
1. Preheat the oven to 190ºC Fan or 374ºF.
2. Line your baking trays/sheets with greaseproof/parchment paper (if you have a reusable lining then use that).
3. Cream the butter and sugar together in the mixing bowl with a wooden spoon.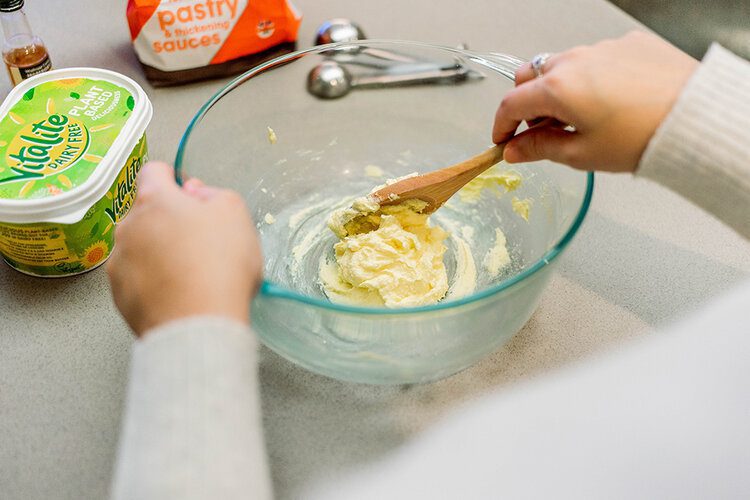 4. Beat in the egg or vegan egg replacement and vanilla extract.
5. Stir in the flour and bring it together until the mixture forms a dough (you will need to use you hands towards the end).
6. Split the dough into two so you can manage it better and roll it out onto a lightly floured surface until it's 1cm thick.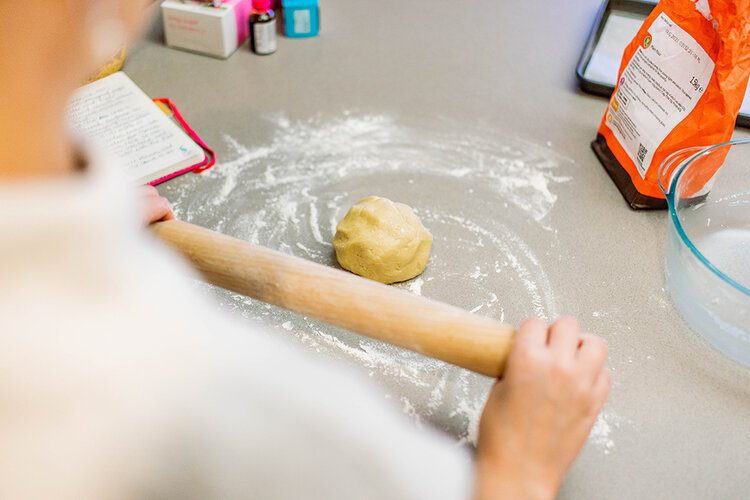 7. Take your cookie cutter in the shape(s) of your choice and cut out your cookies/biscuits. Keep rolling out the excess dough until you have cut as many cookies as possible, you will get approximately 18 from each half of the dough. Place your cookies onto your pre-lined baking trays/sheets.
You may also be interested in my American Buttermilk Pancakes recipe.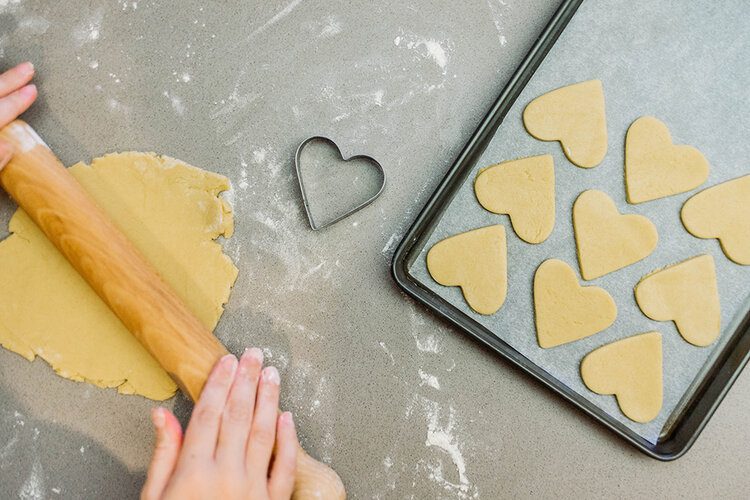 8. Bake your cookies in the oven for 8 – 10mins, you want to catch them right before they start to brown on the edges, they should be baked but pale in colour. Start them at 8mins and if they're about to turn golden then remove them, if they're looking under-baked then leave them in a further 2mins but no longer.