Getting new luggage is like entering a new relationship, you don't know where it's going yet but they have to be strong, reliable and attractive but most importantly in it for the long haul. Feel like you need some advice before committing? No problem, have a read through my top seven tips so you can make your choice confidently.
1. No zips! 
I am adamantly against zips with any suitcases that are leaving your side (i.e. checked bags). Your padlock stands no chance against a determined thief, and no I'm not talking about code breakers, bolt cutters or even a knife, it is far simpler than that! A ballpoint pen will glide right through the centre of those zip teeth like a figure skater on ice. Worst part? You might not know until it's too late, just drag that pull tab back over the opening made with the pen and it's as good as gold… I'm not kidding, on a trip from Mauritius back to NZ between connections, my cousin's suitcase had been opened despite the closed and undamaged padlock. It's an awful thing to happen, not to mention zippers can get caught, stuck and break, disaster! Ditch the zip.
2. Go hard or go home
Hard beats soft every time. I know most people will argue that soft means you can squeeze in more items and that they're lighter but soft can rip, is easier to break into, isn't generally water proof, doesn't provide much protection for the contents and it isn't going to hold well under the pressure of other cases which will inevitably be placed on top somewhere along your travels. Yes harder cases are heavier, that's a given, but realistically you rarely bear the full weight of your case and if you're worried about losing wiggle room on your weight allowance then you should be going hard to protect your over stuffed case anyway. You've been told!
3. This is wheelie important
It's the 4 wheels vs 2 wheels dilemma. I prefer 4 because it can be used both ways. It allows for 360 degree movement and offers a wider range of manoeuverability. It also takes a lot more weight off your body than dragging a 2 wheeler behind you. It can be argued that 4 wheelers are harder to move when you're walking down a street and they make you wider in crowded areas but the beauty of a 4 wheeler is that you can pull it behind you like a 2 wheeler in those situations. Look for brands that boast testing their wheels over great distance for assured quality.
4. Take a load off
Test the case with weighted items to see how well it manoeuvres. When getting fitted for backpacks, most good retailers such as Cotswold Outdoors, will fill it with varying weighted bags to see how it carries on your back because you don't want to injure yourself with the wrong fit. Well, just because it is a suitcase and not loaded up onto your back, it is still important to be mindful of the strain on your body. Whether it's 2 wheels or 4 wheels an element of weight will be put on you either through dragging or pushing, so make sure you can comfortably push or pull that weight without hurting you arms or back. 
5. Get a handle on things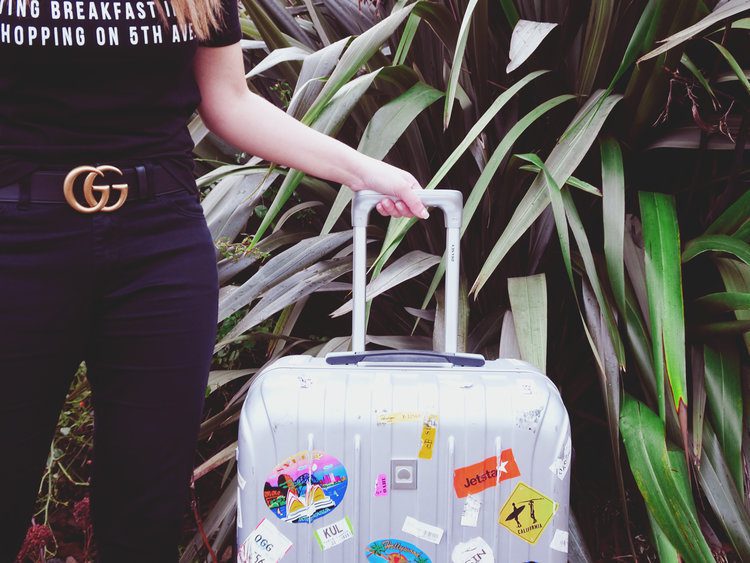 With regards to weight, you also want to check if the main handle which you will be using to push or pull with is sturdy. You don't want it to rattle or feel weak under the weight of your case because once that is kaput, you are going to end up damaging your back from carrying the full weight of your suitcase. Not to mention what a general inconvenience it is. Keep in mind you're not just taking your case through an airport, think about how you lift your case off a cramped underground train, how you lift it up a couple of stairs, how it gets put on luggage racks – you tend to use the top handle, albeit pushed down into the locked position but it is strained in these tiny moment, make sure it can withstand these moments. 
6. TSA you say?
The Transportation Security Administration (TSA) of the United States have the right to access passengers' luggage without them being present, so to prevent damage to locks – which without a TSA lock cannot be claimed – they developed a specific lock which enables them to access your luggage with a master key and then lock it securely and safely afterwards. You can't add TSA padlocks to suitcases that have combination seals rather than a zip, so make sure the one you are buying has one built in.
7. Size matters
Put some real thought and effort into the size, it will be so disappointing if you spend a significant amount of money on a suitcase only for it to be too small or even too big for how much you travel with. Consider what kind of trips you will be taking this case on and what contents it will be filled with. Once you add up your toiletry bags, clothing, accessories and footwear will you be able to fit it all in with souvenir room to spare? Think about how in winter your three jumpers take up half the case alone. Are you like my partner who needs at least three pairs of shoes to cover every occasion, can you get them in without crushing everything else? I always recommend going into a store to look at the sizes and even bringing along some big items you would pack to get an idea of space. If you are looking for hand luggage make sure it fits the cabin size requirement, most good luggage companies will inform you if that case is cabin size but airlines do vary on their allowances. Sky Scanner and Samsonite have made super handy tables but you should always check your airline for their specific allowances.
So now that you have gone through my tips, I'm going to share with you my most trusted suitcase brands in order of budget, and remember suitcases are investments, you want them to withstand the test of time.
Samsonite
My first investment case and arguably my favourite – don't tell the others – was the Aeris Spinner 4 wheels 75cm in pink. I bought this when I was moving to Paris and I needed a big case that I could move the material contents of my 21 year old life without drama (anyone who knows the story of me nearly missing my Eurostar when I first moved to Paris can have a good laugh at that). This was also my first 4 wheeler and I have never looked back. This size is great for a two week holiday for one person or for a couple to share on a city break if you want to save on the checked bag cost.
This American company has been making cases for over 100 years and are one of the most well known brands. Their products go through meticulous quality testings which features tumble, handle, drop, wheel, zip and lock tests. You can find their guarantee here. Their hard cases such as S'Cure and Aeris come in a great variety of colours to suit your personality best and they have frequent sales – as I write they are offering 10% off your purchase when you sign up to their emails, plus they have outlet shops around the world for even better discounts. The price range for a medium to large is between £150-£250.
Lojel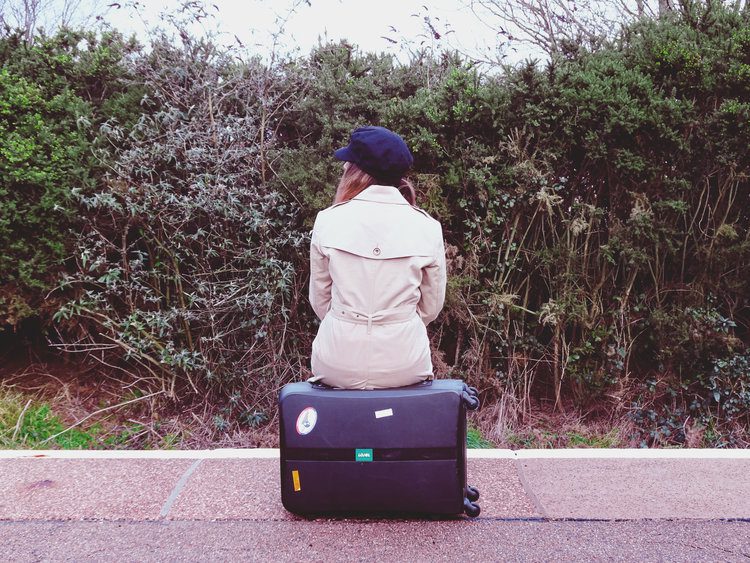 My partner bought the Octa medium for our round the world trip and it's now his main case no matter where we go – though on reflection he is a much lighter packer than me and I'm always lumbered with the toiletries. What I love most about this case is it has four locks, two of which are TSA combination locks, it's the most secure case I've ever travelled with. Another fantastic feature is their attention to interior pocketing, particularly on the Octa 2 which is fabulously designed to hold both sides in place when closing and opening the case. Lojel has a great social media presence, they are so engaged with their customers and repost frequently so make sure to give those snaps some extra loving when you add your filter.
This Japanese luggage company with 25 years of experience is a newbie in comparison to the others in this list. They're heavily design based with the most enticing colours and look books that make you want every item they sell! Their tests include dropping the products 2500 times and rolling the wheels for 30 miles. You can find more about their 10 year warrantee here. Groove 2, Novigo and Kozmos are amongst their most secure cases, plus the colours and designs are divine, especially the Groove 2 collection, I want all three! The price range for a medium to large is between £150-250.
Delsey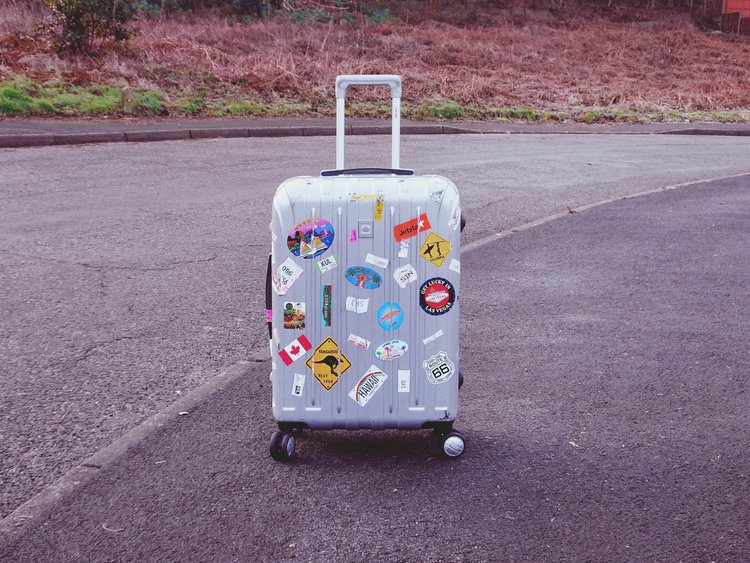 I bought my first Delsey for my 2016 RTW trip where I travelled to 23 destinations over four months. I tried a bunch of backpacks but I couldn't get on with the idea of carrying my life on my back, not to mention the fact that I'm so small I fell over every time they weighted it, so I chose to travel with a suitcase. I bought the Vavin Securite 4 double-wheels 66cm in silver and it was brilliant. That case went on 19 flights in the space of four months, it was constantly bashed, scuffed, dropped and vandalised by my travel sticker collection and it survived it all. I packed clothes which prepared me for a New Zealand Alpine Trek in winter right through to a LA heatwave in the middle of summer, I had six pairs of shoes (because, you know, options), full sized toiletries, souvenirs from everywhere I went (including a chopping board of all things). I even had a TRX in that little case and it took it all! 
Delsey is an elegant Parisienne brand and have been making stylish cases for over 70 years. They have a five year world wide limited warrantee which you can find here. The Belfort Plus, Bastille Frame and Moncey come in a range of colours and feature great multipurpose interior pockets, plus there is currently a subscription pop up on their website with 10% off your first purchase. The price range for a medium to large is between £150-300.
.
Now you know everything important to buy your next suitcase, yay! Let me know how useful you found this and what cases you can't travel without.
Aloha, Gabriella
.
Full disclosure – the offers mentioned in this post were live at the time of publishing. Also I am not sponsored by these brands and have no paid partnership with them, these are just my own opinions and reviews.