This month on PFH I'm sharing the new plant-based dish soap we've been washing up with, where you can experience an original 1970s photo booth in central London, a fascinating exhibition in the V&A museum, one of my favourite style accounts to follow on Instagram and how I bought my pre-loved and vintage Chanel Classic Flap.
Each of my PFH favourites are chosen to inspire you to do more on & for the planet whilst caring for yourself and others.
This monthly feature of a few things I'm loving that you can use on or between your travels is a space on PFH where I can share fellow creatives, eco-conscious tips and products, podcasts, books, what I've been watching on TV, routines that I've benefited from, restaurant recommendations and so much more.
Whilst travel restrictions are still in place due to the pandemic my favourites will continue to be more UK based, specifically London this month, whilst I know it's not the most helpful for all of you, I appreciate you hanging in here until I can expand.
Here are my 5 favourites for July 2021.
1. The Cinema at Selfridges
Love going to the movies but dislike everyone else in the movie theatre? Yeah, you're not alone. The big screen, popcorn and surround sound makes every film better but it's easily spoilt by people chatting through it, rustling sweetie (candy) wrappers or getting up to use the bathroom. 
When Space Jam: A New Legacy hit the screens in the UK Michael and I were so eager to see it – Space Jam is one of his favourite childhood films – but knowing it's, for the most part, directed at kids we were also eager to avoid a movie theatre full of rugrats making a ruckus. You can probably tell I don't have kids.
On one of our many strolls around central London we ended up a lot further down Duke St than usual and that's where we came across The Cinema at Selfridges. 
At £20 a ticket we knew we would be able to see Space Jam: A New Legacy child-free and that we did, in fact despite going on a Saturday afternoon during the summer holidays there were only two other people in the screening with us.
I have to admit I wasn't comfortable with the £20 ticket price at first however knowing that the cost means you've got a high chance of a quiet cinema with clean and plush reclining seats and really (I mean really) good snacks I can definitely say it was worth it.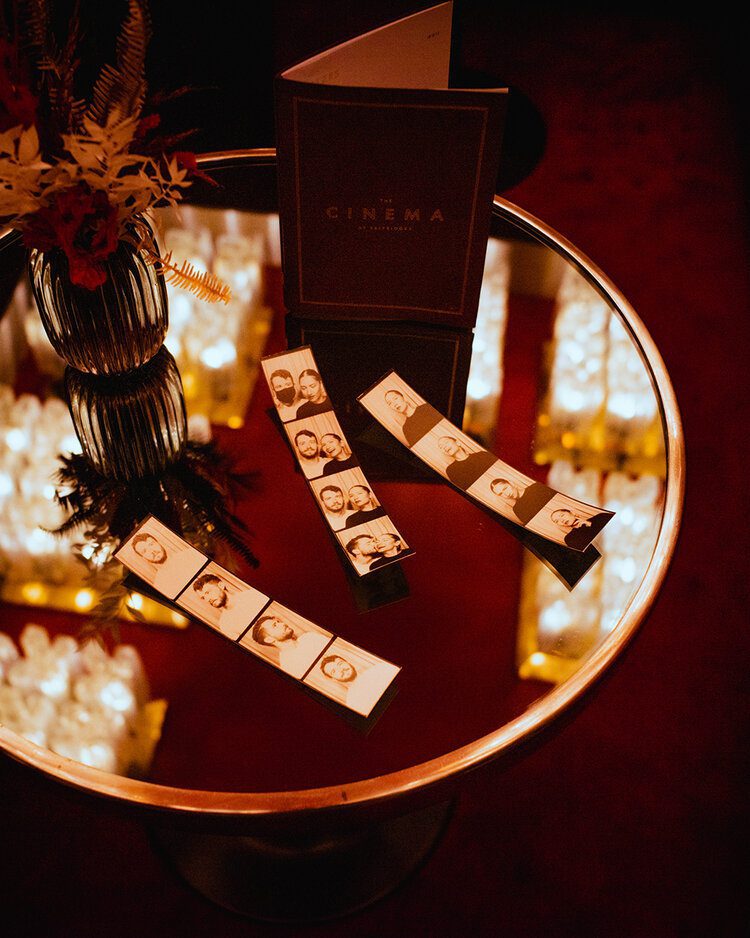 Let's go back to the snacks for a moment because they deserve their own paragraph. It's Selfridges right, so don't expect your average stale popcorn from a box so big no one can finish it. Instead your choice can be made from tantalising gourmet flavours by Maize & Grace including paprika, cheese & jalapeño and salted caramel oh and lest I forget, they also have homemade ice cream.
Watching the latest blockbuster isn't the only activity you can enjoy at The Cinema at Selfridges either, you can also sit in their bar beneath soft lighting that bounces off mirrored tables and enjoy one of their signature or hidden cocktails that include a Raspberry & Sage Gin Fizz and a Geisha's Old Fashioned.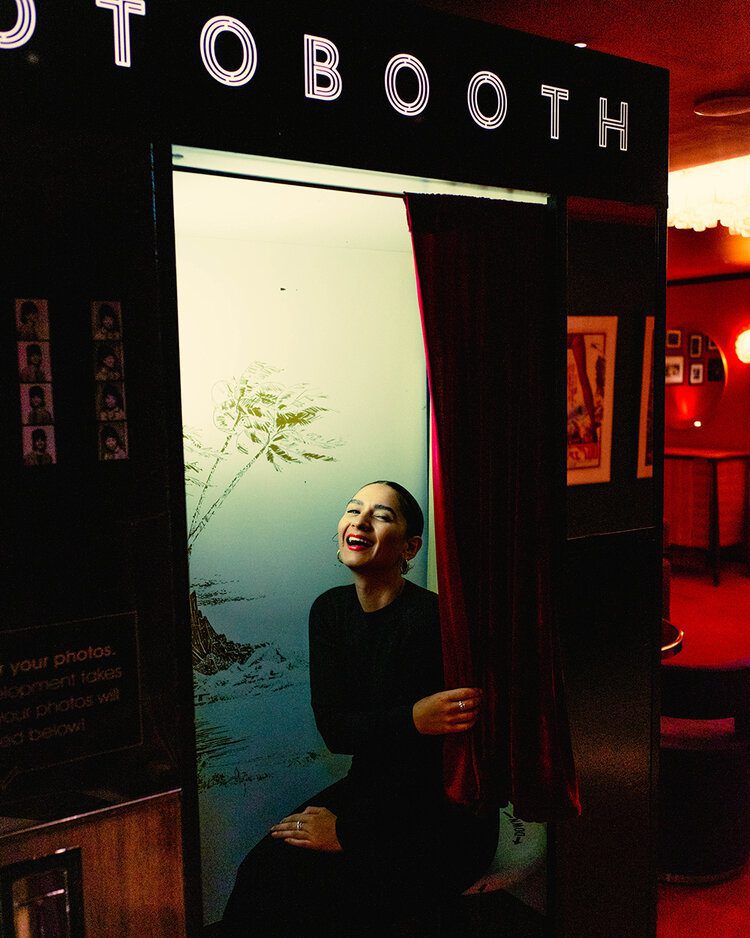 Then last but absolutely not least, there's my favourite part about The Cinema at Selfridges. The original 1907s photobooth – you bet I fell hard for this baby. For £5 a go you can sit in the most charming photo booth I've ever seen and take x4 black and white photos that will be *developed* (not printed) right then and there. Of course it will take around 5-10 minutes as it's an old machine with a more complicated process than these instant times provide and the ink will be wet when they come out, but just be patient and careful and you'll be rewarded by the most beautiful and charming images no modern photo booth could produce today.
I will absolutely be returning to The Cinema at Selfridges before I leave London.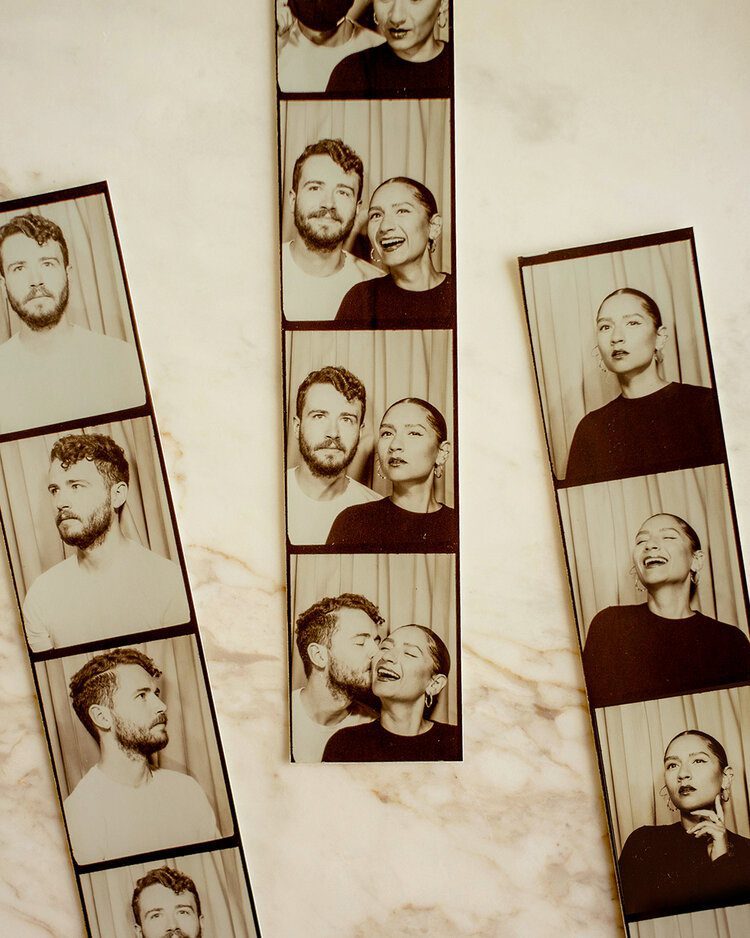 Cost of a ticket at The Cinema at Selfridges
£20 per adult
£14 per child aged 2-14 years old
£5 per strip of four photos in the photo booth
2. Colt & Willow's plant-based liquid dish soap
For the past year Michael and I have been washing our dishes with solid bars of dish soap by Ecoliving, a plastic-free cleaning brand who create amazing biodegradable products. Their solid dish soap is amazing for the following reasons: 
Vegan

Plastic free

Organic

100% natural ingredients

Made in the UK

Free of palm oil

Biodegradable

Lasts for weeks
Though we loved it for all the reasons above I have a few gripes with it, it doesn't cut through grease all that well, it has a slightly funky smell and can be quite messy to use. Those weren't the worst reasons but something I have really struggled with is our water wastage whilst washing with solid dish soap. As it doesn't lather up it isn't ideal for filling the sink with soapy water which means it can be quite inefficient. For that reason I decided to try something else and that's how I found Colt & Willow. 
Colt & Willow is another UK based brand that creates environmentally conscious cleaning products. 
Here's all the reasons to love Colt & Willow liquid dish soap
Plant-based ingredients

Vegan

Cruelty free

Made in the UK

Part of 1% for the Planet

Biodegradable

Free from phosphates and parabens

Gentle on hands

Smells amazing
Let me just hone in on that note about how amazing it smells for a moment. Colt & Willow's fresh rhubarb scent smells so accurate it makes me want to drink it. It smells just like a freshly baked rhubarb crumble (a classic Brit dessert). I actually get excited about the washing up because it smells so good. I wish you could smell it.
"Tough enough to cut through the grease of your pans, but kind enough not to destroy your hands or the planet" – Colt & Willow.
Now, though we do prefer washing up with Colt & Willow because it's more efficient in terms of how much water we use, it smells divine and gives a better clean, the refill bottles are plastic (their pump bottles are glass but I upcycled a bottle I already had). They are 1L bottles so it cuts down on how many you will need to purchase but unlike the Ecoliving dish soap it does mean purchasing plastic – a girl can't catch a break! 
I really wanted to mention the Colt & Willow soap though as we have reduced the amount of water we need for washing up by a far amount and I do see the 1L refill bottle lasting us a couple of months (washing up for 2 people daily).
Colt & Willow are looking for a replacement to their plastic bottles but have for now decided to use PET plastic bottles as they are the most widely recycled. I will say though thanks to their size and dark colour you can reuse them for drinks or maybe a vase with some sprigs of dry lavender. As it's only carrying dish soap, a few rinses means you can drink from it as you would from the glasses you wash up with it.
Their postal packaging is plastic free with biodegradable protective filling and recyclable FSC certified cardboard.
Cost of Colt & Willow dish soap
A 1L bottle of Colt & Willow's dish soap is £8
A 1L bottle and refillable glass soap dispenser is £18
If you use a low-waste washing up soap that you can recommend to readers, wherever you are in the world, drop it in the comments below.
3. V&A's Design 1900 – Now exhibition 
My third favourite for July 2021 is the Victoria and Albert Museum's 1900 – Now design exhibition. Whilst there creating content for Dune – check out their "A date with Duchess" campaign I created for them here – I stumbled across this exhibition in room 74 on level 2.
The Design 1400 – Now exhibition has 250 objects on display from the past two centuries including some familiar objects and others you may never have heard of. The most compelling part of this exhibition is what you can learn about some items you may have previously taken at surface value without realising the research and often protest and retaliation against what came before.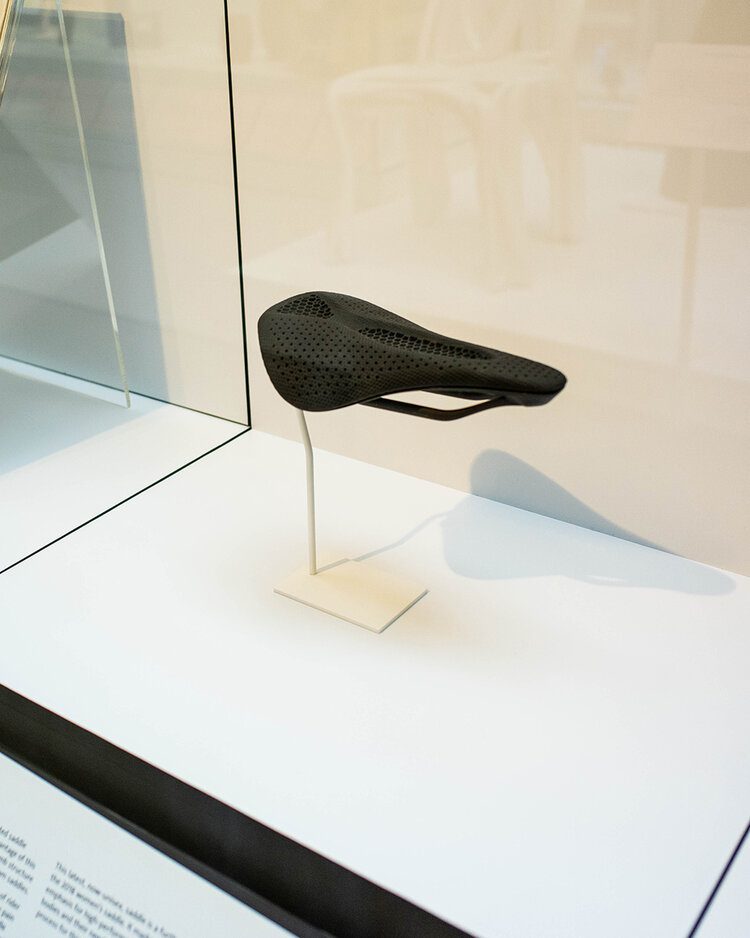 What am I talking about? For example, did you know that bicycle seats were designed for men and it wasn't until 2018 that a women's saddle was developed? Or that the first female scientist LEGO figures weren't produced until 2014? 2014!
"It was the first time the Danish toy company represented women in a non-gendered professional setting." – V&A.
The exhibition covers all sorts of products from intelligent (and thus discontinued) Barbie Dolls to the material more valuable than gold that goes into medical grade face masks and is absolutely fascinating. It is divided into categories including technology where you can learn about cutlery that self-calibrates for users with Parkinson's disease, branding where you can get a glimpse into the world of copycats, sustainability where you can learn about repurposed materials and social construct where you learn about campaigns such as Christian Louboutin's inclusive "nude" skin tone shoes that only came out in 2013! – yes it took the brand 21 years to make "nude" shoes for anyone whose skin isn't pinky-brown, worse it was the first major fashion house to challenge what "nude" is.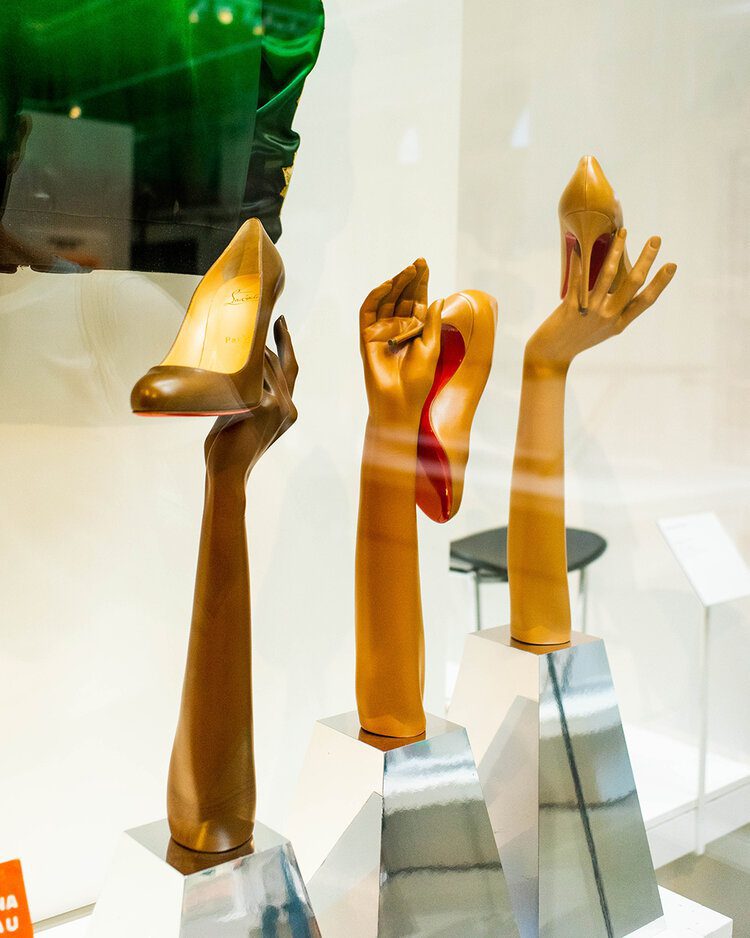 The writeup on each design product within the Design 1400 – Now exhibition at the V&A is fascinating, eye-opening, thought-provoking and a guaranteed conversation starter. I highly recommend visiting if you are able to. I found this FREE exhibition far more exciting than the Bags: Inside Out exhibition at the V&A and I'm a sucker for handbag design – so yeah, it's that good.
Cost of V&A's Design 1900 – Now exhibition
Free to all! During the pandemic you will need to book a ticket online in advance.
4. Sellier Knightsbridge
As some of you may know I am a lover of beautifully made shoes and bags, my long-term partnership with Dune London is a hint, and a Chanel Classic Flap has been at the top of my list longer than I can remember. No really, when my friends wanted Furbies I was dreaming of flap bags. Chanel's Classic Flap bag – birthed from Gabrielle "Coco" Chanel's original handbag, the 2.55 – has always been in style and it isn't going anywhere.
Of course for that very reason the bi-annual price hike ups mean they're not an easy purchase to make so I decided a few years back that when the time was right for me to make the purchase I would look for second-hand Chanel. The second reason I chose to buy second-hand Chanel was because I very much love the idea of the bag having a story before we meet. The idea that someone has already given it so much love makes me so happy. Finally the third reason I chose to buy pre-loved was, just like all things second-hand, because it's the more mindful choice. 
Cue Sellier Knightsbridge, a consignment store for pre-loved luxury fashion in Knightsbridge and London's premier reseller for authentic new and preloved Hermès and Chanel bags. I can't mention Sellier without a a nod to @sophiesouthmayd, former Head of Styling at Ralph Lauren and present founder of Digital Agency, @socialsouthmayd who introduced me to them. See more about Sophie in my number 5 PFH favourite for July 2021.
Don't live in the UK? Fear not, Sellier offer worldwide shipping.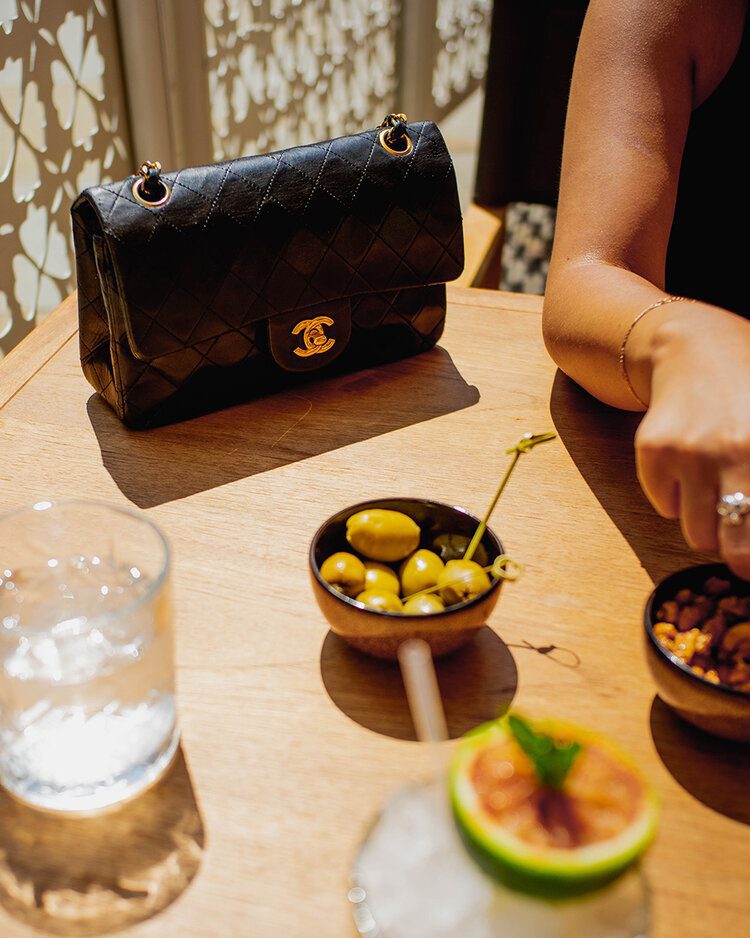 I couldn't believe my luck when at the exact moment I refreshed their "Chanel edit" page (after doing so multiple times a day for a couple of weeks) I saw a vintage 1986 Chanel Classic Flap in black leather with gold hardware appear. Elated doesn't even scratch the surface of the level of joy I felt when I successfully made the purchase. The serial number confirms it was made in 1986, just 3 years after after Karl Lagerfeld, the then creative director of the fashion house, released the design. Just imagine the places this bag has seen and the owners it has known!
To add to the thrill of purchasing a second-hand luxury item, Sellier operate by "fastest finger first" so if you're looking to buy second-hand luxury fashion from them, you need to dedicate some time to refreshing their website. Here are my tips for making your dream purchase:
Turn on post and story notifications for their Instagram account @Sellierknightbridge as they often tease new drops before the items go on the website

Refresh the new drops or specific brand edit page regularly throughout the day – there's no fixed drop time

Keep your card on hand when you refresh
My Chanel Classic Flap is a gift to myself for staying true to myself and my goals to create my very own successful travel blog, despite a lot of naysayers putting me down. This month marks 10,000 readers per month for Postcards from Hawaii. Thank you for reading, returning and loving this space here, I am so grateful to you. Before launching PFH I was a waitress with big dreams of travelling and working for myself, let this be today's reminder that you can do whatever you set your heart on. You've got this!
5. Sophie Southmayd's Sunday Style Stories
As I mentioned above, Sophie is a former Head of Styling at Ralph Lauren and founder of her Digital Agency, @socialsouthmayd. I can't remember exactly what lead me to discovering her Instagram account in early 2020 but I can say she fast became one of my favourite accounts to follow.
Almost every Sunday, Sophie hops onto her Instagram stories on her account, @sophiesouthmayd, to share one of her amazing Sunday Style Stories which involves themed slides helping you to build a wardrobe that brings you joy and confidence through classic styles with nods to contemporary trends, but above all she always encourages you to dress to empower yourself and be your best self.
All of style guides are inclusive of ethnicity, abilities and shape as well as conscious of both budget and the planet. She never encourages over-consumption and her MO is always to buy items that will last for years to come.
Catch up on her previous Sunday Style Stories in her Instagram Highlights here.
Her knowledge of and uncanny ability to mix current trends and timeless style, with charming humour might I add, makes her the perfect account to follow if you, like me, wish to keep up with trends but not get tripped up by the fast fashion hauls from influencers who aren't considering how those hails are increasingly damaging the environment for reasons including pollution and exploitation of garment workers. Sophie Southmayd is the perfect in-between for slowing down your retail consumption to make more mindful choices whilst satisfying your love of aesthetically pleasing garments and accessories.
.
There you have it, my five favourites for July 2021. What are you loving right now? Let me know in the comments below.
Do more on & for the planet, Gabriella