Following the popularity of my Everything you need to know about visiting Norfolk Lavender blog post I decided to put together a guide on visiting Mayfield Lavender field and nursery so you have a place to find all you need to know about visiting for yourself, covering everything from "can I pick the lavender in the field?" to "how do I get killer photos with the lavender but no one else in them?".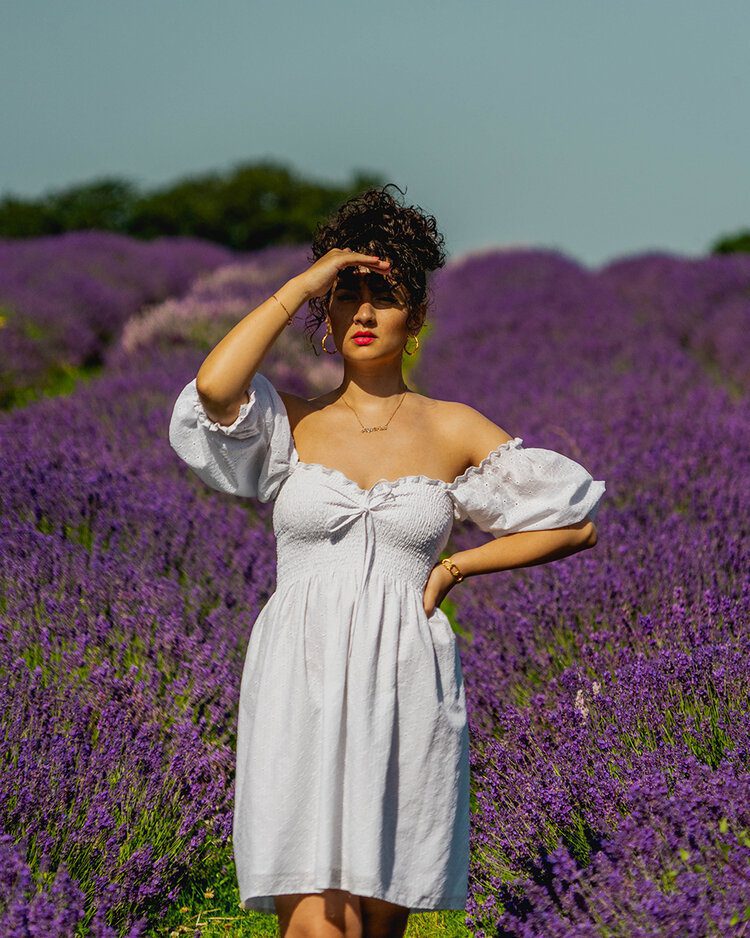 Why should I visit Mayfield Lavender?
Let's be honest here, many of us end up in lavender fields because they make for great photos and whether we're content creators or not we love a great photo opportunity, but there's so much more to visiting a lavender field than taking photos.
Lavender essential oil is considered to have anti-sceptic and anti-inflammatory properties as well as aid in drifting off into a deep and restful slumber plus it can relieve stress and anxiety. So if a little bit of lavender essential oil can bring about calm and restfulness, just imagine what an entire field of lavender can do for your senses. My favourite part about visiting lavender fields is so that I can take a moment of stillness and take deep inhales – it's one of my favourite scents.
Visiting lavender fields such as Mayfield Lavender Farm also helps to support what is usually a small business with the low and reasonable entry fee as will purchasing any of their products which you can trust have been made with care.
Lavender fields are also a great space to muse over buzzy little bees as they pollenate.
Where is Mayfield Lavender Farm?
Mayfield Lavender is located just 15 miles south of central London in a town called Banstead in Surrey. If you are living or staying in London during the summer months and want to visit an English lavender field then this is the closest and easiest one for you to get to. See below for how to get there.
How do I get to Mayfield Lavender field?
Driving to Mayfield Lavender Farm is the best way to ensure an early arrival and if you leave early in the morning to avoid traffic the drive is only around an hour long – however the return journey back into the city can be gruesome, especially at the weekend.
We drove from Stratford and it only took an hour to arrive but 2.5 hours to return home in the afternoon, we did however go on a Saturday during the heatwaves where many others were returning to the city after escaping the heat. Be warned though, the return journey should you go by car will be much longer heatwave or no heatwave.
If you don't mind arriving later or don't have a car then how to get to Mayfield Lavender Farm from central London is easy via public transport. Hop on the Thameslink from St Pancras International train station, in north London, to Purley Station, which will take you just under 40 minutes, then from Purley you can take the 166 bus for half an hour (20 stops) and it will drop you off right outside Mayfield Lavender's field – like literally, the only thing between you and the field is a hedge which has a path through it as a shortcut into the field.
You can also catch the Southern train service from Victoria train station, in southwest London, to Purley where you can catch the 166 bus mentioned above.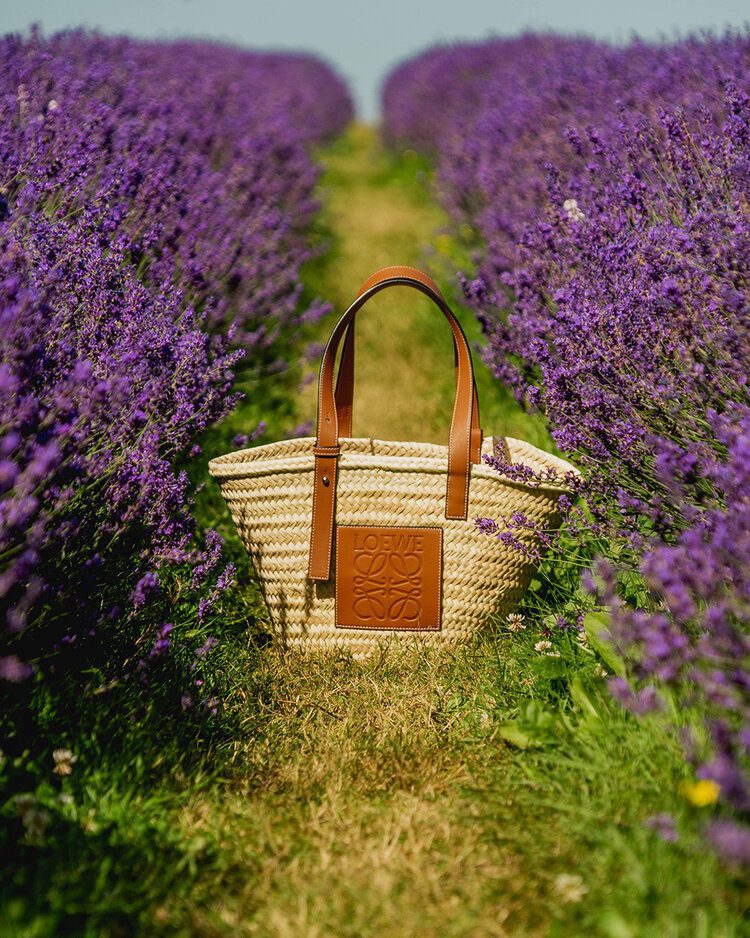 Where to park at Mayfield Lavender?
There is free parking both onsite of Mayfield's lavender field and nursery. Parking spaces start on the left of the field after the toilets, with disabled parking first, and wraps around to the right at the end of the field.
To get the best parking with minimal walking to the toilets, café and gift shop you'll need to arrive early.
Here's the address if you're driving: 
1 Carshalton Road, Banstead, SM7 3JA
How much does it cost to enter Mayfield Lavender field?
Entrance to Mayfield Lavender Farm is £4 per person over the age of 16 years old, any children under the age of 16 get free access to the lavender field.
Entrance to Mayfield lavender is paid for on the day and tickets cannot be reserved or pre-booked.
Payment is taken by card or cash by stewards at the entrance to the field.
There is no entrance fee to Mayfield Lavender Nursery as it is just a gift and plant shop.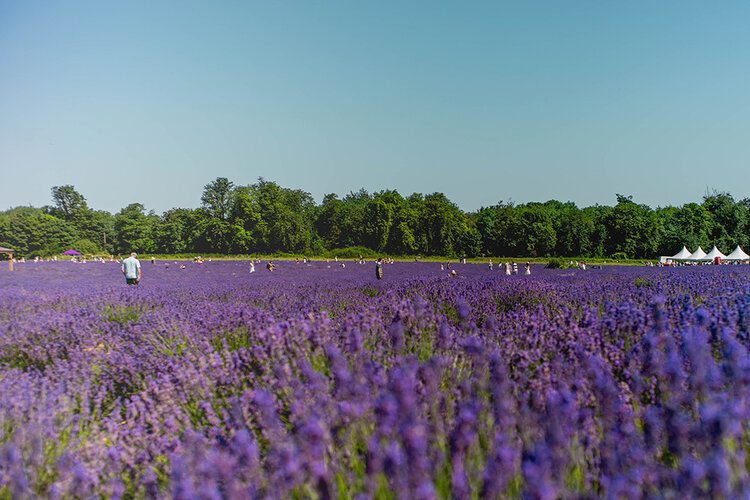 What is the best time of year to visit Mayfield Lavender Farm?
Lavender in England usually blooms between June and the end of August. 
As for the best time to visit, July is when the lavender should be in full bloom – June tends to often be too early whilst August can come quite close to harvest in which case you might not get the luscious lavender rows everyone dreams of prancing in.
This is totally dependent on weather conditions though, so your best bet is to check out Mayfield Lavender's Instagram account here as they will post live photos that let you know when the lavender is in bloom and ready to visit.
What's the weather like at Mayfield Lavender Farm?
Click here for the BBC weather forecast before planning your trip to Mayfield Lavender.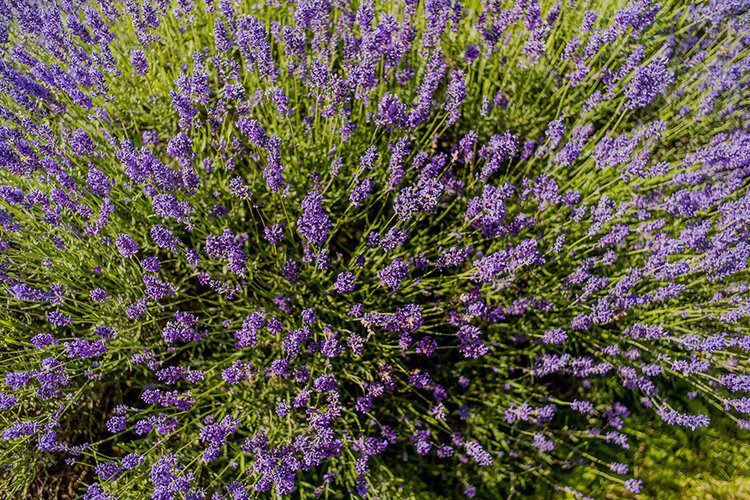 What time does Mayfield Lavender Farm open and close?
Mayfield Lavender Farm is usually open June 1st to August 31st.
Everyday 9am – 6pm.
The last entry time is 5.45pm.
Check on their website to be sure as timings could be subject to change.
What time do I need to arrive at Mayfield Lavender Farm to get no one in the background of my photos?
Mayfield Lavender opens at 9am but the car park will start filling around 8.30am so aim to arrive between 8am – 9am. If the field isn't open, circle and come back.
I've seen multiple people sounding off on Mayfield Lavender Farm's Instagram account about how busy it was when they visited and how they couldn't get a photo "without anyone else in it". All lavender fields open to the public in England get busy, even before the rise in popularity of creating content for social media lavender farms have always been popular for walking dogs, amateur photoshoots and visiting with kids. Do not expect them to be anything but busy, I have been to 6 lavender fields in England at the time of opening – often first in line – and they fill up early and no, not with content creators (not entirely anyway), but with families with kids who have already been awake since the crack of dawn. This has been the way for years!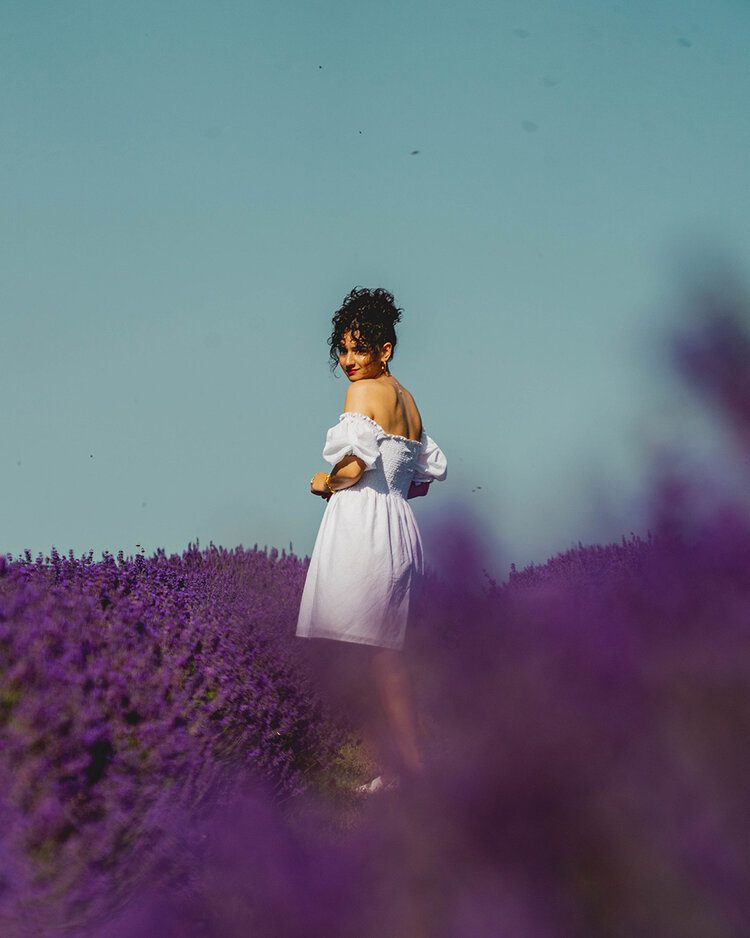 If you want photos with no one else in the background here's what you need to do:
Visit on a weekday, though I do want to make a note that we visited on a Saturday in the middle of a summer heatwave and got our beautiful photos despite this so trust me when I say a weekday isn't your only chance, just your best.

Arrive before or as it opens.

Be creative with your angles and look for an empty row to begin with.

Use a lens with a longer focal length for a narrower angle of view and set it to a wider aperture (smaller F-number) to give you a shallower depth of field (blurry background) this way you'll be able to recognise the rows and colour of the lavender but not people or their faces in the background.

Scroll down to "What is there to do at Mayfield Lavender Farm?" to find out how you can get an empty field to yourself past closing time.
You're welcome.
Do I need a photography pass
This is a question I always have on my mind when visiting lavender fields because I'm like I want photos but I don't want to pay for photos that I'm not making any money off and that's my answer right there. 
"Huh?" You say? Let me break it down for you. 
If you are conducting a commercial photoshoot (or the likes of) whereby you will be making money off the images, for example you are charging to take photos of a newly married couple or selling your photos to the nature magazine you freelance for, then you need to pay for a photography pass. If you are taking photos for no profit from social media, personal blogs or personal use then you do not require a photography pass.
Photography passes for Mayfield Lavender farm must be applied and paid for in advance. A single session pass is available at £50 for unlimited photos within 2 hours whilst a full day pass is available at £100 for unlimited photos from 9am-6pm.
All visitors need to pay the £4 entrance fee (unless ages 16yrs or under) as does the photographer but their fee will be returned at the end of the day.
For more information on professional and/or commercial sunrise or sunset shoots or to apply for a photography pass click here.
Oh and also drones are not permitted without getting confirmation from Mayfield Lavender and before that you will need a certificate of Approval from the Civil Aviation Authority and a certificate of Public Liability Insurance.
What is there to do at Mayfield Lavender Farm?
Besides taking photos you can enjoy a lavender infused cream tea, shop all the anxiety and stress relieving lavender based products your heart desires or take your self-care game to another level with a yoga class in the lavender field itself. Curious? I thought so…
Mayfield Lavender gift shop
Located on the right hand side of the entrance to the field is Mayfield Lavender's outdoor gift shop where you can find just about every lavender product you can imagine from lavender scented perfumes to culinary lavender flowers.
My personal favourite Mayfield Lavender products are:
Sleep Angel pillow mist

Lavender lemonade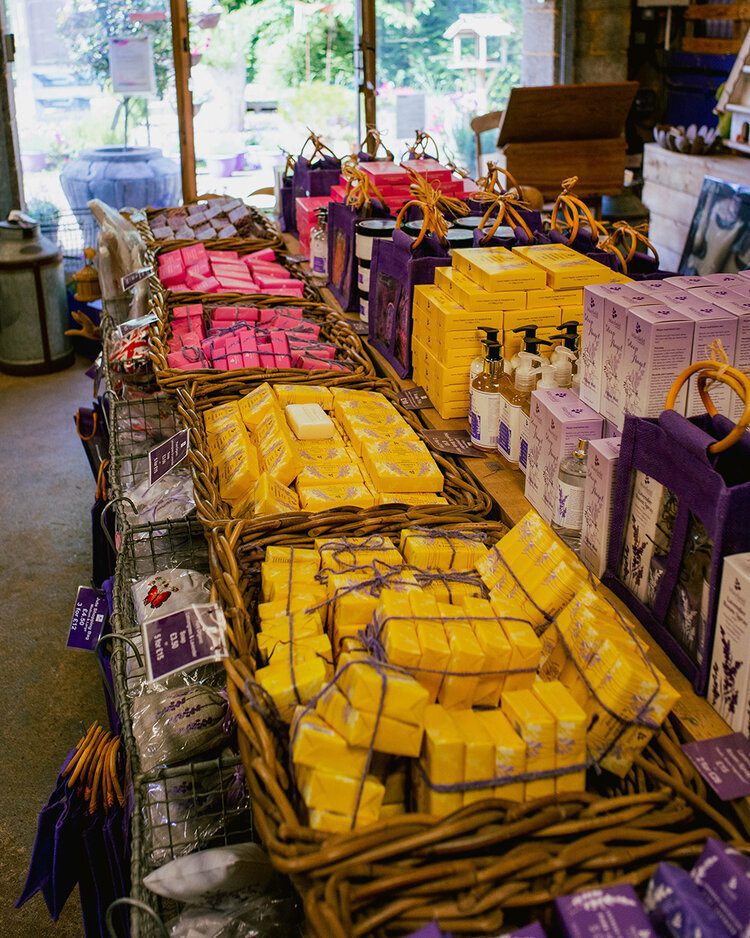 You can also shop their products at Mayfield Lavender Nursery.
The price point is higher than most but at the same time their range of products is impressive.
Mayfield Lavender Farm Café
Due to people littering – remember to leave with everything you came with – Mayfield Lavender no longer allow picnics within their lavender field. If you get peckish whilst visiting you have two choices for eating at Mayfield Lavender Farm: the kiosk or the outdoor café.
The kiosk is located in the centre of the field near the big tree. This chrome trailer sells a variety of drinks, muffins and scones as well as a few gifts such as soap and posies of dried lavender. Under the big tree, next to the kiosk is limited seating where you can pause to enjoy the treat you just purchased – it's also the only spot of shade in the field.
The open-air café is located next to the shop at the entrance of the farm. The menu is pretty impressive considering it's located in a field, offering sandwiches, panini, alcoholic beverages, cakes, cream teas and afternoon tea.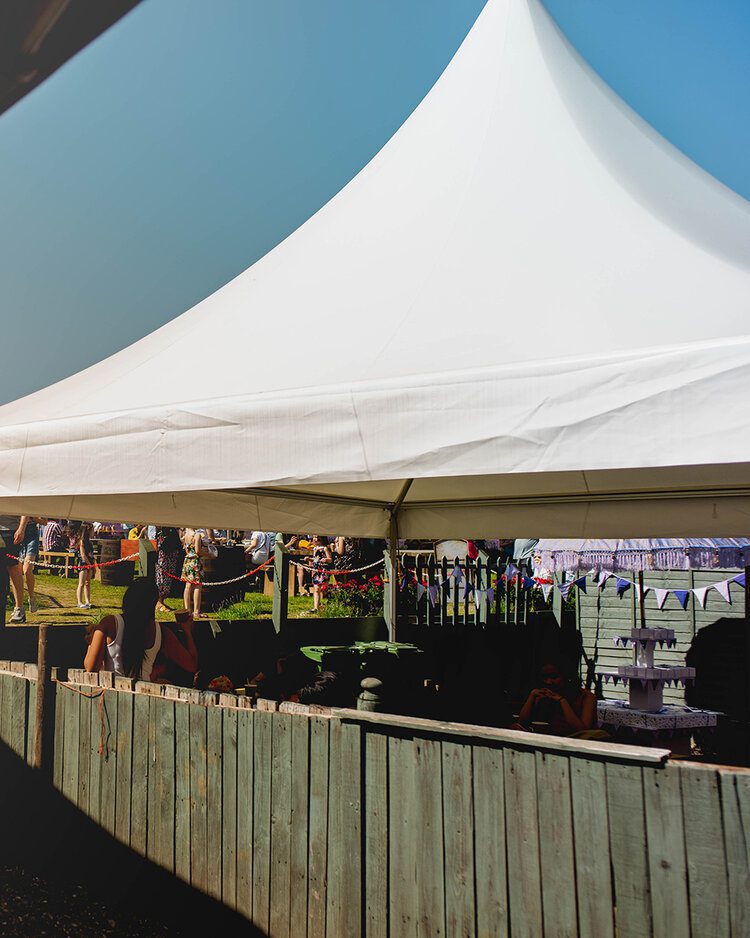 Luxury Lavender Yoga Experience
Running from June 1st to August 31st is 'Luxury Lavender Yoga Experience' with Amanda Wass. Sign up for this class and you'll be able to practise yoga either during sunrise or sunset within Mayfield Lavender's field.
Is it yet another white person charging people for a yoga class, looks that way, but if you're boujee like that then it sounds like a super relaxing and stress-free workout to either start or end your day.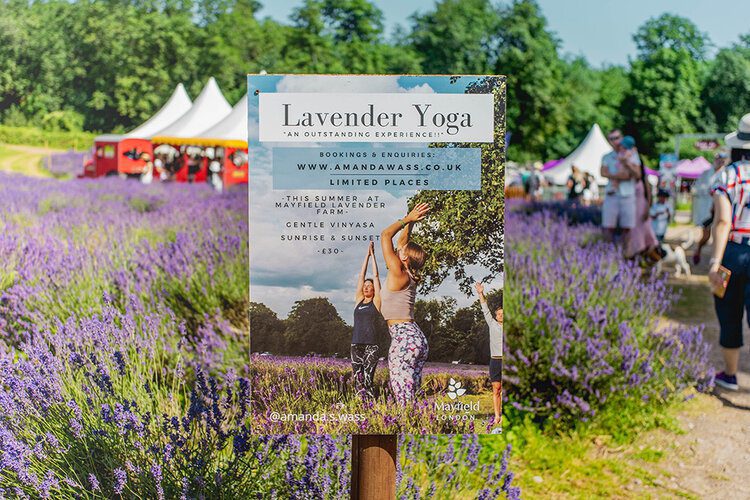 Each session lasts for 1 hour 15 minutes and costs £30 per person, book here if you're interested.
Amanda's yoga classes get you access to the field before/after it opens/closes to the public so if you're able to go this is your best chance of taking photos with no one else in them.
What's the difference between Mayfield Lavender Farm and Mayfield Lavender Nursery?
Mayfield Lavender Farm is where you will find the 25 acre large field of lavender. It's where you want to go for all your lavender field fancies such as taking photos for the gram just like every other basic bish on Instagram (myself included), taking deep inhales of one of the best scents in the world and making friends with bees. It's also where you will find the café and one of two of their shops.
Mayfield Lavender Nursery has 12 acres of lavender and fruit trees and has a gift shop selling fruit trees and lavender plants as well as their full range of lavender products made with their homegrown lavender. Unfortunately Mayfield Lavender Nursery is undergoing renovations which means for the time being only the shop is available to visit.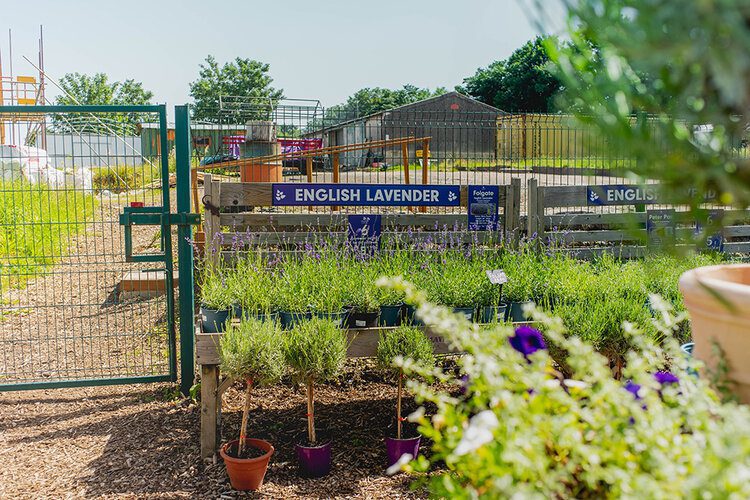 As the nursery is only a 7 minute drive from the field, if you are driving I would recommend going there to shop their lavender products to avoid the long queue at the farm gift shop.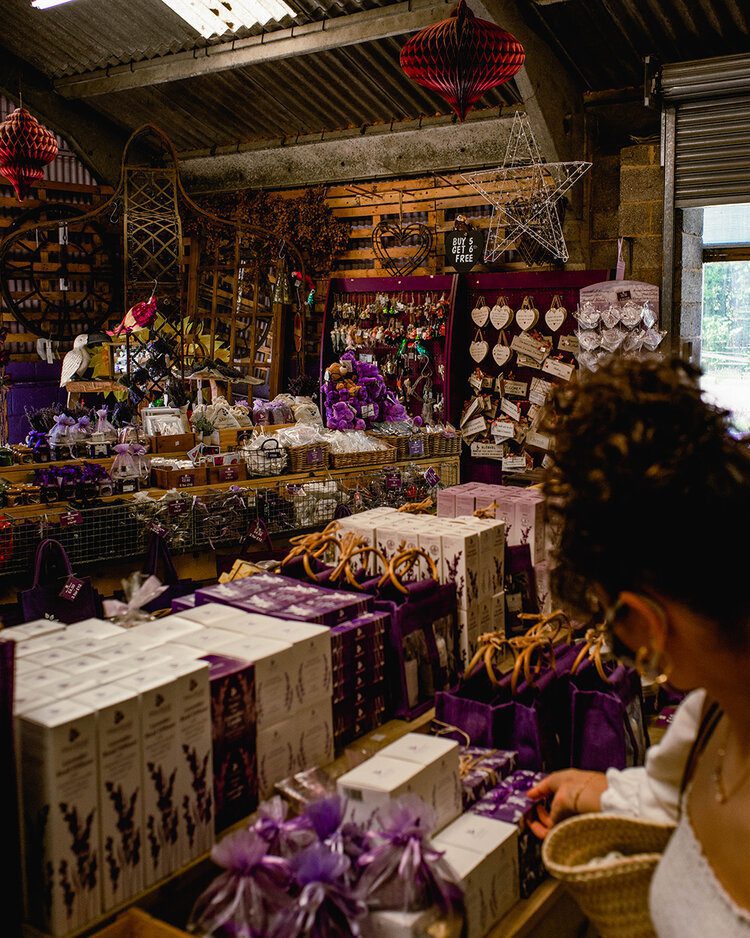 Which lavender field has the red telephone box?
If you've seen photos on social media of a red telephone box (a British icon) in a field of lavender and wondered where it is, you're not alone. The red phone box is at Mayfield Lavender Farm located in the south of Greater London, Southwest of Croydon.
The red phone box is near the start of the field on the right hand side where the café is. Despite arriving before the opening time listed on the website, the queue to the telephone box formed quickly and it was only good for standing next to it for a hasty snap. If you have your heart set on shooting with the phone box then be willing to wait at the gate and race over there as quickly as possible.
There is also a red tractor within the lavender, located to the right of the phone box, if you want a more country bumpkin vibe to your photos or if you're bringing kids. The tree in the centre of the field also makes for a beautiful background feature.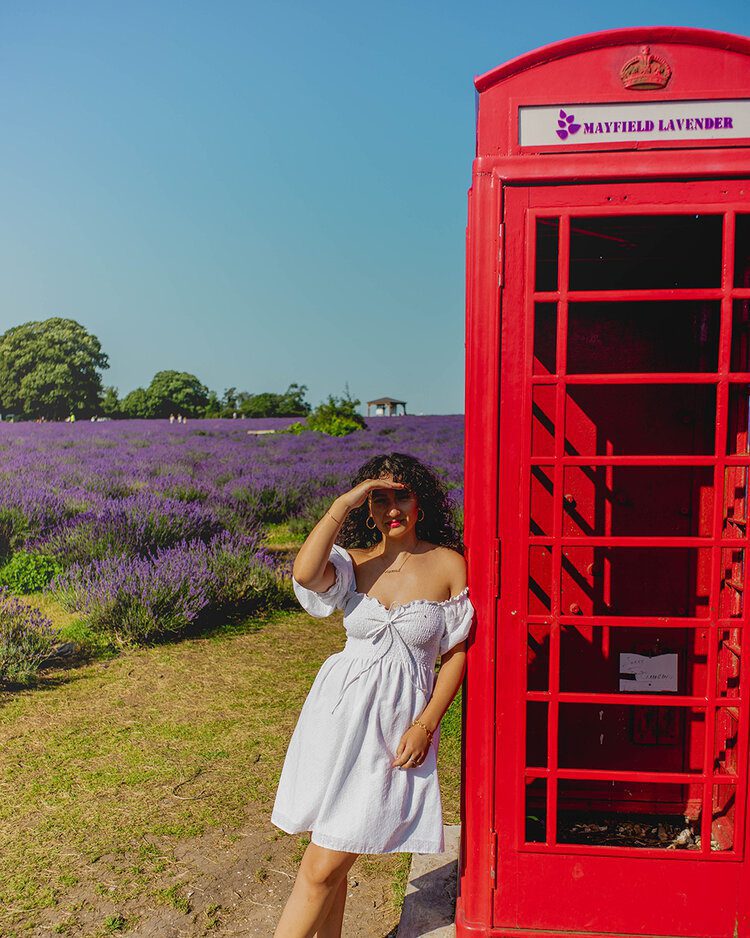 Are there toilets at Mayfield Lavender Farm?
Yes there are toilets at Mayfield Lavender Farm however they are portaloos and unfortunately even a field of lavender isn't enough to mask that stank, but as there is no permanent facility on the farm it is the only option available and so we should be grateful they have provided us with something to use.
It's not worth thinking you'll be smart to go to Mayfield Lavender Nursery for the toilet. Whilst it's being fixed up there is only one toilet available to use in the farm house and don't expect it to be any kind of cute when you hear farm house. Still, they're kind to offer it as an option if you're desperate.
Is Mayfield Lavender Farm dog friendly?
The lavender field is absolutely dog friendly provided they are kept on their lead and you clean up after them – and if they do poop in the field, be a good human being and let the people around you know because pretty much everyone likes to sit in the field for photos and no one wants to sit on poop, right?
I will advise not visiting on a hot day with a dog as there is little to no shade – lavender doesn't like the shade – so there won't be many opportunities for your pup to get a respite from the sun.
Which species and varieties of lavender do Mayfield grow?
Mayfield lavender plants two species of lavender, and they are the two you will find in most lavender fields across England:
Lavandula Angustifolia (English lavender) – known for its brightly coloured flower heads.

Lavandula x Intermedia (Grosso) – yields more oil and has a stronger scent.
For some reason their field isn't as potent as the others I have visited in England (many other visitors in the field noticed the lack of scent too) so if you're hoping to inhale that sweet, sweet relaxing scent to calm your nerves then you'll want to head to the back of the field where their Lavandula x Intermedia ( a hybrid known as Grosso) is planted as it is more fragrant.
Ask at the counter to smell a scent card which has Mayfield Lavender's two lavender oil varieties so that you can smell the difference between them.
Can I pick the lavender in the Mayfield Lavender field?
Unfortunately unlike Hitchin Lavender field you are not allowed to pick your own lavender within Mayfield Lavender farm. This could be down to the fact that the field is 5 acres smaller than Hitchin or simply because they want to sell their bunches of lavender at an additional cost in their gift shop – understandable. It also ensures the lavender looks full in your photos that you're obviously there for so we can't be mad at them.
Bunches are £4 each or 3 for £10 and can be bought either in the kiosk in the centre of the field, at the gift shop at the entrance to the farm or at Mayfield Lavender Nursery.
Accessibility at Mayfield Lavender Farm
Disabled parking is at the very entrance to the field, opposite the shop and café.
The surface of the car park and field is fairly level but as it's a field please expect it to be uneven in places. Access to the shop and café is via a slope but the shop (which is outdoors) has a shingled floor surface so this may cause mobility difficulty.
As lavender grows out wide the rows between the plants can be rather narrow and not necessarily suited for wheelchair access. There is however a grass footpath through the centre of the field.
Guide dogs are allowed just as all dogs are.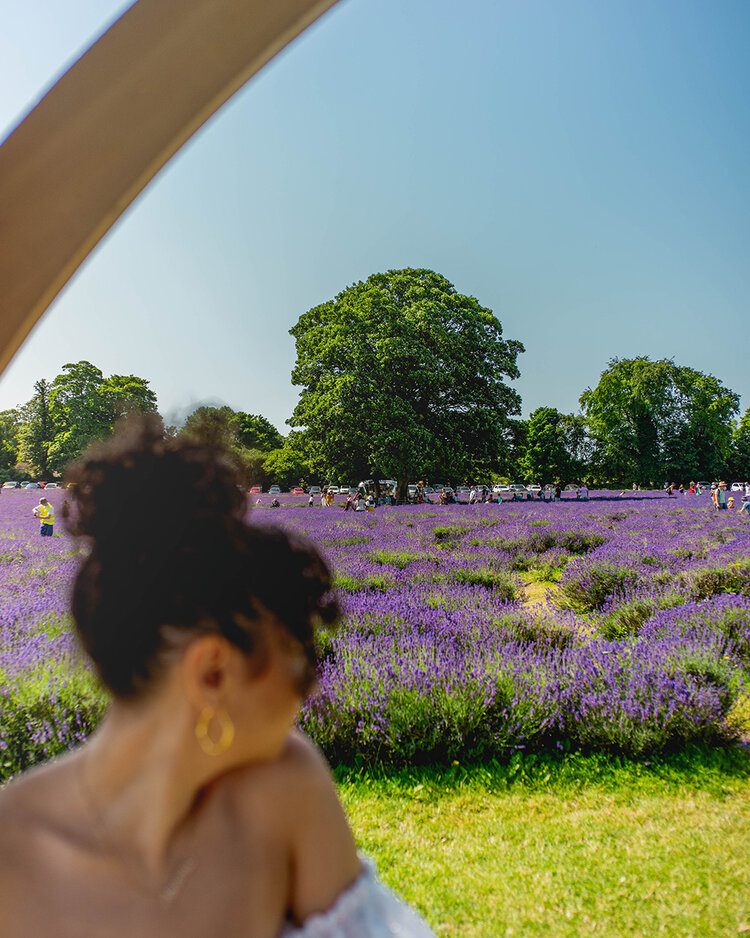 Conclusion
Do
Drive if you want to arrive early to get photos with less people in the background

Go to the red phone box first if you want to avoid the queue for photos

Avoid queues at the gift shop by going to Mayfield Lavender Nursery

Wear suncream as there is very little shade – summer temperatures in and around London can reach up to 30 degrees Celsius (86 Fahrenheit) so bring water too

Try their lavender cream or afternoon tea
Don't
Pick the lavender

Fly your Drone without the appropriate certificates and prior approval

Walk across the rows unless there's a natural gap in between the plants

Visit if you're scared of bees and are likely to aggravate them – you'll see more bees in a lavender field than content creators at Coachella
I will shortly be putting together a blog post on all the lavender farms I have visited in England that compares each field and highlights each one's assets. If you have any questions that you want answered in that blog post please leave them in the comments below or you can email me at gabriella@postcardsfromhawaii.co and I will do my best to answer them.
Do more on & for the planet, 
Gabriella