The Cotswolds is an iconic rural area in the English countryside. Located in the South of central England, it's just a stone's throw away from the Welsh border. It's perfect for a staycation or if you're travelling from abroad it's an ideal escape to the British countryside; think The Holiday (2006) and those are the vibes you're getting (it's not set in the Cotswolds, but you get the idea).
The Cotswolds cover 800 square miles, stretching across these five counties: Gloucestershire, Oxfordshire, Wiltshire, Warwickshire and Worcestershire. Despite covering five different counties that each have their own individual charm, the Cotswolds stands in unison with its easily identifiable golden Cotswolds stone walls and buildings, medieval villages and rolling hills for as far as the eye can see. 
PFH Fun Fact: "Cot" means sheep enclosure and 'wold' means hill.
With plenty to do it's important to me that I stress that these aren't the only things you can do in the Cotswolds but they were my favourites and really give you the full Cotswold experience, which is why I wanted to share them with you:
1. See Arlington Row in Bibury
Bibury is small, quaint and picturesque village in Gloucestershire and is just a short drive from "the capital of the Cotswolds", Cirencester. From the evidence of its existence provided in the Doomsday Book, the village of Bibury dates back as far as 1086.
British textile designer, William Morris, once described Bibury as "the most beautiful village in England" and as it's home to one of the most photographed places in England, it's hard to argue with that statement.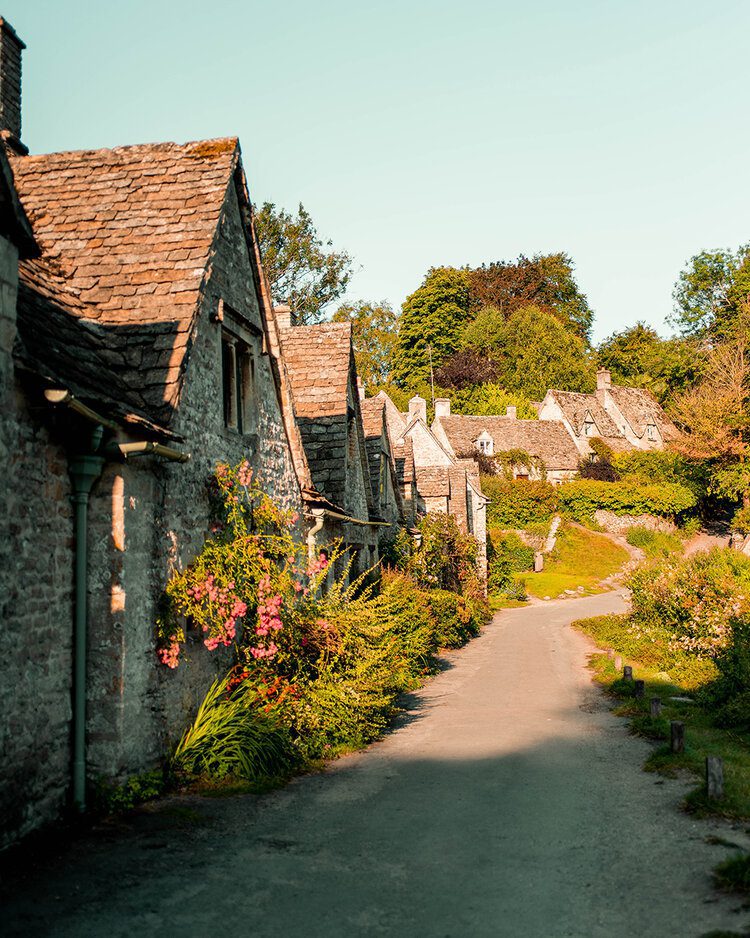 Arlington Row is the most photographed row of cottages in England and when you see it in person you'll realise why. It's the quintessential image of honey coloured Cotswold stone cottages, nestled into the beautiful British countryside, surrounded by brightly coloured flowers and accessed by a little bridge over the gentle River Coln that's full of kingfishers, ducks and royal swans. Catch it on a quiet, sunny morning and it feels like you're in a scene from Stardust… well that's actually because some scenes from Stardust (2007) were shot along Arlington Row. Actually the Cotswolds is home to many movie locations such as Bridget Jones' Diary, Downton Abbey and Harry Potter. To find out more, check out this helpful article by Rabbie's Travelfeels.
Arlington Row was originally built as a wool store in 1380 for Arlington Mill. In the 17th century, it was converted into cottages for the weavers, who used to hang the washed wool out on racks that lead to the name of the nearby meadow, Rack Isle. In 1929 it was purchased and preserved  by the Royal Society of the Arts then in the 1970s it was purchased and preserved by the National Trust.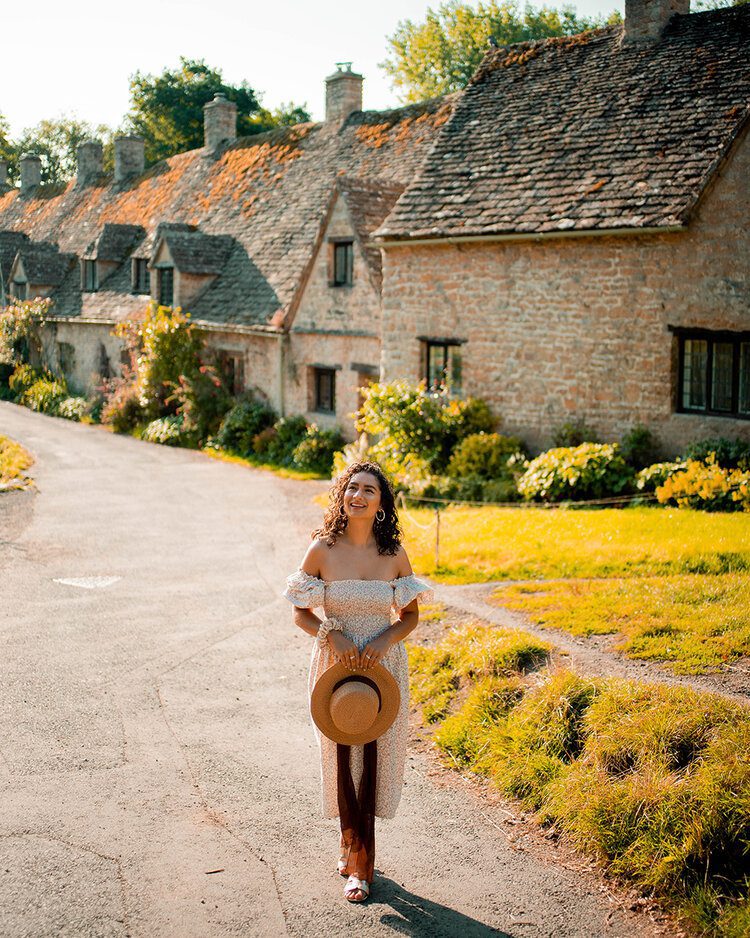 All but one of the cottages are privately owned and occupied but you can actually stay at 9 Arlington Row for a minimum or 3 nights for about £500. You can book it here via the National Trust website, keep in mind you'll need to book months out for this popular spot.
PFH Fun Fact: Arlington Row featured on the inside cover of the 2010 issued British passports, making the village an even more popular destination to visit.
Aside from being home to an Instagrammble hotspot, Bibury is also known for its unique and rare wildlife that mostly live in the protected meadow behind Arlington Row, Rack Isle. Take a long stroll around the village and make time for a treat in one of the local tearooms.
As you can imagine, Bibury is a popular village to visit and it gets busy so if you want to see it at its best I suggest arriving early in the morning. 7.30am in summer is ideal as the sun is just creeping over the tops of the cottages creating a warm glow on the already golden stone and as everyone is asleep it's quiet enough to only hear the birds singing. It's ideal for taking in your surroundings and getting photos. You won't need to rise so early in winter but still go as early as you can to avoid crowds. If you do arrive early, please be quiet and respectful of the people who actually live in these cottages.
2. Visit Bourton-on-the-Water
Bourton-on-the-Water, dubbed "the Venice of the Cotswolds", is one of the prettiest villages in the Cotswolds by far! The village is located in Gloucestershire and straddles the River Windrush and each side is accessible via a series of low bridges, which make for a great photo spot by the way.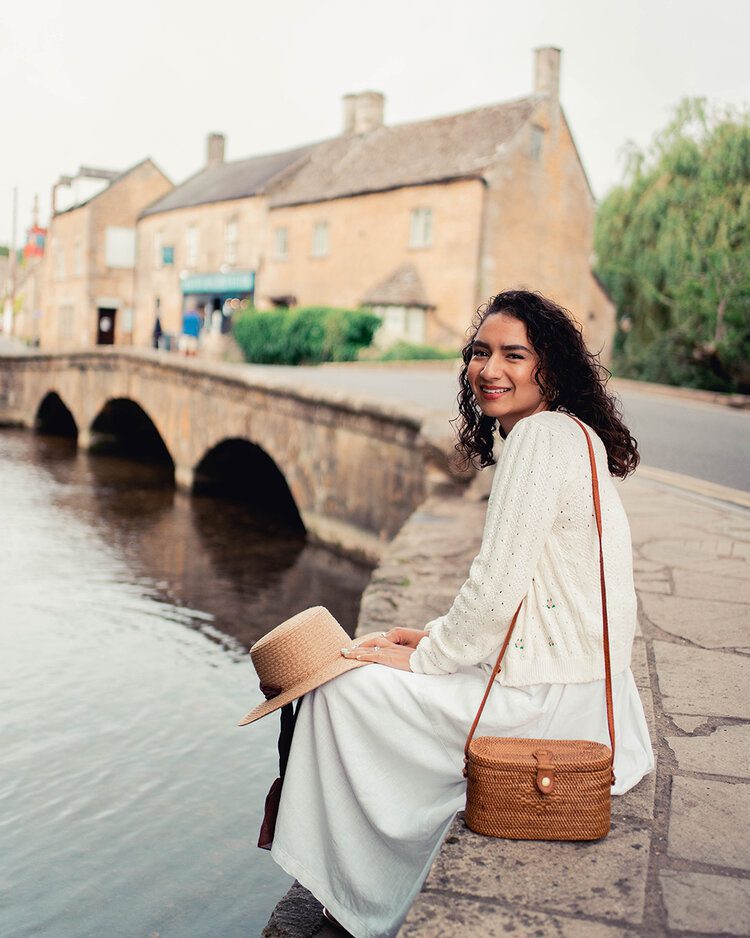 There's plenty to do in Bourton-on-the-Water besides taking cute photos and even though I don't plan on having any yet, it's a great spot for kids with wildlife parks, the Motoring Museum which is home to Brum (if you know, you know) and the Model Village to keep them entertained. 
Start by arriving early to avoid the crowds, take a stroll along the river, taking cute photos whilst no one else is around getting in the background. This will also ensure you nab a parking spot before the village fills up. Next, grab breakfast in Bakery On The Water, a small family run artisan bakery, and if the weather is good choose to sit outside where you can sit next to the river as it runs down into the village. Walk off your breakfast by visiting the Motoring Museum next door which is home to over 40 cars including little Brum. 
For those of you who didn't grow up watching Brum on the tele in the 90s, he was a little, yellow, half-scale replica of a late-1920s Austin 7 Chummy convertible car with giant eyeballs, who would regularly drive off to "Big Town" when his owner wasn't looking. Each episode would see him coming to someone's rescue or learning something new and would end with him coming home with some souvenir of the day which, for some reason, NEVER seemed to baffle his owner when he found it at the end of the day. It's a classic!
Once you're done at the Motoring Museum, stroll over to the Model Village, a miniature replica of the very same village you're in. Built in the 1930s, it's the only Grade II listed model village in the country. At £4.50 per adult and £3.50 per child (children under 3yrs old go free) it's entertaining for all ages, especially when you realise there's a model village in the model village, in the model village in the model village – that honestly gets me every time!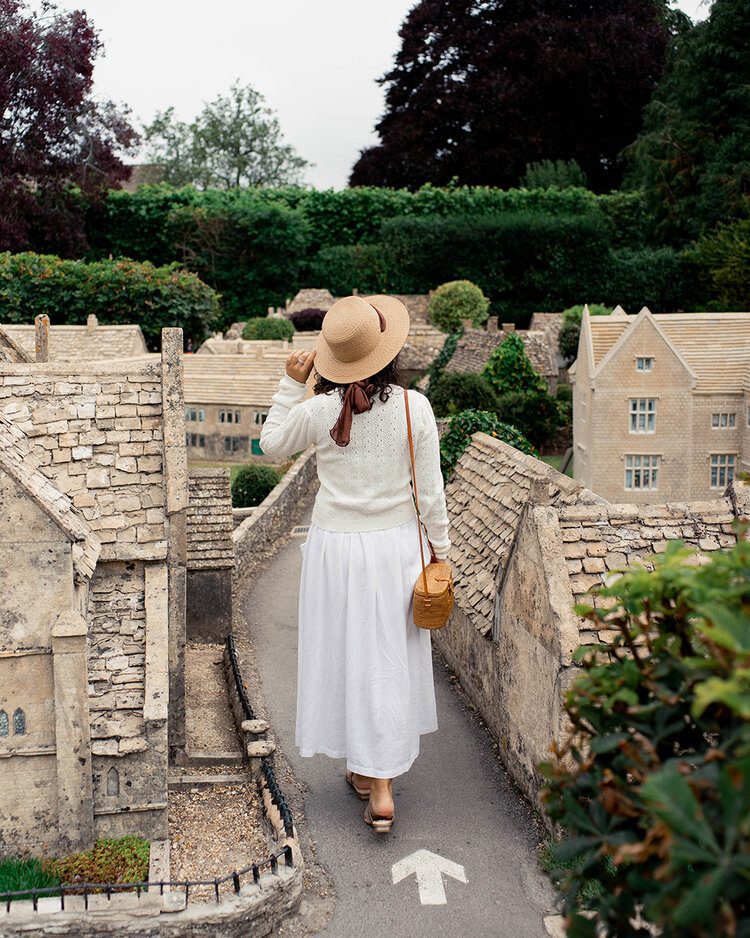 Once you've finished up in the model village, spend some time pottering around the shops and maybe take a break for a cream tea (a pot of tea served with a scone topped with jam and clotted cream) before leaving.
3. Go for a long hike
Provided you are able to do so, hiking or going for a long stroll out in the countryside of the Cotswolds is an absolute must. With plenty of paths, routes and bridleways it's hard to choose which to tackle, but the number one trail is Cotswold Way. This 102 mile long National Trail is the most famous walk in the Cotswolds as it goes all the way from one end of the Cotswolds to the other: from Bath, Somerset to Chipping Campden, Gloucestershire. There's plenty of opportunities along the trail to do sections of it rather than the full 102 miles, thank goodness. We chose to do the Leckhampton Hill Loop which is a moderate hike with some steep sections that starts and ends in Seven Springs. It's 4.5 miles (7.25km) and will take around 3hrs to complete. The Leckhampton Hill Loop covers some of the best sections of The Cotswold Way including vast luscious grasslands home to roaming cows, Iron Age remains and an incredible hilltop view over Cheltenham. Park up early in the lay-by opposite the Seven Springs pub.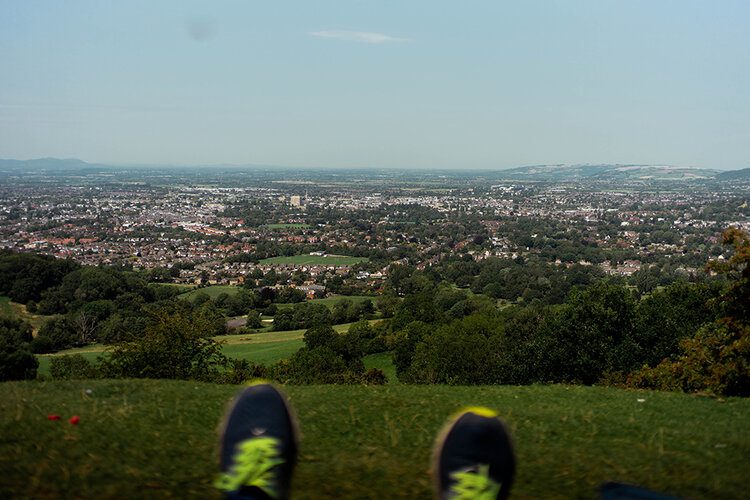 Another really beautiful spot to hike that is close to the Cotswolds but not in it, is the Wye Valley Area of Outstanding Natural Beauty, there's a pay and display car park at Symonds Yat Rock where you can start many trails. Make sure you make a stop at the view point from Symonds Yat Rock for breathtaking views of the valley which includes a horseshoe bend in the River Wye and the chance to spot a Peregrine Falcon, the world's fastest bird, soar.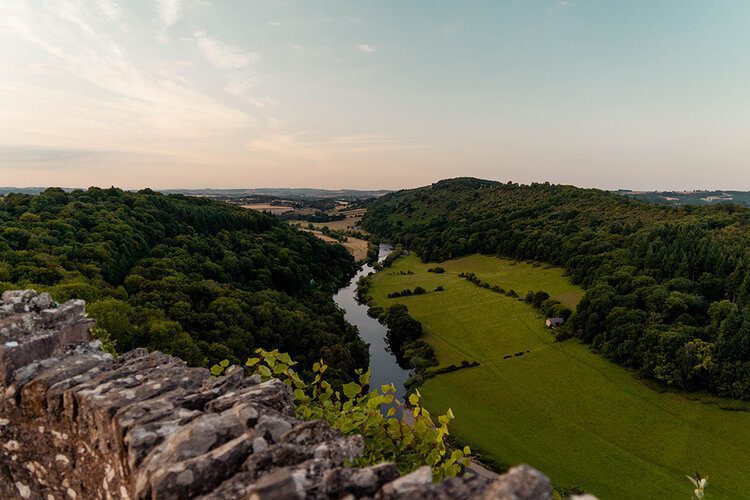 Be sure to bring water, wear suitable footwear and if you walk in the summer make sure you wear suncream.
4. Take a deep breath at Cotswold Lavender
If you're a frequenting reader of Postcards from Hawaii, you probably know that I am obsessed with lavender, so one of the first things I needed upon arriving in the Cotswolds in July 2020 was to visit Cotswold Lavender.
Cotswold Lavender is a third-generation family run Lavender farm and distillery, located in Snowshill, Worcestershire that overlooks the Vale of Evesham. Unlike many other Lavender farms across England, their visiting months are limited to just June and July so aim for these summer months if you're planning to visit. The middle of July is when the lavender is most in bloom.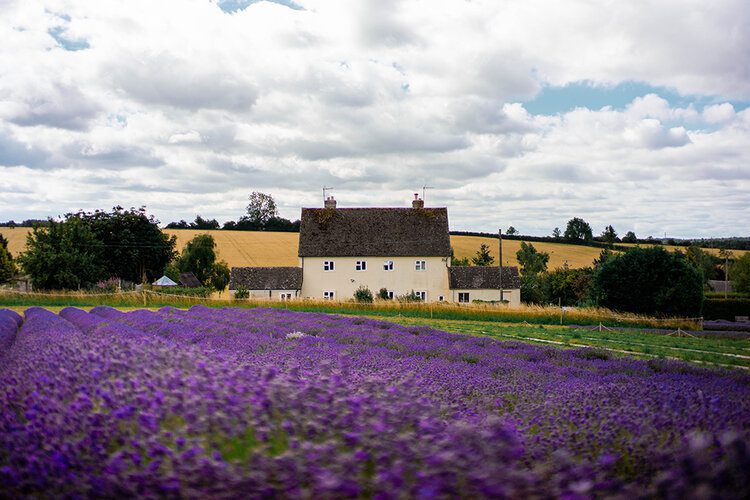 The field opens at 10am and costs £4 per adult and £2 per child aged 5-16 years, children under 5 get free entry.
With over 40 varieties of lavender across 140 miles (225km) of rows there's plenty of opportunities to take a moment to deeply breathe in the intoxicating and calming scent of the lavender plus you can get all the photos you need from various angles thanks to the plants being split up into various patches.
The best angle is with the lavender farmhouse in the background (it's on the right as you enter the lavender fields). As always, arrive early for the best shots.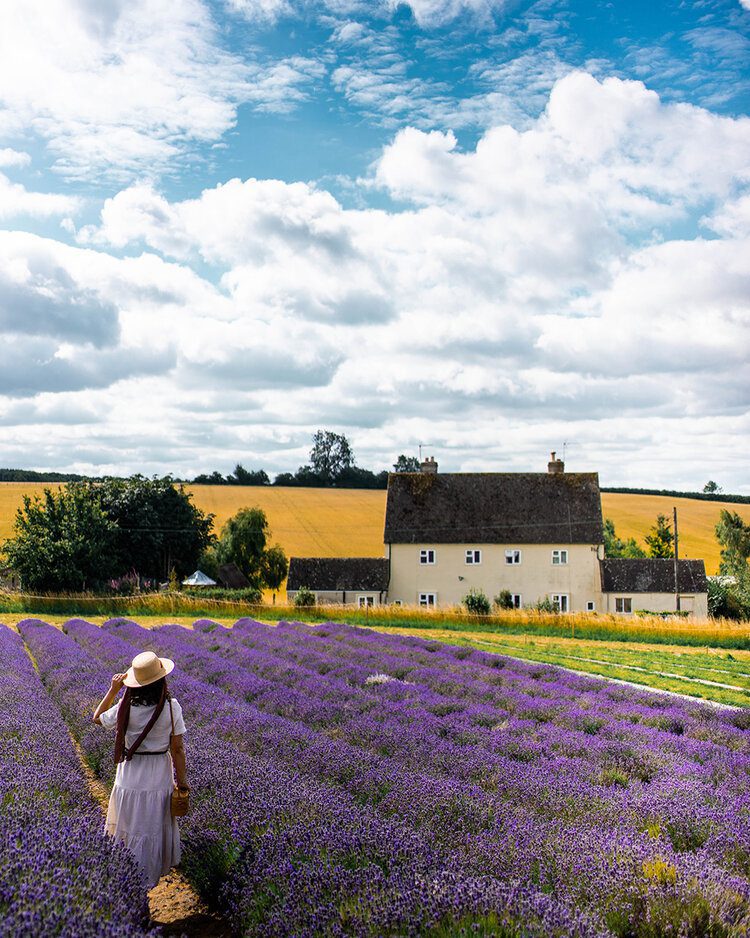 There's plenty of picnic benches amongst the lavender if you want to bring your own lunch.
Be sure to pick up some of their lavender products before leaving, they're amongst my favourite lavender products I've ever purchased. Their lavender hand sanitising gel is ideal for keeping you clean and calm in a pandemic and their sleep spray is heavenly! 
For further reading on lavender on PFH, check out 10 lavender products for more relaxing travels and How to sleep on long flights.
5. Go wine tasting on a vineyard tour
Catch them on a glorious spring/summer's day and the vineyards within the Cotswolds look and feel like rural France.
Our vineyard of choice is one of the oldest in England: Three Choirs in Gloucestershire. A tour and tasting at Three Choirs Vineyard costs just £12.50 per person and includes a 30-45mins guided walking tour of the factory which gives you a brief history of the vineyard and their wine production plus you get a tasting of four of their wines which includes their sparkling, red and white wines. Bookings must be made in advance by contacting them here.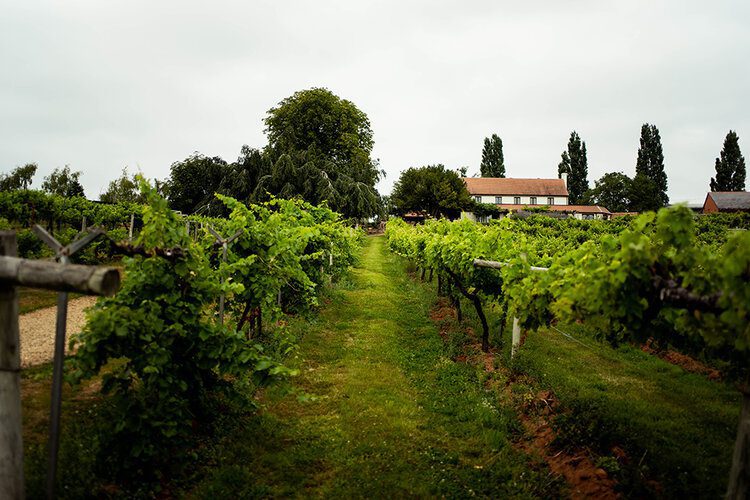 Be sure to book a table at their brasserie where you can dine on a carefully selected menu to compliment their wines whilst looking out over their some 45,000 French and German grape vines set upon 75 acres of hills. 
After your meal, take a lazy stroll on the vineyard walk which is mapped out with plenty of signage explaining the history of Three Choirs' wine production. 
There's also a shop for you to purchase your favourites from your tasting and meal and with their own onsite accommodation, there's also the option to wake up to the beautiful view of the vines.
6. Enjoy a lazy pub lunch 
Though it's not what we've been used to, I honestly much prefer the way pubs are set up now due to the worldwide C-19 pandemic. Everything is table service which means you don't have to queue at a crowded bar, the tables and toilets are regularly cleaned which means no more sticky surfaces and seating is far more spread out so you can rest assured that everyone in the village won't know your business because no one can hear you chatter at your table now!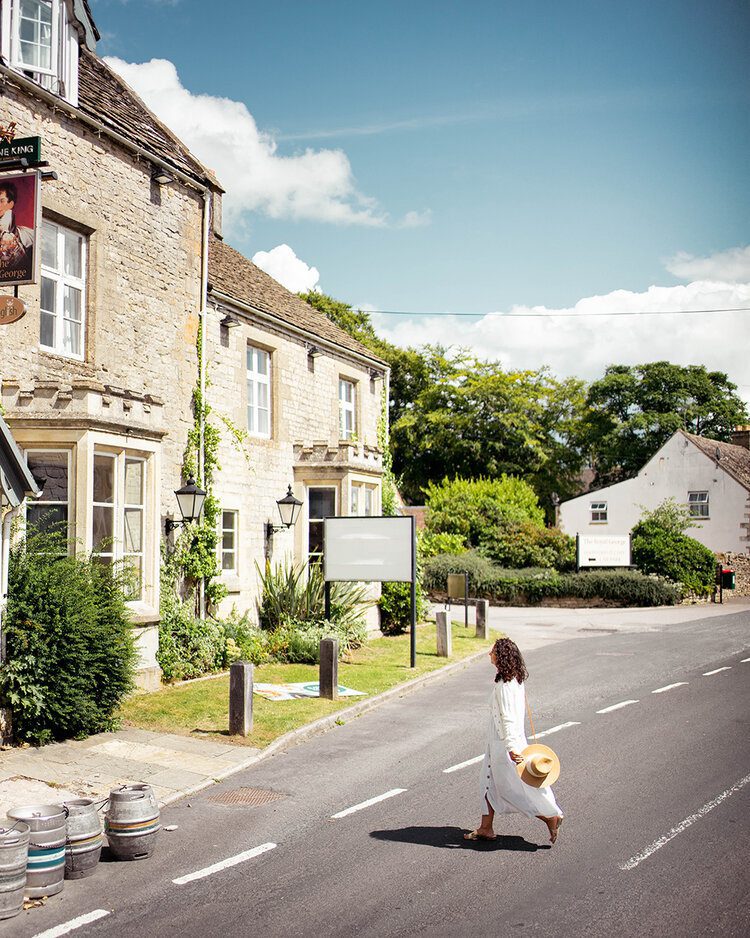 Pretty much every village in the Cotswolds has a pub so you won't have to look far to find a dreamy location for your lazy lunch. Treat yourself after a long morning walk/hike – like the ones I mentioned earlier – to a pint and lunch or better yet, end your week with a Sunday lunch carvery. 
The pub we chose to eat at was The Royal George in Birdlip, a tiny but picturesque village in Gloucestershire.
You could also grab a pint in the oldest pub in Britain, The Porch House in Stow-on-the-Wold with parts of its building known to date back to the year 947!
7. Experience ancient Rome in Bath
Bath, Somerset is located at the very base of the Cotswolds. Its history spans thousands of years as it was an ancient Roman settlement over 2000 years ago. I highly recommend spending some time exploring Bath and learning about its rich history making sure to visit the Roman Baths, stroll the cobbled street and eat at Sally Lunn's. To read more about what to do in Bath, take a look at Long weekend in Bath, England itinerary.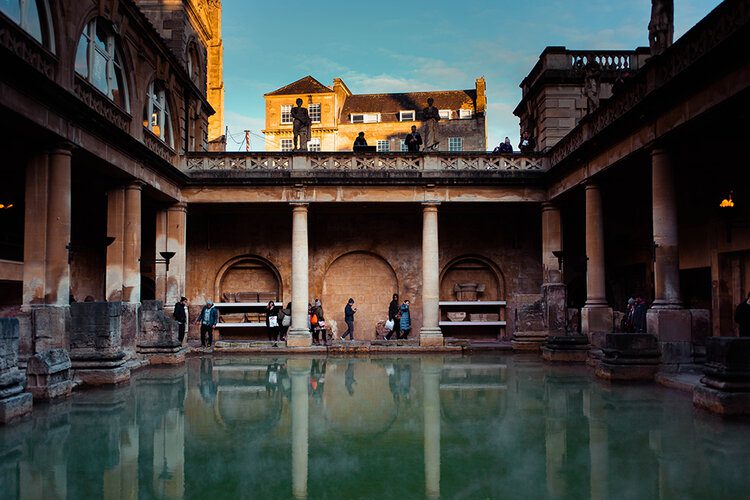 If you do visit any of these places during the pandemic, please make sure you bring a reusable face mask and keep your face covered whenever you're inside or in close proximity to other people outside of your allowed bubble. Please regularly wash your hands or use sanitiser and put in the effort to socially distance yourself from others.
As I have recommended with many of the things to do in this list, arrive early to avoid crowds and not only will you have a better chance of taking great photos but you will also reduce the amount of people you are around.
Gabriella