Searching for good coffee near me in Norwich? This list of 8 cafes in Norwich will help you find some of the best coffee in North Norfolk.
Norwich is England's first UNESCO City of Literature and it's the most complete medieval city in the UK with its Norman castle standing since 1067 and cathedral since 1096. It has 12 heritage sights which include buildings from the Norman, Middle Ages, Georgian and Victorian Eras. It's the only city located within a National Park: The Norfolk Broads – remember the lyrics "From Ibiza to the Norfolk Broads" in David Bowie's Life On Mars?. It's also in the top 10 shopping destinations in the UK with two shopping malls and the largest permanent undercover market in Europe.  Then there's some Norfolk's best independent coffee shops in Norwich!
My partner and I grew up in Norfolk, both not far from Norwich, I even went to university in Norwich at Norwich University of the Arts. Being somewhere so close to home I never really saw Norwich as more than a place to shop, eat out with friends and catch live music, then the more I travelled the less time I spent in Norfolk. So despite Norwich being a pretty perfect combination of history and pop culture, it kind of just became one big shopping centre for me, somewhere I went in and out of in a day. It wasn't until the pandemic when we had a staycation in the city that we came to appreciate how unique the wonderful city of Norwich is.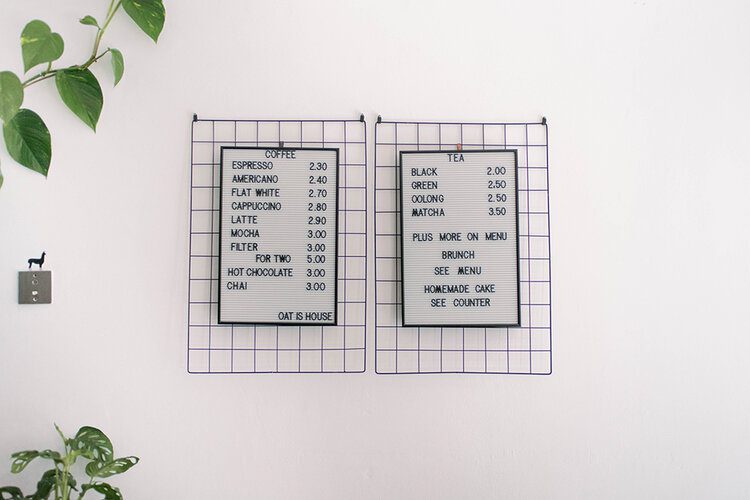 How's that for a lesson in taking for granted what you've had all along? The C-19 pandemic has really taught me to appreciate what I have, and it came at a point right when I was about to leave, never knowing exactly how good I had it, right under my nose.
So whilst exploring the ancient nooks and crannies of Norwich, Michael (my partner) began his quest for finding a few independent coffee shops and local cafes in Norwich where he could get some really good coffee. As the list of coffee near me in Norwich grew, I saw the opportunity for a blog post so we can share with you all the best cafes in Norwich and why they're great. If you're a frequenting reader of Postcards from Hawaii (thank you, by the way) you'll know I can't drink caffeinated coffee, but Michael is a self-proclaimed coffee connoisseur (or as I like to call him, a coffee snob) so you can trust the advice here.
Here are 8 of the best independent coffee shops in Norwich, their locations, what they offer and why Michael recommends them:
Kofra 
Kofra is a small, local independent chain of coffee roasters and brewers with three cafes in Norwich, spread across the city. Two of which are on corners, tucked away into residential areas and the third, a much larger coffee shop, serves wine, cheese and cured meats to sit in or takeaway.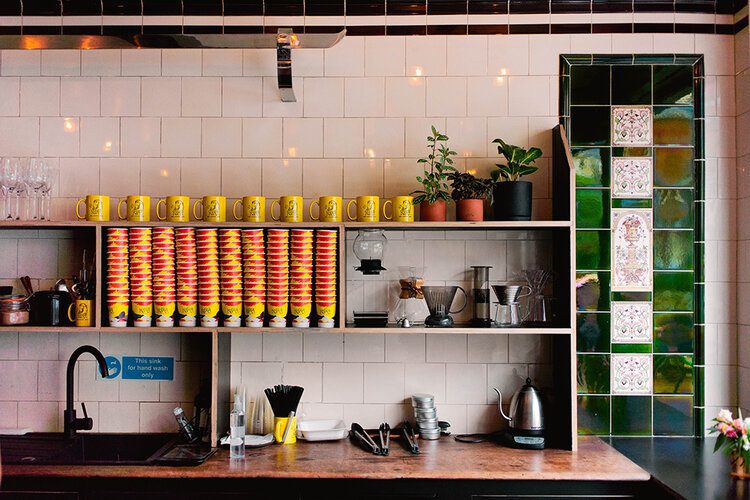 There's so much charm in Kofra's locations and knowing that you really wouldn't know that their coffee shops exist in such quiet parts of the city without a recommendation or research. They're far enough away from the centre of Norwich that you can enjoy your coffee with very little sound or distraction, making it easier to not only slow down your thoughts but to savour the flavour of their own roasted blends.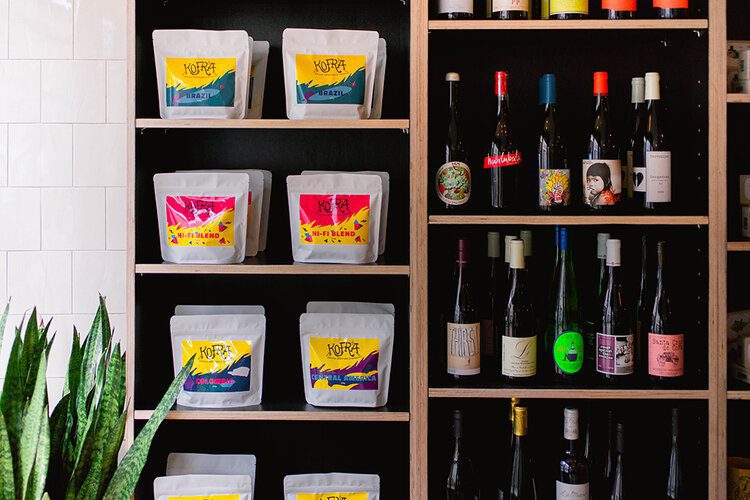 Kofra's coffee beans originate from South America, Central America and Africa and you can purchase their beans to take home or online.
Kofra coffee shop locations in Norwich
Onley Street

Bell Road

Upper St. Giles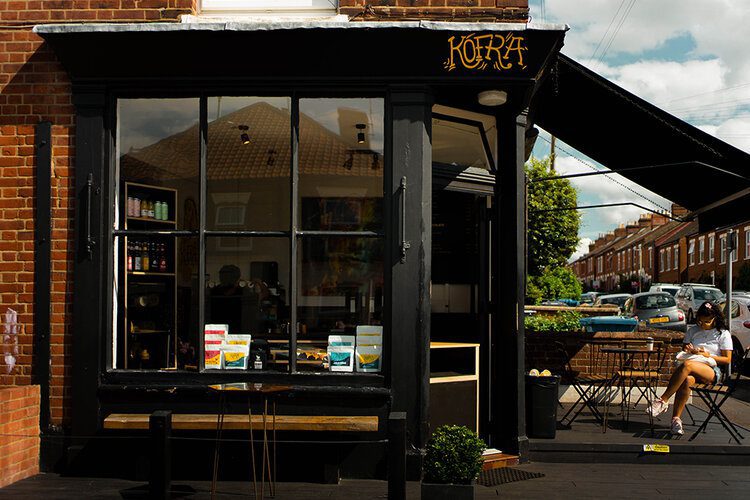 Opening hours for Kofra
Monday – Saturday 8am – 5pm
Sunday 9am – 5pm
Michael's take on Kofra
The best espresso in Norwich!
Strangers
Like Kofra, Strangers is also a small, local independent chain of coffee roasters and brewers with three coffee shops located around Norwich.
Strangers started in 2009 and have since won many awards for their focus on the quality of their coffee beans and attention to ethics of the coffees they source globally. In 2019 Strangers was named in the Big Seven Travel's top 50 coffee shops in England.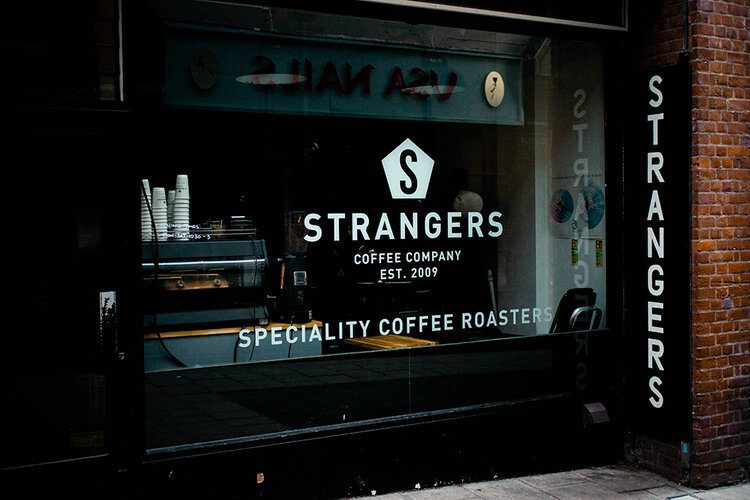 The locations of all three of Strangers coffee shops in Norwich are super convenient as each one is opposite a big shopping attraction. If you only manage one cafe in Norwich from this list, make it this one, because Strangers is the OG independent coffee shop of Norwich, and it isn't multi-award winning for nothing.
Strangers' beans originate from Columbia, Costa Rice, Ethiopia, Brazil and Guatemala. Pick up their coffee beans or grounds from any of their locations, or shop online.
Strangers coffee shop locations in Norwich
Dove Street

Pottergate

All Saints Green (Closed during the C-19 pandemic)
Opening hours for Strangers
Monday – Saturday 10.30am – 3.30pm 
Sunday Closed
Michael's take on Strangers
Strangers has over 10 years of experience and it shows through the quality of their coffee.
Ancestors 
Ancestors has one location in Norwich and oh boy did they design it well. Its clean, bright and minimal interior will not only give you plant envy, but it also makes you feel even more positive about your responsible decision to drink/eat here. Ancestors is an all vegan cafe in Norwich serving both savoury and sweet treats.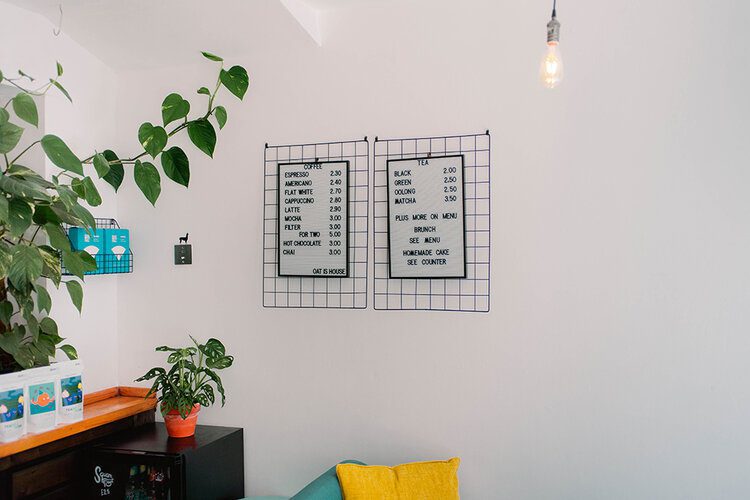 Check out their colourful Instagram to get you excited to visit. There's a strong opportunity to get some decent content for IG right here.
Though they don't brew their own coffee and tea, you can purchase them to take home.
Ancestors coffee shop locations in Norwich
Opening hours for Ancestors
Monday 10am – 3pm 
Tuesday – Saturday 10am – 4.30pm
Sunday 10am – 4pm
Michael's take on Ancestors
Ancestors' coffee quality and interior design make them my second favourite coffee spot in Norwich.
Rabbit
Located in the centre, nestled into the iconic lanes of Norwich sits Rabbit: a coffee shop that brews their own coffee and boasts indulgent brunch, lunch and dinner menus with gluten free and vegan options. They're also pet friendly.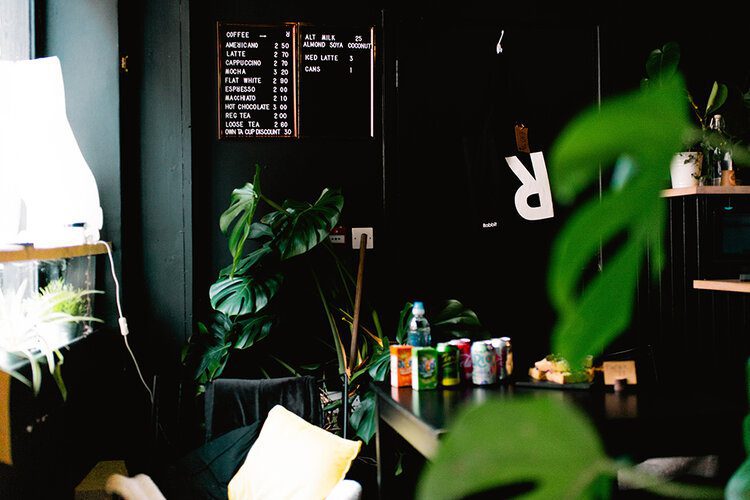 Rabbit's dark and cosy interior makes it the perfect place to hide away from the hustle and bustle of the world and is particularly ideal to escape a rainy day. It's also another spot offering up some major plant inspo.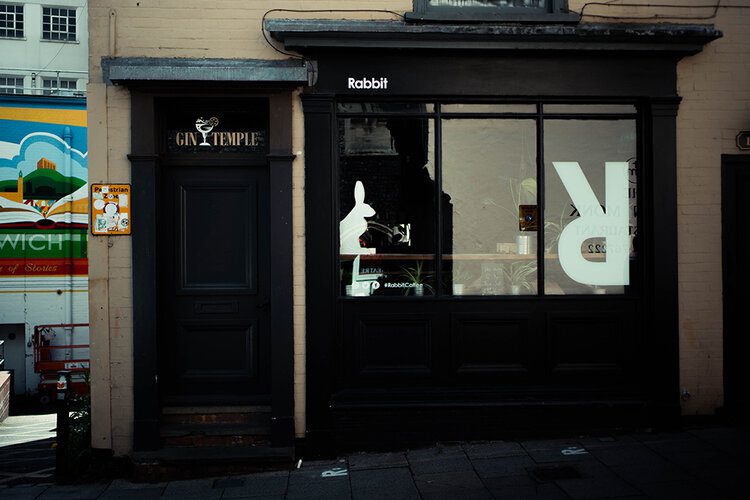 Rabbit roasts their own coffee which is available to purchase in store.
Rabbit coffee shop locations in Norwich
Opening hours for Rabbit
Thursday – Saturday 12pm – 4pm
Monday – Wednesday Closed
Michael's take on Rabbit
They have a cool logo, designed by The Click – a great graphic design studio in Norwich.
Bread Source 
Bread Source is an award winning artisan bakery selling some of the best bread products you'll ever eat, from their Pistachio Raspberry Rolls to sour sough, you're in for a treat. Back to coffee, Bread Source make espresso based drinks using the Workhouse Blend from Horsham Roasters which has a nutty, chocolate taste with caramel and orange notes. Bread Source is by far one of my favourite cafes in Norwich.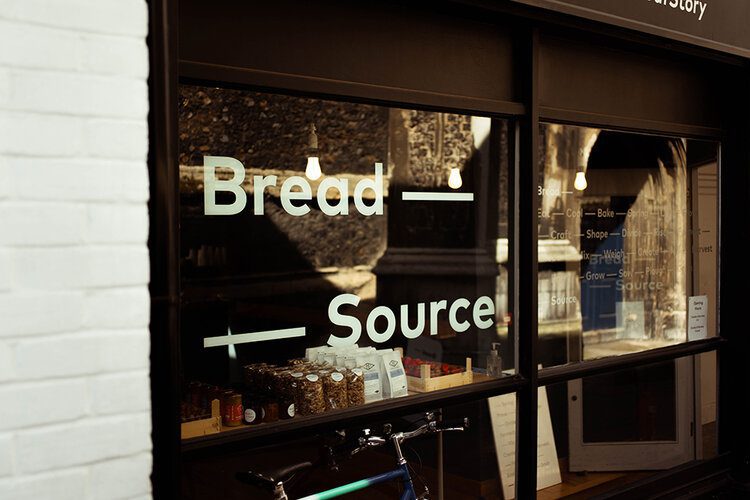 What makes Bread Source particularly amazing is that everything they sell from their own products to wine, cheese, meats and milk/m*lk is all from independent brands mostly located in Norfolk. It's also the only coffee shop in Norwich on this list to have a location in Norwich market, the one that's largest permanent undercover market in Europe – you really can't get more central than that!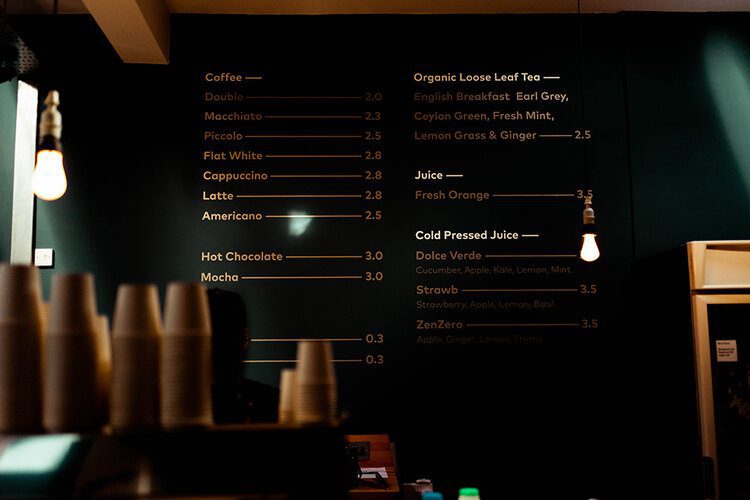 You can buy Bread Source's coffee, bread, pastries, cheese, jam and more online as well as in store.
Bread Source coffee shop locations in Norwich
Marriott Close 

Upper St Giles St 

Bridewell Alley

Norwich Market 

Red Lion Street – in Aylsham, outside of Norwich.
Opening hours for Bread Source
Monday and Sundays Closed
Upper St. Giles and Bridewell Alley:
Tuesday – Saturday 8am – 3pm
Marriott Close:
Tuesday – Friday 8:00am – 2:00am
Saturday – 8:00am – 4:00pm
Norwich Market:
Tuesday – Saturday 8:30am – 3:00pm
Michael's take on Bread Source
They are the perfect breakfast spot.
Alchemista
Alchemista, as you may gather from the name, has a scientific approach to coffee but with a gothic twist: their iced coffees are served in skulls, their decor looks like it was pulled from Frankenstein's laboratory and their menu is all about coffee potions and concoctions.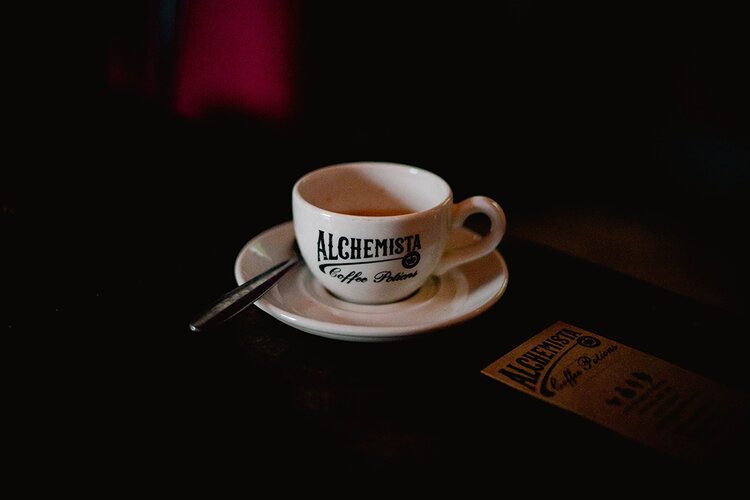 Speaking of those concoctions, their menu offers speciality coffees and coffee infused cocktails that will really spice up your usual coffee order.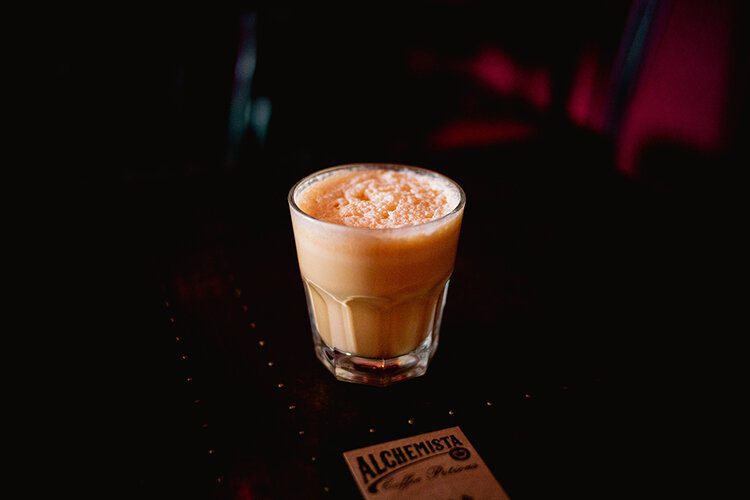 Alchemista coffee shop locations in Norwich
Opening hours for Alchemista
Monday – Saturday 8.30am – 5pm 
Sunday 10am – 4pm
Michael's take on Alchemista
If Espresso Martinis are your poison, you will love the cocktails at Alchemista.
Artel
Artel's menu has been curated to offer up nutritious and hearty meals made with locally sourced and seasonal ingredients that cover gluten free, vegan and vegetarian options. Though it's a short menu, it has you covered from light bites, such as chilli cheese scones, all the way to a full English featuring Norfolk streaky bacon and chipolatas. 
With two levels and outdoor tables, there's plenty of seating at Artel and just like Rabbit, Artel is also pet friendly.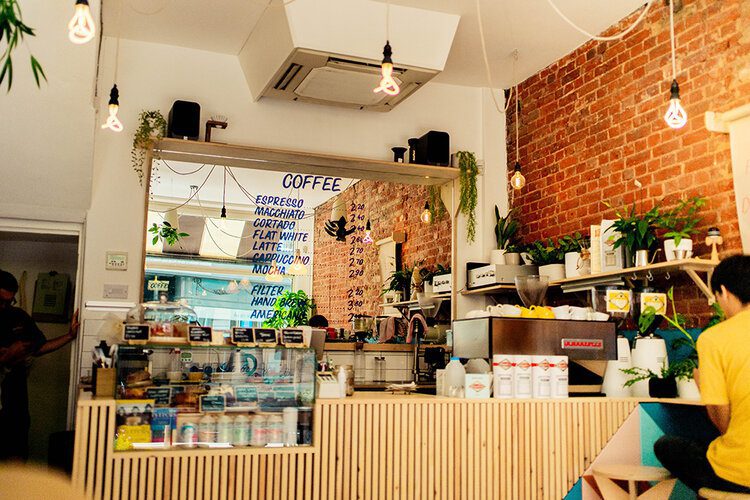 Artel also exhibits artwork from local artists.
Artel coffee shop locations in Norwich
Opening hours for Artel
Monday – Friday 9am – 4pm 
Saturday 9am – 5pm
Sunday 9am – 4pm
Michael's take on Artel
Great for brunch, they offer an exciting breakfast menu.
Smokey Barn
Smokey Barn is located in a converted barn in Riverside, the edge of the city centre. Smokey Barn's intimate setting means there isn't much room to sit but it's perfect if you want to pick up a coffee on a stroll along the river or if you're on your way to or from Carrow Road football stadium. Despite being located next to The Waterfront (many a raucous teen years spent there) the surrounding area (during Smokey Barn's opening hours) is quiet; surrounded by churches and crooked Tudor houses it really is a lovely spot to grab a coffee to-go. Don't forget your reusable coffee cup!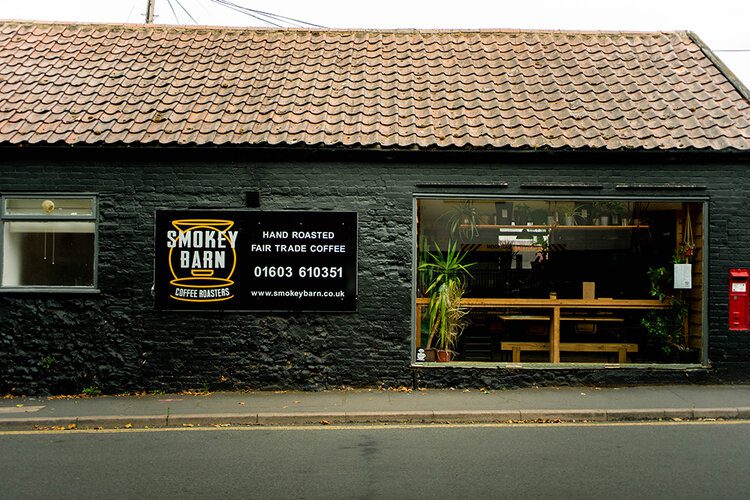 Smokey Barn does their own onsite roasting of a range of rainforest alliance, fairtrade and organic beans, which you can purchase in store and online.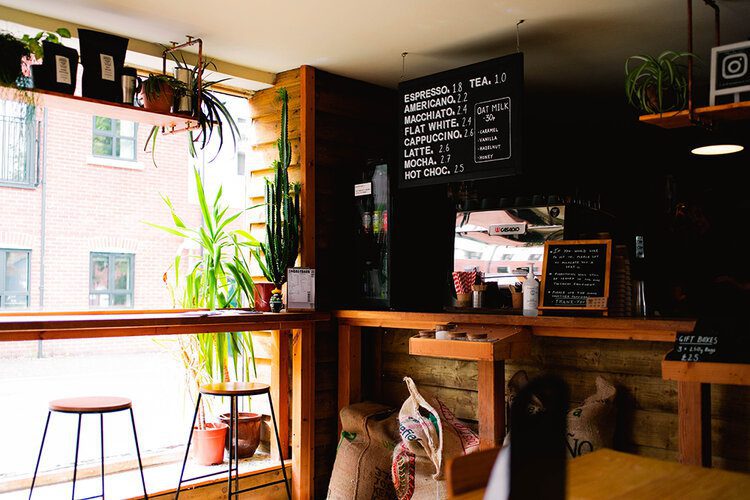 Smokey Barn coffee shop locations in Norwich
Opening hours for Smokey Barn
Monday – Friday 8am – 3pm
Closed on weekends
Michael's take on Smoky Barn
The perfect spot if you want to escape the city noise altogether. Smoky Barn is also the closest coffee shop on this Norwich cafe guide to NCFC's Carrow Road football stadium.
Whilst travelling, Michael appeases his coffee addiction with the help of his WACACO Nanopresso Portable Espresso Machine available to purchase from Amazon with the link below.
Summary of best coffee shops and cafes in Norwich
Kofra

Strangers

Ancestors

Rabbit

Bread Source

Alchemista

Artel

Smokey Barn
Opening hours and seating options are a little different due to COVID-19, so keep in mind these will change in time, as things improve. Enjoy!
Do more on & for the planet, Gabriella & Michael
As an Amazon Associate I earn from qualifying purchases but please know that we recommend products from personal use which you can see throughout my blog posts.