Lavender has blown up over the last few years and like pretty much everything that's popular these days, it's due to Instagram. As someone who uses Instagram for work I'm not mad at it, however, the behaviour displayed on the app and the examples being set can sometimes have a damaging effect. Unfortunately, the increasing desire to get that shot for the 'gram in a lavender field has led to inconsiderate behaviour over in the fields of Provence.
It has come to light that in their desperation to get their own shot of themselves frolicking in rolling fields of lavender, people are flying to Provence in France and trespassing onto farmers' fields, picking the lavender, stomping on the plants when they want to cross rows and there isn't a gap and leaving rubbish. It's easy to think a few sprigs of lavender won't be missed but these fields are farmers' livelihoods; it's how they're paying bills and providing for their families. To draw upon the DVD piracy campaign (are these even on DVDs anymore?), you wouldn't steal a car, so why would you steal someone's lavender stock? Whether you are using Instagram for work or pleasure, you are making an impression on someone, and therefore it is so important to lead by example.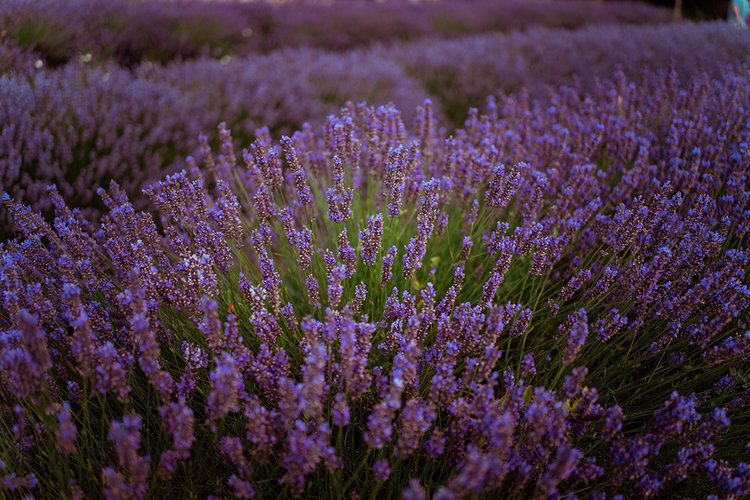 So how can we solve this (whilst saving money)? Instead of entering someone's field, visit the fields dotted around England where you can get a responsible, rewarding and legal experience. Sure, there are entrance fees or tour costs but you actually get to learn about the lavender plants and pick it guilt free. 
The most important thing is to share with others about responsible tourism. Educate your followers, whether there's 42k or 42 of them, about visiting a field that is supporting the industry as well as giving you the opportunity to get that all important Instagram-worthy photo.
I'm sharing Norfolk Lavender with you not only because you've asked to see more local content on here, but because it offers so much more than a lavender field. It really is a great day out for everyone. Entrance is free, there's a café, gardens, a huge gift shop, a plant nursery, a farm shop and an animal garden and play park for children. Plus, in summer, when the lavender is in full bloom, they offer tours of both their lavender distillery and their new lavender field for a reasonable price. Read on for everything you need to know about visiting Norfolk Lavender.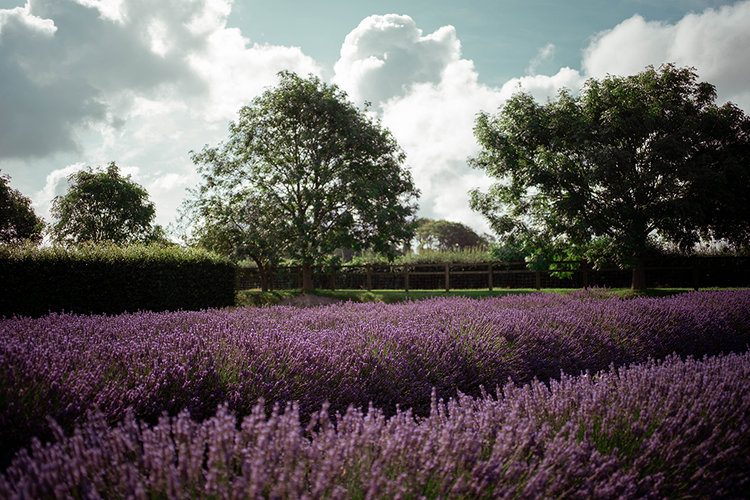 Getting there
Norfolk Lavender is conveniently located in the countryside but close to the seaside in Heacham,  West Norfolk. This means your day out doesn't have to end there, Hunstanton (a popular and typical seaside town) is just 3 miles down the road. So if the intoxicating smell of lavender doesn't do it, the sea air will guarantee you a great night's sleep.
Parking at Norfolk Lavender is free.
Opening times
Monday – Sunday 
9am – 5pm March – October 
9am – 4.30pm November – February
Accessibility 
All of the attractions at Norfolk Lavender are on one level so everything has full wheelchair accessibility plus there are two toilets for people with disabilities. I do just want to point out that the gift shop is split over two levels inside with stair-only access, however if you go back outside and around the building you can gain access to the second level without stairs where the ground naturally slopes. They also have a wheel chair available for guests to borrow but you must reserve it in advance.
Tour
In the peak months of lavender bloom Norfolk Lavender offer a tour in their newest field, Torrey's Field. The tour lasts 45mins and includes a visit in the field with an opportunity to take photos and pick your own lavender, facts about plants, a history of Norfolk Lavender and a visit to their distillery.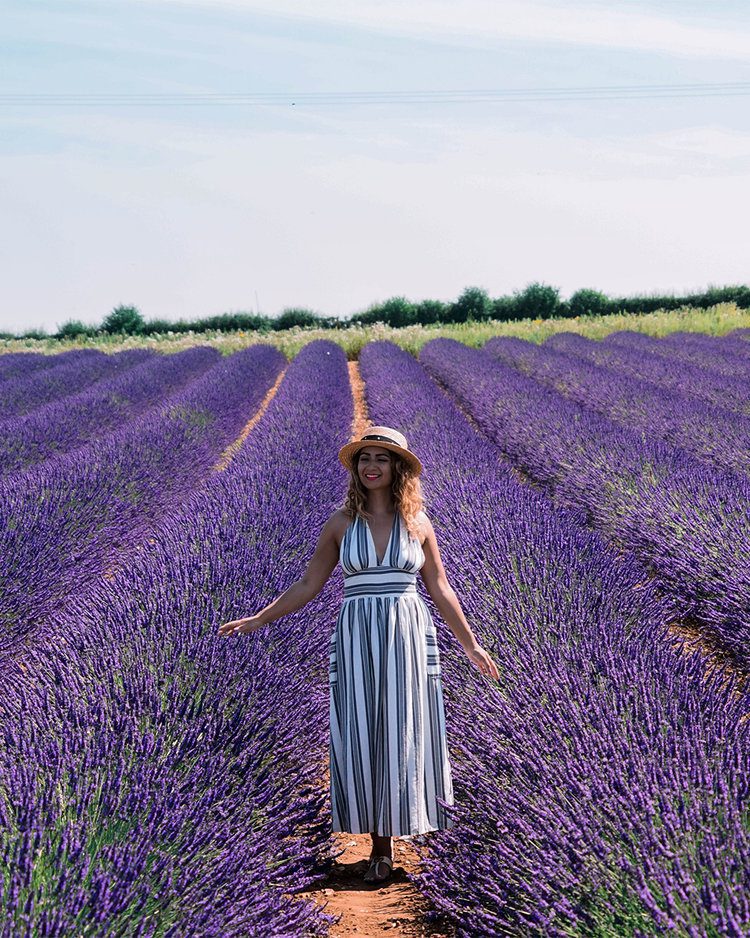 The tour dates vary year to year depending on the crop so it can be anytime between June – August. Check the Norfolk Lavender website to be certain.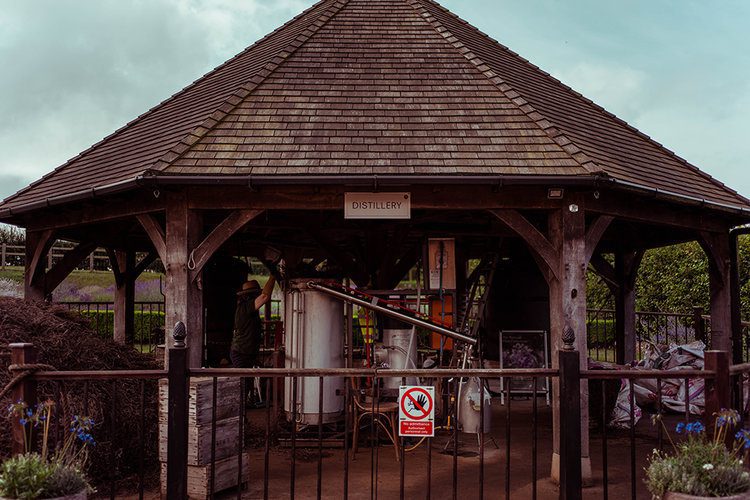 Tour times
11am, 12 noon, 1pm, and 2pm.
Ticket cost
£5 per person.
Tickets are purchased in the gift shop.
Tour cap off at 15 people max.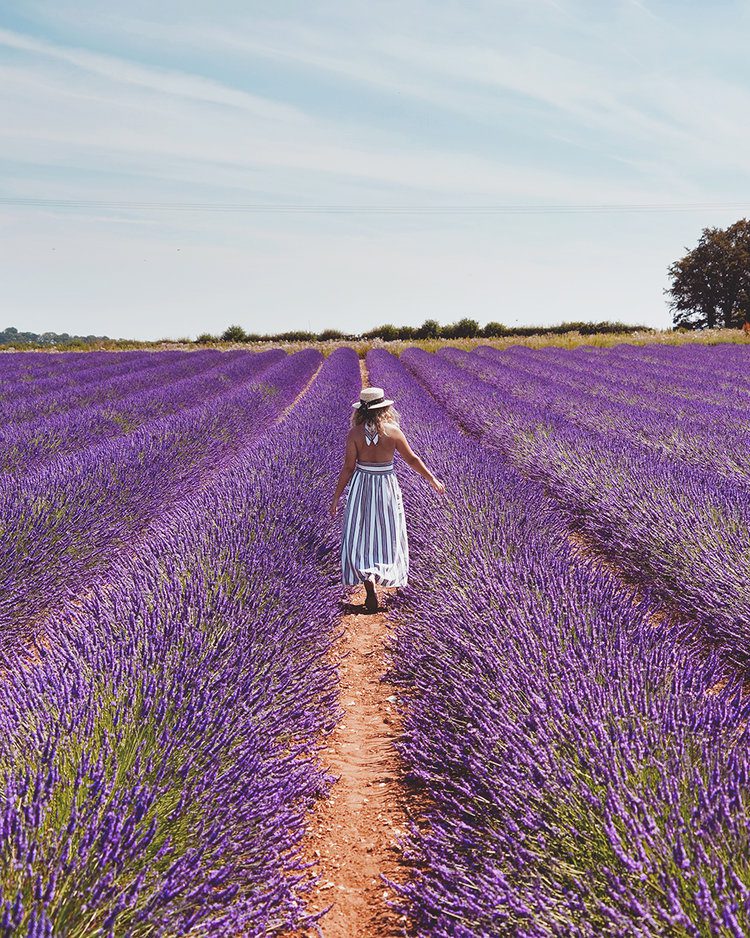 The Lavender Lounge tearooms
Though the presentation of the food leaves something to be desired, it is very good. They serve a good variety of snacks and meals from cakes and scones to sandwiches and hot meals.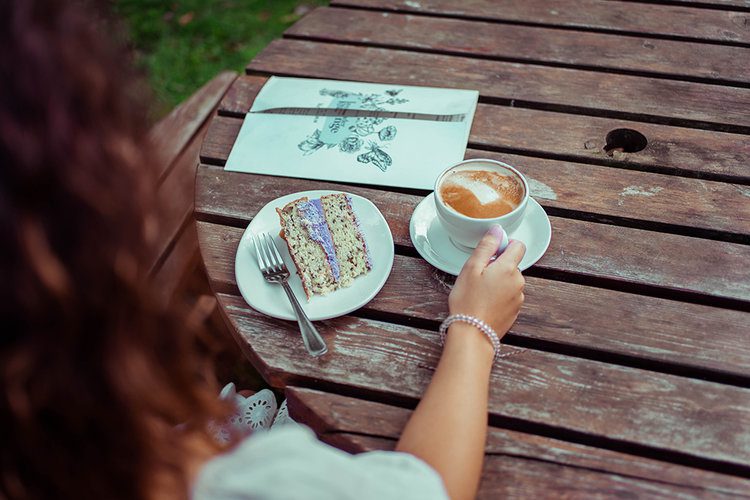 I strongly recommend you try a slice of their lavender cake. Unlike most lavender flavoured or infused foods, the cake perfectly balances the lavender taste and goes down nicely with a coffee or a cuppa. They also serve up a great variety of generously filled sandwiches.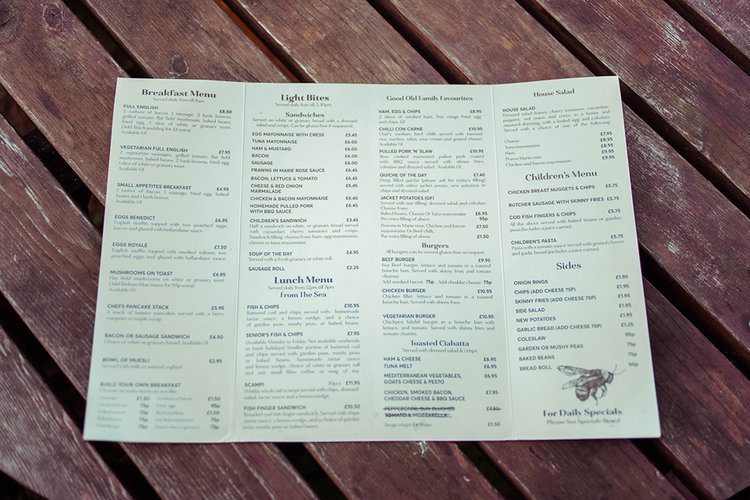 There are plenty of tables both inside and outside so you have a very good chance of getting a seat, but keep in mind that if you sit outside you will be surrounded by bees and wasps because they are attracted to the surrounding plants.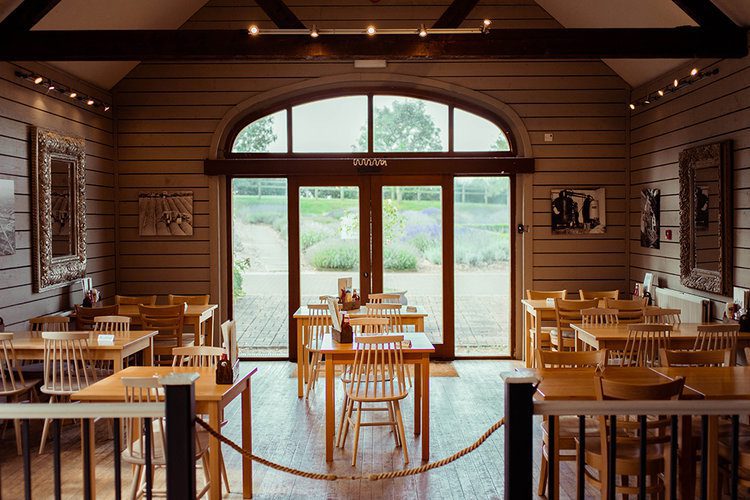 Breakfast 9am -11am
Light Bites 11am – 3.30pm
Lunch 12pm – 3pm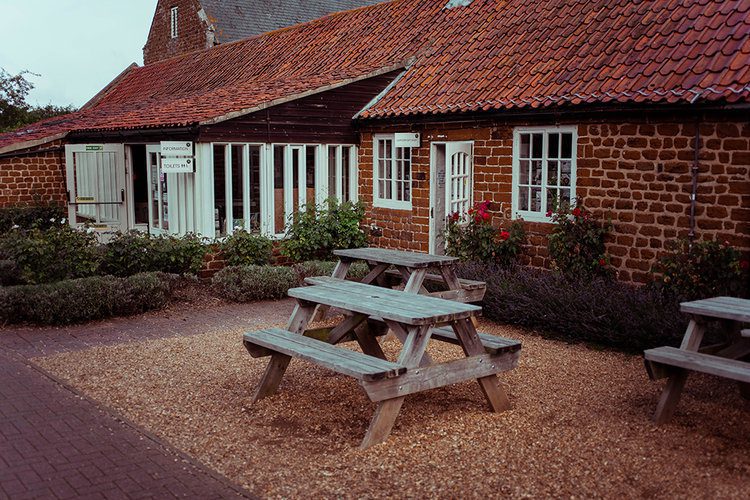 Gift shop
Norfolk Lavender was founded in 1932 and is now England's best lavender farm. If me telling you isn't enough then maybe you'll trust the Queen of England. Norfolk Lavender has been growing lavender on HM The Queen's Sandringham Estate since 1936 and currently holds a warrant of appointment from HRH The Prince of Wales, Prince Charles for all of their products.
Their gift shop has the largest variety of lavender products I have ever seen anywhere in the world, with everything from lavender infused food to beauty products, and trust me when I say they are some of the best lavender products you will ever use.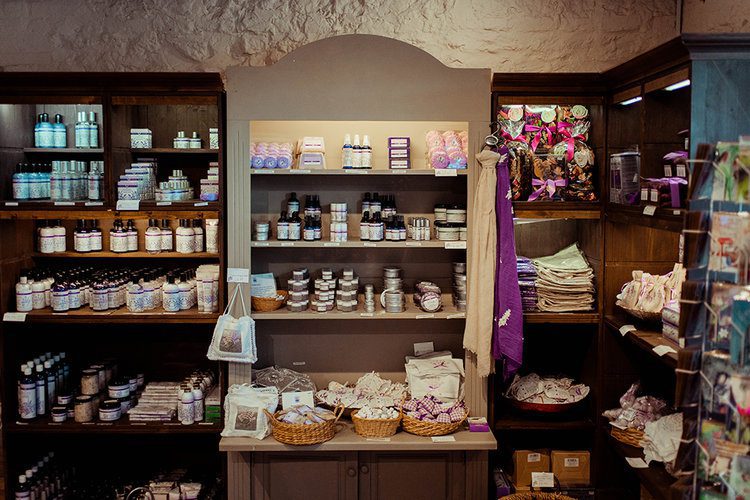 If you are interested in knowing more about the benefits of lavender and which products I recommend, take a look at 10 lavender products for more relaxing travels.
Aside from having every lavender product you could possibly imagine, the gift shop expands further down into the building to reveal kitchenware, children's toys, gardening tools, food and so much more. It's impossible for me not to buy something every time I visit.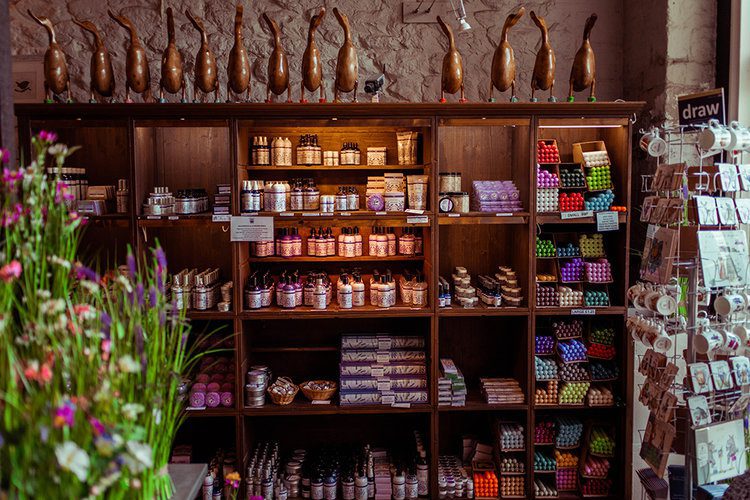 All of their lavender products are available to buy through their online store but you can also find a list of stockist here.
Plant centre
As you exit the far side of the gift shop, there is a purple hut selling gardening items such as tools, seeds, bird feeders etc. Pass through this shop and you will enter the plant nursery where you will find the largest range of lavender products on sale in England, plus many other plant varieties.
Gardens
As you enter Norfolk Lavender from the car park, take the small entrance to the left of the gate for the opportunity to walk through their herb and lavender garden.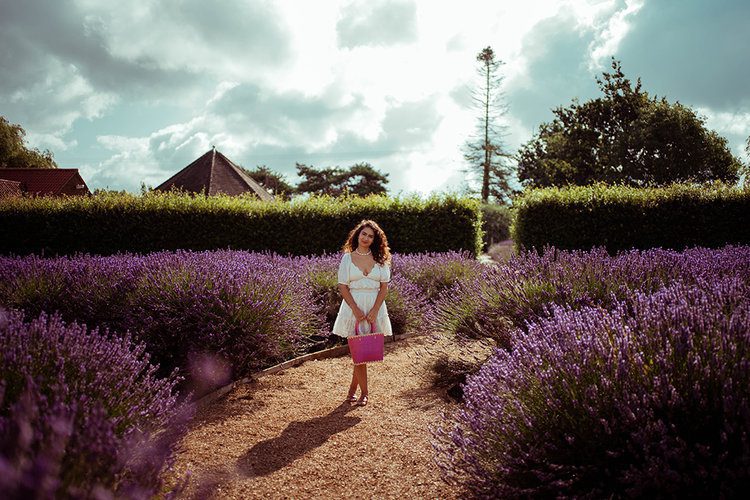 This small garden is not only a great place to see the different varieties of lavender but it is also another opportunity for photos. The field is best for shots within long rows of lavender, but the garden has lavender bushes that have grown higher so you can get photos that appear like you're more nestled into the lavender.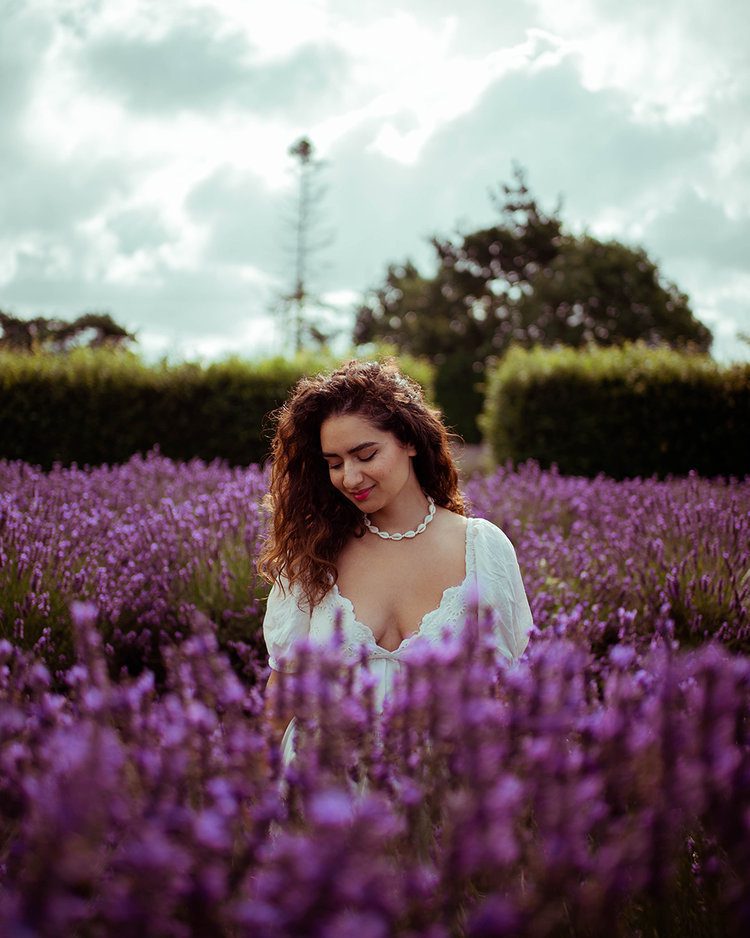 For a further stroll into their grounds, from the plant nursery, turn right and cross over the bridge to gain access to their gardens. It's a pleasant place for walking off your slice of lavender sponge cake or for children to play away from the plants.
Farm shop
Opposite the ground of Norfolk Lavender, on the side of the car park, is an award winning farm shop, Walsingham Farm Shop, selling fresh and local produce. I've picked up a bite to eat a few times from here when either The Lavender Lounge is full or has stopped serving food, and I've enjoyed everything I've bought from there. If you are planning on bringing anything back home from the farm shop, I suggest bringing a cool bag/box in the car as you are most likely visiting in summer.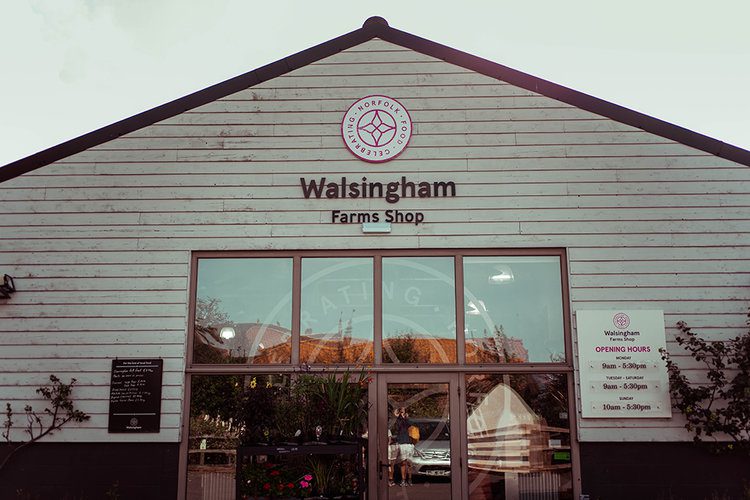 Opening times
April – October 
9am – 5.30pm Everyday
November – March
Monday 10am – 4pm
Tuesday – Saturday 9am – 5pm
Sunday 10am – 4pm
Animal garden and play park
I haven't been here because I don't have kids but I know people who have been with theirs and have enjoyed it. To get all the information you need to visit click here.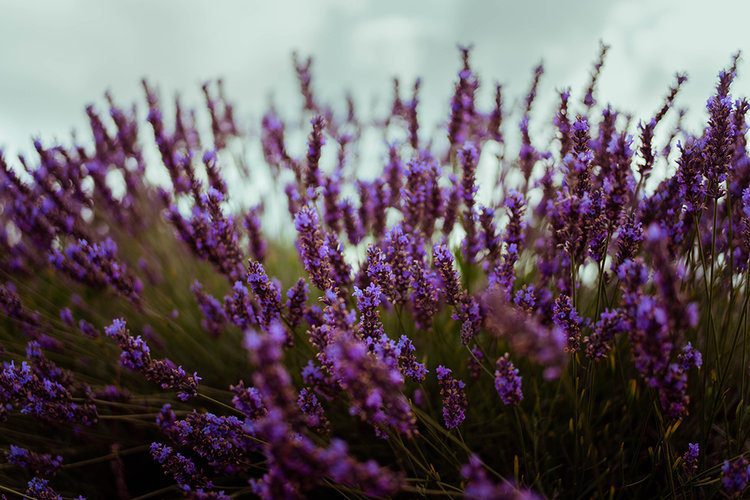 For the history of England's lavender, click here to read a summary on Norfolk Lavender's website.
.
As amazing as Norfolk Lavender is, I have to be honest the most spectacular lavender field that I have visited is Hitchin Lavender. It is located near Luton (about 1hr 30mins drive from central London) and is the biggest lavender field in England.
Their field is designated to visitors who want to cut their own lavender to fill a bag that is provided with your entrance ticket of just £6 per adult and £3 per child aged aged 5-14 yrs (under 5 yrs go free). However, there isn't as much to do at Hitchin Lavender as there is at Norfolk Lavender and they don't offer nearly as many products as Norfolk Lavender does, so I will say it depends on where you're located, how far you're willing to drive and what kind of experience you want to have.
Aloha, Gabriella