The Shard is a 72-storey skyscraper located in Southwark, just moments away from Tower Bridge. Designed by Italian architect Renzo Piano the triangular shape, 11000 glad panels and fragmented tip resembles shards of glass, hence its name. Atop London's newer landmark on the 34th floor sits the multi award winning hotel, Shangri-La The Shard.
Even up until early 2021 the thought of being in London to celebrate Michael's – my partner of 11 years – 30th birthday didn't cross my mind. I was convinced we would be in our new home in Canada…
Time out – if you don't know, Michael and I were scheduled to move just 3 weeks before the whole world went into a Coronavirus pandemic-induced lockdown when our flights were cancelled, the borders closed and we were shut indoors with all deposits tied up until the day they finally allow us in. It's been 15 months (to this post's published date) and counting.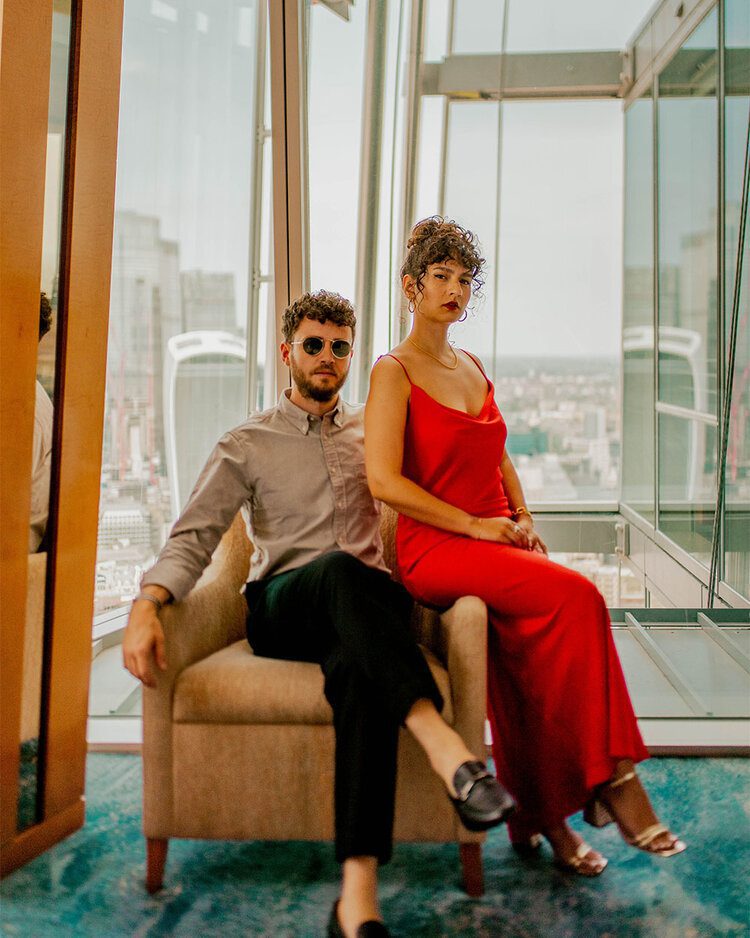 It wasn't until the end of April 2021 that I had to accept we wouldn't be leaving London before 14th June and that I had to pull off a sorry-it's-not-Canada-but-it's-still-incredible, despite it being in the city we already know, 30th birthday celebration. Cue the Shangri-La at The Shard in Southwark.
I booked a night with drinks at their bar, GŎNG, and dinner at their restaurant, TĪNG and it was so wonderful I decided to share it with you on the chance you're looking to either celebrate something special, have a baller stay on vacation to London, staycation in the heart of the city or swim 200 metres above sea level in their pool that looks out over west London.
Having celebrated Michael's 30th I know all the ways to get the most out of your stay so read on for my tips on how to get free cake, champagne and the best seat in the house!
Rooms at Shangri-La The Shard
How does putting your feet up in a patented, body-contouring Shangri-La Bed at least 125 metres in the sky sound? Exciting right?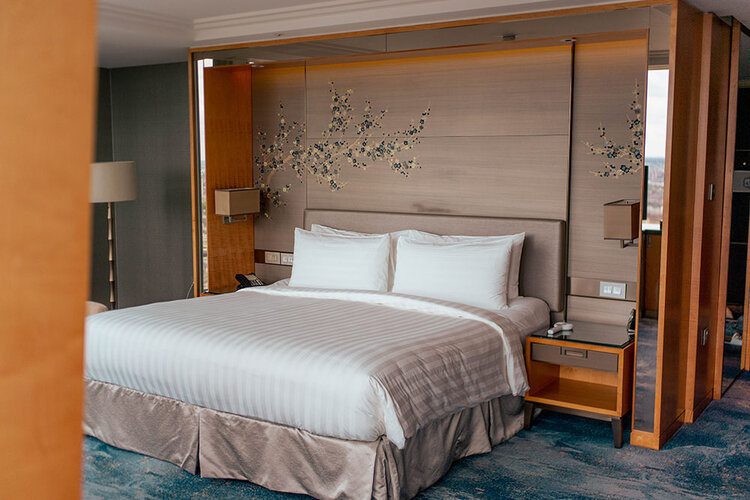 Starting on level 34 the 202 rooms and suites at Shangri-La The Shard all, yes that's right all, offer views of the city of London out of floor to ceiling windows. 
There are 5 categories of rooms and 6 suites all differentiated within their categories by the view they offer. The Superior Shard is the least expensive room in the hotel at an average of £608 per night and offer views of Kent, Surrey and Sussex whilst the Shangri-La suite, taking up most of level 39, has sweeping views of the city from Canary Wharf to the London Eye and is available from a casual £10,000 per night.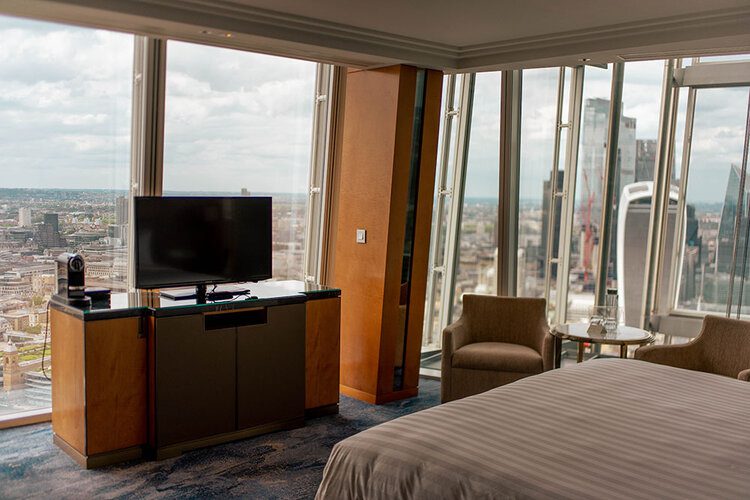 I booked a Premier City View King room at £551 for one night which gave us Northwest views of London that included Buckingham Palace and Hyde Park on the far left and the City of London to our right.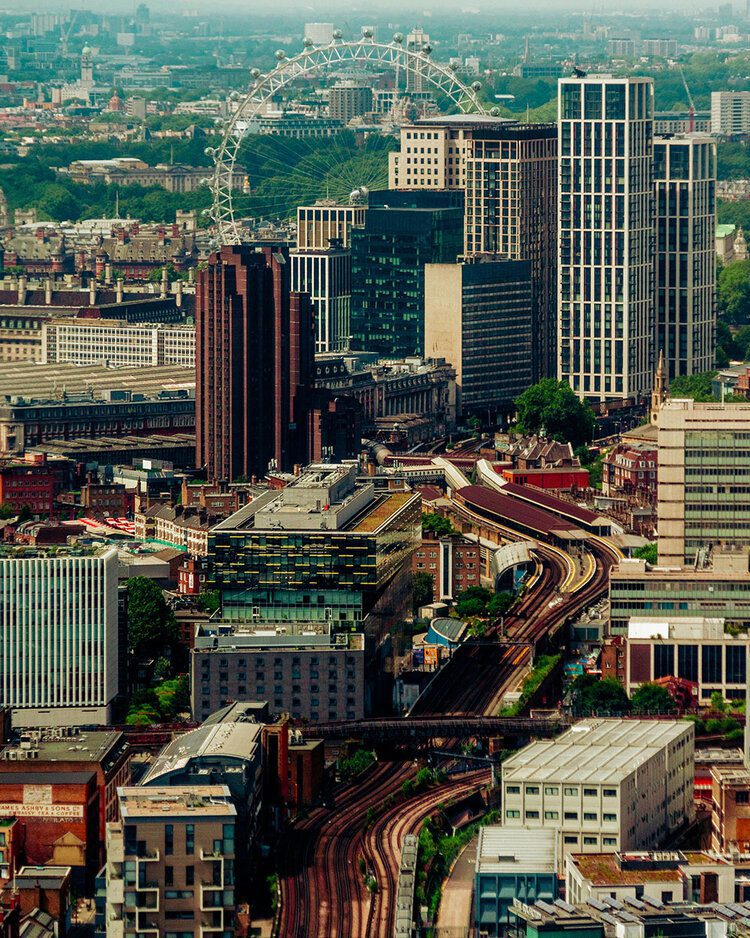 All rooms and suites have robes so plush you could lose yourself in them and slippers are available for use during your stay and are best enjoyed worn straight out of your soak in the oval bathtub (from which you can watch tv embedded in the mirror) or an exhilarating rinse under the rain shower.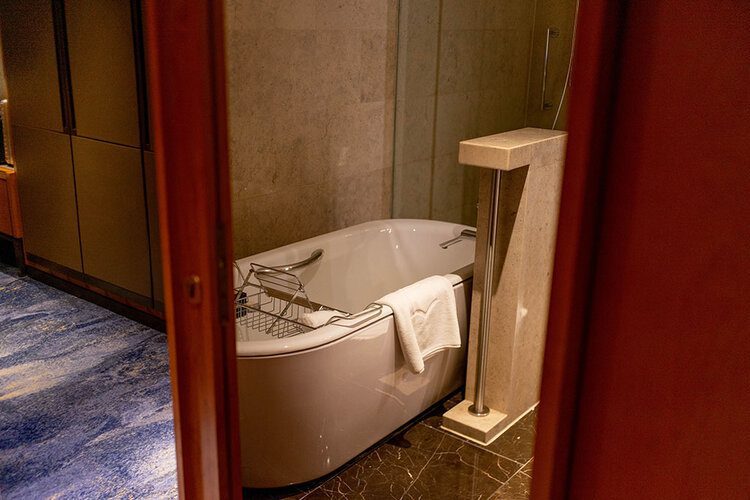 Tea and coffee is complimentary with the use of the in-room Nespresso machine and there's also a pair of binoculars that you can use to creep on people minding their own business in the city… or you know just look at buildings in the distance.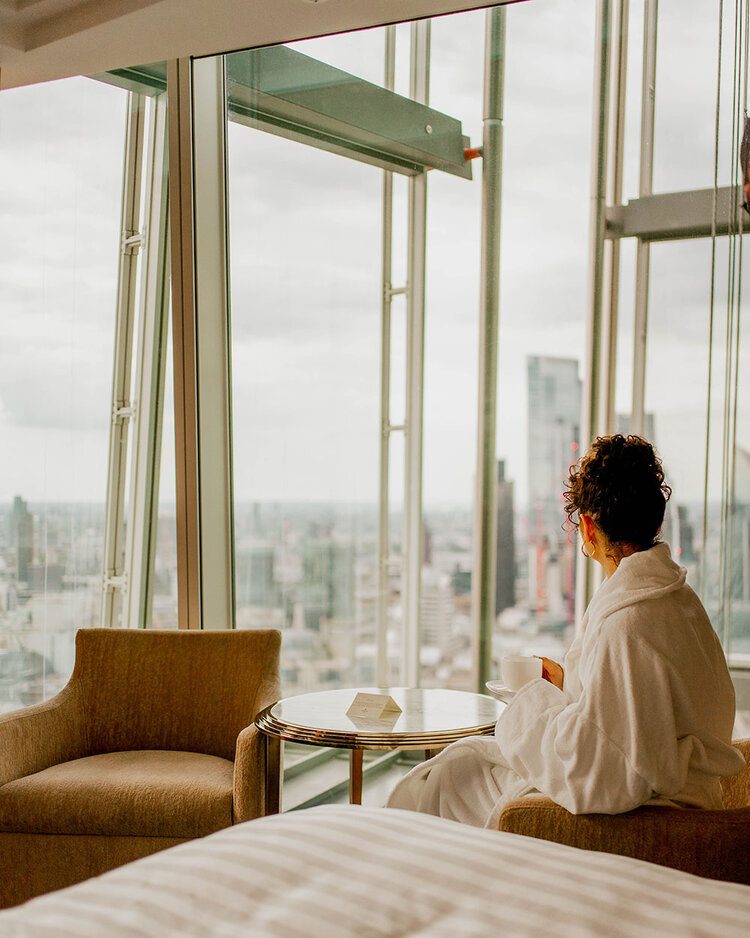 If you aren't a light sleeper I recommend sleeping with the blinds open so the spectacular view of the city is the last thing you see at night and first as you awaken.
For prices and to make a reservation click here.
Check-in and check-out times
Check-in 4pm
Check-out 11am
Golden Circle check-out perks do not apply at Shangri-La The Shard.
Golden Circle perks 
Golden Circle is Shangri-La's guest programme for receiving perks and collecting points. There are three tiers: Gold, Jade and Diamond.
As a Jade member we received the following during our stay at The Shard:
A choice of 3 amenities. I chose cookies, chocolates and beer for Michael.

A complimentary stay in your room for your partner.

Buffet breakfast for you and your guest.

Bonus GC points.
We have Jade membership via Michael's AMEX which includes perks for other Shangri-La hotels such as early check-in, late check-out and priority check-in. To see more about their Golden Circle programme click here.
Gym, spa and Sky Pool at the top of the Shard
The main reason I booked a night at Shangri-La The Shard was for the opportunity to take a morning swim in the pool. The Sky Pool at the Shangri-La The Shard is not just any hotel pool, it's the highest pool in all of western Europe. Swimming 623ft in the air over one of the most famous cities in the world was an opportunity we didn't want to miss.
From the Sky Pool and adjacent sauna you can look out to all of west London where you can spot some of London's most iconic landmarks including the River Thames, London Eye, Buckingham Palace and Hyde Park.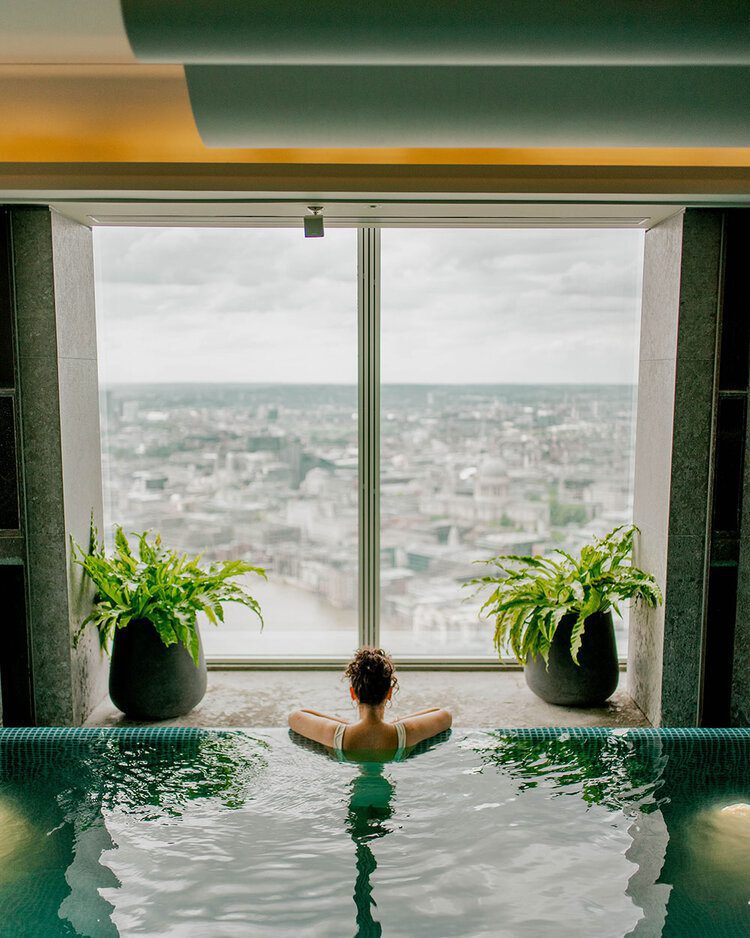 The Sky Pool is quite the experience if not a little cold but the sauna ended up being my favourite. Maybe it's because I'm short or because the sides of the pool come up quite high that made the view from the pool limited, whereas the floor to ceiling windows of the sauna meant you could take in much more of the view. As the sauna is very close to the window, laying down and looking out gives the illusion of floating in the clouds and was a very endearing spot for our morning meditation.
Towels, tea, coffee and infused water are all complimentary at the Sky Pool.
From 8.30pm, after the pool has closed to the hotel's guests, GŎNG expands into the Sky Pool area. To learn more take a look at my write up on GŎNG, the hotel's main bar, below.
Usually use of the Sky Pool and sauna at Shangri-La The Shard is reserved for guests staying at the hotel only. However during certain months the hotel offers a Shangri-La Sky Pass which includes access to both and dining credit for TĪNG for £125pp.
The gym is kitted out with all of your basic Technogym equipment and each machine is partitioned during the Coronavirus pandemic.
Open hours
Gym every day from 6am – 9pm
Sky Pool every day from 6am – 12pm and 1pm – 6pm
Children's swimming times are 9am – 11am and 3pm – 5pm
Dining at Shangri-La The Shard in London
There are 5 options for dining or drinking at Shangri-La The Shard: 
GŎNG – the main bar.

TĪNG – the main restaurant where breakfast, lunch, afternoon tea and dinner is served.

Aqua Shard – another restaurant, smaller than TĪNG, that serves lunch, dinner, afternoon tea and weekend brunch.

Oblix – a restaurant split into two: Oblix West and Oblix East, from these two venues you can see either the west or east view of London.

Bar 31 – a ground floor bar with outdoor terrace seating. This bar participates in regular takeovers including a sponsorship with Aperol for summer 2021 which features an Italian menu.
Window views are not guaranteed at any of these venues but I recommend putting in a request like I did because it doesn't hurt and if you're celebrating something special they do their best to accommodate you.
Cocktails at GŎNG
Located on the 52nd level of The Shard, GŎNG is the highest bar not only in London but all of Europe. GŎNG is the ideal spot to sip cocktails whilst watching the sun go down behind the city of London but it's particularly special post-sunset when the city is illuminated against the dark sky – magical nights are spent toasting champagne at GŎNG where the electric city below can be admired to its farthest edges.
"The name GŎNG derives from 'dougong', a traditional Chinese architectural element of interlocking wooden brackets, featured in the bar's distinctive design." – GŎNG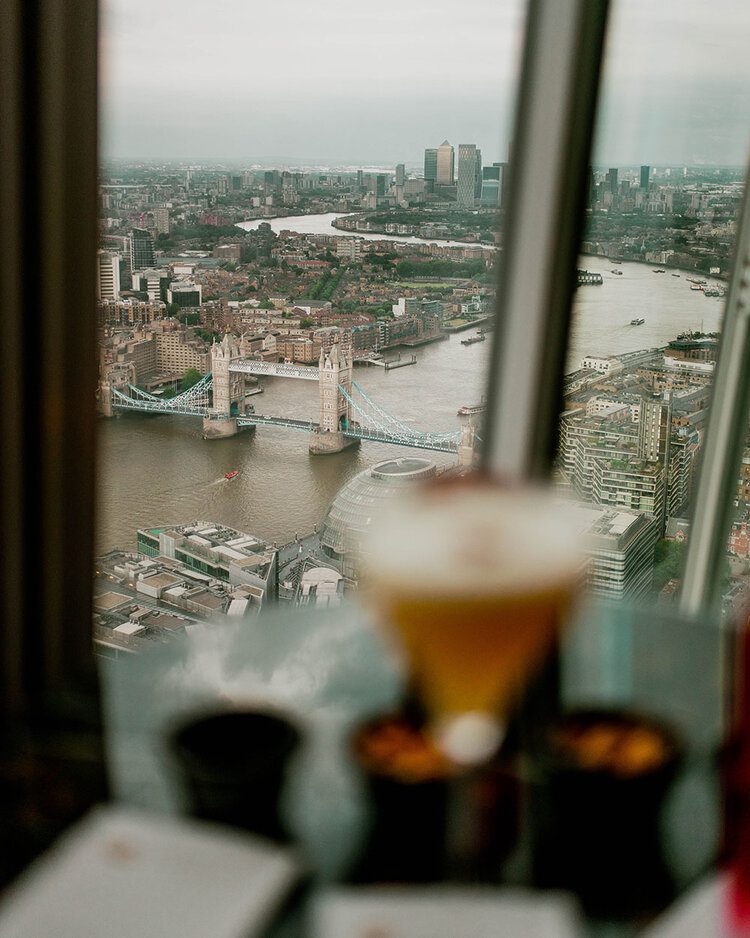 The cocktail list at GŎNG is extensive, enticing and will make you want to return to try more. Sure, you can order your classics but why limit yourself when their menu features creations using mango, saffron, guava, chai and yuzu and if that doesn't tickle your fancy their impressive Sake & Shochu list honours the hotel's Asian origins.
Michael had the Saffron & Mango which was made with Johnnie Walker, black mango chutney, apple juice and saffron methylgel whilst I had the Mango & Wine made with Havana Club, 3y Martini Ambrato, Sauvignon Blanc wine, grenadine and Slimline Fever Tree Tonic.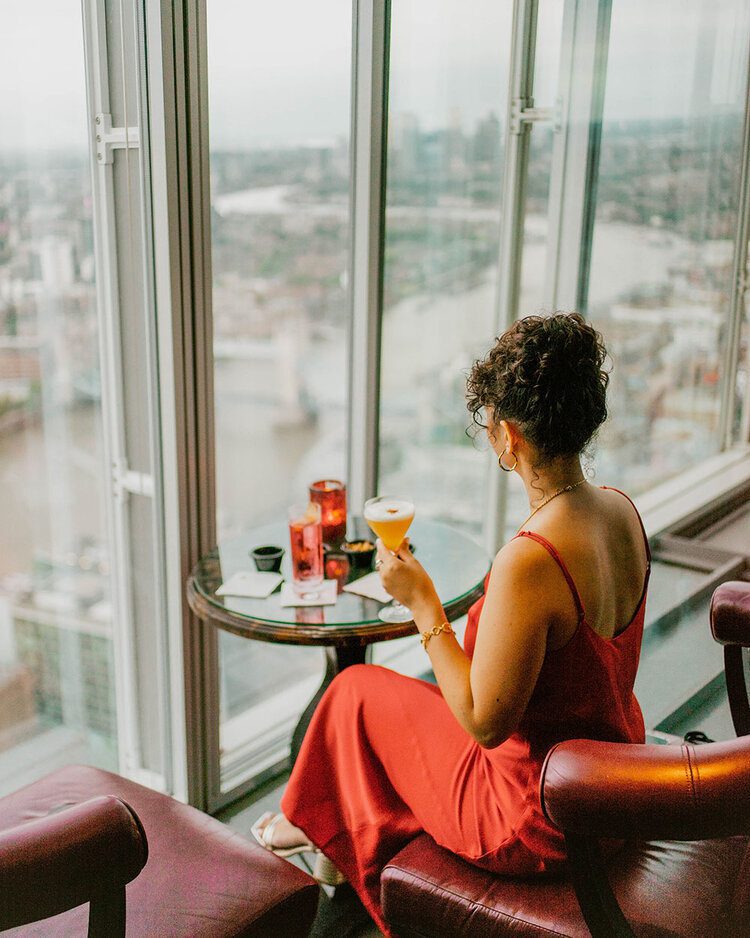 A menu of sushi, tacos, Bento boxes and gyozas mean you can enjoy a light lunch or dinner at GŎNG however, complimentary nuts are served with drinks if you only fancy a nibble.
A unique feature of GŎNG is that come 8.30pm, once the pool has closed to guests, you can reserve a table next to the Sky Pool for a minimum spend of £45. Swimming in the pool is not allowed though so leave your swimwear at home folks.
Open hours
Monday – Wednesday: 4pm – 11pm
Thursday – Sunday: 12pm – 11.30pm
The dress code for the bar at GŎNG is smart casual. There's a minimum spend of £30 per person over 18 years old and all guests must be over 18 after 5.30pm.
Make your booking for GŎNG here.
Tasting menu at TĪNG restaurant
TĪNG is Shangri-La The Shard's main restaurant and is found on level 35 of the skyscraper. It's one of the many spots in the hotel where their themed afternoon tea is served but it is best known for it's Asian and British menu.
TĪNG serves an à la carte menu or a tasting menu of either 3 or 5 courses all with plant based alternatives.
In the weeks between our stay and publishing this post the menu has changed and what was a British or Asian set menu has now combined forces to become a fusion menu. When we dined there we had one Asian and one British so we could try both and looking at the current menu (summer 2021) they seem to have combined the best of both.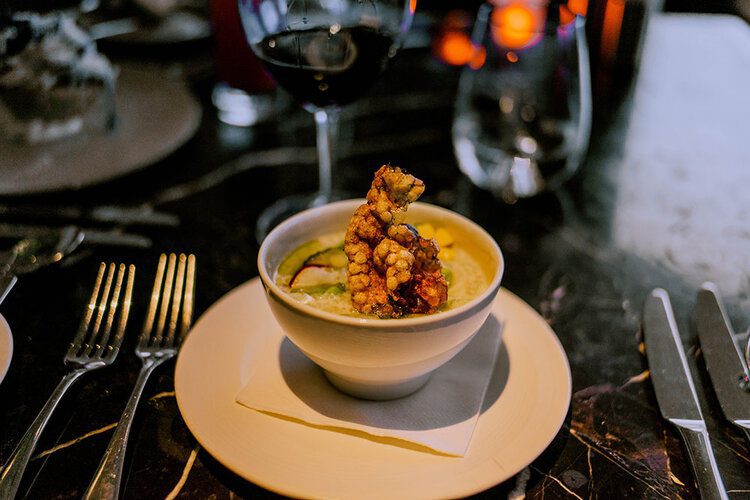 The five course set menu is £78 per person or £138 per person with wine pairing.
"Derived from the Chinese word for 'living room', TĪNG offers a dynamic dining experience influenced by Asian and British culinary cultures." – TĪNG
Floor to ceiling windows mean those seated at the windows have a spectacular view but a window seat is not guaranteed. If you do get the chance to request one, try for a view of Tower Bridge because it's the prettiest view at night.
My top tip if you're planning on ordering the five course tasting menu at TĪNG is to book an earlier table as this dining experience will likely last around 3 hours on a quiet evening in the restaurant. We were seated at 8pm and didn't leave until 11pm and were grateful to only be taking the elevator up a few floors to our room that night. In hindsight, as we had a room I should have ordered room service so we could dine with our personal view – something to consider if you're staying.
Open hours
Lunch
12pm – 2.30pm 
Afternoon Tea
12pm – 4pm 
Dinner
5pm – 10.30pm
Make your booking for TĪNG here.
Afternoon tea in the clouds at Shangri-La The Shard
As we were only staying one night at Shangri-La The Shard we did not have time for their afternoon tea, however, from what I saw it looks like quite the spectacle and I fully intend on returning for it so watch this space.
There is a liquid afternoon tea served at GŎNG and a more traditional afternoon tea served at TĪNG.
Breakfast at Shangri-La The Shard
Our breakfast the day after Michael's birthday was our favourite part of our stay, enjoyed more so after an early morning dip in the pool and made particularly special by the table's view of Tower Bridge.
As mentioned above our Golden Circle membership gave us complimentary buffet breakfast for two but you can add it at £27pp. The buffet breakfast includes all the key components to a fry-up, fresh fruit, cereals, yoghurt, deli meats and more pastries than you can shake a stick at.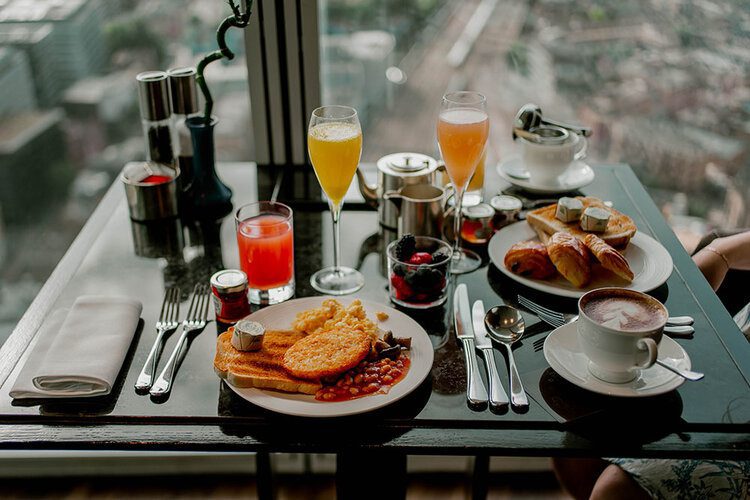 PFH Top Tip: for the best chance of a table with a view – they aren't guaranteed – arrive early for breakfast.
Speaking of arriving early for breakfast, when we arrived in our room I spotted a notification on the tablet that said if we had breakfast before 8am we would be offered a complimentary Bellini or mimosa so you bet we took advantage of that. Be sure to check the tablet if you stay at the Shangri-La at the top of The Shard.
Getting there early also means you can stay longer, we enjoyed our breakfast for almost two hours, taking in the view whilst reflecting on our stay – it was magic.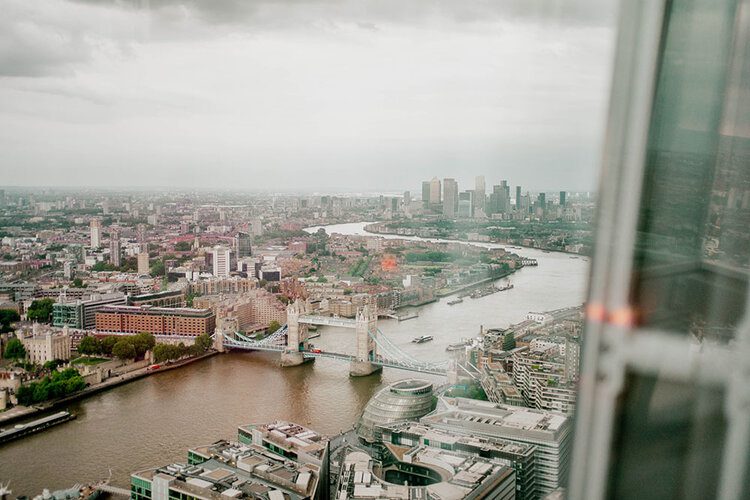 Open hours
Monday – Friday: 7am – 10.30am
Saturday, Sunday & Bank Holidays: 7am – 11am 
Birthday celebrations at Shangri-La
Whilst celebrating Michael's 30th birthday the team at Shangri-La The Shard truly spoilt him. There was a luxurious chocolate birthday cake accompanied with a card in the room upon arrival, whilst enjoying drinks at GŎNG we were each brought a complimentary half glass of champagne (a regular glass is priced at £20 a glass), a beautiful birthday plate was brought over at dinner and we were given a table with a view of Tower Bridge both at GŎNG for drinks and TĪNG at breakfast the next day.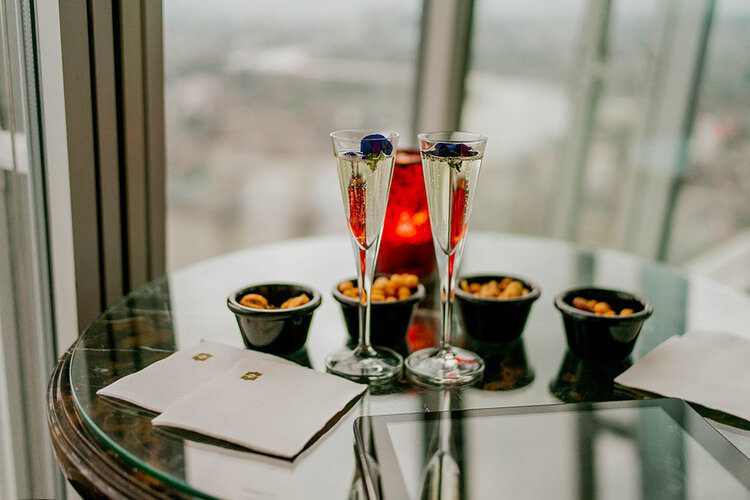 Having stayed in various hotels around the world for all sorts of celebrations, these little extra gifts from Shangri-La The Shard are amongst my favourites and helped to create a special experience for a significant celebration of Michael's life and achievements thus far.
If you are considering celebrating at Shangri-La The Shard, I hope this allows you to trust in being able to create magic memories with them.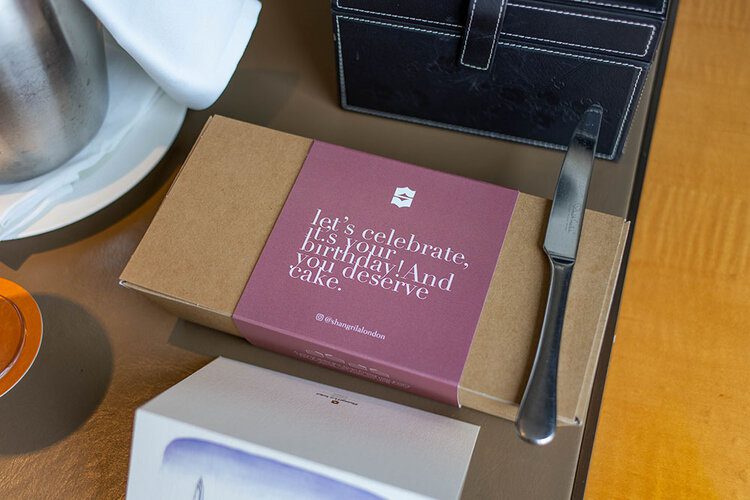 For special occasions email GongHostess.SLLN@shangri-la.com.
Shangri-La The Shard offers a host of different add-ons for celebrations but I will say they can be pricey and many of them aren't good for the environment – A LOT of balloons involved which don't biodegrade and can end on land and in the ocean and eaten by critters so please avoid these.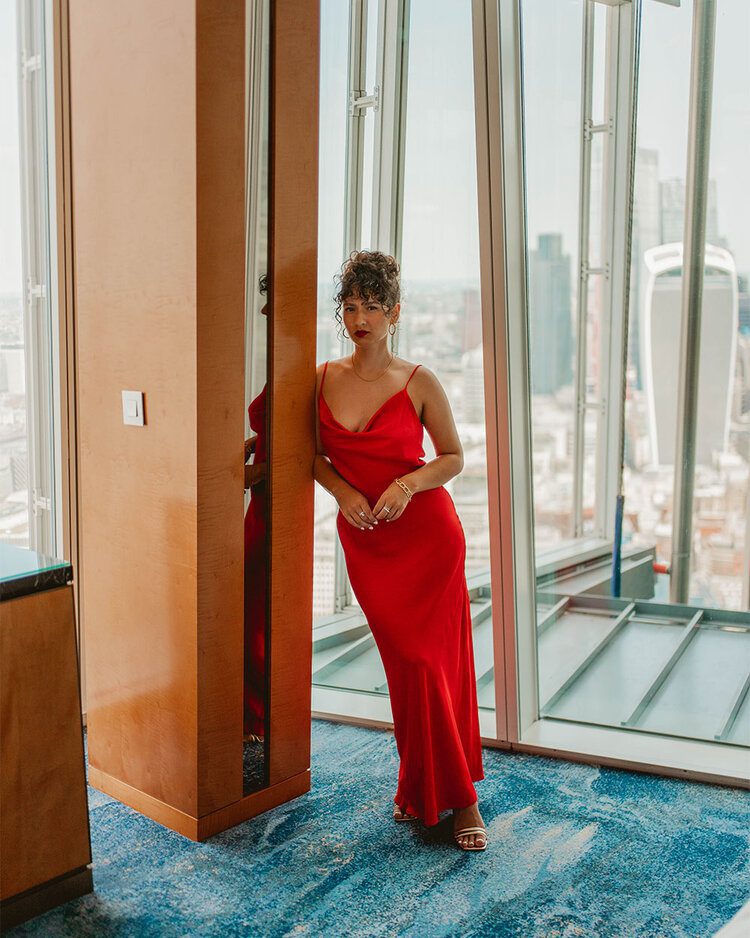 For ideas on low-waste celebratory decorations take a look at what I did for Michael's 30th birthday here.
The View From The Shard
The View From The Shard is London's highest viewing platform. If you, for your own reasons, aren't planning to stay at Shangri-La The Shard then the 360° view is still within your reach if you are open to paying the minimum ticket fee of £25pp.
However, when the minimum spend for a table at GŎNG, the highest bar in Europe, is just £30 might I suggest you book a table for cocktails and/or a light meal rather than pay a minimum of £25 per person for a ticket to The View.
Accessibility 
A complimentary ticket is given to the carer accompanying a disabled guest which can be picked up on arrival. It is recommended that the disabled ticket is pre-booked.
There is a small lift to the left of the stairs at the entrance on Joiner Street.
The automatic door to the ticket hall measures 900mm/35.5ins wide.
Floors are mostly wood and foldable chairs are available upon request.
The counters at the gift shop has a hearing loop system installed.
Open hours
Usually 10am – 10pm but they can vary so check their website here to be sure.
In conclusion
You can have a more luxurious experience sipping cocktails rather than going to the viewing platform

Let the hotel know in advance if you're celebrating

You don't have to book a room to experience the Sky Pool

Get to breakfast early

Consider in-room dining
Did you stay at Shangri-La The Shard and found this blog post useful? Let me know in the comments below!
Do more in & on the planet, Gabriella