Portugal, in the far west of Europe, has some of the most beautiful beaches I've seen on the continent. Cliffs in bands of terracotta and camel coloured rock jut out into clear teal waters to create a maize of coves, bays and caves that are waiting for you to discover them.
Come with me as I take you through rock tunnels, into marine caves and under a bridge that led to a fortress long lost to the sea. Here are my 3 favourite beaches on the beautifully rugged Algarve Coast.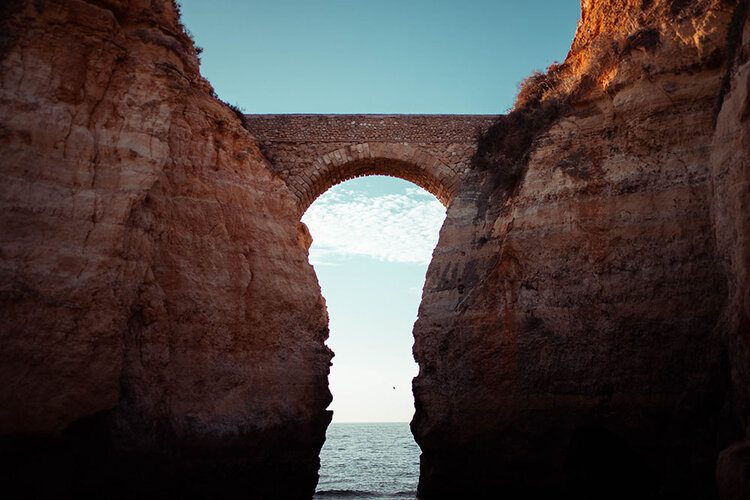 Tips for visiting beaches on the Algarve Coast
If you're driving you need to arrive early as the parking is limited

If you want to avoid all crowds, arrive for sunrise

Check the tide times, especially for Praia dos Estudantes

Remember to take all of your belongings and any rubbish/trash with you when you leave
1. Praia dos Estudantes (Student beach)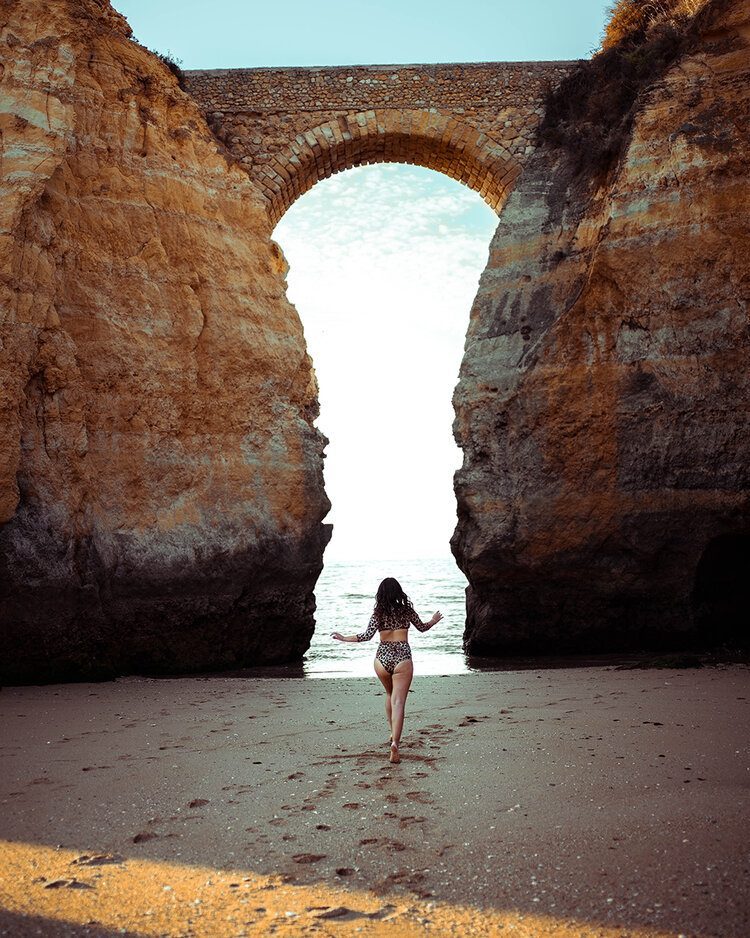 Praia dos Estudantes is a popular beach not only for its shelter from the wind but for the bridge that connects Lagos to seemingly nowhere. Now lost to the sea, this romanesque stone bridge used to lead to the Fortress of Pinhão, now it makes for a gorgeous backdrop.
Two manmade caves connect to Praia dos Estudantes from Praia da Batata but check tide times before your planned visit as access to Praia dos Estudantes won't be possible at high tide.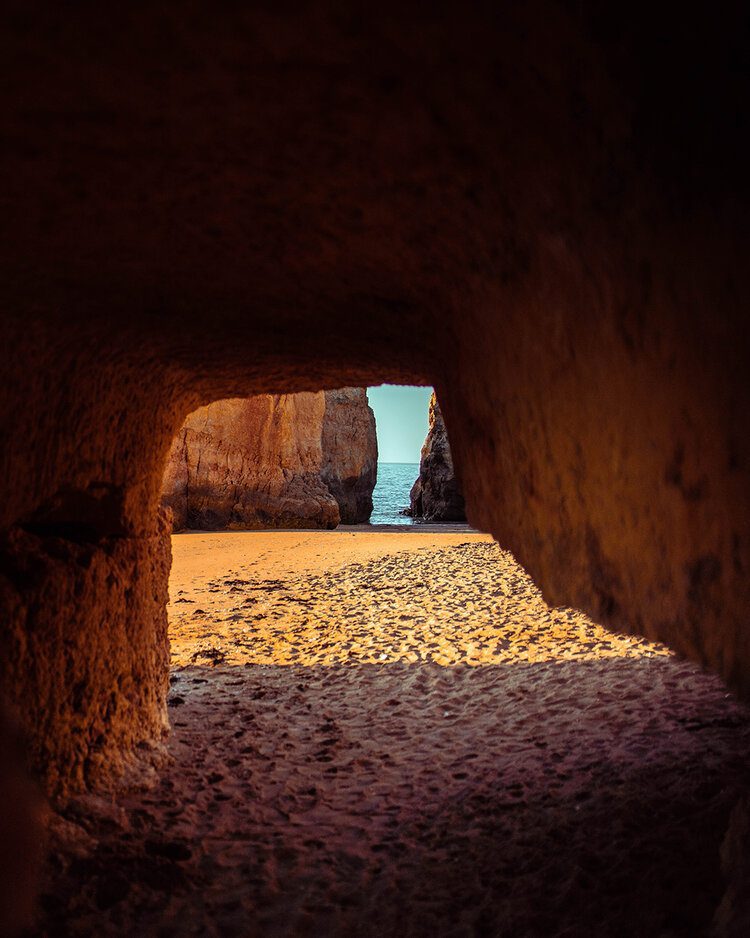 We arrived at Praia dos Estudantes for sunrise to avoid the crowds and we were also treated to a glorious golden glow as the sun rose behind the bridge and created sparkles across the sea that resembled diamonds catching the light. If the tide is low for sunrise in summer on your visit I highly recommend going early.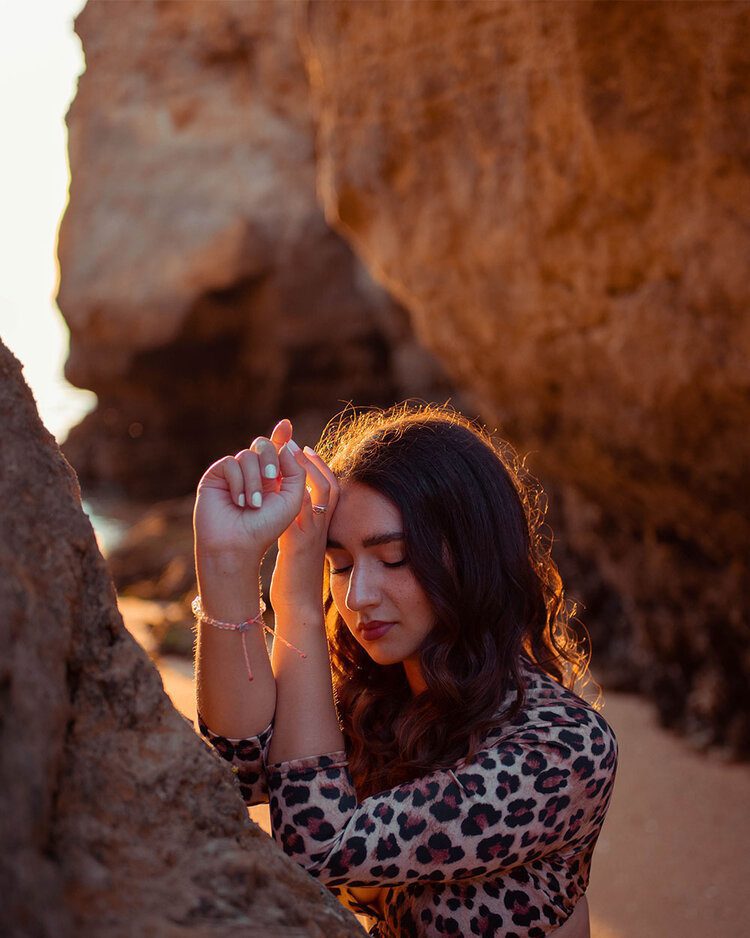 Also if the tide allows for it, pass through the cave to the right of the bridge to walk to Praia do Pinhão, another sheltered beach.
Parking at Praia dos Estudantes
There's parking bays along Av. dos Descobrimentos which is at the top of the hill above Praia dos Estudantes and Praia da Batata.
Parking charges apply from 9am for these parking bays along Av. dos Descobrimentos so you don't need to pay upon arrival if you get there for sunrise but please do remember to pay from 9am to avoid a ticket.
2. Praia do Camilo (Camilo beach)
Praia do Camilo is one of the most popular beaches on the Algarve Coast. Why you ask? The sand is golden and soft, the water is calm and clear, it's also shallow so it warms up quickly and the surrounding rock formations that stretch out into the sea create the perfect protection from wind and waves. Does that answer your question?
The only downside to this little slice of heaven is that it's small and access can be limiting for many. As it's beautiful and perfect for swimming, this little beach fills up quickly and by mid morning the towels on Praia do Camilo will be almost edge-to-edge making it very difficult to find a space of your own. You must arrive early to save yourself a lot of hassle but on the plus side, Praia do Camilo is a really gorgeous beach at sunrise.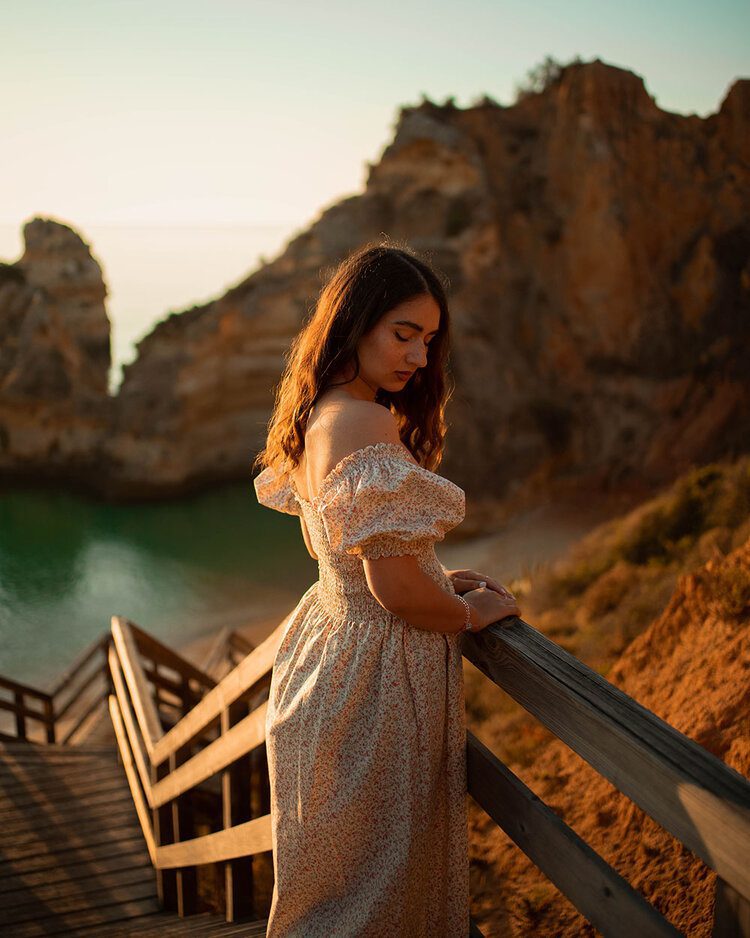 If you don't manage to find a spot on the beach but still want to admire the view, take a stroll along the clifftop. From here you'll get spectacular views of the rugged coastline and the gorgeous teal and turquoise waters below. Proceed with caution as the cliffs are steep.
Located just a 3 minute drive or 15 minute walk away from Praia do Camilo is Ponta da Piedade headland. Weathered over time by forceful waves, the golden cliffs at Ponta da Piedade have formed into arches, stacks and stumps. Parking at Ponta da Piedade is free but be warned the steep steps have been worn by heavy footfall and can be slippery – I thought for a moment that I had broken my toe when I slipped on one heading down to the sea, so please be careful. The view is absolutely worth the walk and is rewarding even from the steps themselves.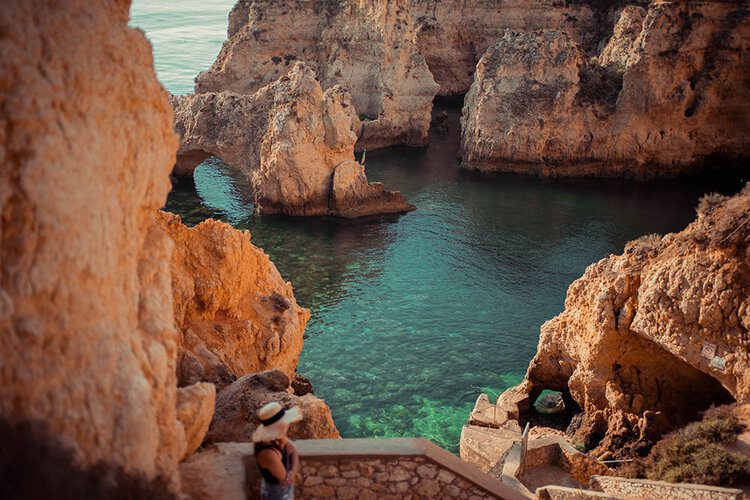 Camilo restaurant at Praia do Camilo
Praia do Camilo has a family owned clifftop restaurant offering views of the Algarve coastline (ideal for sunset) that serves up dishes made with fresh and local ingredients.
If you are visiting during the high season the chances of getting a walk-in table at Camilo are slimmer than getting a parking space so make sure you book in advance. If you can't or don't want to book a table then there is a kiosk next to it selling drinks and ice creams.
Accessibility at Praia do Camilo
Part of what makes this secluded beach so desirable is it's limited access – flights of stairs are broken up with level platforms so there are chances to take a break but unfortunately the only access down to Praia do Camilo is a steep staircase of approximately 200 stairs from the clifftop down.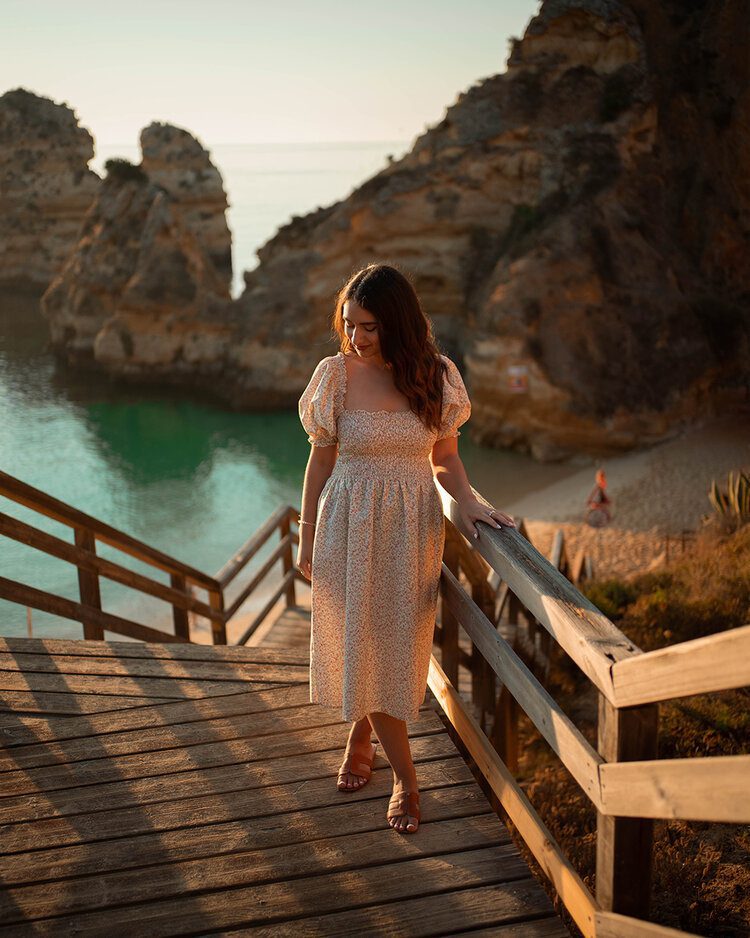 Parking at Praia do Camilo
Praia do Camilo is an incredibly popular beach but space in the car park near the restaurant, Camilo, is limited and because of this cars will spill out onto the street practically gridlocking this whole area by mid-morning. I really can't stress enough how important it is to arrive here early if you're driving.
On the plus side, parking at Praia do Camilo is free.
3. Praia de Benagil (Benagil beach)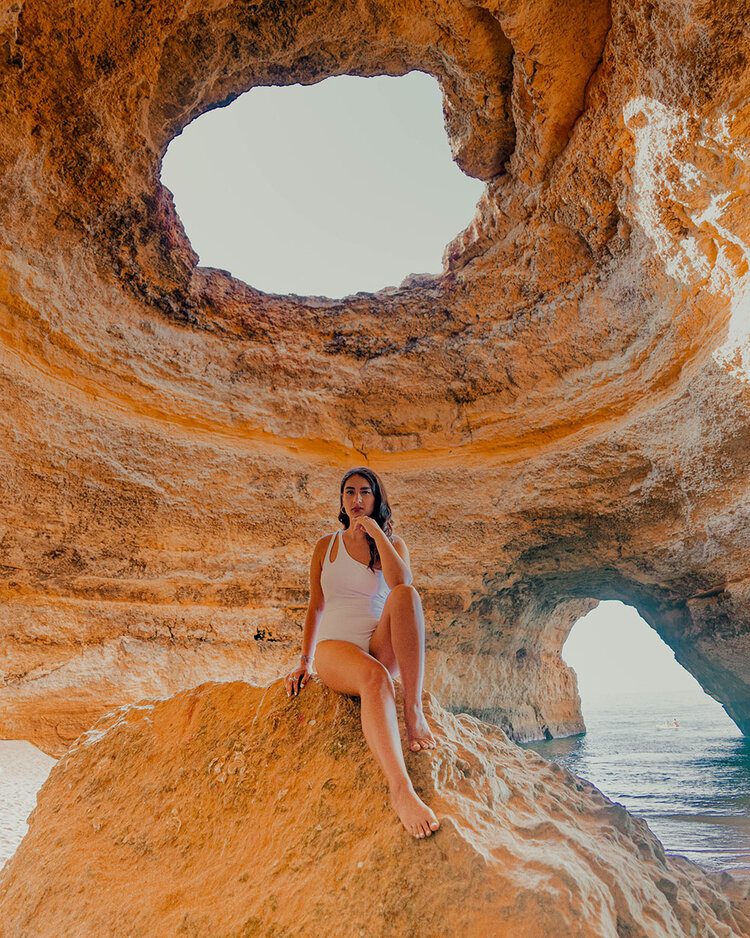 Praia de Benagil, once a bustling fishing town, is now best know as the Algarve Coast beach with the mesmerising marine cave, Algar de Benagil (translates to "the eye") which is only accessible via the water. Within Benagil cave is a tiny beach where you can stand to gaze up at the "eye" of the cave out to the blue sky above.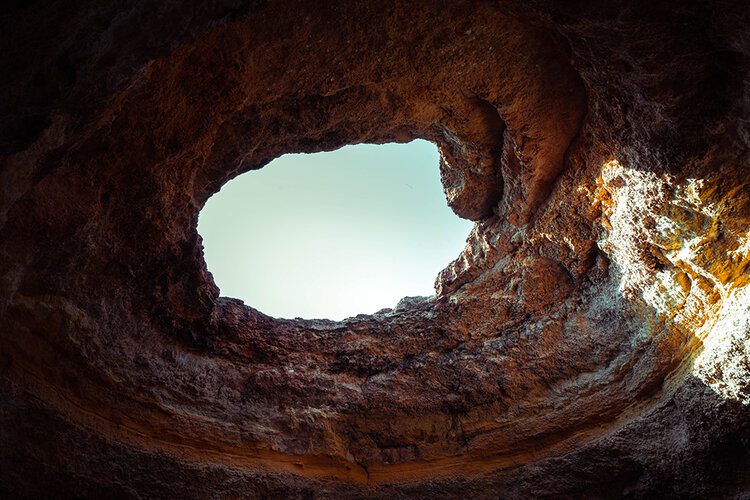 Benagil cave is located around the corner to the left of the beach (when looking out to sea) and has two arched entrances into it which can be easily accessed by the following modes of transport.
How to get to Algar de Benagil, the marine cave at Praia de Benagil
Swim – it's a short swim – about 15mins – but with so many boats in the water and the current to worry about it's not the best option. The only benefit to swimming is that you can leave whenever you want and aren't limited to rental hours but beware that the water gets deep quickly at Praia de Benagil so be certain of your abilities before setting off.

Paddle Board – you can rent stand up paddle boards from Praia de Benagil from 9am. It's a great workout and a really fun way to explore the coastline from the water but there are many tour boats that visit the cave which make the surrounding waters very choppy, so if your balance isn't great or you're new to SUPing then this might not be your best option.

Kayak – Kayaking is my top choice and what we ended up doing as it meant we could just rent one between us, keep our camera equipment dry and we felt confident exploring the rest of the coastline in the time we were renting it. The kayaks are available to rent from Praia de Benagil from 9am.

Boat tour – though you can fit plenty of sightseeing into a boat tour they do not let you off to explore Benagil cave so you'll be viewing it from the water. Boat tours depart from Praia de Benagil at 9am.
If you want to be one of the first to Algar de Benagil then you want to be at the rental huts by 8.45am and heads up, they only take cash payments – there's an ATM at the top of the hill opposite the car park.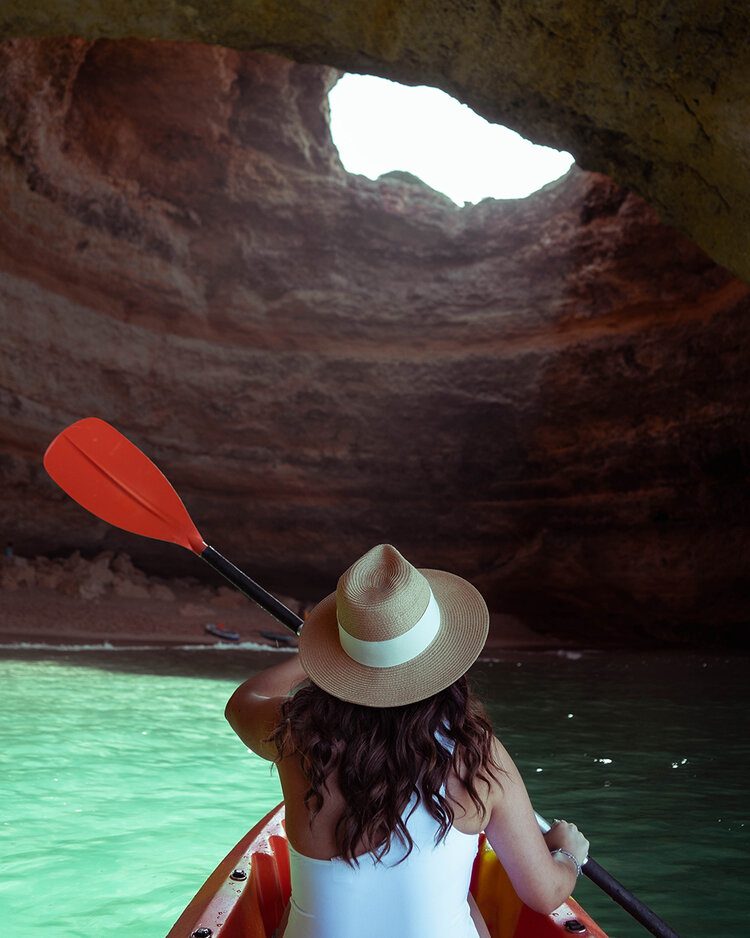 Parking at Praia de Benagil
Despite Praia de Benagil being a relatively small beach compared to say Praia de Monte Gordo (an ideal beach if you want space but it doesn't have the beautiful cliffs like the ones on this list do) there are plenty of parking spaces in the carpark at the top of the cliff above the beach located opposite the restaurant O Litoral.
The car park at Praia de Benagil is free and it will take about 10 minutes to walk down to the beach.
If you or someone you are will require easier access then it's possible to drive to the beach, unload and return to the car park. It is also possible to park on the road leading down to the beach but you must arrive early for these spaces.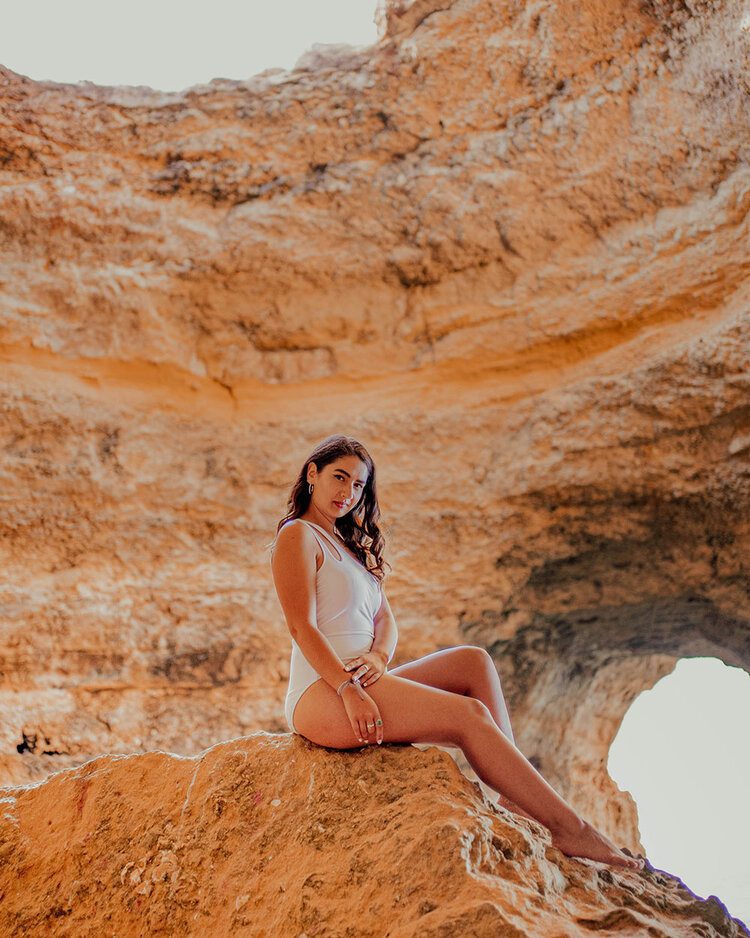 If you want to recommend any more beautiful beaches on the Algarve Coast to fellow PFH readers then drop them in the comments below!
Do more on & for the planet, Gabriella