It's been nearly two years since I published What's in my travel bag and a lot has changed, so I thought to kick off 2020's blog posts I would do an updated edit of everything I pack in my carry-on bag.
Bag
In my time blogging so far I have put a much stronger focus on sustainability and practicality so though there may be similar items, for the most part they have swapped to eco-friendly versions or been replaced by something more useful than say, stylish. The biggest swap I have made to my travel bag/carry on is the actual bag itself. When I first started blogging I was travelling with my Louis Vuitton Neverfull MM. Though I love this bag very much and often use it as home when I'm nipping out to a coffee shop with my laptop, I no longer use it as my travel bag. Though I still believe Louis Vuitton is "the epitome of luxury luggage" (quoting myself from my previous travel bag blog post) I've learnt that with the amount of travel I do, it's just not as practical as I had hoped. So to replace my Neverfull I spent a long time seeking out the perfect travel bag, which I found in Away.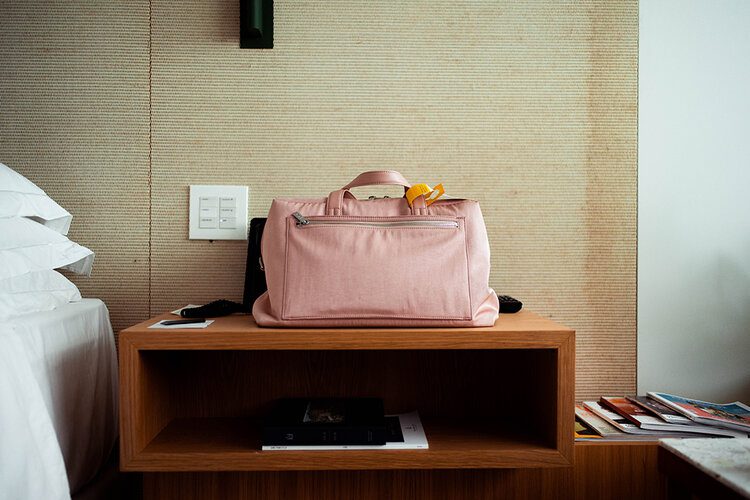 Here are the reasons why I prefer my Away Everywhere Bag to my Louis Vuitton Neverfull:
The straps are wider and stronger, plus there are two ways to carry it: crossbody and in your hand. 

There are 13 compartmentalised pockets including a space for your shoes, phone, laptop and umbrella.

It's cheaper.

There is a band across the back of the bag which is designed to slip over the retractable handle of a suitcase. It sits best on an Away case but I haven't had a problem sitting it on any of mine or Michael's other cases which cover Delsey, Lojel, Rimowa and Samsonite.

It seals with a zip which means nothing spills out when it goes through the X-ray machine at security, and it's harder for someone to dip their hand in it.

It's Nylon and durable so I'm far less precious with it. I even use it as a footrest when it's under the seat in front of me.
My exact one is a Nylon limited edition Everywhere Bag so you won't be able to buy it from Away but they have other options both in Nylon and Leather here.
Purse
When I'm travelling I have the following in my purse:
A little bit of cash in the currency that's both mine and of wherever I'm going.

My Starling and Monzo cards – to find out why, read 8 ways to manage your travel money.

My Priority Pass card for access to airport lounges.

Michael's Heathrow Rewards card (which he never uses so I have to carry it because, well, I do).

Bank cards.

My driver's license.

Loyalty cards which I can use in duty free such as Boots or Accessorize.

My Organ Donor card, because you never know.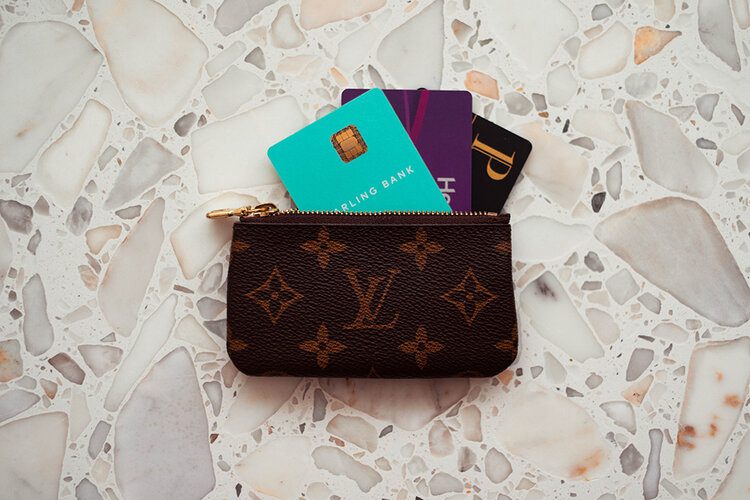 Passport
I used to travel with my Aspinal of London Travel Wallet which I bought a long time ago when I had an office job and dreamed of exploring the world on my own time. It was more than just a travel wallet to me, it was the promise of a different life. Since using my Everywhere Bag I have stopped using it for two reasons: 1. My bag has a pocket on the side (where you slide the bag onto a suitcase) that has three compartmentalised pockets perfect for money or my purse, my passport and documents such as my boarding pass. As the pocket is on the outside but closest to me when I wheel my case around it has the most perfect access for whenever I need my boarding pass/passport and it's so easy to slip them back in to keep them safe.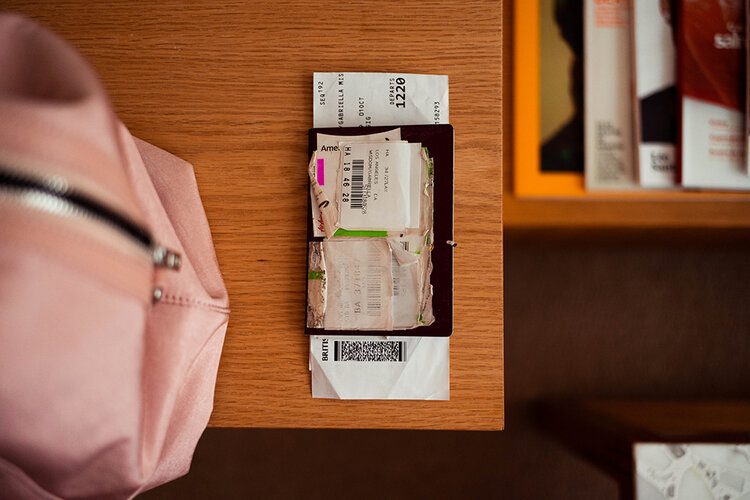 Keys
The Away Everywhere Bag has a clip for keys which is super handy, especially to avoid Michael going through all of his luggage in the car park to find our car keys. Oh yeah, I can't tell you how many times we've had to open his suitcase in the car park to find them.
Sunglasses
They're useful in the car if we're driving to the airport on a sunny day and on the other side on the way to our accommodation. If you're driving at any point on the day you travel or arrive I can't stress how important it is for yours and others' safety to have sunglasses to hand so you can see the road without squinting.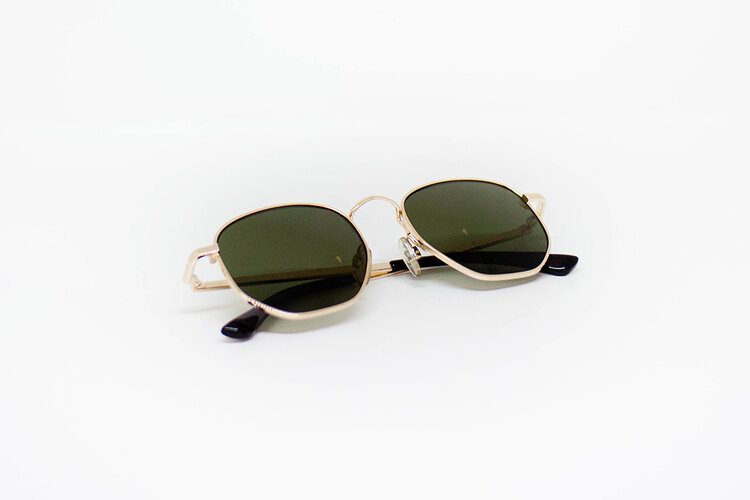 Socks
When I'm flying I travel with a pair of thick socks in my bag to put on my feet inflight to keep them warm, especially when I sleep because I don't like sleeping with my shoes on. You'll notice a lot of the things I carry in my travel bag are focused on giving me the best sleep I can get on a flight because it is the most important thing to me when flying. It passes the time and makes me feel less crappy when I disembark.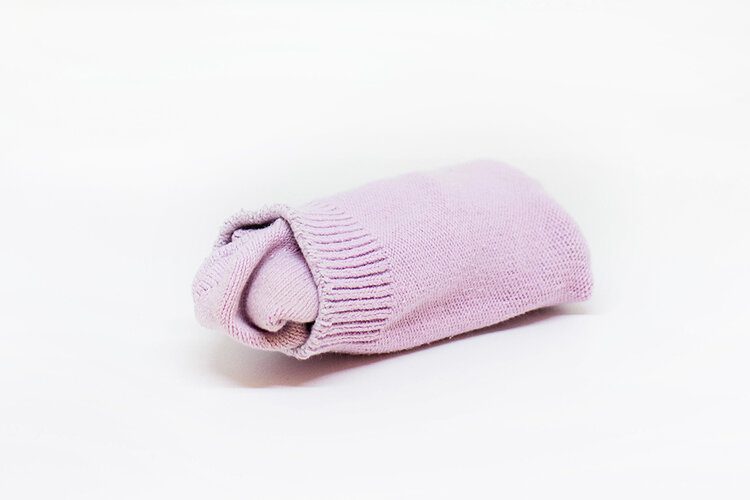 If you travel in sandals I recommend taking a pair of socks to cover your feet inflight, because bare feet on a flight is not cool.
Shopping bag
I carry a compact reusable shopping bag as a habit.
Book
When I published my first "What's in my travel bag" I didn't list a book because I struggle to get into books as I read so much online via blogs, articles etc. Towards the end of 2019 I decided to take reading physical books more seriously and take one with me to encourage me to get away from a screen now and then.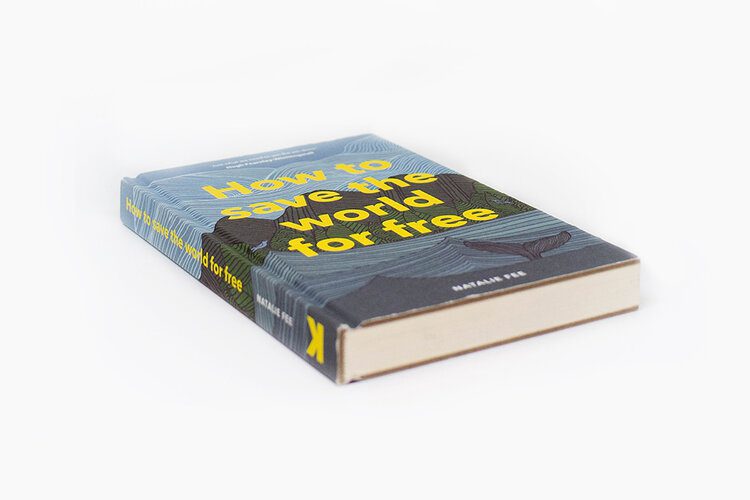 I absolutely love "How to Save the World for Free" by Natalie Fee. It's filled with tips for living a more sustainable life with all the good reasons why.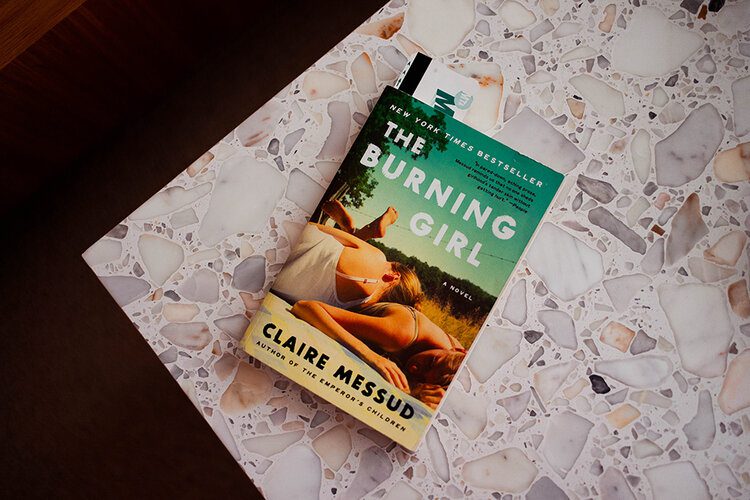 I also have "Burning Girl" by Claire Messud on the go that I bought from Strand Bookstore in NYC.
Umbrella
If I'm travelling somewhere where there's a high chance of rainfall I pack my umbrella into the concealed pocket in the base of my Everywhere Bag. I have a lightweight one so it doesn't add too much weight. It's just so handy if it starts raining in the carpark whilst I'm waiting for the shuttle bus.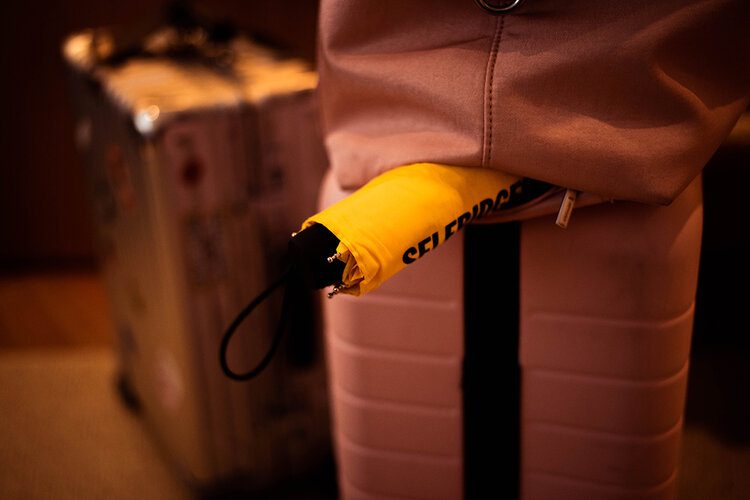 Electronics
Laptop and charger
As laptops, tablets, mobile phones, chargers etc. have lithium ion batteries, they cannot be placed into checked luggage as they could short circuit and cause a fire so you must pack them into your carry-on.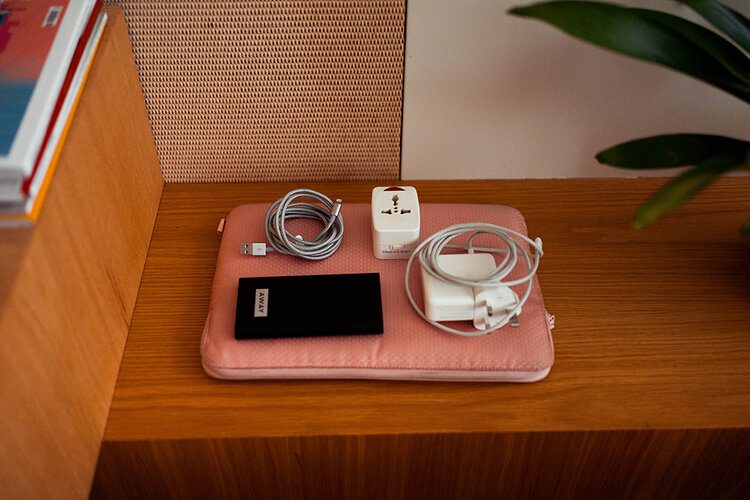 I used to keep my laptop in my carry-on case because it was too heavy to carry in my Neverfull on my shoulder along with everything else but now thanks to my Everywhere Bag I have a purpose-made laptop pocket to efficiently and safely store my laptop in whilst my charger just goes in the main central pocket of my bag. This has made airport security an absolute breeze because I no longer fuss trying to get out my electronics before I get to the front. (For more tips on getting through security take a look at How to ace security like a pro.)
PFH Top Tip: Wherever you do store your laptop and valuables whilst travelling, I highly recommend keeping them on your person as you fly, and out of sight when you're sleeping. I have read far too many horror stories of people getting their camera equipment, laptops etc stolen from overhead lockers whilst they're not paying attention. It's a lot harder for someone to steal something from your closed bag which is jammed under the seat in front, with your legs on top and preferably with one foot through a strap than it is in an unwatched overhead locker.
Headphones
I genuinely don't know how I travelled without my Bose noise cancelling headphones. I have never been more grateful to a pair of headphones as I am to these babies. I have the Bose QuietComfort 35 (series I) which I don't believe are available anymore as series II came out with Alexa and Google Assistant built in, plus they now come in rose gold which I am not jealous about at all…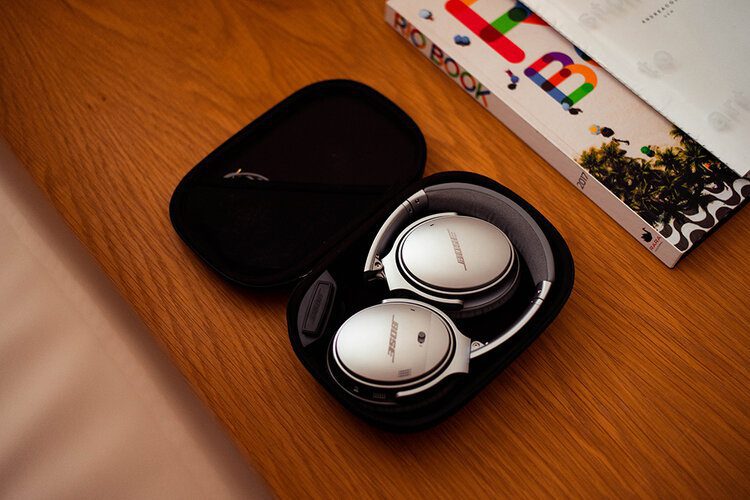 I love my noise cancelling headphone unconditionally because they are comfortable, they fit way better than any airline's headphones ever will, they cancel out any loud children (I don't have them so I can still be annoyed by them), snoring, coughing and that general inflight white noise. Don't worry you can still hear inflight announcements through them (I don't know how, magic maybe?) Plus they adapt to the onboard entertainment so you can still watch their films etc.
I also tuck my EarPods into my Bose case because I like to take these out with me on public transport that isn't a flight so I can travel more safely with awareness of my surroundings.
Phone and charger
The Everywhere Bag has a handy phone pocket on the outside but it is external so I don't often put it in there. I pretty much use that pocked for tissues. I also have a phone necklace from xouxou that allows me to wear my phone like a crossbody bag which is much safer and efficient for when I'm on the go.
After my original phone charger cable split, I bought an extra long cord from Amazon and it's so much better. It means I'm not limited to needing to be right next to a plug/USB port.
Power bank 
Originally I used a 3000 mAh power bank from Fresh N' Rebel but it didn't hold much power and it would go flat if I didn't use it within a day or two of charging. About a year ago I upgraded my ancient and broken carry-on suitcase to an Away The Bigger Carry-On mostly because it's pink but also because it came with a detachable power bank so I can charge a couple of electronics on the go. The AWAY power bank lasts a lot longer, charges much faster and comes with universal adapters to charge it.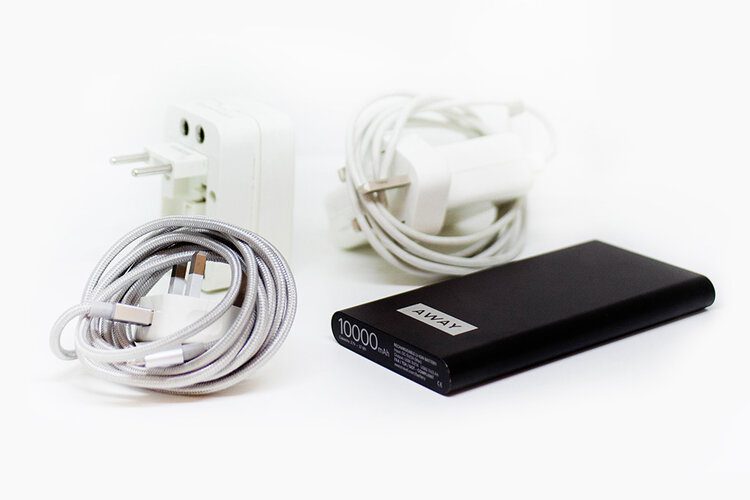 Remember to remove the power bank from the suitcase before sending it through security.
Universal travel adapter 
A universal travel adapter is one of the most useful things a traveller can own. Keeping it accessible in your hand luggage means you can charge anything on the go wherever you need to (provided there's a socket) – you never know when you're going to get stuck in an airport so at least you can charge your electronics if you do.
Liquids
Recently I chose to switch from a plastic liquids bag to a silicone one. I always reused my plastic bag but I don't like using a plastic one, because it's not good for the environment.
If any airports do kick off about it, you can just temporarily use one (and save it) but as long as it's clear for the most part, it's fine. In my liquids bag I carry: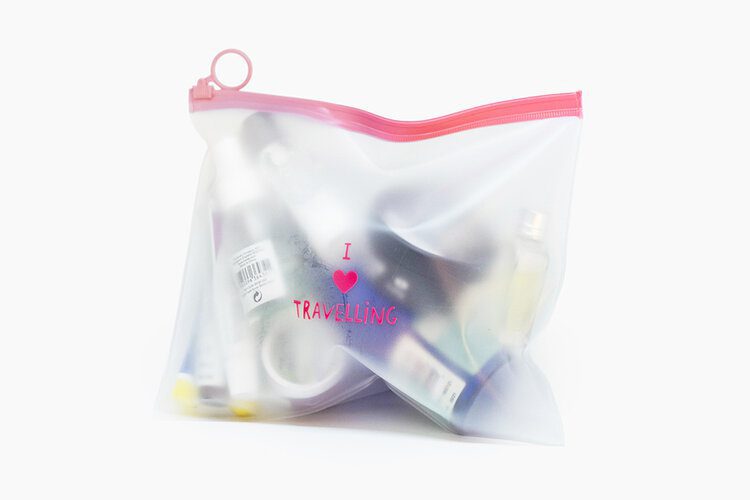 Toothpaste – I am using up some minis that I have collected over time, then once they are gone I will be switching to toothpaste tablets.

Lip balm – to hydrate my lips.

Moisturiser – to hydrate my face.

Under eye gel – to eradicate dark circles which are inevitable when I travel.

Hand sanitiser – to clean my hands before eating, germs thrive on public transport.

Deodorant – to keep fresh.

Perfume – if I need extra help keeping fresh.

Lavender sleepy time gel – it helps soothe me to sleep though it's also good for stress and headaches.

Lavender pillow spray – this also helps soothe me to sleep, I spray it onto my travel pillow. It's in a smaller travel bottle which I refill from the larger one kept at home.

Jet lag essential oil roller – formulated to keep me awake when I'm struggling with jet lag. Though my goal is usually to sleep as long as possible, if for any reason I need to stay awake through jet lag (say, return flight home) this helps.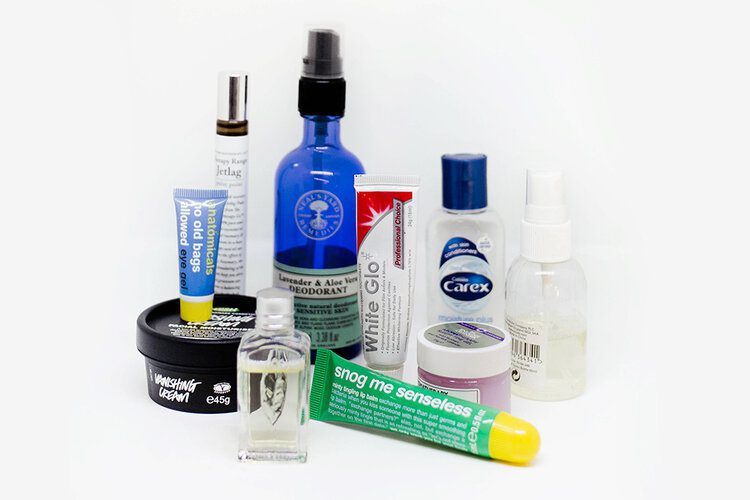 For the most part, these items are refillable or recyclable. 
Remember to keep each liquid under 100ml.
Cosmetic bag
I use a cosmetic bag to keep anything little together so I'm not searching for it in the bottom of my bag, plus it's easy to pull the whole thing out on a plane, train etc. In mine I have:
Makeup remover – I used to travel with a mini pack of makeup wipes but they don't biodegrade, then I tried taking my magic makeup remover cloth but I didn't like putting it back into my bag wet, so now I use a biodegradable makeup pad from Lush that I can get multiple uses out of. You simply wet it, wipe it over your face and use your fingers to melt off your makeup, then you can rinse it off your face. I cannot bear to wear makeup during long flights, you wouldn't sleep with your makeup on at home, so why do it on a plane where the recirculated air is more likely to cause breakouts?

Toothbrush – like the makeup remover I have opted for a sustainable replacement with my toothbrush. I no longer use plastic toothbrushes as they take 300 years to break down where as bamboo toothbrushes are natural and will biodegrade naturally without releasing any nasty chemicals, I get mine from The Humble Co. I brush my teeth on long flights before sleeping, just as I would at home, because it cares for my teeth and gums, freshens my breath and is part of a good sleep routine.

Hair tie – to tie my hair up whilst I wash my face and brush my teeth.

Painkillers and cold and flu tablets – you never know.

Contraceptive pill – I like to keep these close even if I'm not on an overnight flight. If I know I'm going to be on my period I will also pop my Saalt menstrual cup in too. (Check out Travelling on your period with a Saalt menstrual cup for more info).

Chewing gum – another big sustainable swap in my travel bag is from leading brand chewing gum that contains plastic to a natural one that will biodegrade and doesn't contain anything nasty. The Humble Co. has many flavours if you don't just want mint. I chew gum when I wake up too late on a flight to brush my teeth before landing.

Tissues – For clearing stuffy noses and cleaning up any turbulence related spills.

Olbas inhaler – I always get congested on flights due to the quality of air, so towards the end of 2019 I started travelling with my Olbas oil inhaler which I already had from a previous cold, and it works wonders for clearing my nasal passages onboard. Once it has finished I will switch to bringing a small pot of Vicks Vapour Rub to eradicate the plastic from the inhaler.

Antibacterial wet wipes – the first thing I do when I sit down on a plane or train is disinfect the tray table, arm rests, screen, controller, seatbelt buckle, any buttons and the window blackout. Basically anywhere that you can't trust has been cleaned and you will be touching with your fingers throughout the flight. Aeroplanes have such a short turn around that they aren't always cleaned properly between flights, next time you board a plane, take a look at the floor to see the state it's in. Nine times out of ten I've seen bottles, crumbs, used headphones and food wrappers still on the floor, so I know I can't trust the cleanliness of the seat I'm about to be stuck in. I also cannot remember the last time I had a clean tray table so I prefer to wipe. One wipe will clean both mine and Michael's seat areas. Dettol has antibacterial ones.

Plasters – both normal and blisters, just in case.

Eye mask – To shut out the world when I catch some Z's.

Pen – for making notes and filling out immigration cards onboard to save time in the airport on the other side.
Flat lay bag
As I mentioned above, I remove my makeup when flying but depending on where I'm heading on the other side, I may apply some before landing. I keep it basic so I'm not carrying too much so in my mini Flat Lay Co. bag (I've listed all the reasons why I love it in my blog post Why the Flat Lay Co.'s makeup bag should be your go-to) I have the following products:
Glossier's Boy Brow – to tame and fill my eyebrows.

Concealer – another product to tackle tired eyes.

An instant look in a palette by Charlotte Tilbury – this reduces the amount of products I need to travel with because it includes: blusher, highlighter and contour powders plus three eye shadows and a mirror. I have it in Beauty Glow.

Mini application brushes – to apply the makeup.

A tinted lip balm – to add colour whilst moisturising my lips.

Honest mascara – It has a primer and mascara in one product. I'm all for multi-use products.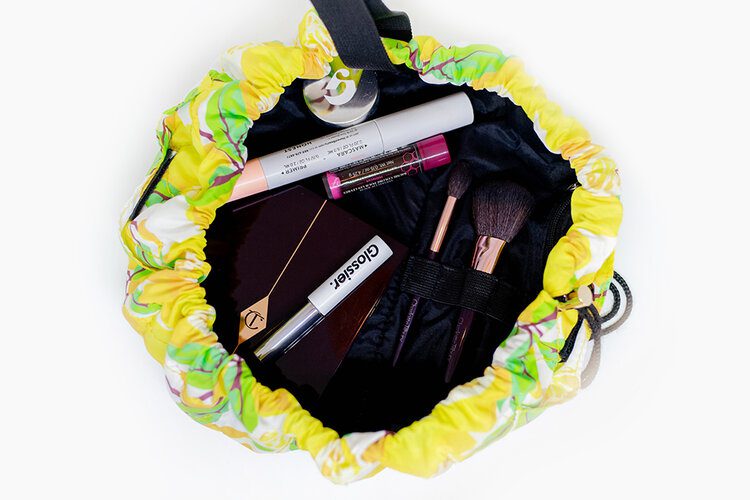 Food and Drink
Snacks
I've never been a fan of aeroplane food so I pack snacks, but for 2020 one of my goals is to decline inflight meals upon booking to prevent plastic waste. I have found that you can store food in a reusable shopping bag and it doesn't count as extra luggage because you eat the food and the bag folds up. I've never had a problem doing this in the last four years that I've been doing it on various airlines. Sure, some airports check the food at security but they never have a problem with a "snack bag". In my snack bag I have:
Fruit

Sandwiches in a reusable wax-wrap

Sugar free sweets

Crisps (preferably a healthy brand, but it isn't always)

Chocolate covered rice cakes

Cereal/energy bars made from fruit and nuts
PFH Top Tip: Eat all of your fruit and fresh products before touching down in the country you are travelling to prevent wasting it in the airport at customs.
Water bottle
Travelling with a reusable water bottle hasn't changed but the brand has. I switched from S'well to Dopper after the seal on my second S'well bottle broke which caused the bottle to leak if it wasn't upright. I couldn't handle this happening to a third S'well bottle so I decided to switch it up and conveniently received one from Dopper. Like my previous S'well bottles, the Dopper has an insulated version that keeps contents hot for 9 hours and cold for 24.
What's also great about Dopper bottles is they're dishwasher safe and easy to clean by hand (unlike S'well) and they convert into a cup. This is particularly handy during flights because you can decline a single use plastic cup and offer up your Dopper cup instead so you're not missing out on juice, tea or coffee etc.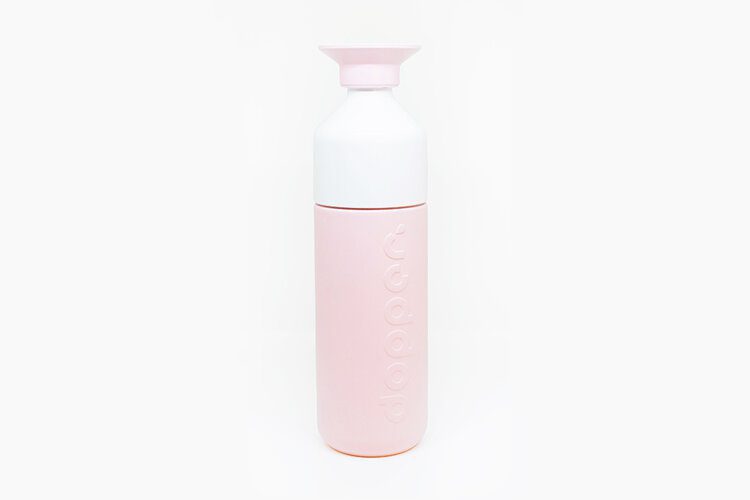 Remember to empty your water bottle before security but once you're on the other side you can refill it at various stations that have been put up in airports all around the world, and if you can't find one, just ask a café to fill it with tap water. 
A really great app for finding refill stations on the go is "Refill" (founded by the author of "How to Save the World for Free" which I mentioned earlier). Via this app you can enter in your location and find your closest spot to refill. It's a global app, so check it out.
Travel pillow
As I've mentioned earlier in this post, sleep is the most important thing to me when I'm travelling and the most crucial item that I need to get that, above everything else, is my travel pillow.
To read about travel pillows and why I use the one I do, check out my blog post Travel pillows – who you should be sleeping with.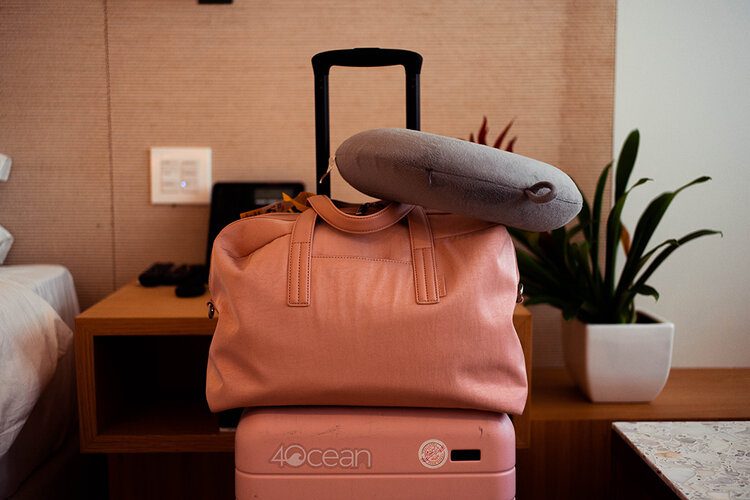 I just use the popper to attach it to the outside of my travel bag, around the handle, but as it's memory foam, it can also be squashed flat into a carry-on suitcase.
.
Aloha, Gabriella
.
*True to the date this post was published.
Items from Dopper, Dune, Anatomicals and The Humble Co. have been gifted. I am not working with Away, I just really like their Everywhere Bag.