There are parts of Scotland that are not unlike Iceland in that the weather can change in an instant and you're not sure what you're going to get next. In one morning up in the Cairngorms we went from rain to a blizzard then to bright blue skies, and don't even get me started on the wind in Edinburgh that whipped my hat off my head from under my rain coat, or the intermittent mist in Isle of Skye that is the only thing between you and incredible views. To keep you warm, prepared and prevent you from over or under packing, here's everything you need:
Clothing 
Coats 
I brought the following coats for a week long trip:
Rain coat

Puffer coat with a faux fur trim hood

Packable down coat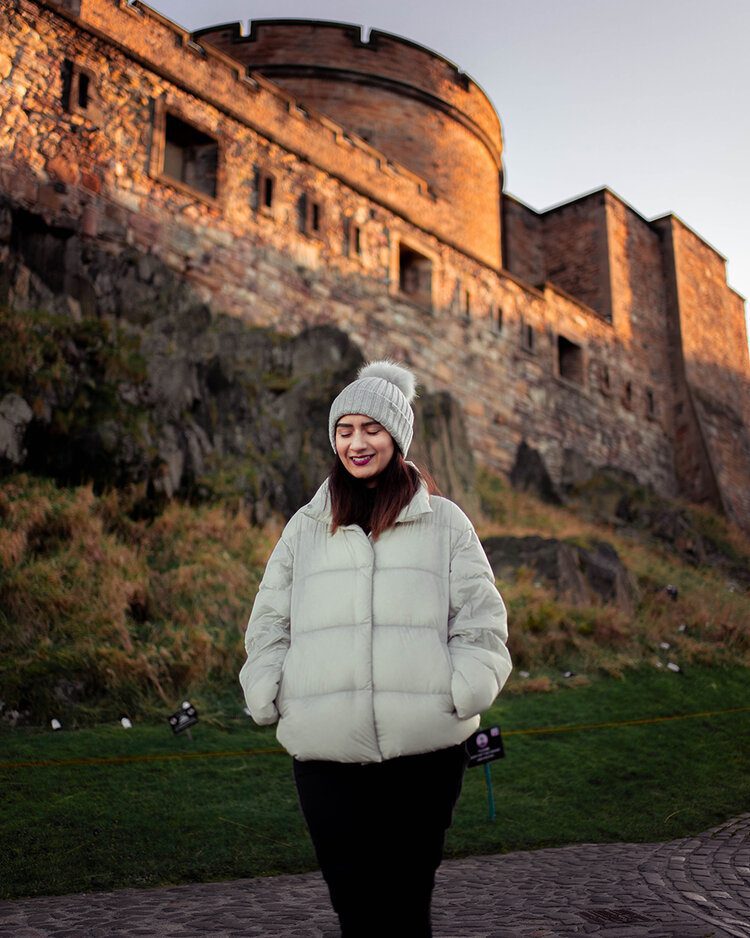 A water proof coat will be the most important coat to pack on a trip to Scotland but unless you have a super-dooper amazing rain coat, it won't be the warmest option which is why I packed two others. The packable down coat was perfect for keeping me warm on dry days whilst the puffer coat was perfect in the snow because it kept me warm, dry and the faux fur trim on the hood caught the snowflakes that fell around my face.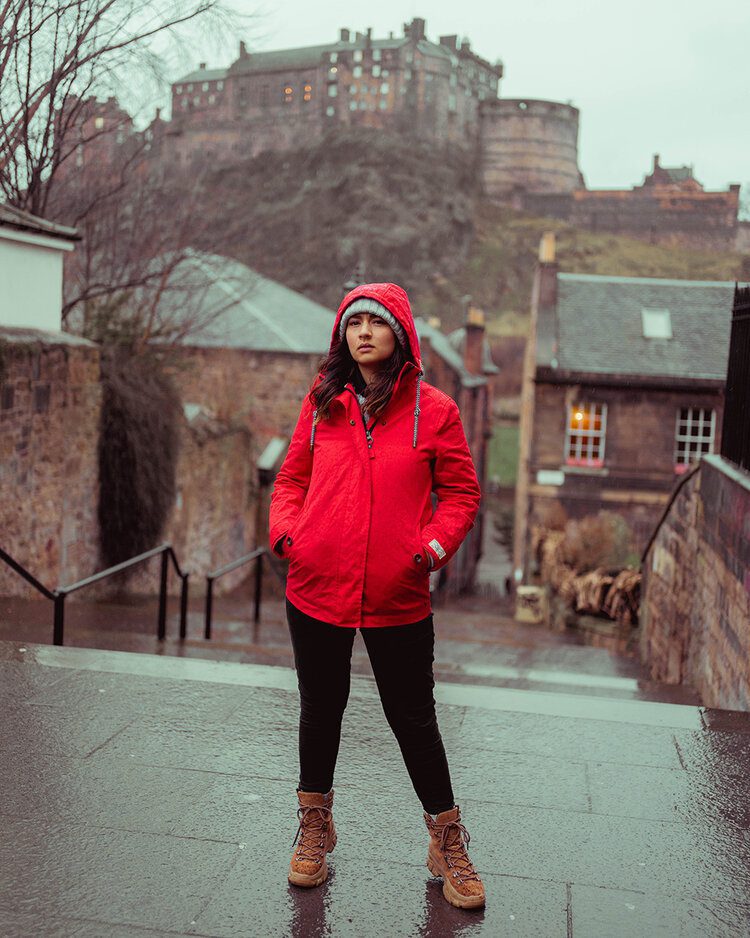 Thermals
Without a doubt thermals are the most important items on this list. The thermals I brought on our week long trip around Scotland were:
2 thermal base layers.

4 thermal turtle necks.

1 pair of thermal long johns 

1 pair of thermal tights
I cannot stress how important thermal layers are. They are the best at keeping you warm and are thin so you can layer up and they take up far less room in your suitcase than wooly jumpers. On really cold days I recommend wearing the tights or long johns under your trousers.
Zip up fleece
Fluffy or not, the choice is yours, but a zip up fleece is ideal for Scotland. You can wear it over thermals and under your coat. You can zip it up to stay warm or leave it unzipped when you get warm hiking.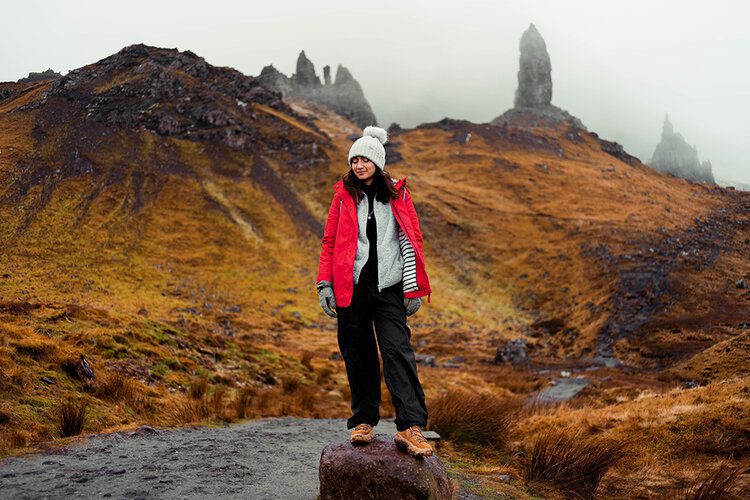 Bottoms
Trousers – I packed one pair to wear over thermal long johns/tights.

Running tights – one pair for hiking, I still wore my long johns underneath them.

Water proof over trousers – I wore these to keep my legs dry in the rain and snow.

Skirt – for the couple of times we went out for dinner or drinks I packed a button down A line skirt which I paired with one of my turtle necks.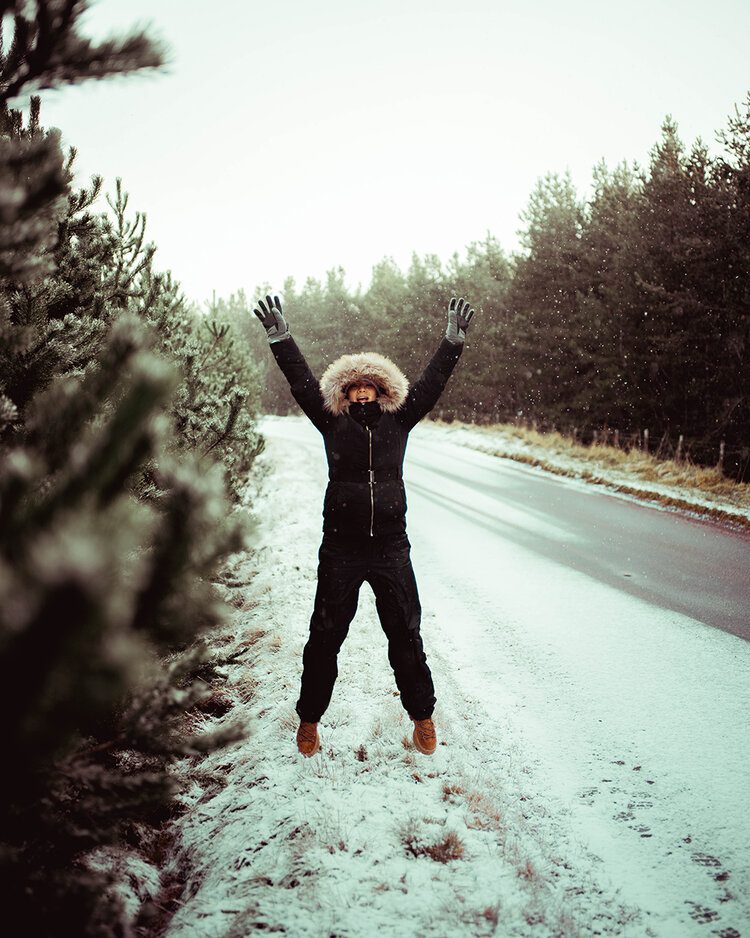 Thick PJs
I learnt from our various accommodations across Scotland that you cannot trust the heating will be sufficient, so pack a pair of warm PJs.
Footwear
Hiking boots
Between the hills in Edinburgh and Glasgow and the mountains in the Highlands it's more than wise to bring a pair of walking boots, especially if you're heading up into the Highlands where you're going to encounter all sorts of terrain.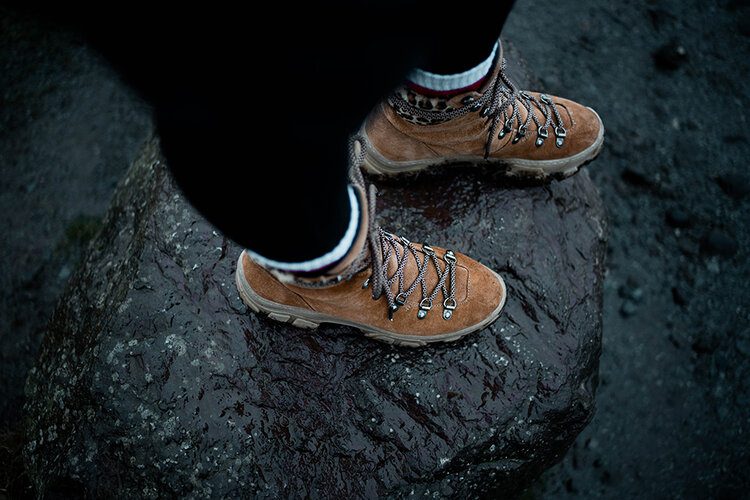 Water proof shoes/boots
As practical as hiking boots are, they're not appropriate for dinner or drinks so take an alternative pair of shoes such as ankle boots for women or Chelsea boots for men. I suggest something water proof because, well, no one wants damp feet.
Thick socks 
Whilst high up in the Cairngorms visiting the reindeer I was wearing three pairs of socks under my hiking boots and my toes were still numb. Bring at least four pairs of thick hiking socks.
Accessories 
Backpack
With all the walking you'll inevitably be doing, the best day bag I can recommend for a trip to Scotland is a backpack.
Wooly hat
For an idea on how much you will need a hat to keep your head and ears warm and sheltered from the wind, Michael, whose only hats are baseball caps, had to buy a knitted beanie on day two of our week long trip.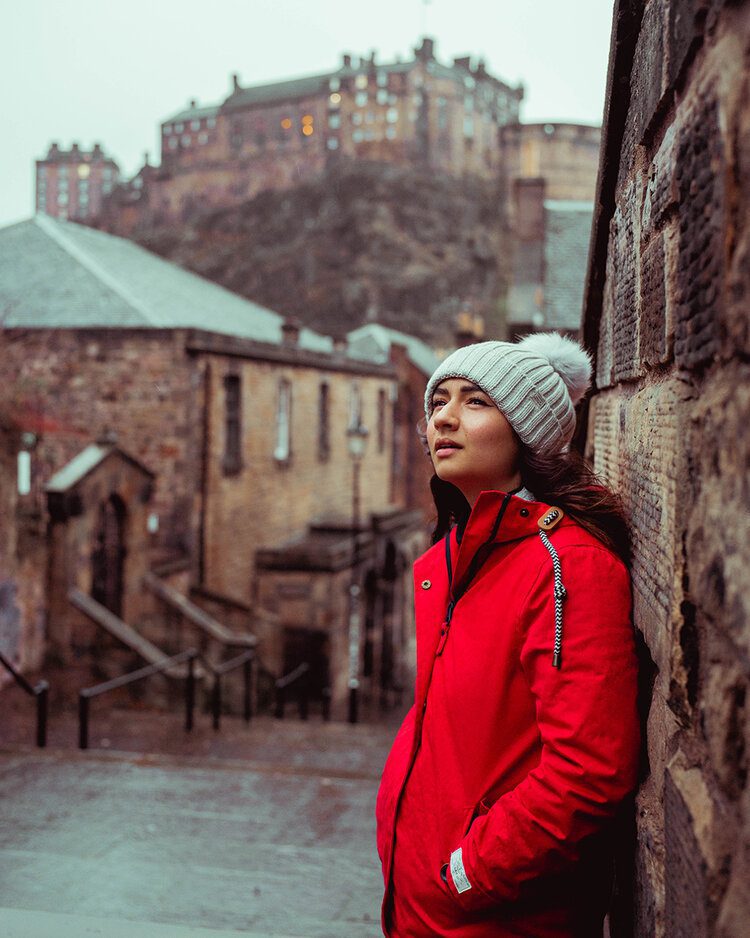 Snow gloves
Seeing how the chance of snow in Scotland is pretty high during winter I suggest making the gloves you pack snow gloves. These will keep your mitts warm no matter how cold it gets outside.
Snood
For Scotland I recommend a snood over a scarf because when the wind picks up you want your scarf to have as little chance as possible of being blown off your neck.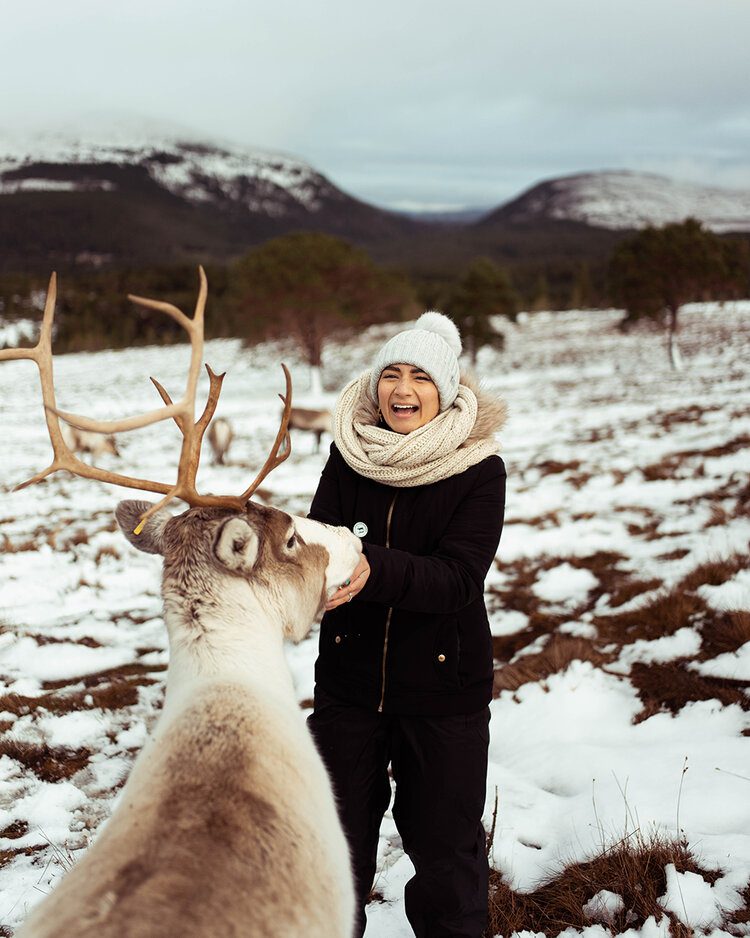 Sunglasses
The sun sits low in the sky in winter and can be pretty blinding on a clear day.
Miscellaneous 
Coffee cup
Hot drinks on the go are a great way to warm up. Favour a thermal cup to keep your drink warmer for longer in the cool weather. This YETI x 4ocean one will keep your drink hot for hours plus each purchase pulls a pound of rubbish from the ocean.
Water bottle
It's important to stay hydrated and it's a lot harder to do in winter because we don't notice dehydration the same way that we do in the heat. Keep a reusable water bottle on you and download the Refill app so you find places to refill on the go.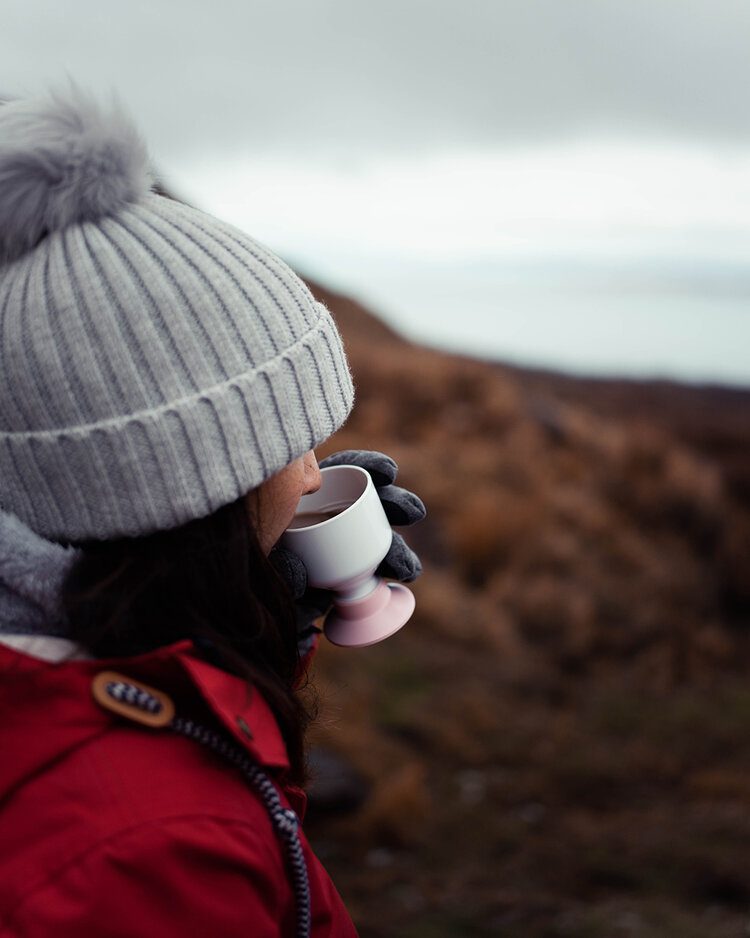 Blanket
If you plan to road trip around Scotland, it's wise to keep a blanket in the car just in case you break down or get stuck in the snow. It will also keep you warm at night in your accommodation. We stayed in an Airbnb in Isle of Skye and it was freezing so the blankets were welcomed. 
. 
So there you have it, everything you will need to pack for a trip to Scotland in the chilly winter months, aside from the basics, of course.
If you haven't yet planned what you're doing and need some inspiration, take a look at 9 points of interest on a road trip in Scotland.
If you would like to edit your own Postcards from Hawaii packing list, check out My ultimate interactive packing list where you will find a downloadable PDF and help on how to use it.
Aloha, Gabriella.