As travellers, we have a rather large impact on the planet with those large carbon emissions produced by every flight we take. This creates a pretty tricky situation for us as the more of this beautiful planet we see, the more we want to travel but this also means we see first hand what a massive impact our neglect has had and we end up contributing to it more. The best thing we can do, second to limiting our travel and opting for direct flights, is to offset our carbon emissions. Some leading airlines such as Virgin have the option to add this on to your flight purchase, but you can also do it externally online. A seriously impactful way, beyond these options, is to reduce our plastic usage to stop it from ending up in landfills or our oceans where it is polluting natural resources and killing animals worldwide. The best way to do this whilst travelling is within our toiletries, so here are 10 products from Lush which come without packaging or in recycled/reusable packaging.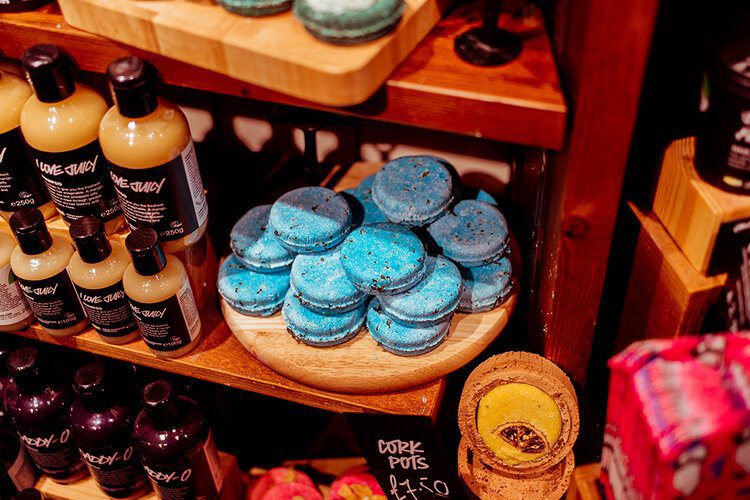 Before taking you through these 10 products, let me take a moment to tell you why Lush:
Their products either come in recycled packaging, reusable packaging or none at all, which they like to call "naked".

Speaking of their recycled packaging, if you bring back five clean pots in store you will receive a free fresh face mask, which comes in a pot that you can bring back with four other pots when you've finished it! How great is that?

Their products are all handmade with natural ingredients and/or safe synthetics.

All the products are vegetarian, with many being vegan, and they don't test on animals.

They advocate for the environment.

They're a super fun brand with everything designed to encourage you to enjoy your bathroom routine.
Here are 10 products for sustainable travel:
1. Solid shampoo
Switching to solid haircare is one of the easiest and best ways to eradicate plastic packaging from your bathroom products, plus it last forever! I've even found it foams up better than liquid shampoo. I use Honey I Washed My Hair and it leaves my hair feeling so soft and silky every time. Store it in one of Lush's reusable round tins – you're going to read that a lot in this post! They're perfect for travel and prevent the need for single use packaging. Just make sure the product has dried before popping the lid back on.
2. Solid conditioner
Switch for all the reasons I mentioned above! The solid conditioner bars are a different shape to the shampoo so you'll want an oval tin for one of these. They've recently had a makeover and are now pressed which makes them lather up better than before and come in far more fabulous scents. I previously used Sugar Daddy-O but I cannot tell you how excited I am to try American Cream!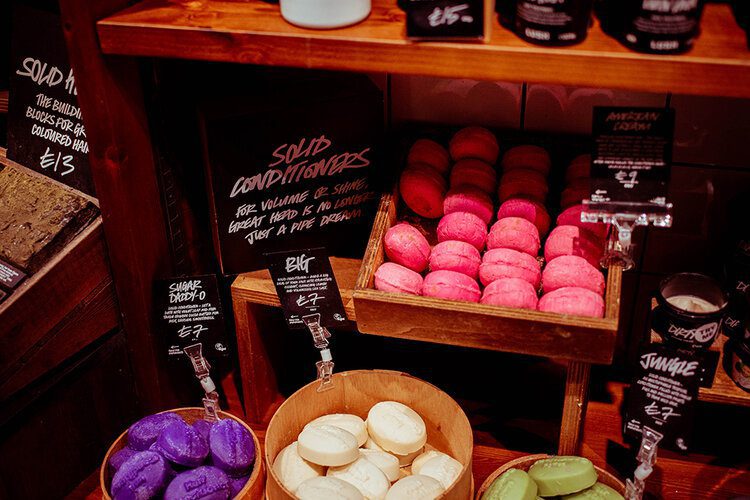 3. Superbalm scalp treatment
Whilst I'm away my hair often comes into contact with a variation of soft water, hard water, sea water and chlorine which can wreak havoc on my scalp and make it quite dry. Though the shampoo bar, particularly the Honey I Washed My Hair bar, makes my hair soft and silky, it doesn't help my scalp. So to treat my dry scalp I was still using Head and Shoulders, but then I came across Superbalm which is formulated with coconut oil and candelila wax to treat dry scalps. If I'm on a short trip I won't take it, but if I'm on a trip that's two or more weeks long I will make sure to treat my hair at least once.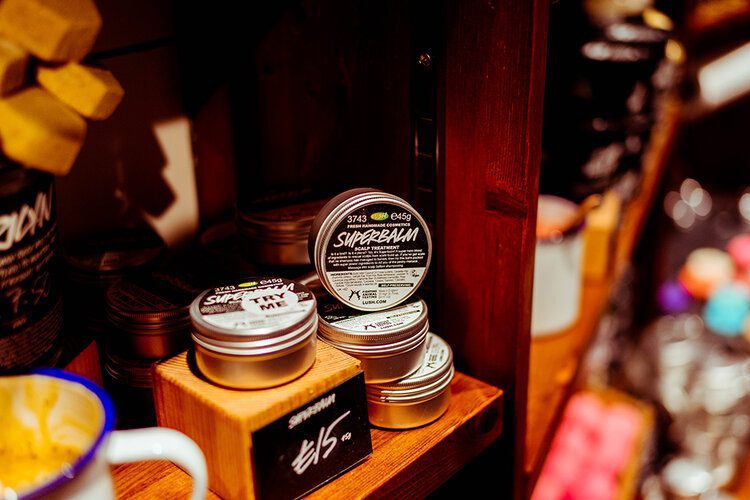 This product isn't really a must, it's just really helpful if you put your hair through a lot whilst you travel.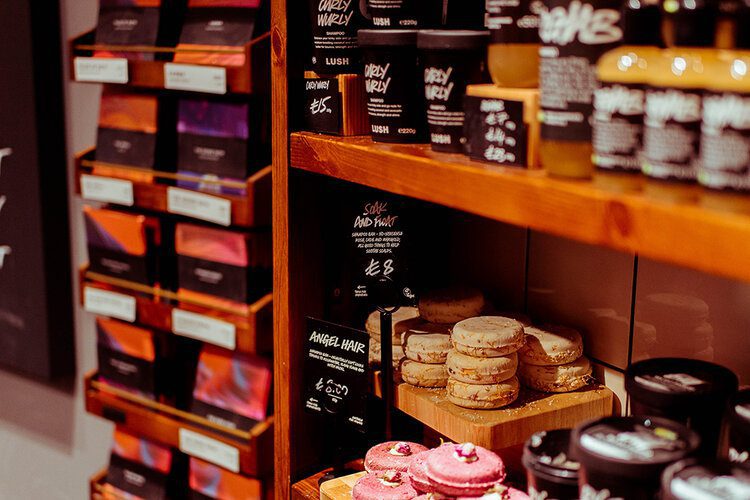 The Soak and Float solid shampoo will help with dry scalps too.
4. Soap/shower gel/body conditioner
There's a multitude of options for keeping fresh on your travels with Lush. There's solid soaps and gels (yes really, gel), liquid shower gel or something in the middle which is their body conditioners.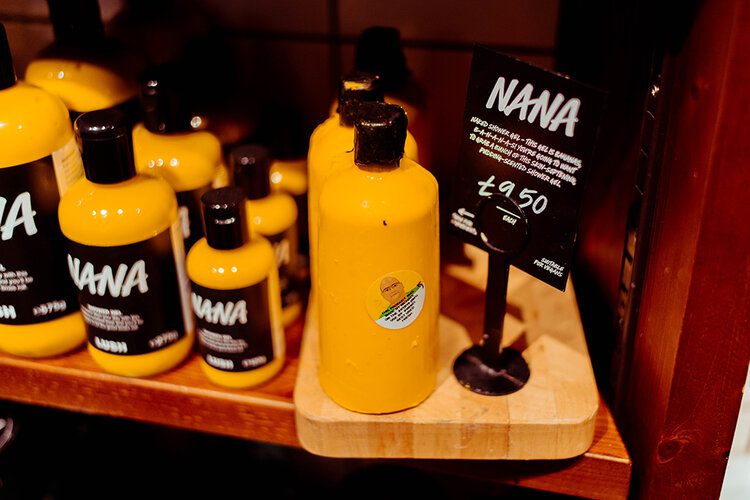 Grab a piece of one of their numerous naked packaging soaps and store it in a tin, or chop up one of their naked shower gel bars – these are formulated to be more moisturising than the soap – and also store it in a tin. Or you can travel with one of their shower gels which come in a recycled bottle if that's more your style. Then there's their body conditioners which clean like soap but apply like moisturiser and leave your skin feeling crazy soft and moisturised. These come in plastic pots which you can return to store for a free face mask as I mentioned earlier.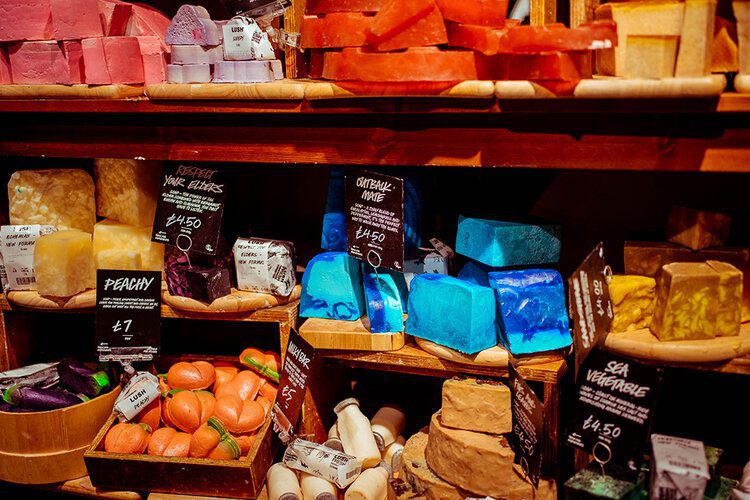 There's an option for everyone. There's even solid scrubs if exfoliating is more your jam.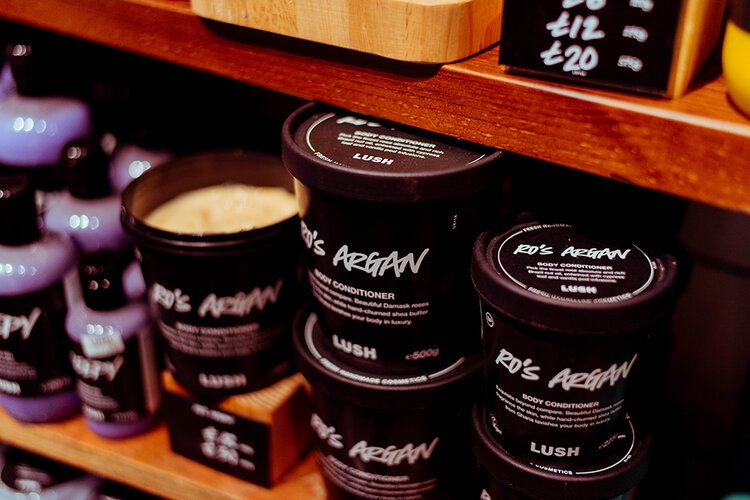 5. Moisturiser 
Very few moisturisers come in reusable packaging and if they do, they don't tend to be made of natural ingredients or safe synthetics. There are many options for moisturisers in Lush for all skin types. I use Vanishing Cream because it leaves my skin moisturised and not greasy or oily. Plus it's made with lavender which is my favourite essential oil and witch hazel which helps to keep skin clear from blemishes. Again it's in a pot which you can return in store with four others for a free face mask.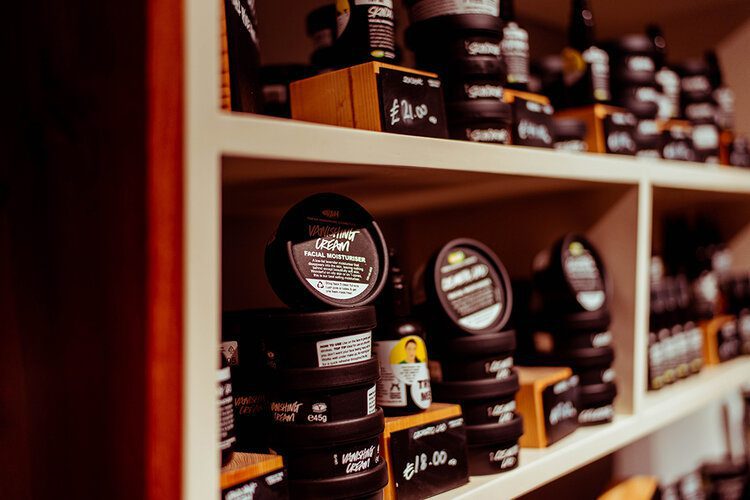 6. Solid cleanser or biodegradable cleanser wipes
I am a big fan of packaging free makeup remover and cleanser. It took me a long time to find products that worked for my skin, I tried all the big brands from drug store to pricey labels, but all my skin needed was minimal and natural products. I use a magic cloth to remove my makeup with water, then to cleanse I massage Like a Virgin – a solid cleanser that smells like lemon drizzle cake – into my skin and remove it with a reusable cotton pad and warm water. I used to travel with heaps of skincare products and now I just have a magic cloth, a reusable cotton pad, Like a Virgin (which I store in one of Lush's round tins) and Vanishing cream in my Flat Lay toiletry bag.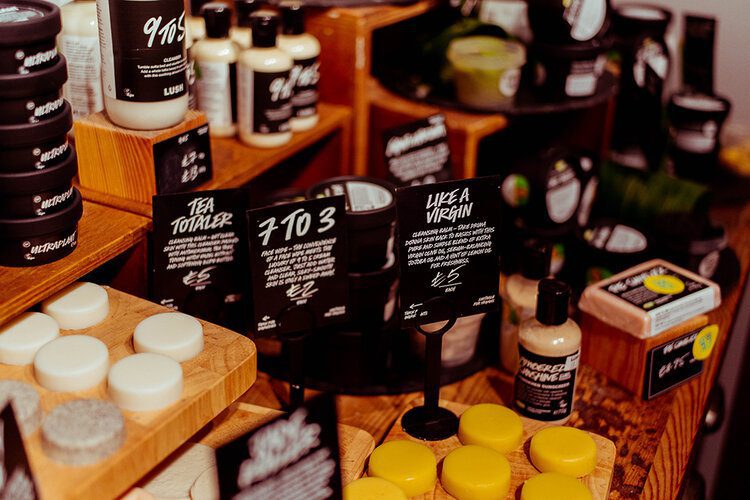 If I have a long flight I pack a 7 to 3 cleansing wipe into my travel bag so I can remove makeup inflight. You just need water and you can get multiple uses out of it before it biodegrades. If I am travelling with this in my hand luggage I will leave Like a Virgin at home. Like most of the products on this list, the cleansing wipes are packaging free so store them in a reusable round tin.
7. Solid or powder deodorant
Solid deodorant is a great way to cut down on packing liquids whilst travelling, plus, natural deodorants remove the risk of harmful chemicals that may contribute to breast cancer.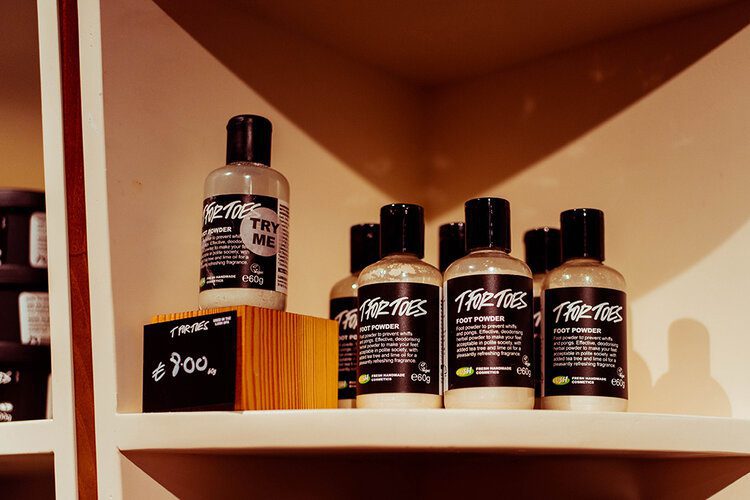 I have very sensitive skin and don't get on with Lush's solid or powder deodorant. Instead I use Neal's Yard spray on deodorant (not aerosol) but Michael uses T'eo and T for Toes and gets on well with them. He stores T'eo in a square tin.
8. Toothpaste tablets
Eliminate non-recyclable packing from your dental care with toothy tabs, there's a variety of flavours to choose from plus they are a great alternative to packing liquids/gels. It's just a shame that these don't come in a reusable tin because that would be far more sustainable but it's a start.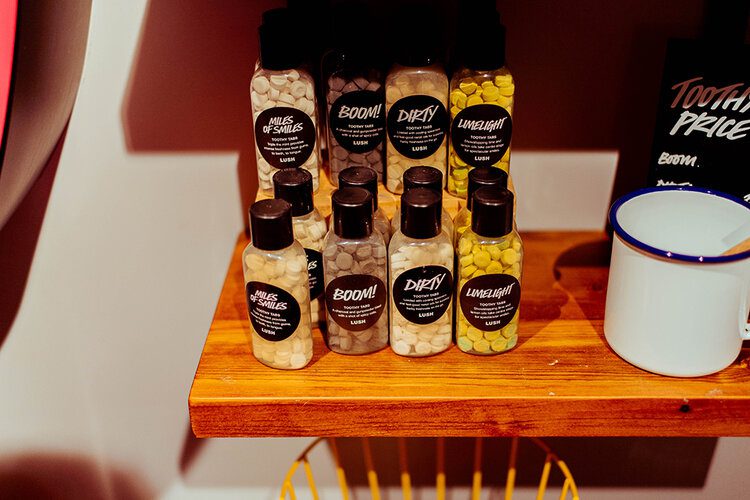 9. Makeup
Lush has a much bigger makeup line than you'd think, from refillable lipsticks to vegan makeup brushes, take a look at what you can replace in your makeup bag, if you wear it.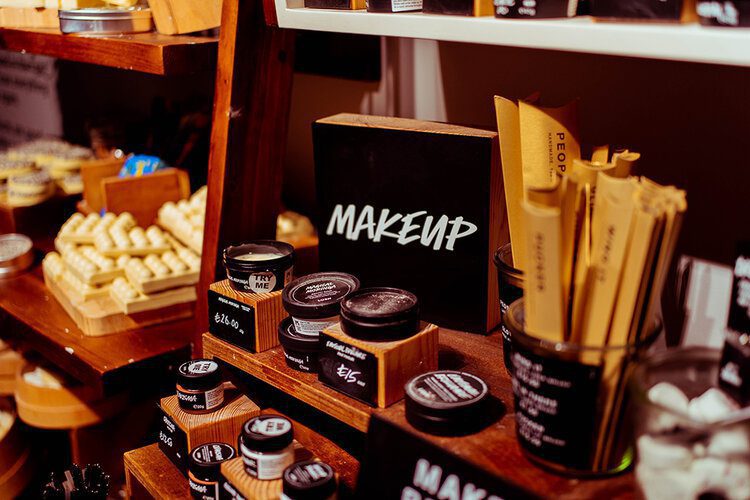 My lips suffer greatly with changes of climate, they dry out and crack or peel and I'm not here for it. Keep your lips soft and moisturised with a Lush lip balm, they're compact and come in so many fun flavours. The scrubs are particularly great for exfoliating dry lips.
10. Body lotion
It's very important, whether you're going to be bronzing under the sun or hitting the slopes, to keep your skin moisturised so it doesn't become dry, irritated or flakey. I have found very few body lotions in reusable or responsible packaging; I love Aveeno (thanks to Jennifer Aniston's ad campaign) but the pumps on their bottle can't be recycled from home so I sought out an alternative in Lush. Dream Cream like Aveeno is made with oats but it also has lavender oil (yay), rose water and Tea Tree which is, quite appropriately, a dream for your skin.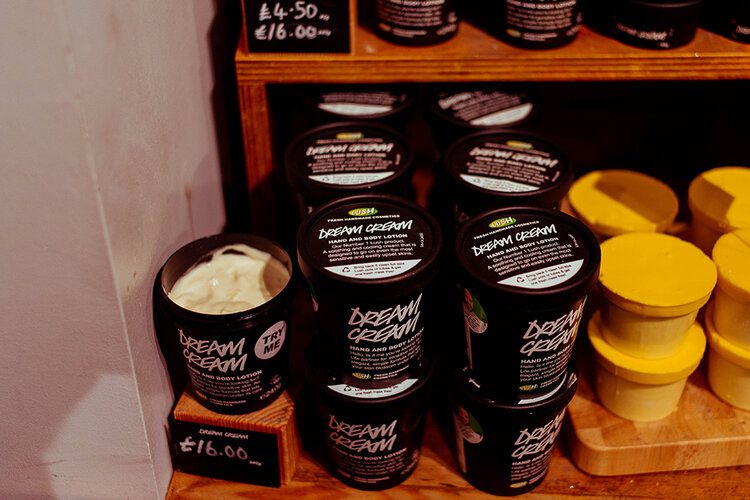 .
These 10 packaging free or recyclable products will not only make travelling without checked luggage so much easier, but they also will prevent you from using any single use hotel products and you will always be prepared!
Aloha, Gabriella
.
This post has not been written in collaboration with Lush, I just love everything the company stands for and they are an ideal source for plastic free packaging. The photos were taken within the Norwich store.