May of 2022 is the first month I've been home in Vancouver and nowhere else. My travels finally slowed down once my friends stopped having weddings and I got a chance to explore my city, so my PFH 5 favourites are focused on both ways you can save money at home and a couple of things I have found within my city that excite me. 
Read on to find out two ways that I'm saving money on food, my favourite vintage and second hand stores in Vancouver, how thinking outside of the box got me some really pretty and inexpensive photo frames for our home and how I've been finding new music to listen to in my office.
Here's my PFH 5 favourites for May:
1. Regrowing salad vegetables from food scraps
I feel like I might actually be the last person on earth who has realised how easy it is to regrow food scraps but just in case I'm not I want to share my most favourite thing I've been doing this month. I have been regrowing spring onions/salad onions (possibly even scallions – why is North America and England so different??) and romaine lettuce from the ends of the ones I've just eaten in water. Water! 
This blows my mind!
I had a vague idea that you could regrow spring onions from the bulbs in a glass of water but I had no idea they would grow so quickly and that you could do it twice! Within a week I have a brand new onion and if you leave them for two they will really flourish. Now I only have to buy fresh ones every other week.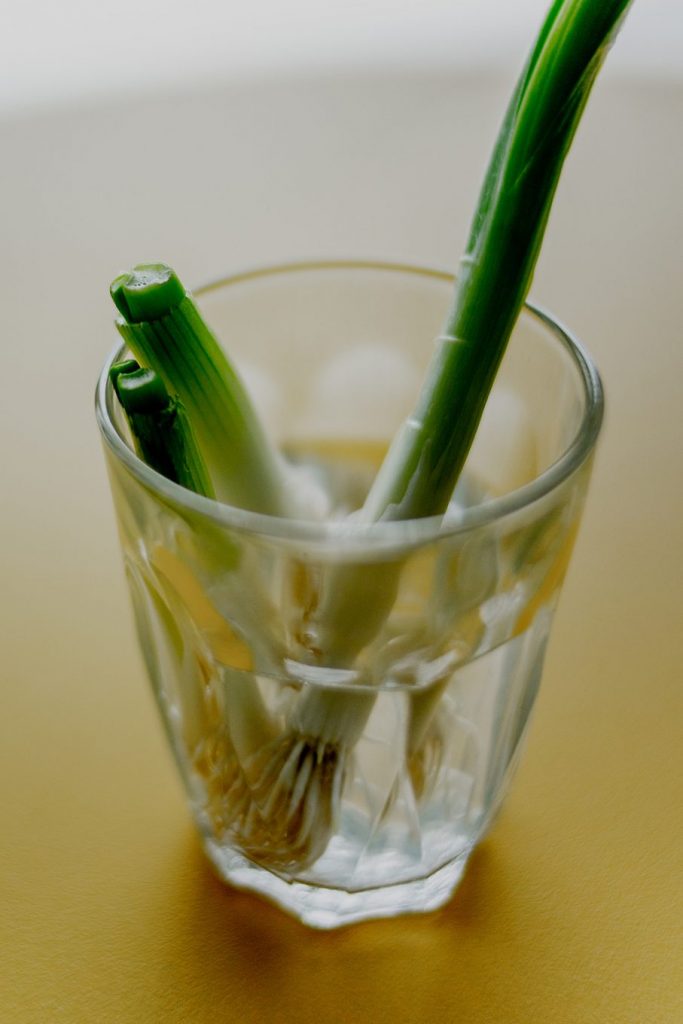 How to regrow a spring onion or salad onion or scallion or whatever
When you're ready to eat your spring onion/salad onion, chop the onion about 2 inches from the end of the bulb
Place the bulb into a small glass
Fill the glass with ½" of cold tap water

 

Place your glass somewhere it will get plenty of natural sunlight

 

Within two days the green stem of the onion will start to regrow as well as the roots
Change the water every 2 days
When your spring onion is big enough to harvest (between 1-2 weeks) repeat the process
You can regrow your green onions this way up to three more times.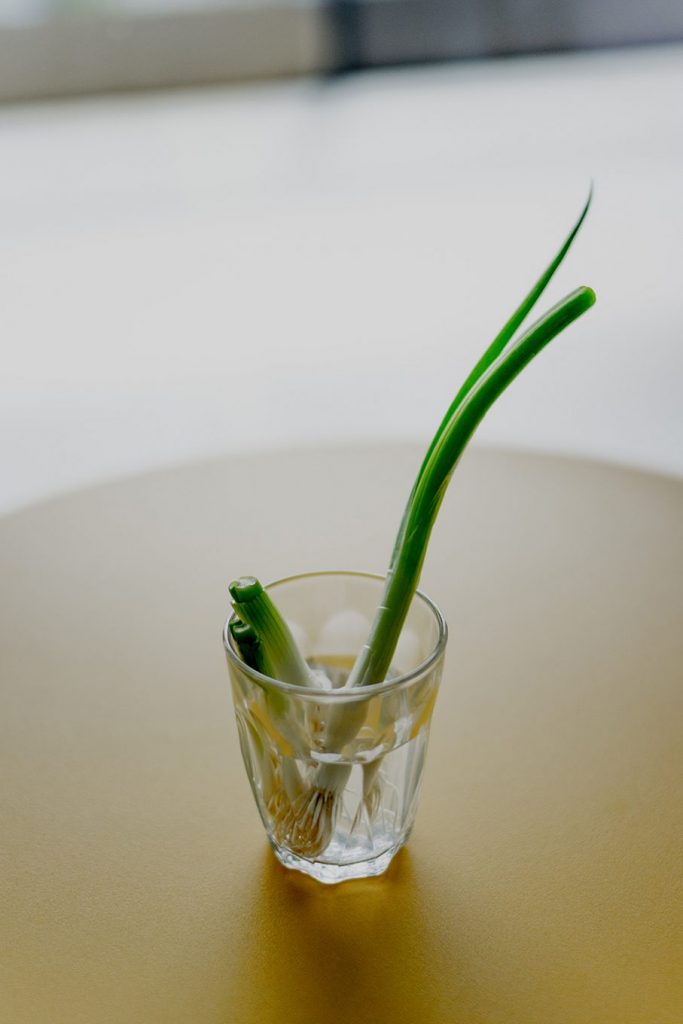 After my big spring onion success I tried the end of my Romaine lettuce with the same method and I was thrilled to see regrowth within a week! This one will take a lot longer than the spring onions but how exciting is it to save waste and money?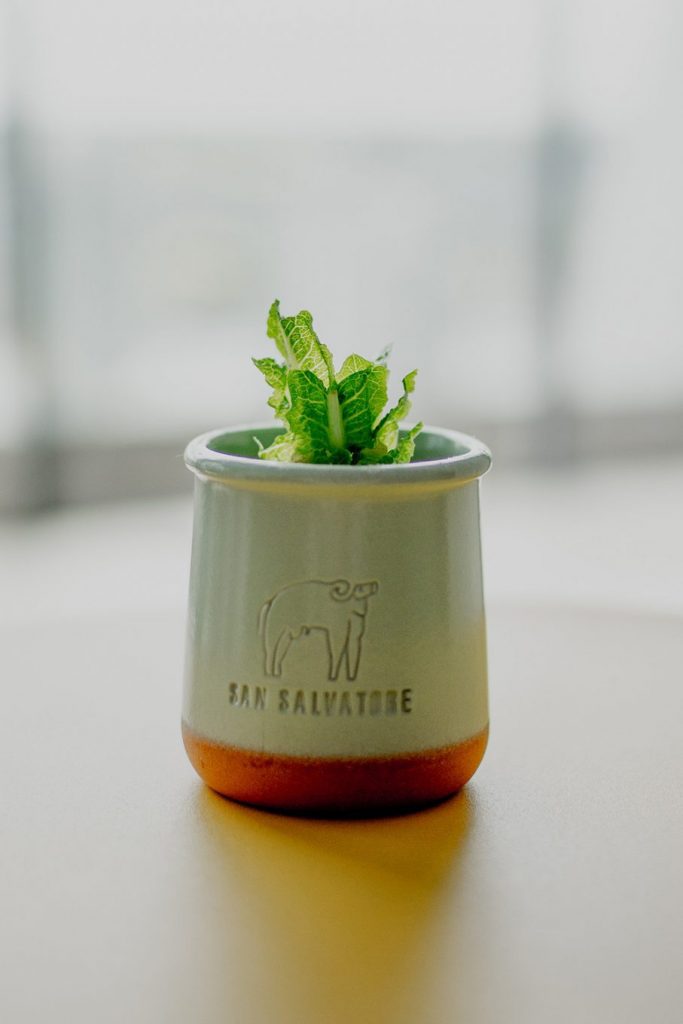 This post from spud.ca has a useful list on other fruits and vegetables you can grow in water.
Stay tuned for a blog post on more ways to use up your food scraps in your kitchen. 
You might also be interested in my homemade & low-waste snack recipes that show you how to make crisps/chips from potato skins.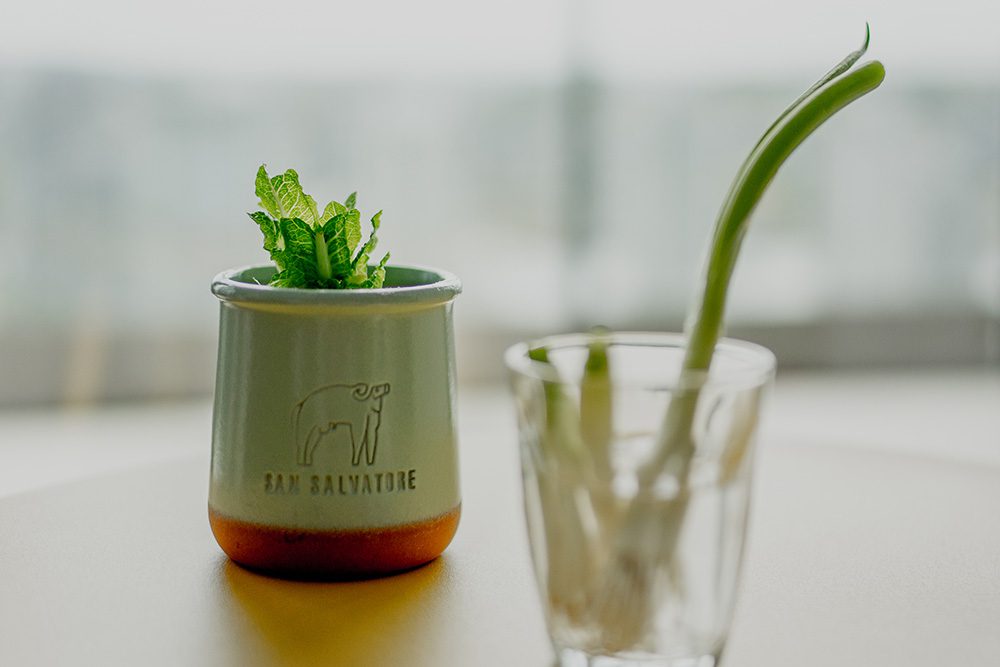 2. Vintage shopping on Main St in Vancouver
If you asked me what I missed about London it would take me most of my two year working holiday visa in Canada to tell you it all but one thing in particular is Brick Lane. Honestly it's the Jewish bagel shop Beigel Bake that hurts the most about missing Brick Lane but second to that it's for the second-hand, pre-loved and vintage shopping. 
I'm super pleased to report that I found Main St which is basically Vancouver's answer to Brick Lane. Lined up on and dotted around Main St are various second-hand stores ranging from bogus to genuine, bleak to extraordinary and affordable to you-might-need-a-bank-loan.
Beware of the second-hand stores passing themselves off as vintage who are marking up the cost of Zara clothing that is only 1-3 seasons old – I mean honestly that's like glueing a My Little Pony on the hood of a VW Polo and trying to sell it as a Ferrari.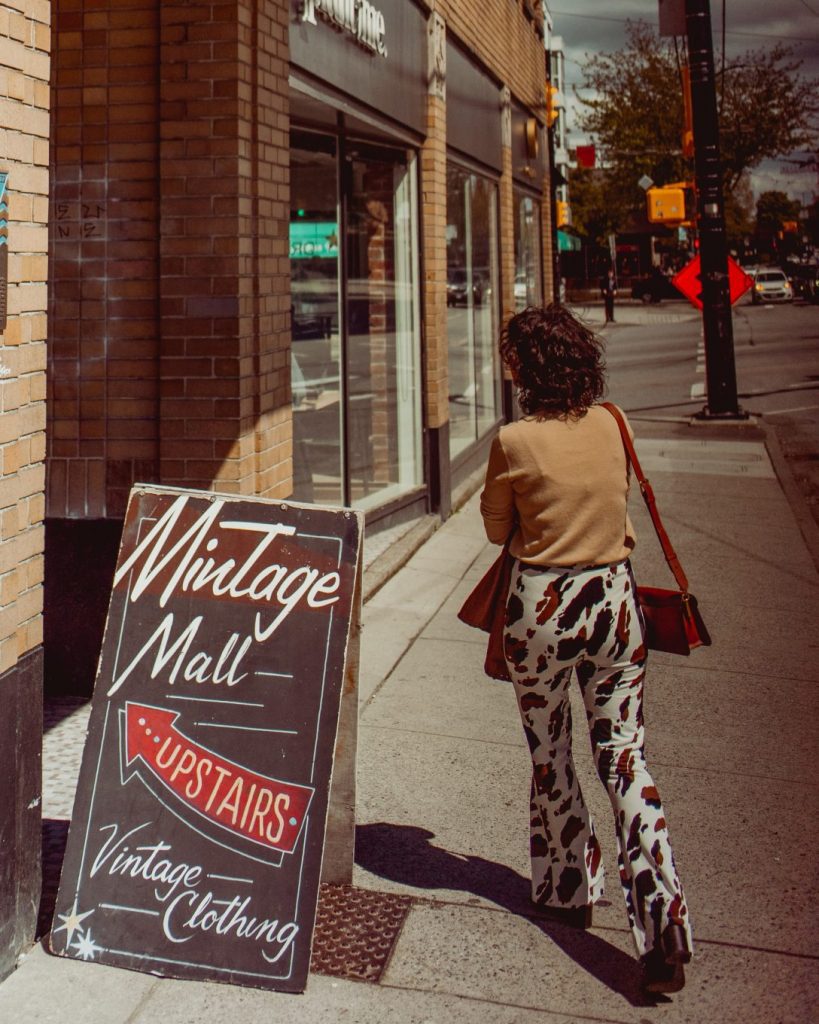 Mintage Mall on E Broadway however is the real deal. Spread across at least 8 sections* is everything from clothing to accessories and it's categorised by garment then colour. It's rather reminiscent of The Brick Lane Vintage Market except it's all one store and I noticed the prices are much more affordable. The pre-loved 70s maxi dress of dreams I'm wearing here was just $42 CAD from Mintage and both my fiancé and I picked up a tan leather 70s jacket each for $150-175. Whereas I've paid no less than £50 for just a blouse in the vintage shops on brick lane.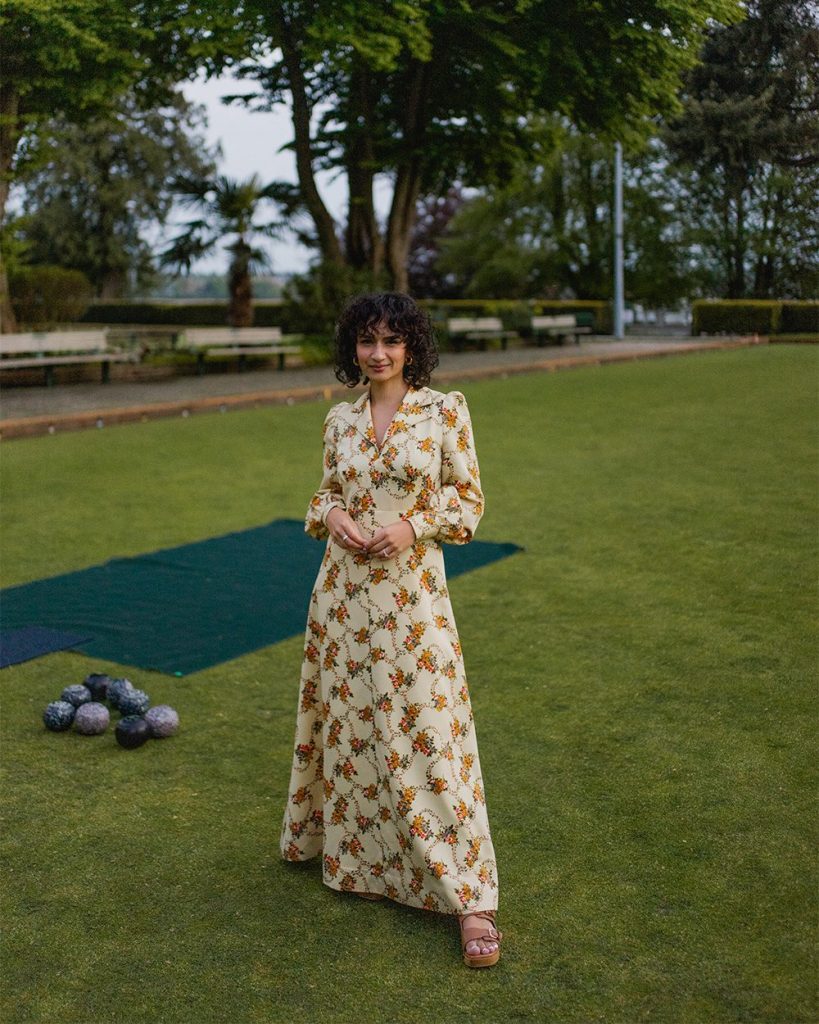 I also am high-key obsessed with Burcu's Angels whose store is like a treasure chest beyond your wildest fantasies. I have been collecting various wedding outfits from her store since we got engaged and each piece is utterly unique and exquisite. She often works with Vancouver's highly successful film industry and has helped source costumes for various period pieces. Another wonderful thing about Burcu's Angels (apart from the fact that they always encourage you to play dress up) is that they offer exchanges after you've worn the items so that someone else can love them too and you get to wear something else. It's the most fabulous closed-loop store in Vancouver!
Another firm favourite of mine is Woo Vintage who has strong connections with Vancouver's movie industry and has helped out with the wardrobe for many productions including the Netflix series The Chilling Adventures of Sabrina the Teenage Witch. I picked up the most glorious 1970s black velvet, hooded opera cape from Woo Vintage that I have absolutely no occasion for but the way it drapes when worn feels positively celestial.
*Mintage is located on the second floor accessible only by stairs.
3. PFH caramel macchiato iced coffee recipe
It's iced coffee season and just like every other basic b*tch on this planet I am very happy about that. What doesn't make me happy is the $6.32 CAD price tag that comes with my tall decaf iced caramel macchiato with soy milk at Starbucks – yeah I know it's a mouthful.
So imagine my delight when I found a bottle of Starbucks caramel macchiato coffee enhancer/creamer that costs only $6.70 from Walmart.
Thanks to my fiancé's coffee machine I am able to make an espresso at home to mix in with a few extra ingredients and I've got myself a super cheap but just as good Starbucks-style iced caramel macchiato. There's a bunch of other fan-favourite flavours as well as caramel macchiato and a dairy-free version – which I found out after.
So if you can get your hands on the Starbuck's coffee enhancer/creamer here's the recipe for the iced caramel macchiato that I've been making at home for an afternoon treat on sunny days: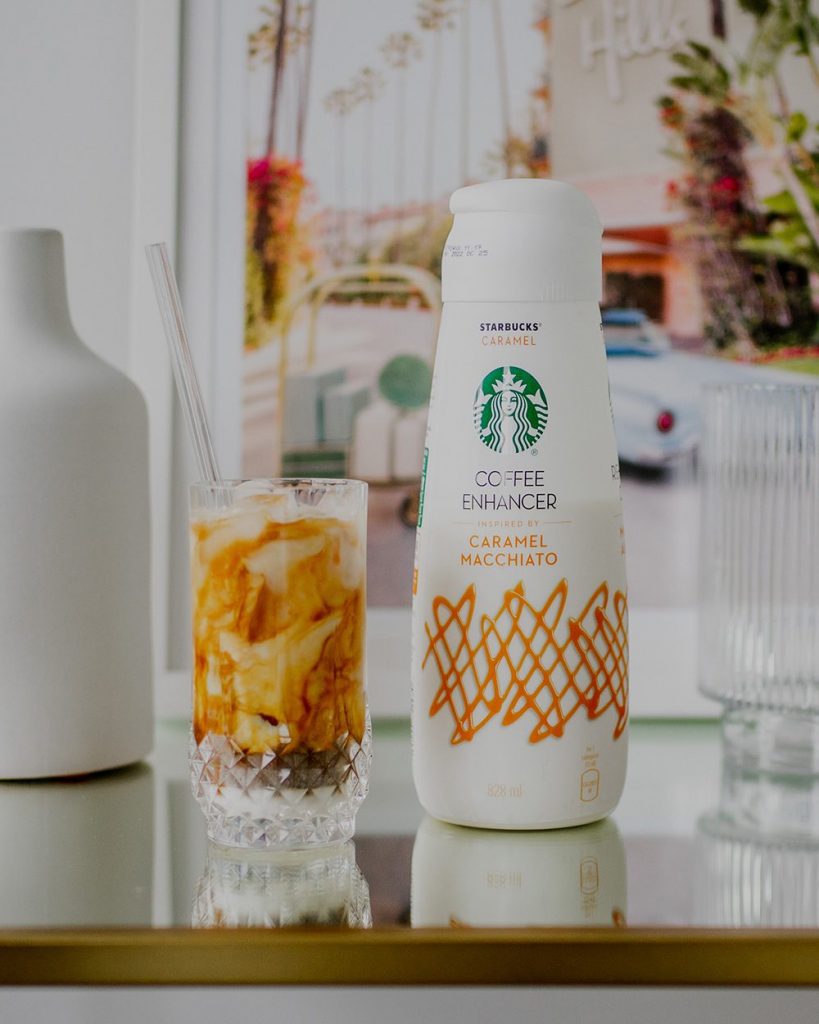 Ingredients for an iced caramel macchiato
Ice
Double espresso

 

1tbsp Vanilla syrup
1tbsp Starbucks coffee enhancer/creamer
Milk of your choice
How to make an iced caramel macchiato
Fill your glass, tumbler or travel mug with ice
Pour a fresh double espresso over the ice
Measure out and pour in the vanilla syrup and Starbucks coffee enhancer/creamer
Top it up to the top with the milk of your choice
Add a reusable straw and enjoy! My glass straw is from the small business Manchester Glassworks and you can read more about them here.
Sorry Brits, I'm not aware of coffee creamers being a thing there.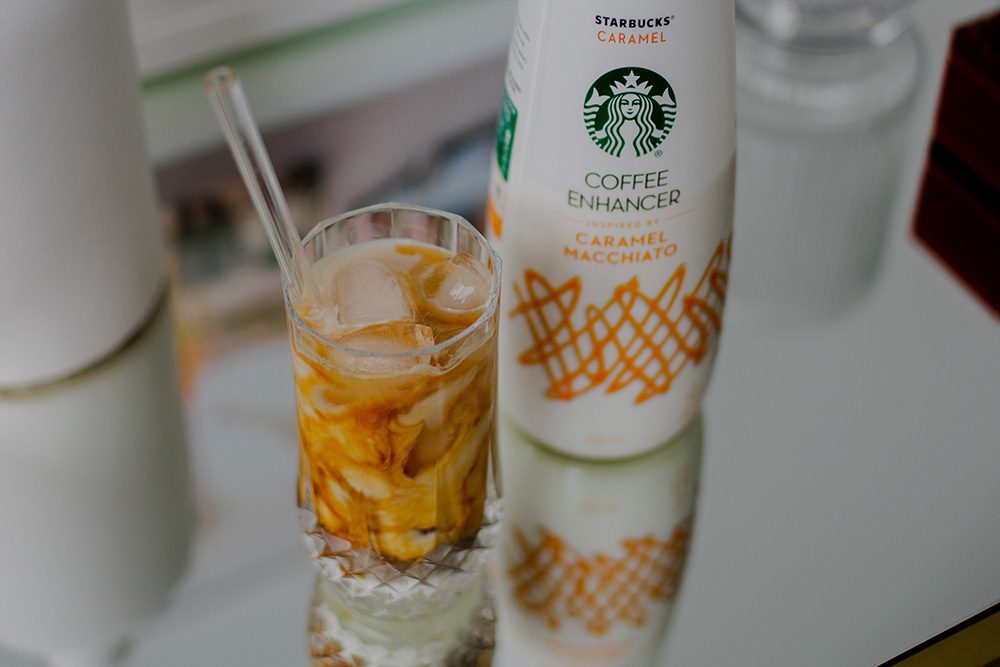 4. How to save money on photo frames
When I moved to Vancouver it never crossed my mind that finding photos frames would result in being such a thorn in my side. I swear just about every clothing store in England now has some sort of home section or at the very least a corner of nicknacks. Oliver Bonas has such a beautiful line of photo frames and heck I mean Zara and H&M have their own independent home stores! 
When it came to furnishing our new home and the process of finally being able to frame our own photographs and the various prints we have collected from our travels, we found it to be not only more challenging but also pretty expensive. Unlike England, not many stores in Vancouver have interesting design-focused photo frames let alone affordable ones (don't even get me started on my quest to source glassware) and any we could find were wildly expensive. 
At first we sought out frames from IKEA and Michaels (the craft store) but the cost was adding up and we were tired of getting the exact same, basic frames. We started thinking outside of the box and came up with three places to look out for photos frames with character that I believe will work across the world where these are an option to you:
Or as we know them in the UK: charity shops. 
Sure you're not going to find a gem every time but if you make a habit of frequenting these stores to see if any photo frames have come in you might find something in keeping with your home decor. 
Remember a fresh coat of paint can go a long way too if it's not quite what you're after.
I hadn't considered them before because honestly it hasn't really crossed my mind that you could remove whatever was being housed within. Once that penny dropped it seemed like such an obvious choice as they are so reasonably priced for something with so much more character than you could get from IKEA.
2. Dollarama and Dollar Tree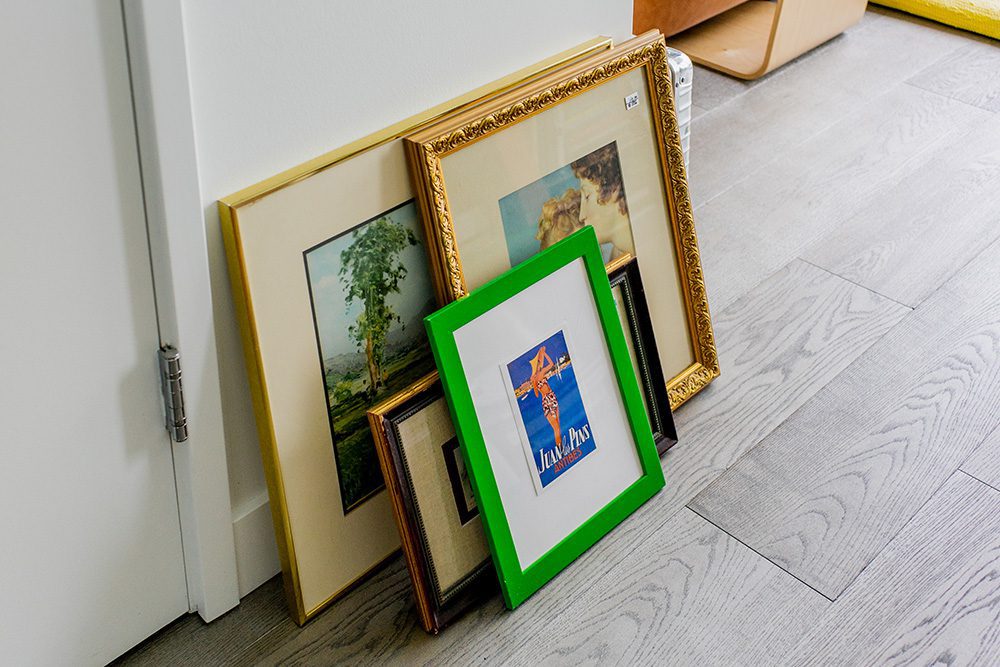 The UK version being: Poundland and 99p Store.
I've found the stock changes from store to store and that nothing ever returns once it's out of stock but I've managed to grab a few lovely photo frames on passing trips to get biodegradable bin bags, amongst all the other bits that are more affordable in Dollar saver stores.
Their photo frames won't be priced at £1/£1 but they will be far cheaper than homeware stores. 
The gold and glass portrait standing frame that currently frames a postcard of Whistler (where my fiancé and I got engaged) was just $4 whilst I've found an almost identical one from Oliver Bonas for £14.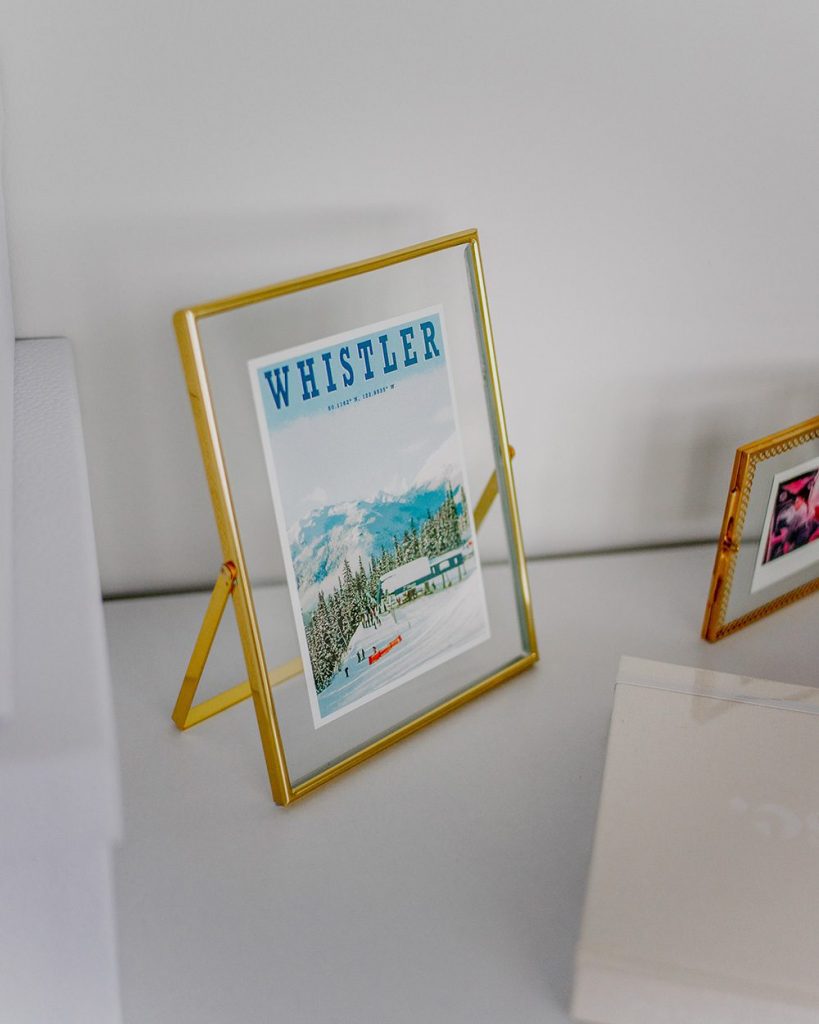 3. Independent drug stores
Independent drug stores, pharmacies and chemists tend to have a little more to them than just medication. I'm talking the kind that have a random selection of homely knickknacks next to the cough medicines and anti-fungal creams. Like they're thinking, whilst you pick up your blood pressure pills perhaps you are also in need of a "Good Vibes Only" sign, a freshly-cut-grass scented candle and a photo frame?
Some of my favourite photo frames came from a drug store just like that! I was getting my covid test done at a drug store in the US to return to Canada and they had all sorts of homeware including a little section of silver and gold photo frames at very good prices.
You never know what you can find by thinking outside of the box right? 
I will be publishing more in depth blog posts on furnishing a home in Canada and ways to mindfully furnish a home with second hand and environmentally-conscious items soon. Keep an eye out in my Expat content for updates.
5. Being open to new music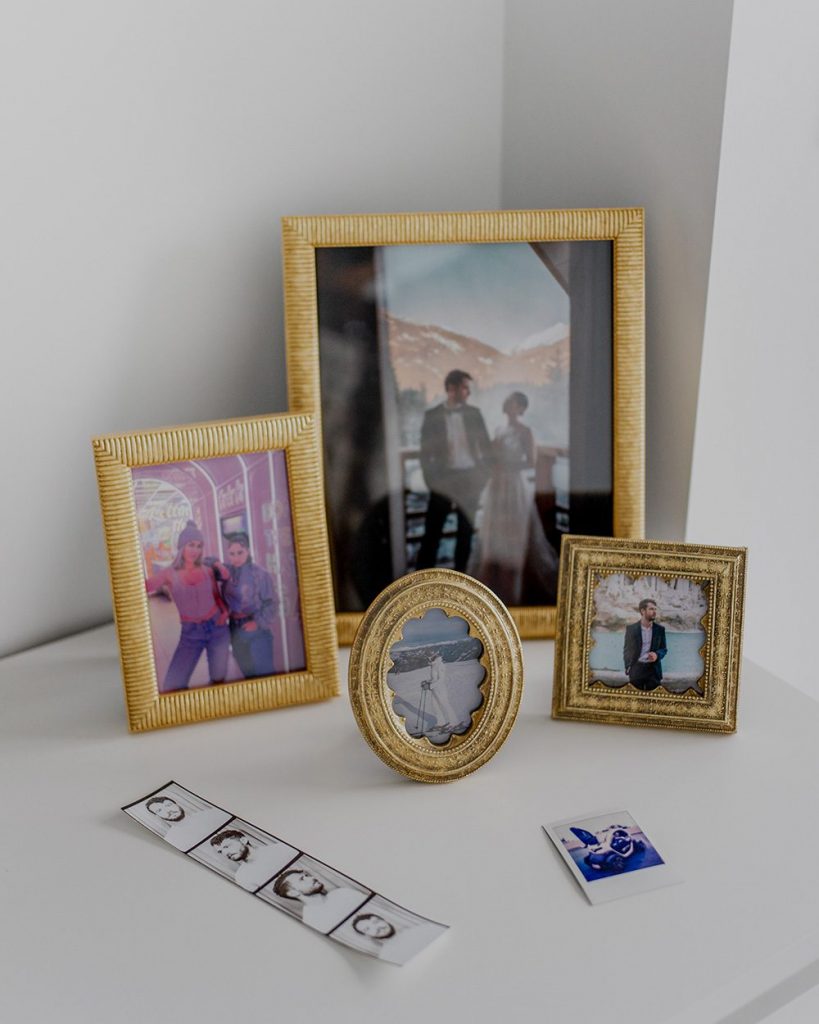 Something new I started doing in May was following the link to any song recommendations people are sharing via Spotify on Instagram Stories. Though I have a super eclectic taste in music – which I think also reflects within my style – I felt like I was reaching for the same playlists. As amazing as my playlists are I wanted to branch out. This has been working out for me so far and thanks to Spotify finding songs relevant to what you just listened to I've been able to find so much fresh music for the days I'm at my desk.
Speaking of my playlists, if you are looking for something to soundtrack your summer vacation or road trip then take a look at my PFH playlists here. You can use the topics drop down to find all my playlists as well as all of my entertainment recommendations including books, podcasts, movies and more.
Something else I've been doing is listening to artists who I love but have maybe only listened to a couple of their best known hits. Going back to their older albums has pulled out some songs that I didn't know I was missing. 
Oh yes she's on a reused streak this month!
What have you been loving recently? I'd love to hear it in the comments below!
Do more on & for the planet, Gabriella