After a two-month-long hiatus as Postcards from Hawaii underwent a whole new redesign, I'm back with my PFH 5 favourites for April. This month I'm sharing some of my new favourite plant-based skincare and makeup, how to get a 10% discount on second-hand luxury items, where to find the best Korean doughnuts in Vancouver and I'm sharing more on the big changes that went on over the past few months here on PFH.
After months of work behind the scenes the new Postcards from Hawaii launched earlier this month. With a whole new look and features designed to make finding the content you love most easier than ever, PFH is now a lifestyle and travel blog ready to help you do more on and for the planet both on your travels and at home! 
Here are some of the big changes: 
Save your favourite posts
Tired of scrolling to find your favourite blog posts or see something you want to come back to later? Now you can make an account and SAVE those posts! 
To make an account find the pink box on the right of this blog post and click "register" or you can create one using the application form at the bottom of this page.
By saving posts you'll be helping me see what you want more of on Postcards from Hawaii so be sure to save everything you'd love more of!
I've created more categories and filters than ever before. Now you can filter recipe content by cuisine or method of cooking, you can search for sustainable content for home or travel, you can find all of my DIY tutorials in one place for when you're feeling crafty and you can specify wellbeing content from menstrual health to mental and physical.
There's so much to explore on PFH, take a moment to float around the menu and see for yourself.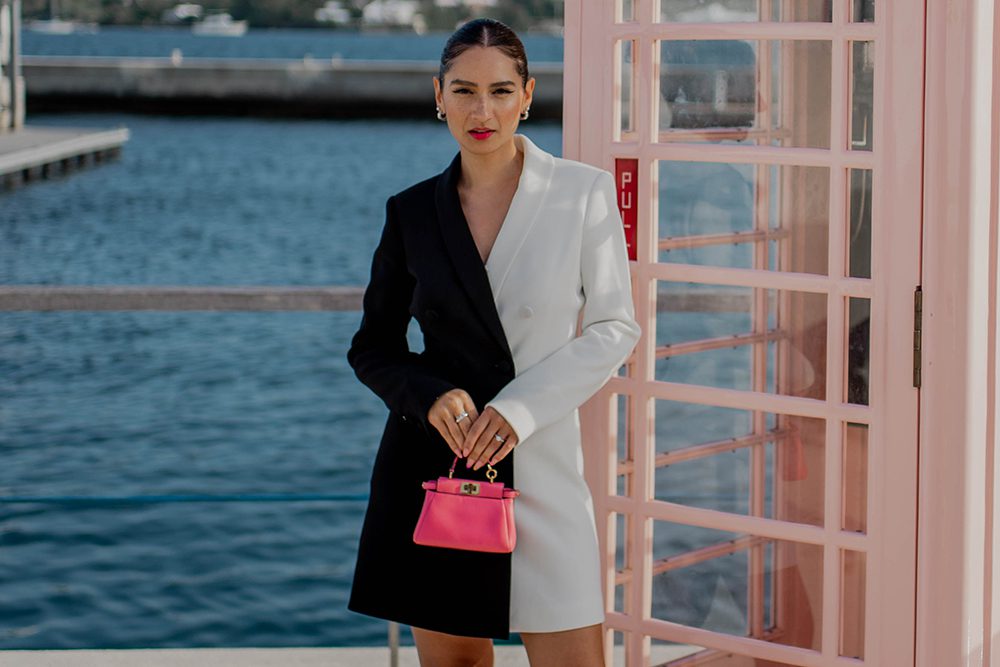 Mine and Yours is a luxury consignment store based in Vancouver, Canada. 
Founded by Courtney Watkins in 2013, Mine and Yours delivers luxury items at more affordable prices whilst actively closing the loop on overconsumption in the fashion industry. 
"Our mission is to foster a community of women who invest in themselves – and their closets" – Courtney Watkins
Making fewer and more considered purchases for your wardrobe slows down the demand for mass production of garments, so by choosing to invest in a few pre-loved items you can not only look incredible but you can help make a positive impact on our planet.
For extra savings, use code "PFH10" for a 10% discount on your Mine and Yours purchase.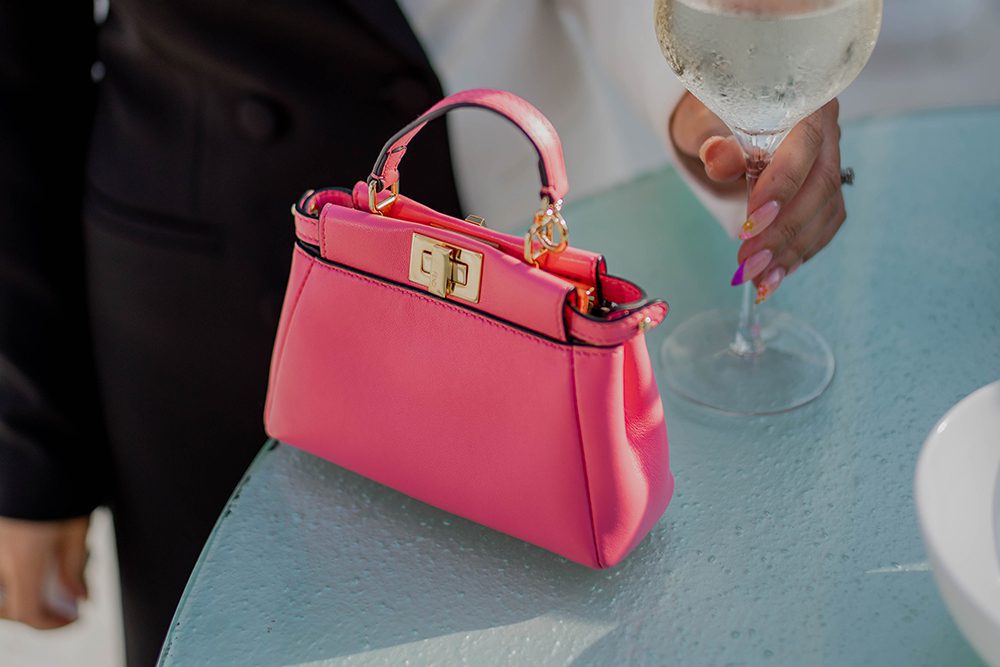 With two physical boutiques – one on Davie and the other on Howe – and an online shop, finding pre-loved luxury in Vancouver is more accessible than ever.
I have had so many compliments on my micro Peekaboo Fendi since I purchased it. Get 10% off your next compliment with code "PFH10".
If second-hand designer items rings a bell here that's because I've shared my love for Sellier here before. Sellier of Knightsbridge is my go-to for pre-loved luxury items in the UK.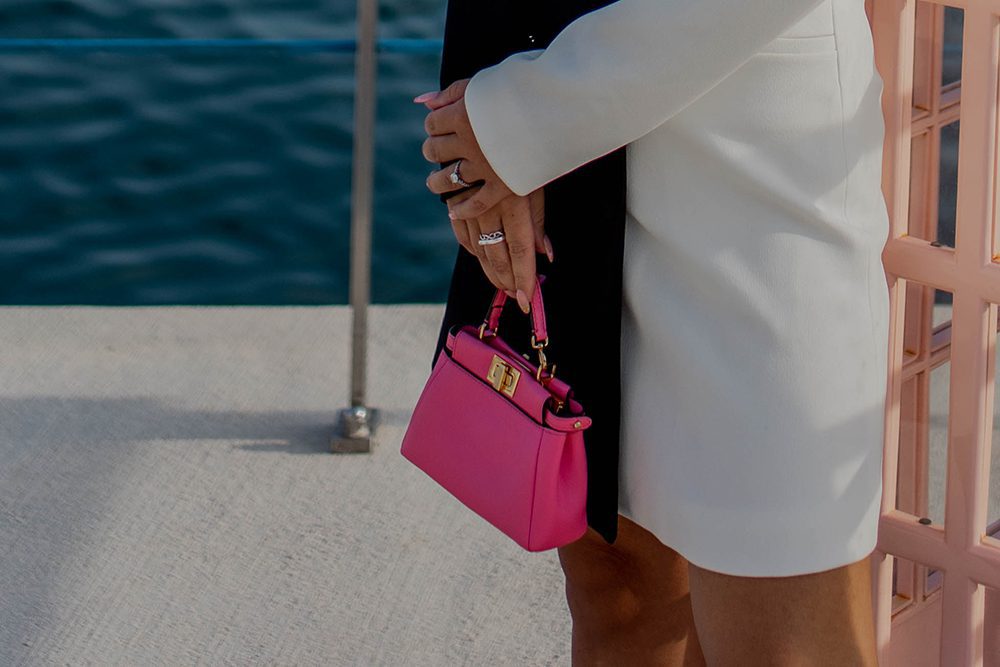 The following three factors had me seeking out new skincare:
Turning 30, it's true what they say, your skin does change in your late 20s.
Hormonal skin drama that as this was published was still being investigated.
Moving abroad meant I had given away almost all of my skincare so I had the opportunity to try something new.
There are a two things I consider when buying new skincare, the first is natural ingredients and the second is the packaging. Not all of the products I use are natural but I like a good quantity to be and when I learnt about how Caudalie uses 98% natural and organic ingredients my curiosity piqued. Caudalie also packages their products in recycled or bio-sourced plastics, glass (which is infinitely recyclable) and wood. Plus their boxes are made from FSC paper and printed with vegetable inks.
"Beauty from the vine. Effective and Clean. Natural and Sustainable." – Mathilde Thomas, Founder of Caudalie.
Caudalie came about as an effort to prevent the waste of by-products from wine production in France whilst also utilising the powerful antioxidants that can be found within grape seeds.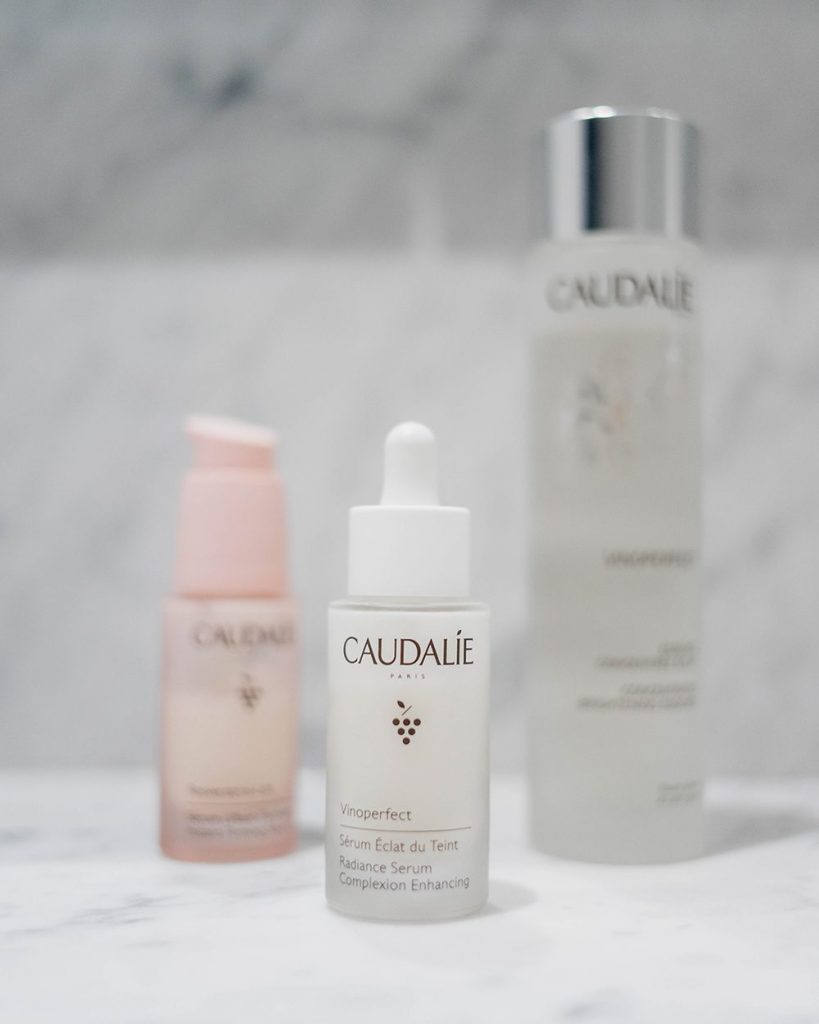 The Caudalie products that I've been using are Vinoperfect Complexion Enhancing Radiance Serum which I apply in the morning, Resveratrol-Lift Instant Firming Serum for PM use and the Vinoperfect Concentrated Brightening Glycolic Essence which I apply before using either of the aforementioned serums. I've been using these products in combination with my regular skincare products and have found my skin to have become noticeably brighter and more even.
If their commitment to natural ingredients and responsible packaging wasn't already enough for me, one look at the founders, Mathilde and Bertrand Thomas would have been enough to make me want to use their products. Holy Moly! I could not believe they founded Caudalie in the 90s, their skin is incredible!
Caudalie is also a part of 1% For The Planet and contributes to global reforestation projects.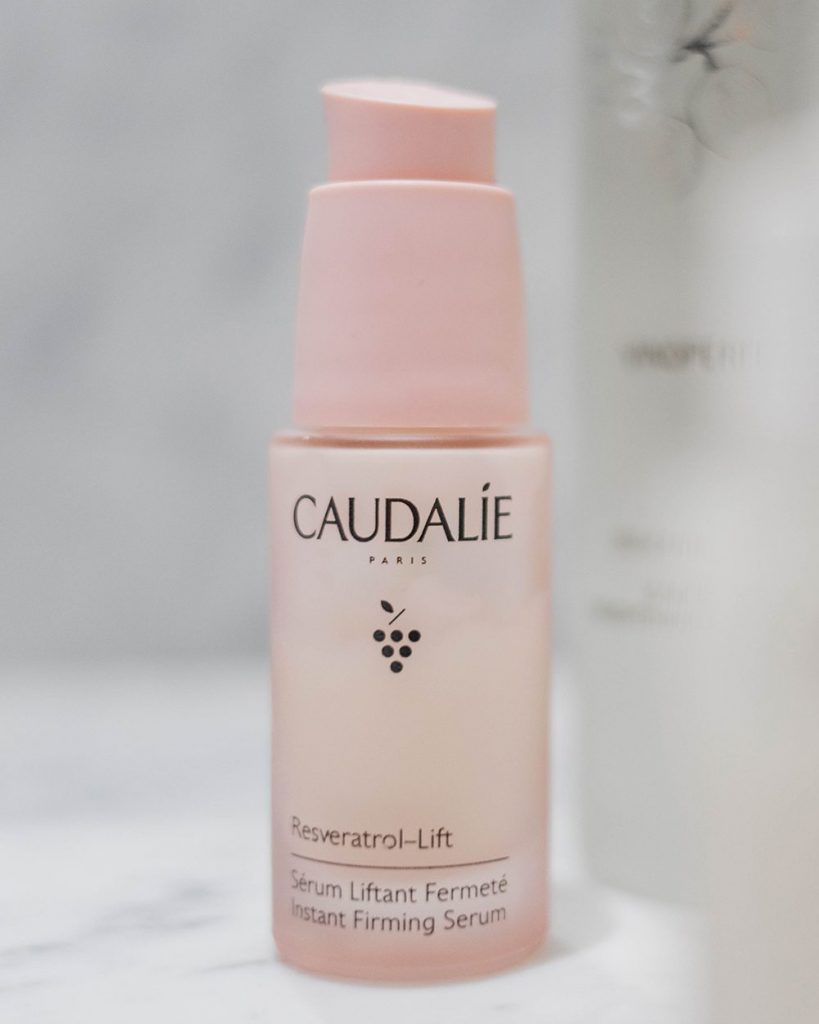 4. Rare Beauty's Positive Light Tinted Moisturiser SPF 20
As I mentioned briefly over in my Caudalie Paris review, my skin has been changing and whilst I spent most of my 30 years avoiding foundation I have been loving Rare Beauty's Positive Light Tinted Moisturiser SPF 20. 
If you're not familiar with Rare Beauty, it is actor, musician, philanthropist and every millennial's girl crush: Selena Gomez' skincare and beauty line. Her products are vegan, cruelty and paraben free and above all designed to enhance everyone's natural beauty rather than trying to conform to society's unrealistic standards of "perfection". In true Selena fashion, each product is designed to do good and feel good.
Foundation has never been a part of my regular makeup routine. For many reasons I wasn't interested but the main one was that I didn't want something that would conceal my freckles which are a defining part of my bi-racial identity. 
"Being rare is about being comfortable with yourself. I've stopped trying to be perfect. I just want to be me." – Selena Gomez.
So when I saw Rare Beauty had a new product that was offering to blur pores and cover blemishes without disguising my freckles – oh and it moisturises my skin whilst protecting it from sun damage – yeah, I was sold.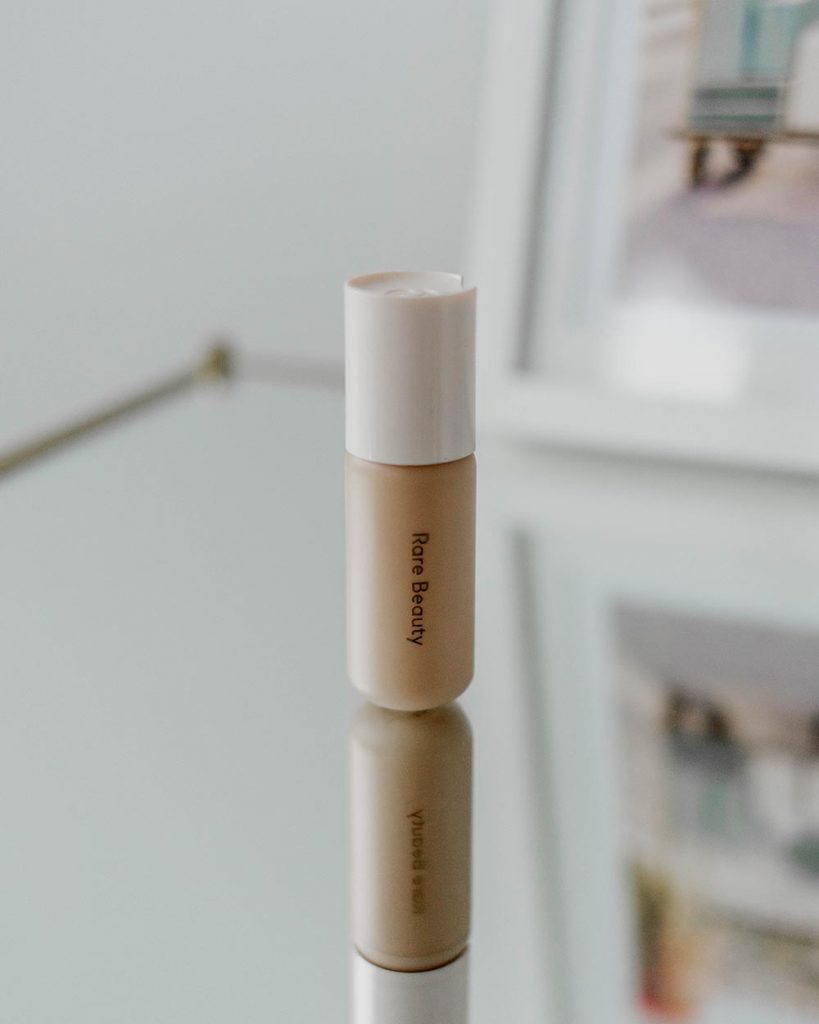 This little bottle of Positive Light Tinted Moisturiser SPF 20 has actually become one of my favourite products in my makeup routine now which is why it has a place here on my PFH April favourites. It applies efficiently, doesn't feel cake-y and stays put the whole day.
My winter-skin shade is 32N.
The Positive Light Tinted Moisturiser SPF 20 isn't the only Rare Beauty product I own, in fact I've been getting the most compliments on my eyebrows since I started using their Brow Harmony Shape and Fill Duo. I also love their Lip Soufflé Matte Lip Cream, it genuinely never dries my lips out, and the Perfect Strokes Universal Volumising Mascara overtook Charlotte Tilbury's Pillow Talk Push Up Lashes mascara as my go-to.
Rare Beauty is available online and in Sephora and Space NK.
No one does doughnuts better than North America so when my brother came to visit us here in Vancouver in March 2022 we went on a quest to find the best doughnuts in and around the city. After multiple doughy pillows of joy were consumed (blog post to come) we came to the unanimous vote that Nukid on Robson wins.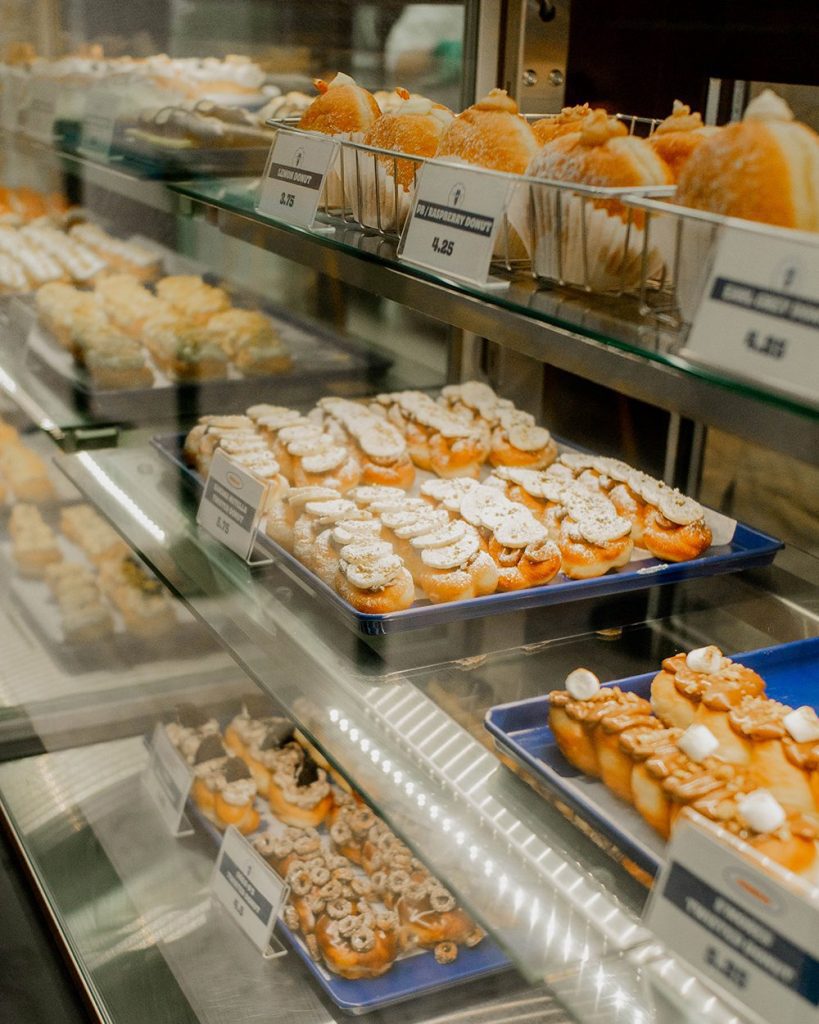 Closer to West End than Downtown is where you'll find Nukid, the Korean doughnut shop that will knock your socks off.
Whimsical, seasonal flavours will keep you on your toes whilst their classics call to you from across the city. Do I dream of floating on clouds of their light-as-air, creamy milk filling? What? No. Maybe.
I can't remember what I was going to say because I'm only thinking of their doughnuts now.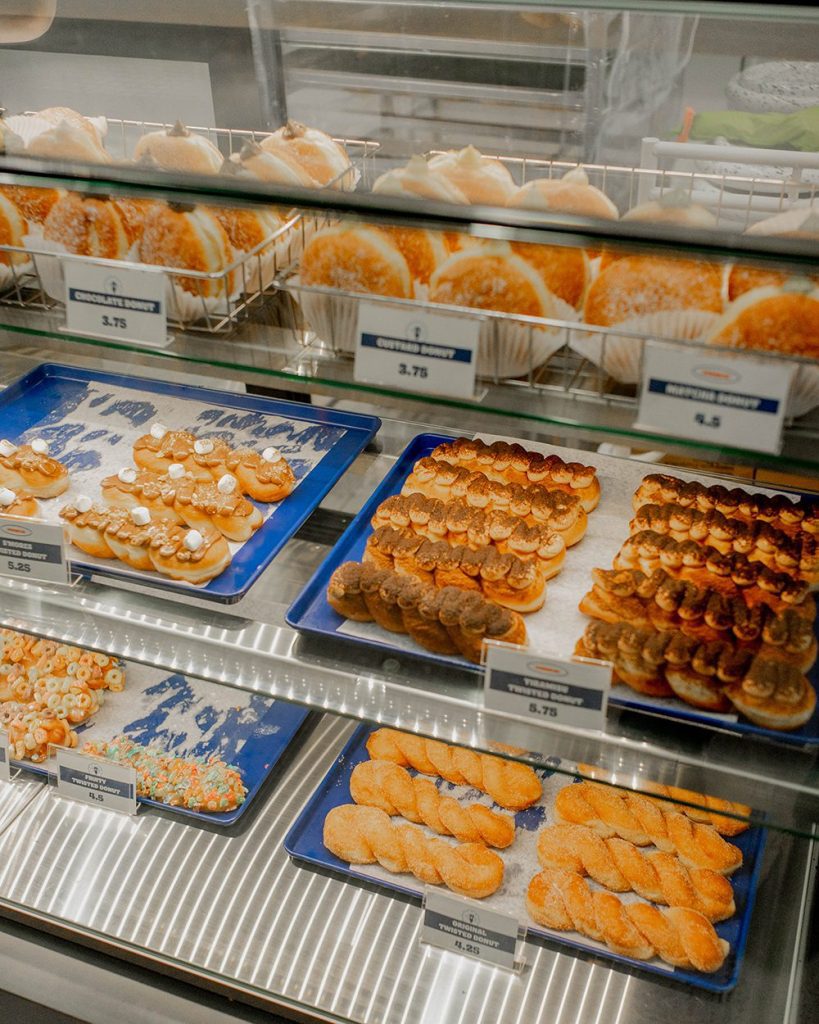 .
Do more on & for the planet, Gabriella