With scenery that renders you speechless, there's no arguing that the United States of America has many of the most beautiful national parks in the world. In a trip to Arizona and Utah in February 2020, we covered Zion, Bryce Canyon, Monument Valley and Horseshoe Bend, all of which are breathtaking.
Let me take you through what to do, what to wear, admission costs, opening times and safety tips for these four National Parks, Federal Lands and Navajo Tribal Parks in both Utah and Arizona.
What to do
Zion National Park
Zion National Park was Utah's first ever national park and has a rich history that records civilisation from 12,000 years ago! To read more click here.
Shuttles run throughout the park from March – November to reduce traffic and ease parking within the park during peak times.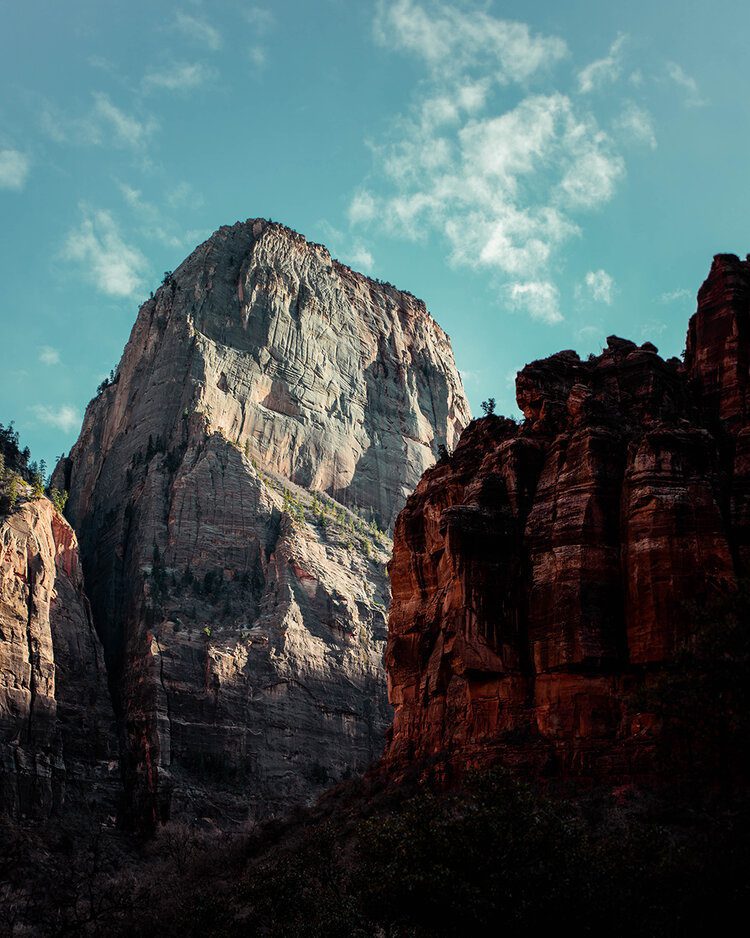 The Narrows
The full hike through The Narrows via Riverside Walk takes 8hrs and is 9.4miles/15.1km long. 
The Narrows is popular because the trail winds through the canyon 2000ft deep and in places is only 20ft wide. The hike takes you upstream of Virgin River so be prepared to get your feet wet, at the very least.
This area is the most popular in Zion but it is also prone to flash floods. In summer it's not too much of an issue, if you don't mind hiking through water, because it's warm but in winter, the park guides recommend wearing a wetsuit as the water can be freezing. When we visited, we were limited as to how far we could go because the water was above my knees and there were icicles and thin ice sheets forming.
For that reason we weren't able to experience the canyon, but I highly recommend that you dress fully equipped and make the hike in warmer weather if you can!
Zion-Mount Carmel Highway
On our last day in Zion we were coming back from Bryce Canyon which took us via the Zion-Mount Carmel Highway. This slow but beautiful road sends you winding around massive sandstone cliffs of red, orange, peach and cream, each more dramatic than the next. 
Theres a couple of overlook points where you can pull over to enjoy the view. I suggest you plan to do so during golden hour when the sun hits the cliffs and sets their colours on fire.
It's not possible to rush on this road so sit back and take in the view.
Bryce Canyon 
Bryce Canyon features the world's largest display of hoodoos. Hoodoos are irregular rock formations that are shaped like spires. They form when moisture gets into the canyon's walls, freezes and expands. As it expands it cracks the rock creating holes. As these holes grow they form arches which eventually collapse leaving behind columns. Rain further shapes and dissolves the limestone pillars and columns giving them all sorts of bulbous shapes that are then called hoodoos. Hoodoos are forming all the time, constantly changing the landscape of the canyons.
Shuttles run throughout the park from April – October to reduce traffic and ease parking within the park during peak times.
Bryce Amphitheater 
Bryce Canyon is made up of multiple natural amphitheaters/bowls, the most popular being Bryce Amphitheater which can be viewed from these four points:
Bryce Point

Inspiration Point

Sunset Point

Sunrise Point
These points each have car parks/parking lots and all but Inspiration Point are featured on hiking trails. As the weather was a shocking -22°C/-7°F with knee deep snow, we decided not to brave any of the hiking trails but I do know that the Navajo Loop Trail is the most popular in the park, it's 2.3miles/2.16km and takes you into the amphitheater amongst the hoodoos.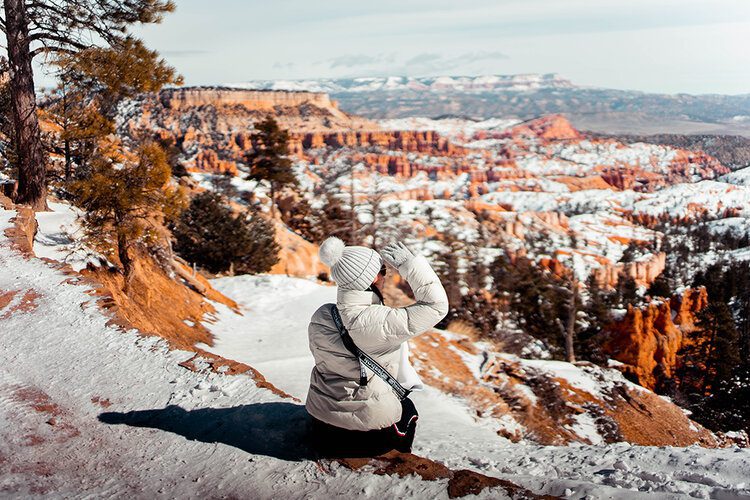 Natural Bridge
Natural Bridge is one of several naturally formed arches of rock within the park. It is the easiest to view if you are travelling by car. A small car park/parking lot overlooks the Natural Bridge right alongside the only road running through the park at this point. In summer the red rocks contrast the thick green forest below, and in winter, the snowcapped forest.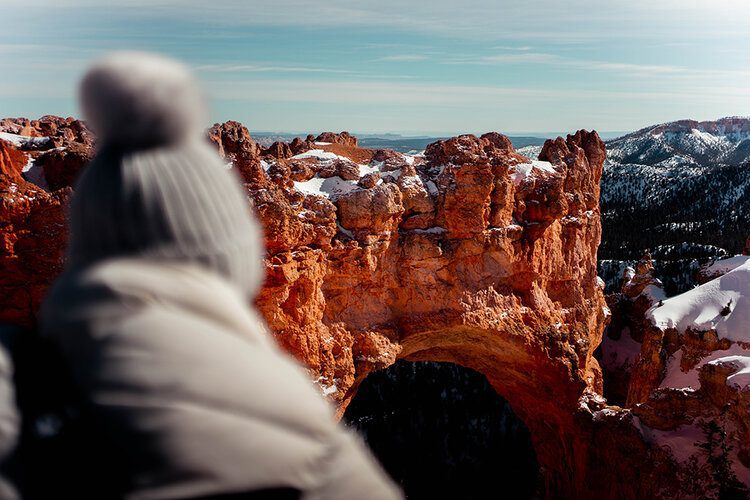 Rainbow Point and Yovimpa Point
Rainbow Point and Yovimpa Point are the farthest points on the road within the park. From Rainbow Point you will be able to see the entire park. Make the short walk down to Yovimpa Point to best view the Grand Staircase: the sequence of rock layers named for their dominant rock colours.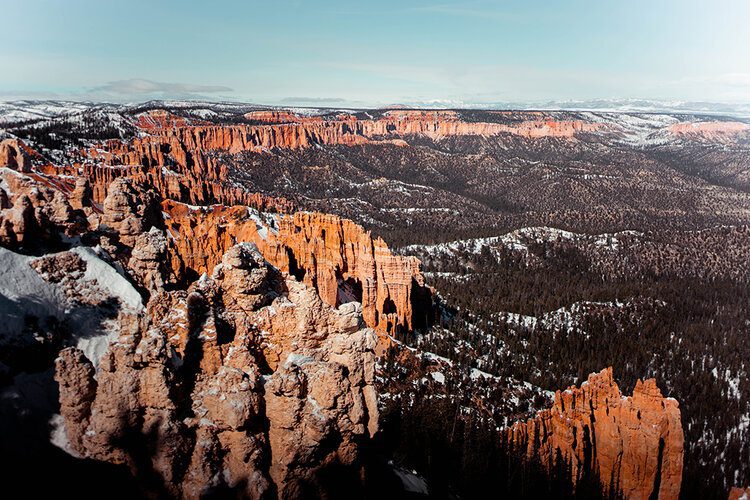 Monument Valley
Monument Valley is a Navajo Tribal Park in Southeastern Utah and is one of the most iconic symbols of the American West thanks to Hollywood and the many, many spaghetti westerns filmed across these lands. Some of the most famous films featuring Monument Valley are: 
"Stagecoach" (1939)
"Billy the Kid" (1941)
"How The West Was Won" (1962)
"Once Upon a Time in the West" (1968)
"Indiana Jones and the Last Crusade" (1989)
"Forrest Gump" (1994)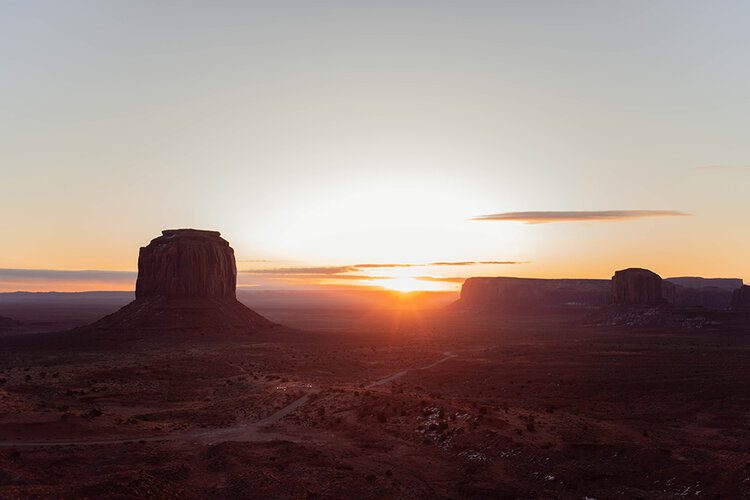 Scenic Drive
The Scenic Drive is 17miles long and takes you on a loop through the distinctive 400 – 1000ft high monuments of the valley. You can either book onto a tour or drive it yourself, but the backroads are rough and an off-road vehicle is well advised. 
Depending on how long and often you stop for photos the drive will take about 2hrs.
Horseback riding
The very best way to experience Monument Valley is horseback. Ride western style through part of the valley where you can get up close and personal with some of the most famous monuments in the park.
The stables of Sacred Monument Tours is located just a 3mins drive from The View hotel (see more below) and offers 1 hour, 2 hour and 3 hour trail rides starting from $80 per person (2 ppl minimum).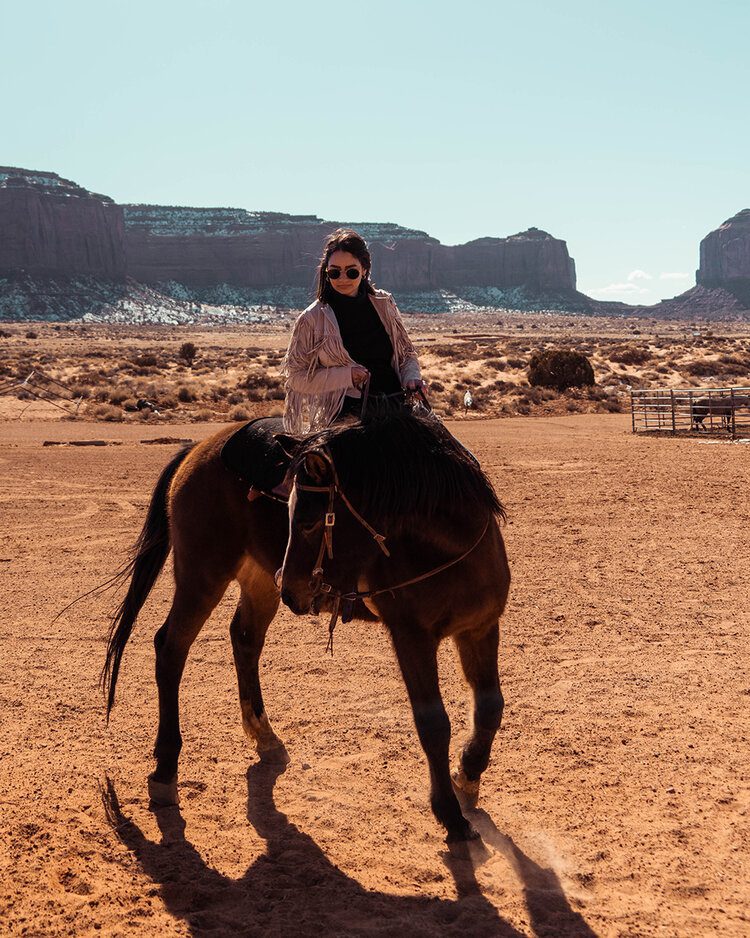 Bring something to cover your face e.g. a coat with a high collar or a scarf because in summer the sand will kick up in your face and in winter the windchill is almost unbearable. 
The ride includes a guided tour where you'll learn a little about Navajo culture, the monuments surrounding you and where they feature in popular culture. For example, the stables are the main location for the film "She Wore A Yellow Ribbon" (1949).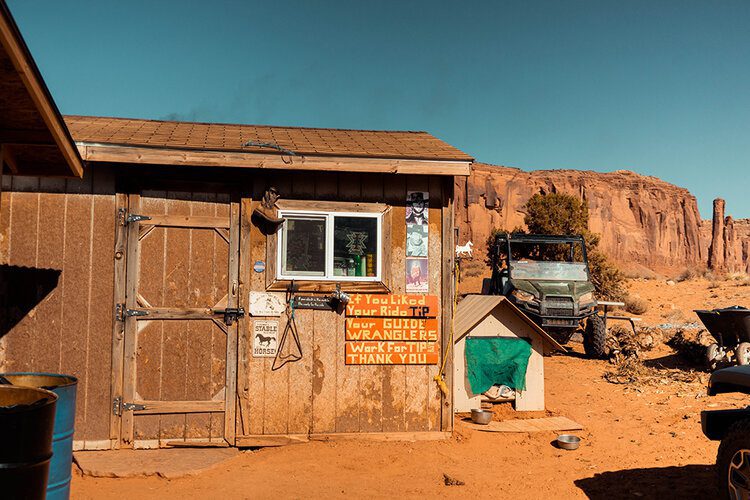 This was by far my favourite part of our trip through Arizona and Utah. The views were breathtaking, the horses were well trained, the ride was informative and the sense of peace and solitude was humbling.
Highway 163 Scenic Drive
Drive out on Highway 163 Scenic Drive for one of the most iconic views of Monument Valley. From Instagram to Forrest Gump, this road is world famous and will take your breath away.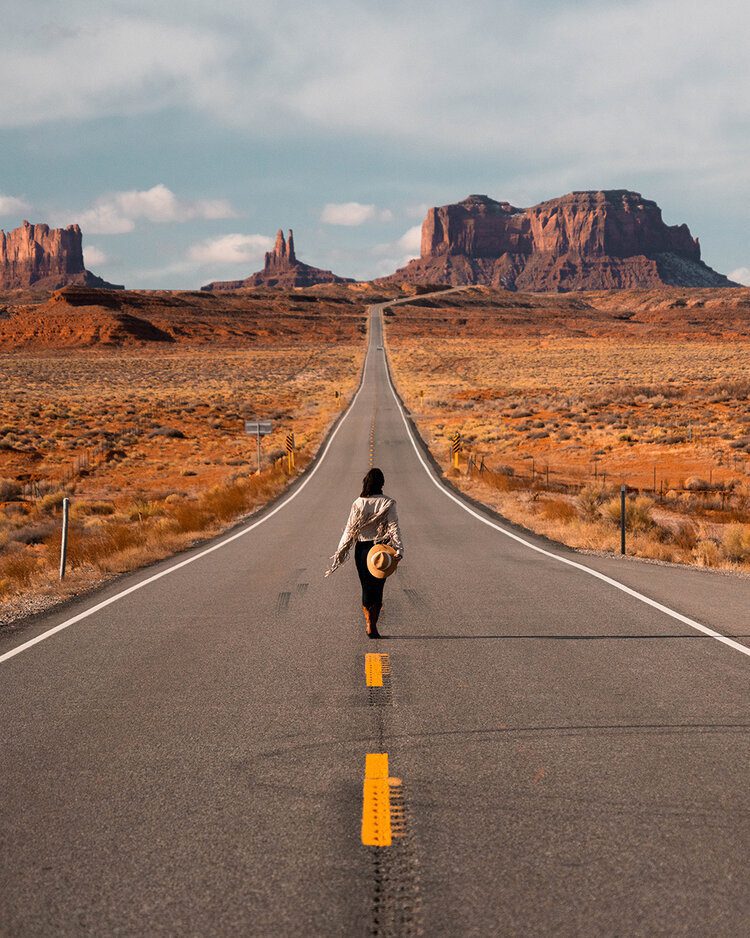 The approximate location is marked out on the map below under "Forrest Gump Hill" but it's up to you how close you want to be, there are multiple lay-bys along this section.
This is a main road so be mindful of cars, the earlier you can visit, the better.
View the night's sky
Take a trip out after dark to gaze up at the night's sky, uninterrupted by light pollution, it will be one of the clearest views of the Milky Way you could ever see.
Horseshoe Bend
Horseshoe Bend is named after its shape. This meander in the Colorado River has become a popular stop for those passing through to Utah or visiting the Grand Canyon.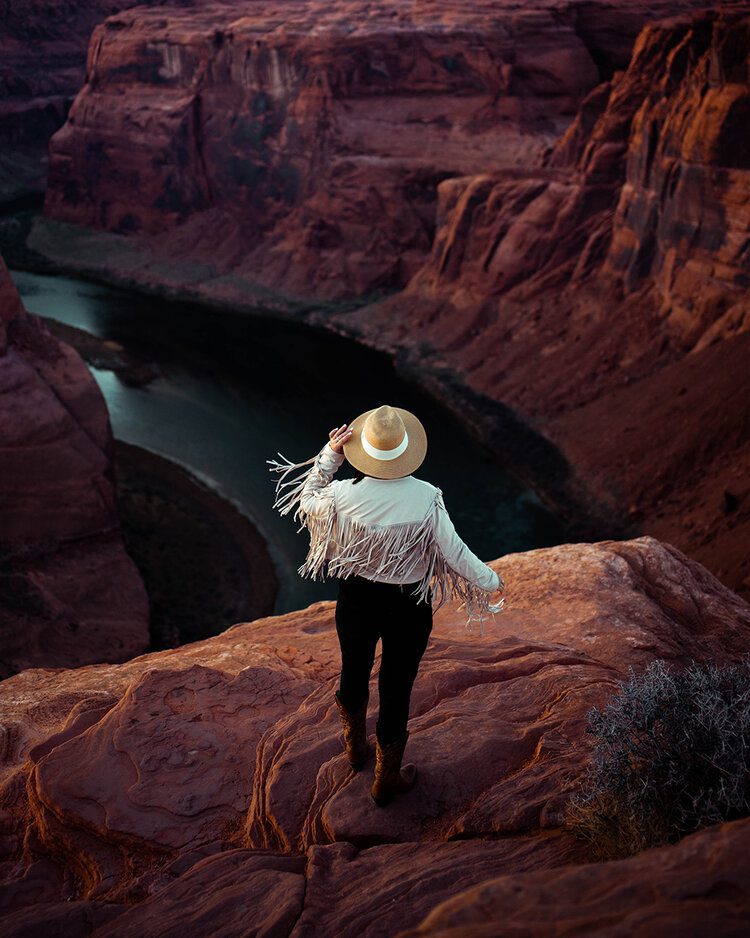 The walk to the canyon's edge from the car park/parking lot takes about 15-20mins. At the edge you will be able to look straight down to the river running at the bottom of the 1000ft drop. The best place to get photos is to the left of the barriers where a large rock sits atop of a wide overhang. If you want someone to take your photo, stand on the overhang and have them take it from the top of the rock. It's much safer than standing by the edge and it will fit more of the view in.
Admission costs
My biggest piece of advice in this blog post is to purchase an annual pass to the National Parks and Federal Recreational Lands of the United States of America because you'll be saving money after two National Park entrance fees so if you have any intentions to visit more than two you're as good as gold. 
However, the pass will not give you access to all of the parks in America for example it doesn't get you into Monument Valley or Horseshoe Bend, but I still recommend getting it even if you're only visiting Zion and Bryce Canyon as each of those are $35 each for a 7 day pass whilst the annual pass is only $80 for a whole year!
If you do purchase a pass, fix it to the car pass and hang it from the rearview mirror anytime you are in the National Parks or Federal Recreational Lands of the USA.
Annual pass $80
Volunteer pass Free
Senior Pass Annual (must be a citizen of the United States) $20
Senior Pass Lifetime $80
Access Pass Free
US Military Annual Free
For a full list and map of the parks and lands included click here.
For FAQs click here.
Zion National Park
$35 per vehicle – 7 day pass
$30 per motorcycle – 7 day pass
$20 per person, no car – 7 day pass
$35 per group of non-commercial organised groups – 7 day pass
$70 Zion annual pass
Bryce Canyon 
$35 per vehicle – 7 day pass
$30 per motorcycle – 7 day pass
$20 per person, no car – 7 day pass
$40 Bryce Canyon annual pass
Monument Valley
$20 per vehicle 
$10 per person, no car – 7 day pass
Horseshoe Bend
$10 per vehicle – one time use
$5 per motorcycle – one time use
Opening times
Zion National Park
Open every day of the year for 24 hours.
Visitor Centre is open 8am to 5pm.
Bryce Canyon 
Open every day of the year for 24 hours.
Visitor Centre is open 8am to 8pm in summer, 8am – 6pm in fall/autumn and spring and 8am – 4.30pm during the winter.
Monument Valley
Open every day except Thanksgiving Day, Christmas Day and New Year's Day.
Scenic drive is open 6am – 8:30pm May – September and 8am – 4:30pm October – April. 
Visitor Centre is open 6am – 8pm May – September and 8am – 5pm October – April.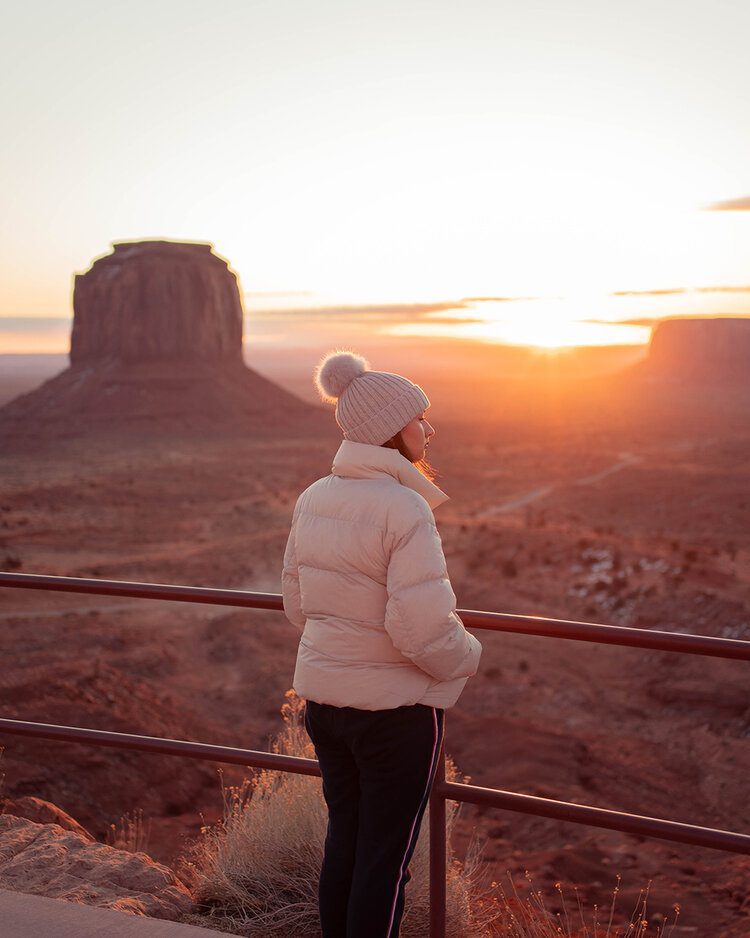 Horseshoe Bend
Open every day except Thanksgiving Day, Christmas Day and New Year's Day.
Open from dawn until dusk.
Where to stay
La Quinta Inn & Suites by Wyndham at Zion Park/Springdale
We chose not to spend a lot of money on accommodation across these parks because we would not be spending much time in them other than to sleep. We knew we would spend our days out exploring the national parks, and as it was winter and the sun set early, we saw no reason to spend money on views that we wouldn't be able to enjoy from the room, so we stayed in budget hotels.
The room at La Quinta Inn and Suites had a view of a bush, however the second you stepped out front you were surrounded by orange sandstone cliffs. The room was spacious and included breakfast and parking.
Cost: £68.70/$88
Best Western Plus Bryce Canyon Grand Hotel
Like Zion, we did not spend top dollar on a hotel in Bryce Canyon. The Best Western Plus was centrally located, had breakfast and parking included and the room was very spacious.
Cost: £66.59/$86.06
The View Hotel
The View hotel sits rights in the heart of Monument Valley and has one of the best views. Save a pretty penny by booking one of the "Driver" rooms which overlooks the car park because you can enjoy the view from sunrise to sunset for free either from the lobby, restaurant or outdoor seating area and let's face it, in the day time you're going to be out exploring not sitting in your room!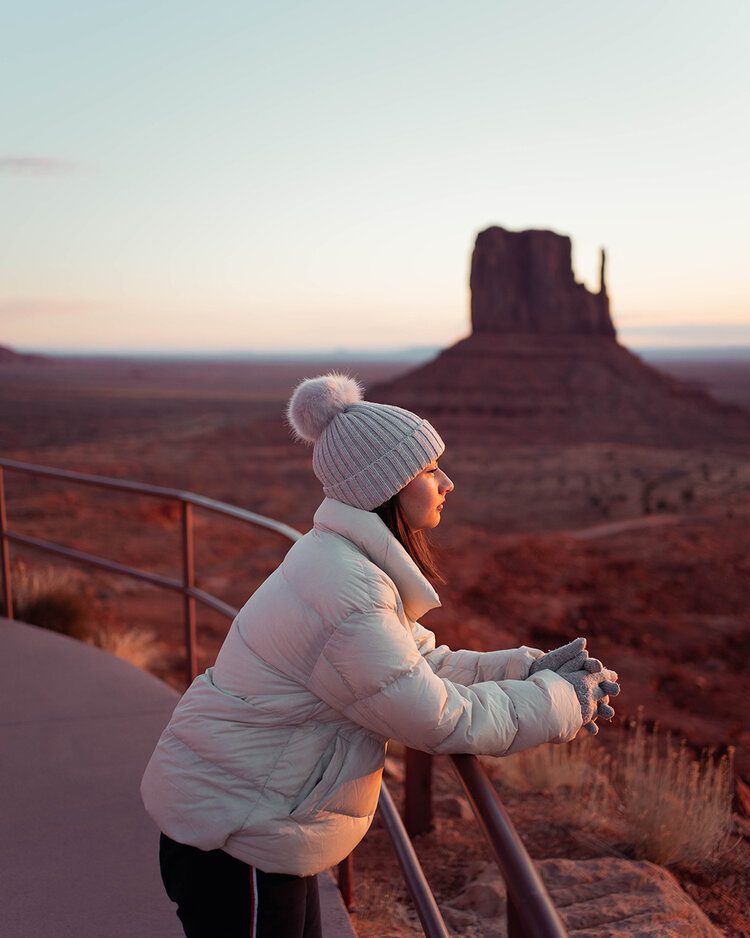 The cost of the room included parking and breakfast. 
Cost: £71.09/$91.87
Heads up, though the restaurant offers INCREDIBLE views of the valley the food is terrible so avoid eating here.
Safety 
Zion National Park
Zion National Park is prone to flash floods. The Narrows is the most popular trail in the park but is highly susceptible to flash floods which can be extremely dangerous. You can attempt to trek through the water in summer but do not do it in winter when the water is close to freezing. We unfortunately could only go part of the way as the water was higher than ankle-deep and had icicles forming but I do have a friend who successfully completed the walk in summer when the water was waist deep because it was warm.
Bryce Canyon 
If you visit in the winter make sure you wrap up warm and wear SENSIBLE footwear. Don't be fooled by the fresh powder, it's concealing ice and the paths are pretty dicey because of it. Watch your footing and stay warm.
Monument Valley
Everyone who visits Monument Valley needs their photo on Highway 163 Scenic Drive, whether it's for the 'gram or because you're a big fan of Forrest Gump, it has to be done. Of course this is a road where cars drive and not a catwalk, so please be very careful when taking photos here. It's quieter in the mornings so aim to get there early.
Horseshoe Bend
Only a very small section of the viewing platform at Horseshoe Bend has a barrier built into the rock, most of it is just open to disaster. Please don't get too close to the edge, IT'S NOT WORTH YOUR LIFE! Just play with angles and you can look close to the edge without actually being so.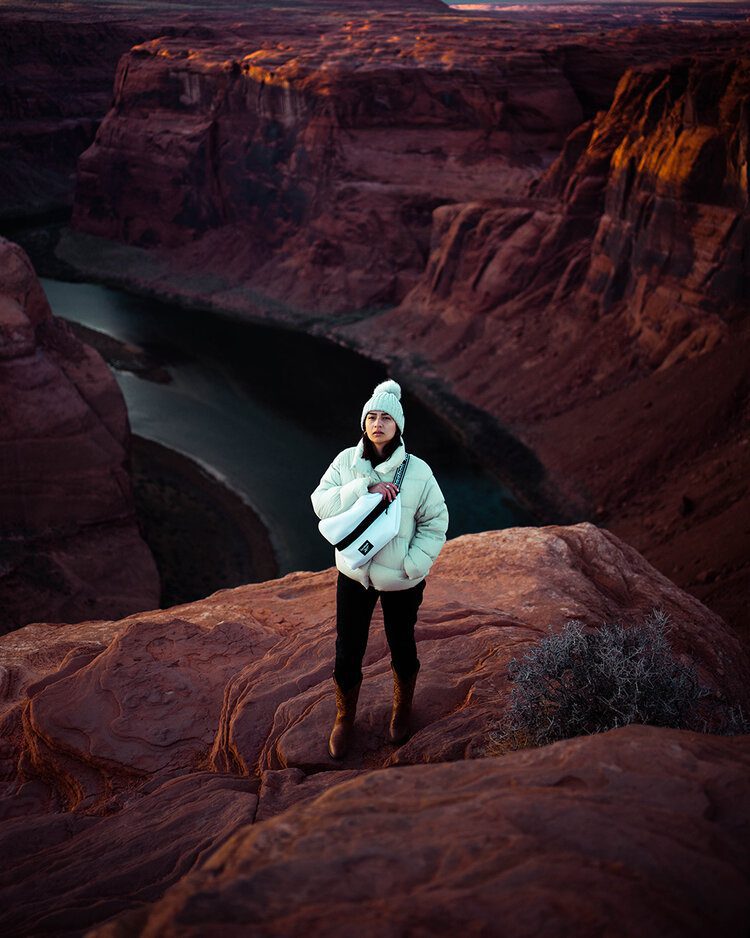 What to wear
These national parks feature some adverse weather going from one extreme to the other. Having visited the Horseshoe Bend in Arizona both in summer and winter, I can tell you that I couldn't believe it was the same place! In summer we had to keep pausing on the walk back to the car trying to calm our racing hearts as we struggled under the burning hot sun. In winter we couldn't bear to wait an extra 10mins for the sunset because even with coats, wooly hats, gloves and thermals, the windchill felt like needles on your cheeks. Even in one season, the temperature across these national parks varies drastically. We visited all four in February and the difference between them blew my mind; whilst Monument Valley was a cool 4°C/39°F Bryce Canyon (due to the elevation) was a bitter -22°C/-7°F. So take my advice, because even if you're not planning to stop for long, you don't want to be ill-equipped in these parks.
Summer
Sunhat

Shorts

T-shirt

Hiking shoes/boots or trainers (NOT flip flops! These parks have treacherous edges that you don't want to stumble near)

Sunglasses
Winter
Wooly hat 

Scarf

Gloves

Sunglasses

Thermal base layer top

Thermal leggings/long johns

Waterproof over trousers (if snow is forecast)

Fleece

Hiking shoes/boots and/or snow boots

Hiking/thermal socks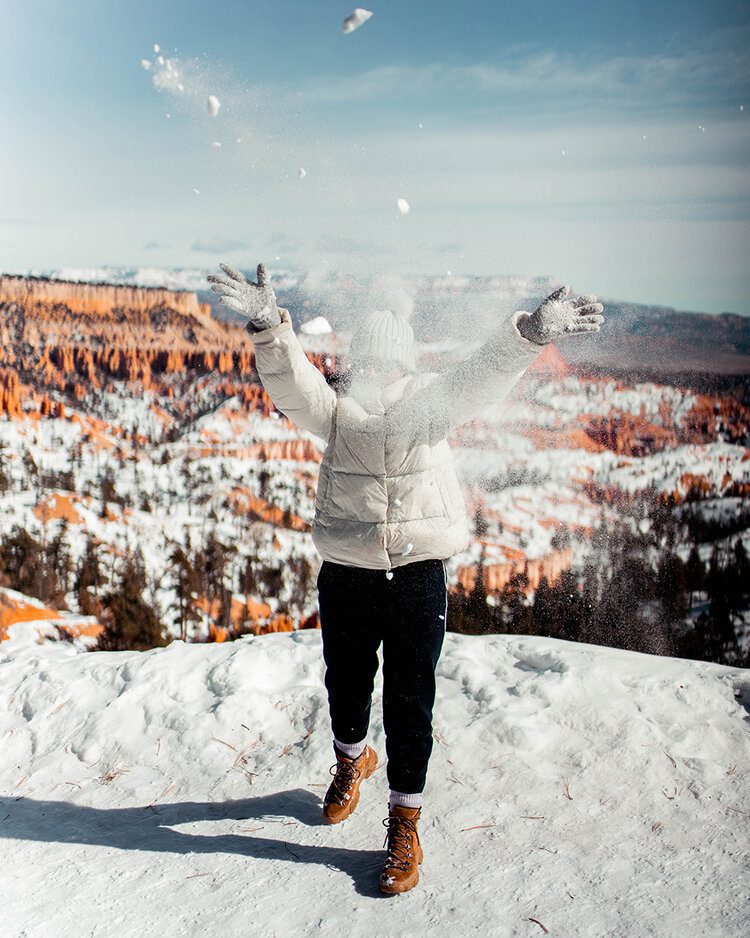 What to bring
Summer
Water – lots of it

Lip balm

Suncream/sunscreen

Camera & tripod

Snacks
Winter
Water

Tissues

Lip balm

Camera & tripod

Snacks

Hand warmers

Thermal flask with a hot drink
.
All costs were accurate at the time this blog post was published.