Approximately 2.5 billion single use coffee cups are thrown away every year in the UK and a staggering 25 billion polystyrene – which will never biodegrade – cups are thrown away every year in the US. Can you believe that? We have become a "throw-away" society, obsessed with convenience and little regard to making things last but there really is no excuse for it anymore. The effects cannot be ignored and we all need to take action. Luckily this is a good place to start!
Of course, the beverage industry isn't the only one to blame, but it's a good place to start as using a reusable cup is especially effective on your travels (which are already contributing to the world's CO2 problem) because we're far from our coffee machines and mugs at home, so the need to order beverages on-the-go becomes higher.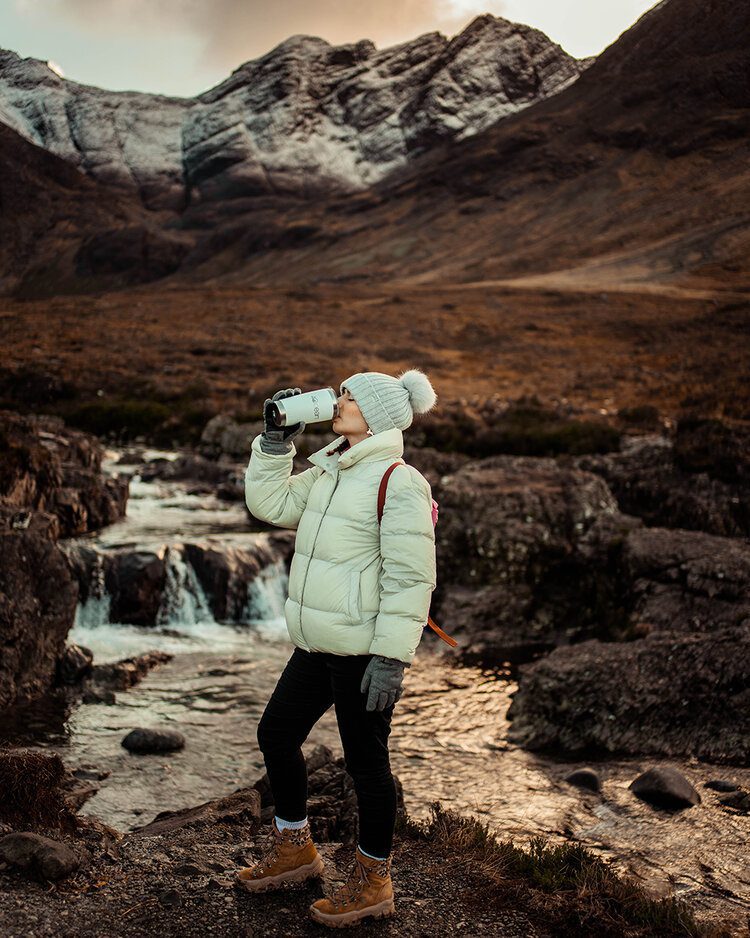 Using a reusable cup is great for the following reasons:
It removes the need for single use cups and even bottles

It helps to save our planet

It saves you money as most coffee shops offer a discount for orders made in a reusable cup

It's convenient for making travel friendly meals in your hotel room, check out my blog post: 6 items for making food in your hotel room for more on that

It will make you feel good
There's an overwhelming choice of cups available out there though, so let me guide you through which is the best reusable coffee cup style for your travel requirements.
1. Plastic – KeepCup 
KeepCup cups comes in a variety of colours, designs, sizes and materials so whether you're looking for something lightweight and durable such as plastic or most sustainable such as glass, they've got you covered.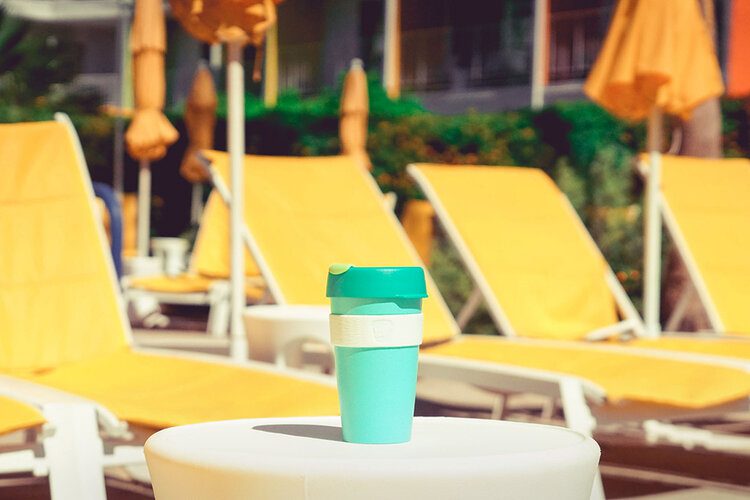 What's good about this cup?
The sip hole can be sealed – this doesn't mean the cup won't leak if you put it in your bag, but it does mean it is less likely to spill as you carry it in your hand

BPA free

Dishwasher safe

Microwave safe without lid

You can fit a reusable straw either in the sip hole or through the lid if you remove the plug

Lightweight which means it won't weight down your luggage
Best for?
Carrying in your bag between uses when you're on the go, the plastic ones are incredible light and are particularly useful on days out
Making travel-friendly meals in hotel rooms, click here to read more

In the car, their small base means they fit into all cup holders
2. Tumbler – Maars
This particular cup was given to me in a welcome gift from the Greater Palm Springs tourism board and is one of the greatest things I have ever been given. I didn't realise how much I would end up loving this style of reusable cup. Thanks to its compact size, I've been able to use this in so many different ways, plus I love that it comes with its own straw! 
Maars is the company that Great Palm Springs tourism board used to make their branded cups, but I have linked some alternatives below.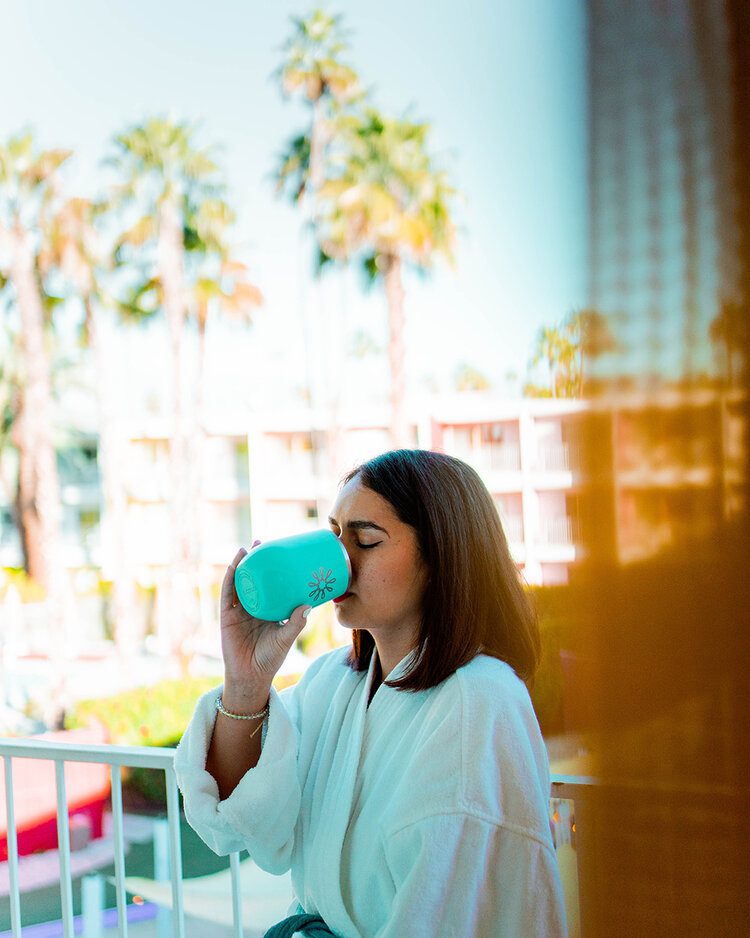 What's good about this cup?
Vacuum lid which means it's far less likely to spill

Thermal so it will keep drinks hot/cold for much longer

BPA free

Comes with a straw so you can drink from it in two different ways

Lightweight and small so it's easy to carry around
Best used for?
On the plane – it saves you from using a single-use plastic cup and is perfect for any beverages, plus imagine your level of superior smug-ness when there's turbulence and you don't have to panic-reach for your cup like everyone else as their precious contents start sloshing around

Carrying in your bag between uses when you're on-the-go

To prevent needing a single use cup when you purchase a soda fountain drink – think fast food outlets and road trips

In the car, especially when you're driving, the straw makes drinking (non-alcoholic drinks of course) whilst driving so much easier than fumbling around with a bottle lid – be safe when driving
3. Thermal cup – YETI 
If you're a slow drinker but like a lot of coffee this is the one for you, as it's thermal it will keep your drink hot/cold for a very long time.
Want to go the extra mile? Then purchase a YETI x 4ocean rambler for $40-45 and pull a pound of rubbish from the ocean!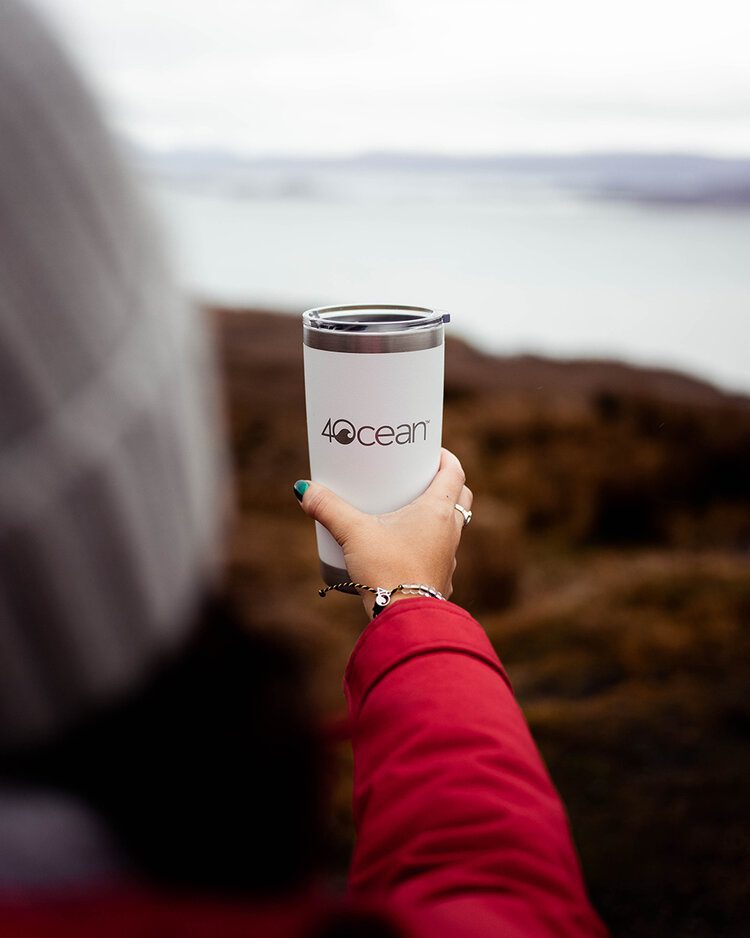 What's good about this cup?
Durable

The sip hole can be sealed – less likely to leak

Magnetised sip hole cover so it's easier to open and clean

Vacuum lid which means it's far less likely to spill

Dishwasher safe

Double-wall vacuum insulation so it will keep drinks hot/cold for much longer

Rust and puncture resistant stainless steel
Best used for?
Adventurers who lead a rougher lifestyle and need something durable

Travellers who have coffee running through their veins

Environmentally-conscious travellers

If you don't want to drink your coffee right away
4. Bamboo – Polū
For the most sustainable option pick up a bamboo coffee cup. Bamboo is an ethical resource and completely biodegradable, and in particular Polū cups are made with recyclable silicon.
If you want to buy your very own compostable Polū coffee cup then click here to make your purchase, and use "POSTCARDSFROMHAWAII" for 10% off your purchase!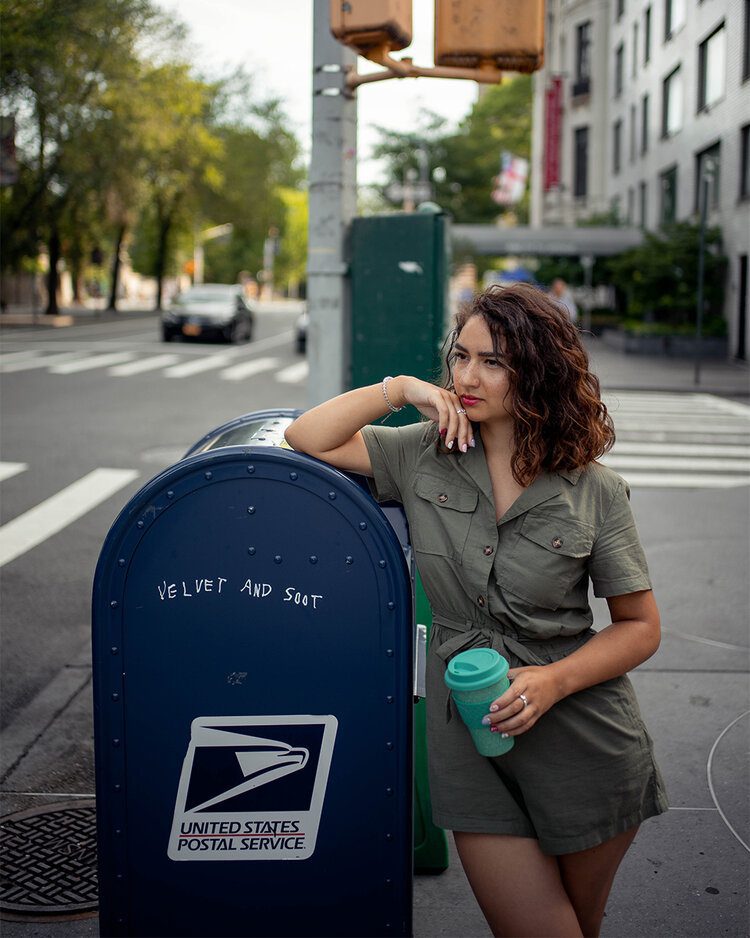 What's good about this cup?
Biodegradable and recyclable materials

50p from each purchase of a Polū cup goes to AccesSurf, a Honolulu based non-profit charity organisation that provides water-based programmes, services, and events for people with disabilities.

The lid is made from silicone so it stretches to fit a reusable straw through the sip hole

Lightweight which means it won't weigh down your luggage
Best used for?
Sitting in coffee shops that don't have mugs (that's one of my pet peeves, when there's no other option to a single-use cup)

Drinking on the go
5. Bottle & cup combo – Dopper
A stainless steel thermal bottle might be your best option if you don't intend on drinking your drink for a while. Say you're going on a hike, you can get your hot beverage of choice to go in your bottle and depending on the brand, it can stay hot for 9-12 hours. If you go for a cold drink such as an iced coffee, you can keep that cold for 24 hours.
Dopper bottles' best feature is that they convert into cups, making your hot beverage far easier to drink if you choose to take a break. Plus, pouring it out means it will cool down so you can drink it then and there. I filled mine with tea and took in with me on a hike in Scotland and was very grateful for my little hot cuppa when my face had near frozen up in the cold clouds.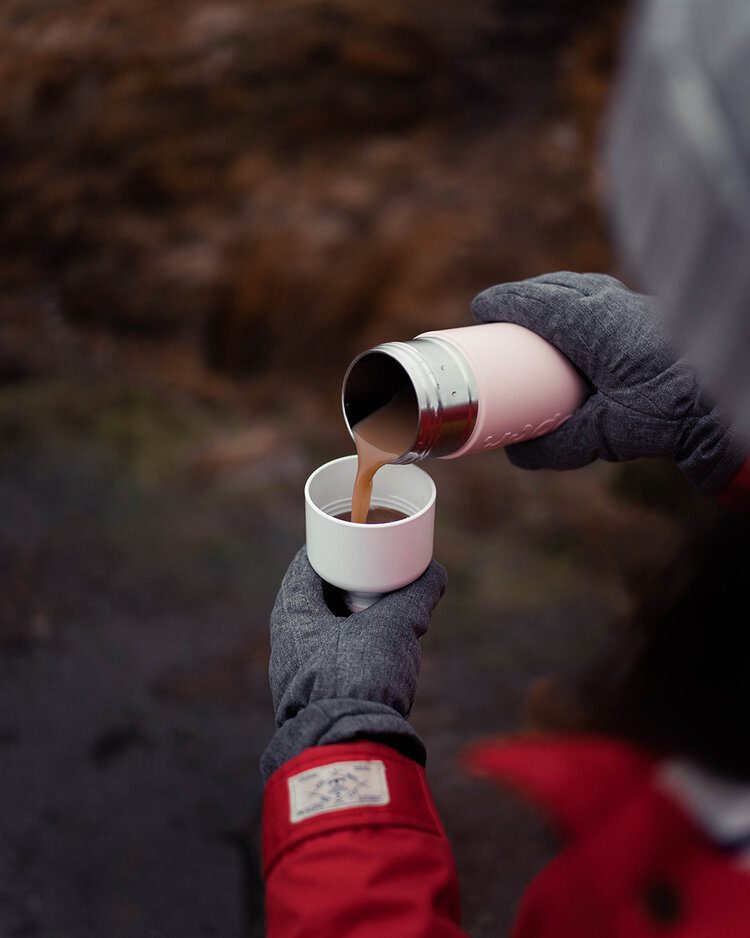 What's good about this cup?
Leak free – it can be completely sealed

A bottle and cup in one

Keeps liquids hot for 9hrs and cold for 24hrs

Dishwasher safe – a lot of big brand stainless steel bottles are 

Dopper bottles are sustainably made

Every purchase of a Dopper bottle helps to fight against ocean pollution

BPA free
Best used for?
Drinking later in the day

No risk of spillage if you need to go hands free (maybe you'll be on a bike)

Hikes or other long days out

On the plane – use the cup to save you from using a single use plastic cup and it's perfect for any beverages
.
If the topic of sustainable travel interests you – which hopefully is one of the reasons you're here – then please take a read of Sustainable swaps for travellers for 25 sustainable swaps you can make on your travels to remove the need for single-use products wherever you are in the world. There's so much more we travellers can do on top of carbon offsetting our flights.
Aloha, Gabriella
.
Products from Dopper, Polū and the cup from Palm Springs have been gifted and as an Amazon and Polū Associate I can earn from qualifying purchases, but please know that I completely support and believe in these companies and products. I use all of these products myself.