For all the times I have recommended street food and national dishes all around the world, I haven't once thought about recommending what tourists visiting the UK should try, until now that is! 
As a generally cold and wet country, our food tends to be on the stodgy and comfort side, focusing on potatoes and meat that can keep us warm, some of our favourites being bangers and mash (that's sausages and mashed potatoes), cottage pie (no pastry involved) , shepherds pie (still no pastry involved) and actual pie with pastry involved. Don't even get me started on the desserts! There's trifle, crumble, Eton mess, jam roly-poly, summer pudding, sticky toffee pudding, bread and butter pudding and spotted dick (no dick's involved) – oh yes, we do dessert very well here.
Amongst all of those extremely delicious delicacies, there's five things that every traveller absolutely must eat when visiting Great Britain:
1. Fish and Chips
Let me start off with a public service announcement before going any further – if you are North American, in the UK chips are not potato chips, those are known as crisps, chips are fries but chunkier, fluffier and better! Don't get me wrong, I love fries, but fries are fast food, guilty pleasures, ordered as a side… chips however, chips are life!
You order fish and chips from pretty much any restaurant in the UK from The Ivy to any old pub, but the best place to go is a local "chippy" either to eat in or take out. Very few foods bring me as much joy as when I unwrap my greasy paper to reveal more chips than I can physically eat and a piece of fish bigger than my head – challenge accepted!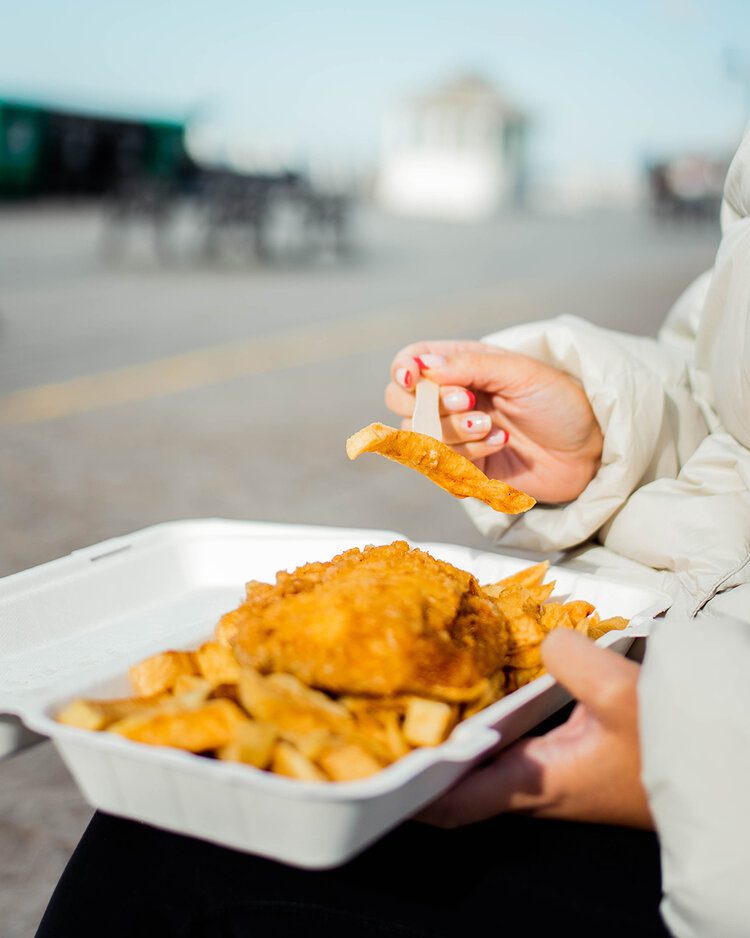 The great fish debate has been going on in households since the dawn of time (or at least fish and chips), and really your choice of fried fish comes down to personal taste. Your options for the most part are:
Alternatives are: fish cakes, scampi a battered sausage or chicken nuggets (a firm favourite with kids).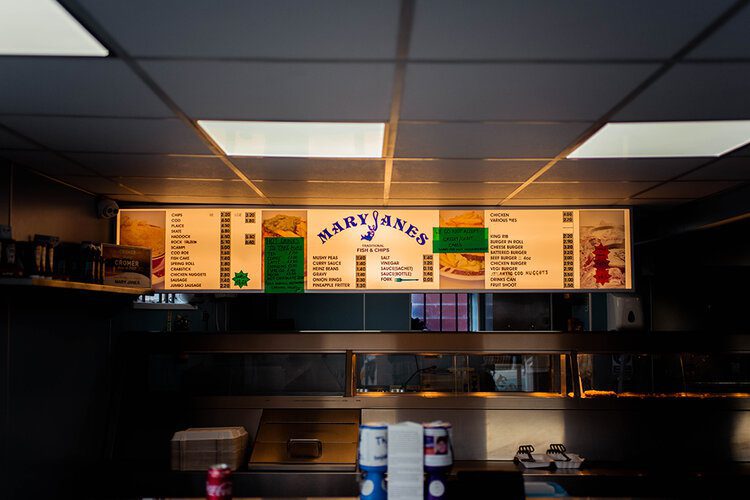 There are three basic sides to fish and chips: pickled onions, pickled gherkins and mushy peas. I don't know why, I don't ask why, I just eat them and they taste good. 
As for sauces, these tend to be a little more regional but they're usually all available:
Curry sauce (which bares zero resemblance to curry but is amazing)

Gravy (that's a northern thing)

Tartar sauce (that's a posh thing)

Ketchup (standard)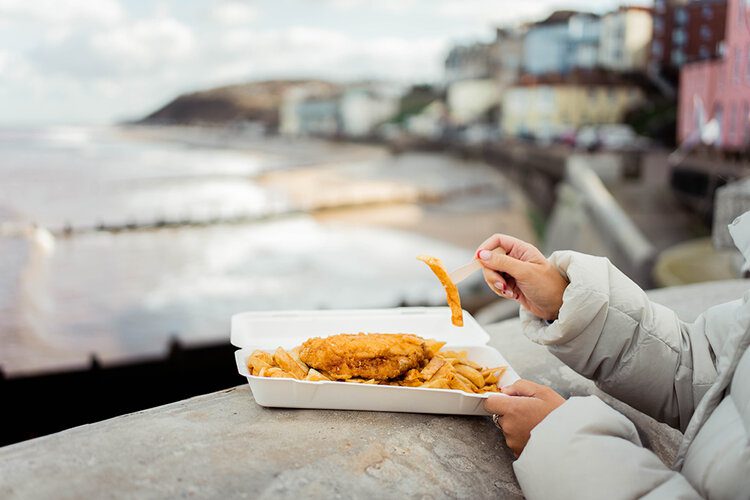 The seasoning though is the most important part: salt and vinegar. Chips without salt and vinegar is like Sonny without Cher, Thelma without Louise, Burt without Earnie, LIFE WITHOUT AIR! They are what bring together this all time favourite meal of the British public. If you're eating fish and chips in a pub or restaurant you will also be given a wedge of lemon for the fish.
Traditionally fish and chips is eaten on a Friday.
2. Sunday roast
A Sunday roast with all the trimmings is probably the British public's favourite meal. It is synonymous with family and is a big home comfort for all Brits. Traditionally it is homemade but the alternative is to go to a pub for a carvery which is a buffet served roast. It's called a roast because the meat and half of the trimmings are roasted, your meat options will be:
Chicken

Beef

Lamb

Pork

Turkey (reserved for Christmas)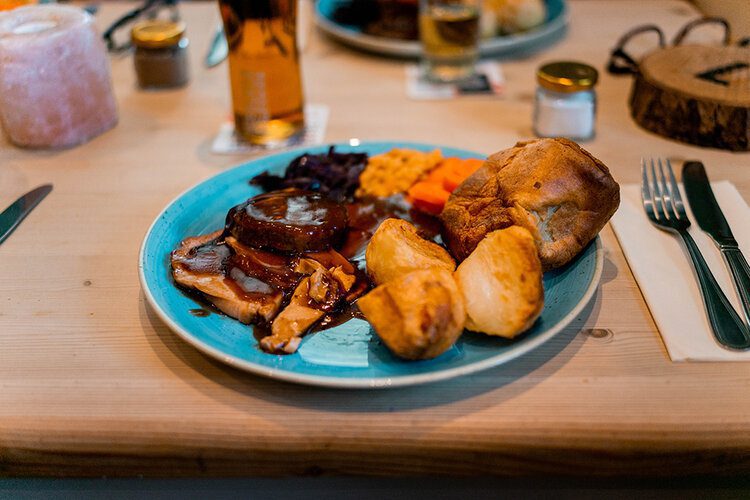 The basic trimmings are:
Roast potatoes

Carrots

Parsnips

Yorkshire puddings

Stuffing

Gravy
Everyone has their own veg favourites so there could be additional ones depending on where it's being served.
Condiments vary depending on the meat, Horseradish goes with beef, mint sauce goes with lamb, apple sauce accompanies pork and cranberry sauce enhances turkey. Chicken has been in a long-term relationship with gravy for so long that when you invite one the other comes too, chicken has no sauce on the side. Some people might serve bread sauce – a medieval sauce made from bread crumbs, butter and milk – but it isn't a popular choice despite what Michael might tell you.
As a tourist visiting who hasn't been invited into someone's home for a Sunday roast, you can get one from virtually any pub on a Sunday. It's not limited to Sunday but traditionally it's eaten on a Sunday for lunch or dinner so Sunday will be your best bet.
3. Fry up
The fry up, otherwise known as a "full English", is the quintessential British breakfast. Some ingredients change between England, Ireland, Scotland and Wales but the following staples stay the same:
Fried egg

Fried tomato

Fried mushrooms

Bacon

Sausage

Baked beans

A round of buttered toast
Black pudding is another core ingredient but is an acquired taste so it's usually an add on.
Top off your fry up with a squirt of HP Brown sauce, a blob of ketchup and a sprinkling of salt and pepper and you're ready to tuck in.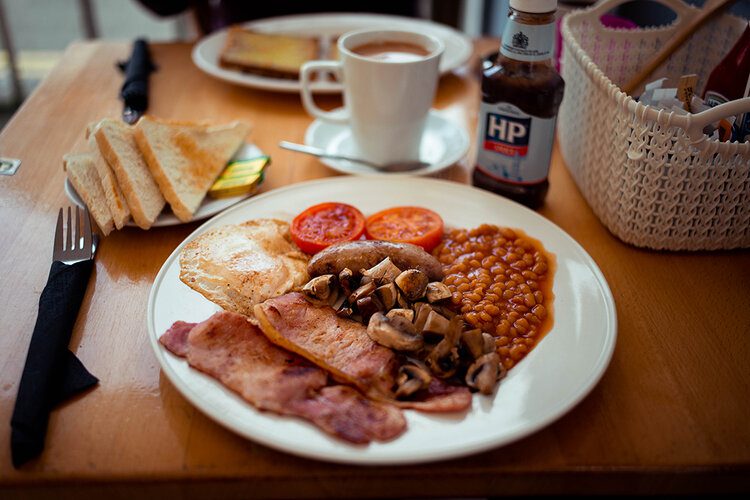 When I was working with children in Paris, the eight year old I was caring for came running across the playground when I was picking her up, looked up at me with disgust and said, "do you English really eat all that meat for breakfast every morning?" – eventually I worked out that she had just learnt in her English class that day about English food and our fry up. I'll never forget the look on her little face! No we don't eat a fry up every day or we would be dead in the ground in our 40s! A fry up is predominantly reserved for a lazy brunch or hangover cure.
You can get your fry up at any greasy spoon café serving fried food and any restaurant or pub open for breakfast/brunch. Your most authentic experience will be in a greasy spoon: an ever so slightly run-down and very cheap café.
4. Afternoon tea
Unlike everything listed above, afternoon tea is on the fancy side of Brit favourites and thanks to social media has become a true experience meal rather than just a slightly extra way to eat cake before dinner.
Afternoon tea is known to north Americans as high tea but they aren't traditionally the same thing. Take a look at this blog post 
PFH Fun Fact: though north Americans call afternoon tea "high tea", they aren't actually the same thing. Afternoon tea originates from the upper classes and royalty as a meal to satisfy the hunger that occurred between lunch and dinner, whereas high tea originates from the working class who didn't have long afternoons to spend eating cake and ridiculously small sandwiches because they were well, working, so they had something to eat much later in the day and far more substantial than cake after a hard day's work.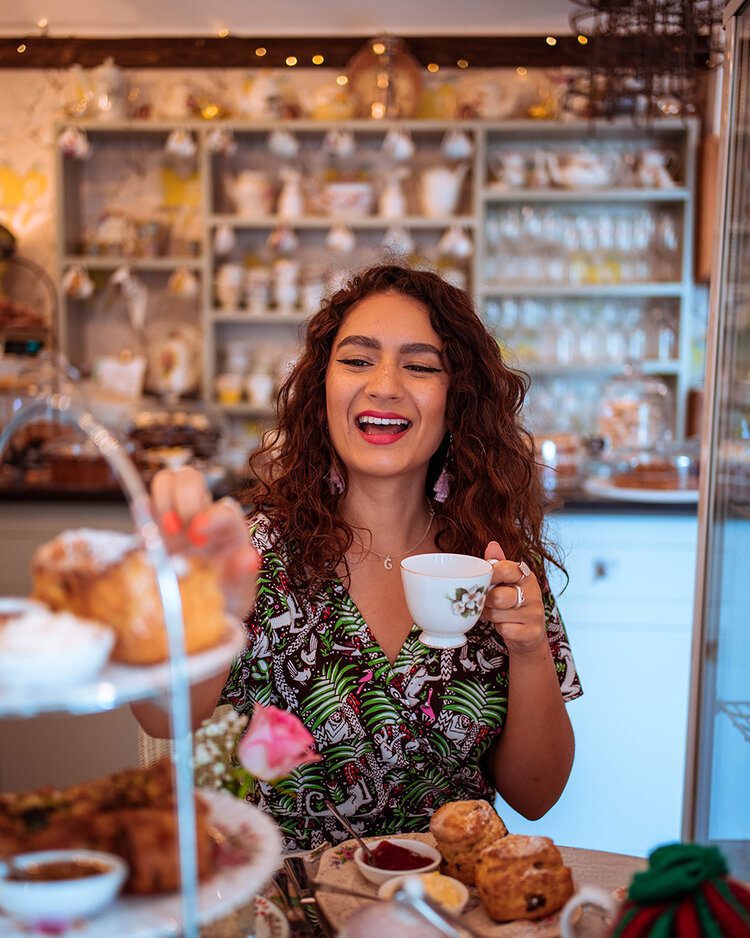 A traditional afternoon tea consists of:
Finger sandwiches (luckily we have progressed past plain cucumber)

A selection on mini cakes and pastries

Fruit and plain scones served with jam and clotted cream

Tea (expect an extensive list)
Almost everywhere will give you the option to pimp up your afternoon tea with prosecco or champagne, this is known as "Royal tea" and may concur an additional cost.
There is a certain etiquette to afternoon tea so listen up kids:
The dress code is "smart casual" unless stated otherwise. Use it as a chance to dress up

Place the napkin on your lap

Before pouring your tea, place the strainer over the tea cup so the tea leaves don't enter your cup

Hold down the lid of the tea pot as your pour

Do not drop your sugar lumps in, place them

Never bash your tea spoon on the side of the tea cup when stirring

NEVER put your pinky in the air, that is not a thing

Do not dunk anything into your tea (do this behind closed doors and only with a sturdy biscuit)

Eat your sandwiches first, with your fingers not cutlery

Never sandwich the two halves of a scone together with jam and cream in the middle

Also it's scone like "gone" not scone like "bone"

You may use your dessert fork to eat your cakes

Dab your napkin on your mouth, don't wipe
Afternoon tea should be served at 4pm but restaurants, cafés and tearooms will generally serve between 2pm – 5pm.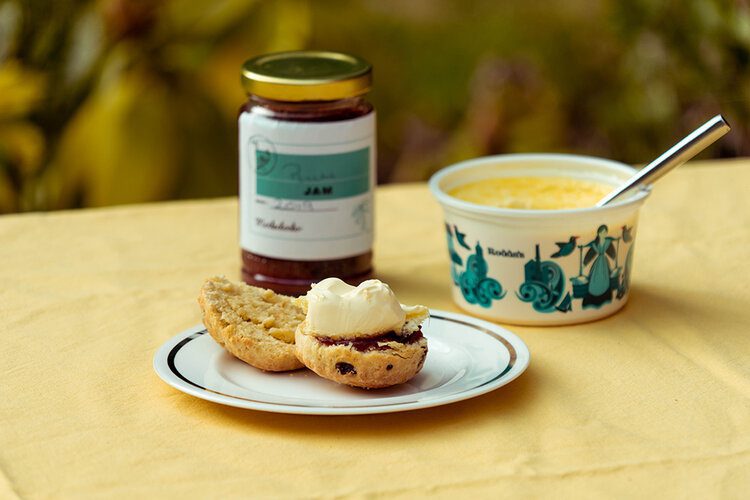 You will be able to find afternoon and cream tea all across the UK but if you are looking for the crème de la crème for traditional afternoon tea in London your top choices are:
You will need to book in advance for all of the above.
If a full afternoon tea seems too much, you can just order a cream tea which is scones served with jam and cream and a pot of tea. It's the best part of the afternoon tea anyway!
Want to create your own cream tea or even afternoon/high tea at home? Take a look at my traditional English fruit scones recipe so you can make your very own from scratch!
.
Apart from the fried fish, there are gluten free, vegan and vegetarian alternatives to all of the meals above so everyone can have a least one of the above! As we ever so sophisticated Brits say, "dig in!"
Aloha, Gabriella