Leavenworth is a Bavarian-style village tucked away within the Cascade mountains in Washington State. If you love Christmas or have a taste for a European alpine adventure then here's how to spend a day in Bavarian Village, Leavenworth: Christmastown, USA.
From November 25th – December 24th Leavenworth transforms itself into Christmastown. Join daily for carollers and live music around the village.
Many towns in the United States have tried to claim the title Christmastown USA but not all of them have a Christmas movie made all about them. That's right, Leavenworth goes so hard for the holidays that they even have their own daytime Christmas romcom, Cloudy With a Chance of Christmas (2022) which can be streamed for free in Canada on CTV.
But Gaby, what's the deal with this old-timey, Bavarian-style village in the middle of the mountains in Washington state? Good question. Originally the land was only inhabited by the the Yakama, Chinook and Wenatchi Native American tribes. 
In the 1800s settlers were attracted by the gold, timber and fur opportunities and by the turn of the 20th Century the convenience of a nearby rail line had Leavenworth buzzing but when a replacement line bypassed Leavenworth it left the town close to desolate for three decades.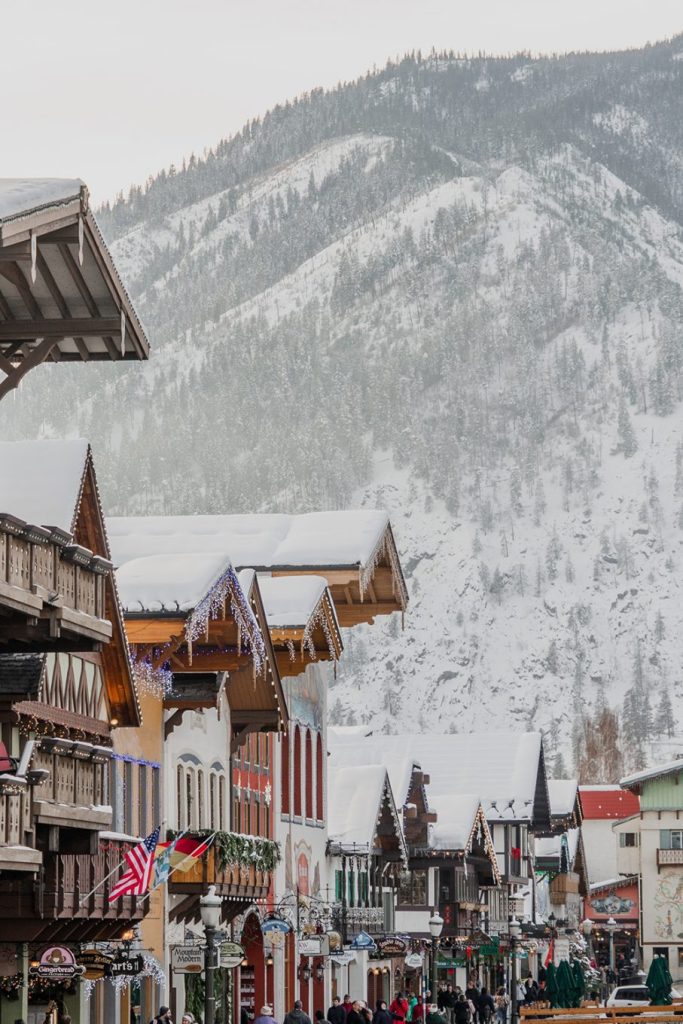 It was in the 60s that the town leaders got to brainstorming on ways they could attract attention back to Leavenworth. Inspired by the their alpine surroundings, whose beauty could only be compared within Europe, the result was transform Leavenworth into a Bavarian-style village. 
"Bavarian authenticity and Northwest hospitality." – Leavenworth, USA.
With more than a million visitors a year, Leavenworth can claim they successfully saved the town and not just with Christmastown. They also host a famous Oktoberfest as well as Maiifest, Love from Leavenworth and the Summit to Sea Filmfest.
Here's how to spend a day in Bavarian Village, Leavenworth: Christmastown, USA
The Gingerbread Factory is Leavenworth's famous gingerbread bakery where you'll find delicious baked treats and all things gingerbread – the bakery itself is even a life-sized (but sadly not edible) gingerbread house!
Heavenly, festive scents fill the air as their sweet treats are baked all day so you can guarantee a fresh treat at The Gingerbread Factory and they even accept custom orders, provided you order them in advance.
Tuesday – Thursday 9am – 4pm
Friday – Monday 9am – 6pm
Address for The Gingerbread Factory
829 Front St, Leavenworth, WA 98826, United States
If your sweet tooth is hungry for more after visiting The Gingerbread Factory then pop into the Danish Bakery on Front Street. The Danish Bakery, to no surprise I'm sure, specialises in Danish pastries and has has cream cheese, strawberry, cinnamon, lemon and more. 
If a Danish pastry isn't quite your thing they also have giant soft pretzels with an array of dips, macaroons, pralina, mazalina and their popular cinnamon loaf.
Our tops picks are their Bavarian Waffle, which is buttercream and strawberry jam sandwiched between two thin fingers of sugared pastry and their Almond Kringl, which is a strudel-like pastry filled with almond paste and custard.
Monday – Thursday 9am – 5pm
Friday & Saturday 9am – 8pm
Sunday 9am – 6pm
Address for the Danish Bakery
731 Front St, Leavenworth, WA 98826, United States
Soak up Christmastown - Christmas in the square
From November 25th – December 24th Leavenworth transforms itself into Christmastown. 
Every day you'll be able to marvel at their festive Christmas lights that illuminate the heart of the village. Then on weekends and occasional weekdays you can join the audience at the Gazebo Stage for carollers and live music. 
Release your inner child and join others on the little slope, right in the centre of Leavenworth, for sledding and tobogganing.
Then on the weekends throughout Christmastown, Santa Claus and Mrs Claus come to Leavenworth from 12pm – 1.30pm and can be found at the Gazebo where they'll be waiting to meet eager kiddos who are eager to find out if they made it onto the nice list.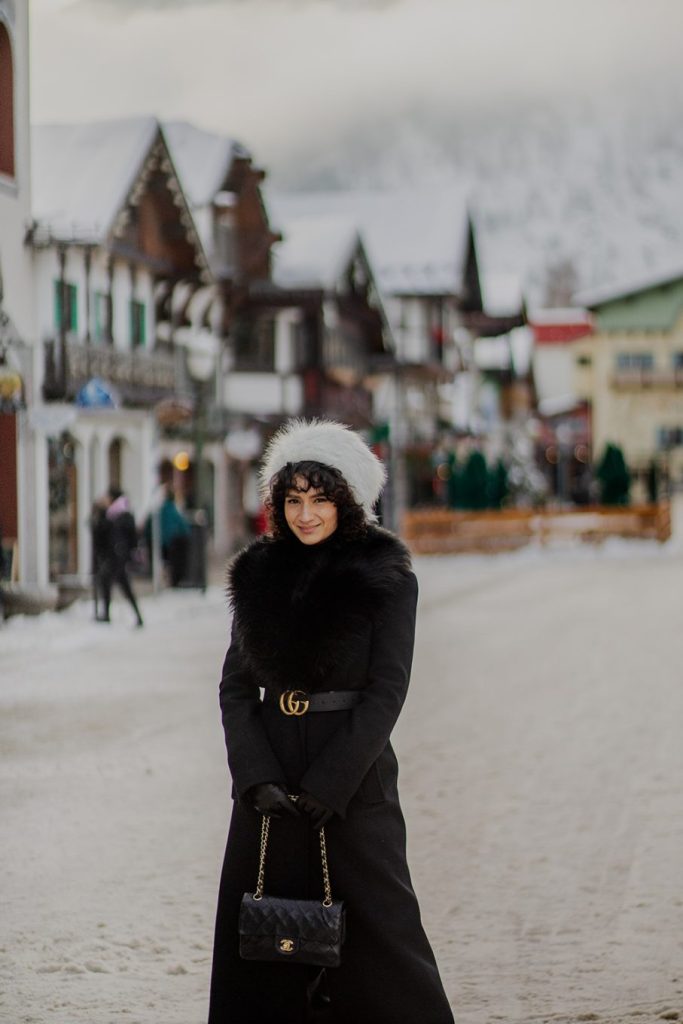 How to spend a day in Leavenworth would not be complete without the encouragement to eat a brätwurst.
Bratwurst is a German pork sausage seasoned with a combination of any of the following flavours: salt, pepper, nutmeg, lemon peel, marjoram, caraway, garlic, sage or ginger. Recipes vary locally, globally and between each restaurant in Leavenworth. 
There are many places to get bratwurst in Leavenworth, WA. You'll find more than 10 on Front Street alone.
We chose to eat at Leavenworth Sausage Garten mostly because it was closest to the car and my fiancé was getting a little hangry but also because the heated patio seating (aka beer garden) offered elevated views of Leavenworth and the snow-dressed mountains beyond. We got one Bratwurst and one Bockwurst, which was a combination of veal and pork with cream and unfortunately wasn't enjoyed as much as the traditional bratwurst. Both German sausages were served in a hot dog bun with a choice of more condiments than you could shake a Bavarian stick at.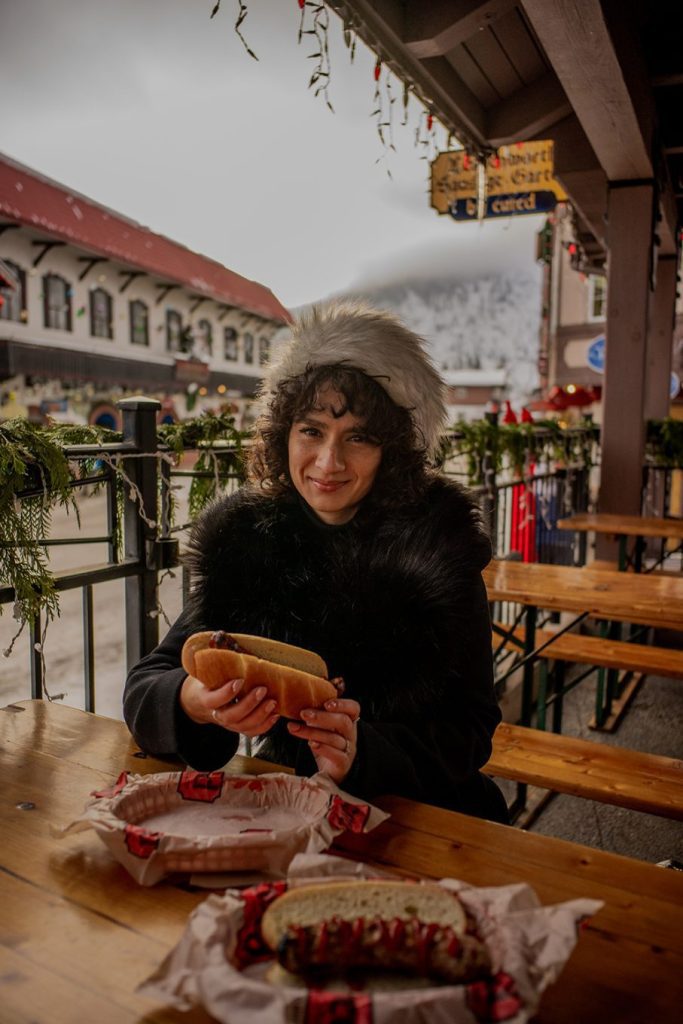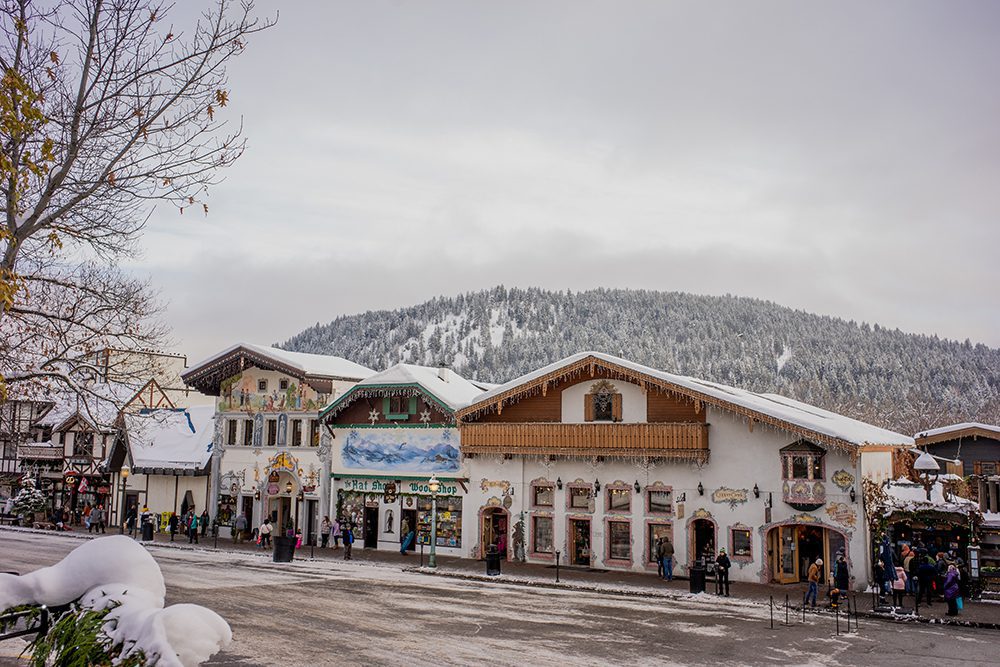 As I mentioned above Leavenworth Sausage Garten also has a beer garden if you want to enjoy one with a view. If you would prefer somewhere cosier indoors then Leavenworth is not short of breweries, pubs and taprooms. There might actually be more pints than people at any given time in Leavenworth.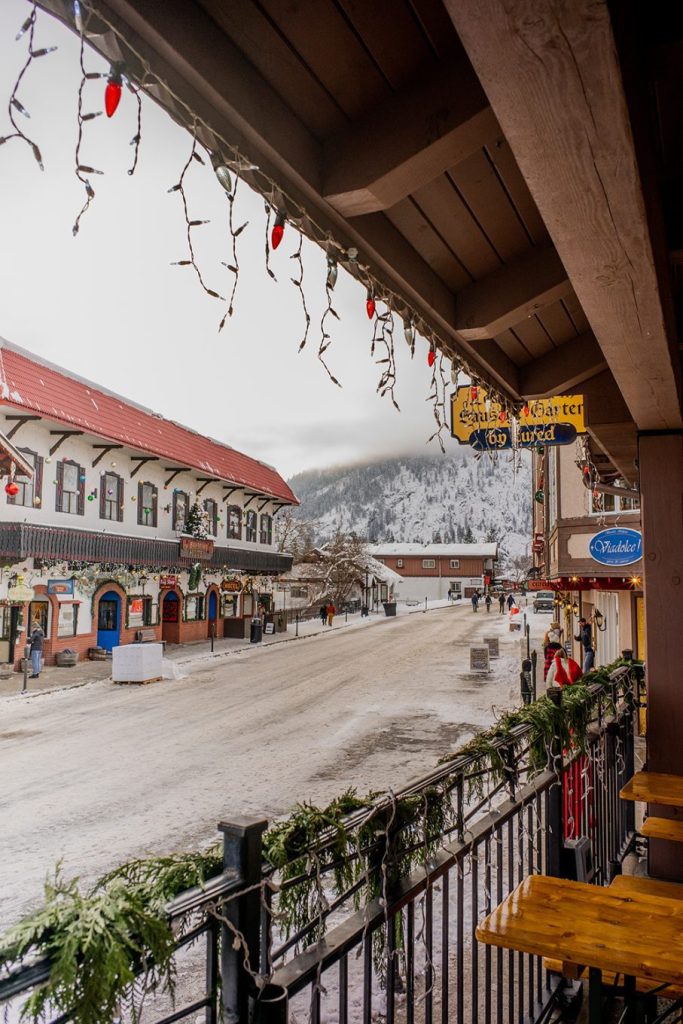 Pick up a Christmas memento of your trip at Kris Kringl.
Kris Kringl is a year-round Christmas shop where you can shop from an assortment of glass, crystal, metal and wooden holiday baubles. Right at the back is where you will find ornament villages telling popular holiday tales such as A Christmas Carol.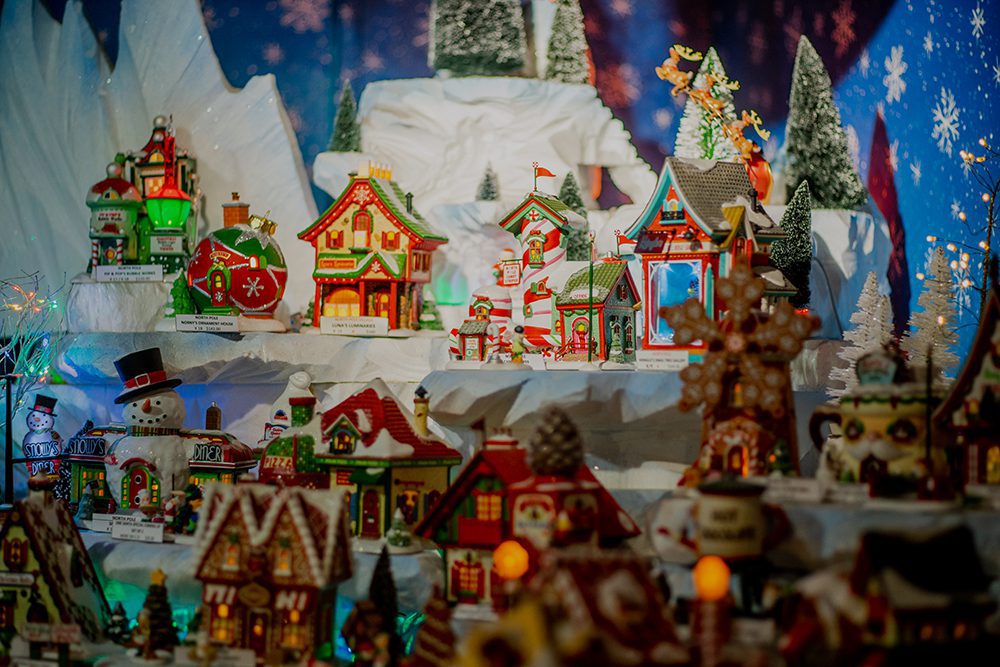 Sunday – Thursday 10am – 6pm
Friday 10am – 7pm 
Saturday 10am – 8pm
907 Front St, Leavenworth, WA 98826, United States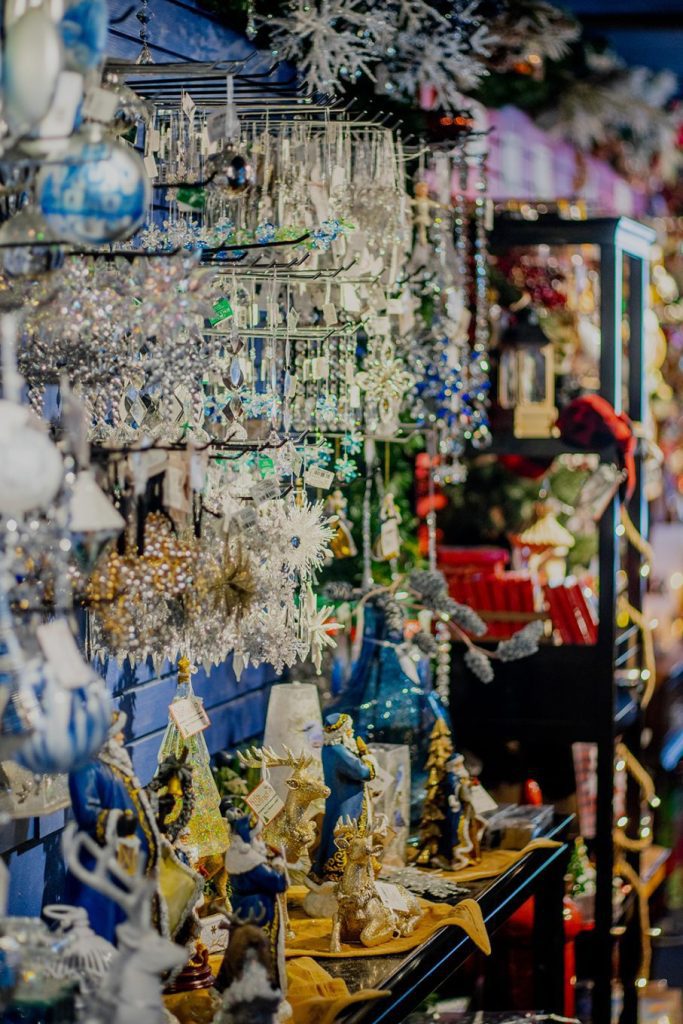 Looking for sparkly treats, stocking stuffers or souvenirs? Front Street is lined with numerous boutiques selling clothes, jewellery, sports apparel, kitchenware, hats, chocolates, candles and more. Here's a list of some of my top picks for shopping on Front Street in Leavenworth, WA:
Perhaps a little out of place in a Bavarian village for how well curated this store's offerings are, Paprika is a top place to shop in Leavenworth if you admire anything pretty, floral and eco-conscious. They're like a 21st Century hippy paradise and perfect for gifts that aren't associated with the holidays.
Store hours 
Daily 9am – 6pm
Address 
715 Front St, Leavenworth, WA 98826, United States
Garnishes Boutique in Leavenworth, WA, is a gorgeous gem on Front Street that sells costume jewellery in the front and ladies winter accessories in the back.
If you're looking for a stocking stuffer or an inexpensive piece of jewellery for someone who loves to make a statement in anything sparkly and/or festive then you'll be in the right place. I got some outrageously fabulous earrings in there for under $20 and I had a smile on my face for the rest of the day.
Store hours 
Sunday – Thursday 10am – 6pm
Friday 10am – 7pm
Saturday 10am – 8pm 
Address 
933 Front St ste a, Leavenworth, WA 98826, United States
Yes that's right, there's even a thrift shop. The entrance to Das Thrift Haus can be found on 14th Street, on the corner of Front Street and is worth a visit if you're up for a little rummage through their second hand items. Not all is reasonably priced but you won't know what gems you'll find unless you look.
Store hours 
Sunday – Thursday 10am – 6pm
Friday 10am – 7pm 
Saturday 10am – 8pm
Address 
907 Front St, Leavenworth, WA 98826, United States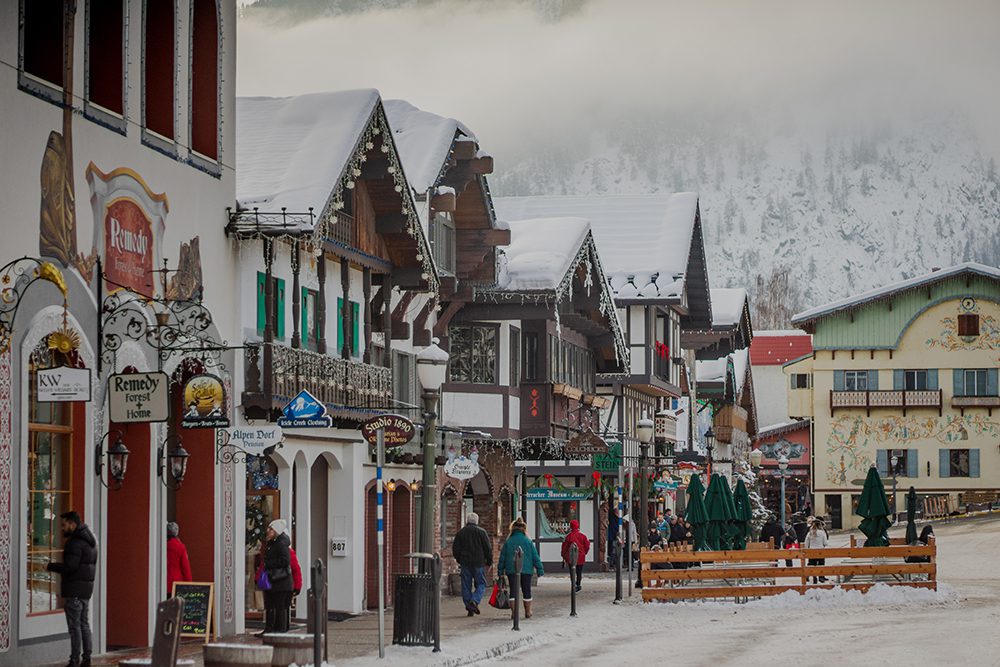 The Leavenworth Nutcracker Museum
The Nutcracker Museum in Leavenworth, Christmastown USA, is the village's pride and joy. 
In 1995 locals George and Arlene Wagner opened The Leavenworth Nutcracker Museum to share their fascinating and rather large collection of nutcrackers with the world. Their global collection features their own and donations from other nutcracker fanatics and now spans more than 1,000.
The Leavenworth Nutcracker Museum isn't just one of the world's largest exhibitions of this decorative tool, it's also a place to learn all about how the nutcracker came into existence and how it evolved into being a beloved Christmas decoration the world over.
$5.00 for adults (17-64)
$3.50 for 65+ 
$2.00 for children (6-16) 
Children under 5 are free
Active military and their immediate family are free.
Address for The Nutcracker Museum
735 Front St, Leavenworth, WA 98826, United States
Skiing, snowboarding, snowshoeing and more
The majestic Cascade Mountains surrounding Leavenworth also have numerous ski trails at Mission Ridge Ski & Board Resort, Leavenworth Winter Sports Club and Stevens Pass.
.
There is a Reindeer farm but we didn't visit it as I'm uncomfortable with how the reindeer are kept in small enclosures for people to play with. The only experience I've had with reindeer was in Scotland in the Cairngorms where they are free to roam the mountains.
Please drop a comment below if you find this blog post on how to spend a day in Bavarian Village, Leavenworth helpful for your travels to Washington state and let me know what you enjoyed most!
Do more on & for the planet, Gabriella