As the only hotel located on one of the most famous and picturesque lakes in the world, Fairmont Chateau Lake Louise  is one of those hotels that dreams are made of. Not convinced about staying whilst there's snow on the ground? Here's why you should stay at Fairmont Chateau Lake Louise during winter.
With six different bars and restaurants, its own shopping arcade, copious rentals for outdoor activities, a spa and breathtaking views out of floor-to-ceiling windows, it's not difficult to find a reason to get out of their sumptuously comfortable beds.
Sure, winter—and for many months on either side—means the lake that lends its name to the Fairmont is frozen over. But just because Lake Louise is hiding its glacier-fed blue and green colouring beneath a deep blanket of snow, it doesn't mean this mesmerising destination can be enjoyed any less in winter.
Every moment we spent at Fairmont Chateau Lake Louise was spent in absolute awe, mesmerised by such a breathtaking and inspiring view. A view so magnificent I swear my eyes were playing tricks on me. How could all of this beauty be real? Why would you want to stay anywhere else other than at the Fairmont Chateau Lake Louise, waking up to all of this, what better way to start the day?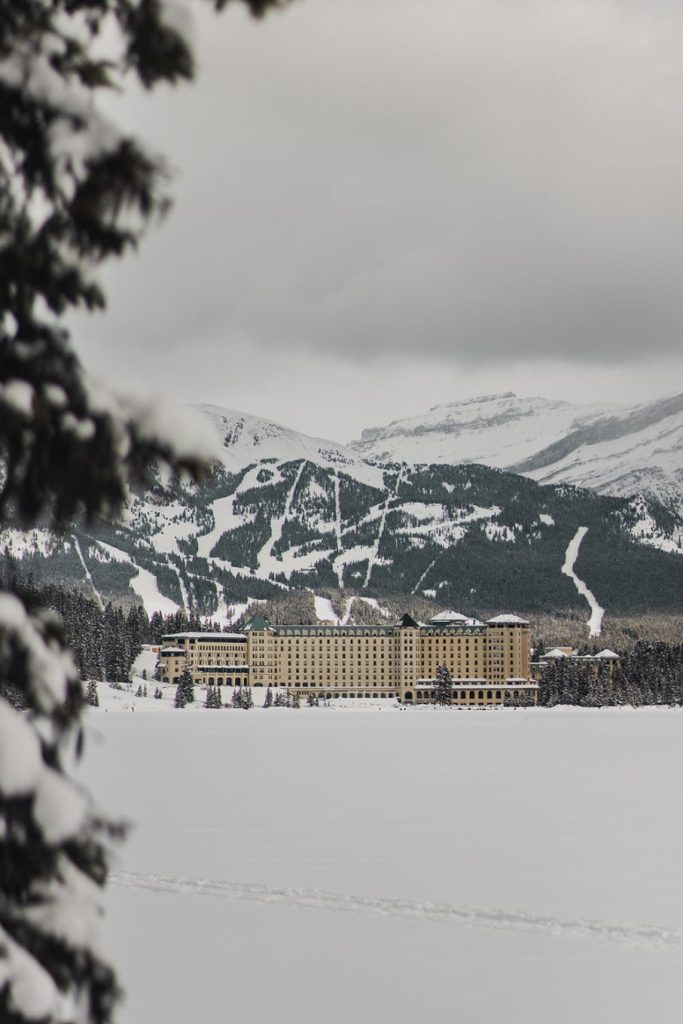 Where is Fairmont Chateau Lake Louise?
Built over 100 years ago, Fairmont Chateau Lake Louise  is *the* luxury mountain resort to stay at when visiting Lake Louise, year-round. Whether it's summer, winter or in between, the beauty of Banff National Park is unparalleled and at the Fairmont Chateau Lake Louise you're right in the heart of it.
Banff National Park in Alberta is a UNESCO World Heritage Site, the oldest national park in Canada and the world's third. Lake Louise, located within the park—61km from Banff town—is the highest permanent settlement in Canada at 1731 meters (5680ft) above sea level.
A Parks Canada pass is required to be able to enter Banff National Park. Purchases can be made online in advance but you can avoid the shipping costs by buying them at the gate. If you are staying at Fairmont Chateau Lake Louise for more than 4 nights or plan to visit Yoho or Jasper National Parks during your visit then the most cost-effective pass will be the Discovery Pass. The Discovery Pass is a 12 month pass that gives you access to 80 national parks within Canada.
Fairmont Chateau Lake Louise is the only permanent lake-side settlement at Lake Louise and can be found at the end of Lake Louise Dr, 4km from the village of Lake Louise.
Originally named Horâ Juthin Îmne ("lake of little fishes") by Stoney First Nations people, the first known inhabitants of the area, Lake Louise received a second name, Emerald Lake, before becoming known as it is today. In 1884 it was renamed Lake Louise after the daughter of Queen Victoria, Princess Louise Caroline Alberta.
Lake Louise attracts visitors from all around the world for its glacier-fed turquoise waters, glacier backdrop and 360° mountain surroundings. You might be surprised to learn that the lake only starts to melt in late spring-early summer and that there's truly only a 4-5month window when Lake Louise isn't frozen over. Don't let this deter you from coming to stay at Fairmont Chateau Lake Louise. Sure, the lakes in Banff and Jasper National Parks in summer are a sight to behold, I can vouch for them myself, but there's something exquisitely magical about visiting Lake Louise and staying at the Fairmont in the extended winter months.
Winter activities with Fairmont Chateau Lake Louise
Curious about what to do at Fairmont Chateau Lake Louise in winter? Look no further. Here's a breakdown of all you can do at Fairmont Chateau Lake Louise from rentals to guided tours.
Ice skating on Lake Louise
"Embrace the spirit of winter from our icy stage" – Fairmont.
No stay at Fairmont Chateau Lake Louise in the extended winter months is complete without a skate on the famous frozen lake and the hotel could have not made it easier for you.
Every morning, at the crack of dawn, Fairmont Chateau Lake Louise set to work on clearing the previous night's snowfall. They make sure that there are two ice rinks available to you, one for leisurely skating and another with goals for ice hockey.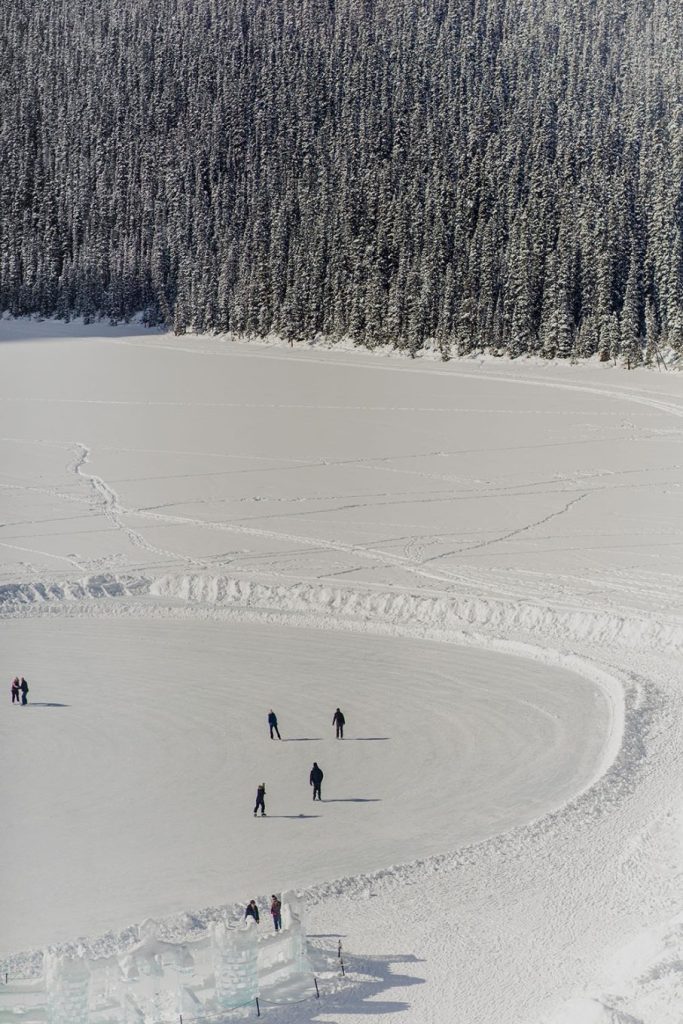 It is free to ice skate on Lake Louise, all you need is skates and if you don't have your own, Fairmont Chateau Lake Louise have you covered. You can rent either regular or ice hockey skates from the rental shop, Chateau Ski and Snow Rentals, located near the hotel lobby.
It truly doesn't matter whether you're the world's greatest skater or a total Bambi-on-ice, stepping out onto frozen Lake Louise is a joy to behold. How could it not be when you're surrounded by snow-dressed trees, majestic mountains and the jaw-dropping Victoria Glacier?. If all else fails you can have a chuckle at yourself or whomever you're with when someone inevitably takes a tumble.
Ice skating on Lake Louise is available from mid-December to mid-April, depending on the conditions.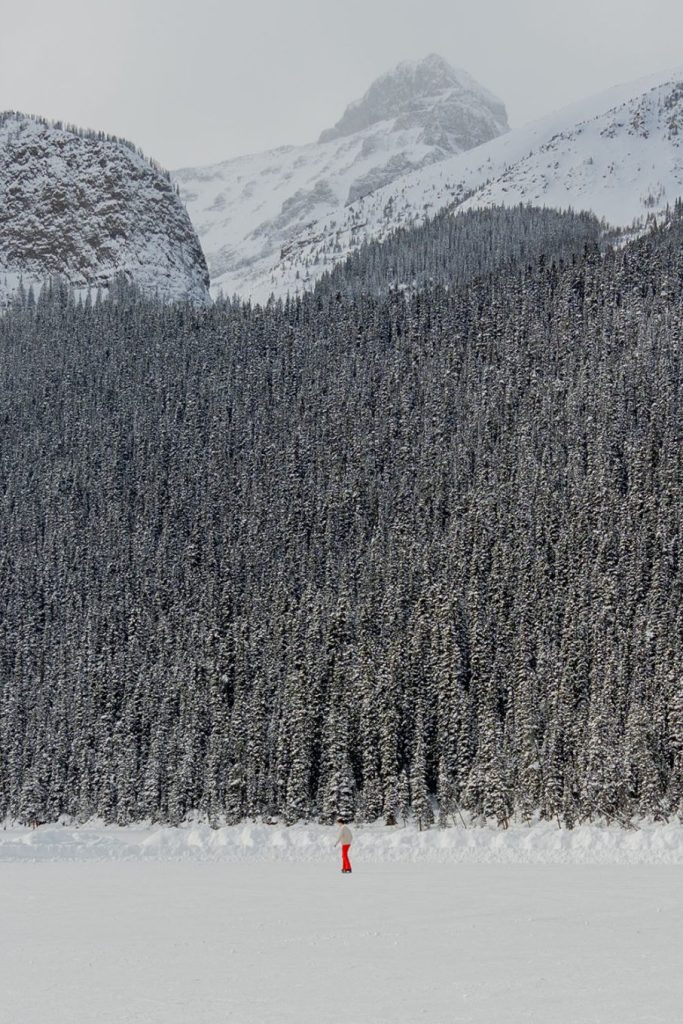 Guided tours with Fairmont Chateau Lake Louise
Want to learn more about the surrounding area or perhaps you want to relieve yourself of the responsibility to navigate? Take a guided tour with the best guide in town found in Guide's Cabin located on the lobby level, just past Lakeview Lounge.
Guided tours can be booked for snowshoeing, cross-country skiing and the ice walk at Johnston Canyon. 
Whilst staying at the Fairmont we were very kindly taken out to do the ice walk at Johnston Canyon. Johnston Canyon is one of the most popular destinations within Banff National Park, known in winter for its frozen (yet still active?!) waterfalls and sparkling icicles that stretch meters long.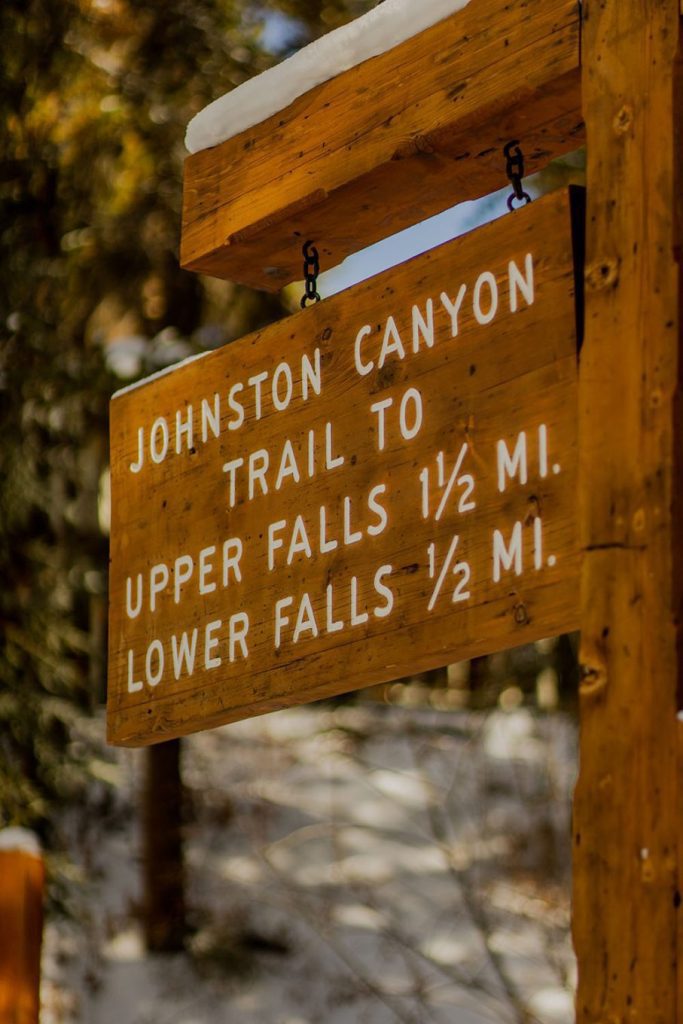 Our tour guide, Mike, made the little adventure such an amazing experience. Not only did we learn so much about waterfalls, ice climbing and the wildlife within Banff National Park but we also had so much fun chatting that my face hurt from smiling. His unwavering admiration for life in Alberta truly emanated from within and was incredible infectious.
Rental of ice cleats are included with the guided tour and Mike also packed some mint tea to keep us hydrated and warm as we took in the glory of the Upper Falls.
The guided tour to Johnston Canyon departs shortly after 8am to give you a better chance of a quiet excursion. We were lucky to enjoy the waterfalls almost by ourselves but by the time we came back out the car park had filled significantly.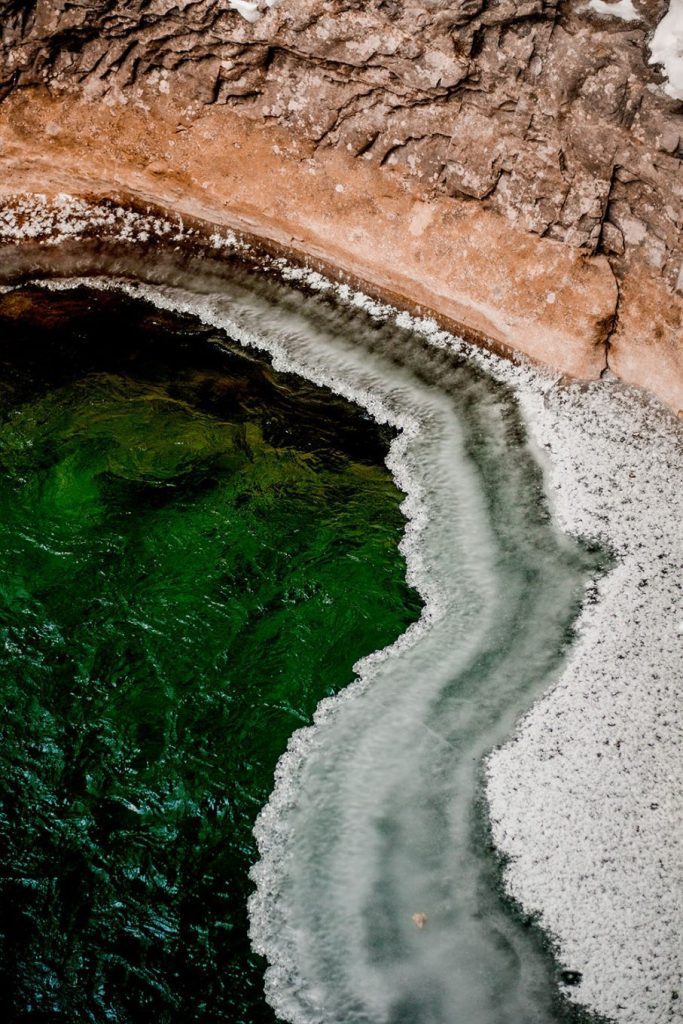 Snow shoeing, tobogganing and cross country skiing on Lake Louise
Eager to get your heart pumping out and to fill your lungs with fresh mountain air? Pick up a pair of snowshoes, cross country skis or a toboggan for either a half or full day from Chateau Ski and Snow Rentals near the hotel lobby. 
Stroll along or on Lake Louise
Ice skating, snow shoeing and cross country skiing not appealing to you? That's okay, you can still experience being on the lake without the need for equipment. Until Fairmont Chateau Lake Louise marks the melting lake as unsafe, you can walk out onto and across the frozen lake. The snow can get pretty deep but if you take the paths marked out by previous walkers then you all you need is a shoe with good tread.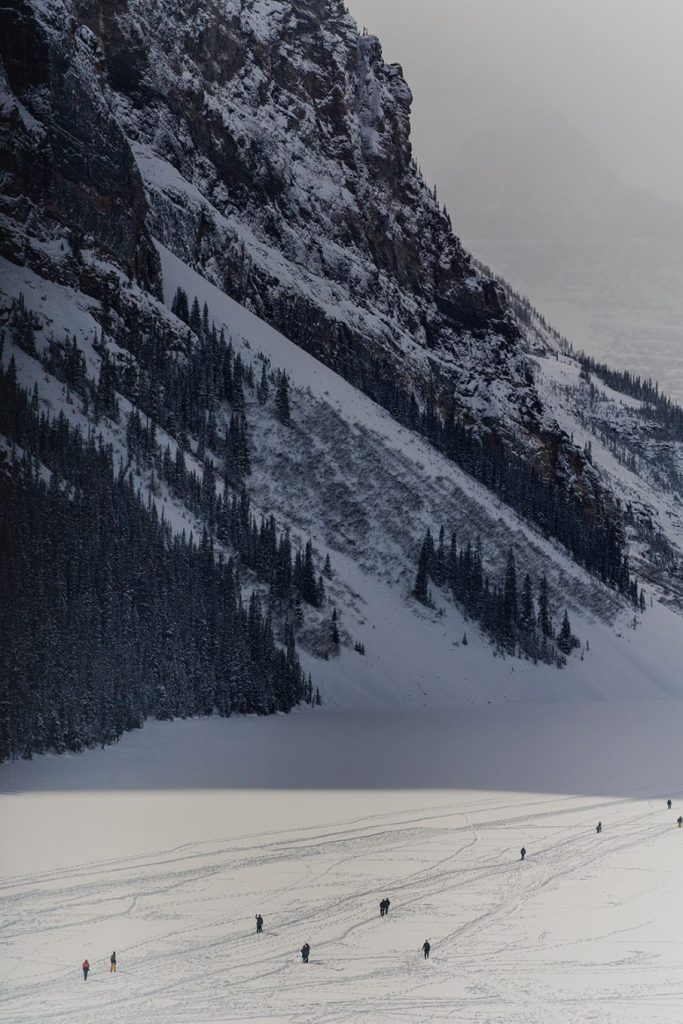 Be mindful not to walk too far to the left of the lake (looking toward the glacier) as this is an avalanche hot zone.
If the idea of walking onto a frozen lake has your knees knocking then you can take the path along the right of the lake. From here you'll be in with a chance of seeing ice climbers scaling gigantic icicles. You'll also get a spectacular view looking back at Fairmont Chateau Lake Louise as the ski trails emerge from behind and a closer look at the glacier.
Skiing & snowboarding at Lake Louise Ski Resort with Fairmont Chateau Lake Louise
Lake Louise Ski Resort is the second largest ski area in Canada and is one of three resorts within the Banff Big 3. Though there is plausible debate for why each of those three resorts, Sunshine, Lake Louise and Mt. Norquay, are better than the other, Lake Louise Ski Resort won every time when locals were asked "which one has the best views?". 
Not only can you see mountains all around you but you can also spot Lake Louise from the ski resort.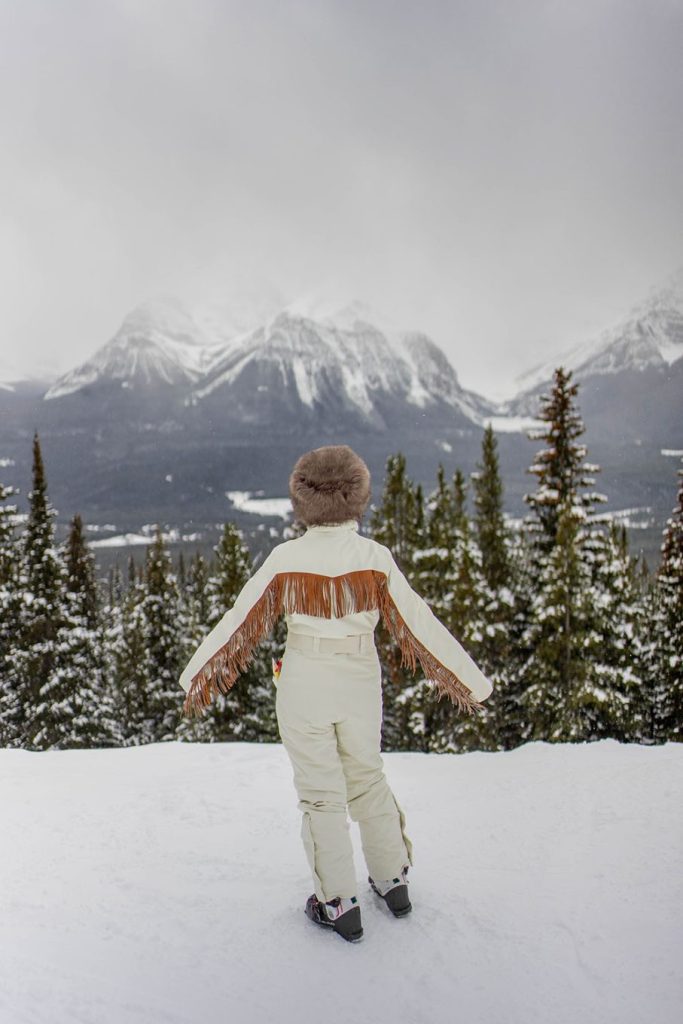 Lake Louise Ski Resort is located a mere 10 minutes from Fairmont Chateau Lake Louise and a complimentary shuttle is available to all guests of the hotel.
Don't have your own skis or snowboard? Not a problem at Fairmont Chateau Lake Louise, as the hotel has their very own Chateau Ski and Snow Rentals shop where they'll get you fitted with high performance winter equipment.
Lake Louise Ski Resort is open from mid-November to early May.
If you're super lucky you might catch a show from the Northern Lights as they dance across the night's sky. 
Keep an eye on aurorawatch.ca for updates. We're still kicking ourselves for not checking sooner and we totally missed a really great opportunity in the days we were there.
Après at Fairmont Chateau Lake Louise
With six restaurants and bars located across the hotel in winter, you're not short of après spots at Fairmont Chateau Lake Louise. Here are my favourites for après-ski in FCLL:
The Fairmont Chateau Lake Louise Ice Bar
There is no cooler way (accident pun but I'm committing to it) to après than at the ice bar at Fairmont Chateau Lake Louise, especially on a bluebird day. 
A refined menu featuring local Park Distillery spirits and Forty Creek's (Ontario based) Nanaimo Bar Cream Liquor gives character to your hot chocolate, tea or cider.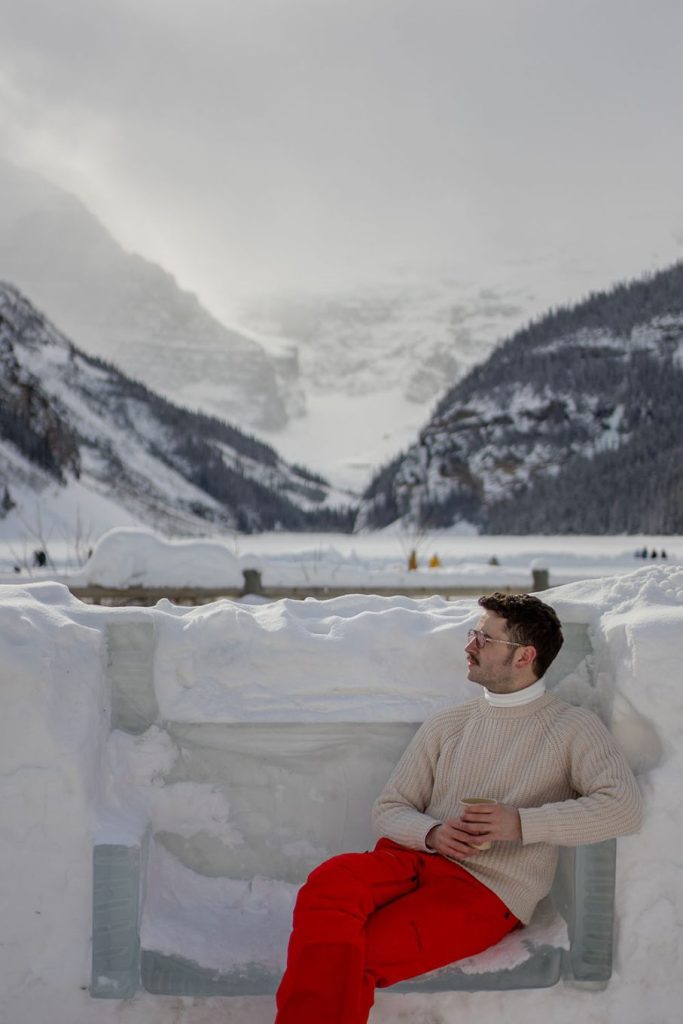 I highly recommend the Nanaimo Bar Hot Chocolate or coffee made with Park Maple Rye, Forty Creek Nanaimo bar liqueur and chocolate bitters.
Take a seat on one of their ice benches carved into the side of the bar to take in your glorious surroundings as you enjoy your drink.
Alpine Social's extensive bar list features locally brewed ales, more than 10 Canadian whiskies and Fairmont Chateau Lake Louise's very own gin, Fairview. Alpine social is the perfect spot to grab a pint and share all your adventures from the day. 
This pub-like setting is ideal for gathering around the table to enjoy a low-key meal with high-vibe conversations. 
Expect maple BBQ salmon, Poutine Supreme, a Montreal smoked-meat sandwich and other Canadian fan favourites.
The best part about Alpine Social though is that you can capture the moment with your loved one(s) with the free photo booth! Print off a strip and email your favourites to yourself to hold onto that magic memory forever.
Alpine Social is open to anyone for lunch on weekends, 5pm – 1am on Fridays & Saturdays and 5pm – 12am on Sundays through to Thursdays. 
Fairview Bar & Restaurant
Celebrating something special, looking for an intimate setting for you and your love or just living your best life and hungry for an outstanding meal? A reservation at Fairview Bar & Restaurant is the occasion to slip into your best outfit for an evening of deliciously crafted cocktails and marvellously executed dishes.
Fairview Bar & Restaurant, my most favourite place to dine in the hotel, is a positively fabulous setting. Their opulent bar designed by Frank Architecture with brass-framed desilvered mirrors, marble walls, dusty-pink velvet chairs and tiled flooring has an Art Deco flair and very much speaks to the Jazz Age.
Floor-to-ceiling windows with a view across the lake to Victoria Glacier remind you of how lucky you are to be in that very moment. 
Prepare yourself for expertly made cocktails using locally sourced ingredients and a menu that shines a spotlight on Rocky Mountain cuisine. Satiate your love of fine dining with champagne butter prawns, roast Nova Scotia lobster tail, Elk brochette, AAA Angus Sterling Silver tenderloin and seared jumbo scallops bathed in a diablo butter sauce.
Fairview Bar & Restaurant is open to guests for lunch on weekends and 5.30pm – 10pm daily for dinner.
Self care at Fairmont Chateau Lake Louise
Don't fancy braving the cold one day? At Fairmont Chateau Lake Louise you don't have to. 
"A journey of blissful indulgence with premium quality ingredients." – Fairmont.
Inspired by its natural surroundings, clean air and healing qualities, Fairmont Spa uses nature's purest elements to create the most rejuvenating and relaxing treatments.
Specialising in more than 20 different treatments including an après sports massage, a stress-relieving scalp treatment, a detoxifying facial and a pre-natal massage, Fairmont Spa is for everyone who needs a little extra care and attention.
The Spa at Fairmont Chateau Lake Louise is located on the lower level, next to Alpine Social.
Afternoon tea at Fairview
The spa might be the first thing that comes to mind for the ultimate self care treat on a mountain escape but trust me when I say the Afternoon Tea at Fairview Bar & Restaurant is what you really need. 
Served aside grand arched windows looking out across the lake and up towards the surrounding mountains and Victoria Glacier, there's truly no better view that I've ever enjoyed whilst sipping a cup of tea. Excluding gazing into the loving eyes of my fiancé, of course.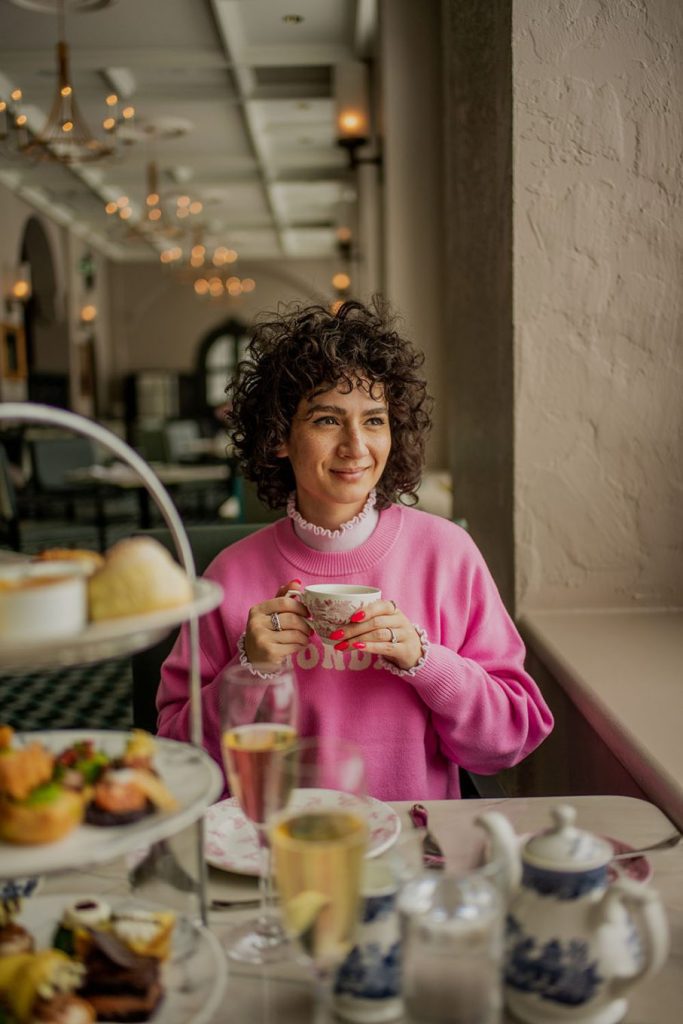 A very well-rounded list of teas gives you unlimited refills of your top choice as you work your way through three tiers of decadent delight. Finger sandwiches of lobster, wagyu and seared tuna are joined by macrons, choux pastries and devilishly good cake. Saskatoon berry & lemon white chocolate and plain scones are accompanied by seasonal jam, lemon curd, marmalade and, as it always should be, lashings of cream.
Savour each flavour and every moment of afternoon tea at Fairview Bar and Restaurant.
Afternoon tea is served daily from 12pm – 2.30pm.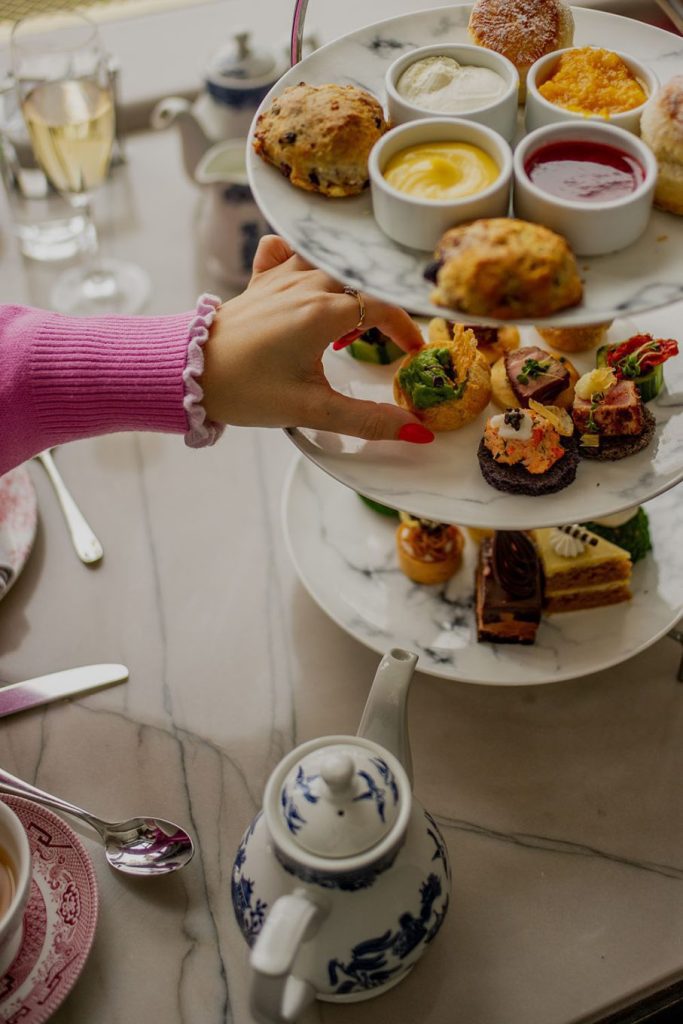 Shopping at Fairmont Chateau Lake Louise
Fairmont Chateau Lake Louise has its own arcade of shops which you can easily spend a morning or afternoon browsing. 
Shop books, souvenirs, artwork, outdoor apparel, luxury knitwear, western boots and jewellery. There's even a Roots!
Our absolute favourite shop is the bookstore located opposite the elevators, between Fairview Bar & Restaurant and Guide's Pantry. It has an amazing collection of pins, patches and stickers plus gorgeous vintage travel posters.
We also picked up some bath salts to enjoy in the tub back in our room.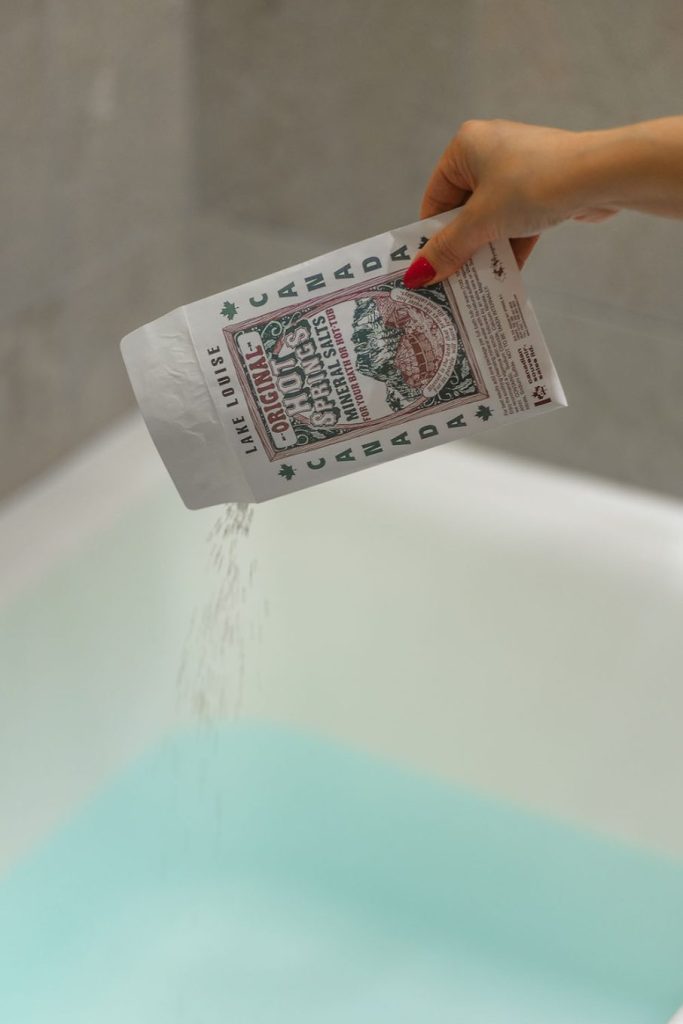 Breakfast at Fairmont Chateau Lake Louise
In order to keep your energy up for all the adventures within this winter wonderland that you have ahead of you, it's important to start the day with a hearty breakfast. 
Louiza is the largest restaurant within Fairmont Chateau Lake Louise hotel. Formerly known as The Poppy Brasserie, Louiza received a very recent renovation that not only added heaps of character to the multiple, connecting dining rooms but brightened the space significantly. 
Louiza is a delightfully inviting restaurant that serves breakfast daily from 7am – 11am and dinner on Tuesday – Saturday from 5pm – 9.30pm.
Their breakfast buffet is one of the best spreads I have ever seen and had just about every western breakfast you could possibly imagine including a waffle bar, pancakes, a parfait station, made-to-order omelettes, cereals, eggs every way you can imagine, a very decent fry up (cooked breakfast) and a mind-blowing variety of pastries. Ohh and so much more.
Guide's Pantry is a deli-style eatery serving fresh-on-the-day baked goods, sandwiches, yoghurts, salads, teas, coffees, juices and more. It's open to both guests and the public and makes for a more penny-saving start to the day whilst still enjoying the luxury of your surroundings.
Be sure to try their homemade oatmeal cookie. Packed with pistachios and Saskatoon berries with a touch of cinnamon, this cookie has everything I usually go out of my way to avoid and yet is also the best cookie I have ever had!
There's no better place to stay than with a view of one of the most famous lakes in the world at the Fairmont Chateau Lake Louise in winter. Every day you look out of the window you will pinch yourself in disbelief that such natural wonder and enchantment could be right at your fingertips, just beyond the hotel walls. 
I thank my lucky stars I got to experience that. There's no place like Fairmont Chateau Lake Louise in the winter.
Do more on & for the planet, Gabriella 
.
This blog post was created in collaboration with Fairmont Chateau Lake Louise and was a PR stay.