Niagara Falls is the world famous set of three waterfalls – the Horseshoe, the American and Bridal Veil – that link the international border between New York, USA and Ontario, Canada. Collectively the falls have the highest flow rate in North America, hurtling approximately six million cubic feet of water down the 165ft drop every minute. To give you a better idea of how powerful the falls are consider this: the brink of the falls has moved seven miles from its original position and in the twentieth century they had to be intervened with water diversion engineering to slow down the erosion from three metres per year to 30 centimetres every ten years!
Before we go any further I want to let you know this itinerary is for the Canadian side of the falls, which in my opinion is far superior to the American side because you get a much better view of both the American Falls and Niagara Falls. The American side does have a viewing platform that sticks out but it's just not the same. To understand what I mean, I have inserted a screenshot of the area, everything above the bridge is the United States of America and everything below is Canada.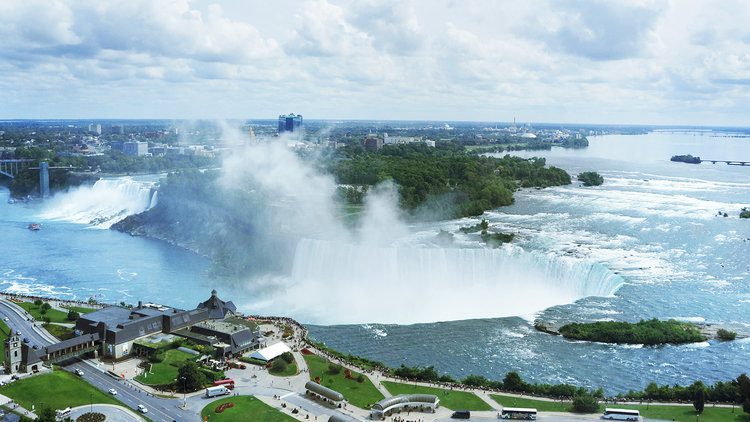 Day 1
Our starting point was Newmarket, Ontario which is about an hour outside of Toronto. We left at 9.30am and it took our friends approximately 2hrs to drive us there, but should you be going from downtown Toronto it will only take about 1hr 30mins.
Upon arrival into Niagara at about 11.30am we were able to get early check in on our friends room (they have a baby so it was optimal to get them their own space to feed and change etc.) where we left our bags and headed out for the day. All good hotels will hold your bags so you don't have to leave them in the car should you want to arrive to Niagara earlier than your check in time.
Lunch
The first thing we did was go out for lunch, the closest restaurant to us was iHop. I'm going to warn you right now, Niagara is EXPENSIVE, the mark up on food is ridiculous, for example snacks from Starbucks are x3 the cost you'd pay in Toronto. We had three breakfasts between the four of us and it totalled to just over $100 and on top of that the service was very slow (it wasn't busy either). I do strongly suggest iHop however if you don't have a "fallsview" hotel room and want to dine looking down on the falls because it is set on top of a tower looking out at the waterfall.
Hotel
After lunch we were able to check into our hotel room at Marriott On The Falls. We booked a "Superior Fallsview Room" at $430 CAD after tax (£250 GBP) for one night. I can honestly say out of all the hotels I've ever stayed this one had the best view by far. We were 29 floors up and looked out and down on both the American Falls and the whole horseshoe of Niagara Falls. Now obviously it isn't cheap but compared to a night in Plaza Athénée in Paris where you'll easily be spending £1000 a night for an Eiffel Tower view, it's better value for your money.
Full disclosure on this photo looking outside the window: we moved the bedding onto the floor, the beds aren't up against the window but you can still see the falls from where they are placed in the room.
Hornblower Cruise
After a quick freshen up we headed over to Hornblower cruises. We had previously tried to buy our tickets online but inexplicably the ticket cost kept doubling during checkout so we opted to buy them on the day. Considering we were there in the middle of August, which is undoubtedly their busiest time, the queue was surprisingly quick both for tickets and for entrance. Tickets for the "Voyage to the Falls Boat Tour" are $29.32 CAD (after tax) per person which covers your 15 minute tour up to the horseshoe and a poncho to keep the majority of you dry. There's no doubt about it, you're going to get wet so here's what I suggest wearing for Summer and Winter: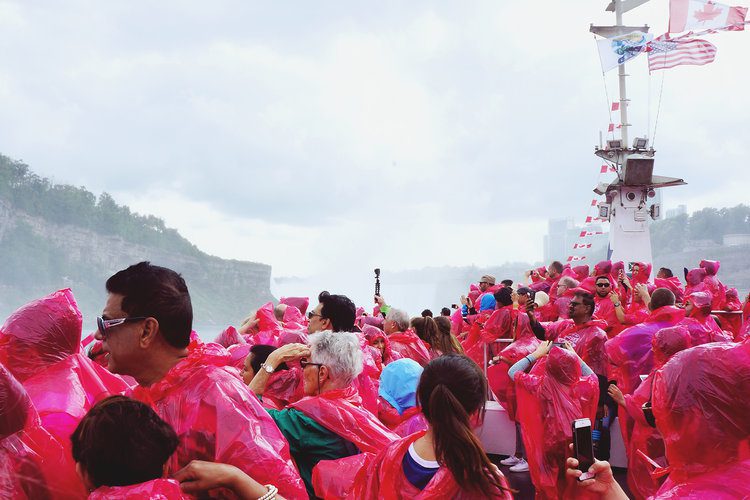 Summer:
Shorts: Even at 4ft 11" my poncho didn't touch the floor so more than likely your legs are going to get wet. Wearing shorts means the fabric will stay protected under your poncho and your skin will dry quicker than wet trousers.
T-shirt: Same as trousers really, your arms will dry quicker if they're bare. I actually wore my rain jacket and I was roasting under my poncho, so I strongly advise you to not bother.
Flip flops or slides: On a hot day, wellies will be uncomfortable so I suggest going in a pair of rubber sandals which will dry off quickly.
If you're worried about your hair, the poncho hood has a drawstring which will tighten it round your head to keep your hair dry.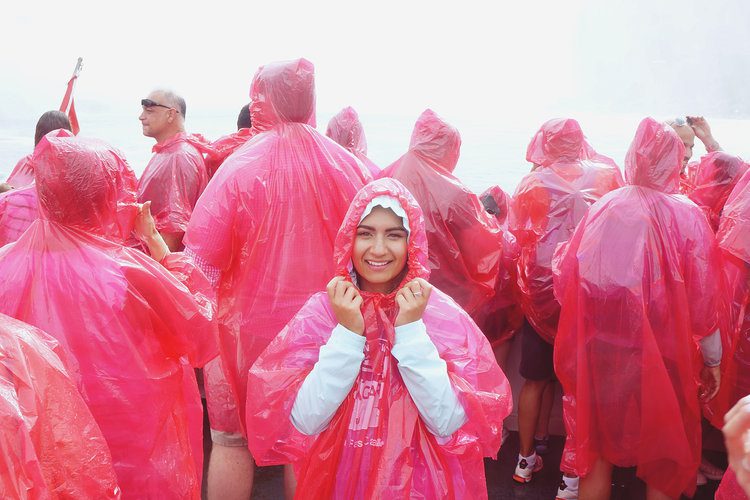 Winter:
Waterproof over-trousers: These will protect your trousers from getting wet and being uncomfortably cold as they dry slower than paint.
Raincoat: It will keep you warm and protect your arms from the cold spray.
Wellies: Keep your feet warm and dry. If you have a long pair you probably won't need waterproof over-trousers.
PFH Top Tip: If you collect ticket stubs get them from the ticket desk because it's the only way that you will get a proper ticket. I went to the machine because the queue was shorter and I just got a paper receipt.
Photos
After the cruise tour we went to take photos with the falls. The best place is along the promenade either behind the Niagara Parks building, set back from the falls, or about 200m in front of the falls. The closer you get, the more the spray will obstruct the falls and won't make for a good photo.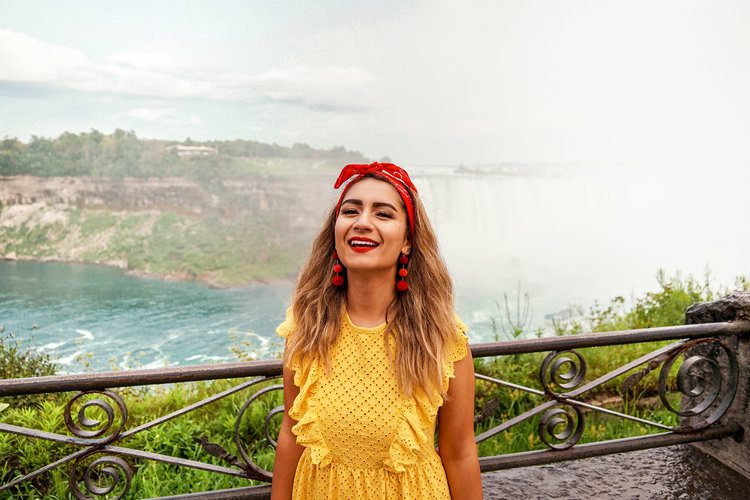 Dinner
If you have a view of Niagara Falls from your hotel room I strongly suggest ordering food up to your room and just taking in the beauty of the falls and the light display that they put on. Opt for take-out rather than room service because it will be much cheaper, plus they will still take it right up to your hotel room door. We used Uber Eats (not an ad) because all of our card details were already in the Uber app so it was super easy to order food, we got a ridiculously large pizza from Papa John's so that we could eat it all the way through the fireworks and as a snack the next day.
Fireworks
The Niagara Falls fireworks schedule changes throughout the year but from June 18th to September 3rd the show is on every night at 10pm. Click here to check their full schedule. I had a feeling this one would be small given how often they put on the show, but it really didn't disappoint. The show went on for at least 15mins and was loaded with all the good ones, accompanied by a light show projected on the falls.
The fireworks are set off from Queen Victoria Park and have many optimal viewpoints but if you have the opportunity to stay in a fallsview room I suggest staying in your hotel and enjoying the show from the comfort of your own room. We had an incredible view from our hotel room, it was the perfect end to the day.
Day 2
Breakfast
To save money on the breakfast buffet at the hotel we grabbed breakfast from the Starbucks which is in the lobby of the Marriott. As I mentioned it's not cheap, but it's cheaper.
Journey behind the falls
This is by far one of my favourite things that I have ever done! On the tour your senses are overwhelmed by the roar and ferocious velocity of the falls. You get to stand directly behind the falls via two passageways but the best part is when you get to go out on a platform beside the falls. It's like being in a water fight, you're going to get soaked from all angles and there's not a whole lot you can do about it.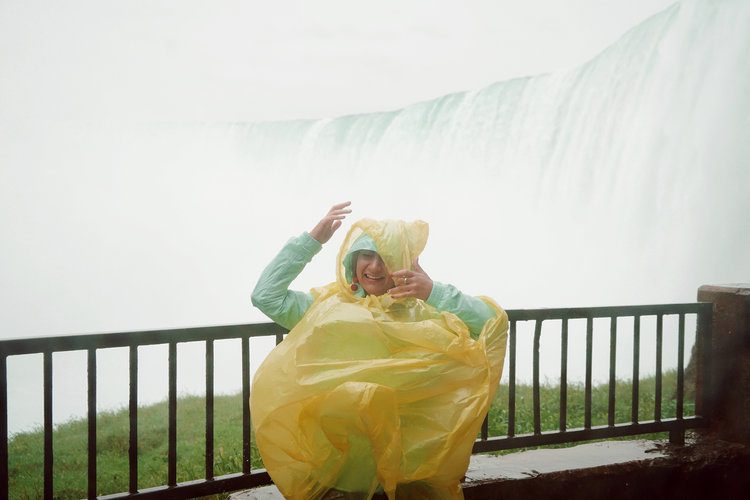 It was a cold and wet day on our second day so I was already prepared with waterproof trousers, wellies and my raincoat and even with the complimentary poncho I was a drowned rat at the end! I was soggy right down to my underwear because the velocity of the spray is so strong that water gets blown EVERYWHERE. My advice is to just go with it, it doesn't really matter what you wear for this because you're going to get wet no matter what, but trust me it's worth it!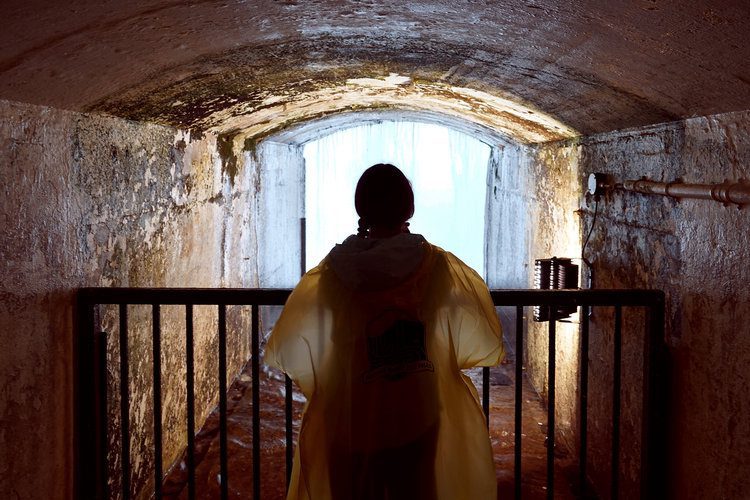 Tickets cost $22.54 CAD (after tax) per person and include your souvenir poncho which is fully biodegradable, yay!
PFH Top Tip: Don't bother with putting on makeup until after you've done this tour. Mine went all down my face!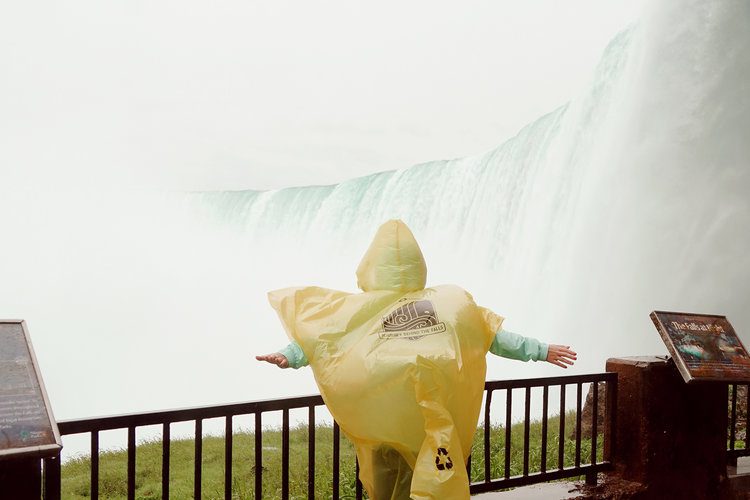 Gift shop
There is a massive gift shop in the Niagara Parks building, where you enter for Journey Behind The Falls. You'll find pretty much any Canadian souvenir you can think of here.
Lunch
We stopped at Denny's for lunch where although the price was still high it was far more reasonable than the iHop we went to the day before, I'm guessing that's based on location. Another tip for trying to keep the food cost down, try to go to a restaurant set a few blocks back from the falls.
Niagara outlets
Before heading home we spent the afternoon at Outlet Collection at Niagara. There are 116 stores so give yourself at least a couple of hours for shopping.
From the Niagara outlets we drove home and arrived in time for a late dinner.
Niagara Falls was everything I wanted it to be and more, the sheer power and beauty of this natural wander is incredible and I encourage it to be on your bucket list to experience it yourself.
. 
Aloha, Gabriella