As always, there are things I brought that I did and didn't need (which have been removed from my packing list above) so let me highlight those items for you and explain why they were necessary and why they were dead weight. Additionally, due to the drastic change in temperature I ended up buying a few items I couldn't have lived without during the last week which I will also take you through. You might be thinking, "why does she seem so surprised by the change of climate in the mountains, of course it's going to be cold", well I was working off the assumption that it would be warm because 1. I was heading there in August and 2. EVERYONE on instagram who had been there the week before were rocking T-shirts, little dresses and even swimsuits! So I was shocked when the forecast I had been looking at took a sudden turn literally as September approached. For this reason, I'll mainly be focusing on the warmer garments that saved me.
Let's start with what definitely worked:
Hat
I am super into hats at the moment, they conceal a bad hair day and are a great prop for photos but mine came in incredibly helpful this trip for keeping my head warm as the temperature plummeted. I ended up buying another hat and a thermal headband on this trip to add variety to my looks, which I speak about further down, but the one I brought really was a saving grace in the cold.
Knitted Jumper
Michael's Nanny knitted me a jumper over the summer and I had brought it with me for the sole purpose of taking a photo in it by one of the beautiful lakes we were staying near. I figured I wouldn't need it because it would be too warm, I sure as hell didn't need it in Ontario where it was reaching 30°c, but I ended up wearing it so much that I had to buy a second jumper to give this one a chance to breathe. It did take up a substantial amount of room but I would have been so cold without it.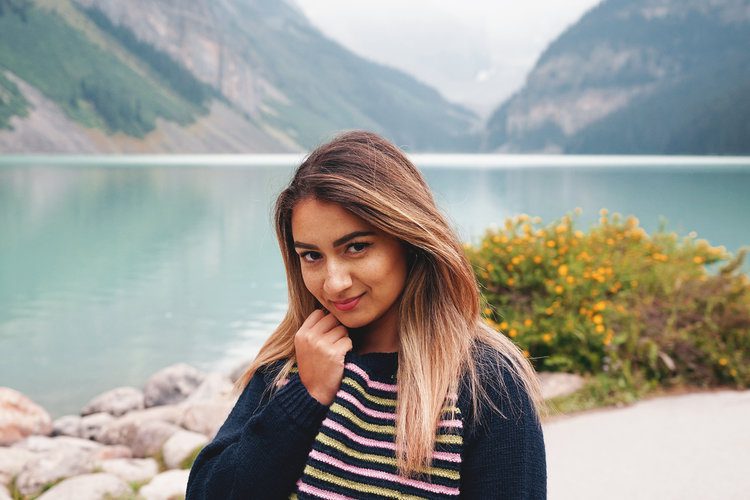 Jumper: knitted lovingly by Michael's Nanny.
Hiking socks
I only brought one pair of hiking socks with me because I wear them to keep my feet warm on the plane. Even though I planned to do a lot of hiking, I was working off the assumption that it would be warm and was intending to wear my sports socks which I had in abundance. I ended up needing to wear my solo pair of hiking socks every damn day, which meant washing them every day which was a chore and a miracle they're still in one piece! Mine was from a pack of three from Mountain Warehouse.
Waterproof jacket
For travelling I bring my lightweight waterproof jacket from Mountain Warehouse because it is so thin that it compacts nicely into my suitcase or backpack. Bonus, it's so cheap at only £20 and comes in some great colours. FYI their colour chart is WAY off on this product so trust the colour of the coat not of the square you select. You can adjust the cuffs and the hood to fit your body plus the zip pockets are big enough to fit an iPhone 8 Plus with room for more! If that isn't a massive selling point I don't know what is!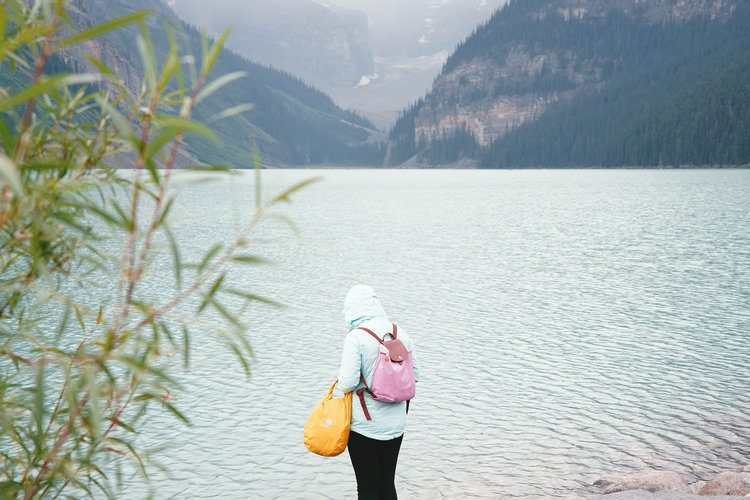 Waterproof jacket: Mountain Warehouse, Backpack: Longchamp, Dry bag: Karrimor
Cool bag
After our last road trip in America where we moved around a lot I decided to buy a folding cool bag, much like the ones kids have as their lunch box. I wasn't keen on driving with unrefrigerated milk for a few hours so I got the cool bag to keep items such as milk, butter and cheese in it during road trips. We also used it daily to keep our lunch fresh. I ordered a Sistema one from Amazon for just £4.49 but I know that most supermarkets will have a similar product down their home aisle.
Blanket scarf
Cheap flights, such as West Jet, don't provide blankets so I bring my Zara blanket scarf to use as one to keep warm. This ended up being used every day in Banff to keep the cold out, plus it looks great in photos! Their website isn't very useful for knowing the size of the scarves but I've linked one here which is similar to mine and I must say their scarves are very reasonably priced.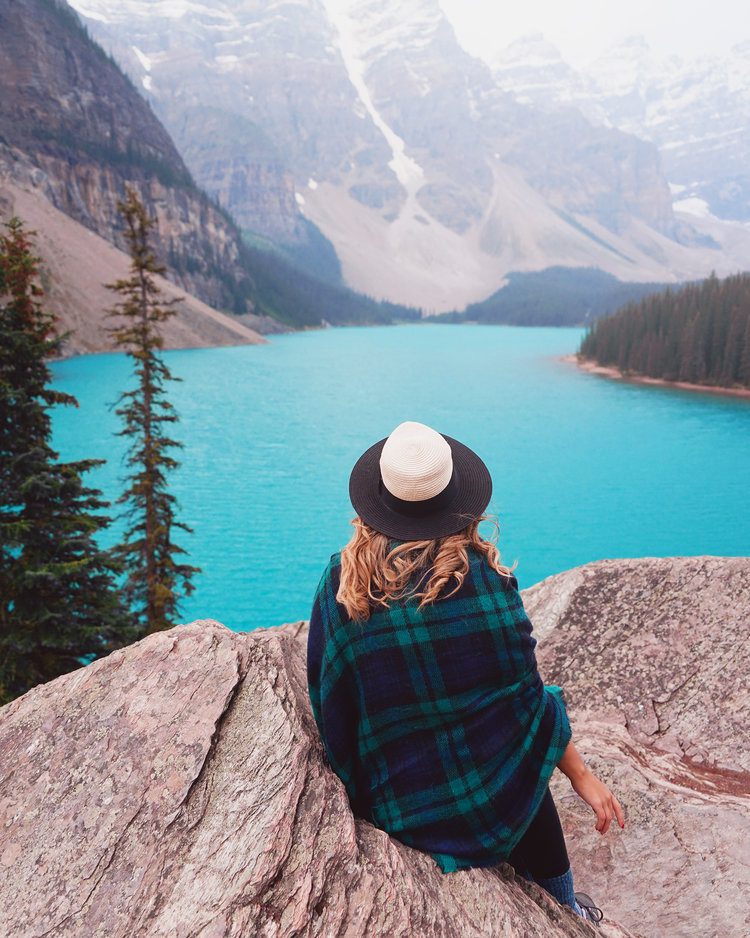 Dune Loupe sandals
They are their best selling sandals for a reason and that reason is mostly because they look deceivingly like the highly coveted Hermès Oran sandals but for a fraction of the cost. What really is amazing though is how insanely comfortable and versatile they are. I purchased the tan ones and I am yet to find an outfit that they don't go with*. The Loupe sandals chic up everything I've worn and they don't rub. I know summer is over so you might be thinking it's not worth getting them but Hermès just brought out a new set of colours in theirs for fall/winter so I guarantee they'll be around for next spring/summer.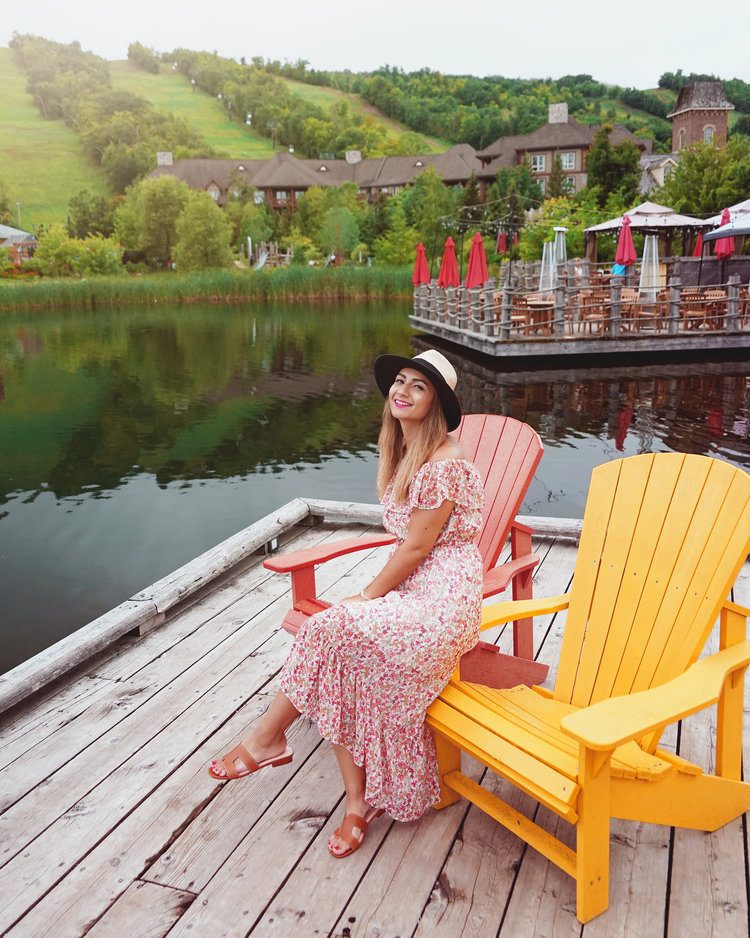 Sandals: Dune, Dress: F&F, Hat: H&M.
*Please take into consideration that these were worn during the warm part of our trip in the West not in the cold national parks. They obviously did not go well with a coat, scarf and blue toes!
.
Moving on, here's what I really didn't need:
Heels
DEAR LORD why do I bother?! I'm not a heels wearing gal unless absolutely necessary and nine times out of ten it's not, yet every time I bring them because I convince myself that I need to be prepared. Well I don't and I won't be bringing a pair on my next trip because I am wasting space and weight. If you have brought one type of shoes on the last 2-3 trips away and have never worn them, it's time to stop packing them!
Denim jackets
I brought two and bought a third! NO ONE NEEDS THREE DENIM JACKETS ON ONE TRIP! I wore the newest one a fair amount because I could get a jumper under it but I didn't even touch the other two! It was too hot in Toronto, Ottawa and Montreal and too cold in the West, no Goldilocks, nothing was just right about this one!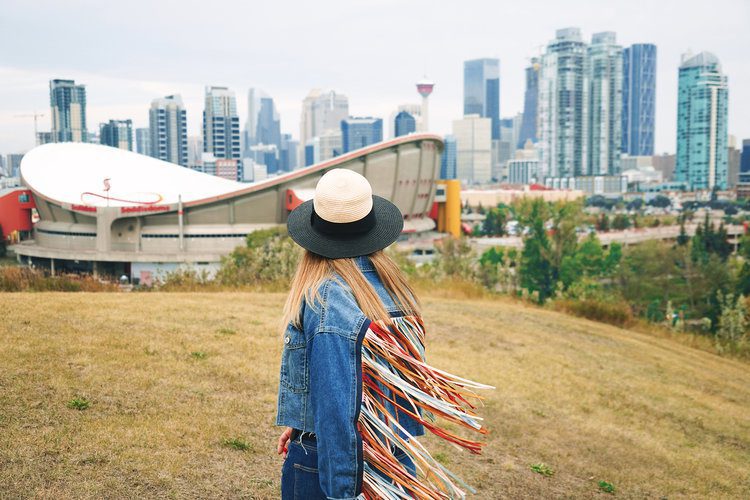 Hat: H&M, Fringed jacket: Forever 21.
Swimsuits
I packed three swimsuits because after seeing photos of girls in their swimsuits by the lake (and the good weather forecast) I thought I would be dipping my toes in too but alas the weather took a hard turn into the-last-thing-I-want-to-do-is-take-my-clothes-off degrees Celsius so I only wore one in my friends' hot tub and didn't wear the others. Of course no one can account for the weather changing like that but think twice about how many you need if you're not going to a beach destination.
.
Now the most helpful part! This will really benefit you (should you be doing a trip similar to this) because knowing these items in advance will save you money by packing them rather than buying them on the go.
Gloves
Honestly I bought a pair of gloves in a department store in Calgary called Simons* because they were a cute cable knit and had a fleecy lining. I have really sensitive skin on my hands which blister during the summer and wrinkle during the winter (hot I know) so I wanted them for the colder months at home. I was not expecting to be wearing them on my trip but boy was I grateful to have them. I ended up wearing them six days out of eight.
*Which is incredible by the way! So good that I had to go back before heading to the airport because I was desperate to pick up more items. They have the softest garments for incredibly good prices.
Felt hat
I have wanted a felt hat for a while now but I have a small head and find it a struggle to find a hat that my head doesn't get lost in, so when I saw this hat in a Banana Republic outlet I had to have it, and thank goodness I did because it did such a great job of keeping my head warm! As it was an outlet I can't find the exact one but this one is similar.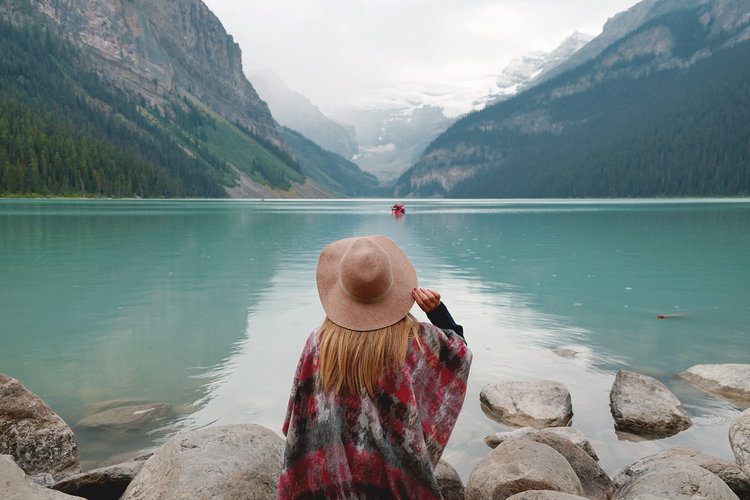 Hat: Banana Republic, Scarf: Simons.
Thermals
I didn't buy thermals whilst in Canada because I already had a good set at home and didn't want to spend money on more, but considering how cold and windy it was I strongly suggest bringing them for a trip like this.
Knitted headband
I bought mine from North Face in the mountains because I needed to keep my ears warm but wasn't interested in wearing a hat all the time. I do suggest getting one of these if you want something to keep warm but want to save on space, they are much smaller than a hat and if you look for a fleece lined one they are sure to keep your ears warm. I can't find the one I bought but Trespass has a really similar one on offer for £7.99.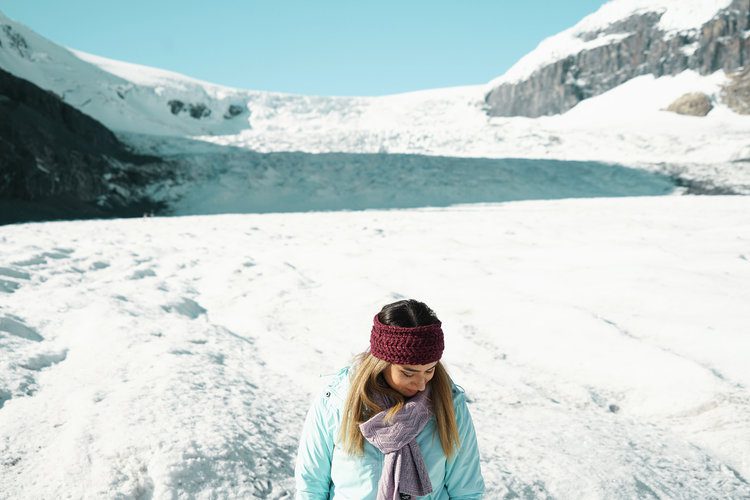 Headband: North Face, Scarf: Simons, Waterproof jacket: Mountain Warehouse.
Roll neck jumper
A desperate purchase made in Banff a few days in. I only had two jumpers with me, one was too thin to keep the cold out and the other I mentioned above was knitted by Michael's Nanny which I needed a replacement for because I was starting to stank it up by that point and was nervous about washing it. If there's a chance the weather could be colder, pack at least two jumpers.
Gilet (otherwise know as a body warmer or puffer vest)
I bought a quilted gilet from J Crew in the Niagara outlets because it had a really sweet ruffle detail along the collar and pockets and I knew it would come in so handy at home for keeping out the cold as the seasons changed. Yet again this turned out to be an amazing unexpected purchase because it helped to insulate my thin rain jacket on the days where the wind was unbearable.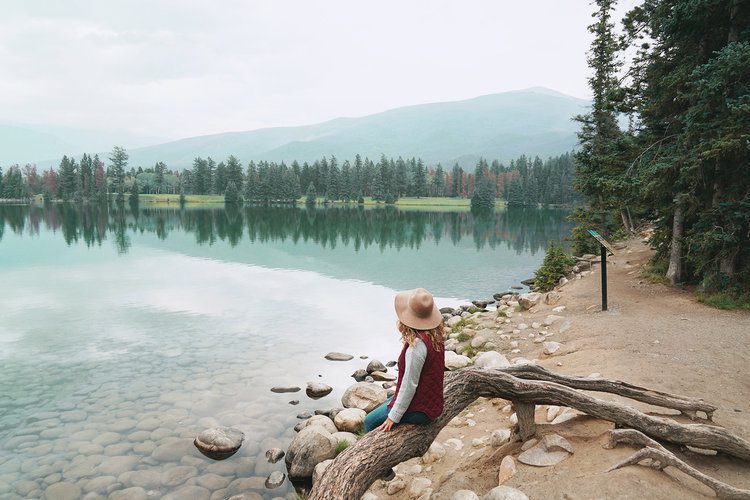 Gilet: J Crew, Hat: Banana Republic, Jumper: Ardene.
.
You may have noticed (or will do now) that I am basically wearing the same clothes throughout my time in the mountains, and that comes down to the fact that my warmest clothes were two jumpers, two pairs of jeans, three scarves (I couldn't resist them in Simons) and one pair of thermal socks. I was so surprised how for seven days the weather was averaging out at 7˚C and yet on the last day it came out at a very warm 20˚C, warm enough to warrant a summer dress for the afternoon! From this trip I have learnt that the weather can really turn within three weeks and that just because you have seen people wearing summer clothing and the forecast appeared good it definitely doesn't mean it will stay that way. Always be prepared with a couple of basic warmer items if you're heading somewhere that experiences frequent shifts in temperature and you'll be good.
If you would like to edit your own packing list like the one above check out My ultimate interactive packing list where you will find a downloadable PDF and help on how to use it.
.
Aloha, Gabriella