I love lists! I love lists so much that even my lists have lists. What's my favourite list I hear you say, well that's easy, it's my packing list! The first thing I do once we've started to book a trip is draft my packing list, even before I've researched what I'm going to do – which of course helps me plan appropriate outfits – I'm diving straight into my template and typing up all the outfits in my wardrobe that I can take with me. Seriously my screen saver is so littered with my packing lists I can barely see Margot Robbie's beautiful face on my Pan Am screen saver, criminal I know!
I know it seems eager, but there is method to my mad-lists! without fail my first draft will contain about 30% of items I won't need, so by starting early I can keep going back to it and taking things out and sometimes replacing them with more practical items, especially after I have started to plan activities. When I am making my packing list I usually put a * next to "maybe" items, this helps me throw things out when I need to whittle it down. If you're anything like me you will end up buying clothes when you're away anyway so let's make room for that!
In time I have created a template which hasn't failed me yet. The key to a fail-proof packing list is categories and subcategories. When making a list, nothing is too trivial, include everything and you won't forget anything. Sounds obvious I know, but my partner once refused to put underwear on his packing list because why would you forget underwear?… Well I'm sure you can guess what we had to do first after checking into our hotel in Brussels… Be specific too, describe the item of clothing with brand, style and colour, for example, "Joules stripy top with gold stars", it will make a less cryptic list when it comes to packing.
Check out my interactive packing list below, just one click you will be able to edit and customise your very own*. You can change the destination and replace items with full descriptions of everything you want to pack, just like my example above. If you need help editing it, take a look at the GIFs below, it's super easy and saves trees, yay!
In time I will post about what you can pack and wear in different climates and how to adapt your wardrobe to alternative cultures, but for now I've kept it general and flight-friendly with items for both male and female ready for you to personalise for your next trip. 
Happy Packing!
*Customisation requires Adobe Reader and the file may need to be saved first.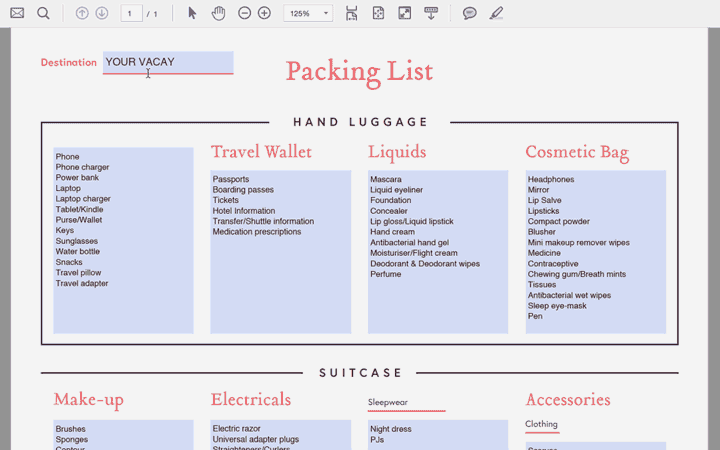 Customise your list with the destination and exactly what you want to pack.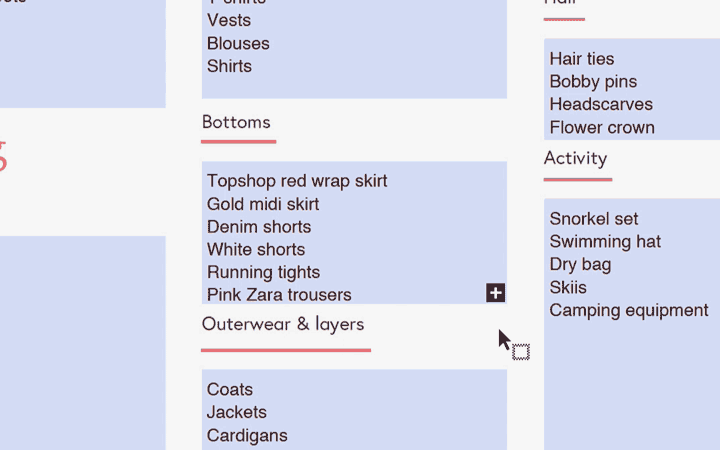 Big trip or struggling to pack light? No problem, I've got you covered! Use the scroller to view all your items.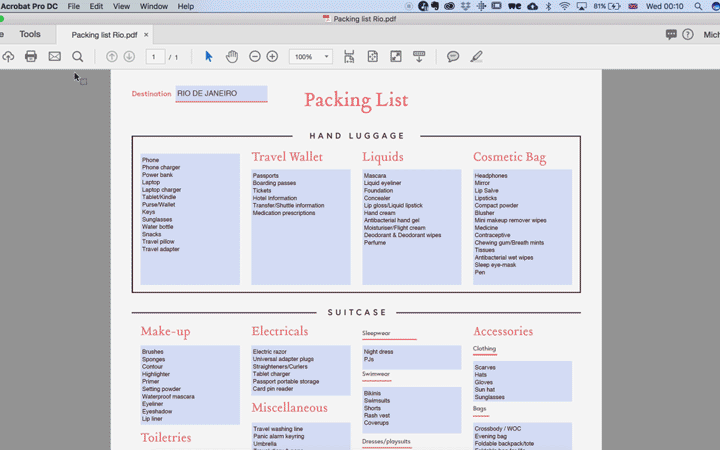 If you want to copy it into your preferred planning assistant/app, you can export the list to plain text and paste it wherever you want.
.
Let me know if you found this helpful or if you think I missed off something we would die without!
Aloha, Gabriella