Learn how to make simple homemade pasta from two ingredients with this simple recipe. If you're  intentionally eating a more plant based diet then there's no need to be scared off by the word "vegan", this recipe doesn't substitute anything it's just an eggless fresh pasta recipe.
This pasta recipe will help you to make pappardelle pasta which is like spaghetti with a whole lotta junk in its trunk – it's about 2-3 times wider than tagliatelle. You don't have to make pappardelle though, you can make any shape you fancy with this pasta dough.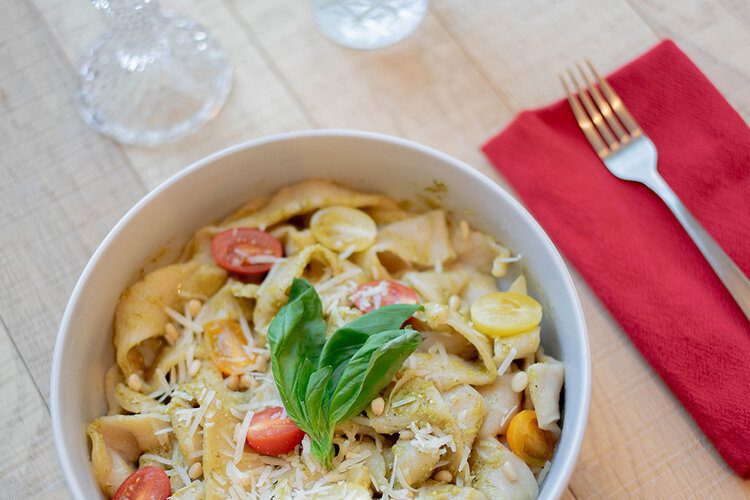 This fresh pasta recipe is super easy and quick to whip up and is really handy if you've run out of pre-made pasta, looking for a pretty simple way to impress your dinner guest, want something fun to cook with kids or are feeling extra come dinnertime. It's also a neat way to honour a beautiful country whilst we can't travel to Italy just yet.
I have chosen to serve up my fresh pappardelle pasta with pesto sauce, mixed baby tomatoes, pine nuts, parmesan and basil but you can serve your homemade pasta with any sauce of choice.
Ok so anyone who isn't just here for the recipe and hasn't already skipped down (no judgement here) I've answered a couple of questions you may have about this vegan fresh pasta recipe and then I share the ingredients, equipment and method.
How much will this vegan fresh pasta recipe make?
1 ½ cups of plain flour will make enough pasta to serve two people.
Important tips for making homemade vegan fresh pasta
The most important part is to make sure you have enough flour underneath and on top of your rolled out dough so that when you cut out your chosen shapes it doesn't stick to itself.
Does it have to be pappardelle pasta?
Nope I'm just lazy and pappardelle shaped pasta requires very little effort.
What you will need to make homemade vegan fresh pasta
Ingredients for homemade vegan fresh pasta
204g / 1 ½ cups of plain flour plus extra for dusting

330ml / 1 ⅓ cups of cold water (approximately)

Teaspoon of salt
Equipment for homemade vegan fresh pasta
Cup measurements

Dessert spoon

Fork

Rolling pin

Sharp knife

Saucepan

Wooden spoon

Colander
Method for making homemade vegan fresh pasta
1. Measure out the flour onto a clean surface, alternatively you can use a mixing bowl.
2. Using a dessert spoon make a well in the middle of the flour, you can use the GIF below as a reference. Making a well in the flour makes it easier to gradually mix in the water so your dough doesn't become lumpy.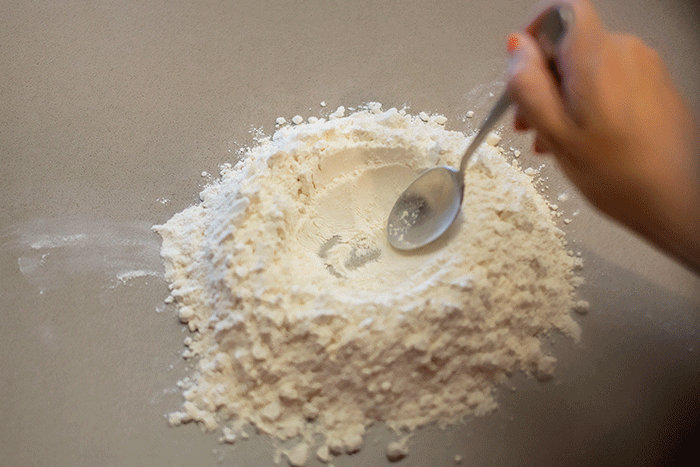 3. Add the water approximately one tbsp at a time and use the fork to mix the flour in. You want to gradually take flour in from the edge of the well you made and whisk it into the flour to combine it. As the dough becomes less sticky add a little more water and continue to mix the flour in. To make things easier, you can mix the dough in stages.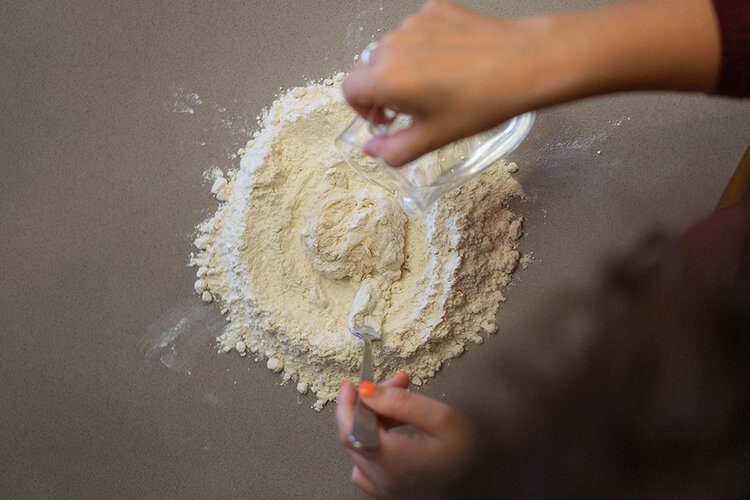 Note that you might not need all of the water, use as much as you need to form a dough with all of your flour.
4. Once you have mixed all of your flour into a dough, dust your surface with extra flour and knead your dough for about 4-5 minutes or until it becomes smooth and elastic. This helps the pasta to keep its structure once you shape it whichever way you please.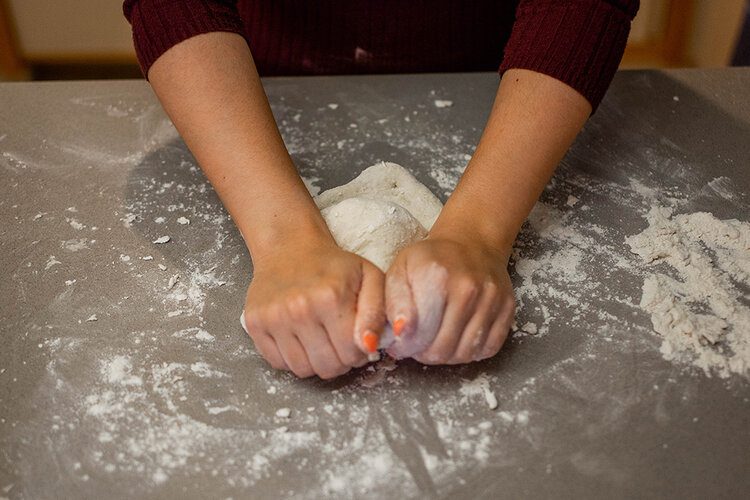 5. Dust your surface again with flour and your rolling pin and roll out one half of the dough to a thickness of 3mm/0.2". Be sure to dust flour onto your surface every time you move and flip your dough to make sure it doesn't stick. If it's easier you can work your dough in two halves.
How to shape pappardelle pasta
Before we continue, you don't have to make pappardelle pasta, you can make whatever shape you like. I'm just lazy and pappardelle is easy.
6. Bring a saucepan of salted water to the boil as you continue with steps 7-10.
7. Sprinkle and smooth out a layer of flour onto the rolled out dough. You don't want to smother it with flour but it needs enough so that neither side is sticky.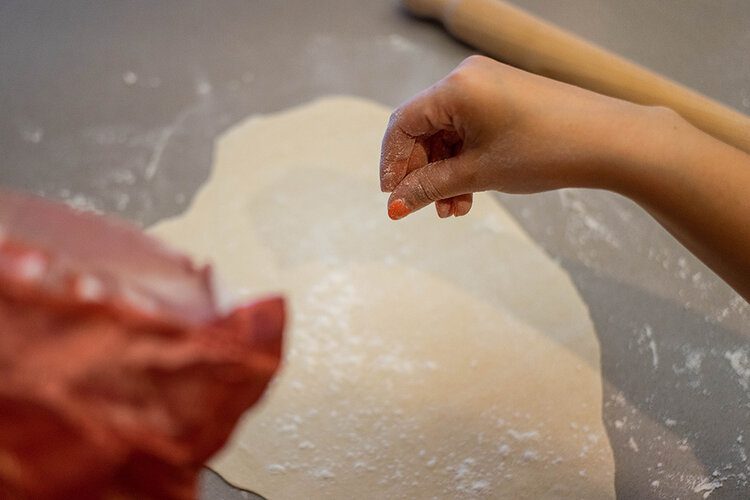 8. Take one edge of your dough and lightly roll it in and continue to roll the whole dough so it resembles a Swiss roll. Be careful to roll lightly so the dough will unravel easily after you've cut it.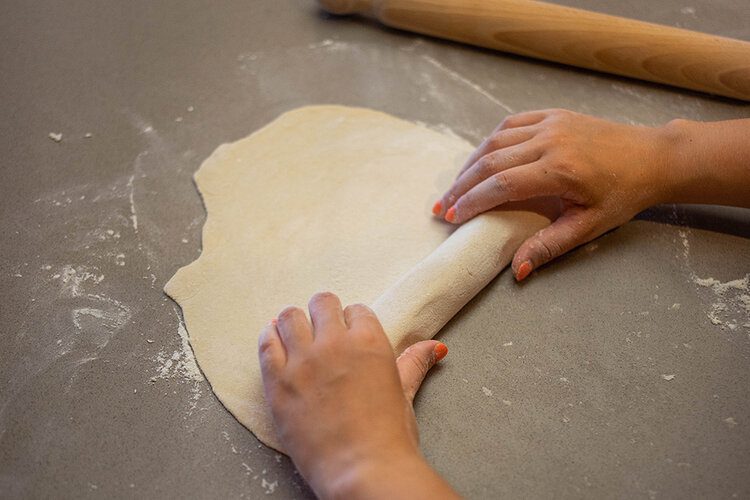 9. With a sharp knife slice your rolled up dough (gently if you choose not to use a chopping board as to not damage your surface). To make pappardelle pasta cut your slices 2-3cm/3⁄4–1inch wide.
10. Lightly flour your hands and gently unroll your pappardelle pasta.
11. Place your pappardelle pasta into the boiling water, stir and cook for 2 minutes. Make sure you don't overcook your pasta as it will become gloopy, lose its shape and be unpleasant to eat.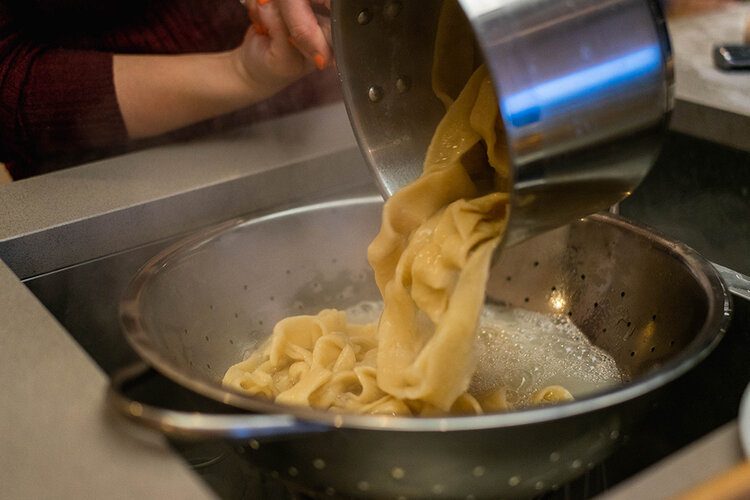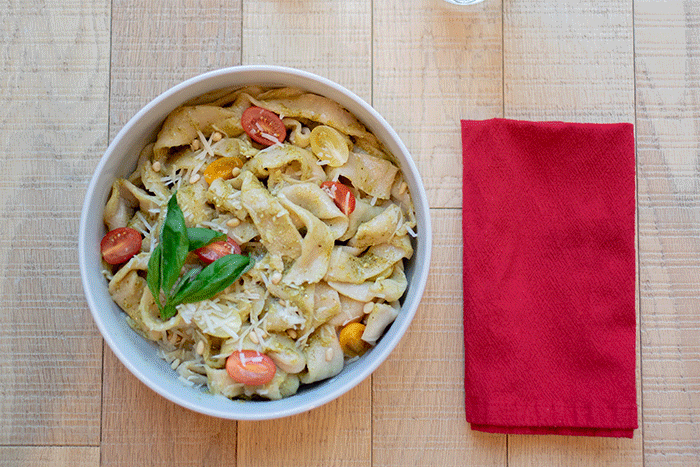 Buon appetito!
Do more on & for the planet, Gabriella