Paris is a city I hold very close to my heart. According to Michael we actually met multiple times in college (that's high school for my North American readers), none of which I actually have any recollection of (kind of like Lara-Jean and Peter's meet cute in To All The Boys: Always and Forever [2021]) but for me, the first time I really paid attention to him was on a trip our arts department took to Paris.
Until the Coronavirus pandemic, Michael and I have returned to Paris every year since that trip and we even moved there together at just 21 years old – I didn't move straight away and I wrote a blog post about sustaining long distance relationships which you can read here, I also didn't have a job right away when I moved and I wrote a blog post about how I kept myself busy during that period of time which you can read here.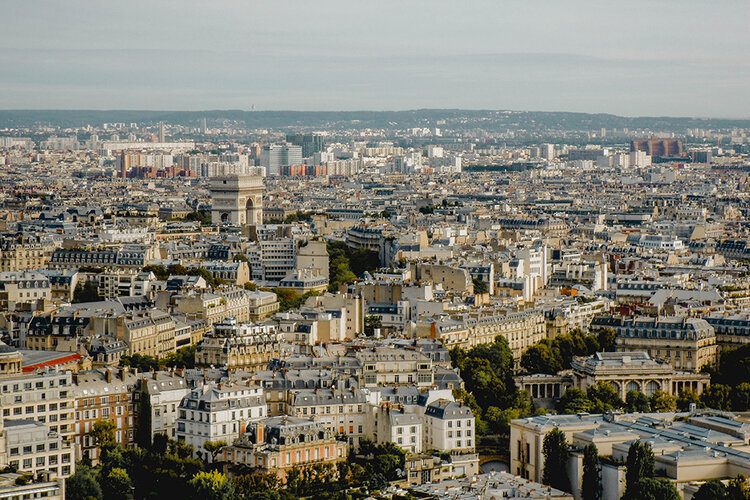 I love Paris dearly, she was my first experience of independence, she tested my anxiety and she healed me when I needed it most. My life in the city of lights was challenging and transformative and it was these 10 Parisian chic things to do in Paris that you're here to read about that made living in Paris even more magical (and realistic) than Emily in Paris.
Don't worry first-timers, these recommendations of some of the best things to do in Paris include the famous city landmarks you're so eager to visit, but the way I want you to experience them make them more than checking off a Paris bucket list, I want you to inhale the magic of each of these places. 
Currently in my London apartment I live right next to the Eurostar to Paris and trust me, the day there's a safe opportunity to do so, I'm jumping right on that train and going back to Paris, the city of love, to say one last goodbye before I move to Canada and I will be doing every one of these:
1. People-watch from a Parisian café terrace
This is one of my all time favourite things to do in Paris. Take a moment out of your day exploring to sit at at some of the smallest tables in the world out front of any café you stumble across on the streets of Paris and just observe the world continuing to move around whilst you are sat still.
In my opinion this is one of the most Parisian chic things you can do in Paris. If people-watching isn't your thing then bring a book, maybe one you've picked up from the bouquinistes along the Seine (see number 7 for more), or use the moment to journal your thoughts and feelings of being in one of the most romantic cities in the world.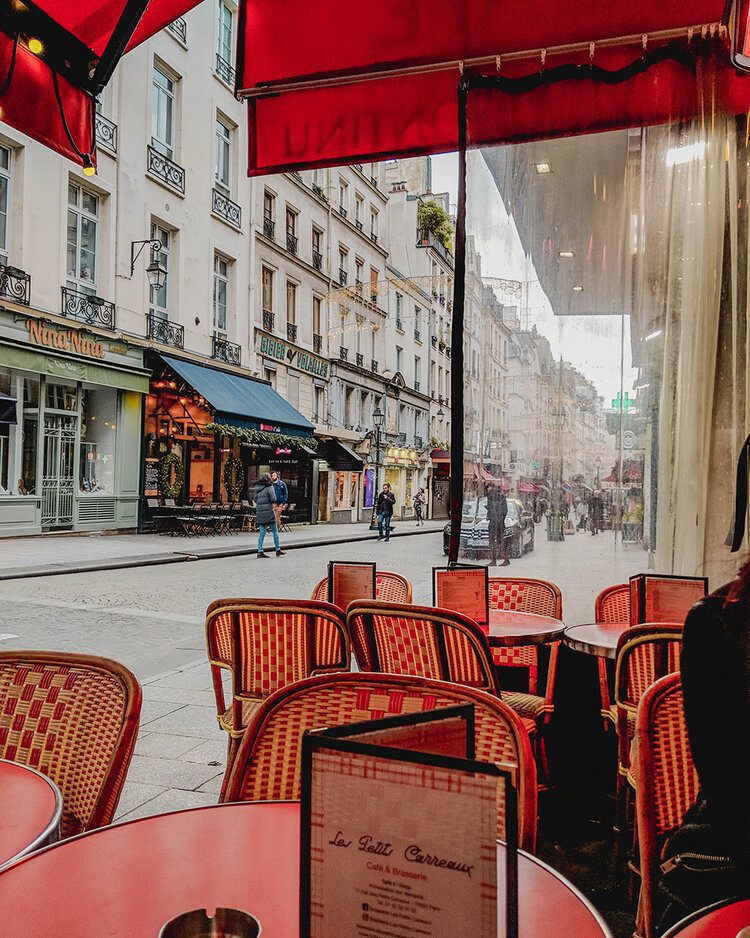 As pretty as they are (I get it, I've done it) don't be fooled by the more popular cafés in Paris such as Ladurée on the Champs-Élysées, Café de Flore on Boulevard Saint-Germain or Angelina on Rue de Rivoli whose sweet treats and the luxury of enjoying them there come at a higher cost. It doesn't have to be the most Instagrammed café in Paris, it will still be every bit as charming, and hey! If the service is slow and the waiter isn't impressed by your attempt to order in French, even better!
The true experience is to sit at a terrace to get your caffeine fix because your feet are tired from being a flâneur. What's a flâneur you say? It's the French term for a person who strolls or saunters simply observing their surroundings. You give your feet a rest and you hydrate but you continue to soak up everything passing you by on the street in front.
This is equally as enjoyable during happy hour with a carafe de vin blanc. 
2. Spend a rainy afternoon in the Louvre Museum
If wet weather is holding you back from wandering along the chic streets of Paris, don't worry a moment more, instead take those feet (or however you are mobile) indoors to Musée du Louvre. The Louvre Museum is the biggest art museum in the world and is home to some of the most prestigious works of art known the world over such as Da Vinci's Mona Lisa, Delacroix's Liberty leading the people and Alexandros of Antioch's Venus de Milo.
With three wings hosting over 380,000 pieces of art work from sculptures to tapestries, paintings and drawings in various mediums, the personal apartments of Napoleon III along with his predecessor's klepto collection of global art, you will be able to spend all the hours you wait for the rain to pass observing some of the most historic pieces of artwork in the world.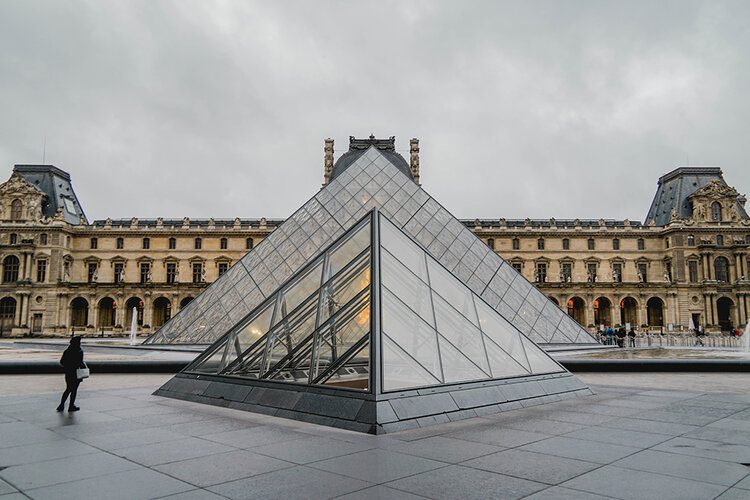 Personally I believe the most Parisian chic part of the Louvre is Cour Marly in the Richelieu wing of the museum. This indoor courtyard is home to sculptures commissioned by Louis XIV at the end of his reign and is one of the most well-lit areas of the Louvre as it sits under a glass ceiling. I would sit in here often when I lived in Paris, this bright room of sandy coloured stone walls is like no where else in the museum. 
How to visit the permanent exhibitions at the Louvre Museum for free
EU citizens aged 18-25 with proof of ID

All nationalities under the age of 26 years old with proof of ID every Friday 6pm-9.45pm

Teachers of the arts

Visitors with different abilities and the person accompanying them

Bastille Day: 14th July
You may also be interested in 7 free museums in Paris for Europeans aged 18-25.
PFH Top Tip: Don't get into the outrageously long queue at the Louvre Pyramid, you can get access by showing a valid ID at any of the other entrances.
Musée du Louvre opening hours
Monday 9am – 6pm
Tuesday Closed
Wednesday – Sunday 9am – 6pm
Exhibits begin closing at 5.30pm
3. Stay up to see the Eiffel Tower sparkle for 10 minutes at 1am
Every evening from sunset to 1am, 336 yellow bulbs illuminate the exterior of the Eiffel Tower. For an extra special moment between her and you, stay up to bear witness to the 10 uninterrupted minutes that the Eiffel Tower sparkles like she's made of pure magic before she fades into the dark wee hours of the morning when the lights go out.
Sure, she sparkles on the hour for 5 minutes during the late hours of the night, but it's those final sparkles during the stillness of those early hours that make you feel like she's putting on a show just for you.
4. Practice mindfulness in Notre Dame
Unfortunately due to the fire of 2019 that destroyed the spire and most of the roof and the pandemic that has slowed down the reconstruction of Notre Dame, this 858 year old medieval Catholic cathedral is temporarily closed. One day, even if it takes a couple of decade to fully restore it, Notre Dame will reopen and this is for then.
In the first month that I had moved to Paris it was winter and one of the coldest ones I have experienced there. I hadn't at that point set up any job interviews, my anxiety was preventing me from seeking out friends and Michael, a new intern at a global advertising agency, was working all hours. I was lonely and struggled to be on my own. As I mentioned in the introduction to this post, Paris challenged me and so I didn't feel like this for long but in that time I would seek comfort sitting in Notre Dame.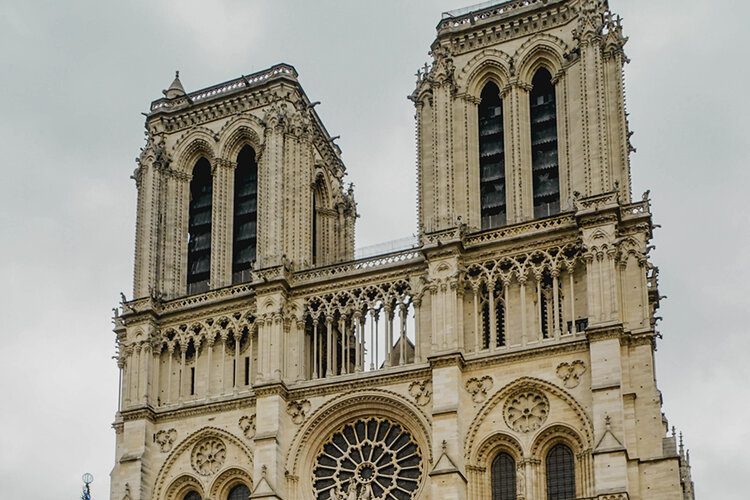 As the cathedral was open for prayer I would take a seat towards the middle where it was far away enough from tourists but still in one of the darker spots so I didn't feel like everyone could see me and I would simply sit with my thoughts. Sometimes I journaled and often I just switched off and sat in silence. Now I know it to be practising mindfulness but back then I just wanted to be somewhere where I didn't feel alone but didn't actually have to interact with anyone. Notre Dame was there for me when I needed it most and I long for the day it's restored for you.
5. Get lost on the streets of Montmartre
Once home to some artists that you may have heard of: Picasso, Van Gogh, Monet and Renoir just to name a few, Montmartre is a village unlike the rest of Paris. Set on a hill in the 18th arrondissement, Montmartre is one of the most charming districts of Paris.
Montmartre is a beautiful maze of wonky buildings on tight cobbled streets that should absolutely be explored without much of a destination in mind. As if by magic you'll be transported away from the manic streets below to a peaceful corners surrounded by paint chipped buildings dressed with climbing vines and windows framed by hand painted shutters. The reason Montmartre feels different to the rest of Paris is because it wasn't part of the city until the 19th Century.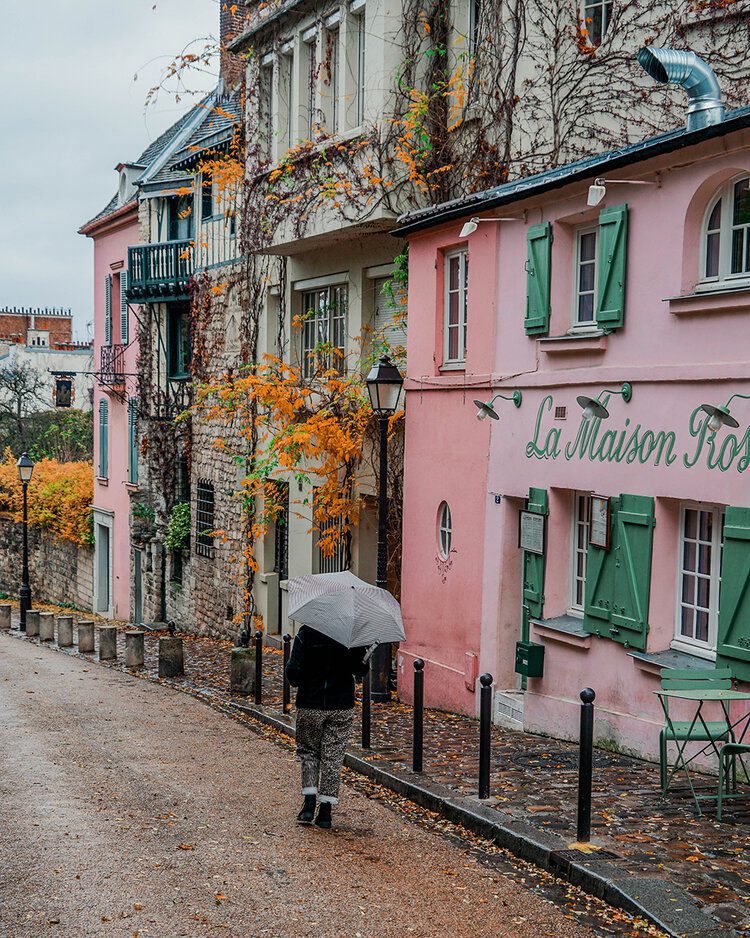 As long as you're making your way uphill you will eventually reach Sacré Coeur, the Basilica of the Sacred Heart of Paris, which sits on top of the hill. On a clear day you can look out across the city of Paris from the steps in front but it's a difficult place to stay for long as it's swarming with tourists. I have enjoyed lunch on these steps in the past in quiet moments but the magic is in the little back streets of Montmartre.
6. Stroll along the Seine
Something I did more times than I can count over the year with friends and Michael is stroll along the Seine. Sometimes it was to get somewhere, others it was for exercise, sometimes it was simply just to enjoy the moment. A lot of the time it was to pick a spot to dangle my feet over the edge and enjoy a picnic of brie, a baguette, grapes and wine. Don't be fooled by how chic this sounds, my 21 year old cheap ass drank the sweetest wine I could get my hands, ahhh those were the days.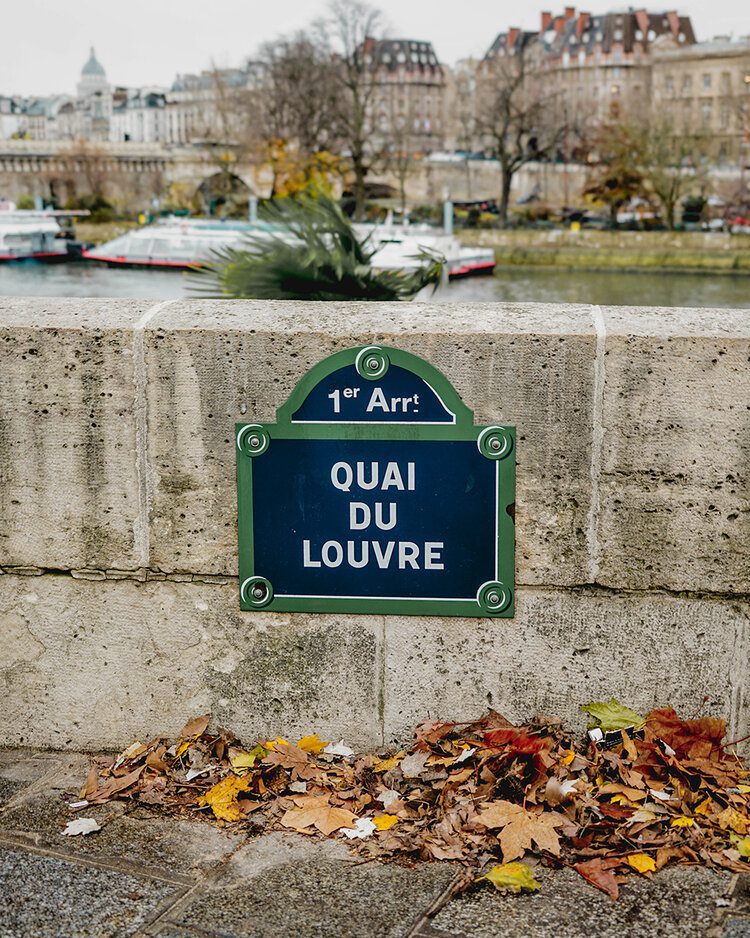 I'm not bias over which part of the river to walk along, it really depends on how much time you have in the day as to how much you want to cover. If you want convenient then stay around Île de la Cité as it's close to some of the places in this guide and if you want scenic then you want Avenue de New York for views of the Eiffel Tower across the water but in my opinion the ideal picnic spot is between Point du Carrousel and Pont des Arts on la Rive Droite. It's down from the hustle and bustle from the street above, there's a few benches against the wall with some trees for shade on a sunny day and the cobbled path is wide enough for you to sit on the edge without getting in the way of passers-by.
You may also be interested in my ultimate Paris travel guide.
7. Shop for your next coffee table book at the bouquinistes of Paris
Paris is home to some of the most famous fashion houses on the planet, beautiful department stores such as Galleries Lafayette and Printemps and best shopping streets including Rue Saint-Honoré, Saint-Germain, Avenue des Champs-Élysées and Canal Saint-Martin, but the best shopping you will ever do in Paris is at the bouquinistes along the Seine.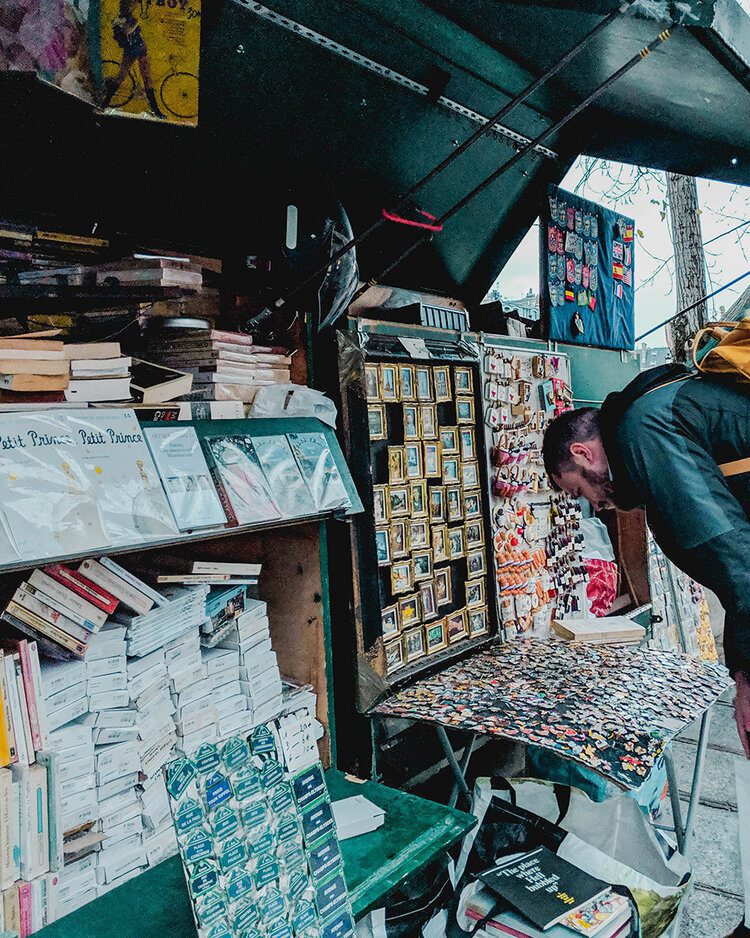 The bouquinistes are green boxes located along the banks of the river that open out to create open-air second-hand book stores. It's not just pre-loved books you'll find amongst these stalls, you can also pick up old magazines, postcards, paintings and prints.
The Parisian bouquinistes can be found from Pont Marie to Quai du Louvre on la Rive Gauche (the left bank) and from Quai de la Tournelle to Quai Voltaire on la Rive Droite (the right bank).
PFH Fun Fact: The Parisian bouquinistes became a UNESCO World Heritage Site in 1991, recognised for their literary significance.
8. Read a book in Parc Monceau
Honestly any Parisian Parc will do (one of my favourites is Jardin Tuileries leading up to the Louvre) but I recommend Parc Monceau in the 8th arrondissement mostly because it was where I have happy memories of long summer evenings in the grass as I lived next to it. It should also be noted though that Parc Monceau featured in six of Monet's world renowned paintings created in 1876 and 1878. 
Park bench or grass, take your pick, and settle in with your book. I've done this year around with ease, wrapping up warm during the cooler months however I highly recommend doing this in spring when the city is starting to warm up but is not yet sizzling. 
Just imagine: with your book in hand a gentle breeze rustles the leaves in the trees above, soft rays from the sun tickle the hairs on your arms, there's a faint murmur of joggers' footsteps on the path, children laughing as they play and conversations in a language that maybe you don't fully understand so it doesn't distract you away from the page in front of you. Bliss.
PFH Fun Fact: Claude Monet's The Parc Monceau (1878) and Landscape: The Parc Monceau (1876) are on view in Gallery 818 at The Met on Fifth Avenue in New York City.
You may also be interested in listening to my Paris playlist.
Do more on and for the planet, Gabriella