Need hotel room food ideas? These five no-cook meals for travelling are perfect for making in your hotel room when you don't have a kitchenette or are looking to save money on your travels. These easy no cook recipes are a mix of vegan, vegetarian, meat, dairy free and gluten free meals that are all healthy and delicious – there's something here for everyone. These travel food recipes are perfect for when you have a tight travel budget and want to save money by not eating out but don't want to eat junk food and don't have a kitchen to cook in. These no-cook recipes are also ideal for camping if you don't have a stove to cook on but want to make something healthy to eat.
Eating out in new restaurants is one of the most exciting things about travelling but do you ever feel like you can't be bothered to go out, want to save money or need to resist temptation of another bowl of pasta? Well you're not alone! Often I will opt to save money by making no-cook meals in my hotel room and these are my top recipes that don't require any cooking.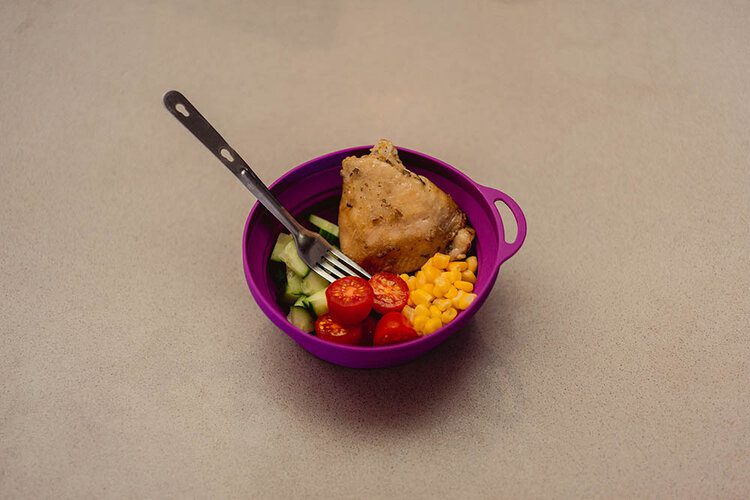 I've been experimenting the past few summers whilst road tripping to be able to eat well with very little kitchenware and have made these five no-cook meals for travelling as simple as possible because I know first hand that we aren't equipped with the regular basics such as seasonings or a microwave in hotel rooms. I've also picked five no-cook recipes that have ingredients that cross over to help you use up what you're buying and to make them cost-efficient.
What you need to make food in a hotel room
To make these five no-cook travel food recipes for road trips, hotel stays or camping you will only need the following three items:
Swiss Army knife – this will be your knife, can opener and scissors

Camping cutlery – to stir, serve and eat with (I have metal ones but bamboo cutlery are a good low-waste choice)

Collapsible bowl – your chopping board and bowl
I previously wrote 6 items for making food in your hotel room which features a few more bits that are super helpful for making food to pack-up for the day.
You may also be interested in my guide to picking the best reusable coffee cup.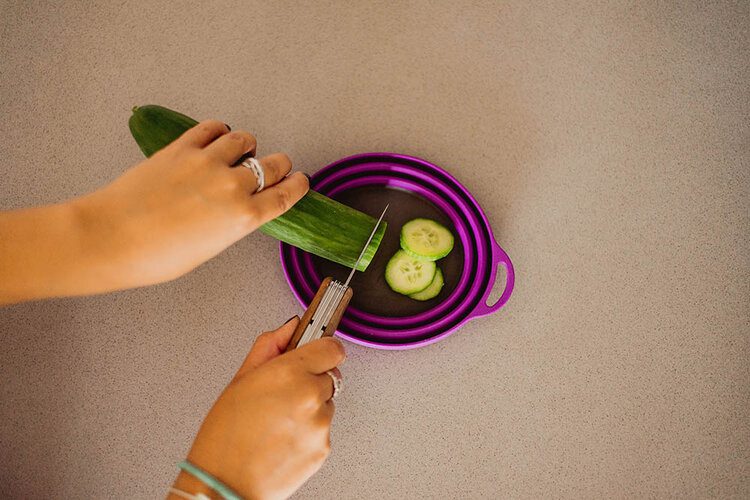 Tips for making food in a hotel room
Pay attention to tins having ring pulls to make life easier for you, but don't worry if you can't get one as your Swiss Army knife should have one

Try to buy loose fruit and vegetables so you can avoid extra plastic packaging but it also means you don't need to buy in bulk when you won't be able to eat it all

Buy a large onion and spread it out across all the recipes that use it

Use your collapsed bowl as a chopping board as the base is solid

Use cherry tomatoes because they only require a small surface space for cutting

I have cleaned my counter before taking these photos but I do recommend you avoiding placing your food on the surface space of your hotel room. Use your bowl or the food packaging 
1. Vegetarian wraps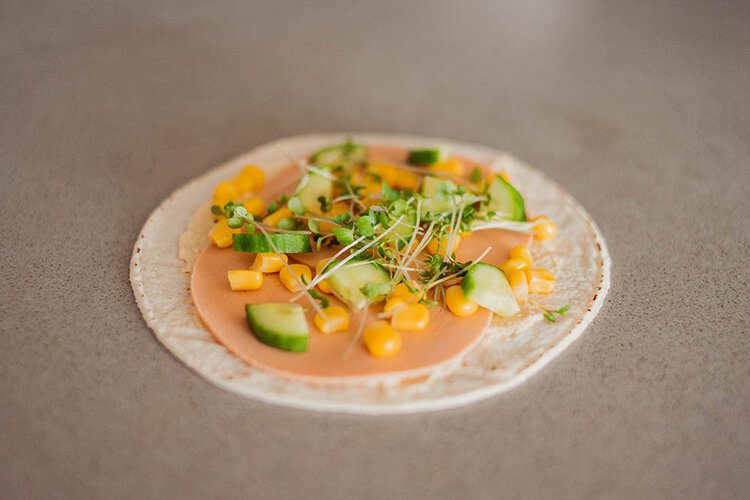 Swap the vegan ham to ham to include meat and use gluten wraps if you don't need a gluten free meal.
Ingredients
Ham

Cucumber

Sweetcorn

Cress (easy to use up vs. a bag of salad)

Hummus

Wraps (these gluten free fajita wraps are so much better than any other gluten-free wrap I have ever tried so I always get these)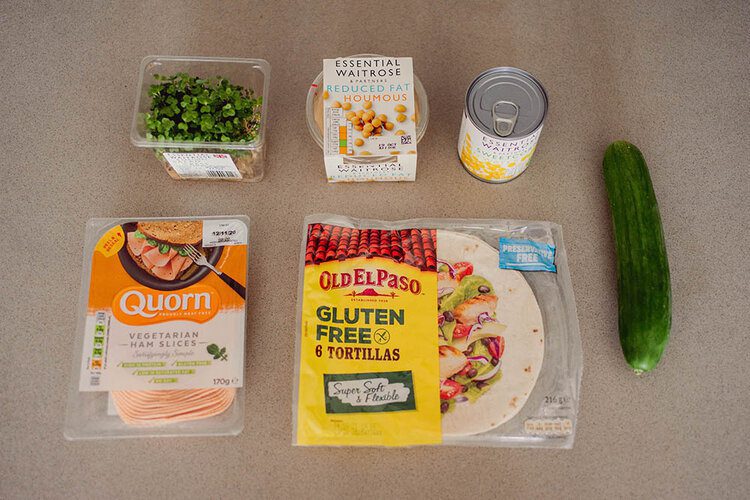 No-cook vegetarian wrap recipe
Spread a layer of hummus over your wrap

Lay a few slices of ham on top

Sprinkle on some sweetcorn

Use your Swiss Army knife and bowl to chop up the cucumber into small chunks and sprinkle over your wrap

Top with cress, roll up and enjoy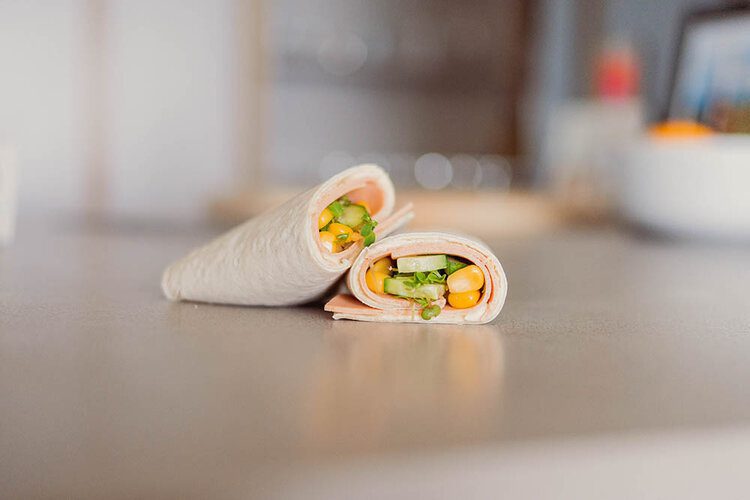 2. Tuna and avocado dip recipe with crackers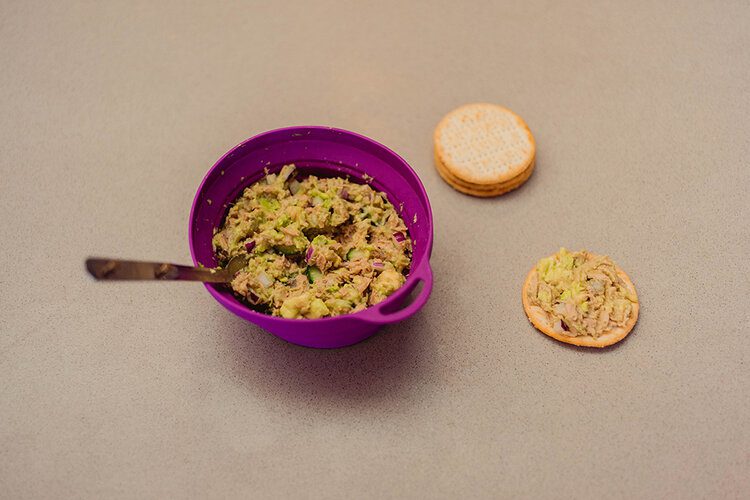 Swap out the tuna for feta to be vegetarian or to tomatoes to be vegan. You could also use a vegan tuna substitute such as Tuno.
Ingredients
X1 tin of tuna

Onion

Avocado

Cucumber

Lime (stops the avocado from tuning brown and adds flavour)

Crackers (oat cakes for a gluten free version)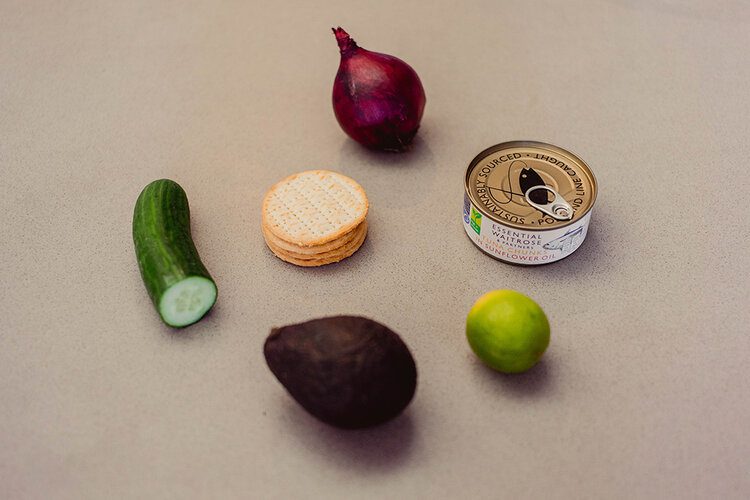 No-cook tuna and avocado dip recipe
Use your Swiss Army knife and bowl to chop up the cucumber into small pieces and leave it in the bowl

Do the same with some onion

Cut your lime in half and put it to the side for a moment

Cut open your avocado and scoop it into the bowl

Squeeze your lime over the avocado and add the remains to your water bottle to infuse your water and give it a second life

Open and drain your tuna and add it to the bowl

Stir and serve on crackers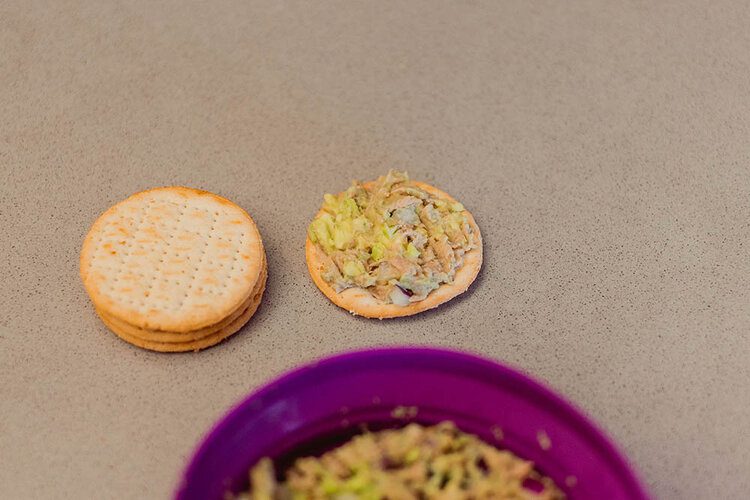 3. Mixed bean salad recipe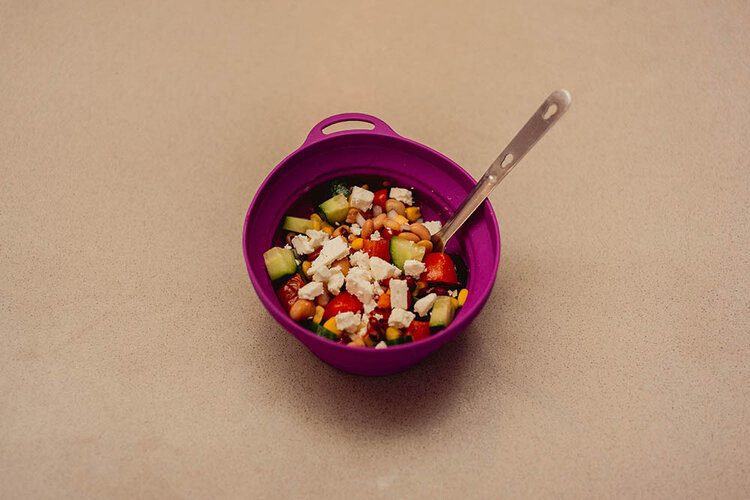 Swap out cheese to hummus to be vegan, add ham to include meat or use vegan ham to be vegetarian and vegan.
Ingredients
X1 can of mixed beans

Cherry tomatoes

Onion

Sweetcorn

Cucumber

Feta cheese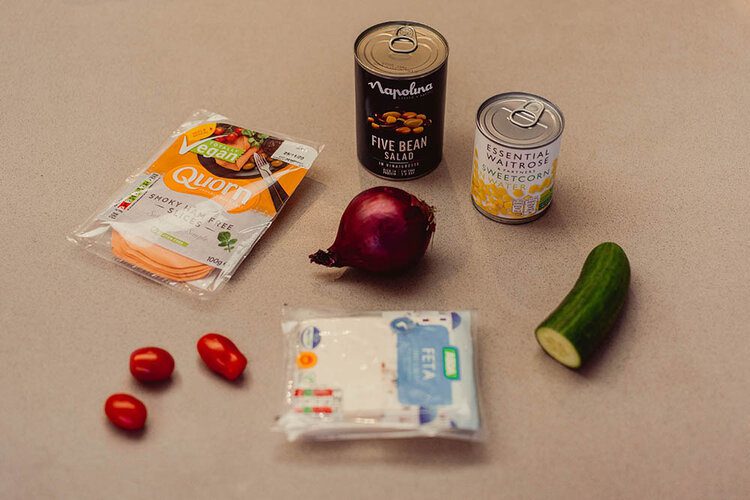 No-cook Mixed bean salad recipe
Use your Swiss Army knife and bowl to chop up the cucumber into small pieces and leave it in the bowl

Do the same with some onion and cherry tomatoes

Sprinkle in some sweetcorn

Drain your can of beans and add them to your bowl

Crumble over some feta cheese and enjoy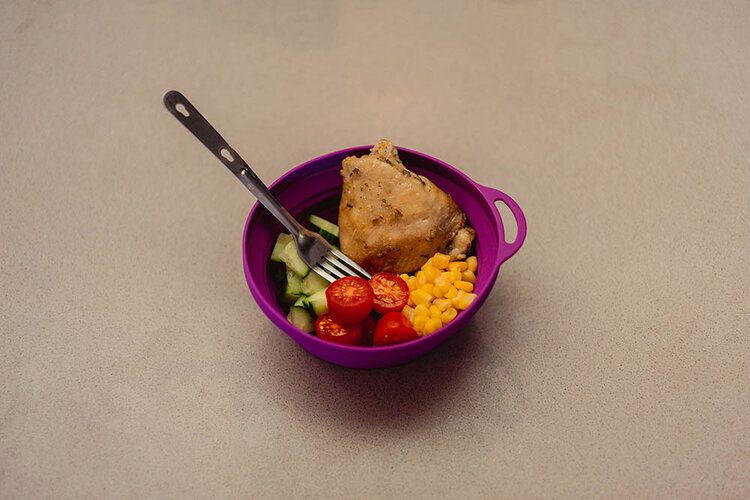 Ingredients
Pre-cooked chicken from the hot deli counter at the supermarket

Sweetcorn

Cherry tomatoes

Cucumber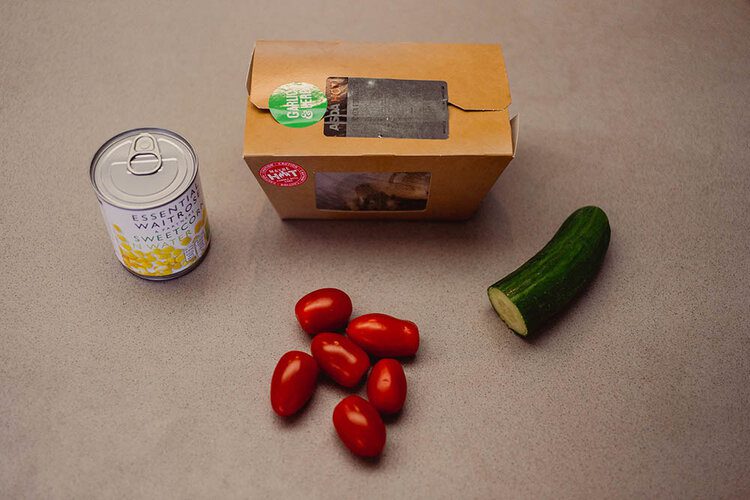 No-cook roast chicken salad recipe
Use your Swiss Army knife and bowl to chop up the cucumber into small pieces and leave it in the bowl

Do the same with some cherry tomatoes

Add sweetcorn to your bowl along with your pieces of chicken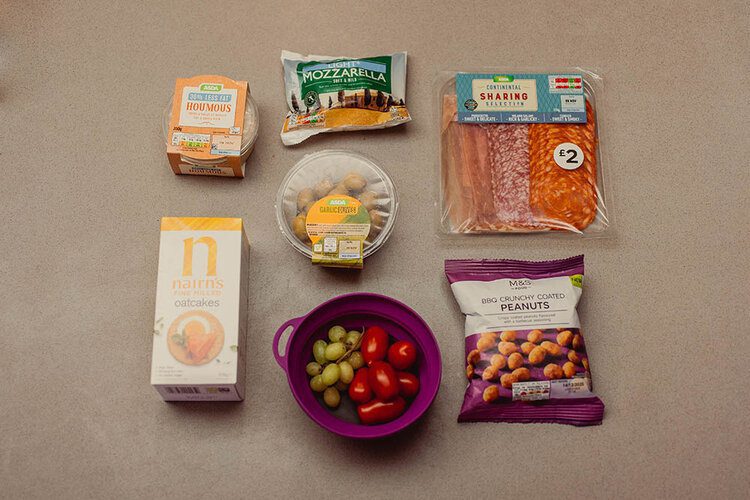 Swap out meat to be vegetarian, cheese to vegan cheese and crackers to oat cakes to be gluten free.
Ingredients
Crackers

Hummus

Sliced meat

Cheese

Olives

Grapes

Cherry tomatoes

Nuts/crisps
No-cook antipasto recipe
The great thing about a makeshift antipasto is it requires little effort as you can leave all the elements in the packaging.
.
There you have it, five no-cook recipes that are cost-effective, nutritious, easy to make and delicious. These travel food recipes are easy meals to make in your hotel room and will save you so much money.
Let me know in the comments below if you liked or have tried these hotel room dinner ideas and if you want me to share more!
Bon appétit, Gabriella
Pin this post featuring 5 no-cook hotel room meals