It's Christmastime in the city… different city but same vibe. 
Having just come out of a second nationwide lockdown in the UK, there was one simple thing I did during it which brought me so much joy and that was go for a walk with Michael to see all of the beautiful Christmas lights in central London. Sure, it's something I do every year whilst doing my Christmas shopping, or when I've made a trip out to go ice skating at the Natural History Museum or to meet friends for drinks. Though with all of those options cancelled for Christmas 2020, I found myself in a position where there was nothing to distract me from the simplicity of gazing up at sparkling Christmas lights whose sole purpose is to bring a little sparkle and festive spirit into our dark evenings. It was magical and exactly the healing I didn't realise I needed after spending three weeks indoors (with the exception of exercise and supermarket shops).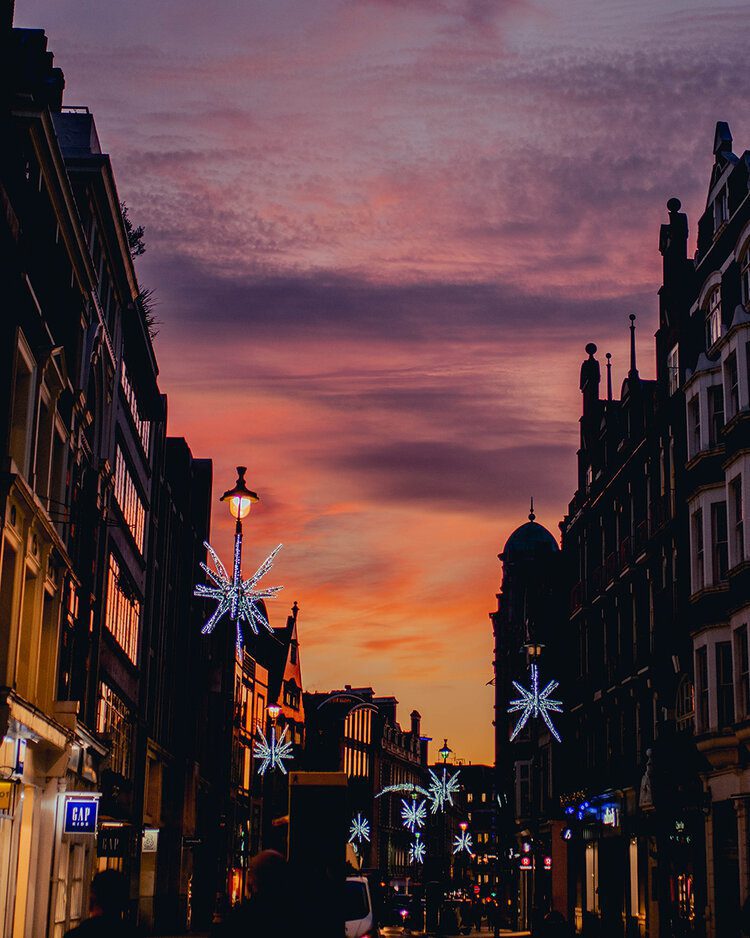 After mapping out a little route for Michael and I, I decided that it was something I eagerly wanted to share with you. Though I have created this guide in a time where all of the usual things I would do in London during the holidays have been cancelled, it is something that I know will stand the test of time. So whether you're turning to this guide as someone in the UK this year (2020) or in years to come when the world has healed and you're going on holiday/vacation here, one thing London can give to you this and every holiday season is sparkling displays of hope, joy and light.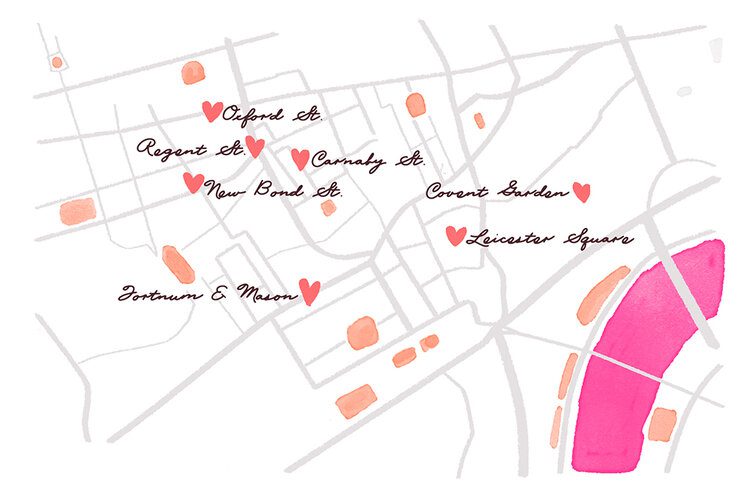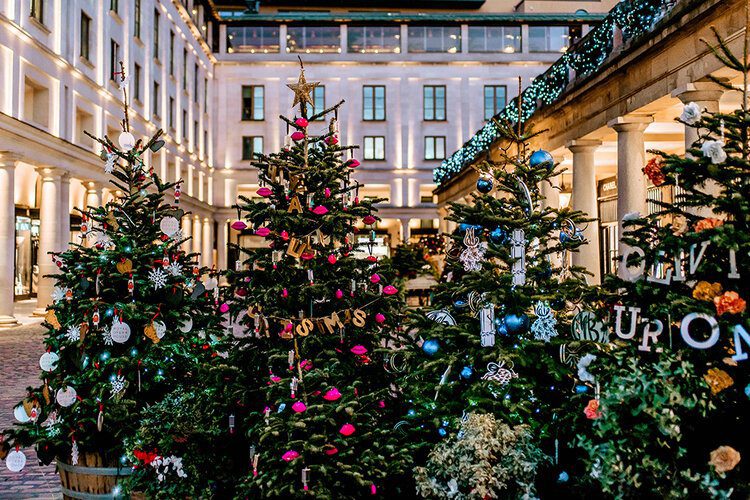 Start your walking tour of London's Christmas lights in Covent Garden by making your way to the piazza where you have two displays to appreciate. The first is the set of sponsored trees in front of the market and the second is their famous tree, just around the corner. Their 60ft tree is adorned with over 30,000 red and white lights and really is breathtaking. 
If ever you're in London during the holidays and the weather is a bit wet and gloomy, head over to Covent Garden to see the tree because the lights from the tree bouncing off the puddles below will warm your soul.
PFH Fun Fact: The annual Covent Garden tree comes from Woods Farm and for every tree they cut down, they plant another three.
Leicester Square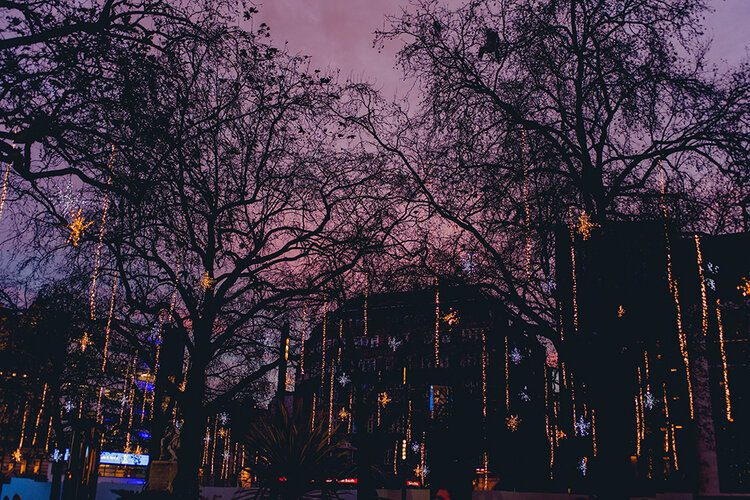 From Covent Garden, head over to Piccadilly whilst making a stop at Leicester Square. Hanging from the trees in the square are a collection of lights that look as though the stars are within reach. It's not the most impressive display but it's a good one to stop at on your way to the knock out ones.
Fortnum and Mason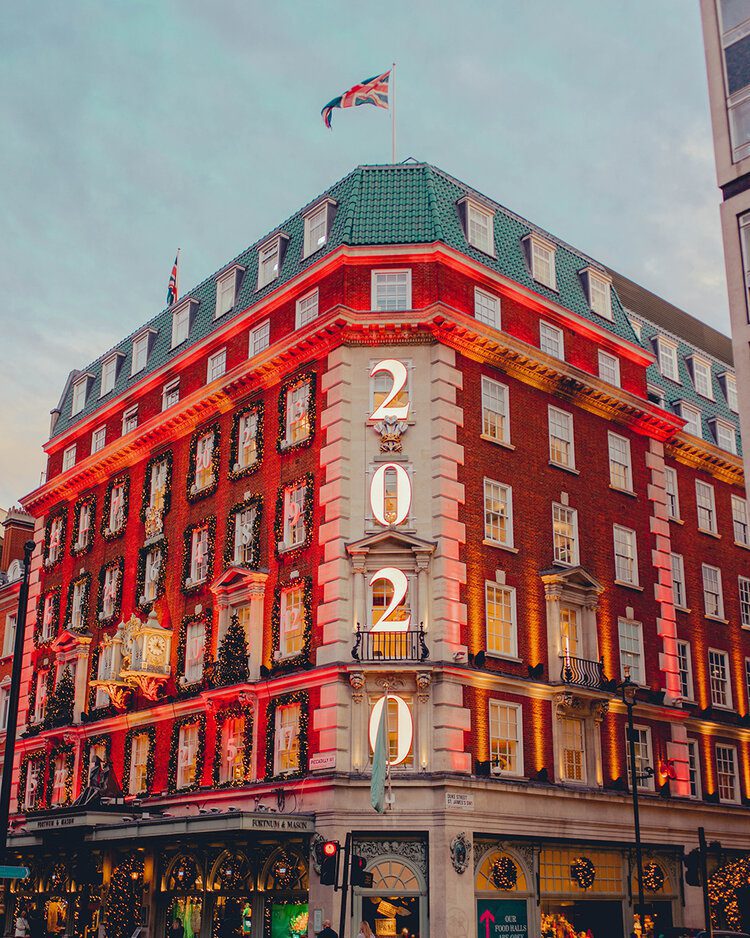 When you reach Piccadilly Circus you will be drawn toward Regents Street but first I want you to walk down Piccadilly Street until you reach Fortnum and Mason. Each year their storefront display changes and this year it has been made up to look like a gigantic 2020 advent calendar, it really shouldn't be missed. 
Whilst here, get a little closer and take a look at their eight beautiful Christmas window displays and if the store is open, pop inside for the best food hall in all of London (which is always seasonally themed) and head up to their Christmas floor.
If you do get the opportunity to visit Fortnum and Mason in 2020 (there's not much time left so hurry) this year's festive window display is extra special as each window is dedicated to eight moments from Fortnum's past Christmases including 1930, 1934, 1936, 1957, 1962, 2008, 2015 and 2020 – pay attention to the right hand corner of the displays as they feature the original Christmas brochure from that year. 2020 in particular was brought to life by Spanish illustrator Lalalimola and includes some quirky kitchenware characters enjoying a festive meal around a lively table – think Fortnums meets Beauty and The Beast.
New Bond Street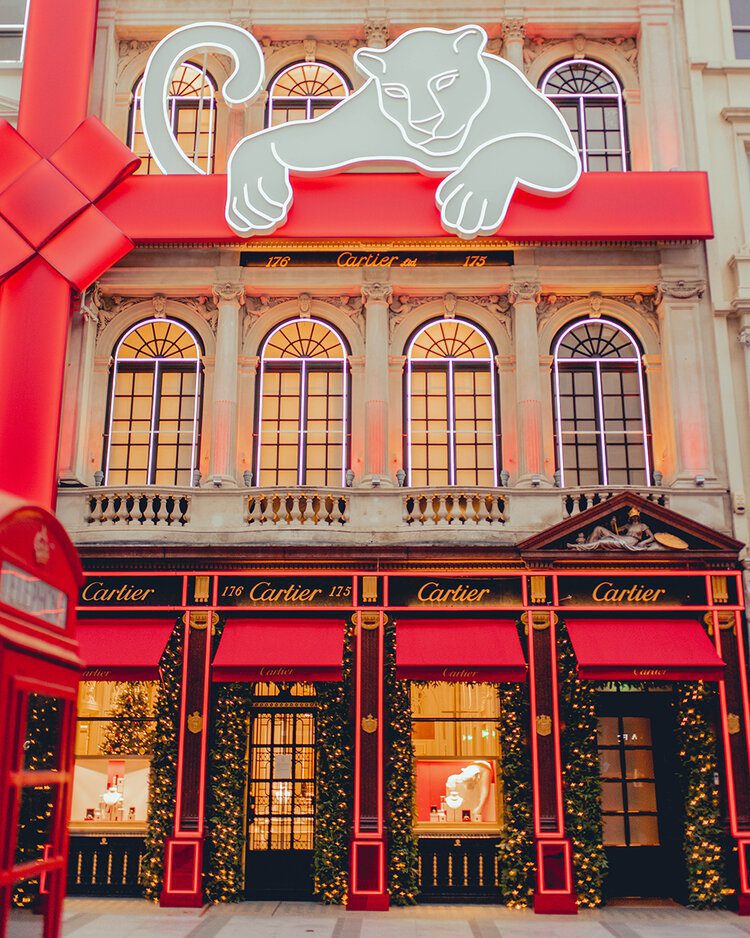 From Fortnum and Mason, pass through Burlington Arcade (just seconds down Piccadilly St.) to head towards New Bond Street. When you get to the end of Burlington Arcade make a left towards Tiffany and then turn right onto New Bond Street.
Here you will be met by lights strung up between the building above plus you get the treat of all the luxury stores' individual lights. One that you shouldn't miss because it's not only gorgeous but fast becoming an iconic Instagrammable spot during the festive season is Cartier.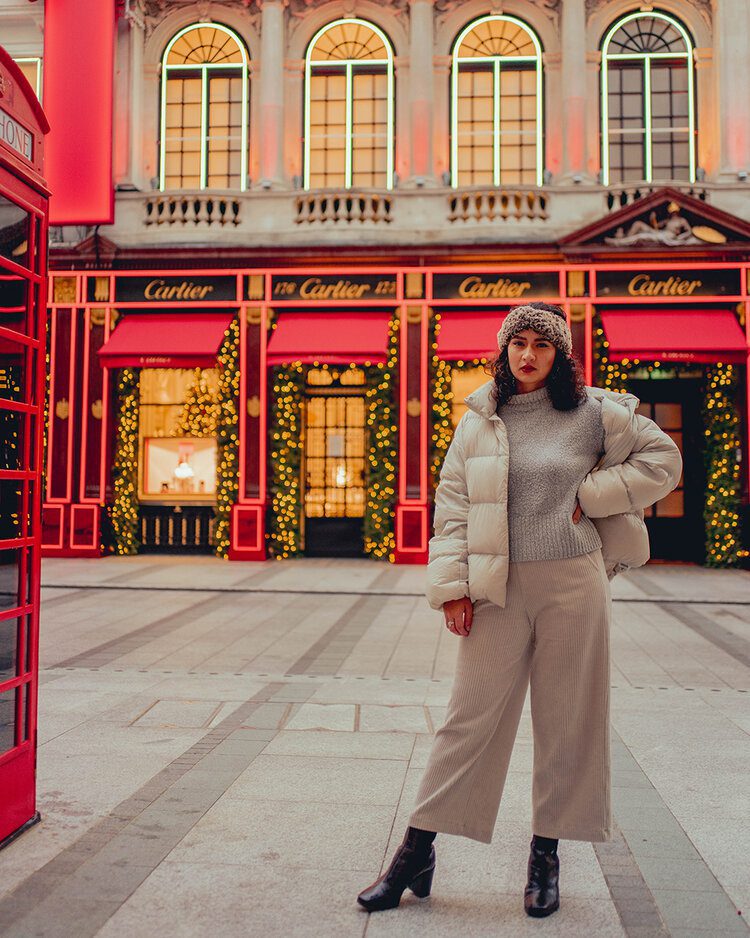 Each year Cartier makes the exterior of their stores sparkle as magnificently as their contents inside with sparkling garlands, strings of lights and the world famous big red bow. The store is wrapped up as the most perfect gift you could ever receive.
Regent Street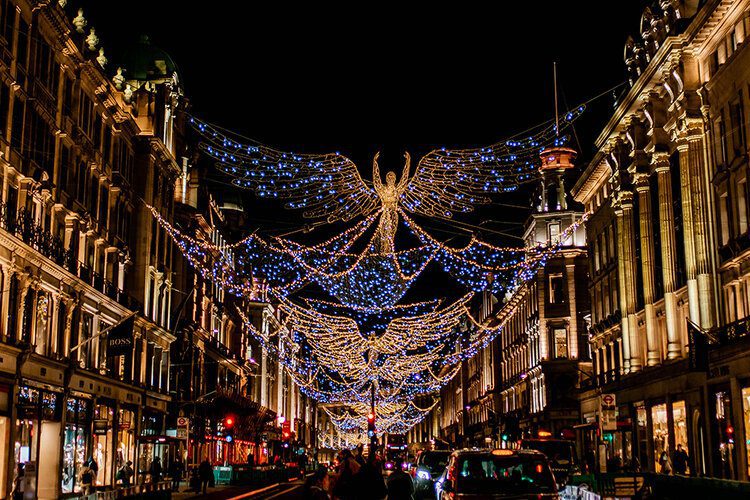 From New Bond Street walk down Burlington Gardens which turns into Vigo Street before joining Regent Street.
Personally I think Regent Street has the best Christmas lights in all of London. Every year the angels descend and line the sky down the entire length of the street from Piccadilly Circus to Oxford Circus.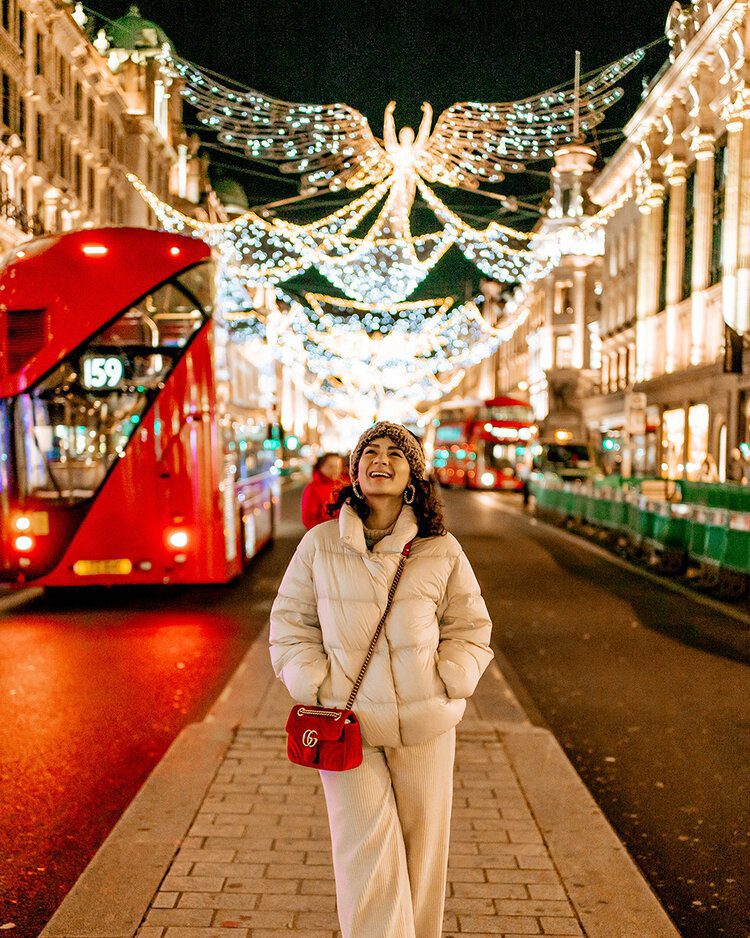 If you ever need your festive spirits lifted then stand on the island in the middle of Regent Street and gaze up at the glittering angels. Works for me, every time. Oh and how handy, this spot also happens to be a brilliant spot for a photo! For the best angle, stand where the road straightens up so the lights line up behind you.
Carnaby Street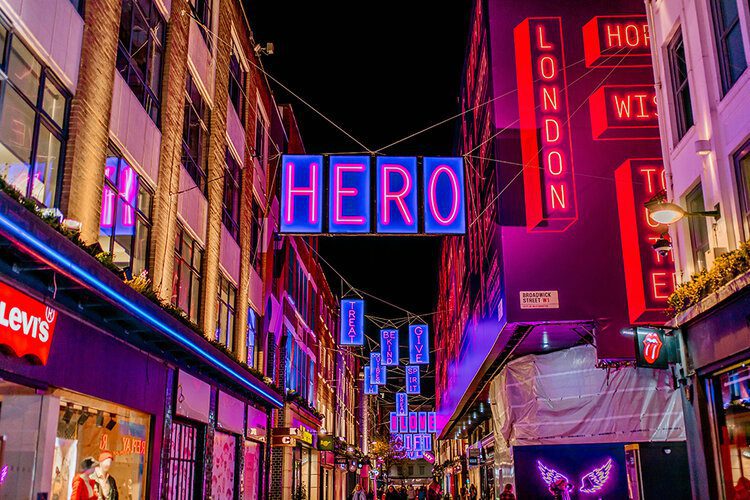 Once you've said hello to the Regent Street angels, turn off onto Beak Street to make a left onto Carnaby Street for their annual display. Each year their theme changes to comment on something of social significance. This year was all about choosing love, no matter how that looks for you and everyone else. The 2020 neon display share high energy vibes and reminds us that we've all endured something crappy this year but we can always choose love above anything else.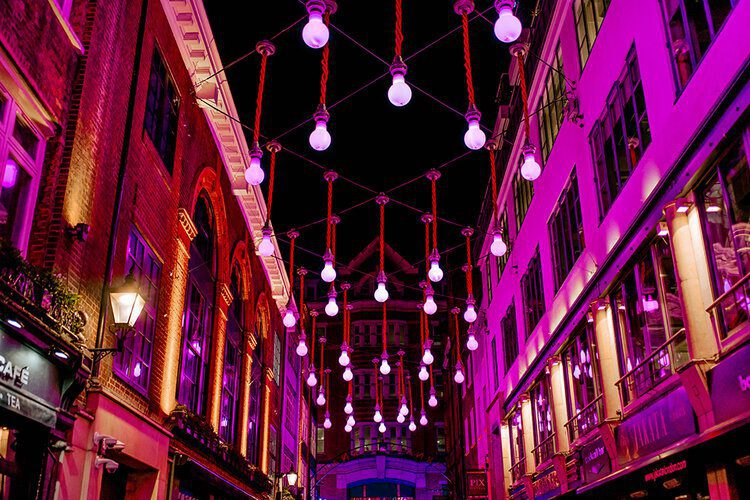 Previous displays include (my favourite) one made from ocean plastic which highlighted our plastic pollution crisis, a dedication to Queen, there was the Christmas carnival back in 2017 and Rock N' Roll one of 2012.
Oxford Street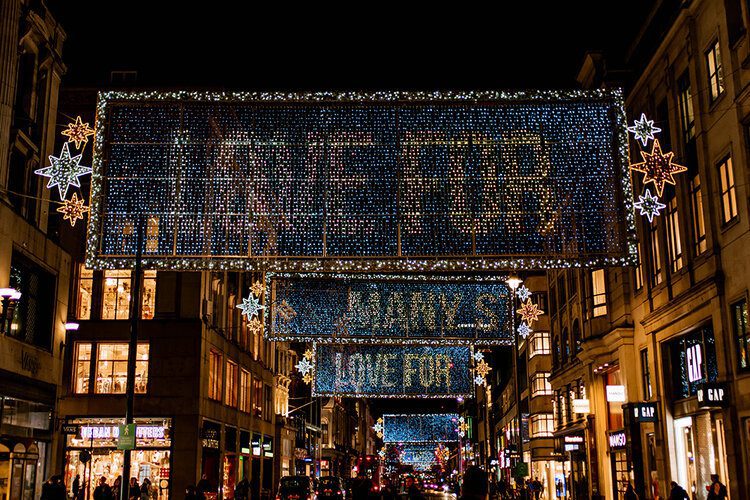 Finally, do a Chris Martin and take your feet to Oxford Street for the end of your PFH Christmas lights tour of London.
From the end of Carnaby Street, take a left onto Great Marlborough Street to join back up with Regent Street which you can continue down until you reach Oxford Circus. Whether you turn left or right you'll be able to admire the Oxford Street Christmas lights as they're strung on both sides until the road changes.
For 2020 the 2019 display has returned (yay for reusing them) but this time instead of #'s (yeah that was thirsty) they're displaying something a little more wholesome: messages to our essential and key workers who have been busting their guts to keep things running. Yep, that trumps #festivefeelings.
Mele Kalikimaka, Gabriella