Well it's not quite the Great British Summer we were expecting for 2020 but it won't be like this forever! Let's make the most of what we have left of the summer and then this little guide will still be around for years to come when you (whether you live in the UK or plan to visit) can spend a classic day at the seaside doing all the things that make summer by the seaside the quintessential pastime that it is.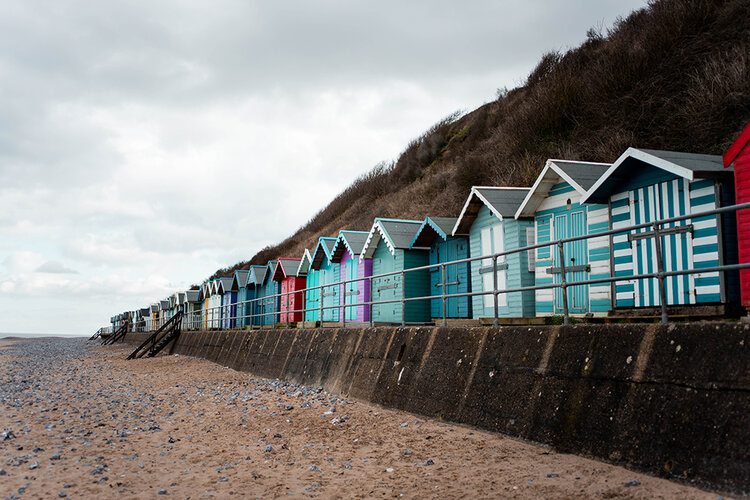 I wanted to put this guide together for anyone coming to a British seaside town for the first time, so that you can spend the day doing all of the classics that so many Brits have enjoyed for years. 
Fun Fact: The day below is my ultimate date plan. My favourite days spent with Michael at home are doing exactly what I've listed below. I don't (always) need a fancy dinner, just give me a handful of 2ps for the arcade and chips swimming in vinegar and I'm on cloud nine.
Find a spot on the beach
The goal here to is arrive early to nab a good spot and then spend an almost absurd amount of time there; I'm talking hours. You don't want to leave until sand is everywhere: hair, mouth and even your bits. If sand isn't washing out of your crack in the shower at the end of the day, you didn't stay at the beach long enough.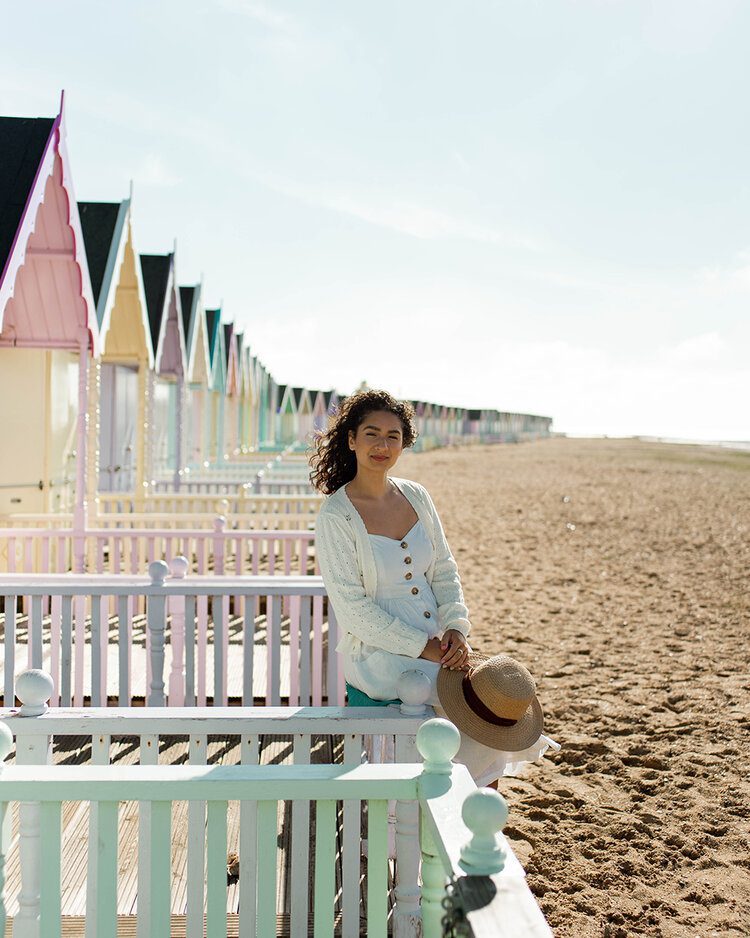 Things to do on the beach:
Read a book

Make a sandcastle

Do a beach clean (and dispose of the rubbish/trash responsibly)

Swim in the sea, even if it's a little chilly

Bodyboard, paddle board or surf

Rock pooling (discover the sea life living in the rock pools during low tide)
Things you might want to consider bringing with you for a day at the British Seaside:
A windbreaker

Collapsible camping chairs

A net

A bucket and spade
Please either keep hold of your bucket and spade to reuse and if you don't want to travel with it, please hand it to a family so that their kids can use them. NEVER leave your bucket and spade on the beach, the tide will carry them out to sea and it will pollute the ocean and could kill marine life.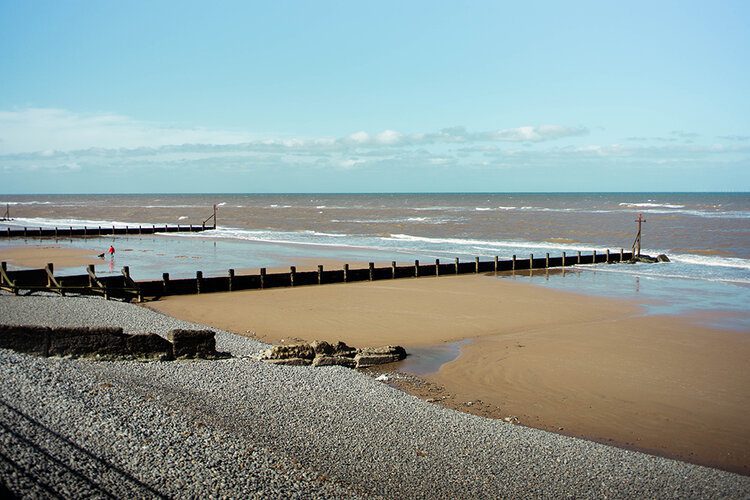 THIS IS VERY IMPORTANT: Check the tide times before you plan to go. Having worked in a little café on the beach for 9 summers when I was younger, if I had a penny for every time a tourist asked me where the beach was I wouldn't have had to work as a waitress for 9 years! Many beaches will be covered during high tide so check the tide times for your beach of choice online. 
High tide: the sea has come in and is covering the beach.
Low tide: the sea has gone out and the most amount of beach is uncovered.
Please make sure you drink plenty of water and regularly apply suncream. Pay attention to signs on the beach that indicate safe swimming areas/rip tides.
For a packing guide for a day at the beach, check out my blog post: what's in my beach bag.
When getting fish and chips on a day at the beach, you'll want to get to the chippy before 12pm or later in the afternoon to avoid queues longer than Brighton pier. Get them open (rather than wrapped) so you can add your own salt and vinegar, then head back to the beach. Yes you're probably going to get sand in your chips, but that's part of the charm. 
PSA: Beware of the seagulls!
Visit the local shops
No trip out is complete without a souvenir of the day. With so many locally made options, it would be a shame to leave the seaside with a standard trinket over a unique-to-the-area souvenir. For example, when visiting the Norfolk seaside, you absolutely must pick up something made with Norfolk lavender or when in Brighton or Blackpool you can't leave without a stick of rock (hard candy).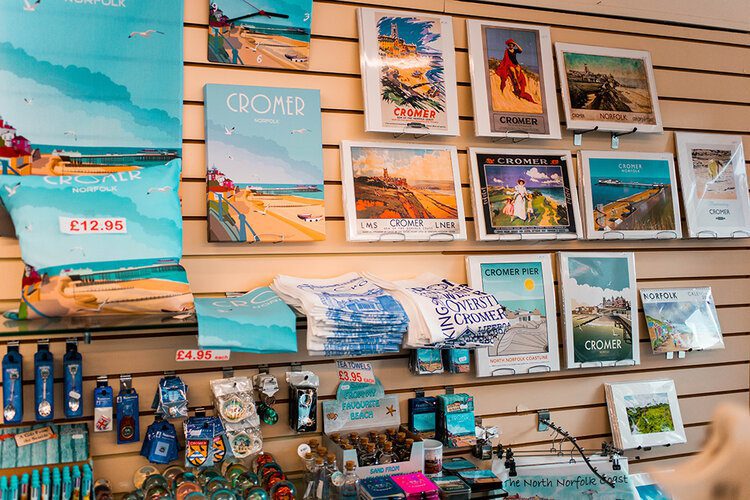 Spend purposefully not mindlessly and support local businesses.
Enjoy a 99 Flake ice cream
Ice cream comes after the shops because many won't let you in with food and drink… it's fair, I've been both the customer who accidentally dropped their ice cream and the shop assistant who has had to clean up the ice cream off the floor, so shop then eat.
Unless you have allergies – in which case you can get an ice lolly, sorbet or ice cream in a pot – the only ice cream you should be eating at the seaside is a 99 ice cream. But Gaby, what on earth is a 99 ice cream? It's a soft whip vanilla flavoured ice cream that should be (but isn't always if you're being served by a teenager) delicately swirled into a wafer cone (that tastes like nothing but it's not the same without it) and then penetrated by a Cadbury's chocolate Flake (a crumbly chocolate stick that falls apart when you try to eat it). Honestly it's the basic bish of British ice-cream but summer just wouldn't be the same without it.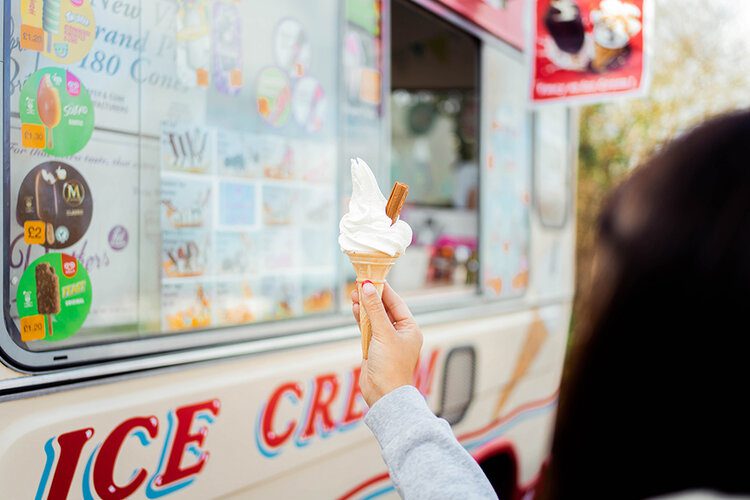 Contrary to popular belief, a 99 Flake ice cream didn't get its name from its price but unfortunately no one really knows why it is called a 99 flake, 99 or ninety-nine. The true origin has been lost in time with many people claiming to be the first to snap a Cadbury's Flake in half and stuff it in an ice cream. Origin stories cover tributes to the First World War, cricket, Italian Royalty and shop addresses. Either way, not knowing why it's called a 99 Flake ice cream is part of the charm.
Ideally you want to purchase your 99 Flake ice cream from an ice cream van with copyrighted cartoon characters with slightly askew features. Ice cream van jingles are the sound of summer!
Play in the seafront arcades
In the days before we all carried around copious amounts of hand sanitiser, I would make sure eating our ice cream came before going to arcades, because there's nothing sanitary about handling decades worth of copper pennies and then eating with your hands.
The arcades is one of my favourite parts of the day, it's good fun with minimal effort and provided you don't get carried away, it doesn't cost much. 
The most classic machine to play is the 2p slot machine. Not just any 2p slot either, you want the one that looks like this one in the photo, where there's a whole platform pushing coins rather than rickety old arms that barely push the coins anywhere. This machine will give you your best chance of getting more coins back.
Your technique should be to drop your coin as the top shelf is drawn in, so that by the time it lands, the shelf is all the way out, then when it draws back in again, the coin will push other coins froward and hopefully off the shelf.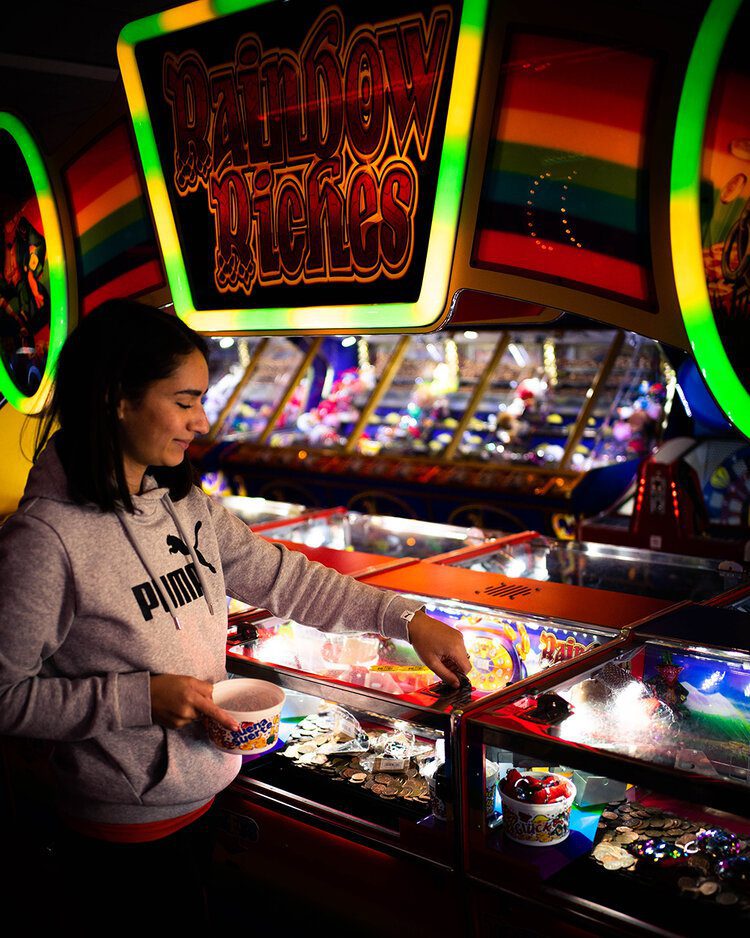 The goal of these machines is to win something crappy that's hanging off the edge but if it's not something you'll use, either play for the fun of it or even give it back to prevent contributing to waste (because really, these prizes are naff, except for the time I won a High School Musical pen, I still have that). Many arcades offer tickets/tokens that you can collet to buy better toys, but really you'll only collect enough for some sweeties/candy.
To manage your spending at the arcades, don't change up more than £5 of 2ps. Honestly you can get your kicks on a couple of pounds and anymore than £5 you should have just spent it in one of the local gift shops instead. There will be various change-maker machines around the arcade but if you have notes, take them to the counter to be changed up.
Playing 2p slot machines in the arcades at the seaside is a simple pleasure in life that I think everyone should experience, if possible.
Grab a pint from the pub
After a long day at the seaside, it's really only logical to end it with a cold pint, or something equally classic such as a Pimm's No.1 Cup or a G&T, at one of the local pubs.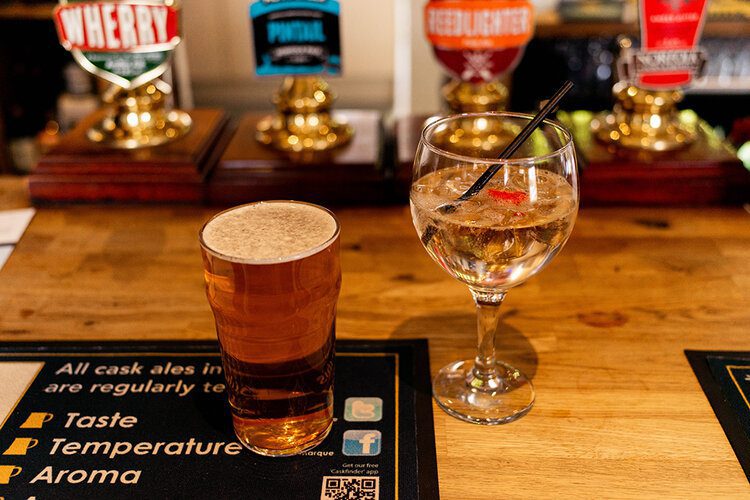 If you don't drink alcohol, don't worry, this isn't quite so much about drinking as it is socialising and taking a pause to savour the day you've just had at the beach before leaving. Whether it's a pint of local ale or lemonade, take it out into the beer garden and enjoy what's left of the sunshine before it dips below the buildings.
If you are drinking an alcoholic beverage, firstly drink responsibly, and second try a locally brewed beer, cider or gin.
.
Gabriella
.
If the photos are confusing it's because I had originally started shooting this content back in February 2020 (pre-pandemic) for something else, hence the winter gear but I guess it shows you can do ALL of this no matter what time of year it is.