Bruges (or Brugge in Flemish) is a small city in North Belgium. What makes Bruges so unique is its magnificent gothic buildings that define the city from the towering Belfry to its city hall which is one of the oldest of the Low Lands. It's no wonder that in 2000 the entire city centre was named a Unesco World Heritage city.
Though rather touristy, Bruges is an idyllic location for a quick break if you have an interest in architectural history, waffles, praline chocolates and delicious food!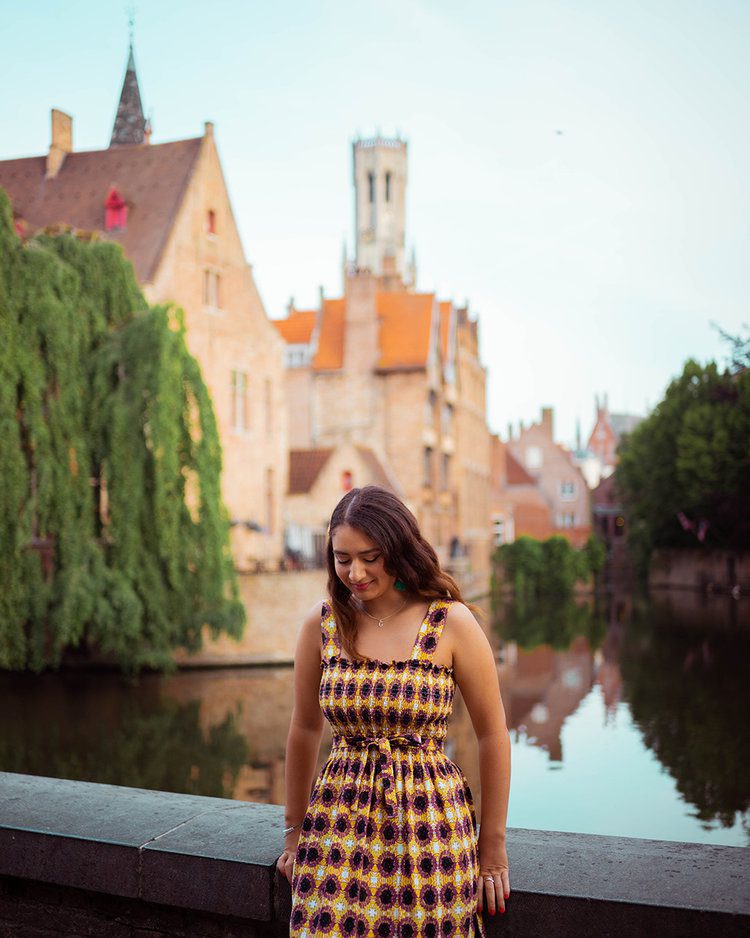 Day 1
Drive to Calais
Ferry from Dover to Calais
Drive from Calais to Bruges
Park at train station
Walk 20mins to hotel 
Check in to Rosenburg Hotel
Lunch at Jilles Beer & Burgers
Waffles on a Stick
Explore
Day 2
Rozenhoedkaai View
Markt
Bonifacius Bridge
Windmills of Bruges
Poules Moules for dinner
Day 3
Choco Story – Chocolate museum
Amuni for lunch
House of Waffles
Chocolate shops
Day 4
Check out of hotel
Minnewaterpark
Duvelorium
Pietje Pek for lunch
Pick up bags from hotel
Drive to Calais
Ferry from Calais to Dover
Drive home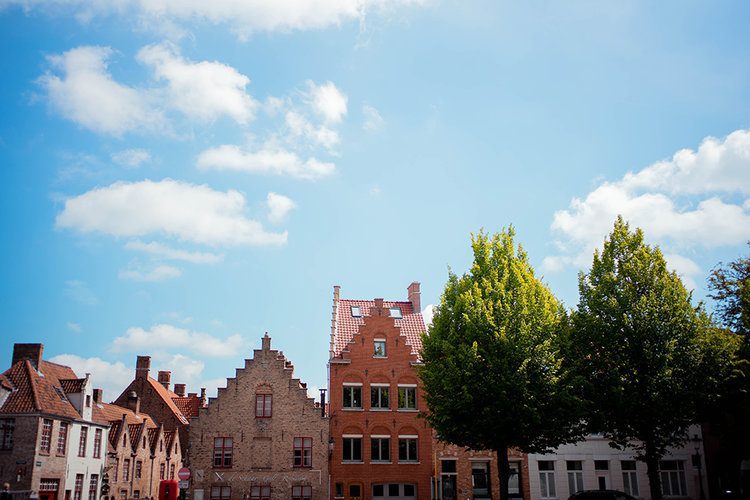 Parking 
A good friends of Michael's who had previously visited Bruges helped us save €60 by recommending we park in the multi-storey car park at the train station at €3.50 for 24hrs, rather than the car park opposite our hotel which was charging €20 for 24hrs!
Though there is a bus station next to the car park, we chose to walk to our hotel because it was only a 20min walk on google maps and actually took us less. Definitely consider parking here to save money should you drive to Bruges.
Jilles Beer & Burgers
Having been on the road since 2am after arriving at lunchtime our priority was to find food ASAP. Luckily, a very short walk from our hotel was Jilles Beer & Burgers. We had darted in there because of hunger and an unexpected downpour but it ended up being one of the most amazing finds!
The menu is extensive and covers a huge selection of beef, chicken, vegetarian and vegan burgers! Not only this, every single burger has a recommended paired beer which is chosen to enhance the flavour of your burger. Despite not actually being a traditional Flemish meal like the others we had on following days, it was insanely delicious and if you go to Bruges you must go here!
PFH Top Tip: I ordered the Rolls Roy, which is actually a chicken burger but I swapped it for beef and it is hands down the best burger I have ever eaten! The Rolls Roy is filled with melted brie, cheddar, Emmental, Parmesan, BBQ mayonnaise, tomato, watercress and is served with an apple coleslaw. Perfection!
Waffles on a Stick 
For €4 you get a waffle on a stick, coated in a chocolate of your choice and a topping of your choice. Though I highly recommend eating one yourself fresh so the chocolate coating is still warm and melty, you can always pick one up pre packaged for later, or as a souvenir for someone back home.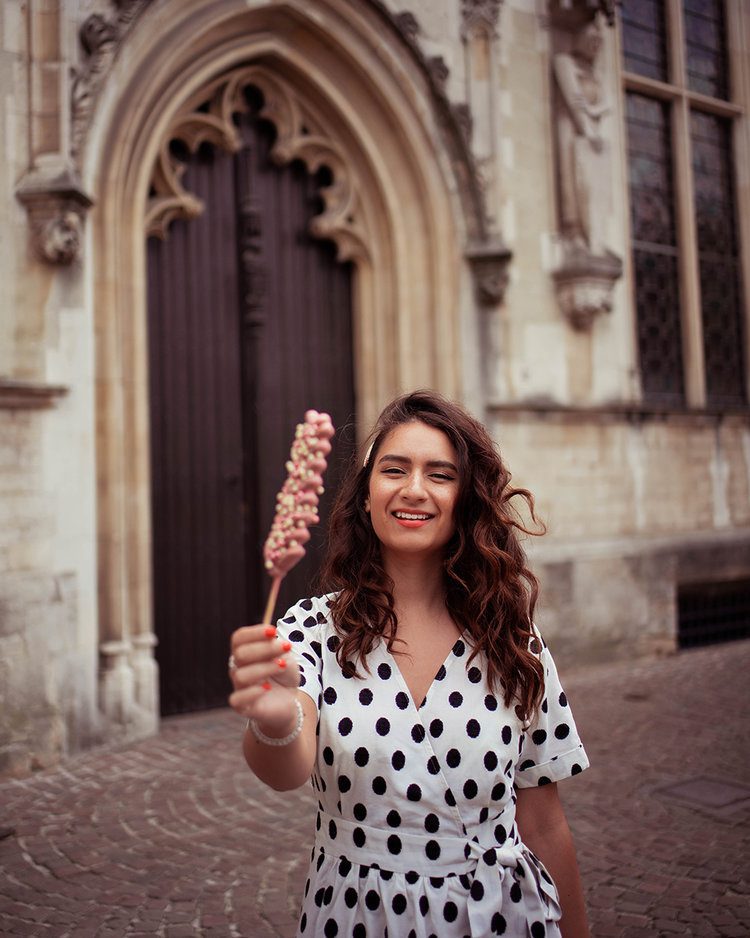 Rozenhoedkaai View
This little spot offers darling views of part of the city's canal network. On a sunny day it's a really lovely look out. It's incredibly busy during the daytime because the opposite side of the street is lined with souvenir shops, chocolatiers and cafés, so if you want to appreciate it without being stepped out, head there before 8.30am.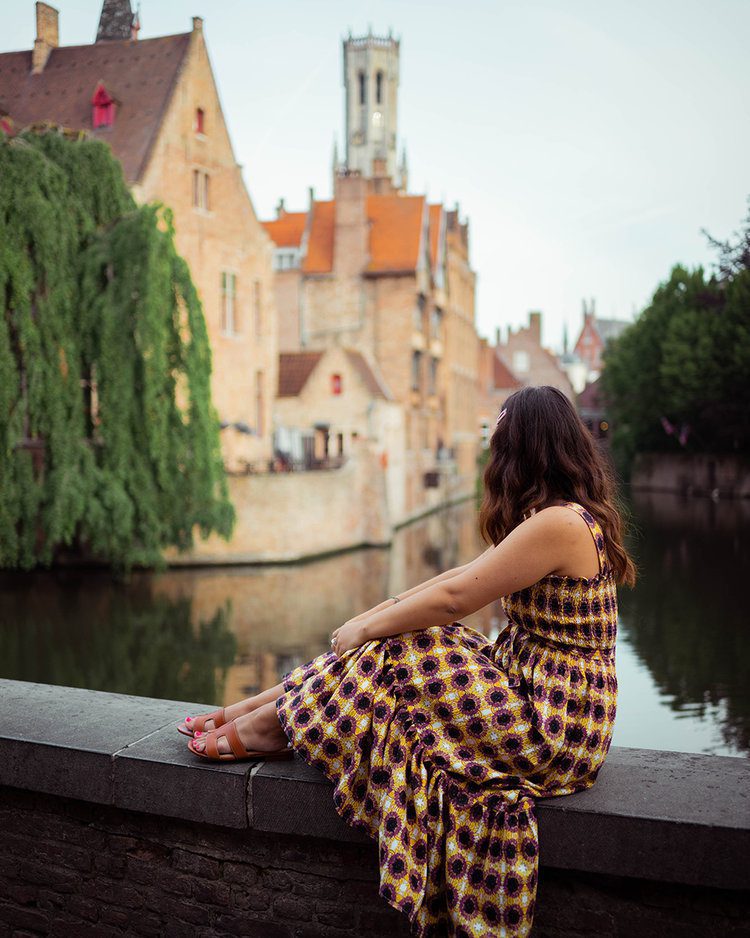 Markt
Markt is the prettiest place in Bruges thanks to the architecture surrounding the main square, The Historium, Belfry and colourful guild houses. Not only is it beautiful but it's also rich in history. In medieval times his market square was where festivals, jousting tournaments and executions took place.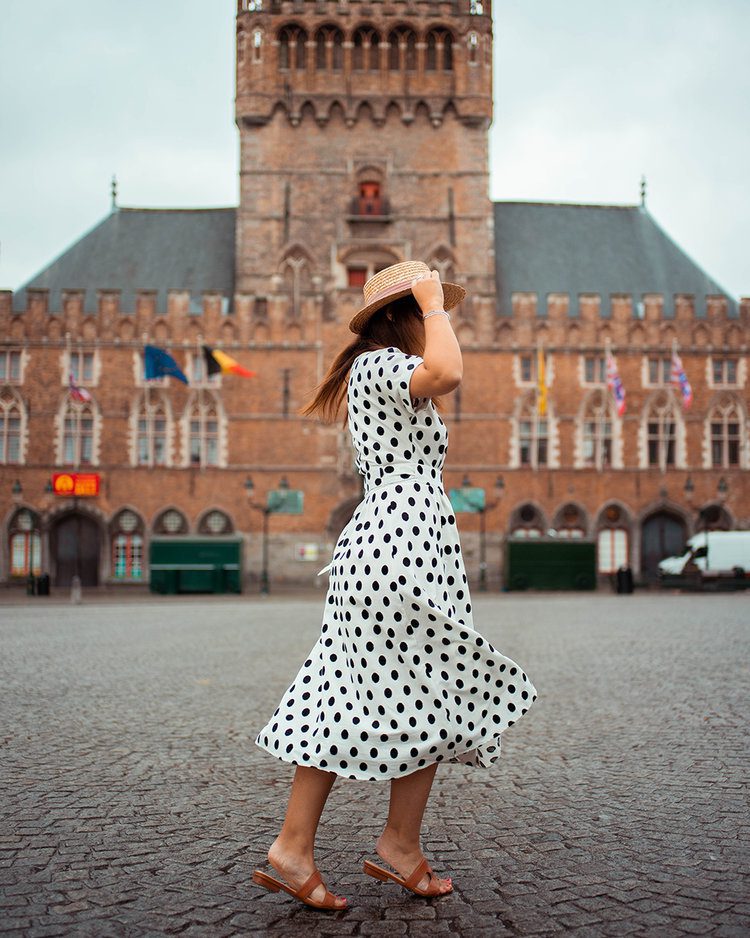 It is named Markt as it has hosted a fresh produce market since the year 958. Market day is Wednesday and is open 8am – 1pm. Unfortunately the weather was awful when we were there so there wasn't much to see, but on a good day there are stalls selling fresh fruit, veg, meat, cheese and flowers.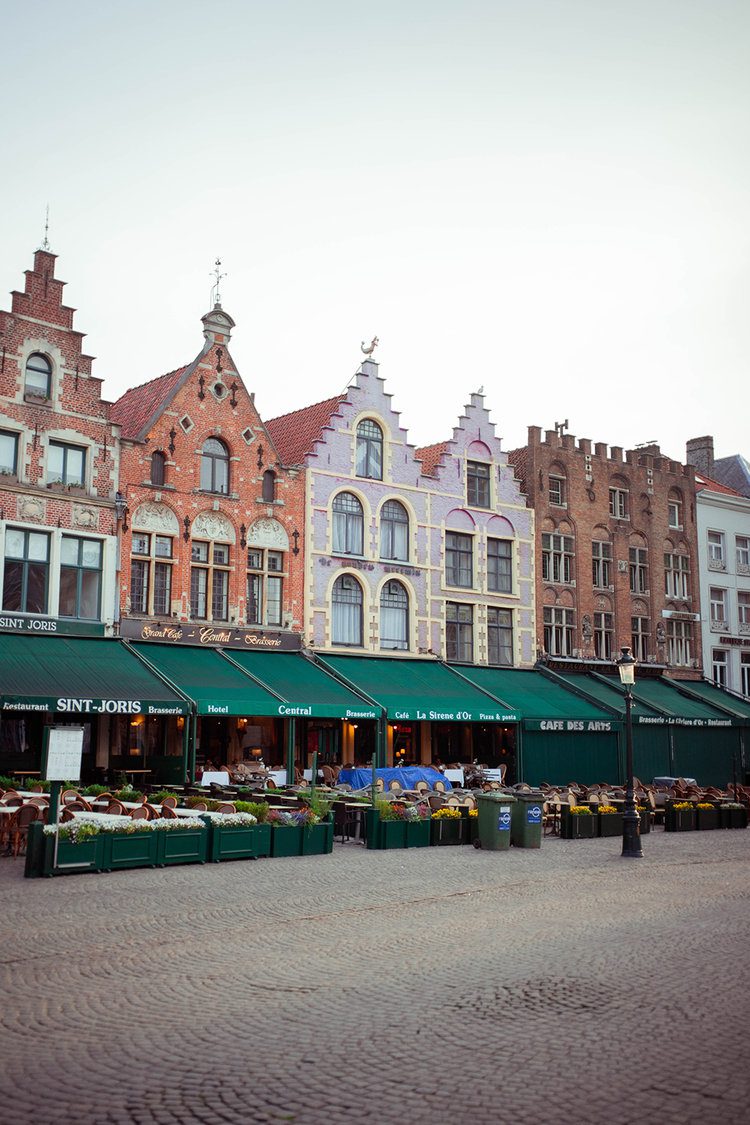 Bonifacius Bridge
This early-20th century bridge is tucked away behind the Church of our Lady Bruges and interestingly is actually one of Bruges' youngest bridges. It's a pretty spot to pass through or take photos.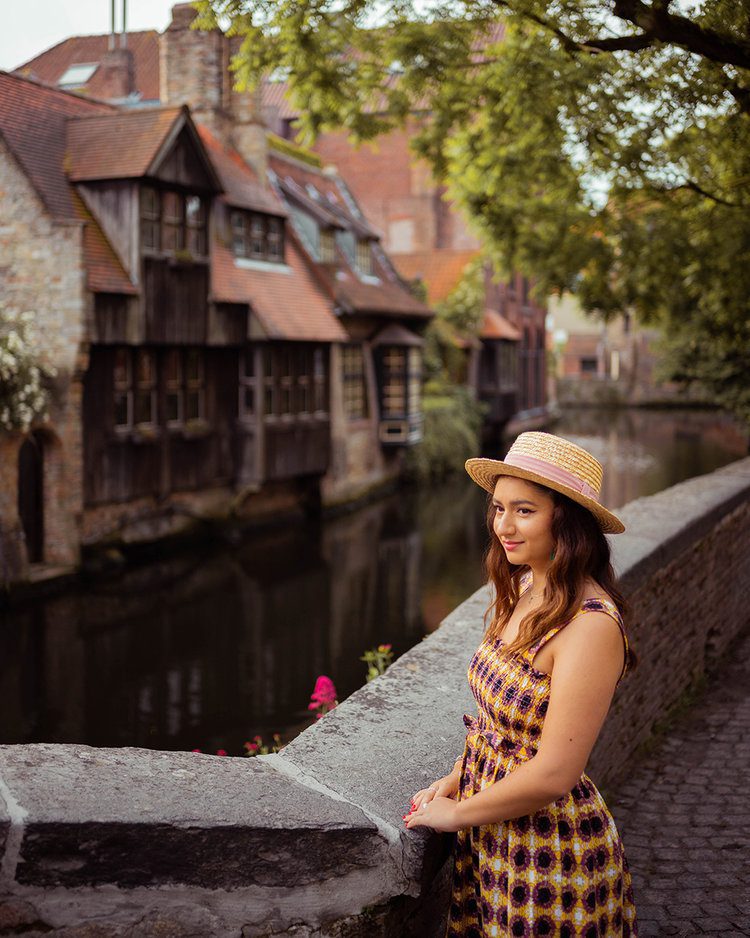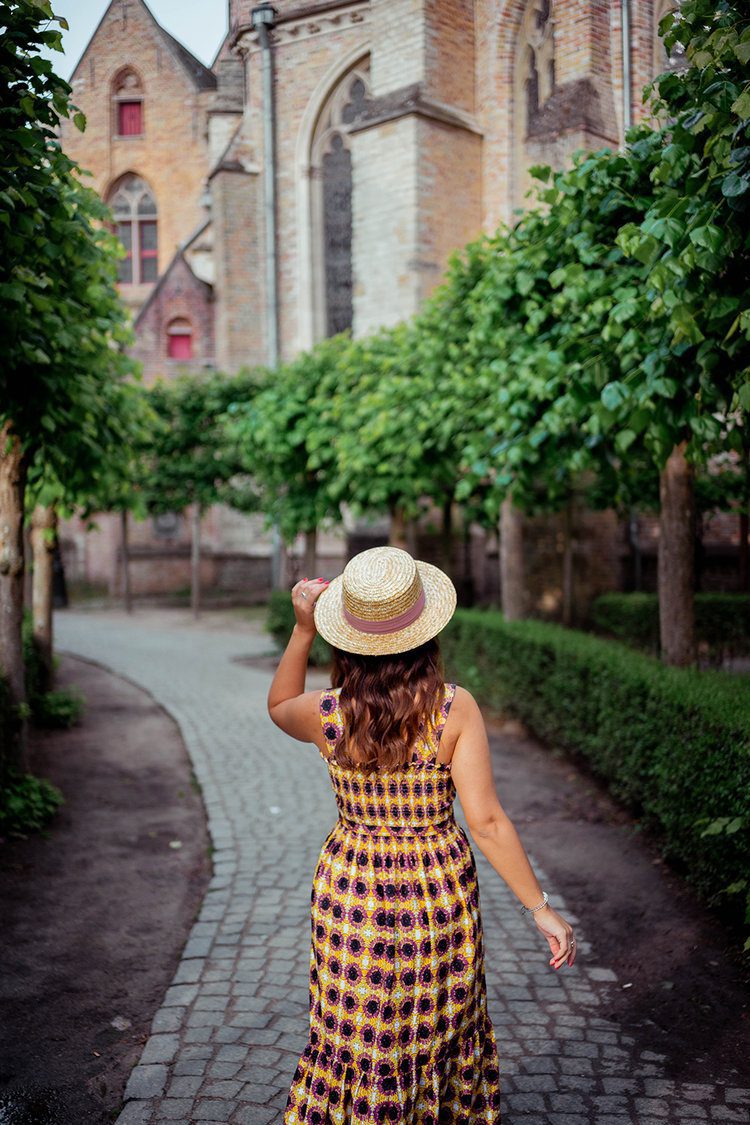 2be beer wall
Visiting the 2be beer wall in Bruges is an absolute must. It's a quirky spot for photos of course, but it's also fascinating to see so many beers and their corresponding glasses (which is a big deal in Europe) on display in one place. Once you've strolled past the beer wall, order your drink of choice at the bar and sit out either in front of the wall or in their courtyard which overlooks the canal.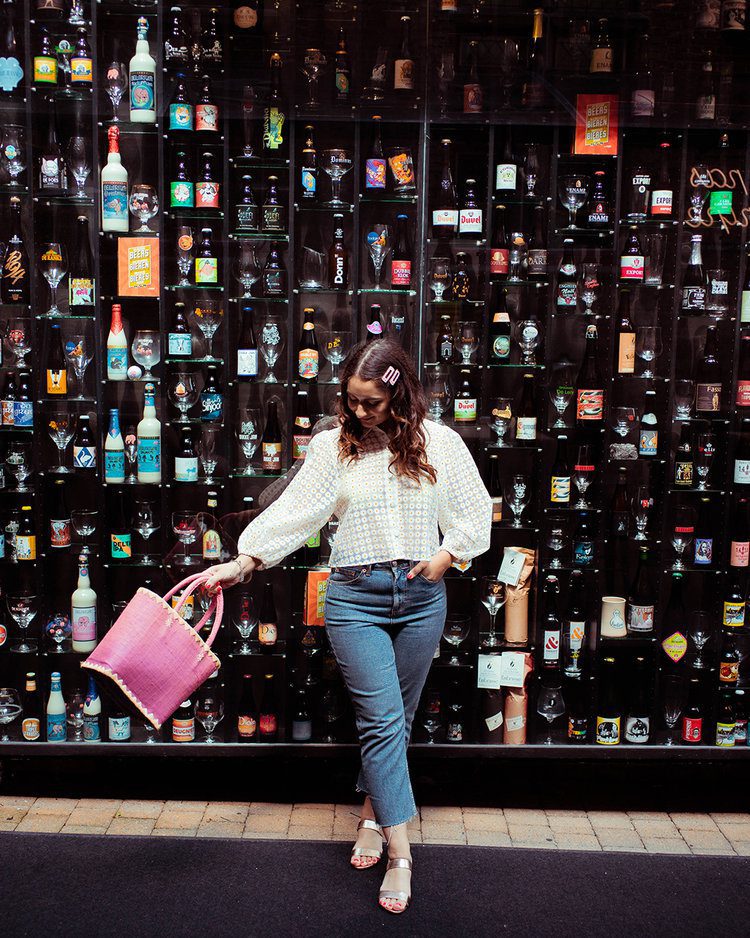 If you want to try something particularly different, order their coconut beer. It's so creamy you'll forget it's actually beer!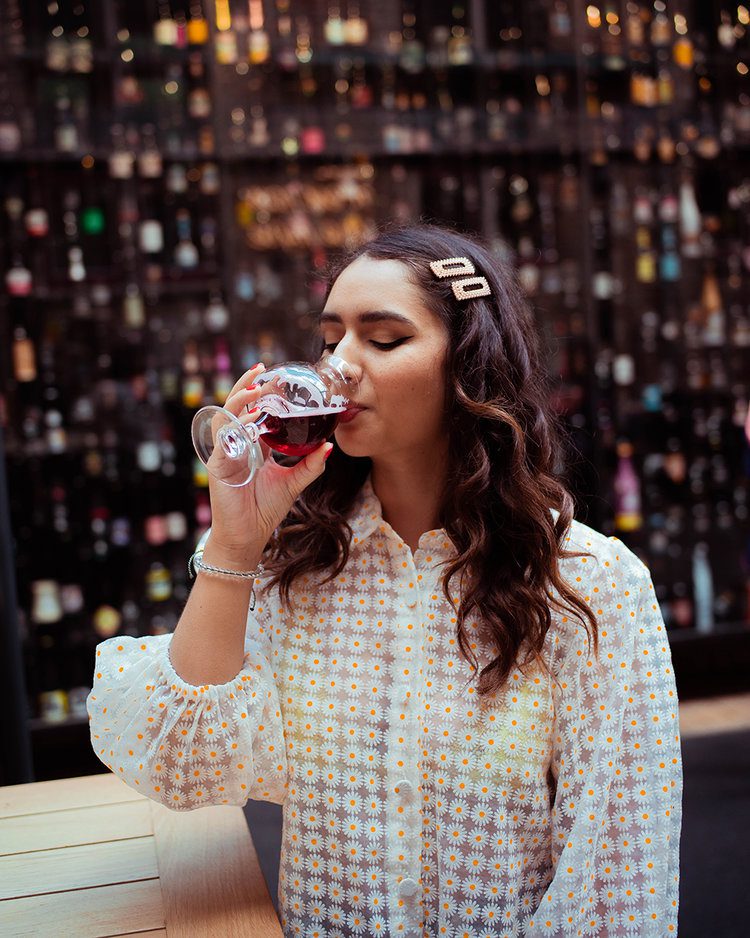 Windmills of Bruges
Depending on where you've been and what you've eaten, may I recommend taking a stroll over to the Windmills of Bruges to work off some of those waffles, chocolates and glasses of beer you may or may not consume?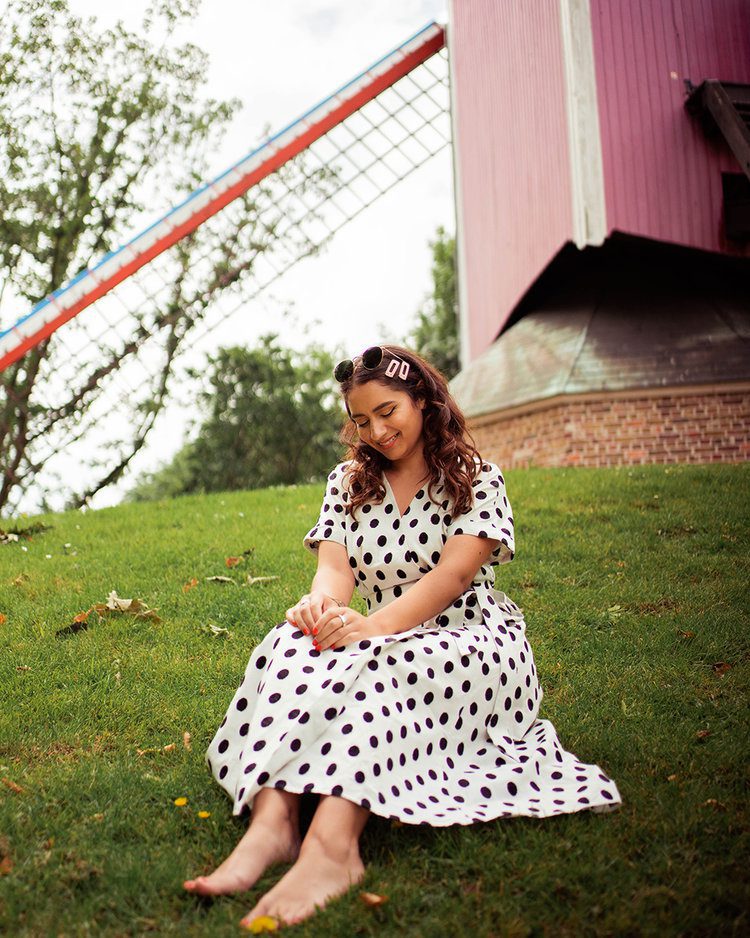 There are four to see on a walk along the canal: Bonne Chiere, Sint-Janshuismill, Nieuwe Papegaai and Koeleweimill. Not all of them are functioning now but there is a museum in Sint-Janshuismill.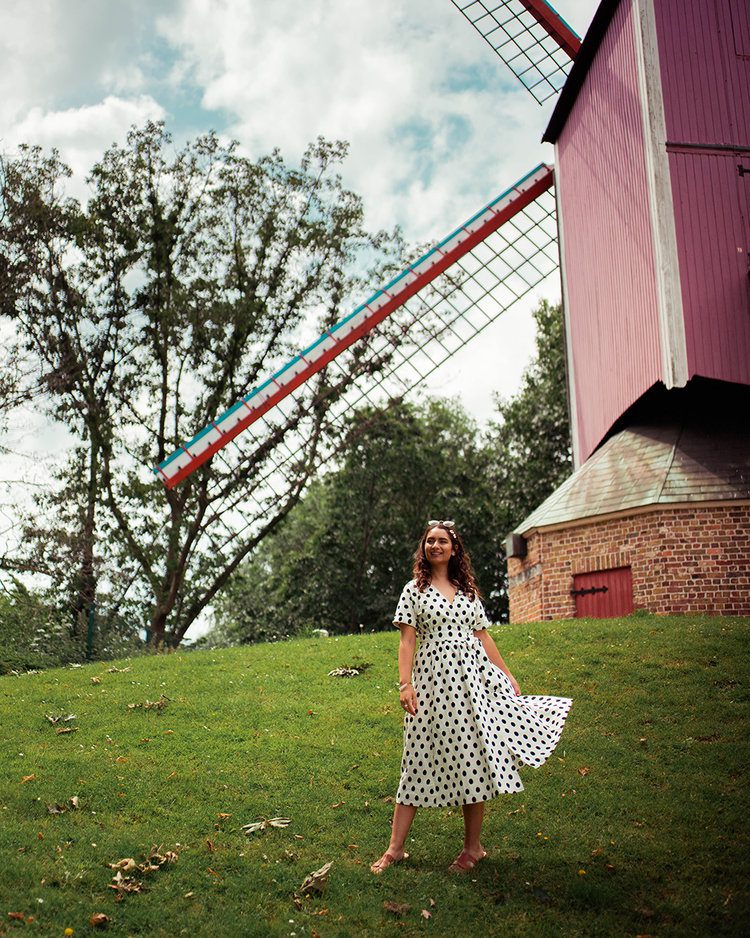 Poules Moules
Though we went for mussels and chips, we were each talked into trying an alternative national dish of Belgium. My brother and I enjoyed a very rich and creamy mixed seafood gratin whilst Michael had their beef stew. Both meals were delicious and I strongly recommend them but be warned, the portions are huge so come with a big appetite.
Choco Story – Chocolate museum
Our visit to the chocolate museum is the thing I enjoyed most on our trip. To be honest I thought it was going to be as much of a gimmick as the cat museum is in Amsterdam (don't ask), but it was actually very informative and as easy to digest as the many, many free samples. 
Yes that's right I said FREE chocolate samples! All tickets include a complimentary chocolate bar and the chocolate demonstration ends with complimentary samples but where you'll make your money back is on the chocolate dispensers located throughout the museum. Of course I know they are there to educate you on the different types of chocolate cocoa beans will make but as they are unlimited and free, Michael and my brother made sure to get their ticket's worth on their way through the museum.
Moving on from the notion of free chocolate, the actual museum is fascinating. Over four levels you are taken through the history of the cocoa bean and how it was consumed by the Aztecs right the way through to present time. If you are interested in knowing more, take a look at my Bruges Instagram story highlights. I can guarantee a visit here will make you appreciate chocolate a lot more than before.
Ticket costs
€9.50 adult
€5.50 for children aged 5yrs – 11yrs
Children aged 5yrs and under go free
€7.50 seniors 65+
€7.50 students
Amuni
With a craving for pizza we found Amuni, an Italian restaurant that specialises in slow food. Their pizza sourdough is made with unrefined flour and they don't use artificial yeast which means your body digests the carbohydrates rather than storing them as fat. So in a nutshell, it means your pizza is good for you and it tastes great! 
I will say it was quite pricey for pizza so if you're not bothered about slow burning good-for-you ingredients, maybe save money and eat your pizza somewhere less fancy pants.
House of Waffles
Having been to Belgium two times before it wasn't until my trip to Bruges that I learnt there are two different types of traditional Belgian waffles: Brussels and Leige. Brussels waffles are rectangular and the one you see the most of, they are light, fluffy and have deeper holes. Leige waffles are round, dense and sweeter. The first time I tried a Leige waffle I thought they hadn't cooked it properly because it was the complete opposite to any Belgian waffle I had eaten before, so my advice is go for the Brussels waffle if you want something light and a Leige waffle if you have a major sweet tooth.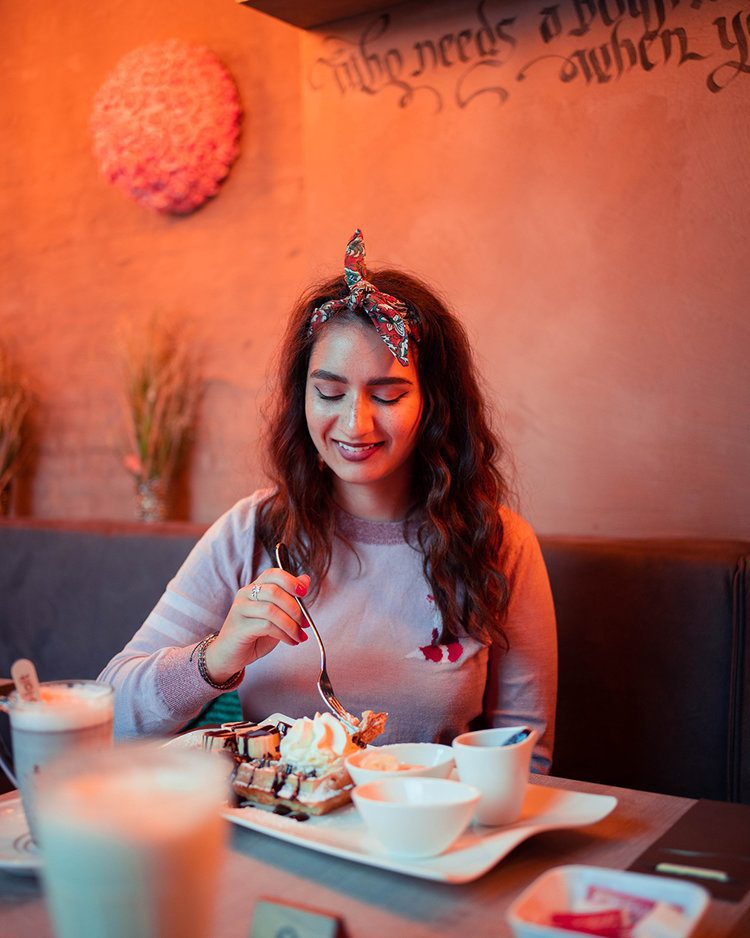 House of Waffles offers you a choice of both waffles and all the best toppings from fruit to ice cream. You can either build your waffle with your choice of toppings or order one of their popular ones, either way they are good!
Minnewaterpark
Minnewaterpark is a small park so there isn't much to see but if you still need to walk off your waffles and praline chocolates, it's a pleasant stroll.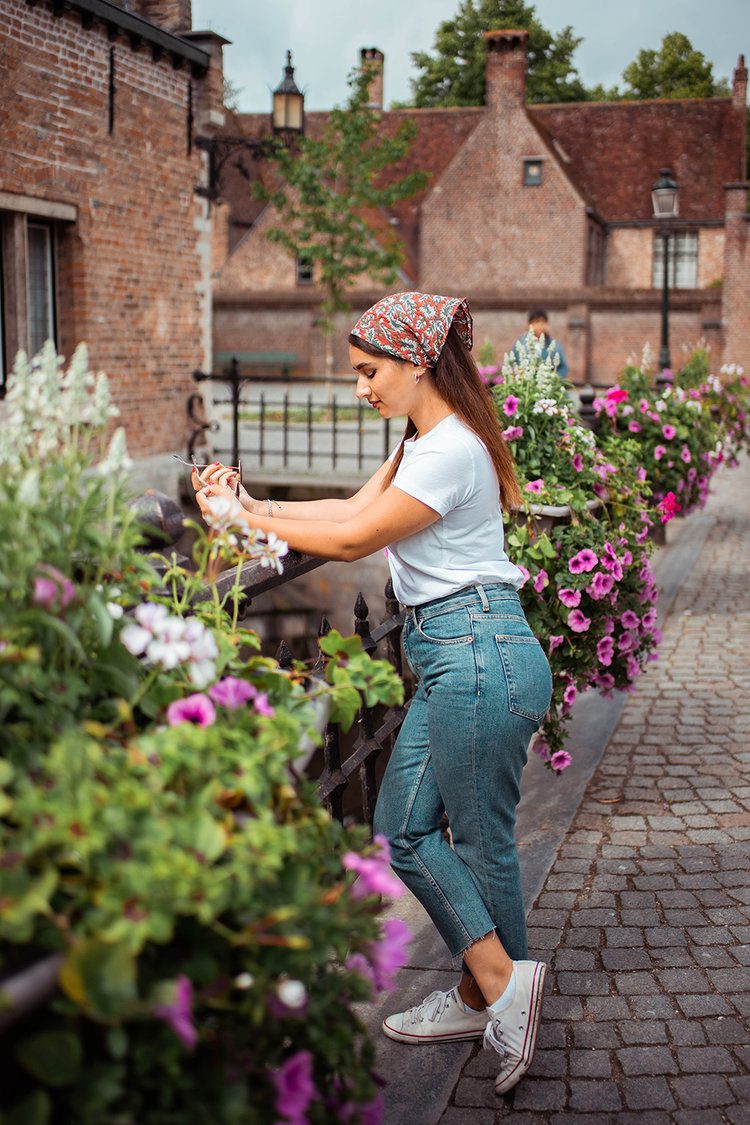 Duvelorium
Fancy a beer with a great view? Duvelorium is your place. Located on the first floor of the Historium, the outdoor seating looks right out on Markt.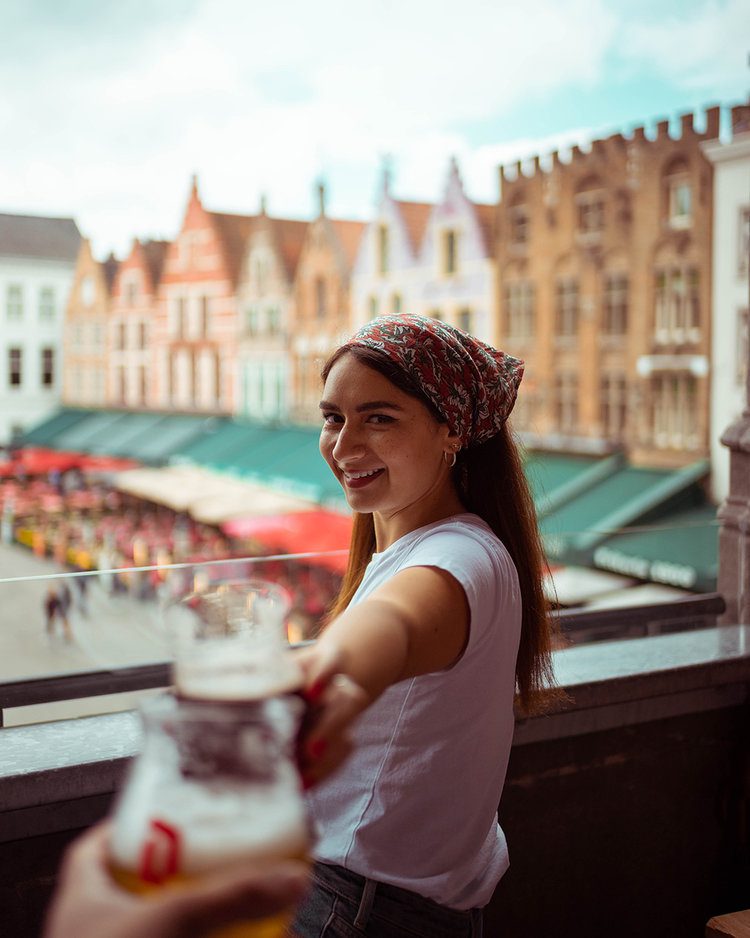 Pietje Pek
I couldn't leave Belgium without enjoying their famous national dish moules-frites which in English means mussels and chips/fries. We found this restaurant after attempting to go to Lizzie's Waffles which was closed. Pietje Pek was opposite and boasted a lengthy mussels menu from cream to four cheeses, though I'm not sure if a mussel fondue is the greatest combination…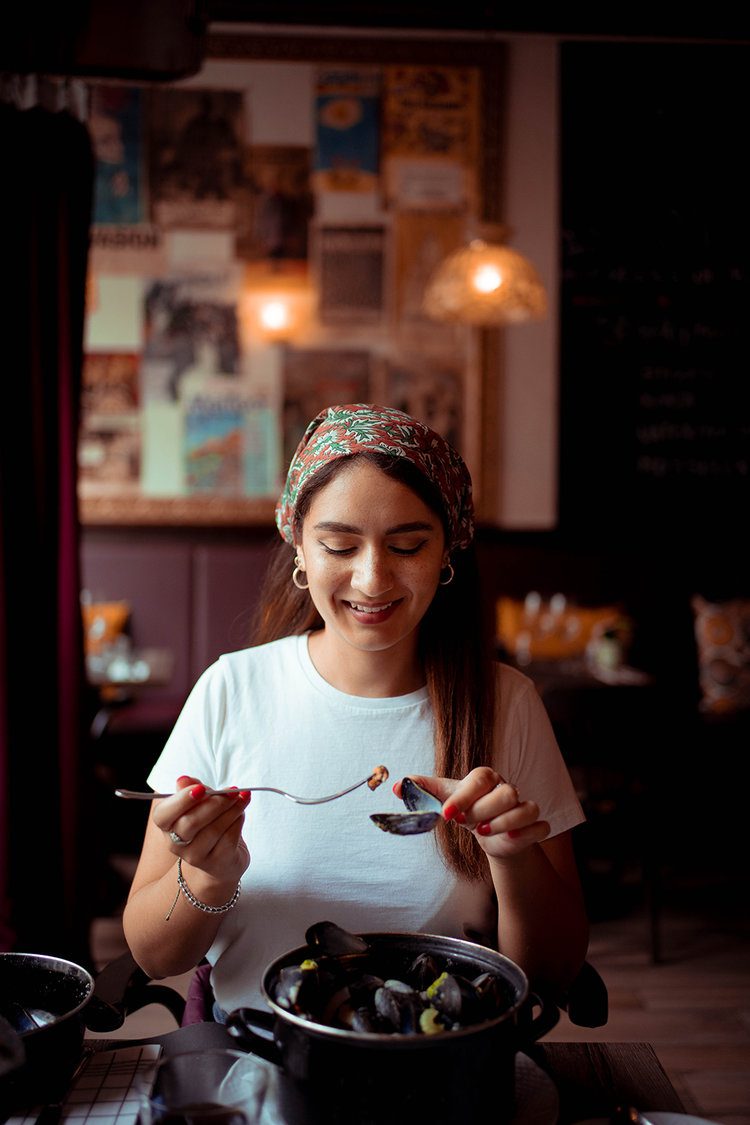 I ate mussels in garlic and my brother had them in cream and they were lovely, although his cream was much tastier to eat after than my garlic.
Though Bruges is a very small city this isn't everything you can do, there are a few more activities you can do here which we didn't get around to. For example, you can go up the Belfry to see the bells that chime frequently in the square, take an interactive tour around Historium to learn more about medieval Bruges, visit the very questionable chip museum (maybe just on a rainy day) and take a masterclass in making your very own praline chocolates – my brother makes them at work so he didn't fancy doing this for fun. 
If you're based in England and fancy a quick trip into Europe, Bruges is definitely a good option, especially if you're a foodie.
Aloha, Gabriella