Though our main reason to take a trip to Croatia was because the final season of Game of Thrones is out and we wanted to visit the filming locations whilst it is literally still the talk of the town, we also decided to go because it is out of season and so cheap! Read on to see how we planned a 7 day road trip in Croatia and Venice for two people for just £1,089.37 and what we did each day. That price excludes food costs as food, especially on holiday/vacation, is a personal thing and varies depending on whether you're a foodie or want to save money. As we were looking to save as much money as possible on this trip, we mostly made food in our hotel room, once we had sampled the local cuisine of course. For tips on how you can do this, take a look at 6 items for making food in your hotel room.
All prices excluding hotels, flights, airport parking and rental car (as they were pre booked online in the UK) have been converted to GBP and rounded up to the nearest pound.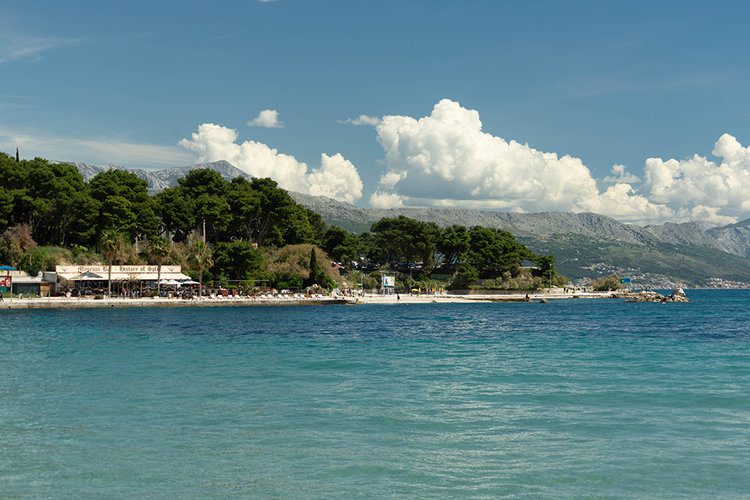 Day 1
Park car in Jet Parks car park Stansted airport
Standsted airport > Dubrovnik airport
Pick up rental car from Sixt
Park car in Dubrovnik Public Parking Garage
Check into Irundo apartment
Day 2
Check out of apartment
Game of Thrones filming locations
City walls walk 
Fort Lovrijenac
Drive to Split
Check into Lugo apartment
Day 3
Marjan Forest Park
Explore town centre of Split
Day 4 
Diocletian's Palace
Beach
Check out of Lugo apartment
Drive to Lovran
Check into Hostel Link
Day 5 
Check out of Hostel Link
Drive to Venice
Park in Garage San Marco car park
Water bus into Venice
Check into Dimora Dogale
Rialto Bridge
Bridge of Sighs
Piazza San Marco
Caffè Florian
Wander the streets of Venice
Day 6 
Rialto bridge at sunrise 
Bridge of Sighs
Check out of Dimora Dogale
Libreria Acqua Alta
Gondola ride
Gelato at Suso
T Fondaco Dei Tedeschi (DFS)
Drive to Plitvice Lakes
Check into Rustic Lodge Plitvice Lakes
Day 7
Check out of Rustic Lodge Plitvice Lakes
Plitvice Lakes
Drive to Dubrovnik
Check into Carol apartment
Day 8
Check out of Carol Royal apartment
Return rental car
Dubrovnik airport > Stansted airport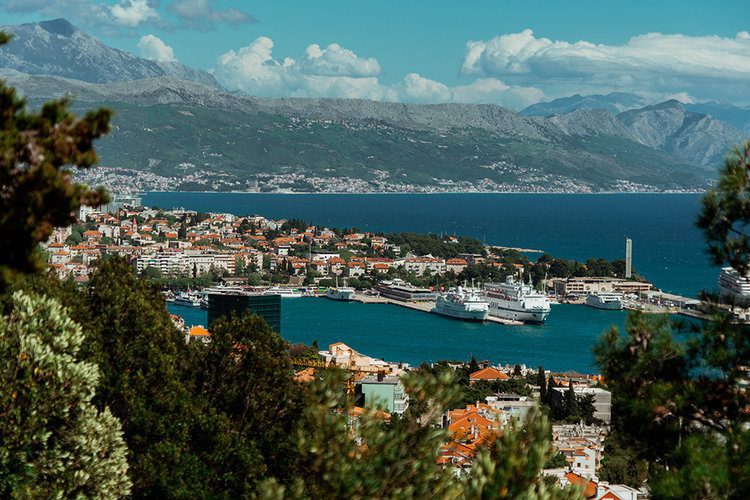 United Kingdom
Jet Parks car park
We used the official Stansted Airport website  to compare car park prices for the seven days that we would need parking and chose Jet Parks. Jet Parks tends to be one of the cheaper options for the following reasons:
It's further away from the airport

The buses only run every 15mins

You have to pre book
If you are satisfied with the above then it is worth saving money and parking with them. 
Cost
£39.99 for 7 days
Flights
We always use SkyScanner to compare flight prices (to check out why, take a look at Essential apps every Jetsetter needs). We chose Croatia based on the fact that the flights were ridiculously cheap! Before all of the add ons our return flight was just £7 per person! Of course this means you're flying with budget airlines and the chances of encountering a hen/stag do is HIGH but it's less than four hours on board and again, it was cheap.
Cost
£148.20 x2 people with one checked bag with Jet2
£36.29 x2 people with one checked bag with Easy Jet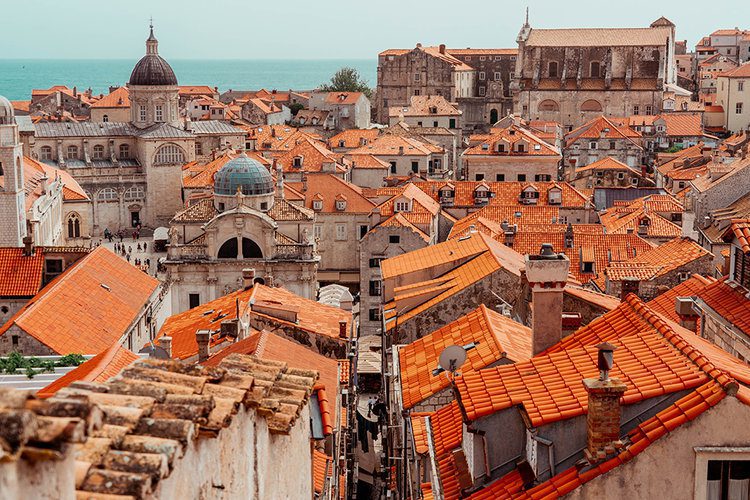 Dubrovnik
Sixt rental car
We used the comparison website Rental Cars to find the cheapest offer on the lowest class of four door cars for seven days. We made sure it was big enough to fit one large suitcase and two carry-on cases in the boot without them being seen so that we could leave the car safely whilst making pitstops on the way.
Costs
£53.94 for the rental car
£98 for a full tank of diesel and foreign use charge, which is the charge for driving the car from Croatia to Venice.
£37 for tolls (the tolls we paid for this exact itinerary)
£64 for fuel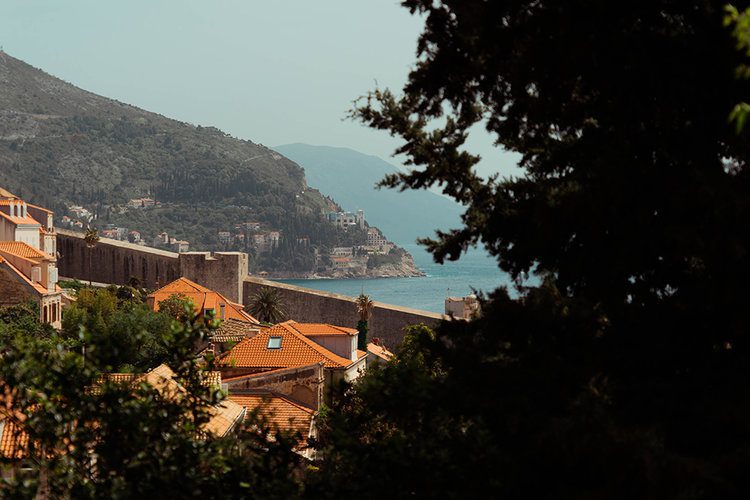 Dubrovnik Public Parking Garage
As Old Town Dubvrovik is built on a slope down to the sea and cannot be accessed by cars, we had to park our car above the city in a car park before taking our luggage down to our apartment. As we were leaving our car overnight and not close by, we chose to park in an underground and secure car park, which meant it was expensive.
PFH Top Tip: There are a lot of stairs leading down from the car park to the water front, so pack light, you'll appreciate it when you have to take your bags back up!
Cost
£35 for overnight
Irundo Apartment
As with all of our accommodation on this trip, we booked through hotels.com as we have discounted prices with our membership and we collect the nights towards a free one. Like I mentioned we were looking to save money on this trip, so we didn't want to stay in lavish hotels. Luckily for us though, as it was out of season, the prices for accommodation were very cheap plus the majority of what's on offer are apartments which means you can do self catering. Of course, one night here-and-there doesn't exactly help, but you can easily grab a few ingredients from a local market and cook for yourself which we did for most of ours.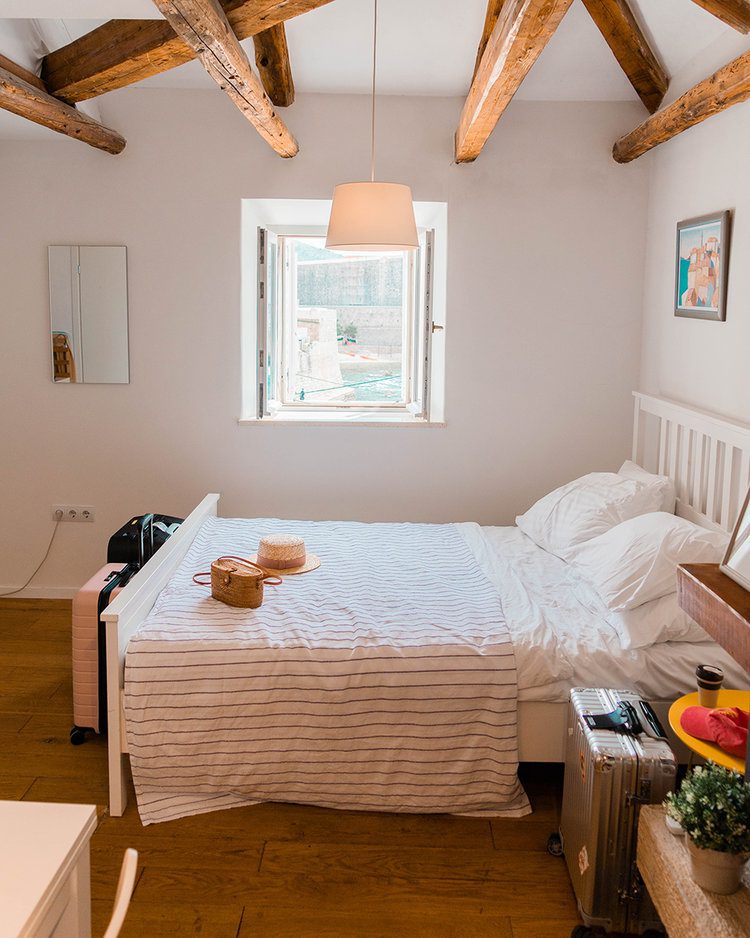 Irundo had many apartments located all around Dubrovnik so I suggest you request apartment DT1 which is what we had and it was right on the water front over looking West Pier and Harbour (which you'll see below are Game of Thrones filming locations). It was so ideal and had a beautiful view!
Cost
£50.58 for 1 night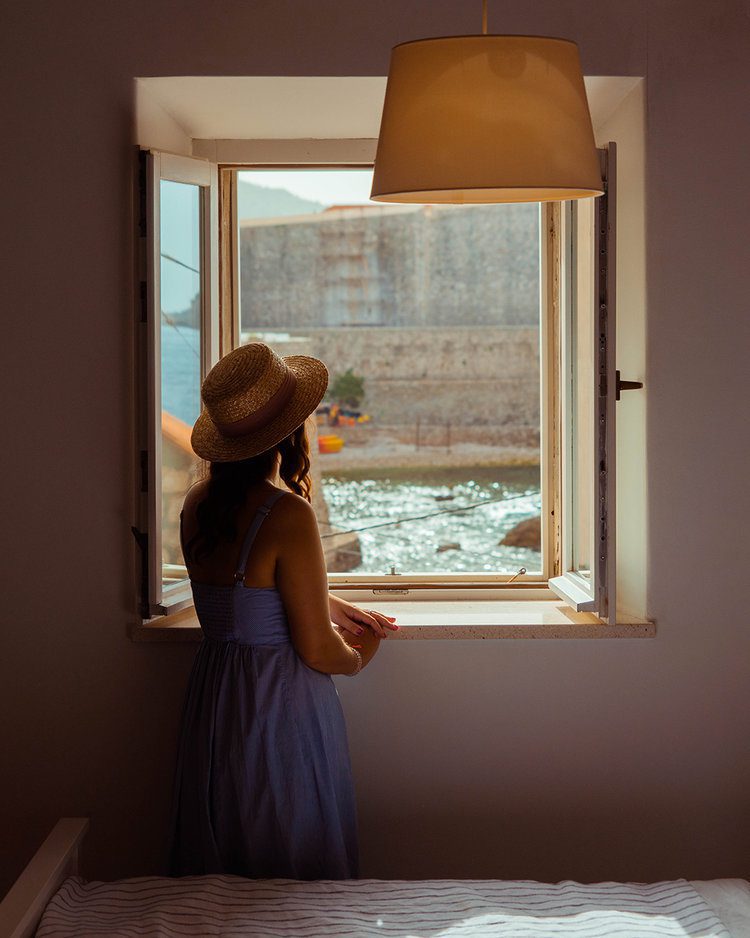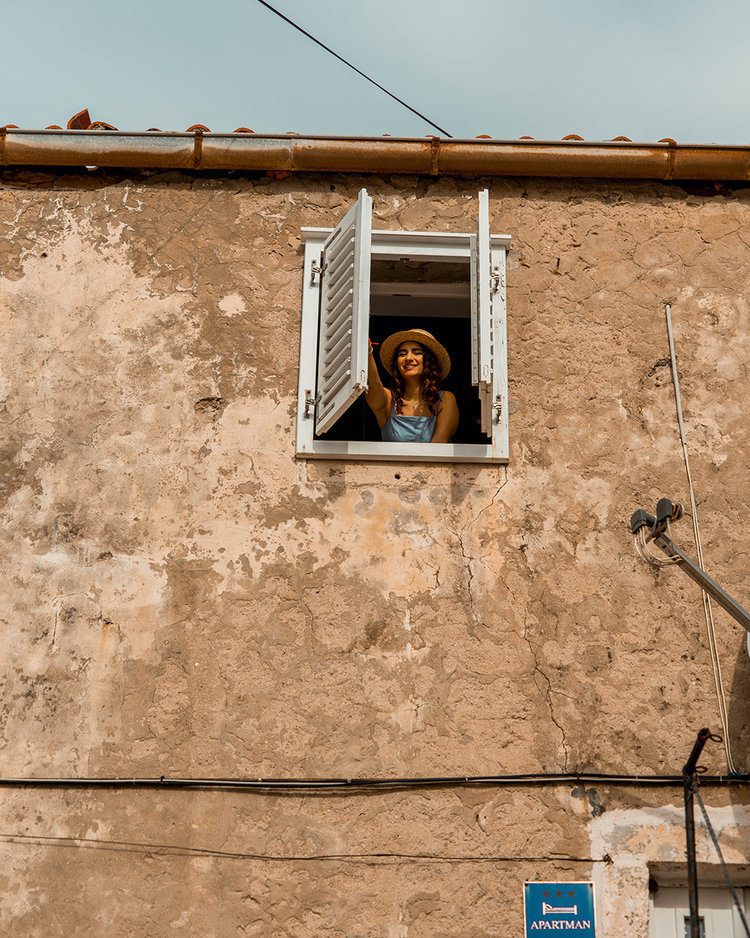 Game of Thrones filming locations
Rather than pay for a walking tour of Game of Thrones filming locations which though you may learn something, are operated in big groups and on a timed schedule, we decided to wake up early before the tour groups started and do our own tour. It's pretty easy, all you have to do is google filming locations, mark them on google maps and head there yourself. There's heaps online telling you exactly which scenes were filmed where. Here are the spots we took ourselves to, plus there are more under the city walls below and whilst we were in Split.
Jesuit staircase
The Jesuit Staircase leads up to the Church of St. Ignatius and was designed by the same architect as the Spanish Steps in Rome, Pietro Passalacqua. To Game of Thrones fans they are known as the steps in which Cersei starts her walk of Atonement from season 5, episode 10.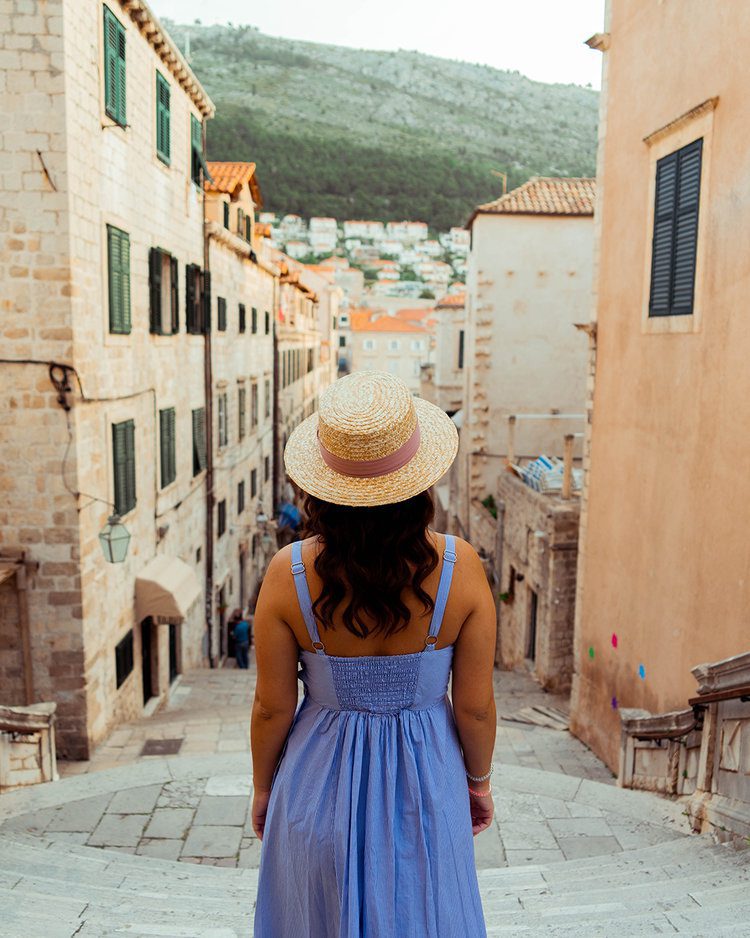 If you want photos here without anyone else, you will need to arrive between 6.30am – 7am and even then, you might be met by a few other hardcore fans. 
West Pier and Harbour 
In Game of Thrones, West pier and harbour are Blackwater Bay. The stone pier is featured in season 3, episode 1, where Sansa is watching ships and is approached by Littlefinger who offers her a "way out".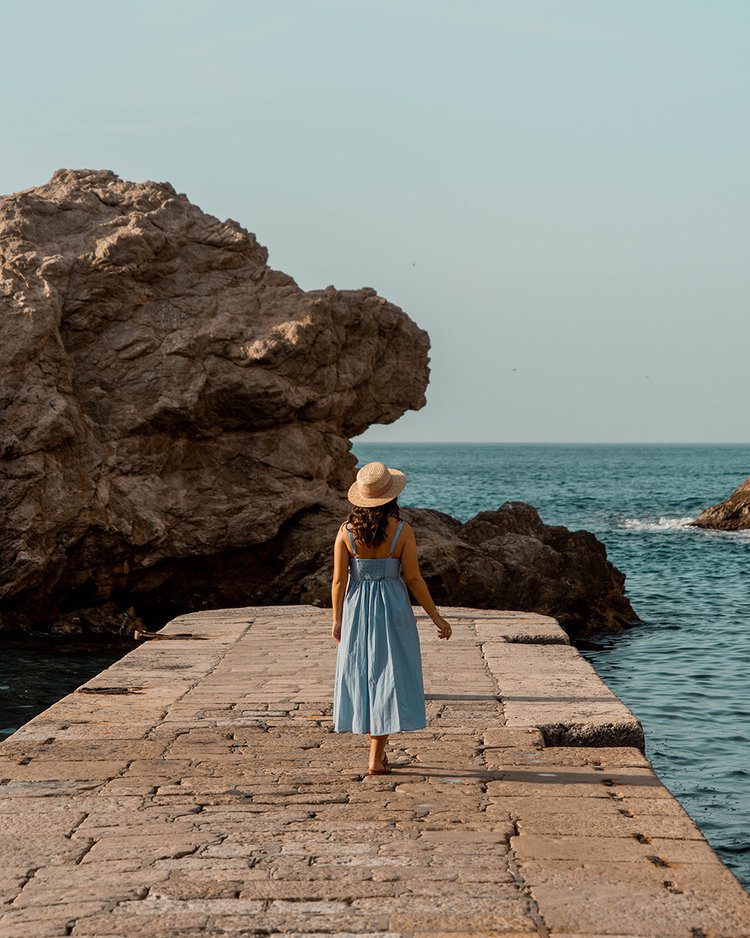 If you stand to face Fort Lovrijenac from West Pier, you will see a couple of green doors in the rocks with steps leading leading down into the water. These doors are featured in season 2, episode 1 shortly after the Gold Cloaks were ordered to murder all of King Robert Baratheon's bastard children. One of whom is drowned in the water below these steps.
Ploče Gate
This gate is used multiple times throughout season 2 and 3 as the entrance to King's Landing.
Dominican Monastery
The steep staircase out front of the Dominican Monastery was the location where the protest speech against the Lannister family was made in season 2, episode 5.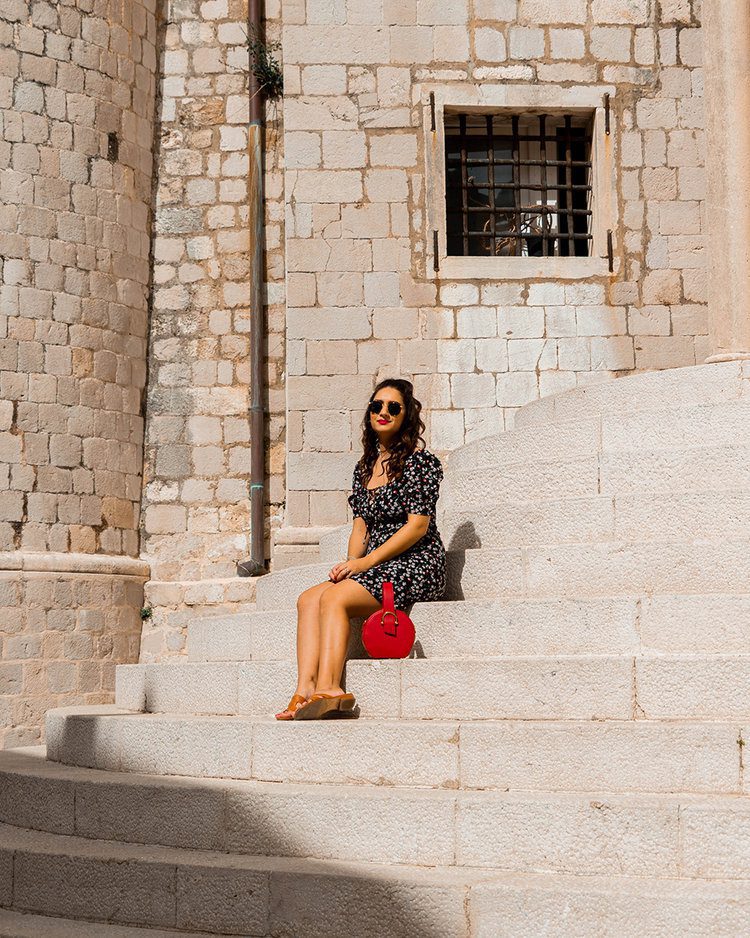 City walls and Fort Lovrijenac (The Red Keep) 
For the best views of the city, take a walk along the old city walls. There's no doubt in my mind that this is the best way to see the old city of Dubrovnik. Walking along the old city wall will take you full circle around the sea of terracotta tiles whilst giving you the best views of the harbours, Fort Lovrijenac, the Cathedral and the mountains which form Dubrovnik's dramatic backdrop as it slopes down towards turquoise waters.
Plus it's also where you will find a couple of Game of Thrones filming locations such as Fort Bokar and Minčeta Tower.
The ticket to the walls also includes entrance to Fort Lovrijenac, or to Game of Thrones fans, the interior of the Red Keep in King's Landing.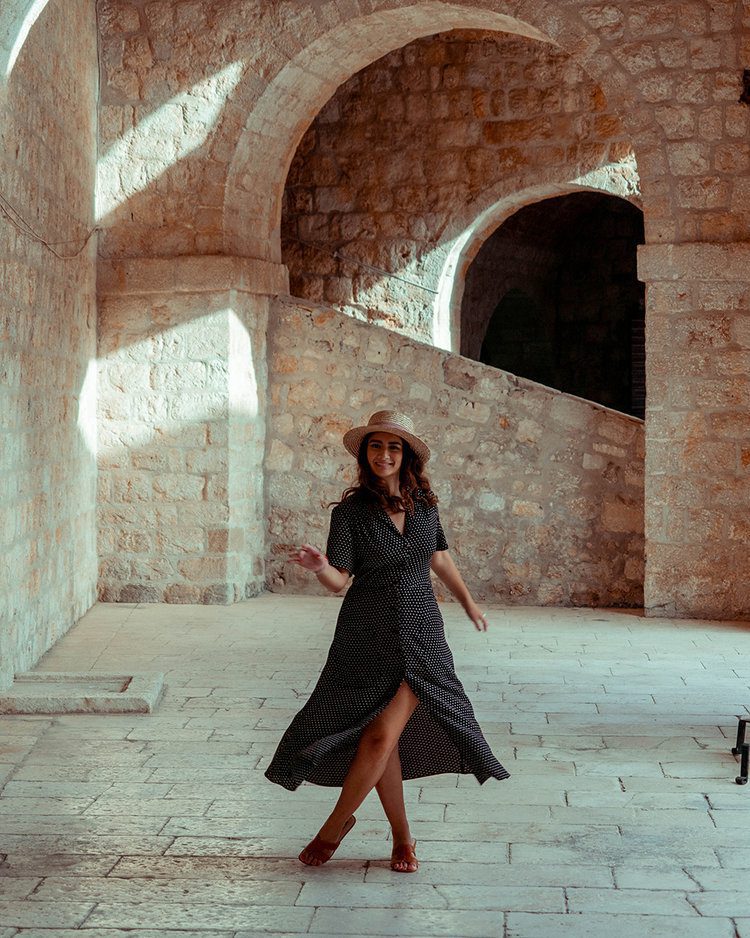 What to take
Shoes with grip (over the years, footfall has smoothed the surface of the stones making up the footpath on top of the wall, which means it's very slippery. Though my sandals were comfortable for walking in all day, they had little grip on the sole which meant I was clinging for dear life when the path started to slope down.

Water, especially if you are visiting during warmer months. There are places to stop and have a drink or ice cream along the way but they are few and far between.

Sunhat. There aren't many shaded areas so you are, for the most part, exposed to the sun, so don't burn your head.

Suncream, for the same reason as a sunhat.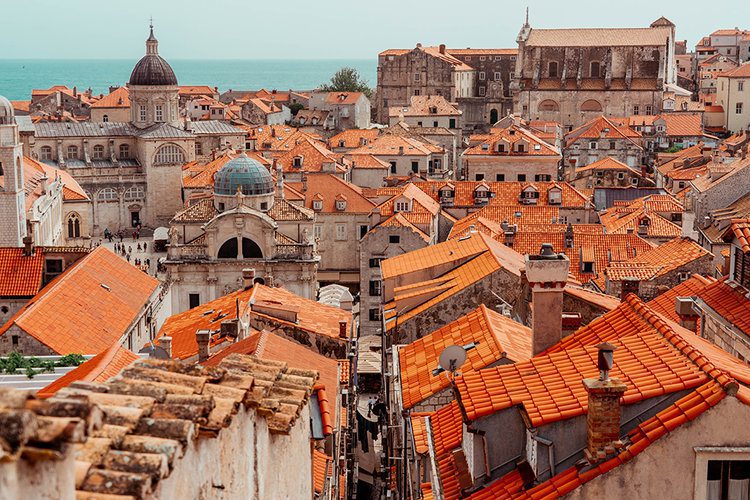 Cost
£47 x2 adults
400 Kuna
–
50 Kuna 5-18 yrs old 
Under 5yrs go free
Opening times
Jan – March 10am – 3pm
April & May 8am – 6.30pm
June & July 8am – 7.30pm 
August & September 8am – 6.30pm 
October 8am – 5.30pm 
November & December 10am – 3pm
Split
Lugo Apartment
The apartment we had in Split was the nicest of the trip, it is either newly refurbished or kept in very good condition. As we had two nights, we chose to be located just outside of the old ground of Split, by opting to walk just 10mins into the centre of Split, we were able to get a modern and spacious apartment surrounded by supermarkets.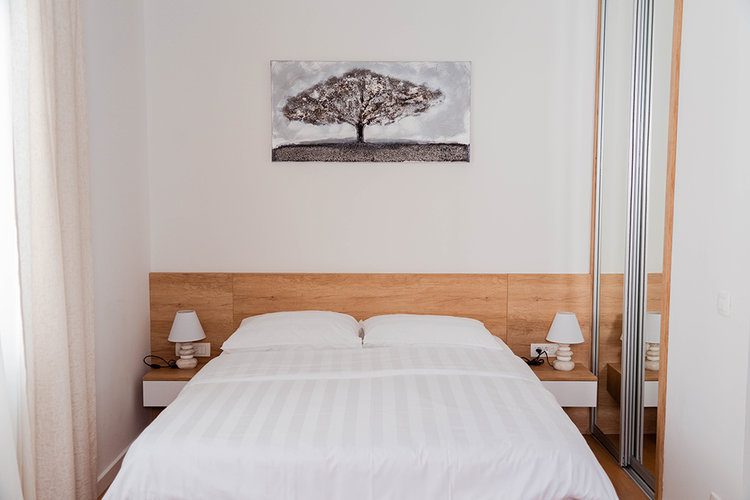 I have to say that I personally preferred Dubrovnik to Split so I would recommend saying two nights there and one night in Split, but the apartment interior was lovely. Should you wish to stay in Split for a few nights with the option to self cater, the Lugo apartment is perfect. Plus it had free parking on the street out front, just be sure to leave at least one metre of space on the pavement for pedestrians to avoid a parking ticket.
Cost
£77.87 for 2 nights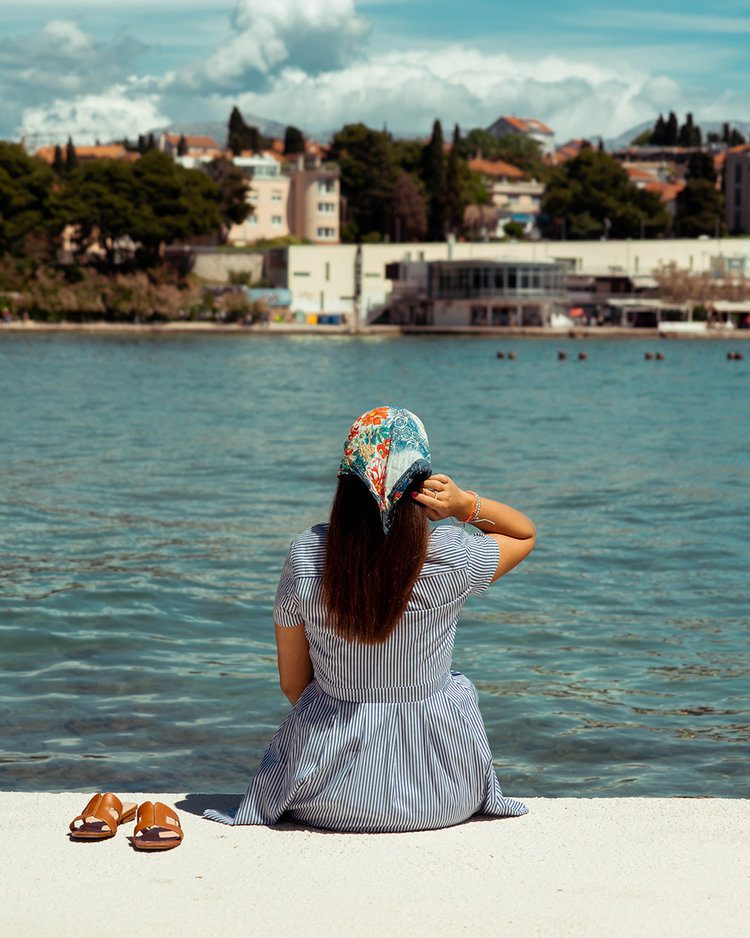 Marjan Forest Park
Marjan Forest Park is a sore spot for us for sure because thanks to Google Maps making a mockery of us, we spent an hour walking up hill in the sun to a viewing platform that doesn't actually exist! At first I thought it was Michael's fault (because it usually is) but later I found out from others that there is a viewing platform marked on Google Maps that can't actually be found!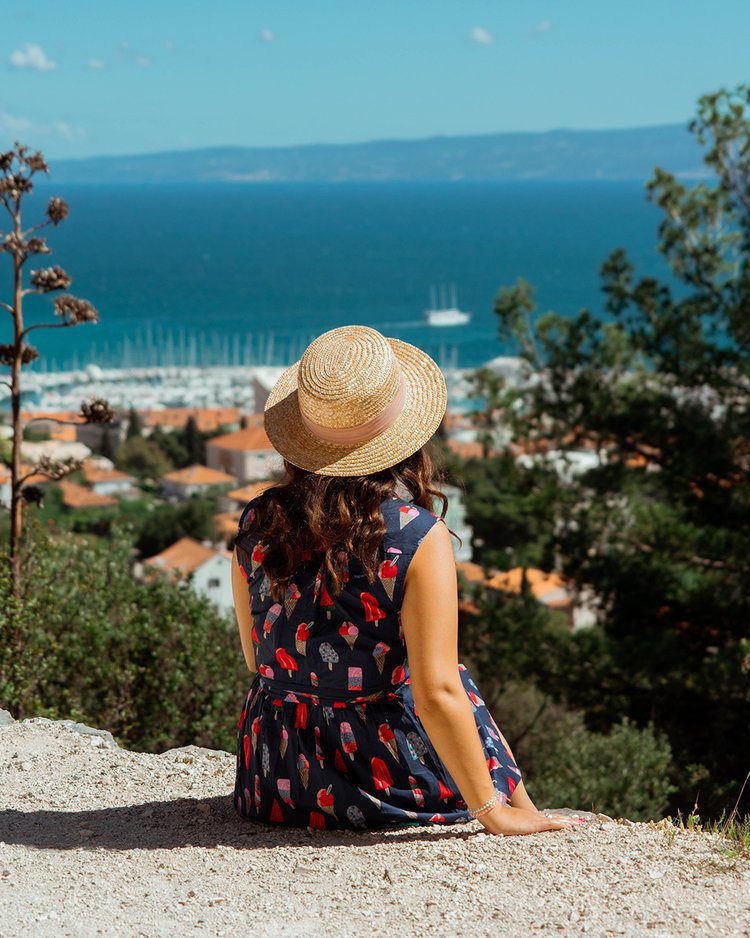 However, don't be put off this park entirely. If you don't have limited time in Split, it's great exercise, a pretty park and there are chances to look out over the bay. Plus with multiple benches dotted around, we found a good spot to enjoy our picnic. 
Entrance to the park is free.
Diocletian's Palace
"WHERE ARE MY DRAGONS?" Remember when Daenerys' dragons were stolen by the House of the Undying in season 2, episode 6? Well you can stand in the basement where Daenerys kept them during her time in Meereen, by visiting the ruins of Diocletian's Palace.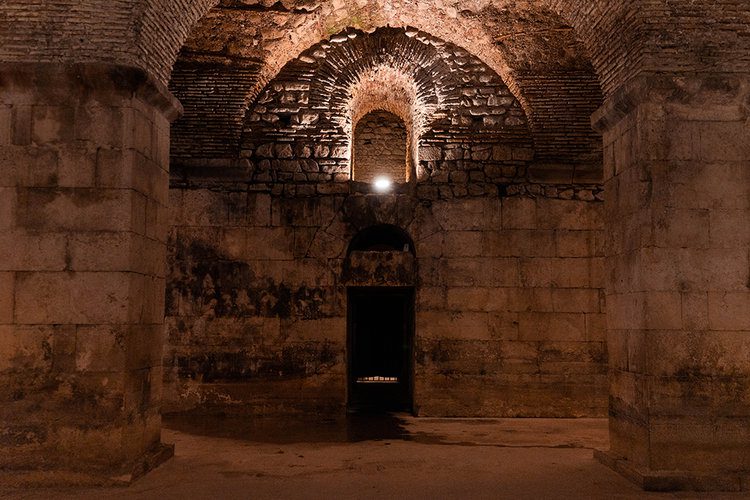 In real life though, Diocletian's Palace was built at the end of the 3rd century for Roman Emperor, Diocletian. Most of the palace is in ruins but it is still possible to walk around the basement rooms.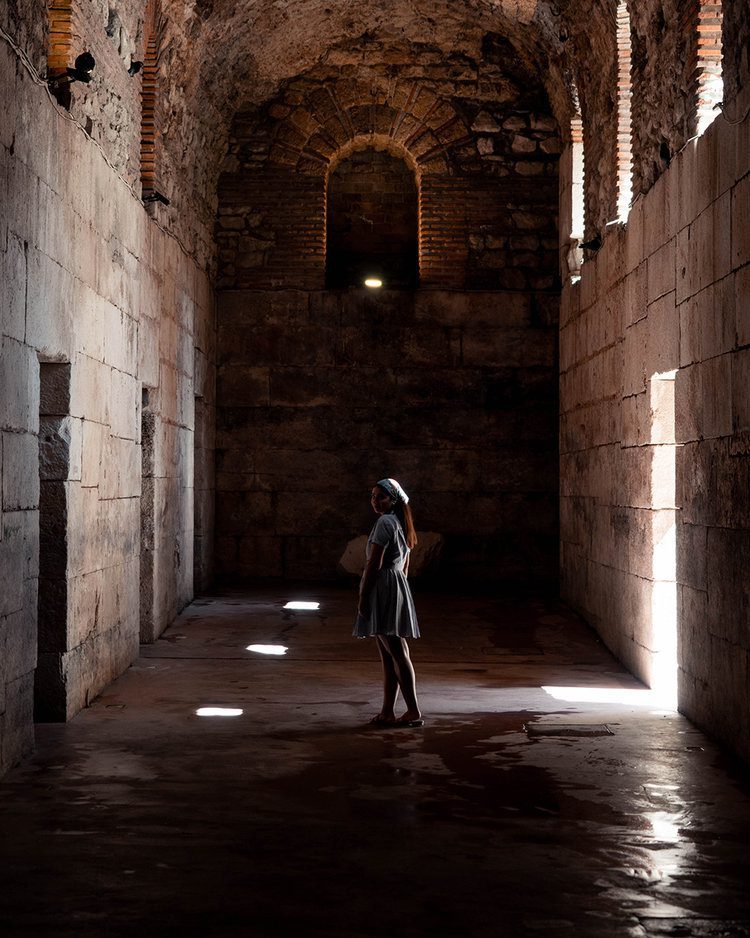 Cost
£10 x2 people
90 Kuna
Opening times
8.30am – 9pm
Lovran
Hostel Link
As the name suggests, it is a hostel, however this one has the option of a private room and bathroom. As we knew we were getting in late and leaving extremely early, and by that I mean getting in at midnight and leaving at 5am for Venice, all we were looking for was a bed and a shower. Of course, I wasn't quite expecting a bunkbed but it was a bed all the same! Parking on the street opposite was free and it was clean, so for under £30, I have no complaints.
Cost
£29.31
Venice
Garage San Marco car park
We chose to drive to Venice because we were travelling out of season and the ferries that go across from Croatia to Italy weren't running a regular schedule, and I really wanted to go to Venice. By driving it meant that we could stop off at other locations in Croatia such as Split and Plitvice so it ended up working out well, and thanks to a few well placed accommodations, we could break up the driving so we weren't exhausted. 
As Venice is navigated by narrow footpaths, bridges and canals, it's impossible to drive into Venice. So we parked our car in a garage overnight at Piazzale Roma, opposite the water bus terminal, and took that boat into the centre.
Upon entering you will be given a ticket with your floor number and as you get to that floor, stewards will come and take your car and keys and park it for you. When you return, pay first and then hand your ticket to the steward on that floor and they will hand your car back to you. 
Costs
£57 for 2 days
€64
Venice water bus
At the sacrifice of being crammed in like sardines, the water bus is your cheapest option for accessing the centre of Venice. As we had arrived by car and were only spending one night, we left our shared large suitcase in the car (concealed in the boot) and only brought our carry-on cases which made it far easier to board the boat. 
Costs
£26 for 4 single trips
€7.50 per person per way 
€30 in total during our stay
Click here for the water bus timetable.
Dimora Dogale
Even out of season, it isn't cheap to stay in the heart of Venice. I could see from hotels.com that to save money without sacrificing location, I would have to aim to find one between £80-100 per night.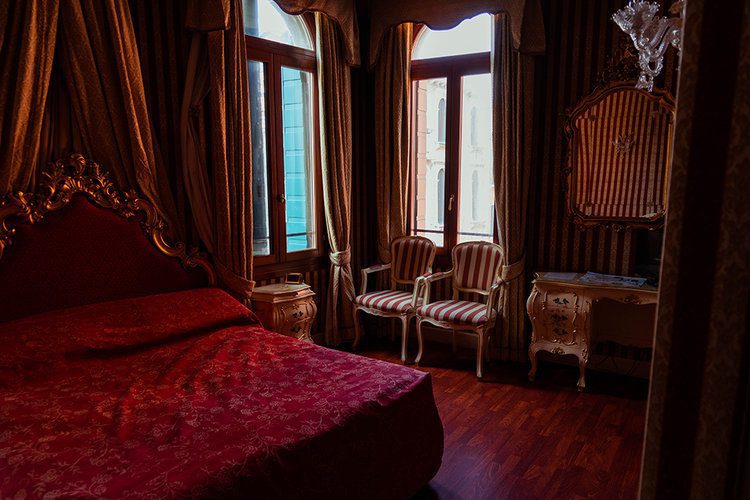 The room decor in Dimora Dogale is delightfully gaudy and typically Italian. As I am learning from my trips to Italy, older hotels do seem to favour fabric wallpaper and baroque/rococo styled furniture and finishings. What I particularly loved about Dimora Dogale, aside from its central location, is that it is located on the canal so provided you book a room with a canal view, you will have three windows looking out onto the canal to watch the gondolas float by.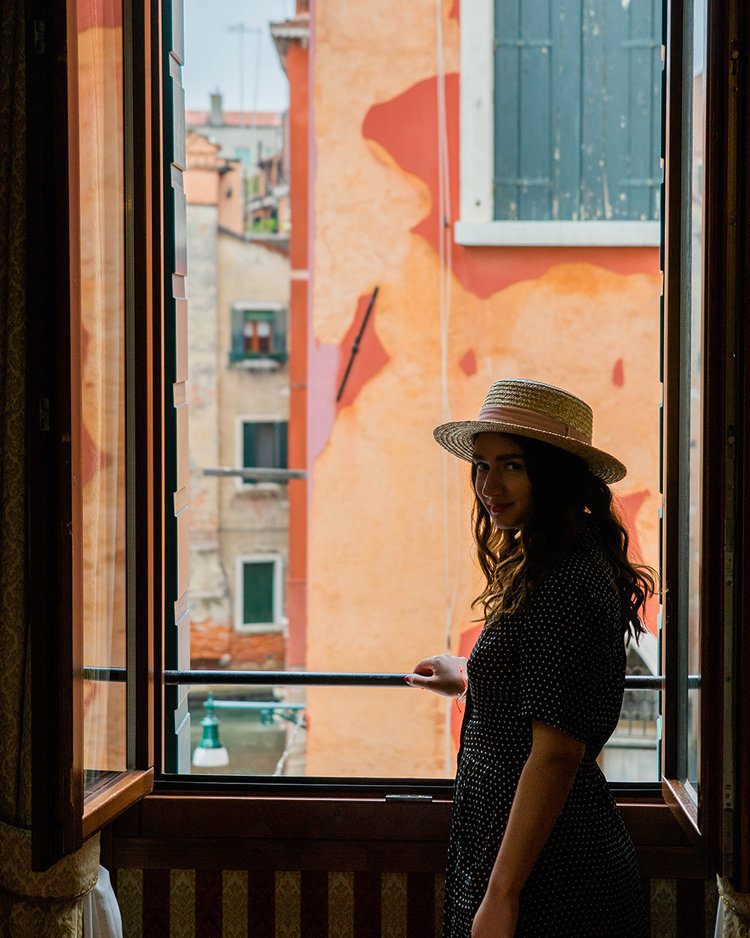 Cost
£93.24 for 1 night including breakfast
£4 additional city tax for 2 people (paid at the hotel)
Rialto Bridge
Rialto Bridge is not only the most famous bridge in Venice, but it is also the oldest one crossing the Grand Canal.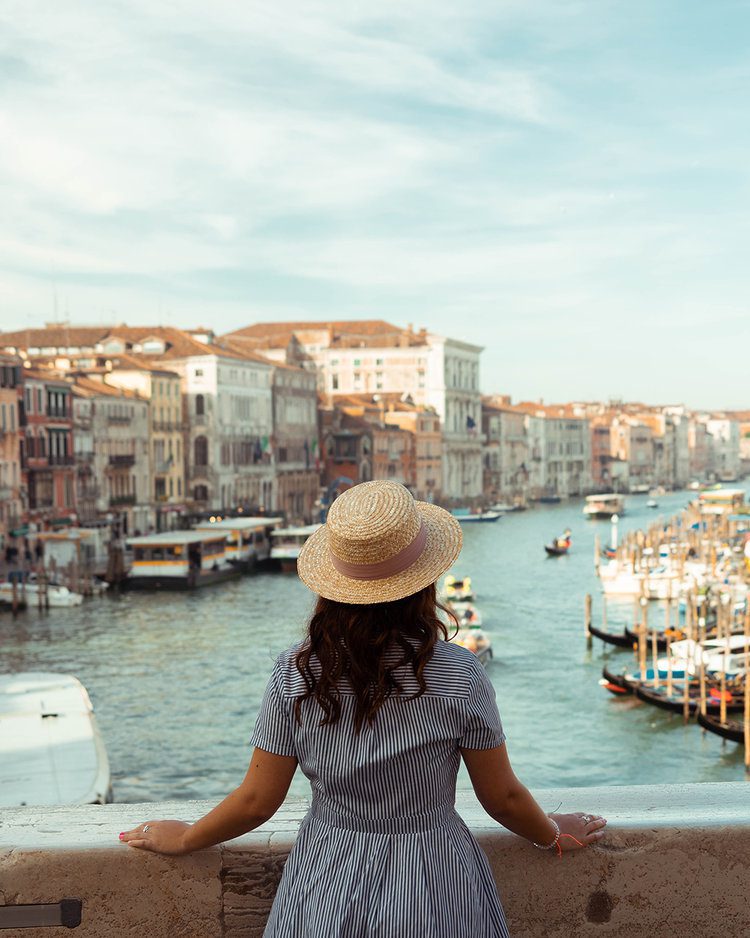 On our first day, our stop on the water bus was Rialto Bridge, so it was the first landmark we saw, but we made sure to return a few times. For the best photos of the Grand Canal, head to the Rialto Bridge not long after sunrise, at this time it will be significantly quiet and the sun with be creeping up over the buildings casting a dreamy light across the rooftops.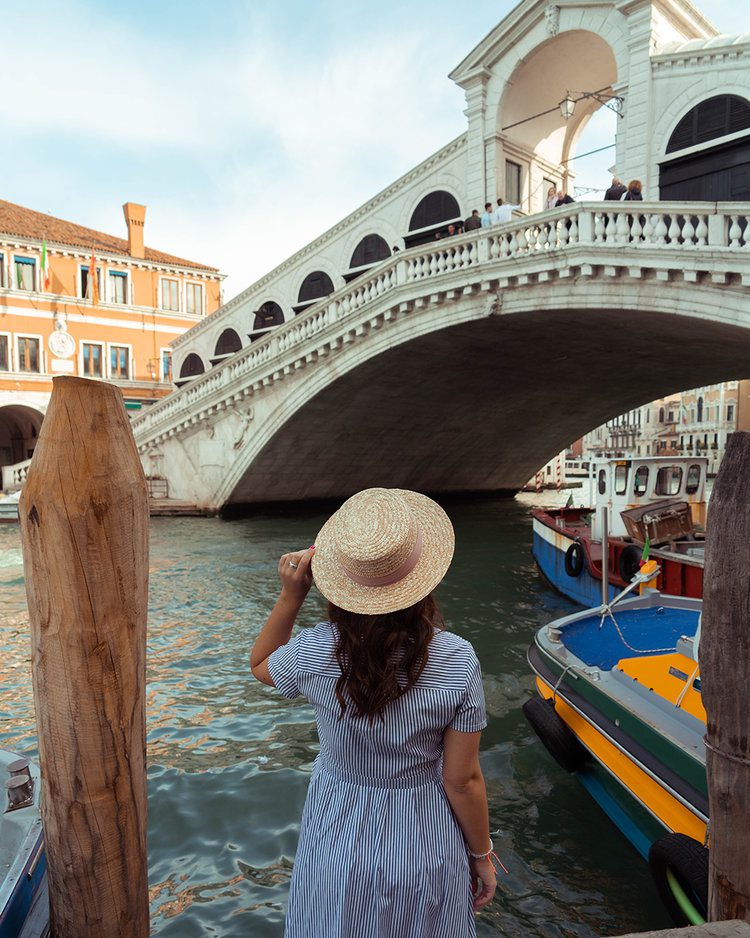 Bridge of Sighs
The Bridge if Sighs gained its name because it was the sound that came from the prisoners walking across it who were en route to their cell. The small windows offered them their last glimpse of Venice before being locked up.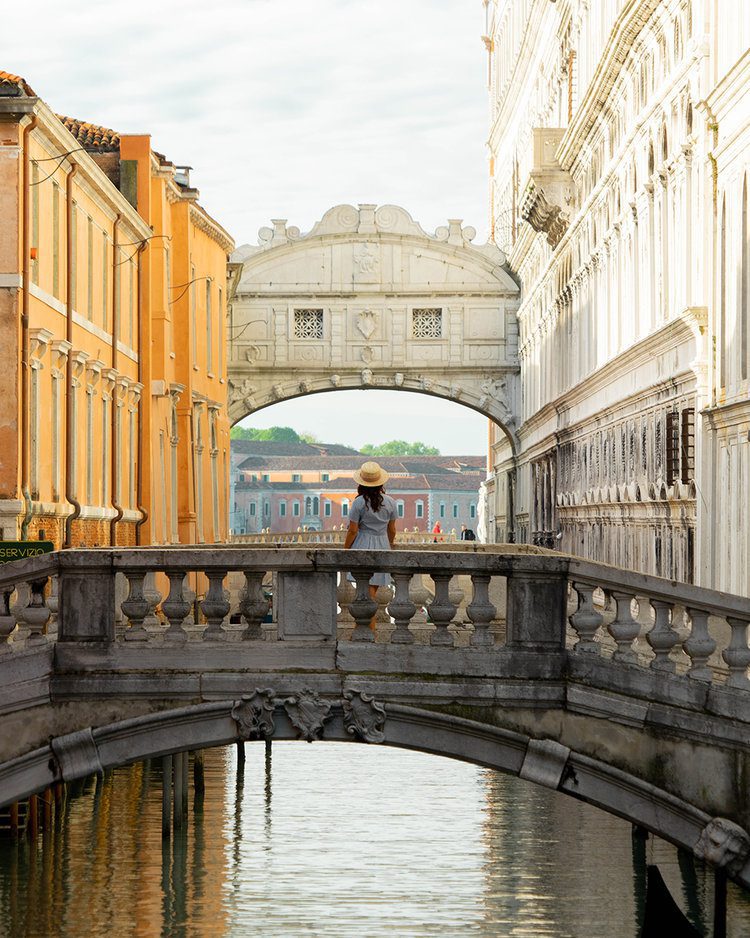 The best way to view the Bridge of Sighs is around 7am from the bridge behind it if you were looking towards the Grand Canal. Though Ponte della Paglia is closer, it is the most popular bridge for looking at the Bridge of Sighs, so I suggest viewing it from Fondamenta della Canonica which will be empty at that time in the morning. For a great shot, get your photographer to snap you from the next bridge along, on Calle de la Canonica, whilst you stand on Fondamenta della Canonica.
Piazza San Marco
Piazza San Marco or St. Mark's Square is the main public square of Venice. It is where you will find the following famous landmarks: Doge's Palace, Saint Mark's Basilica and St Mark's Campanile.
Caffè Florian
Though I haven't included food in the budget for the reason I explained at the begging, I couldn't not go into detail about the hot chocolate I had in Caffè Florian. 
Located in St. Mark's Square, Caffè Florian is a luxurious place to stop and enjoy a hot drink and possibly a sweet treat. Thanks to its ornate decor and tourist trap of a location, it isn't cheap, and had the weather been more favourable on our first day, we wouldn't have stopped here. However, it was raining and we were cold, damp and in need of a pick-me-up, so we sat in and enjoyed an expensive thimble of the best hot chocolate I have ever had! I had the Cioccolata Casanova which is a hot chocolate topped with a mint cream and it was heavenly. I have since learnt that Florian's chocolate is regarded as one of the best in the world, so if you have the extra pennies to splurge, I do recommend treating yourself.
Libreria Acqua Alta
Though I was aware there was an Instagrammable book shop in Venice I hadn't researched it nor intended to visit, but thanks to Michael's thirst for old books and artsy fartsy stuff he had Libreria Acqua Alta on his list and took us there after we had seen the Bridge of Sighs.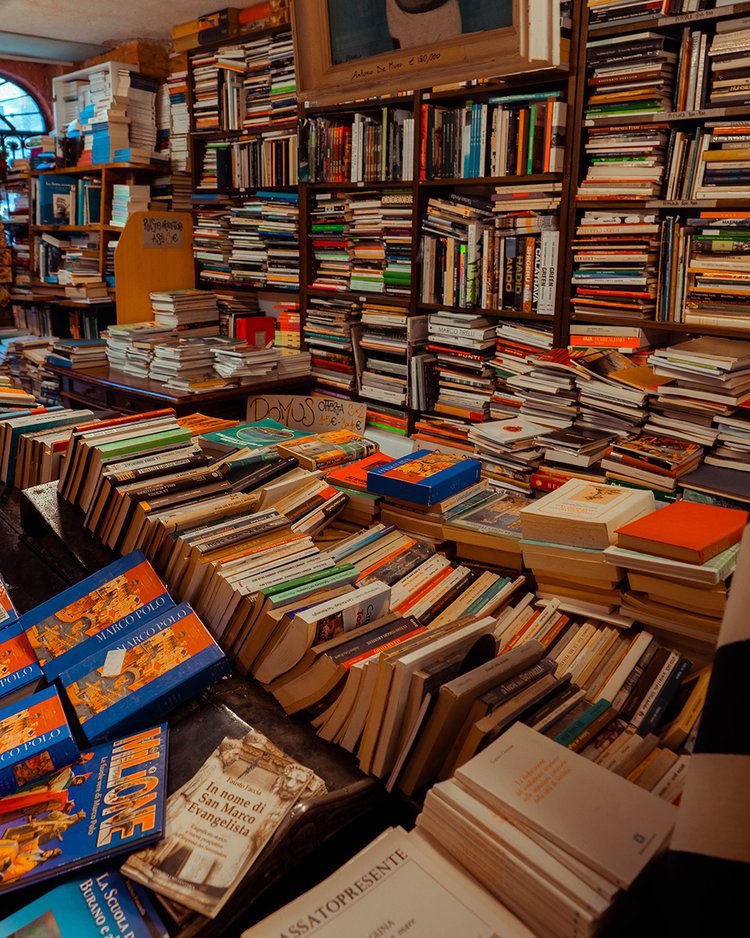 The shop itself is quite unique albeit rather smelly thanks to the stacks of decaying books outback. There is a gondola in the centre of the shop, filled with books whilst either side sees books piled up to the ceiling. 
Outback, where the books have clearly gone to die (judging by the smell) is also where you will find the Instagrammable staircase made entirely from books.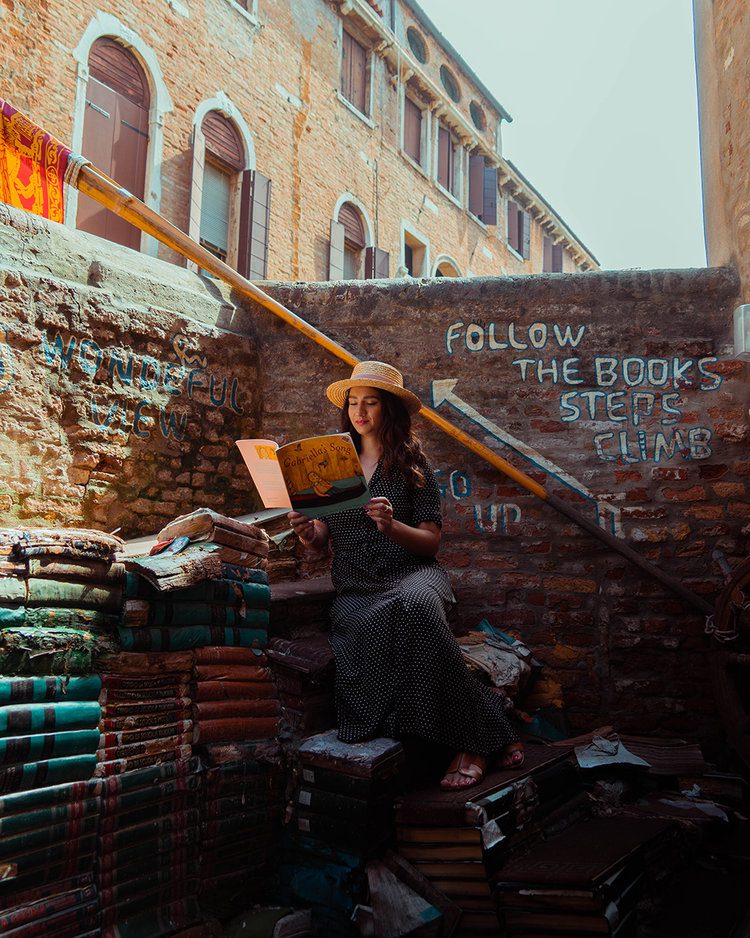 Opening hours
Daily from 9am – 8pm
Gondola ride
You won't have a tough time finding a gondola in Venice, they are everywhere. What is important though is where you pick it up as that will determine the route you take. We got ours from the street that out hotel was on (literally just a few meters away) because we wanted to travel through the little back canals rather than the Grand canal as they are much more picturesque. Plus the Grand Canal has far more traffic from bigger boats making deliveries or the water taxis which aren't attractive boats. The water bus does travel under the Rialto Bridge so if you follow this itinerary you will get to see it from the water without having to pay for a Gondola.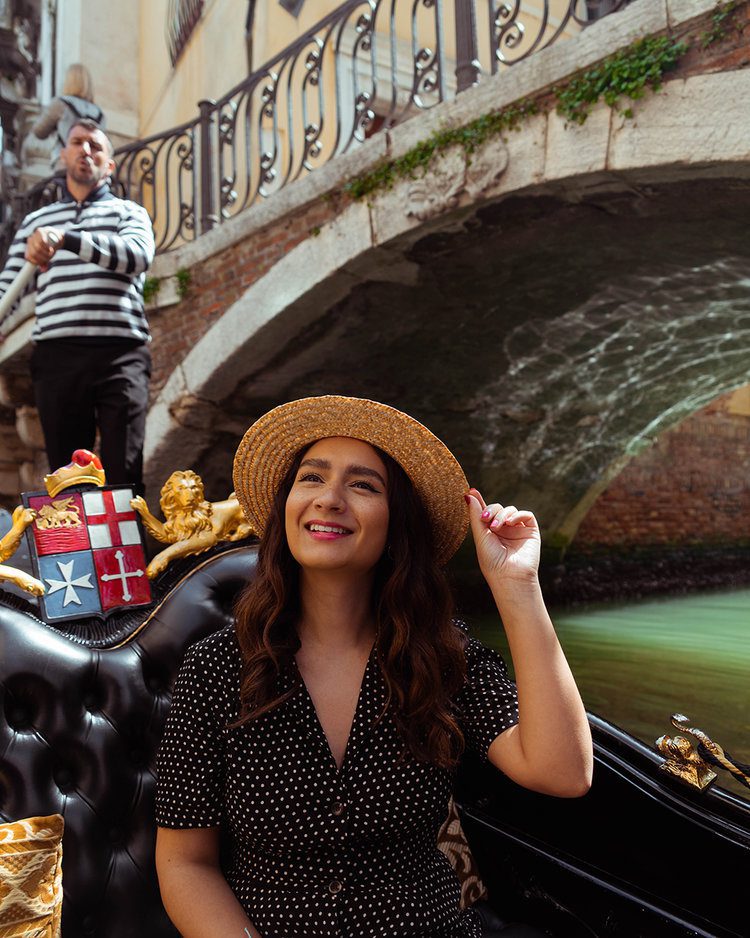 Cost 
£68 for half an hour
€80
If you are looking to cut down on the cost, gondolas rides are paid for per gondola not person, so  you could rally a few people to split the cost but I would strongly recommend you budget the €80 to have a private ride with your loved one(s).
I have been told that night time rides are the most romantic as you float under the stars, however if you are planning on taking photos, I recommend going during the daytime for better lighting. I can also tell you that half an hour is plenty of time to sit together and enjoy the ride and get your photos. 
Gelato at Suso
Michael found Suso by Googling "best gelato in Venice" and the search result was not wrong. Suso was very close to our hotel so we passed it often and learnt that even out of season the queue is consistently 15+ people long from 11am onwards. For that reason we decided to eat breakfast gelato which successfully avoided the queue. What's great about Suso aside from their delicious gelato (Michael told me he would leave me for their pistachio and chocolate gelato he thought it was that good) is that they have Vegan gelato and gluten free cones.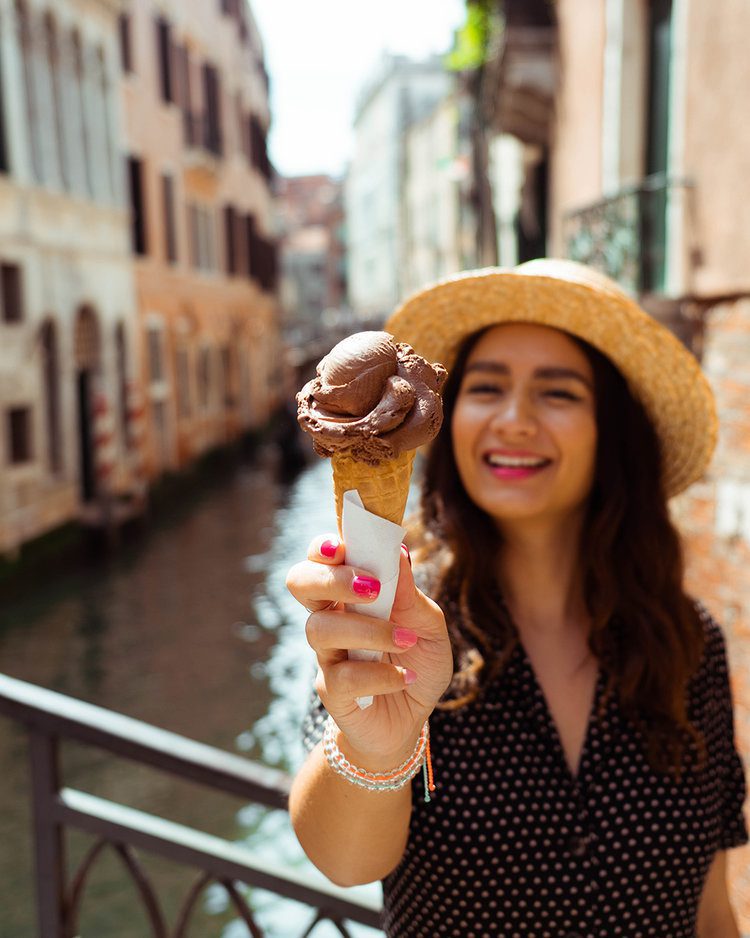 T Fondaco Dei Tedeschi (DFS)
We hadn't actually planned to go up to the viewing platform on the rooftop of DFS, it was by chance that we walked past it about 12pm and heard someone saying there was a viewing platform. So we went up to the top floor where we found an iPad where you could reserve a complimentary time slot for access to the roof. At 12pm we were offered 3.15pm so we went for lunch and a stroll before returning in time for our booking.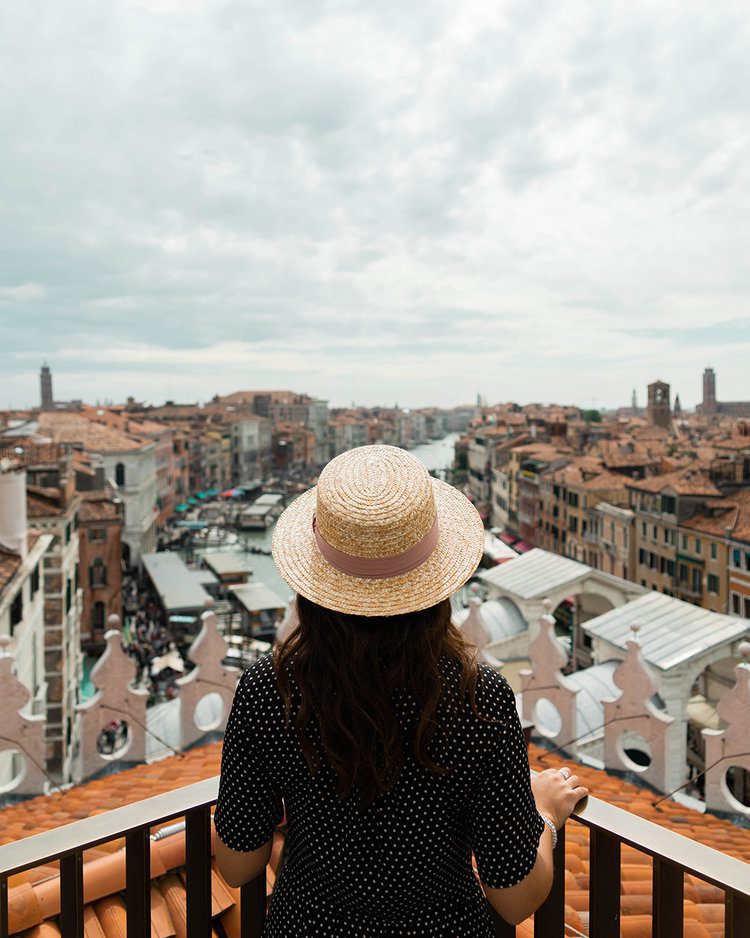 When we did arrive for 3.15pm there was a sign saying that there were no more slots available so I suggest getting there to book a slot as early as you can.
Plitvice
Rustic Lodge
Despite the bathroom smelling of smoke (make sure you request a non smoking room) our bedroom at Rustic Lodge was lovely. It was bright and spacious with a fridge which meant we could keep our milk chilled for our breakfast the next day.
The lodge is family owned and run, they are so accommodating and generous. Knowing we had come in late from a long drive they allowed us to check out a little later and offered us complimentary tea and coffee.
As we had a lot of hours on the road we chose to stay in Plitvice so we didn't have to drive far to the park. The drive to gate 2 was only three minutes so it's perfect if you are planning on getting in a full day of hiking in the park.
Heads up, type the postcode/area code into your directions because it is not where "Rustic Lodge" is listed on Google Maps.
Cost
£47.51 for 1 night
Plitvice Lakes
We arrived at 12pm and due to popularity on a sunny day everyone buying tickets around 12pm had to wait until 1pm to access the park, which created such a traffic jam on all of the paths throughout the park. For this reason I suggest you arrive early or late afternoon. As beautiful as it was I didn't enjoy the first part because it was so busy that you and being pushed left right and centre, and considering there a very few barriers on the path, it is not a pleasant experience. We were bashed around by a lot of stroppy hikers who couldn't understand that people ahead with strollers and children don't walk as fast as them…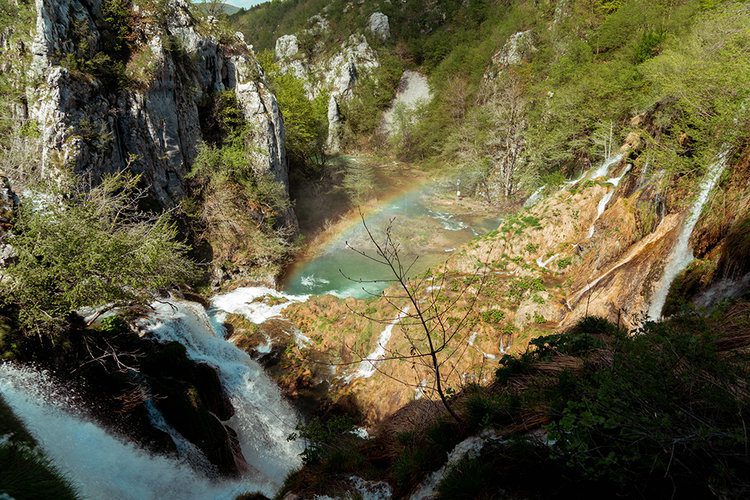 The park however is a great chance to go chasing waterfalls, I can't even recall how many we saw because they are in abundance. From frizz-inducing super soaker falls to small trickling ones, there's plenty to see.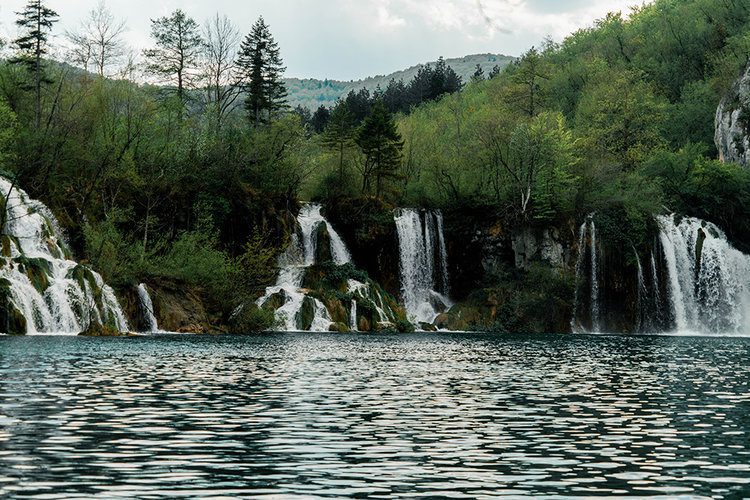 The paths are mostly man made so you don't necessarily need trainers or hiking boots, but keep in mind you will be on your feet for at least three hours.
PFH Top Tip: Put a pin in the map on Google Maps for where you parked the car, or at least take notes of exactly how to get from your car to the ticket booth. The car parks are just open spaces in the forest, there are no signs for sections or zones, it goes on forever and everything looks the same! If you were watching my Instagram stories that day, you will know that it took half an hour of walking around to find the car and it didn't help that Michael walked straight past it! You only get 20mins to get out of the car park after getting your ticket and it took a fair amount of explaining how we got lost before we were allowed out of the car park.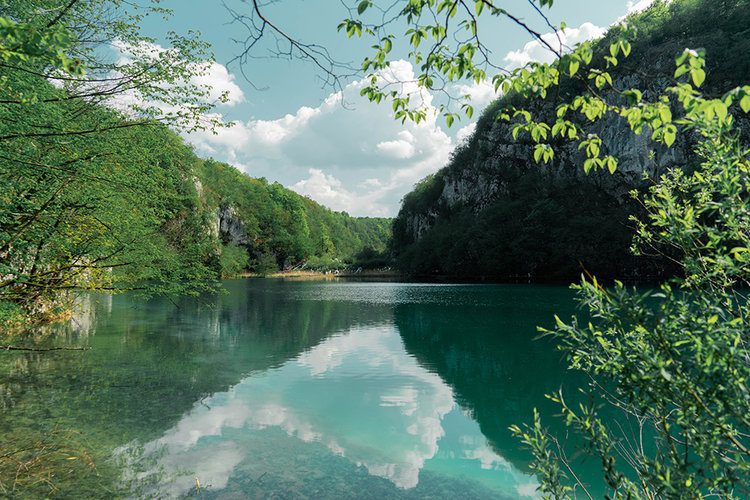 Cost
£23 x2 people
200 Kuna
November – March

60 Kuna per adult
30 Kuna 7-18 yrs old
Under 7yrs go free
April – May & October
100 Kuna per adult
50 Kuna 7-18yrs old
Under 7yrs go free
June – September 
250 Kuna per adult
150 Kuna 7-18yrs old
Under 7yrs go free
Opening times
8am – 7pm
Konavle
Carol Royal Apartment
We didn't have long here as we got in late after spending our day in Plitvice Lakes and we had to leave early for the airport, but after waking up and stepping out to the swooping views of the bay, I would say it is a lovely area to stay if you are planning on renting an apartment for a week and driving around. There is complimentary parking out front of the property and it even includes a pool so you can enjoy the sunshine and views should you have more time there. The kitchen is equipped but the shower is pretty basic and like many European ones, is hand held. For the price and view though, it is worth it.
Cost
£39.44 for 1 night
.
Total Cost
£1,089.37
I realise that to keep this trip down to a low cost it means a lot of late night driving and short stops but I don't for a second feel like we didn't explore each place we went to the max. You can definitely hot up the main spots of Dubrovnik in one day, and Venice can easily be enjoyed in two. Of course I would still recommend going for a little longer so you can make good use of Croatia's beautiful beaches, but if you are looking for a quick and cheap trip to Europe, this is definitely a great option.
.
Aloha, Gabriella