Here it is, the blog post that so many of you have been asking for! Thanks for that by the way, it makes me feel like I'm doing a good job of this travel blogging thing. 
Here is everything we did in New York City over seven days, it's pretty jam packed I will confess, there's just so much to do there, and there's still so much more that I want to do. NYC definitely deserves more than a city-break-long-weekender kind of trip, it needs so much more time than that! I could easily spend weeks exploring this city, but alas I only had one, so yes it's a full on itinerary (except for Sunday where I took a personal day).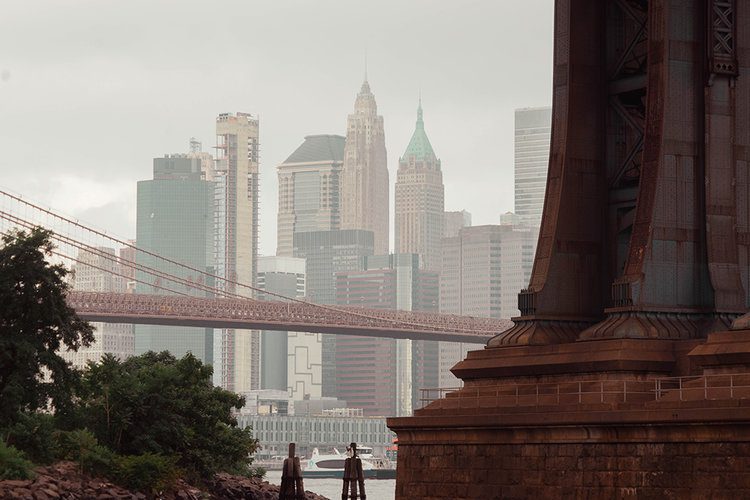 Despite there being a lot on our itinerary, not a lot of the things we did involve entrance fees, so aside from the cost of accommodation, eating, shopping and transportation, a trip to NYC doesn't have to be as expensive as one might believe. It's up to you how you want to spend your money, but there is definitely an opportunity to budget, just take a read and you'll be able to figure out what you want to spend money on and where you don't need to!
Day 1
Amtrak train from Boston to NYC
Check into YOTEL
Hudson Yards
The High Line
Dinner at Wild
Day 2
Brooklyn Bridge
DUMBO and Brooklyn Bridge park
Strand Book Store
Coney Island
Times Square
Day 3
Times Square
Soul Cycle
Day 4
Rockefeller Centre: Top of the Rock
Central Park
Loeb Boathouse rentals
Hard Rock Café
Cheesecake at Juniors
Day 5
Hudson Yards
The Vessel
Katz's Delicatessen 
PUBLIC hotel rooftop bar
Macy's
Day 6
Flatiron building
Novotel Times Square bar
Souvenir shopping
Oculus
9/11 memorial
Monarch hotel rooftop bar
Novotel Times Square bar
Day 7
The Metropolitan Museum of Art 
The Solomon R. Guggenheim Museum
Check out of YOTEL
Grand Central Terminal 
American Museum of Natural History
Friends building
Pick up bags from hotel
Transfer to airport
Flight from JFK to LGW
YOTEL
I only have one negative thing to say about my trip to NYC and unfortunately it's the very first thing in this itinerary, but once I've said it, we can all move on and you will know what to expect if you book with YOTEL…
Honestly I can't say I would ever recommend YOTEL. I've stayed in a lot of budget hotels and private hostel rooms around the world, but something about YOTEL really takes the biscuit (Brit slang, it's sucky). When choosing a hotel, we wanted to be in Manhattan so we were closer to the attractions we wanted to see and do, so we were prepared for sky-high prices. We made a decision between Moxy Times Square and YOTEL, choosing YOTEL because it was £100 cheaper and we figured that would pay for food for one day, which it did, but having stayed in Moxys before and now having stayed in YOTEL, I now would pay the extra £100! 
New York City is known for small apartments, we all know that from movies, TV and Mindy Kaling's first autobiography: Is Everyone Hanging Out Without Me? With the exception of Rachel and Kurt's gigantic apartment in Glee, we all know you live in a shoebox in NYC, right? Well YOTEL is like staying in the shoe of a shoebox. 
What bugs me the most is how it's marketed. It is shown to be a contemporary hotel with a travel theme: clean, modern pod-rooms, a retractable bed and a robot, "Yobot", who stores your luggage before or after check out. In reality, the lighting in the room is so poor that the risk of the business blocks opposite seeing you in your pants whilst you get changed seems like the better choice compared to tripping over under their purple lights with the blinds closed. The entire room – from the shower floor to the bed – is scuffed up and looks like it has seen better days, you get thrown off the WiFi every 10mins and the bed takes longer to go up and down than a taxi going from East to West in Midtown Manhattan during rush hour. Oh and this Yobot that stores your luggage? No, it's a human, a cupboard and a charge of $2 per bag! Even in the most basic hotels I've stayed in, I've never had to pay for luggage storage. Plus they hounded Michael about using their transport service because according to them it was coming up cheaper than Uber but we actually got charged about $20 more than an Uber when we got to the airport, and it was not a pleasant ride.
I don't usually use this space in such a negative way, but I don't want to recommend a hotel that doesn't deliver on the way it's marketed. I've stayed in old banged up rooms around the world before, once even in NYC, but they never led you to believe they were anything more than old charm. I could deal with the room size, and we just left the bed extended for fear it was going to break down, we overlooked the scruffiness of it, but it irritates me that it had so much potential and was ultimately a let down.
Hudson Yards
Hudson Yards in a newly developed area, which was just a 12min walk from our hotel in Midtown Manhattan. A lot of money is being pumped into this area facing the Hudson River; there's a huge highbrow shopping mall, the Vessel (which you can read about further down) and it's where the High Line starts.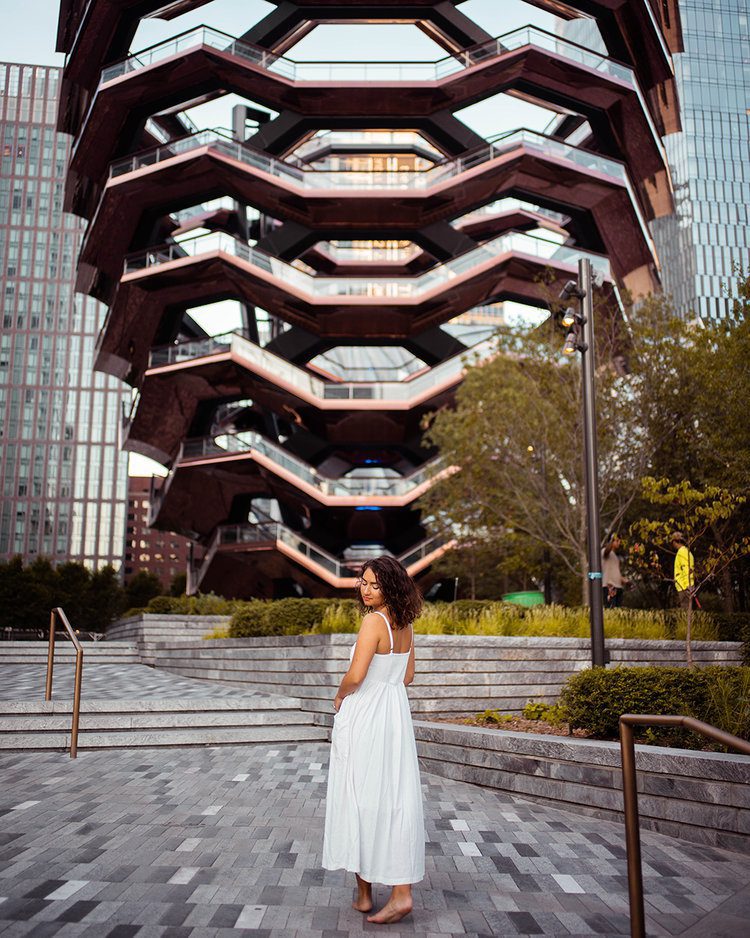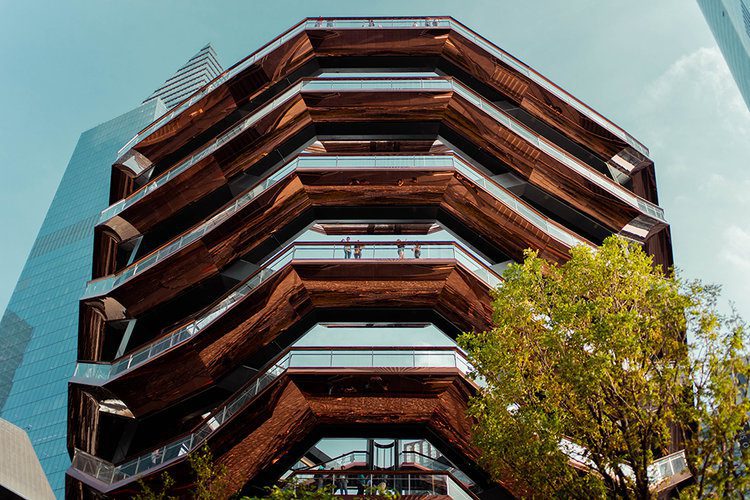 The High Line
The High Line is 1.45-mile-long elevated greenway repurposed from an old railroad track that runs along the west side of Manhattan. It is home to over 500 species of trees and plants, features multiple pieces of artwork from sculptures to murals and regularly hosts community and teen programs. 
Click here to read about the history of The High Line from the 1800s all the way through to present day, it features some amazing photos of what the train tracks used to look like way back when.
There is no entrance fee for The High Line.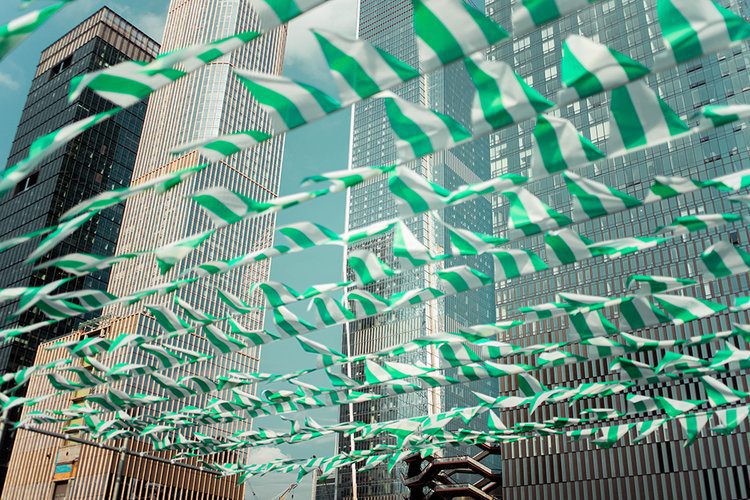 Wild
Though I didn't starve myself like the itinerary would imply, I have only included a select few restaurants that we ate at to speak about. I chose to include Wild because it is a solely gluten free Italian cuisine restaurant, and better yet, they have a vegan cheese substitute for any of my dairy and gluten free/vegan readers.
Of course, if you're not gluten/dairy free and don't run the risk of bloating to the size of a Macy's Thanksgiving Day Parade float, go grab a $1 slice of pizza from pretty much anywhere in NYC.
Brooklyn Bridge
The best time to visit Brooklyn Bridge is sunrise. It is an incredibly popular destination for tourists, runners and cyclists and having crossed it at both 6am and 9.30am, I can tell you that you do not want to be on it once the sun is up!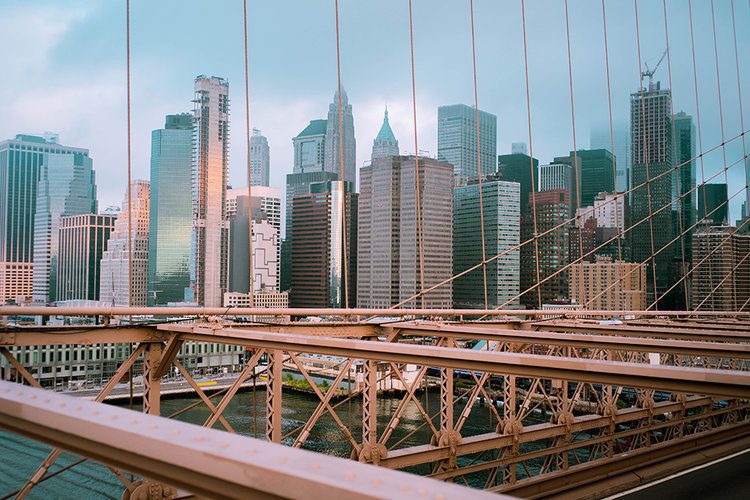 My suggestion is to take a taxi/Uber to the pedestrian entrance of the bridge just before the sun comes up, so by the time you are where you want to be – which ideally is by the arches – there will be enough daylight to take photos. Then you can continue walking it before the hoards arrive.
If you are coming from Manhattan, you need to be dropped off at City Hall Station, where you will cross the road to the island in the middle which has a pedestrian walkway leading you onto the bridge.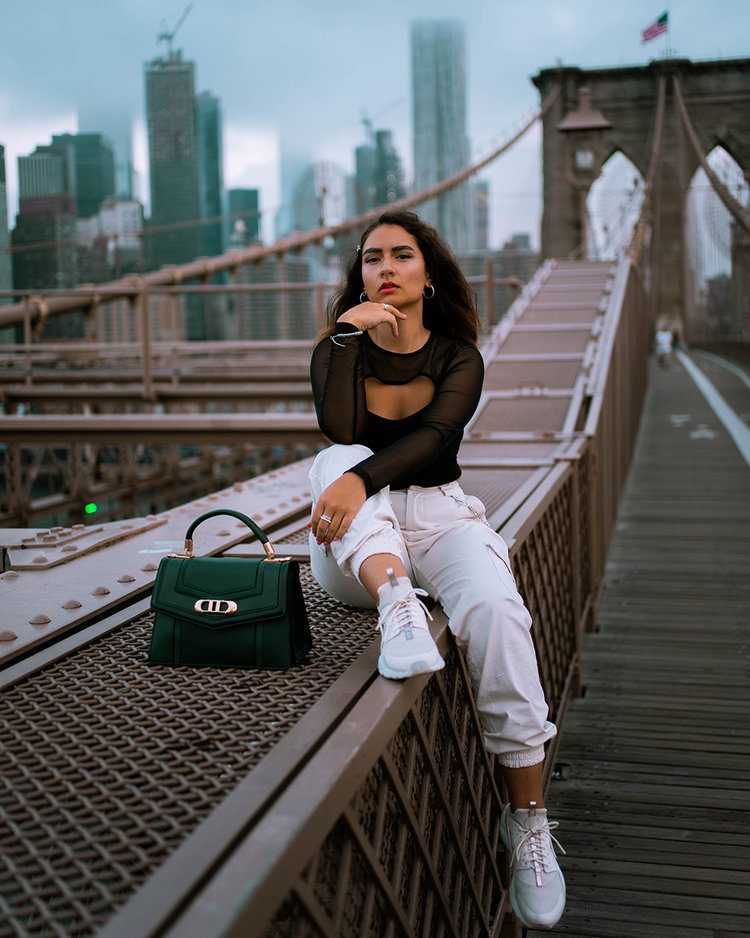 If you are coming from Brooklyn, you need to be dropped off on the corner of Washington and Prospect Street where the entrance to the bridge is underneath it, on the right hand side and in the middle. There's a dark little entrance with a set of stairs heading up to the pedestrian walkway. I do have to say that despite walking both up and down these stairs at different times of the morning, I can see that on Google Maps street view, the entrance is barricaded off and as I don't know why, I suggest you start at the Manhattan end.
Dumbo and Brooklyn Bridge park
When you have finished walking across Brooklyn Bridge from Manhattan, take the exit on the left that says "Dumbo". Once you have come down from the bridge and reached the street level again, turn left out of the tiny dark exit/entrance from underneath the bridge, and walk out until you are at the crossing. The street crossing your path will be Washington Street, and if you look to your left you will see Manhattan Bridge poking out between the buildings. Take a left onto Washington and walk towards the bridge. When you reach the corner of Washington and Water Street, you will be looking up at the most iconic view of Manhattan Bridge!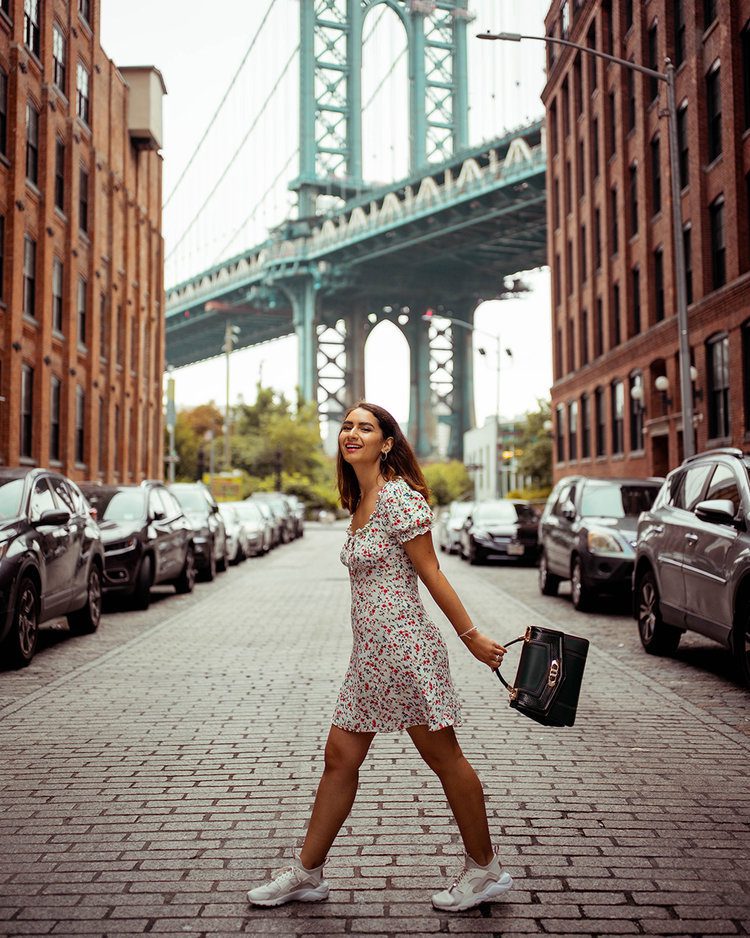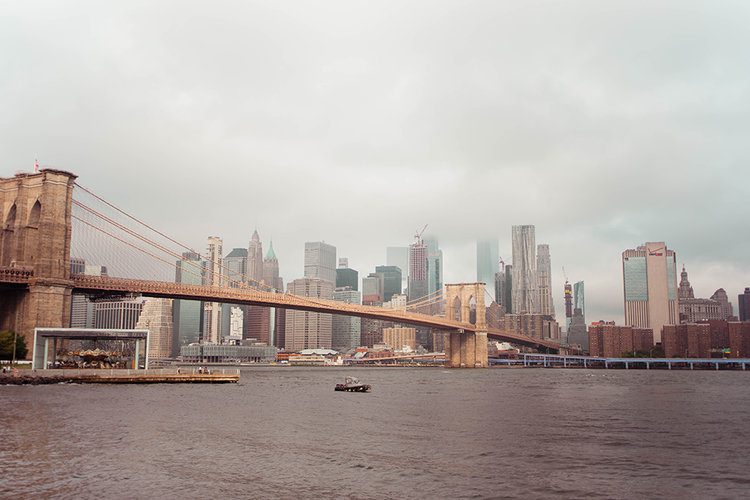 Once you have taken those oh-so-necessary photos of the bridge, continue walking down the road (on the sidewalk so you don't block anyone else's shots) towards the waterfront. There is where you will find Brooklyn Bridge park which offers amazing views of both Brooklyn Bridge, Manhattan Bridge and Manhattan's skyline.
Strand Book Store
Strand Book Store is a 90 year old independent book store located in the East Village, and boasts a collection of 2.5 million new, old and rare books. If you or someone you are travelling with is a book lover, this is the place to visit. With a rather large collection of pins, badges, stickers and patches, it's also an ideal place for the designer amongst you to pick up a little souvenir.
Opening hours
Monday – Sunday 
9.30am – 10.30pm
Coney Island
The first time I went to Coney Island was three years ago and I was drawn to it after watching "Brooklyn" (2015). Of course, anyone who has been to Coney Island in recent years knows that its charm isn't quite the same, but if you're looking for a loud afternoon of fun in a small theme park by the beach, Coney Island is just the ticket.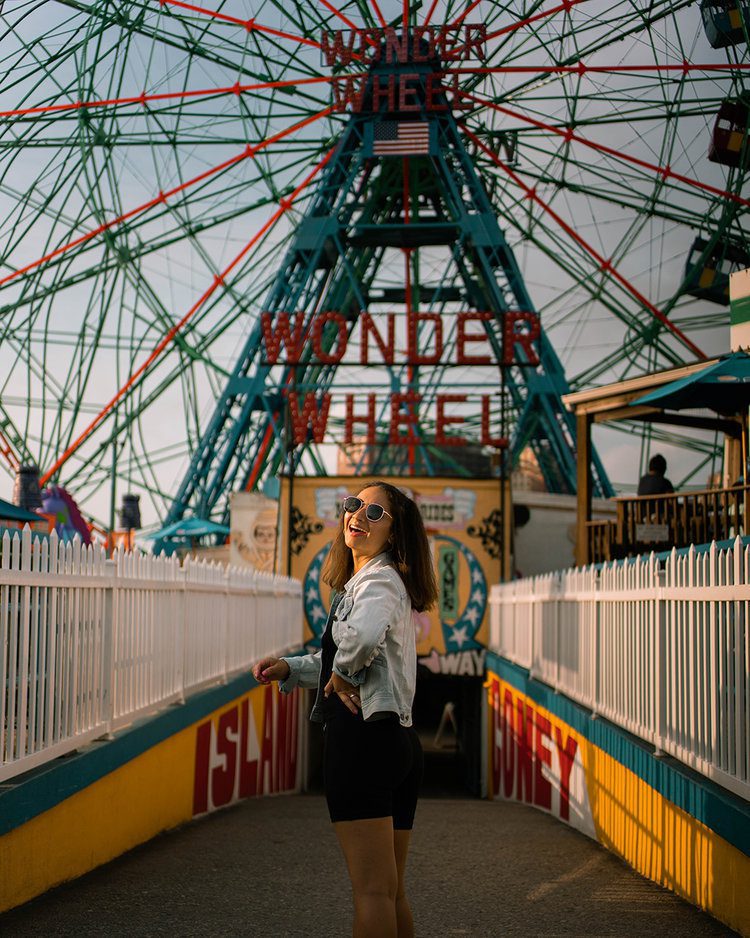 With a variety of attractions from crazy golf to rollercoasters, endless food vendors and the beach, everyone is sure to be entertained.
Coney Island musts: 
Ride the Wonder Wheel, specifically a swinging car

Get a hot dog from Nathan's

Let the Zoltar tell you your fortune

Visit the beach
PFH Top Tip: There are multiple parks in Coney Island, so before you buy a pass, make sure the rides you want are in that park. For example, the Wonder Wheel is in Deno's park and not Luna Park.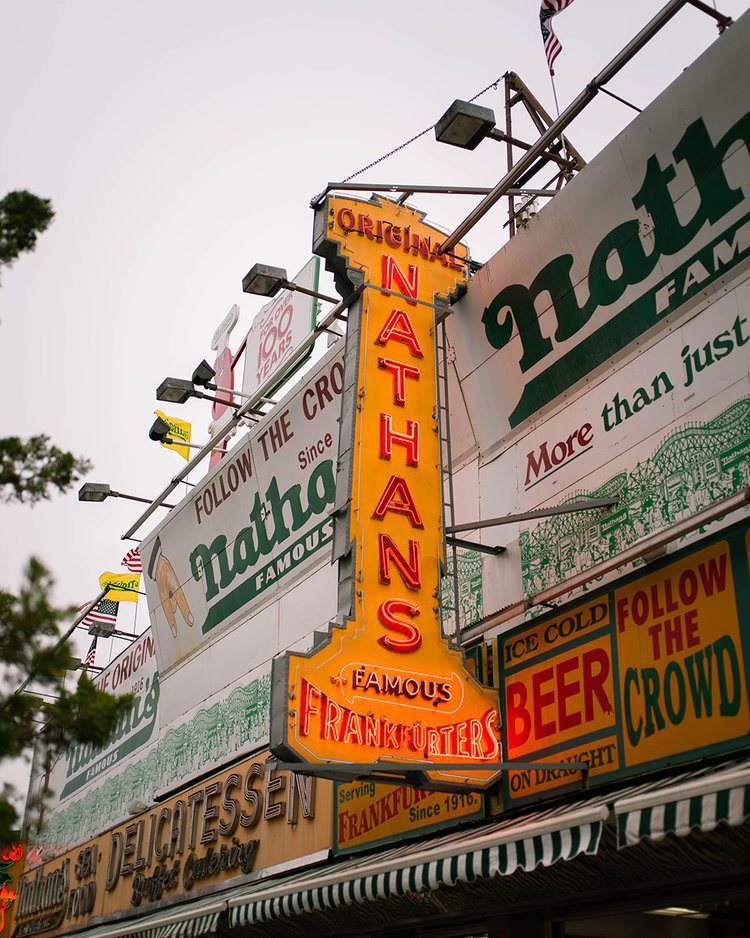 Opening hours
The Wonder Wheel is open seven days a week from June until Labor Day from 12pm.
Weekends only during April, May, September and October from 12pm.
Closed November – April.
Closing times vary according to weather conditions.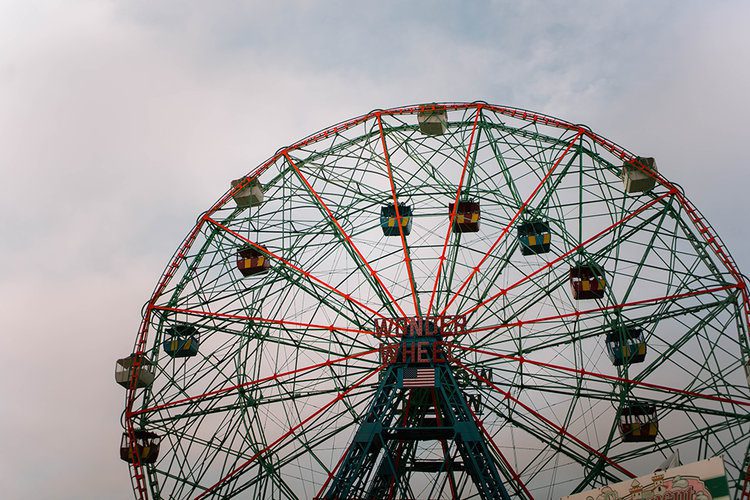 Ticket costs
Tickets for the Wonder Wheel cost 10 credits per person which is $10, or you can purchase one of the following packs: 
$40.00 gives you 50 Credits
$70.00 gives you 100 Credits
$100.00 gives you 150 Credits
Times Square
Located at the junction of Broadway and 7th Avenue, Times Square is one of the world's most visited tourist attractions, drawing in approximately 330,000 EVERYDAY! This mesmerising display of advertisements and news headlines is lit up 24/7 365 days of the year with Earth Hour being the only exception!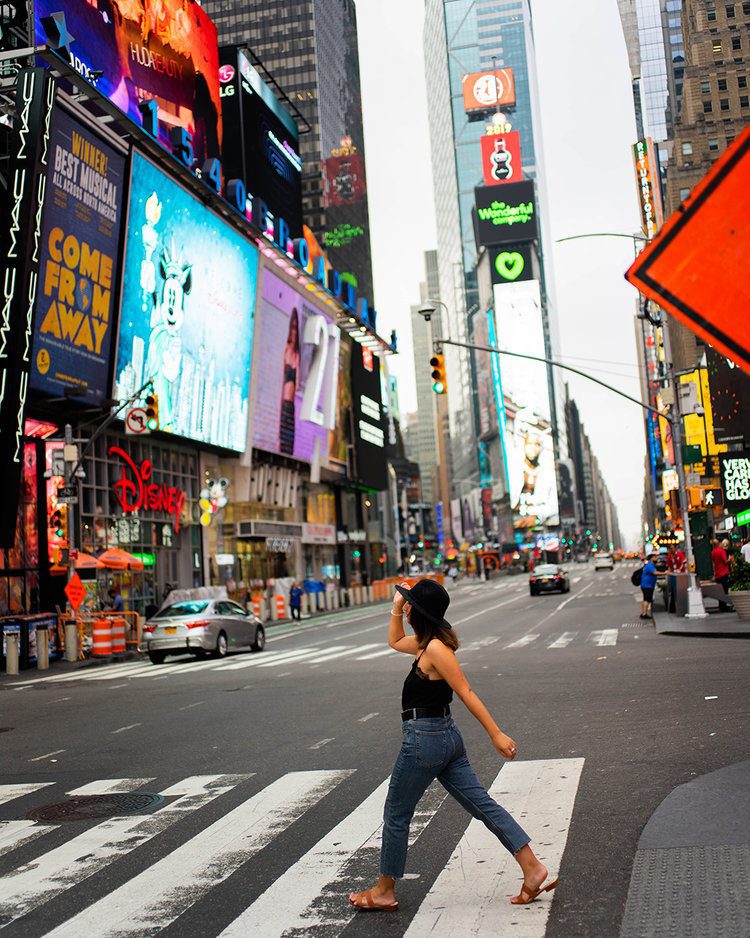 PFH Top Tip: The TKTS booth – selling discounted Broadway theatre tickets – is located in the heart of Times Square under the staircase. Get there for when it opens to stand a chance of beating the massive queue that forms there daily!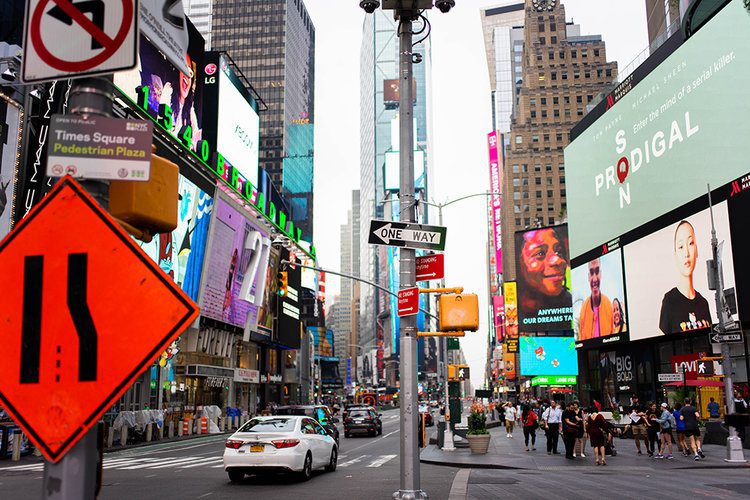 Rockefeller Centre: Top of the Rock
As my last two trips to NYC featured a visit up the Empire State Building, this time we decided to go to the Top of the Rock at the Rockefeller Centre. Now I can't say that you shouldn't visit the Empire State Building once in your life, but the view from the Top of the Rock is far superior because it features the Empire State Building.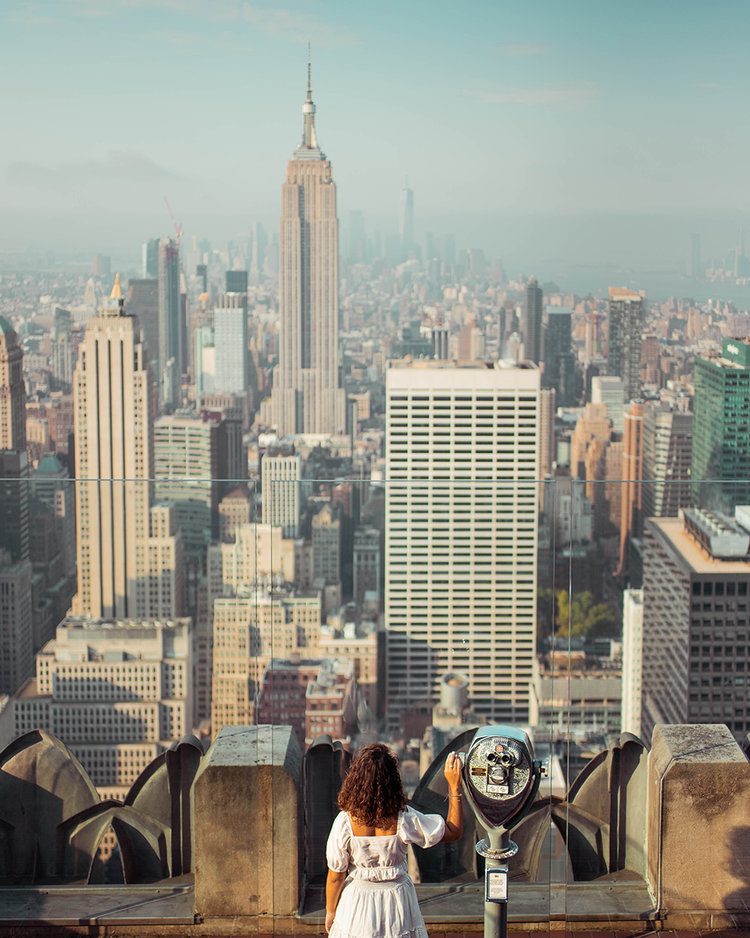 I have two strong recommendations for the time you want to visit and each depend on the type of experience you want to have. The first is to visit first thing in the morning when it's most quiet. This way you can get all the photos you want without having to battle through a crowd. As there are three levels of viewing platforms, for the first half an hour, it's like having the place to yourself, even if you go in the middle of summer. The second option is to do what we did up the Empire State Building during our last visit, which is to check what time the sun sets, then book your ticket for about 30-45mins before this. That way you have enough time to queue, see daylight (crisp photos), sunset (when the sky is on fire) and sundown (where the city lights come to life). Of course this last option will be much busier and unfortunately there is an extra $10 fee for any tickets that could cross over sunset, but it's worth it if you can handle the crowds and don't mind the extra cost.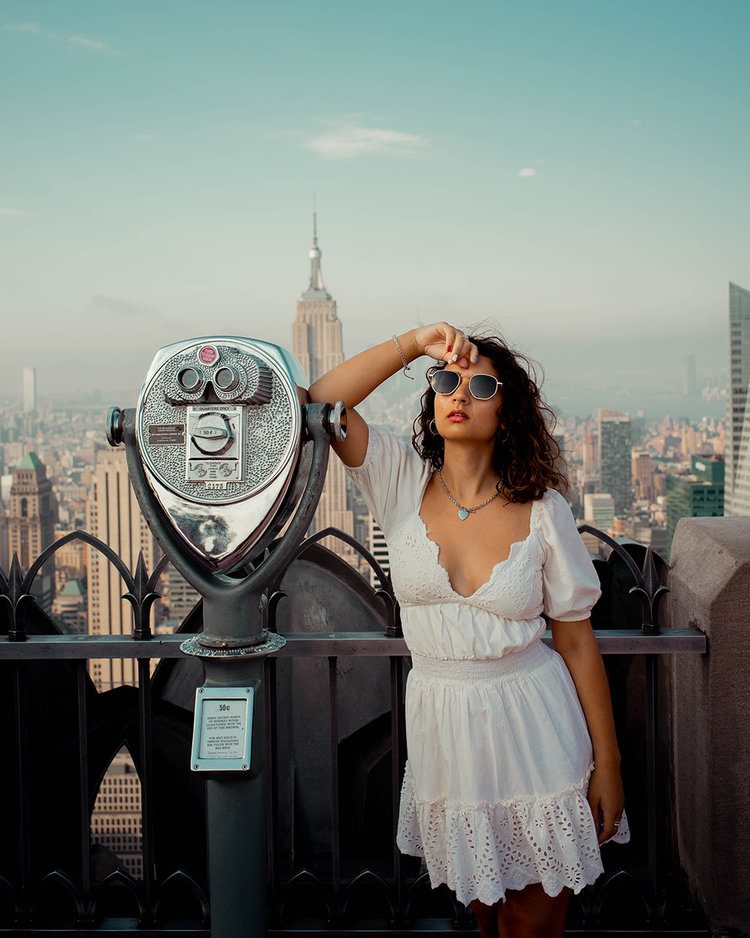 Opening hours
Sunday – Saturday
8:00am – 12:30am
Last elevator up at 11:40pm
Ticket costs
$38 for adults
$32 for children aged 6-12yrs
$36 seniors (65+)
+$10 for sunset hours. Look for the sunset icon on the ticket times here.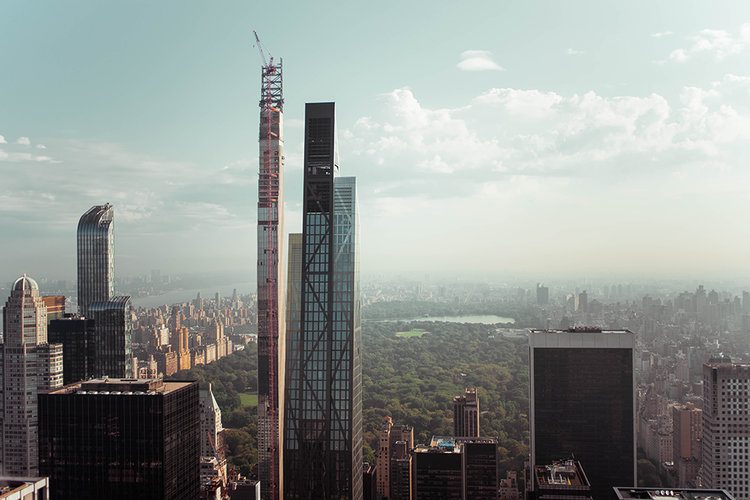 Central Park
Central Park is the most famous urban park in New York City despite being only the fifth largest park in New York it is most definitely the most popular one, attracting somewhere between 25- 45 million (because no one on google has given the same number) people every year. There's so much to see and do in the park, the most popular sights being: Strawberry Fields, Bethesda Terrace and Loeb Boathouse…
Opening hours
Daily from 6am – 1am
There is no entrance fee for Central Park.
Loeb Boathouse rentals
The rowboats out on the Central Park Lake have been rented out for over 150 years, and depending on how well you and your other half get on, is one of the most romantic things you can do in the city, again depending on how many arguments you have.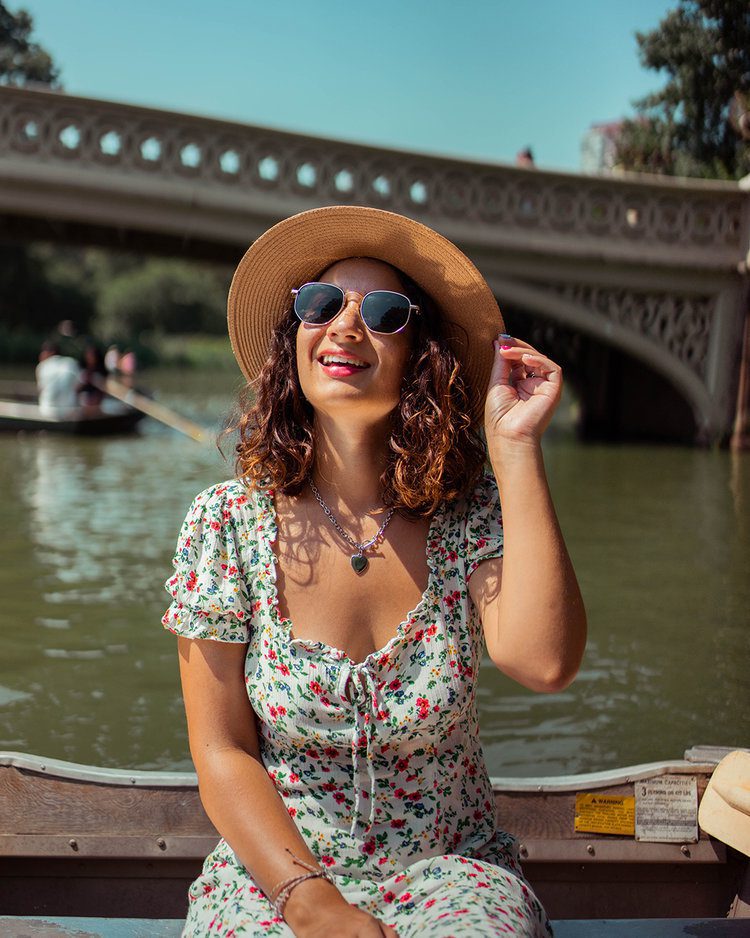 PFH Top Tip: Avoid renting a boat during the midday sun. There is no escape from it once you're out on the water, and nothing to stop your butt from frying like an egg on the metal seats. Michael and I were taking it in turns to mop up our sweat with a towel it was so incredibly hot. Save yourself!
You cannot book in advance, they are rented out on a first come first served basis.
Opening hours
April – November (weather permitting)
Daily from 10am – sundown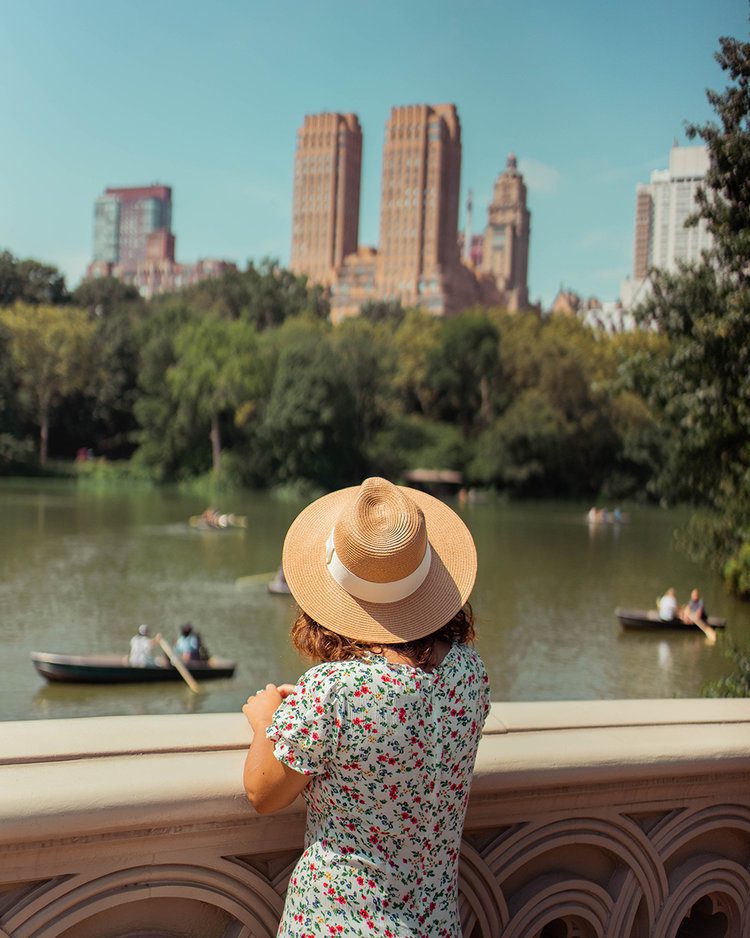 Ticket costs
$15 per boat for a 1 hour rental +$20 deposit which is paid back to you when you return the boat. You must keep hold of your receipt and hand it over to the desk (behind where you paid) upon exiting to get the $20 deposit back. You'd be surprised how many people forget to do this.
Boats hold up to 4 passengers.
There is an extra charge for each additional 15mins the boat is out on the water: the website says $4 but the sign on the fence says $3 so do with that what you will.
Boat rentals are paid for in cash only, there is an ATM at the entrance of the boathouse restaurant.
Cheesecake at Juniors
How can you go to New York and not indulge in a slice of New York Cheesecake? Rated "Best Overall" by the Wall Street Journal, we popped into Junior's on W 45th St to grab a slice of their plain NY cheesecake, and it did not disappoint. I only tried a couple of bites of Michael's but I can tell you that (excluding my Brother's) it was the best plain cheesecake I've ever had. It was rich but light and sweet but not sickly (then again I only had two bites). 
PFH Top Tip: If you want to save time, buy your cheesecake to go next door out of their little cheesecake shop, but bring reusable cutlery as they only have plastic forks.
Opening hours
Sunday – Thursday 6:30 am – 12 am
Friday – Saturday 6:30 am – 1 am
The Vessel
The rose gold beehive shaped structure has become the centre piece of Hudson Yards. Thomas Heatherwick designed this interactive artwork so that people could see new perspectives of NYC from different heights, angles and vantage points. There are 154 interconnecting flights of stairs with 80 landings so you never have to fight for a photo opportunity!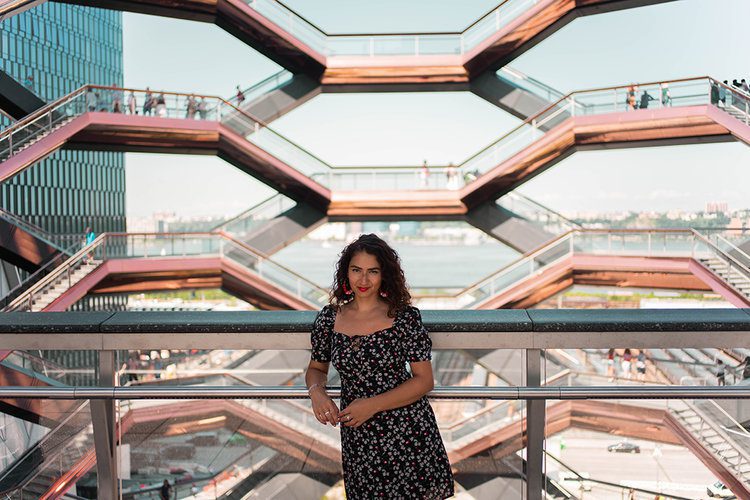 Opening hours
Monday – Saturday 10am – 9pm
Sunday 11am – 7pm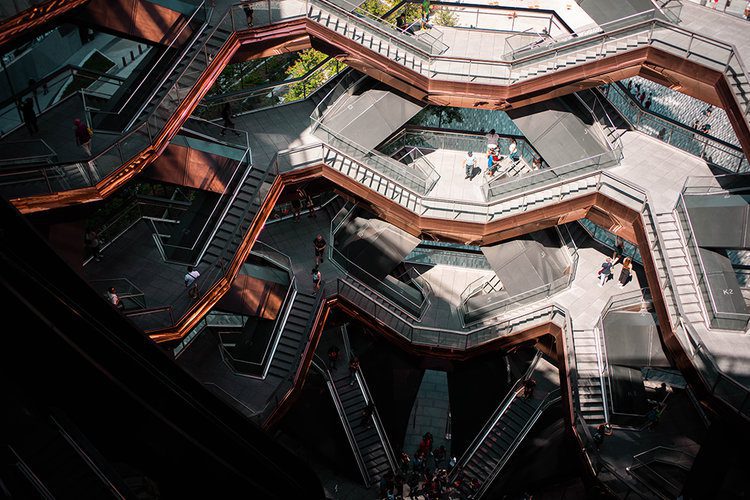 Ticket costs
Tickets are free if you are happy to reserve a certain time of day in advance online.
Same day tickets are free from their ticket booth onsite.
If you require an open ticket, there is a $10 charge per person.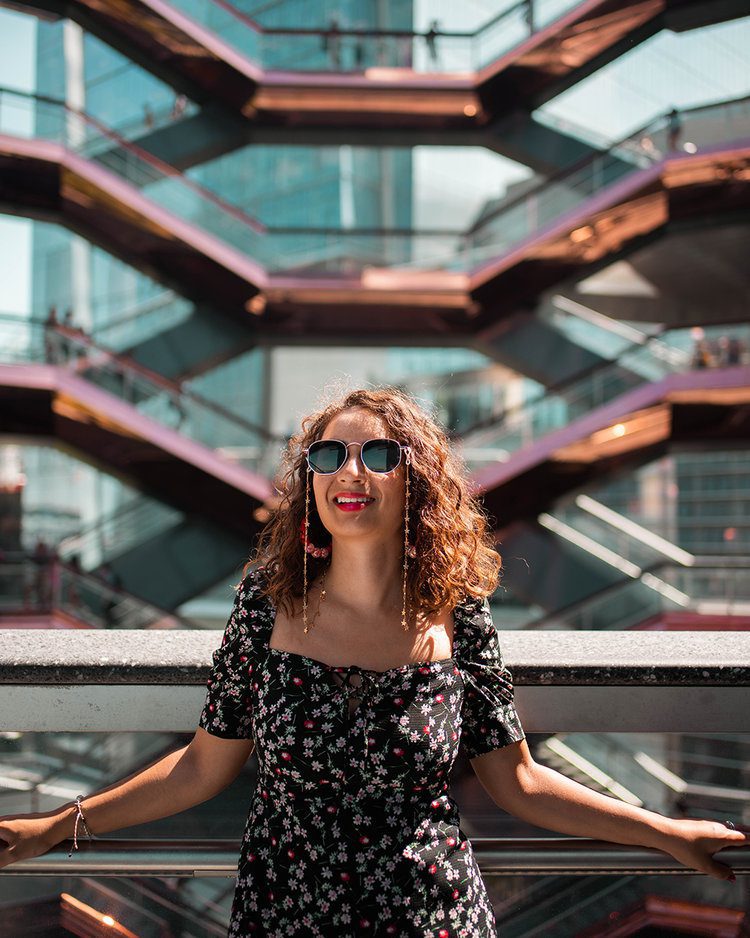 Katz's Delicatessen
If you haven't watched "When Harry Met Sally" why are you even here? Go now and watch it, then come back to me and finish this blog post, I don't want you to miss out.
If you have watched it, then you know that Katz's Deli is the setting for Meg Ryan's world famous "I'll have what she's having" scene. If you're lucky you might even get to sit at the exact same table! On that day, the stars alined and my butt graced that same seat as Meg's when we walked in! There's a sign above it so you'll know exactly where to go.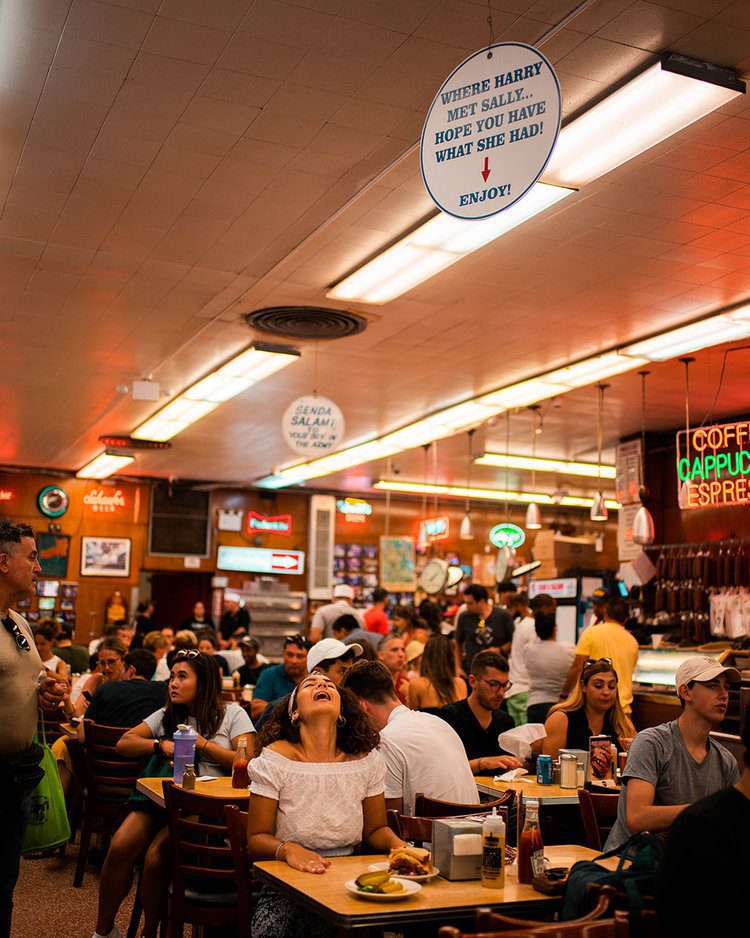 When you enter you will be given a pink ticket (DO NOT LOSE THIS TICKET), if you want a chance of sitting at the When Harry Met Sally table then don't opt for the table service. Of course it means you might have to circle for a while but that table isn't available otherwise. To order your food, go to the counter and pick something from the board above. Hand over your pink ticket for them to scribble your order on and put it somewhere safe. Drinks must be ordered at the far end of the counter, separately to the food. Once you've eaten, you pay. If you're paying by card, go to the far end of the counter where the drinks are, and if you're paying by cash, you pay at the desk at the front. You cannot leave without handing over your pink tickets that say you've paid.
Heads up, a sandwich will set you back about $25 BUT it will feed you for about 2 days.
Opening hours
Monday – Wednesday 8am – 10.45pm
Thursday 8am – 2.45am
Friday 8am – open all night
Saturday Open all day
Sunday Open until 10.45pm
PUBLIC hotel rooftop bar
Credit to finding this rooftop delight goes to Julie from @julieknailsnyc. After you've lined your stomach (and arteries) at Katz's Deli, walk 6mins to PUBLIC hotel's rooftop bar for some insane views of New York City from Brooklyn to Manhattan.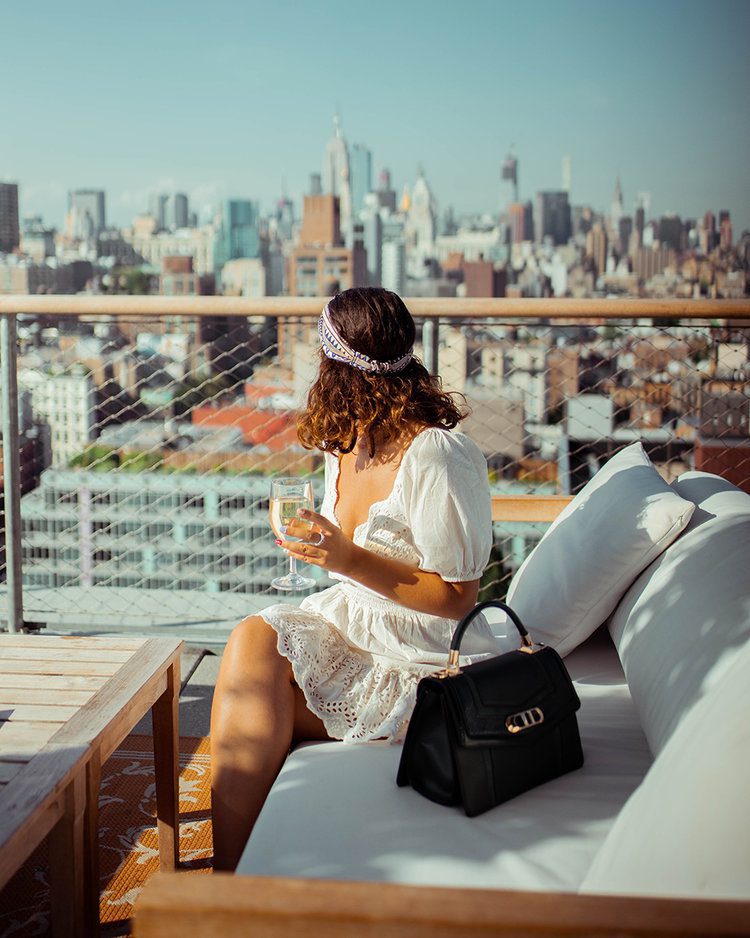 Entrance to the rooftop bar is on Chrystie St through the car park in onto the skinny black tent which feels like a sauna on a summer's evening.
PFH Top Tip: Arrive close to opening time to avoid the reservation cover charge which basically asks for your kid's college fund – ok I exaggerate, but seriously $300 for two people is A LOT! We spent close to $150 on two drinks for me and five for Michael and he was HAMMERED, so these couples who who can spend $300 booze should really be putting it towards the medical bill for when their stomach gets pumped… just saying.
Also, tables are given to reservations only, but if you arrive early you can sit at one until the booking arrives.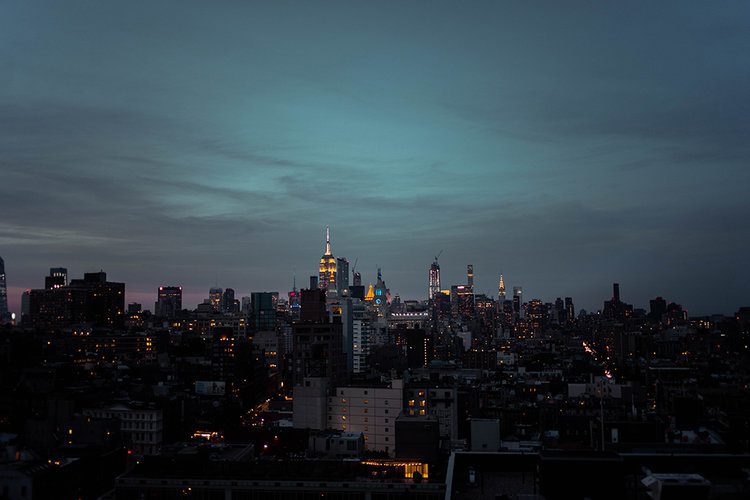 I do have to say that as amazing as the view was at PUBLIC the staff were less than satisfactory. The bartender was too busy on Snapchat to serve us (more than once), one waitress took off with our food before we finished it and another took me out, spilling my drink all down my leg and didn't apologise. So just know that you're going for the view, not for the service.
Opening hours
Monday – Wednesday 5pm – 2am
Thursday – Friday 5pm – 4am
Saturday 4pm – 4am
Sunday 4pm – 2am
Entry is aged 21 and over
Macy's
Macy's Herald Square is not only the largest Macy's in America, but it is also the world's largest department store. Covering an entire city block, the eleven (yes, eleven!) floors carry the most coveted styles for both you and your home.
PFH Fun Fact: It was the first building in the city to have modern-day escalators. They were wooden, and some of them are still in use today.
Opening hours 
Daily from 10am – 10pm
Flatiron building
The Flatiron building is a triangular landmark that stands 285ft tall on 5th Ave in the Flatiron district (named so before the building was constructed). Shaped like a perfect right triangle, it measures only six feet across the narrow end.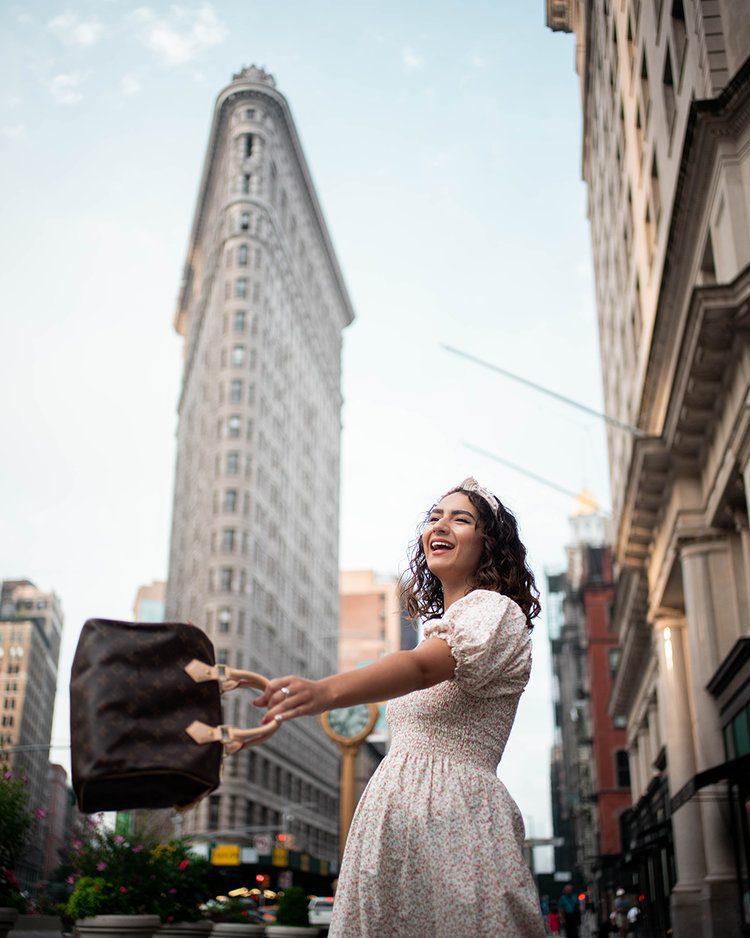 Novotel Times Square bar
Instagram is a great place for finding travel inspiration, and it is where I found out about the Times Square Novotel's outdoor terrace with awesome views of Times Square.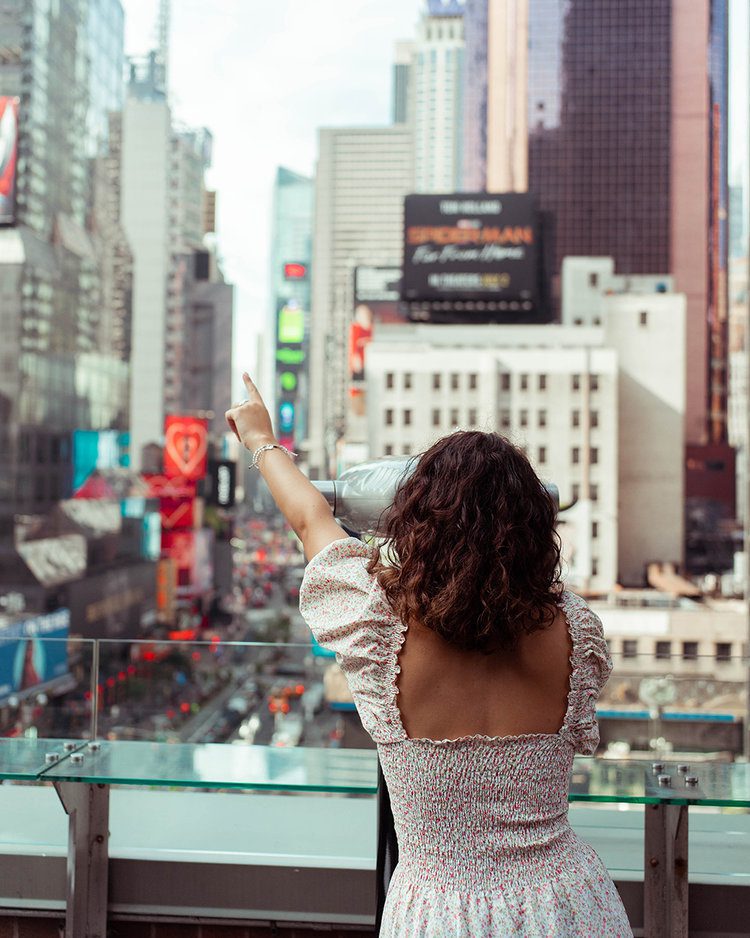 If you're visiting in the morning, bring your reusable coffee cup and sip it as you watch everybody hustling to work and in the evenings grab a drink in the terrace bar and gaze across at the twinkly screens.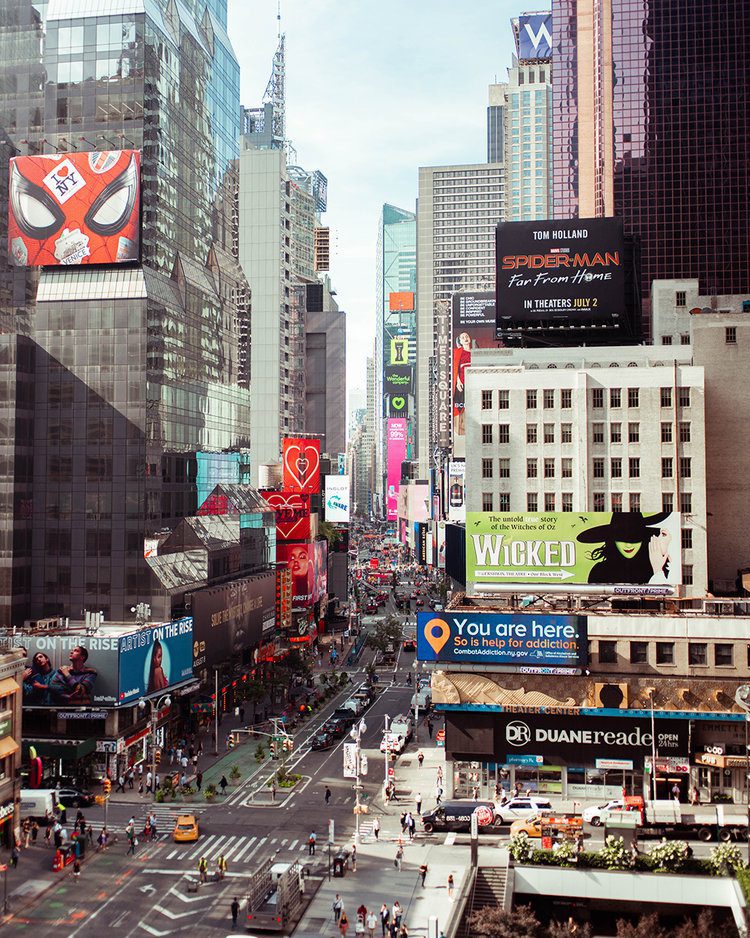 Souvenir shopping
There are souvenir shops scattered all over the city but the most you'll find in one area is Times Square. Don't be fooled into thinking they're cheaper the further away from Times Square you are. Walking from the Novotel toward Times Square, we went into six souvenir shops and the prices kept dropping until we got to Grand Slam New York (opposite the TKTS booth in Times Square), where the prices were $10 cheaper than the first store we went to.
Iconic NYC souvenirs include:
An I love NY T-shirt – make it fashion

A snow globe of the city – like the one in Elf
PFH Top Tip: If you are a UK size 10 or US size 6 and under (and not too busty) grab a children's T-shirt because their sizes run big and so much cheaper! Save that dollar!
Oculus
The oculus is a structure over the top of the Westfield shopping centre which sits on top of the World Trade Centre subway station, and is a popular photo spot due to its unique structure. Santiago Calatrava designed this steel and glass structure to represent "a bird flying from the hands of a child."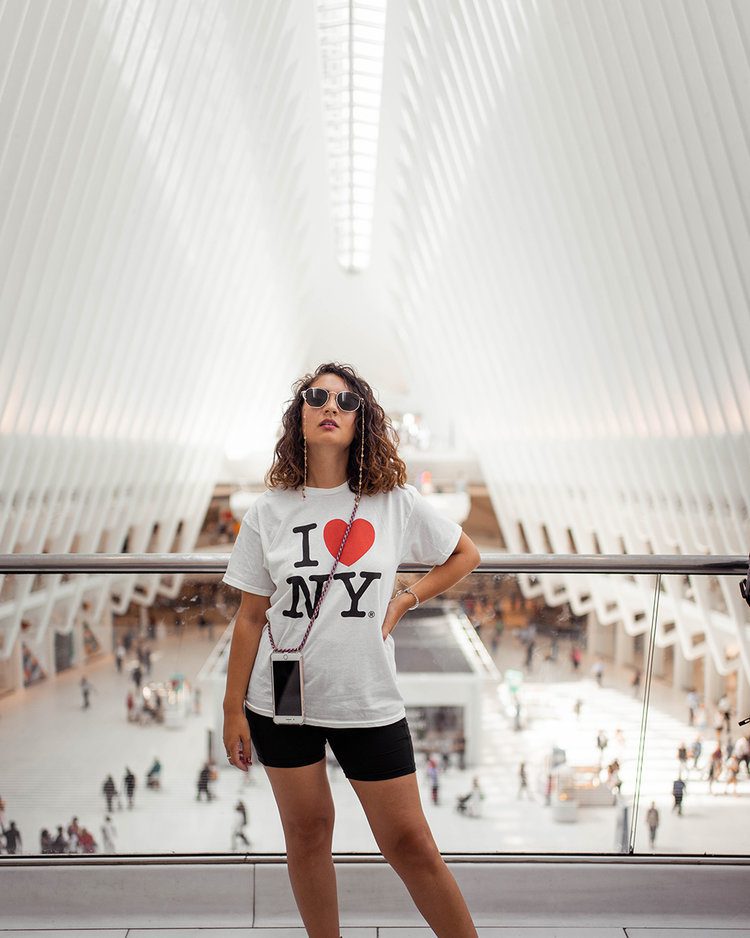 9/11 memorial
Pay your respects to those whose lives were lost during the two attacks on the World Trade Centre on both February 26th 1993 and September 11th 2001. Two 1 acre water features stand in place of the Twin Towers and are the largest man-made waterfalls in the United States. Each fountain is surrounded by a bronze parapet, inscribed into it: the nearly 3,000 names of those lost in both attacks. 
"Names are stencil-cut into the parapets, allowing visitors to create paper impressions or rubbings of individual names. At night, light shines up through the voids created by each letter of a name." – 9/11 Memorial & Museum website.
Opening hours
The memorial is open daily from 7.30am – 9pm 
The only exception is that is closes on the anniversary.
Monarch hotel rooftop bar
I take zero credit for this one as it was my friend, Johanna from This Wanderlust Heart, who booked our reservation at this bar.
Monarch hotel sits in the very heart of Manhattan; its penthouse bar looking directly up at the Empire State Building. The playlist is killer, as is the menu and the staff are exceptional. It's also one of the very few bars in NYC that you can make a reservation at without having to sign away your first born or life savings for the minimum spend.
The Metropolitan Museum of Art & The Solomon R. Guggenheim Museum
As our sole purpose of visiting these two museums was to get product shots outside of the buildings, we went much earlier, but you can learn more by reading Round the world trip activities itinerary Part 2 which features both of them and the Cooper Hewitt Smithsonian Design Museum. That blog post features the opening hours and ticket costs for all three museums (published 2019).
Grand Central Terminal
If I'm honest, the first reason I ever wanted to visit Grand Central Terminal was because it's where Justin Timberlake's character in "Friends with Benefits" organises that very of-its-time flash mob scene to express his love for Mila Kunis' character. The second reason is to gaze up at its celestial ceiling mural.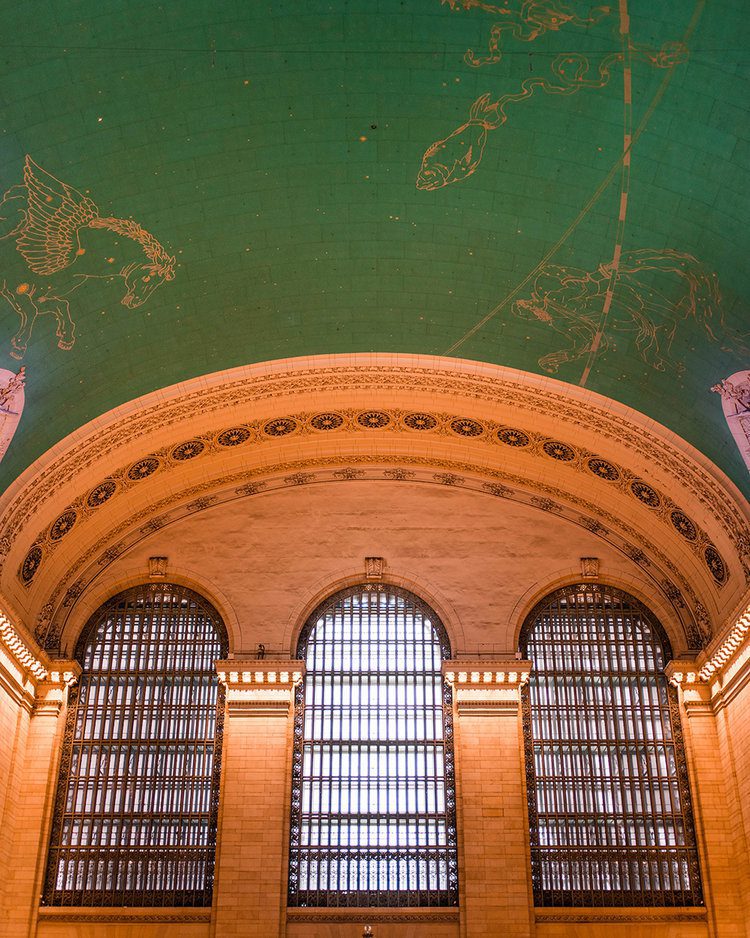 PFH Fun Fact: The original mural was covered and painted over in 1944 as the roof was leaking and the mural had gone mouldy. Unfortunately the mural that replaced it carries only a fraction of the detail the original one did.
American Museum of Natural History
On our last day, we had an afternoon to kill so we decided to spend it strolling through the wonderfully air-conditioned and highly educational American Natural History Museum. The museum has over 40 exhibition halls displaying a wide variety of their 32 million artefacts and specimens stored within the grounds. It's impossible not to learn something fascinating there.
Whilst you're in the gift shop, pick up one of 4ocean's bracelets from the museum's extensive collection. You can pull a pound of rubbish from the ocean and learn all about the planet we live on in just one day!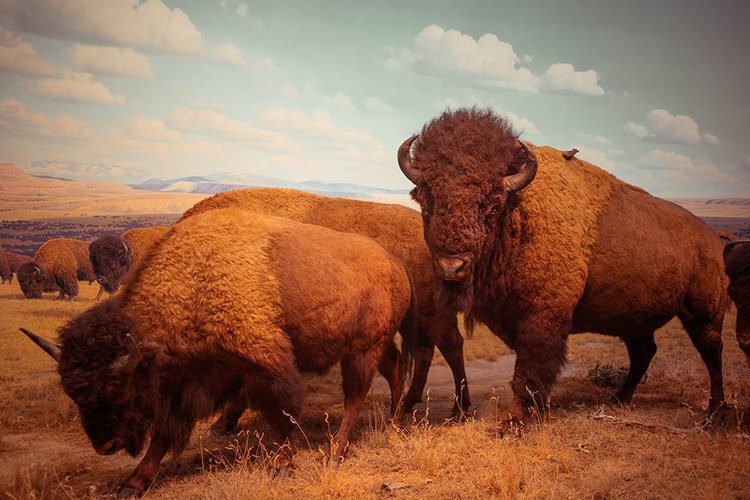 Opening hours
Open daily from 10am – 5.45pm 
Closed on Thanksgiving and Christmas Day
Ticket costs
If you don't want to queue then general admission is:
$23 per adult
$13 per child (aged 2-12yrs)
$18 for seniors and students
PFH Top Tip: Buy your ticket at the ticket desk in the museum and pay-what-you-wish for admission. You can pay absolutely anything you want, but make sure you request this at the desk or they will charge you their recommended ticket cost. Of course I don't suggest you don't pay anything, but if you have a tight budget or don't intend to stay all day, it's ideal.
Friends building
When it hasn't been your day, your week, your month, or even your year: the Friend's building will be there for you. The very last thing before grabbing a bite to eat (at Wild again which was only a few minutes walk from here) was to make a trip to see the building which was used for all the exterior shots for Joey, Chandler and Monica's (and everyone else who lived there at one time or another) building.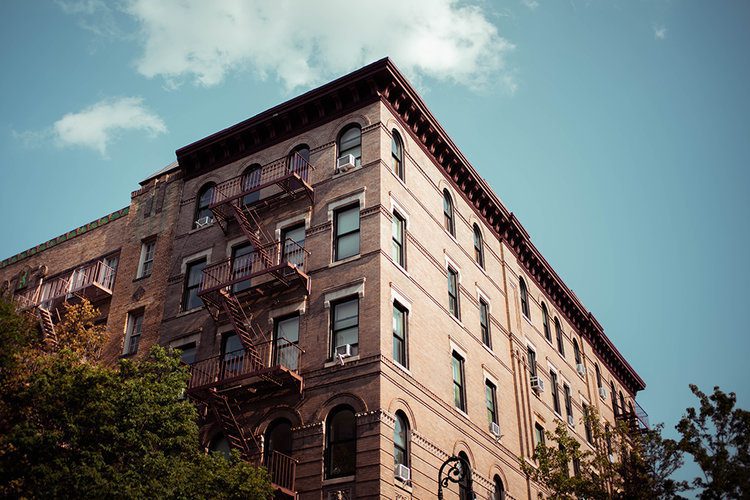 It's really nothing spectacular, but if you're in the area and a fan of the show, it's worth a visit.
There you have it, everything noteworthy that we did in the city that never sleeps, and as you can tell, neither did we. A trip to NYC can be whatever you make it, whether you're interested in the nightlife, architecture, history, culture, fashion, food… you name it, this city has it all.
Having been to New York City before, we passed on a few of the most iconic attractions that we had already done such as the Empire State Building and the Statue of Liberty. If you do want to read more about my last trip to NYC where I did these attractions take a look at Round the world trip activities itinerary Part 2.
Aloha, Gabriella