Firstly I want to start by saying that this blog in particular isn't reviewing my experience of my retreat, this is a packing list for ladies who are looking to book or have booked a place on one of Pangea Dreams' Bali retreats and need a little help with what to pack. If you do want to take a look at How my Pangea Dreams blogger retreat changed my life go ahead!
This blog post is to help you pack for your trip if you have decided to do one, or advise you on what you'll need if you're still thinking about doing one.
Packing for a bloggers retreat is a little trickier than the average trip. You'll be starting your mornings with yoga or a hike so you'll need an adequate amount of activewear, you'll be shooting every chance you get and therefore will require a multitude of outfits that suit your surroundings (and of course your style) and you'll want a variety of accessories to interact with in your photos.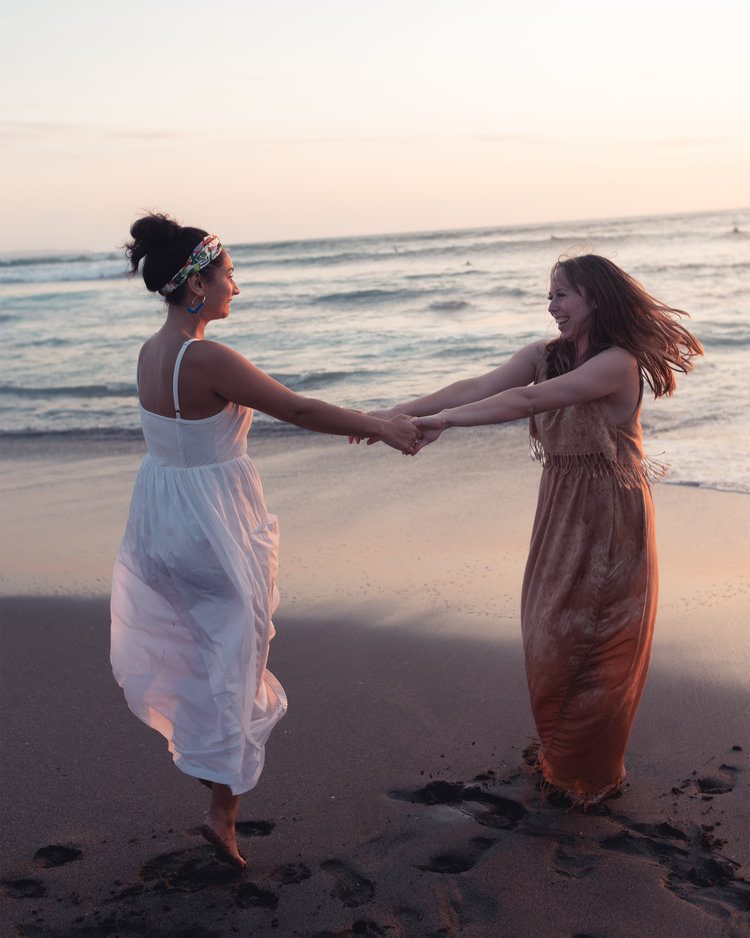 Photographer: @samkat | Featuring @wanderfullyrylie
Bali is a tropical island in Indonesia so you can pretty much expect two seasons: Summer and the rainy one! Expect it to be hot, I mean having a constant sheen of sweat kind of hot, or as I preferred to call it, Bali highlighter. Luckily for us, despite us going in the low season (October) it only rained at night during our retreat (17th – 23rd October) but the temp could have done with being a few degrees cooler. The days were mostly 27˚C (81˚F) and nights were only dipping to 23˚C (73˚F).
Luggage wise I had a large handbag (better described as a small weekend bag) and my Away The Bigger Carry On as hand luggage and my 75cm Aeris Samsonite Spinner as checked luggage. I can't really suggest how much luggage you should take because it depends on whether you're a heavy or light packer. I know a couple of girls who had as much as me but then there were others who only had a handbag and a suitcase not much bigger than my carry on. I will say though that half of my carry on was empty and there was a good quarter of my checked bag that was empty because I was prepared for some excessive market shopping, which I will get into further down.
Use code "GABRIELLAW550" for a $550 discount on your Pangea Dream retreat booking! That's $50 more than the early bird saving!
Let's start with what I couldn't live without:
Basic flip flops
Cute sandals that are versatile enough to go with most of your outfits are ideal because you won't get a lot of time to switch outfits and the easier you can make things for yourself, the better. What's more ideal though is having a pair of basic flip flops because you'll be heading to places like the beach and the rice terraces which are high risk areas for mucky feet. Shoes that can be washed easily such as flip flops should be your go to.
Floaty dresses
There is no more interactive outfit for photos than a floaty dress; the more fabric, the more to play with. Whether it's being swirled, twirled, lifted or pulled out, blowing in the wind, or floating behind you on one of Bali's famous swings, it is the perfect outfit for almost any shoot.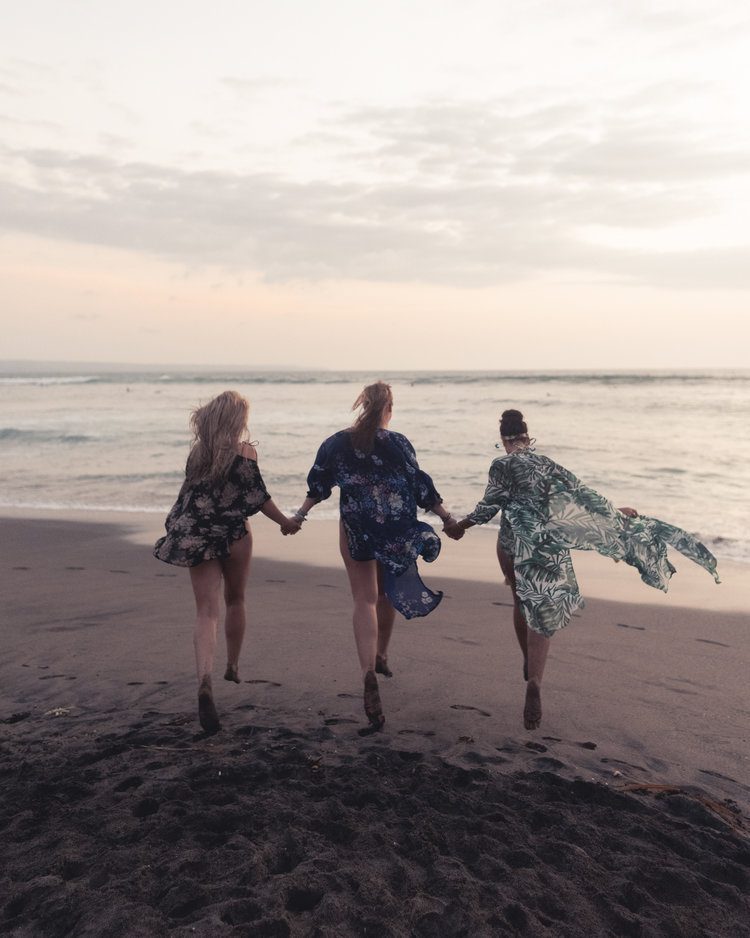 Photographer: @samkat | Featuring @aloha_traveler & @misskellyoneill
Activewear
Most mornings start with yoga and of course there's an optional hike so you'll want some cute matching sets because even when you're feeling less than perky from a 6am start, you'll still be in front of the lens.
Straw hat
This was a vital accessory for two reasons, the first is because it protected my head from the sun which in places like the rice terraces, is necessary because there's just no shade to escape to. The second is because it's a great prop to play around with in photos and it was leant to a few of the girls for that reason.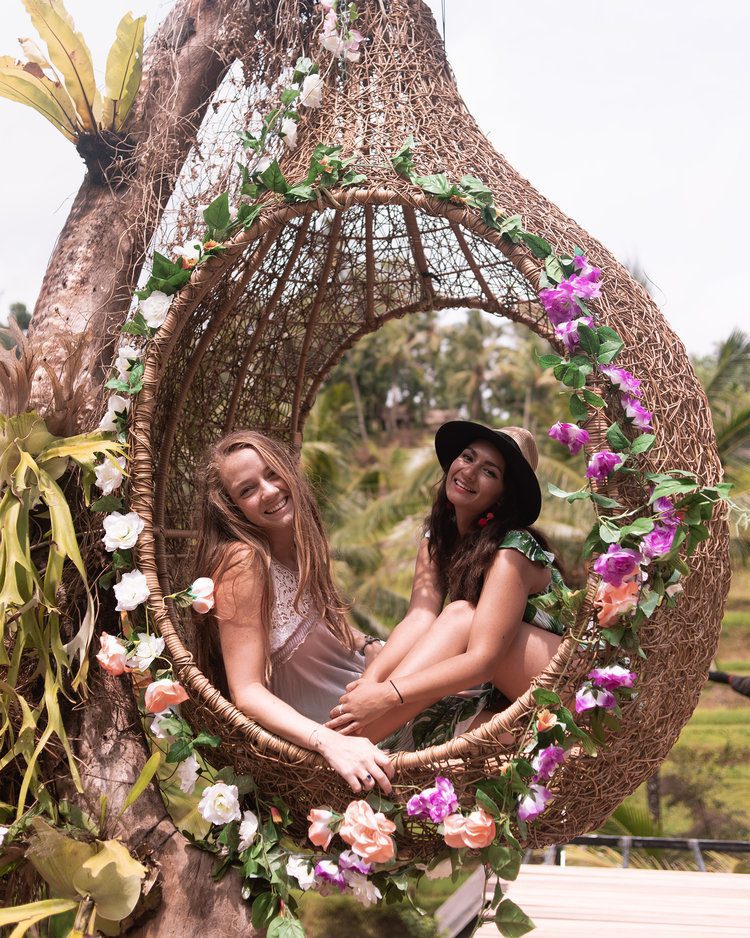 Photographer: @samkat | Featuring @carolinevoyages
Pit stop toiletries
What do I mean by this? Well there are going to be times where you're out and about in the heat and melting beyond reason. Not to mention the day where you start with a sunrise hike up Mt. Batur to continue onto a long day of shooting. This day is a whirlwind let me tell you and going from being encased in a layer of volcanic dust to frolicking around a villa in swimsuits is not an easy transition so here's what I recommend you keep on you to make going from icky to instagram ready heaps easier:
Wet wipes

Deodorant

Perfume

Gel eye patches

Moisturiser

Makeup kit

Sun cream

Bug spray

Dry shampoo

Toiletries
It's likely that your retreat hotel won't have the basic toiletries that most do such as: shampoo, conditioner, body lotion so if you don't usually pack these make sure you have a back up or be prepared to buy them upon arrival.
If you have unruly natural hair like I do (naturally big and curly) and usually spend a lot of time on your hair you will need to be prepared for the opposite so bring the products that will create a do in very little time. In my case these are curl gels and finishing creams and when that fails me I keep a headscarf/band to hand.
VIPoo!! Girl you're sharing a bathroom… enough said.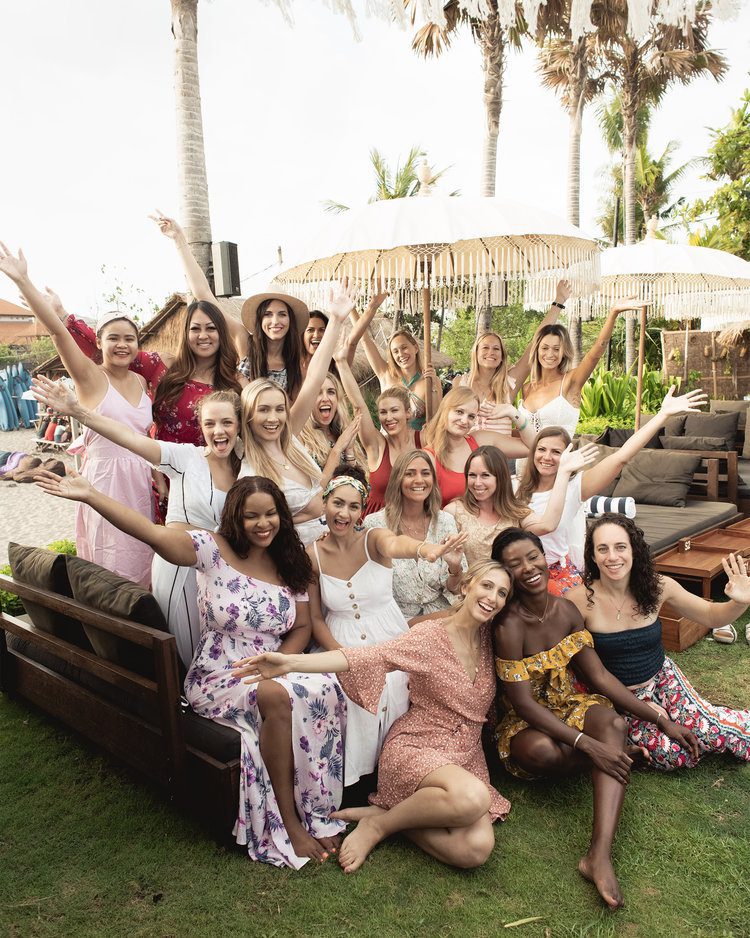 Bags
You really only need three bags for this retreat:
A backpack
for the hike and outfit swaps.
A cross body
For days (and nights) out to keep your phone, cash and bug spray in.
A shopping tote
This one you'll want every day for workshops so that you're not fumbling around carry things back and forth from your room, to yoga, to breakfast etc. In here you'll want:
Workbook
You'll get it upon arrival.
Notebook
There's space for notes but if you want to make a lot I suggest an extra notebook.
Pen
Wherever you workbook goes, a pen should too. I took my Seven Year Pen which I've had for four years now and it's still going strong. It's my ultimate travel pen because I know I can take it with me everywhere for a good seven years without worrying if and when it's going to run out.
Lip balm
Keep your lips protected and hydrated out in the heat.
Suncream
This depends on where your workshops are held. The sun crept round into a couple of ours and it's better safe than sorry.
Bug spray
This should just be on you all the time. Bali is riddled with mosquitos and ants, especially close to the rainy season and it's never just one bite, my shoulder alone had four! None of us stood a chance, Mosquitos 100 : PD girls 0.
Calamine cream
For the suckers that ate you, deet and all.
Water bottle
Water will be provided but it's hot and heat stroke is a strong possibility so stay hydrated.
Hotel room key
Duh.
External hard drive
You never know who has photos for you. Stay on top of sharing photos because you don't want to be doing it in a mad rush on the last day as everyone is leaving.
.
For the first time I feel like I really nailed it with this packing list. There really wasn't much that I over packed by or didn't need. In fact the only thing you could say I overpacked was swimsuits and that's based on the fact that we didn't get any downtime so unless you plan on shooting A LOT of swimwear, you won't need as much as I packed. At the same time, you want a few options because you are likely to shoot a floating breakfast, petal bath, at the beach and around the hotel pool.
Considering I didn't overpack, instead I want to tell you my outfit mistakes because if you're anything like me, this is one you'll want to pay attention to:
Beach shoot + white dress = disaster
Had I not been used to taking my white button down Urban Outfitters dress all over the world I would have been far more upset about my dress getting a good coating of sand and sea as a massive wave took a few of us girls out during our beach shoot. Luckily I brought a second outfit so I wasn't going home in a very heavy and wet dress. My advice to is wear something that floats in the wind but won't get mucky if you have to sit and fluff around in the sand for photos. Maybe consult your retreat besties on what they're wearing too because Nadia, Sarah and I all wore white which unintentionally grouped us together for a shot and it's one of my favourites from the trip!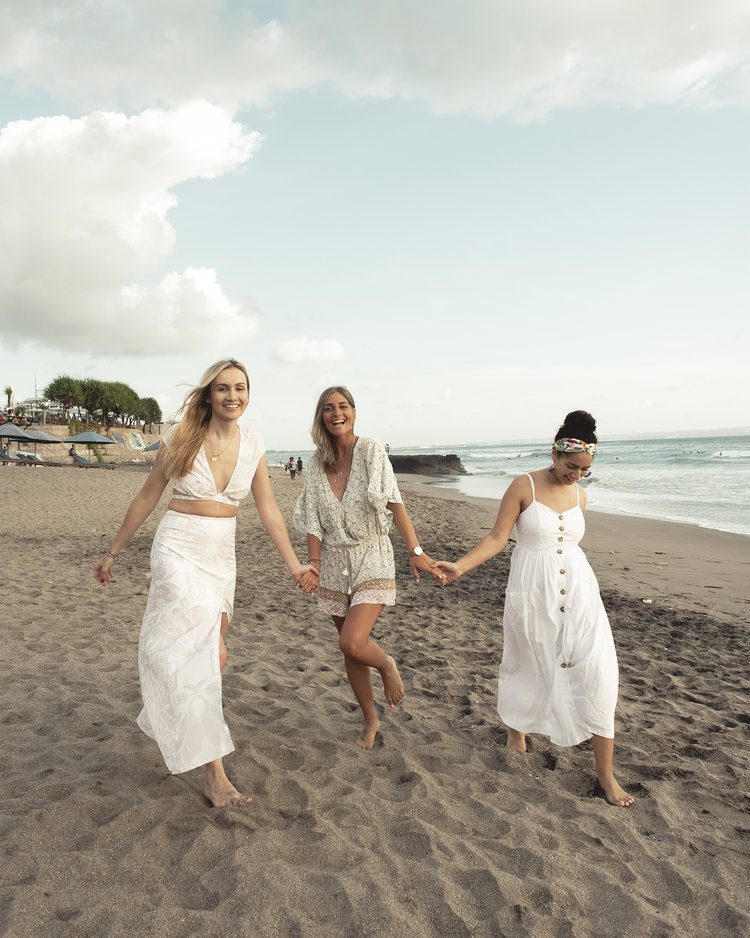 Photographer: @samkat | Featuring @plume_creative_ & @gypsyjournals
Workshops
Dressing for the workshops is a tricky one because you don't get much time between breakfast and them starting to get ready and you don't want to be stuck in your sweaty yoga clothes all day but you also don't want to be full glam. One day I sat through a workshop in a strappy maxi dress and I was so uncomfortable, the straps started to dig and my legs got too hot. I suggest swapping into a little summer dress or a pair of shorts.
Rice terraces
As I mentioned above the rice terraces are a high risk area for getting dirty feet. My feet were caked in mud after an afternoon here and I was not proud of myself for wearing my Italian leather sandals that can't get wet let alone muddy. I was fortunate enough to meet a lovely lady working at the fields who took me to wash my feet but if it wasn't for her my sandals would have been ruined.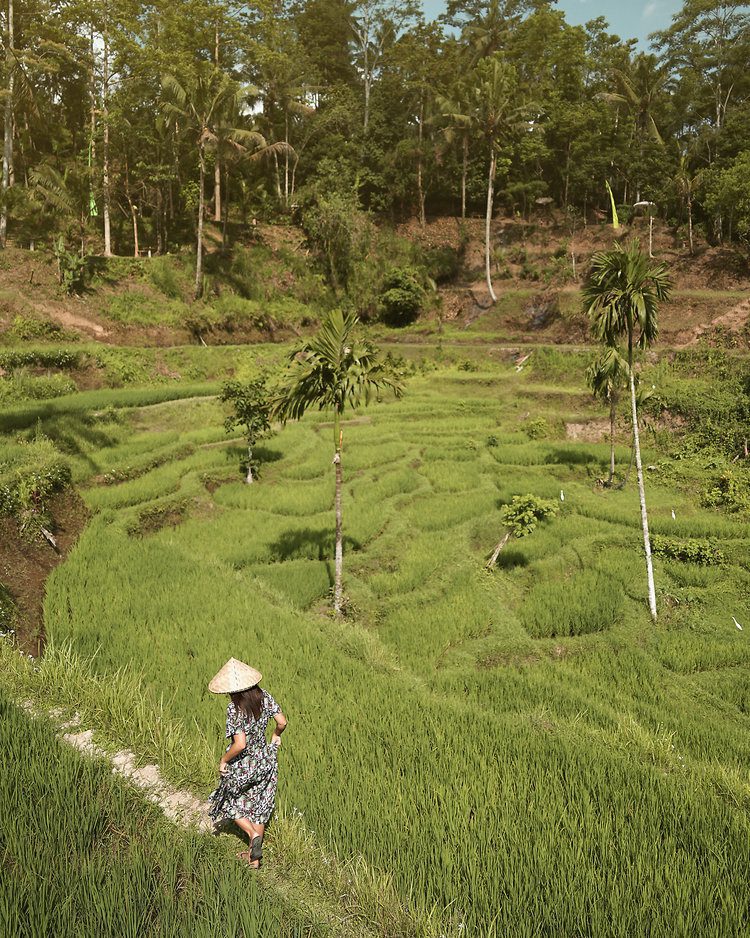 Photographer: @michaelwilliamlester
.
Like I mentioned above I left a good amount of space in my suitcase for inevitable shopping trips to the markets. Of course you're not looking at purchasing high quality items here but what you can get are some really cute outfits and bags for a steal – depending on your bartering abilities.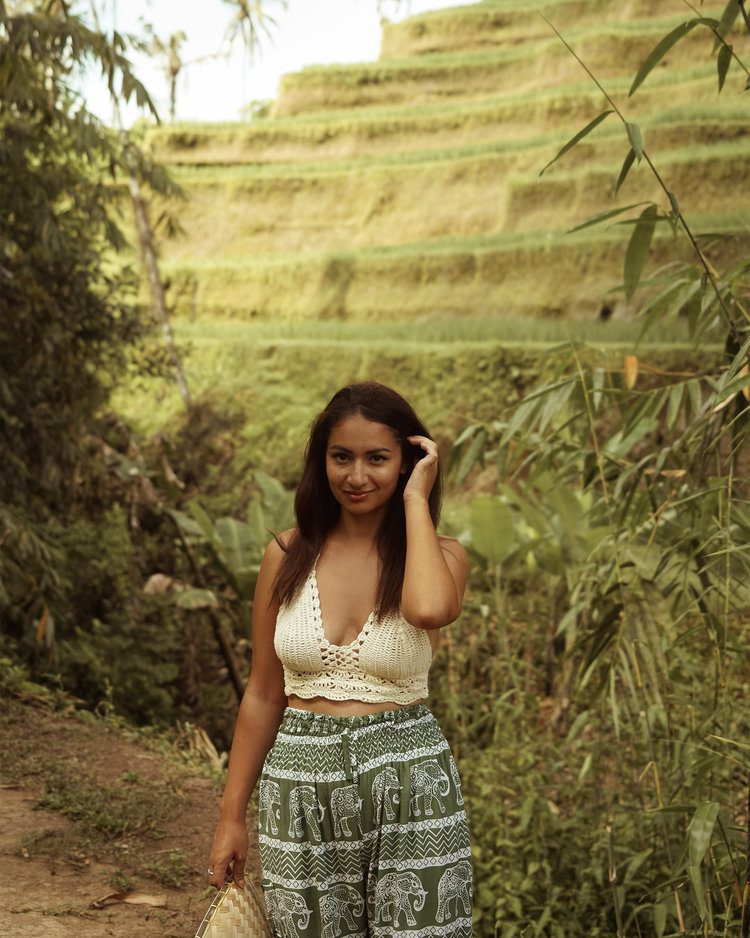 Photographer: @michaelwilliamlester
After an hour of bartering at the Ubud markets (opposite the rice terraces) I had bought the following for a total of about £40 (750,000 IDR)
Wrap dress

Children's printed trousers

Children's top and shorts set

X2 adults printed trousers

Crochet top

Basket cross body bag

Painted plaque

Dream catchers

Rice worker triangular hat
Of course if it's quality that you're after, the streets of Seminyak are lined with boutique shops selling the most gorgeous outfits. My favourite is Beachgold, I'd seen Tracy and Sam wearing these gorgeous outfits with a little gold pineapple stitched to the back and I'm so grateful that Tracy took us there because I bought a gorgeous sundress that I'm totally obsessed with.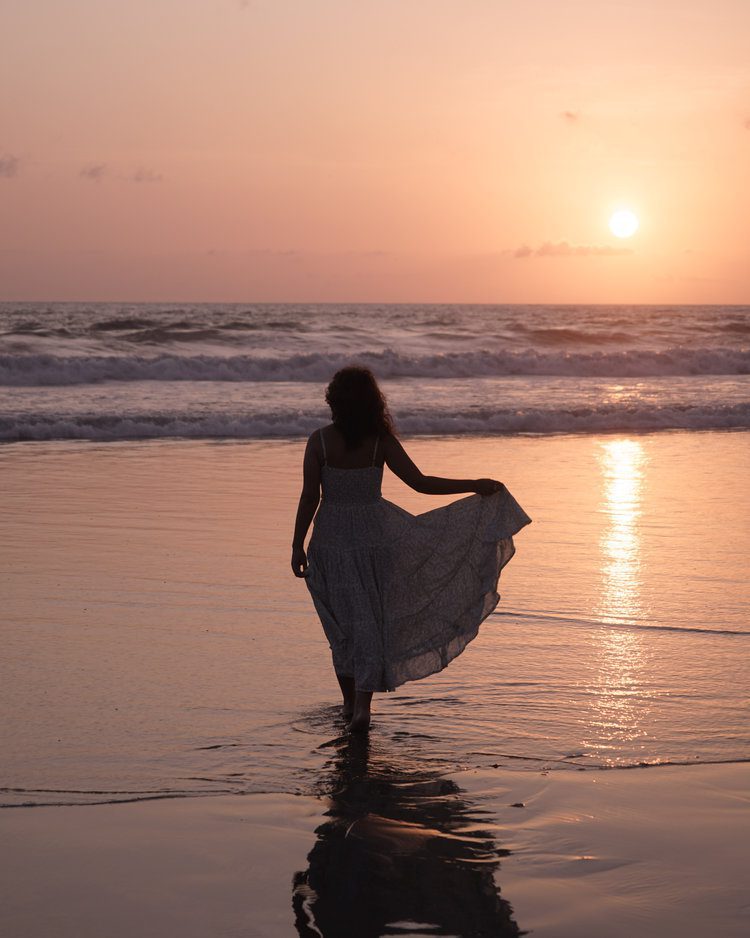 Photographer: @michaelwilliamlester
.
If you're still contemplating going on a Pangea Dreams then take a look How my Pangea Dreams blogger retreat changed my life and if you still have any questions regarding my experience contact me here or DM on Instagram.
If you're ready to apply then click here.
Use code "GABRIELLAW550" for a $550 discount on your Pangea Dream retreat booking! That's $50 more than the early bird saving!
Aloha, Gabriella.
.
Disclaimer: I will earn a commission from qualifying purchases if you use code "GABRIELLAW550" for a $550 discount.