This trip to New Zealand was incredibly sentimental to me because it involved surprising my cousin who I hadn't seen since the last time I was there which was just over two years ago. It was quite the operation to get everything finalised without giving anything away, a secret that was kept for at least two months. As he was working (and also none the wiser to our arrival) his girlfriend had to trick him into booking a long weekend off work for them to have a little trip away which was really a trip for the four of us to go up north to Rotorua, the tourism capital of New Zealand (not the actual capital).
We decided to go to Rotorua for our four days off together because there's such much to do, even more than what you'll read about below! Rotorua has so much to offer, whether you're after good food, a relaxing spa trip, seeking thrills or with the kids, there's definitely an experience waiting for you there.
We were quite lucky in terms of weather, we went in the first week of November which for those of you unfamiliar with the southern hemisphere is spring. Out of the four days it only rained on one and we went rafting and for a soak in our hotel's thermal swimming pools so it didn't effect us. The other three days were clear, sunny and surprisingly warm.
Below you will find our day-to-day itinerary and beyond that I have broken down each of the most noteworthy activities from the trip.
Day 1
5hr drive to Wai-O-Tapu Thermal Wonderland.
Half an hour drive to Rotorua.
Check into hotel, Holiday Inn.
Super market shop for breakfast and snacks.
Ordered pizza takeout.
Day 2
Skyline Luge.
Polynesian Spa.
Dinner down the main street in Rotorua.
Day 3
Kaituna Cascades Rafting.
Thermal pools at Holiday Inn.
Dinner at The Brook Bar and Bistro.
Day 4
Walk in The Redwoods.
1hr Drive to Huka Falls.
10mins drive to Taupo for lunch and a walk around town.
4hrs 30mins drive back to Wellington, via Desert Road for photos.
Wai-O-Tapu Thermal Wonderland
Wai-O-Tapu is a good walk with plenty to look at, but is it real? Let me put it this way, they claim to have a geyser that goes off at 10.15 every day, geyser's don't conform to telling time so when someone writes "the show starts at 10.15 and the geyser is artificially set off" you become skeptical.
The first time I went here, about two years ago, I thought it was amazing, there's a geysir, brightly coloured pools and steaming holes with bubbling mud. After seeing a little bit more of the world my second visit questioned whether it was legitimate that there could be so many natural phenomenons all in one place.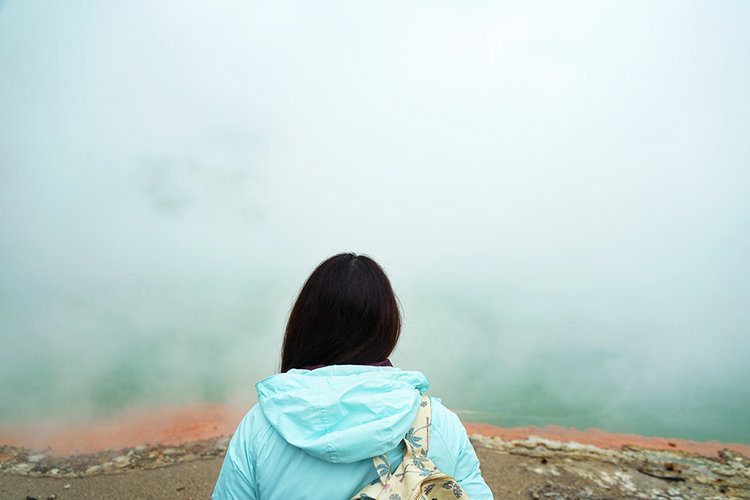 Personally I don't think it's worth the $32.50 when there are other opportunities to see natural geysers and geothermal activity – For a great day out that features just that and so much more, take a look at Te Puia – but if you're looking for a place to walk around with crazy coloured waters, steaming ground, and lots of mud, you've come to the right place.
The trip wasn't all that negative, the gift shop is one of the best I went to on the North Island. It has a huge variety of Manuka honey and Rotorua mud beauty products, paua shell jewellery, NZ merino wool garments and the usual souvenirs.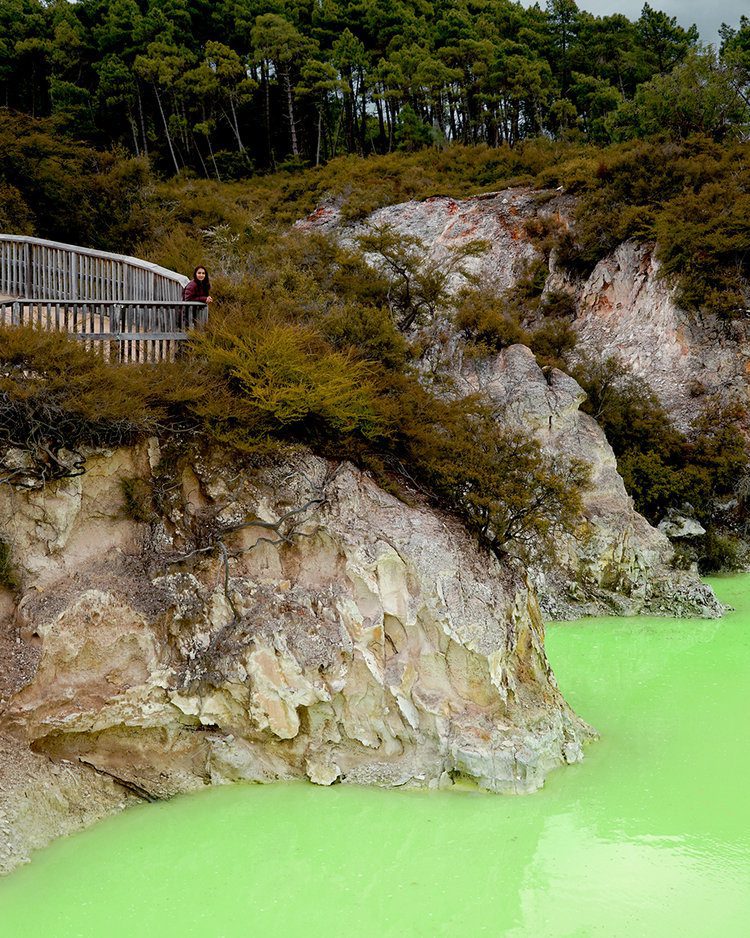 Wai-O-Tapu is open 365 days a year, yes, including Christmas, their hours are:
1st April – 31st October: 8.30am – 5pm.
1st November – 31st March: 8.30am – 6pm.
Christmas Day: 8.30am – 5pm.
Adult tickets are $32.50, Children from 5yrs – 15yrs are $11 and under 4yrs go free.
Please note that from 10th December 2018, Wai-O-Tapu will no longer accept cash payment.
Skyline Luge
Let your inner Lewis Hamilton come out on the race tracks at the Skyline's luge.
Despite being terrified of falling out of it, the luge is great fun. There are three levels of track:
The scenic route
My kind of track. It's easy, quiet, and it twists around beautiful redwood trees. Great for first timers or for those of us who just want to take it slow .
Intermediate
This tends to be the busiest of the three because it has a little more going on than the scenic route but it's also less of a white knuckle ride compared to the advanced.
Advanced
For the wimp that I am, I cried all the way down the advanced track because I thought for sure I was going to fall out whilst going round the banked turns. Of course Michael and my cousins thought it was the bee's knees and proceeded to hurtle down the track racing each other for first place. I can see why it's a fun track, it's faster, steeper, has banking and a bump that sends you flying through the air for a moment. It's great for thrill seekers.
Even if the luge isn't something you're interested in, the view from the top is spectacular! You can see all of Rotorua and its lake which, fun fact, is the crater of a volcano. There's a café and a restaurant up there looking out at the view below, plus there's a Jelly Belly store with every flavour you can imagine!
The opening and closing times are quite varied so check it here before your visit.
The gondola ride alone is $31 per adult and $15.50 per child. Luge rides with the gondola included start from $45 per adult and $29.50 per child and go up to $65 per adult and $54 per child for the gondola and 7 rides. To see their other price packages click here.
Polynesian Spa
Between all of the action that Rotorua has to offer, it's nice to take break and relax your body and mind at the Polynesia Spa. They have a total of 28 hot mineral pools filled with acidic and alkaline waters that will relieve aches and pains whilst nourishing the skin. The challenge however is staying in them without cooking as their hottest one goes up to 40˚C!
PFH Top Tip: Stay hydrated (I know, here she goes again). The heat of the pools will dehydrate you much faster than you think. There are water fountains dotted around so make sure to drink from them as often as possible.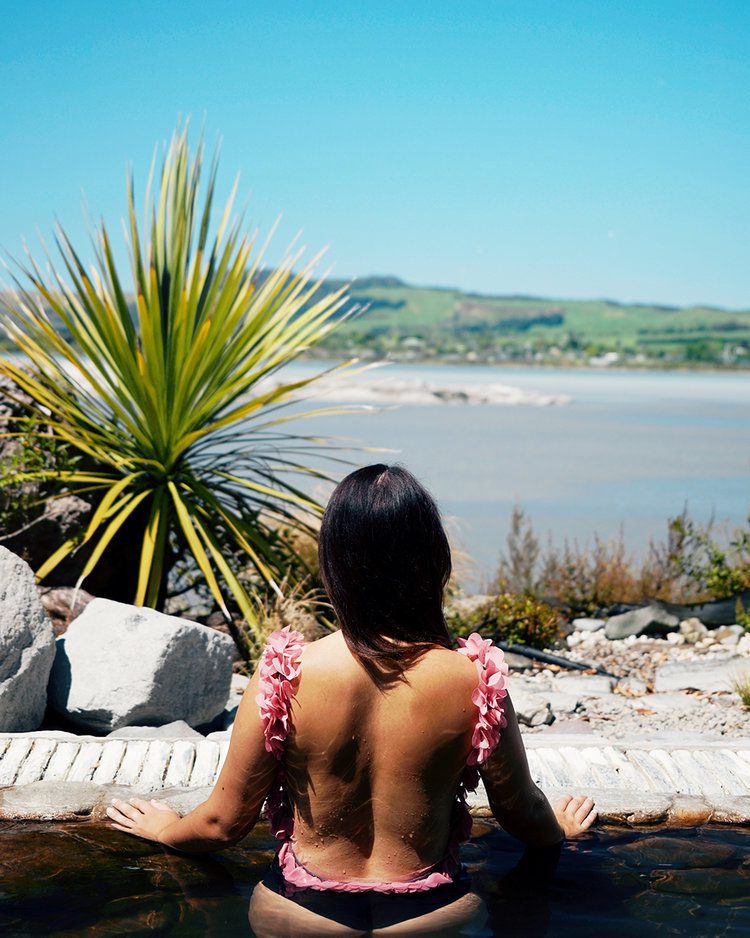 They offer a variety of packages for adults, families and couples. The Adult Pools are the best bang for your buck, for $30 you can relax in six pools and go for a stimulating reflexology walk. However, towels are not included, the storage for your belongings are tubs kept in the pool area and the changing rooms are also communal.
If scenic, peace and a little bit of extra luxury is what you're after then the Deluxe Lake Spa is for you. This one is my favourite! For $55 you have access to five hot mineral pools, one cold plunge pool for hydrotherapy, geothermally-heated poolside recliners (which are amazing when it's cold outside), an indoor lounge with a complimentary smoothie, plus all of it looks out onto the lake and is surrounded by a beautiful display of rocky waterfalls and living walls. The changing rooms are private and you get free use of towels, toiletries and hairdryers.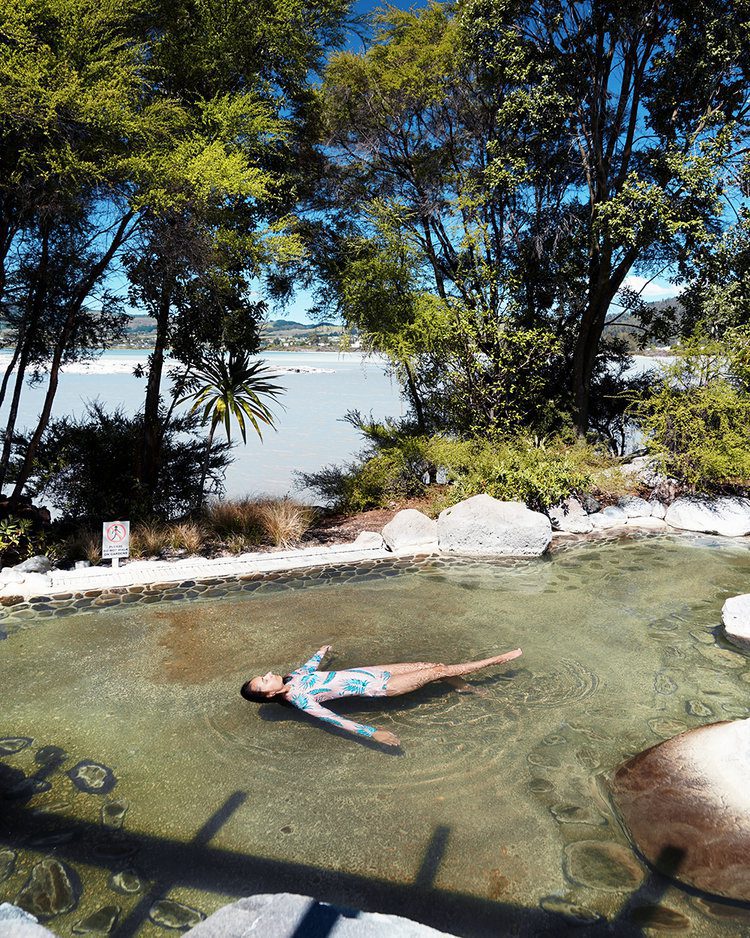 Again the gift shop here is great if you're looking for a big selection of Manuka honey or Rotorua mud skin products. There is a also a café offering revitalising juices and smoothies and a good selection of gelato and sorbets.
The pools are open from 8am – 11pm so you have the option to start your day refreshed, chill in the afternoon or relax under the stars.
To see the full price list click here.
Kaituna Cascades Rafting
By far the best thing we did all weekend was rafting down the Kaituna Cascades. Unlike the Luge I was crazy excited for this, unlike everyone else who was bricking it. Kaituna Cascades Rafting are the original Kaituna rafting company, have great reviews and are a great bunch of people!
Want to raft the world's highest commercially rafted waterfall? Then look no further! For $95 per person you can ride down 14 rapids, including the world famous 7m Tutea Falls. One of the rapids you can go down standing up in the raft and another you can go down on your own without the raft, which let me tell you is an unforgettable experience! The best part is that you need no prior experience!
They set off three times a day throughout the year at 9am, 11.45am and 12.30pm with an extra tour at 4.30pm in summer. Allow about 2hrs for your visit, the tour is about 1hr and you'll need time to change in and out of your wetsuits.
The ticket price includes wetsuits, fleece tops, splash jackets, wetsuit boots, lifejackets, helmets and paddles. Bring your own towels and wear your swimsuits underneath. Wear a chest harness if you want to bring your GoPro.
We had such a great time doing this, it was a real adrenaline ride, a classic Kiwi experience and our guide was an absolute hoot! I strongly recommend this!
Book tickets online using the discount code CASCADES to receive $10 off* per person.
The Brook Bar and Bistro
I'm going to be honest with you here, I know the owners of this amazing little restaurant, it's run by just two very hard working people who happen to by my cousins' aunt and uncle.
Mary-Ann is the excellent chef who works solely to provide the best seasonal menu in Rotorua whilst Keith tends to the bar and offers up great conversation.
Despite the fact that I could have a biased opinion I can tell you that doesn't matter because the food served up at The Brook Bar and Bistro is delicious from the very first to the last bite. The small menu means that every dish is perfection and when we went there was a vast variety from steak et frites with the juiciest mushrooms you'll ever have to duck stacked high with veg, a Malaysian dahl curry and *quote* the best veal Michael has ever had.
If you're in Rotorua looking for a luxury home cooked meal for reasonable prices, make a reservation at The Brook Bar and Bistro.
The Redwoods and Whakarewarewa Forest
The Redwoods and Whakarewarewa Forest are breathtaking. Spanning over 5,600 acres you can walk, cycle or ride on horseback through this spectacular natural wonder. The ancient giants that are the Redwood trees are a treat to walk through but look even better when you look up! Their majestic stature is enough to humble you when you think of how long they've lived on our planet.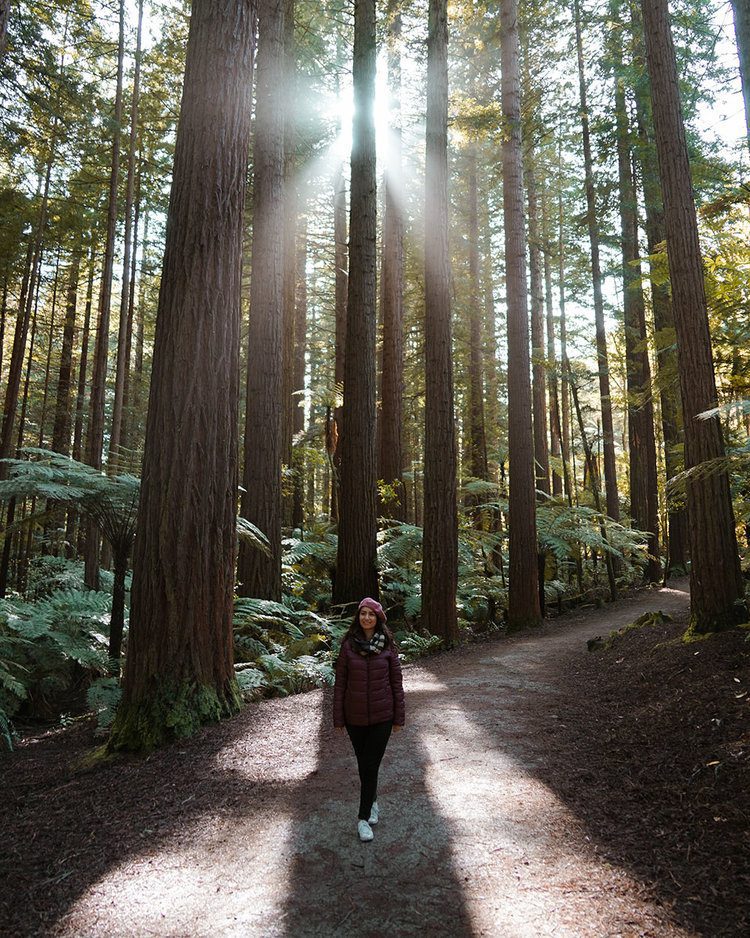 PFH Fun Fact: The biggest Redwood in the forest is approximately 72m tall and 169cm in diameter. In California, the Redwoods can grow as tall as 110 metres and the average lifespan is 600 years but they can live to over 2000 years!
The Redwoods and forest are free to visit every day except Christmas from 8.30am – 6pm in summer and 8.30am – 5pm in winter.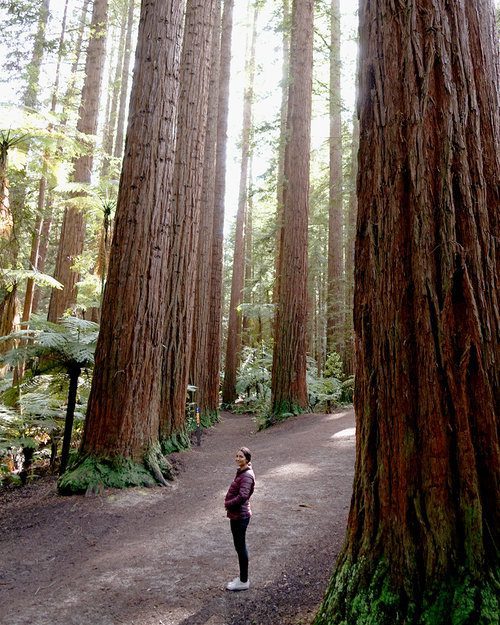 If you were keeping up with the Duke and Duchess of Sussex's first overseas tour as a married couple you will know that they ended it with a trip to the Redwoods forest. I couldn't resist copying the photo that Harry took of Meghan with her baby bump but NO I am not pregnant, this is not an announcement photo.
For something extra that's both fun and educational, take a trip up to the Treewalk. 21 suspension bridges connect between 22 Redwood trees taking you on a journey through the tree tops, with information points at every connecting tree.
Tickets for the Treewalk are $29 for adults, $19 for 5yrs – 15yrs and under 5yrs go free.
.
There is much more to do in Rotorua that we didn't do on this trip but have done previously. The two tours I strongly recommend that aren't on the itinerary above are Te Puia, the centre for New Zealand's Māori culture and geothermal wonders and the Hobbiton Movie Set. You can read more about them and what else I got up to on my 24 day road trip down the North Island in Round the world trip activities itinerary Part 1.
.
Aloha, Gabriella