I'm sharing one of my biggest tricks for relaxing and getting a good night's sleep. Whether I'm jet lagged and feeling like a zombie, on a plane desperate to catch some Z's, stressed with a lot on my plate, sore from being cramped up on a plane for hours or just in need of a little pampering, lavender is my go-to natural pain and stress reliever on my travels.
As well as smelling great, lavender is a good alternative for many problems, especially if you're not into taking painkillers for a headache or sleeping pills*. Just take a look at the many ways you could benefit from lavender:
It's an anti-inflammatory and can be used to relieve muscle ache, menstrual cramps and headaches.

It has a soothing effect on the nervous system so it can relieve the feeling of stress, anxiety and nausea.

It helps you to fall asleep faster and go into a more relaxed sleep and is therefore helpful for aiding jet lag and insomnia. 
*I do not recommend using lavender in place of taking prescribed medication.
First of all I'm going to take you through all of the variants of lavender products that I use, then I will run through which products I use for the following routines:
My bedtime routine

My travel routine

My anti jet leg routine

My stress and anxiety reducing routine
1. Pillow Spray
Norfolk Lavender 
This linen spray is my all time favourite lavender product and I haven't gone a night without spraying it since I bought it last summer. The bottle is a bit cumbersome for trips so I simply decant some into a smaller spray bottle and take that with me.
I spray about 3-4 squirts onto my pillow at night before hitting the hay.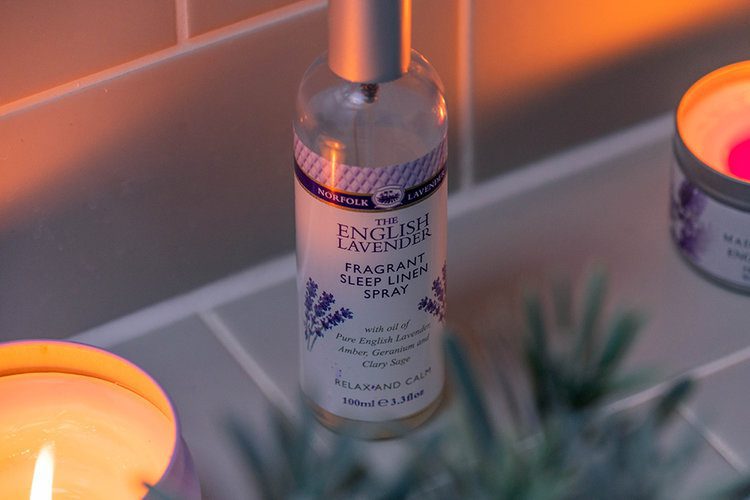 To purchase the Norfolk Lavender fragrant sleep linen spray click here.
2. Facial spray
Mario Badescu Aloe, chamomile and lavender
My cousins bought me the Mario Badescu Aloe, cucumber and green tea facial spray as a gift and I love it so much that I bought the lavender one. What's great about these two is that the lavender and chamomile one puts me into a relaxed and sleepy mode whereas the cucumber and green tea one is really refreshing and seems to do the opposite so I use the purple one at night and the green one in the morning.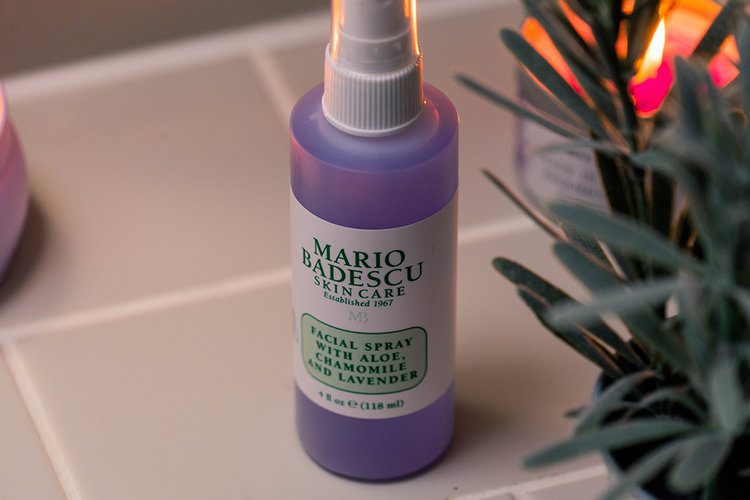 Aside from helping me to feel sleepy the other great benefits of this facial spray is that it hydrates and combats skin-ageing free radicals, plus it's cruelty and paraben free!
3. Candles
Wax Lyrical English Lavender and Sainsbury's Lavender & Geranium
Now don't get me wrong, I love a fancy candle, my collection of Yankee Candles is growing, but you don't have to spend a lot to get a decent smelling candle. Take two of my favourite lavender candles for example. Both are under £7 and even with the lid off and unlit you can still smell them as you would with a really good air freshener.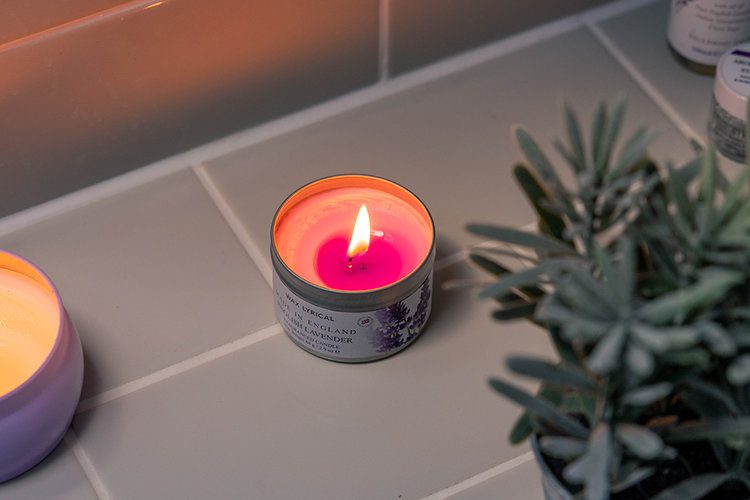 I light one of these candles either for a bath just before bed or for an evening if I'm winding down with a bit of TV about an hour before my intentions for lights out. It fills my room with the scent of lavender and helps soothe me off to sleep. I don't burn them every night, usually on an evening where I just want to switch off and feel extra relaxed.
To purchase the Sainsbury's lavender and geranium candle click here. You can also purchase Wax Lyrical candles from Morrisons.
4. Bath oil
Norfolk Lavender
When it comes to lavender infused baths, I prefer to use oil over making a bubble bath because it's so much more nourishing for the skin plus the steam and oil combined makes it so much easier to inhale the lavender scent.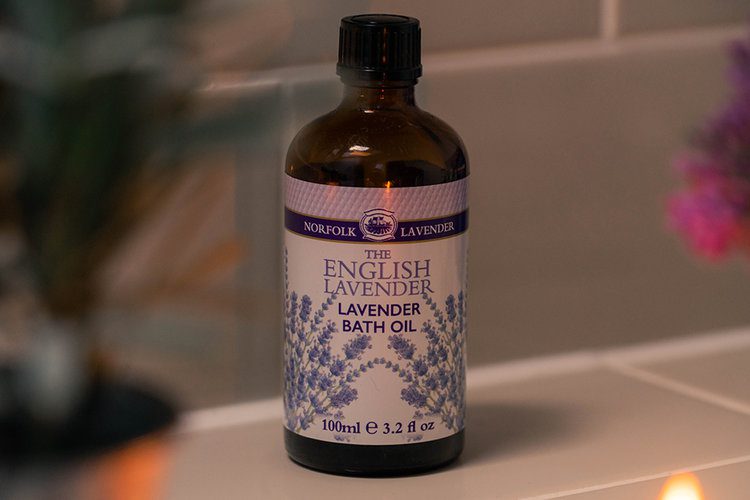 I draw myself a lavender bath when I want to really unwind, when I'm feeling exceptionally stressed or I've got home from a long haul flight and need to relax.
Allergy warning: This bath oil contains nuts.
To purchase the Norfolk Lavender bath oil click here.
5. Hand cream
L'Occitane Lavande
My lavender hand cream is specifically for bedtime. The very last thing I do before going to sleep is massage a pea sized amount of the L'Occitane Lavande cream into my hands. I usually sleep with my hands near my face so this way they smell good and help me drift off to sleep.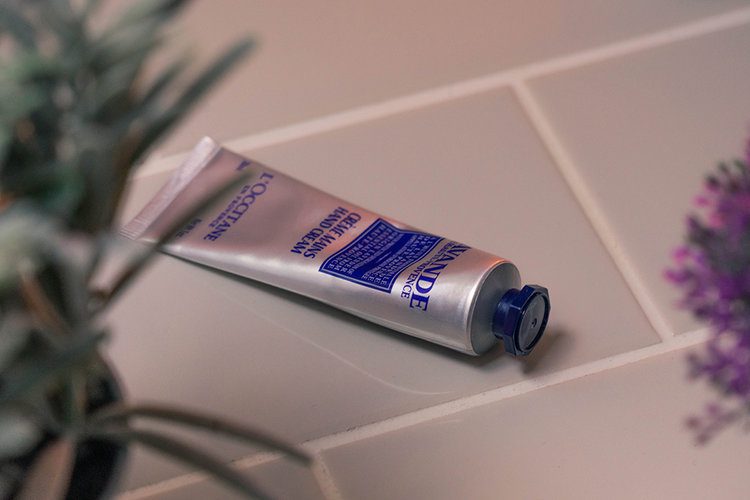 6. Self heating eye mask
Optrex warming eye mask
I was recently introduced to these and whilst they are really comfortable and soothing especially on cold nights, I am on the fence about them because they are single use. If you do choose get them I suggest getting a few more uses out of them by spraying some lavender pillow spray on it. It won't warm up more than once but at least you don't have to throw them out after one use.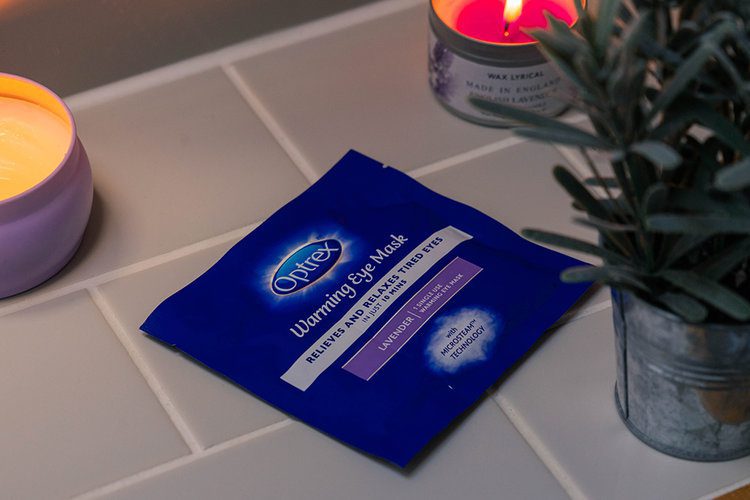 7. Self heating patch
MegRhythm Good-night steam patch
I picked up a couple boxes of these whilst in a pharmacy in Singapore. Much like the warming eye masks they are great on a cold winter's night but they are particularly good for helping to relieve aches and pains in your back and neck. They are also single use so I won't get them again.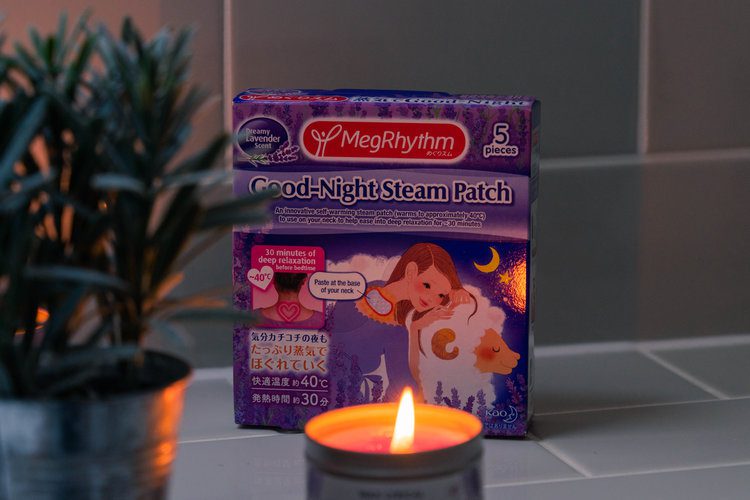 8. Stress gel
Norfolk Lavender 
The combination of lavender and chamomile are said to be a natural remedy for stress and anxiety which is strongly linked to insomnia. What I love about this gel is that although it is lavender scented, it doesn't have a strong smell so it's enough to relax you but not make you feel sleepy. It's also cooling so it came in so handy during the heatwave last summer.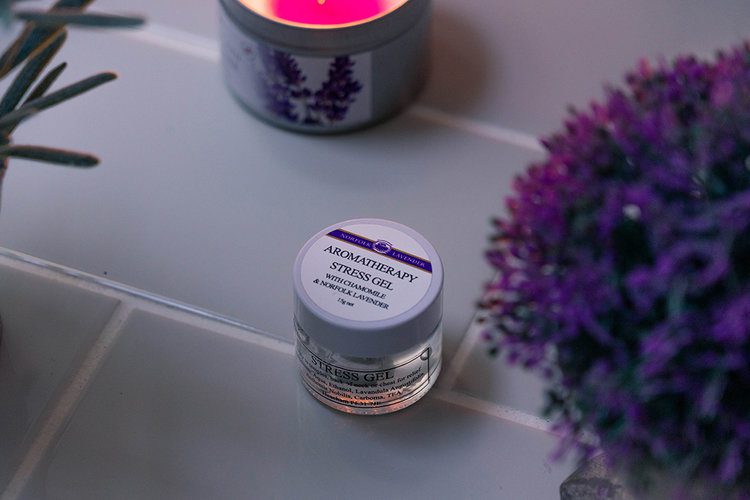 At first I was quite sceptical about whether a gel could really bring down stress levels, but I used it throughout various trips to the hospital last year and it actually helped to calm me down more than I imagined. Maybe it was the essential oils, maybe it was the cooling effect or simply the motion of massaging it into my neck and temples. Whatever it was, it helped.
To purchase the Norfolk Lavender stress gel click here.
9. Headache gel
Norfolk Lavender 
Lavender oil is amongst the list of essential oils that work as an anti-inflammatory. Combined with peppermint, another anti-inflammatory, this gel works to soothe, cool and reduce swelling. This headache gel is a good and natural alternative to pain killers and unless the pain is blinding, I will opt to use gel over taking medication. To apply, use a small amount of pressure and massage the gel into your temples and smooth some onto the back of your neck and the inside of your wrists. 
Just like the stress gel, it is also useful for cooling down.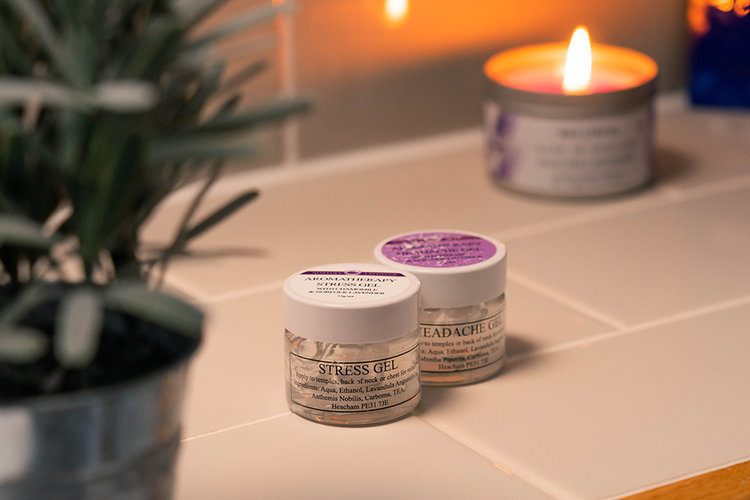 To purchase the Norfolk Lavender headache gel click here.
10. Muscle balm
Norfolk Lavender 
As mentioned above, lavender is used as an anti-inflammatory. This muscle balm will target aching limbs and is especially handy for relieving tender muscles either post work out or after being cramped up on a plane for hours.
It's a solid balm so you'll need warm hands for the product to transfer to your fingers.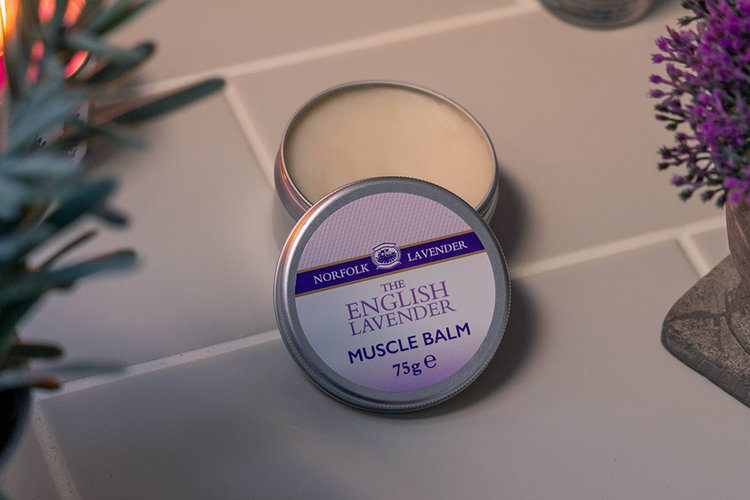 To purchase the Norfolk Lavender muscle balm click here.
.
My bedtime routine:
Apply two squirts of facial spray

Spray 3-4 squirts of linen spray to my pillow

Massage in a pea sized amount of hand cream
My travel routine:
Apply stress gel to my temples and the back of my neck because it's soothing

Spray 2-3 squirts of linen spray to my travel pillow
My anti jet leg routine:
Take a lavender infused bath

Massage muscle balm into my neck, shoulders and calf muscles

Apply two squirts of facial spray

Spray 3-4 squirts of linen spray to my pillow

Massage in a pea sized amount of hand cream
My stress and anxiety reducing routine:
Take a lavender infused bath

Light a lavender candle

Apply anti stress gel to my temples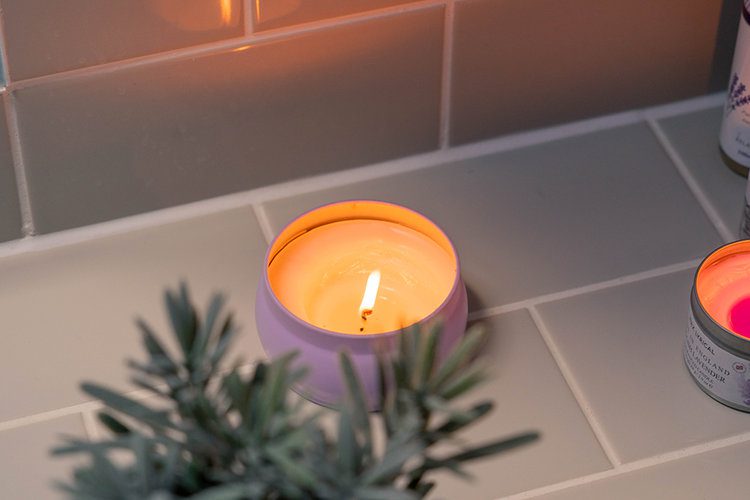 There are lots of lavender products here so I don't actually travel with all of them. Here are the core products I take with me on my travels:
Stress gel

Headache gel

Pillow/linen spray

Facial spray
.
You'll see that many of my lavender products are from Norfolk Lavender. Norfolk is where I was raised and also my base at the moment so I love supporting this local business. Last year I took a couple of trips to their shop and fields and – thanks to the heatwave – I really felt like I could have been in Provence! Honestly, I actually started to feel like I'd found some life hack by driving an hour along the coast rather than flying overseas to another country to do exactly the same thing: prance around in lavender fields in full bloom!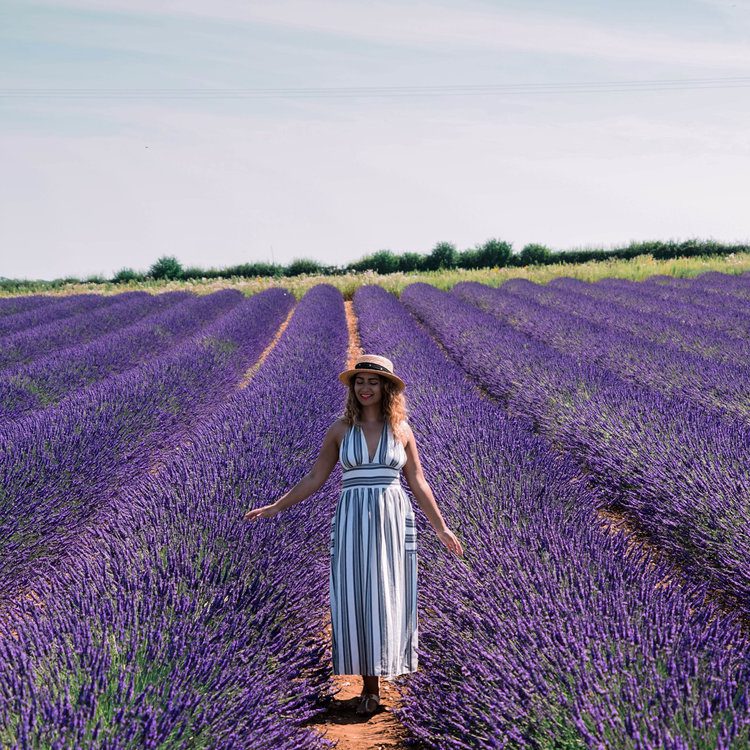 The best time to visit Norfolk Lavender is when it's in full bloom from mid June to the end of August. Particularly between 2nd July 2018 – 12th August 2018 as that's when you can go on a tour in their fields. The tour costs £5 per person which includes a talk about their plants and the history of the company, time to walk between the rows to take your own photos and the opportunity to pick your own bouquet of lavender from their very best plants.
Tours take 15 people per slot and operate at 11am, 12pm, 1pm and 2pm.
Of course, if you don't wish to pay to visit the field, there is still plenty to do for free at Norfolk Lavender. They have many varieties of lavender plants in the garden to walk around, you can learn about and even watch how they extract the essential oils from their lavender plants, there's a café serving all sorts of lavender infused treats such as cakes and ice-cream and best of all, they have a huge gift shop selling every type of lavender product you could possibly imagine.
For more information on visiting Norfolk Lavender check out "Everything you need to know about visiting Norfolk Lavender".
.
So now you know one of my biggest tricks for getting a good night's sleep no matter how much travel I've done. I can honestly say the amount and quality of sleep I have gotten since using lavender products has greatly improved. Given the choice, I wouldn't want to travel without it.
Aloha, Gabriella 
.
*Disclaimer: As an Amazon Associate I earn from qualifying purchases but please know that I recommend all of the products above from personal use.
Also, I am not working in association with Norfolk Lavender. I personally love their products and just want to support a local business.