TKTS is the official London theatre ticket booth and it is located right in the centre of Leicester Square. They sell discounted and full price tickets for matinee and evening shows for the day of, the next day and the day after that. Their website lists the shows available for those days but nothing is guaranteed until you are at the ticket desk. 
If you are planning to buy tickets beyond the three days visible on the website and don't know what's on across London, you can take a look here on the official London theatre website to get an idea of what shows may be available on your dates.
Look for the red and white building, wrapped with fairy lights and topped with a little clock tower at the edge of the park. The queue starts from the side where TGI Fridays is.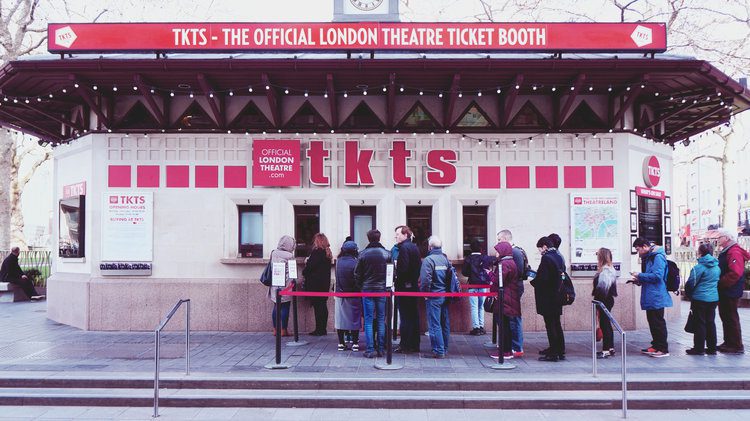 Getting there
The closest London Underground station is Leicester Square which is on the Piccadilly and Northern lines. It's just a 3 minute walk from the station to the booth.
Getting tickets
The booth is open 10am-7pm Monday-Saturday and 11am-4.30pm on Sundays.
Heads up, tickets are sold per person queuing, you cannot hold someone's place or buy tickets for non-present people.
There are five ticket desks within the booth so the queue will move swiftly, and if you plan your arrival for when it opens (provided it's not the weekend or during summer) you won't have to wait long.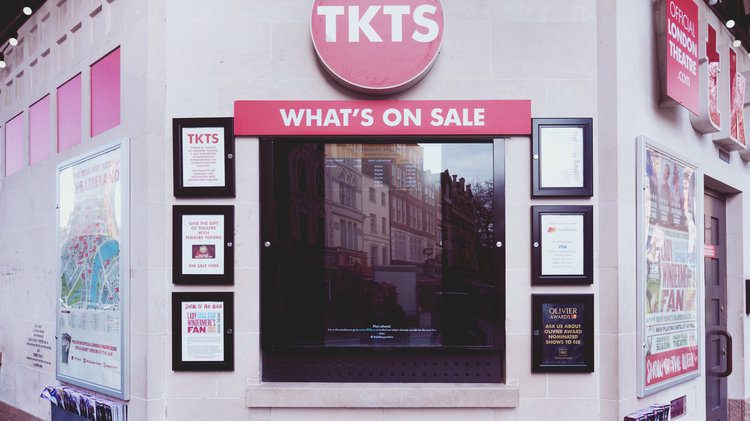 As you are queueing you will be able to see a live screen on the side of the booth which lets you know which shows are on sale, the seat categories and prices. Just left of this is a big map indicating where all the theatres are, with free guide books below for anyone who isn't familiar with the area.
Paying for tickets
They accept the following methods of payment:
They do not accept American Express.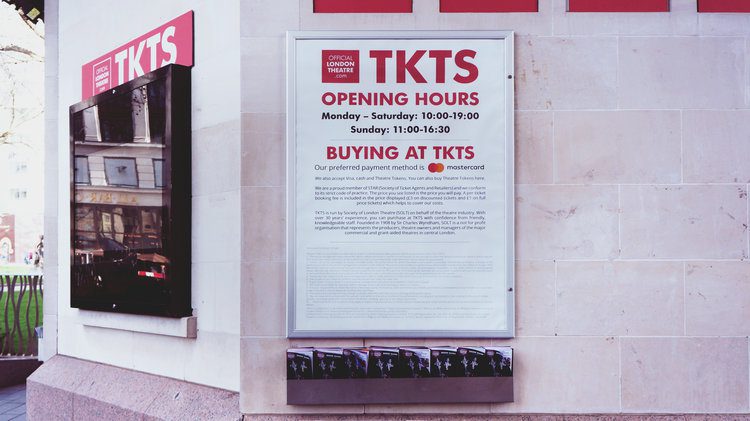 The amount of discount varies between shows and seating; you might save 45% or you might not get any discount. The percentage saved is shown next to the seat categories on the TKTS website and you can even search for tickets based on discount only if you are looking to save money over seeing any show available. There might even be a variety of prices for the same show depending on what seats are available. When I went to get my ticket for Motown: The Musical there were seats available in the Royal Circle and Stalls. The very helpful salespeople will make sure you get the best ticket available in your chosen category.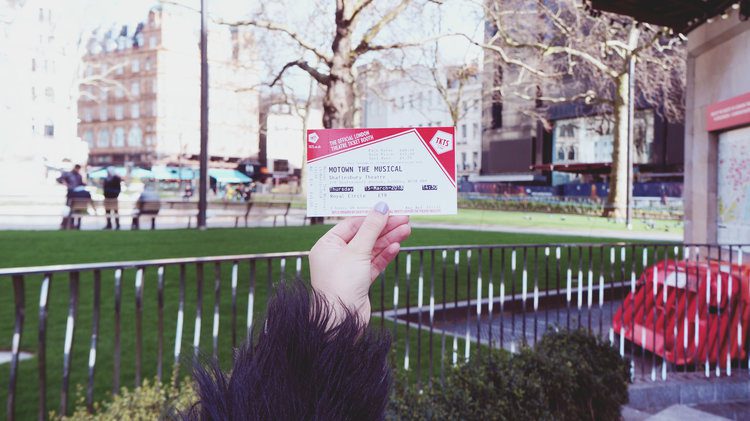 You will receive a physical paper ticket and a receipt attached that needs to be torn off before handing over to the ushers seating you.
At the theatre
I recommend arriving at your theatre no later than half an hour before your show especially if you are planning to get drinks in the bar before. There will be a queue outside your theatre whilst bag contents and tickets are checked so make sure you add time for this.
Intermissions last approximately 20mins so prioritise the toilet as there will be a long queue and you don't want to miss the start of the second act. If you haven't been to the theatre before and you are worried you won't know when your show will start again, there will be one of these two traditional indications, either the lights will dip a few times or a bell will be rung. Both are letting you know it's time to return to your seat.
PFH Top Tips:
Getting theatre tickets is easiest if you're a solo traveller and they tend to be pretty decent seats at the end of the row. So if you're looking for something to do with your time alone why not give the arts some loving and head to the theatre. Your ticket will include a donation to the restoration of theatres too!

Matinee shows end roughly the same time as rush hour is beginning so either be prepared to be packed in to the tube like a sardine or think about getting dinner somewhere within a walkable distance so you can skip rush hour all together.

If you are planning on going for dinner before your show, you won't be the only one, try to book a reservation or give yourself plenty of time for being seated and dining so you're not rushing to the theatre.

Don't bother trying to sneak any drinks in, there are many perfectly stocked bars and ushers selling drinks in the isles before and during the intermission. You can however take in a bottle of water, and you know me, I always recommend doing so.
.
I went to see Motown:The Musical which is based on Berry Gordy's autobiography, which documents how he founded the Motown record label. It is bursting with some of the greatest songs ever written, killer choreography and humour. Expect songs by The Supremes, The Jackson 5, Stevie Wonder, Marvin Gaye plus so much more! It's a fabulous show and worth every penny – discounted or not.
Have you seen any good shows recently? I'd love to hear which shows you have seen or recommend. 
Aloha, Gabriella