Until I moved to Paris, which involved a fair bit of travel back and forth on the Eurostar, I wasn't interested in purchasing a travel pillow because I considered them unnecessarily bulky and I couldn't possibly sacrifice good packing space. But now I'm a smidge older and desperate for comfortable travel I'm like, ok yeah they're a little awkward but I really can't travel without one anymore for fear of getting a crick in my neck! Having one has made sleeping through the majority of my travels so much easier on my neck and I feel more refreshed than with broken sleep from a rolling head with no support.
I've only tried four designs so I can't tell you which is the best travel pillow in the world, but I can offer advice on four of the leading travel pillow designs available, and why I would or wouldn't travel with them. 
Micro-bead – U shape
My first ever travel pillow was a micro-bead one because they are dirt cheap and light to carry. After using it for about a year I upgraded because I wasn't a fan of endless stitching up of holes, and waking up with hair full of little white balls. I travelled more than the durability of this pillow could handle and it didn't last very long.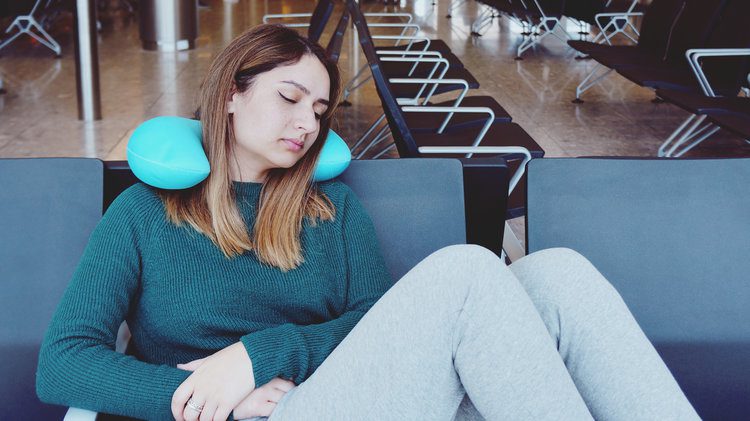 Pros
Lightweight, the little micro-beads are virtually weightless.

It doesn't just have to go around the back of your neck, it can be leant against the window if you find that more comfortable.

Really cheap, but this depends on quality, you will find the cheaper ones have less filling. They cost between £3-£10.

Because they're cheap to manufacture, they come in way more patterns and colours than the others do.
Cons
Beads shift under pressure so they don't support your head all that much.

The cover can't be removed and washed.

It doesn't squash down without exploding.

Any small tear or loose stitching means those micro-beads are making a run for it.
Inflatable – horse shoe shape
After having a micro-bead pillow I fancied trying something that folded down and wasn't filled with a nightmare – my thinking was air couldn't get stuck in my hair! But despite it being easy to pack, I wasn't feeling the comfort level. I had a Goldilocks moment every time I inflated it – too hard, too soft, but never right! Think about it, who has ever said they got a good night's sleep on an airbed? I turfed this one out after just a few tries, hence there is no photo of me pretending to sleep at the airport with it!
Pros
The most convenient in terms of packing because it folds away.

You can wipe down the surface with a damp cloth.

They're cheap, you're looking at spending £5-10. Boots sells theirs at £6.50 with a little carry case.
Cons
Not the most comfortable, best for short trips.

Some have edges that have been sealed on the outside which can scratch your skin.

You have to inflate and deflate it for every use.
Memory foam – U shape
This is my favourite style of travel pillow so far because my head will roll from left to right so I prefer to have a pillow that supports both sides of my neck. I sleep with a memory foam pillow at home because I often get a stiff neck and it seems to be the best preventative pillow for me; it's firm enough to hold up my head, but it has enough give in it that my neck feels supported. The only bummer about this one is, it is fairly heavy for a pillow and it only compresses if you squish it tightly into your cabin case.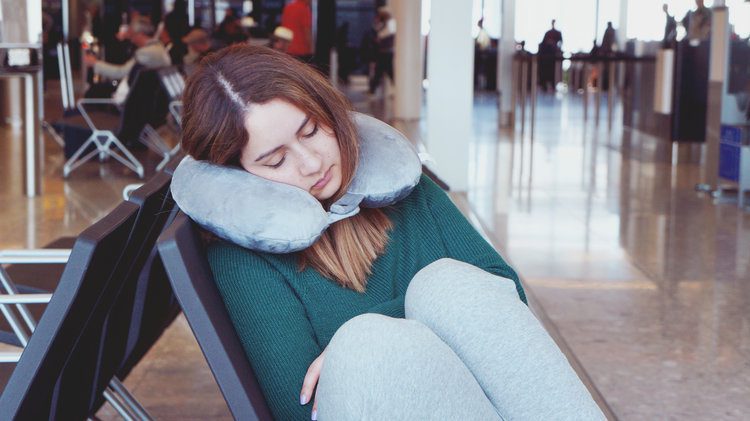 Pros
Good support. Being memory foam, it's designed to mould around your head, neck and shoulders.

Just like the micro-bead pillow, it can be leant up against something.

Removable cover so you can wash it should you dribble (it happens to the best of us).

Compresses down, though like I mentioned, only if it's squashed down in a case.

Price is a little more varied, but still cheap. They will cost around £5-£15. I got mine for £9.99, you can buy the same one on amazon here.
Cons
Heaviest out of them all. Memory foam is dense so it's going to be weightier than the others which are made with much lighter materials.

If you don't have a case to put it in until you use it, it's bulky to carry. That said, it does have a loop for you to attach it to the outside of your bag.
Trtl pillow – wrap around
Unlike the others, which are just general designs that you can pick up from non-specific brands, Trtl is a unique creation focused on being a scientifically proven supportive travel pillow. What's great about this design is that it has a much better chance than the others of preventing your head from dropping forward when you're sleeping. Unfortunately I'm not the biggest fan of having something wrapped around my neck though – I get claustrophobic in a scarf! It's far less cumbersome than the others though, and the minimal frame means it's so easy to fit into your hand luggage.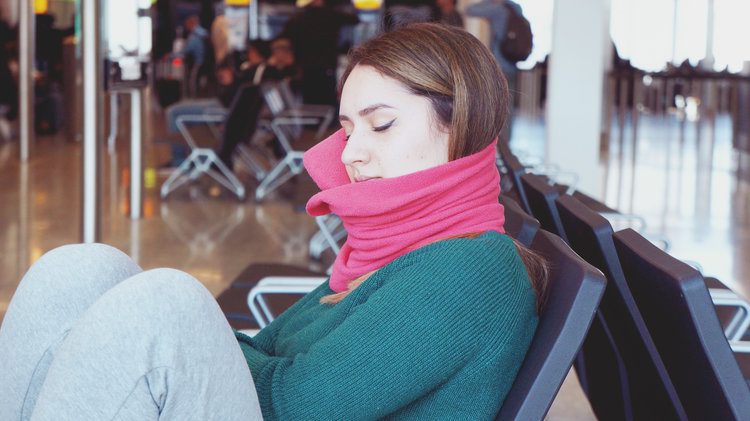 Pros
Lightweight, the frame is plastic and minimal and the rest is fleece so it's very light.

Scientifically proven to support your neck and head.

Keeps your neck warm and looks more like a snood than a travel pillow.

Easy shape to slip into your bag.

Removable cover so you can machine wash the wrap. It wears quite high up the face so this is really handy if you get makeup on in.
Cons
It's designed to support just one side of choice so you have to move the whole thing around to sleep on the other side.

It can't be used any other way than it is designed, you couldn't prop it up against something.

Wraps around your neck which can feel quite restrictive.

It's the most expensive of the group, the others can be purchased under £10 but this one comes in at £24.95 on amazon here.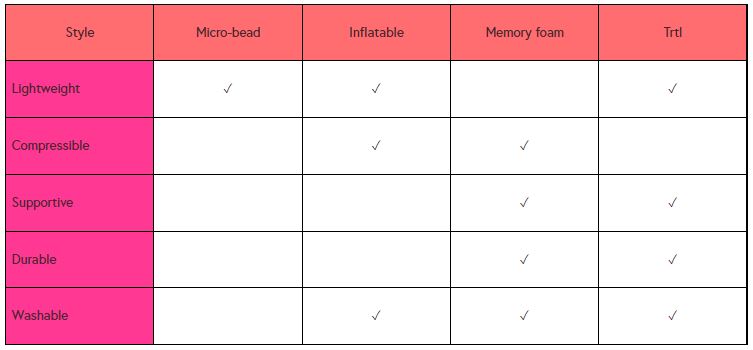 . 
Which is your favourite type of pillow to travel with? I'd love to hear your recommendations here.
Aloha, Gabriella
.
*Disclaimer: As an Amazon Associate I earn from qualifying purchases but please know that I recommend all of the products above from personal use which you can see throughout my blog posts.