I've always wanted to make a trip to Cairo to see the only existing member of the Ancient Seven Wonders of the World. The intelligence behind their design and craftsmanship is unfathomable. I'm so happy I got to check this off my travel bucket list and I fully encourage you to see them once in your lifetime, if possible. Although I've written five days just below, we arrived to the hotel about midnight on the day we travelled there and we left the hotel at 6am, so in terms of activities we only had three days. This was more than enough time to get through the things we wanted to do whilst there. So let's take a look at what that was!
Day 1 (travel)
2pm flight from London Heathrow to Cairo International Airport.
Hotel transfer from airport.
Check into Sofitel Cairo Nile El Gezirah.
Room service dinner before bed.
Day 2
Egyptian breakfast at hotel.
Egyptian Museum.
Cairo City Festival Mall.
Dinner at shopping mall.
Day 3
Egyptian breakfast at hotel.
Emo Tours – Full day tour from Cairo: Giza Pyramids, Memphis and Saqqara.
Dinner cruise on the Nile.
Day 4
Khan el Khalili.
Pool time.
Dinner at hotel.
Day 5 (travel)
Transfer to airport 6am.
Flight from Cairo International Airport to London Heathrow.
Egyptian museum
Tickets need to be bought at the booth after the main gate. It's 120 EGP per adult. If you have a camera you must buy a ticket to use your camera or you won't be allowed to enter after security. The ticket is 50 EGP and must be shown to the security guard after your bag has gone through the X-ray machine.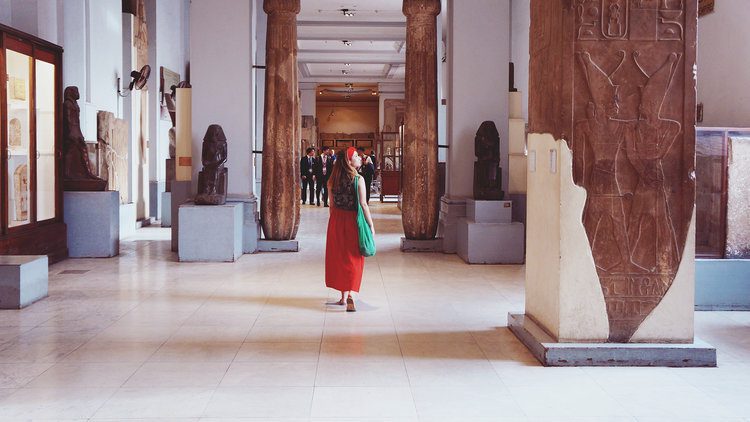 To get to the Royal Mummies hall, turn right at the museum entrance and head upstairs, there is a small ticket desk on the right and it costs 150 EGP per adult. I had really mixed feelings about the Mummy exhibition. On the one hand, it's absolutely fascinating, how they have been preserved for thousands and thousands of years, they're an incredible part of our history and if you've travelled all that way they're worth seeing. However, it's also quite disturbing, not only because they are dehydrated dead bodies with teeth and hair but because of how disrespectful to the dead it is. The room is tiny with multiple glass displays packed in, there is one paper sign on the wall that asks for silence but no one acknowledged it, and there is no crowd control whatsoever so people are packed in almost shoulder to shoulder.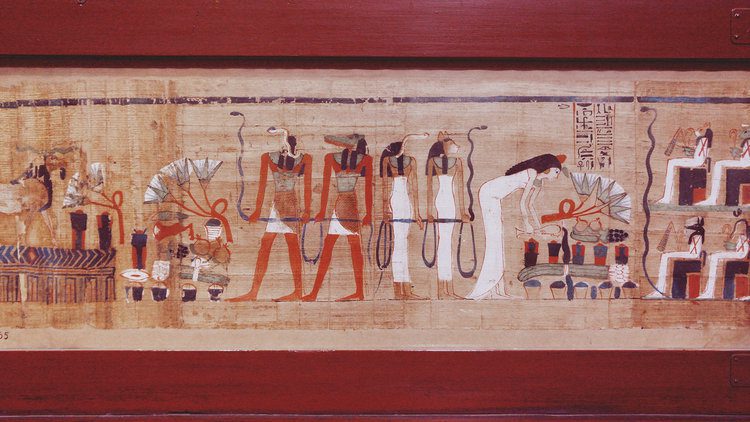 Tutankhamun's exhibition is also on the top floor in the middle, this is where you can see his world famous gold sarcophagus amongst all the other incredible artefacts found within King Tut's tomb. Speaking of, from 24th March the largest international exhibition of ancient Egyptian artefacts will be touring 10 cities across the world. Keep an eye out for your closest! 
Emo tours – Full day tour from Cairo: Giza Pyramids, Memphis and Saqqara
We booked our full day tour from Cairo through Viator. It was with Emo Tours and cost just £28.49 per person (prices vary with dates). You will be picked up from your hotel at 8am, and the tour will last approximately eight hours taking you to the ancient capital of Egypt, the first step pyramid, lunch, the only existing Ancient Wonder of the World and a papyrus shop.
Memphis
The tour starts with a brief history of the ancient Gods and Kings of Egypt whilst driving to Memphis, the first stop of the day. This is where the remains of Egypt's ancient capital are on display in the Mid Rahina Museum. Your guide will tell you all about the meanings behind the stances of the Kings' statues, how to identify the King using their cartouches and their crowns. On display is the second largest sphinx and one of the most incredible pieces of art I have ever seen, the 10 metre long statue of King Ramses II, which was so big they built the museum around it because it couldn't be moved.
Should you wish to visit without a tour guide, tickets are 60 EGP per adult.
Saqqara
The second stop is the Djoser funerary complex and the first step pyramid. It is here that you will learn all about how crucial Imhotep's design for the step pyramid is to the architectural evolution of the pyramids, and how much of an impact the economy had on the size of the pyramids.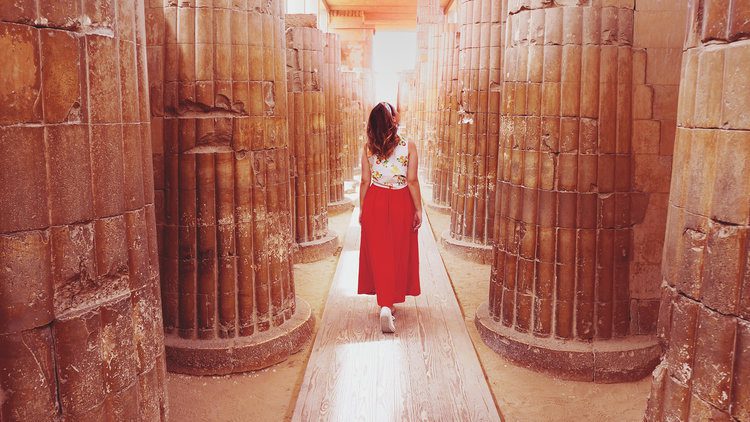 I have listed the Giza Pyramids as the top spot for photos because they are a wonder, but I also think Saqqara is a prime location for shooting. The reflective entrance to the complex and pathway lined with great columns are beautiful places to photograph.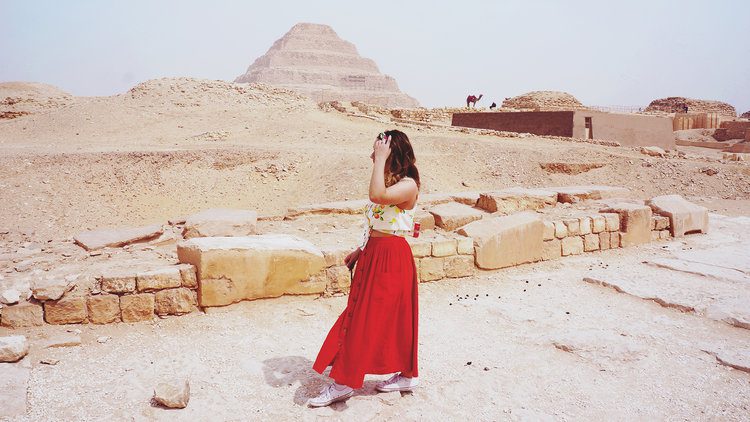 Should you wish to visit without a tour guide, tickets are 120 EGP per adult.
Lunch
We were taken to a local open air restaurant, where you are greeted by musicians playing as you enter. The food is included in the tour but drinks and tips are not. Before arriving you will be given the choice of chicken or beef, I suggest the beef because it will be a traditional Egyptian Kofta. Along with your meat you will be served a couple of sauces each, Ta'meya (Egyptian Falafel), rice, potatoes (in a sauce which is to be poured over your rice), Mahashy Kromb (spicy rice cooked in cabbage leaves) and cold aubergine, followed by fruit for dessert.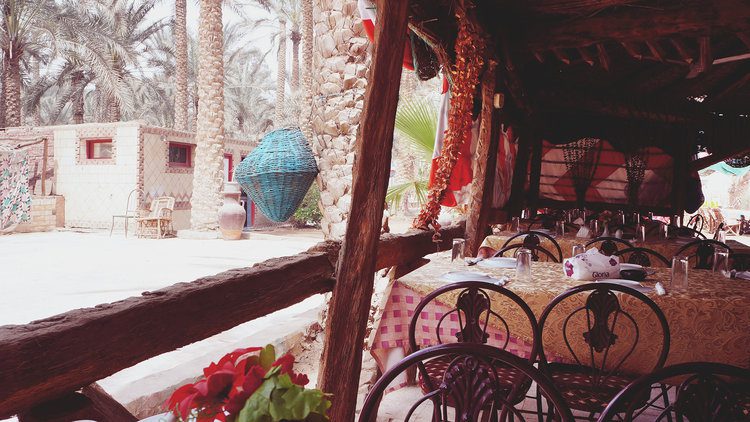 My advice is not to eat the aubergine as improperly refrigerated foods can cause an upset stomach. Also avoid the fruit if it isn't sealed or has been pierced. See further down for tips on avoiding food poisoning.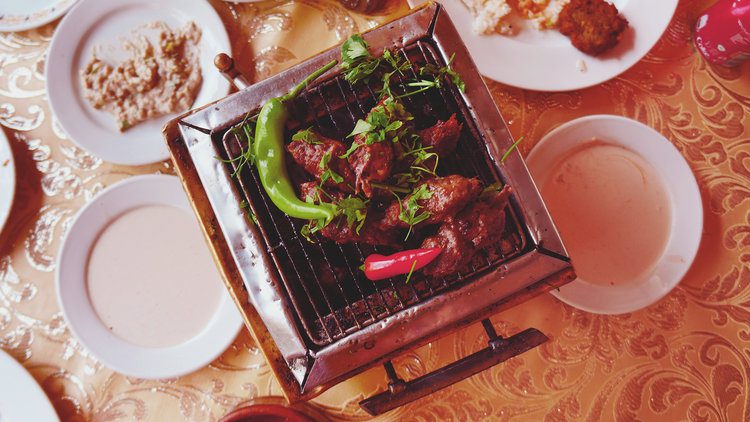 Giza Pyramids
I was warned by so many people that I wouldn't enjoy this place, that it would be dirty and covered in rubbish and camel poop, but honestly I wasn't really expecting anything else; It's a sandy and windy tourist site in a less economically developed country. Trust me though, these things really won't make the day any less enjoyable.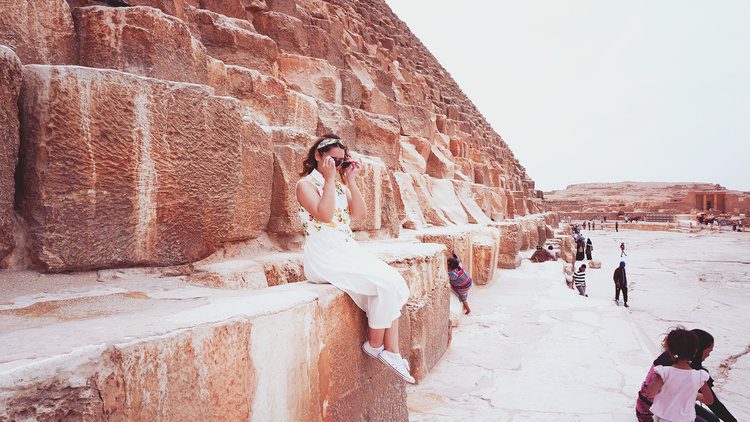 On the day we went it was 28 degrees Celsius, our bottled water was the same temperature as a warm bath, the wind was up, I had more sand in my hair than in my shoes, the place was swarming with tourists and the camels would sooner bite than be petted – though I respect that choice because I was so hot I was slapping Michael's hand away when he tried to hold mine. But honestly, was any of this shocking? No! 
These incredible structures are 5,000 years old, they have such an extraordinary level of technical achievement that for years people were convinced Aliens are why they exist. If they built these colossal tombs under that burning sun, we can handle taking photos of them with some sand in our hair next to a pile of camel poop!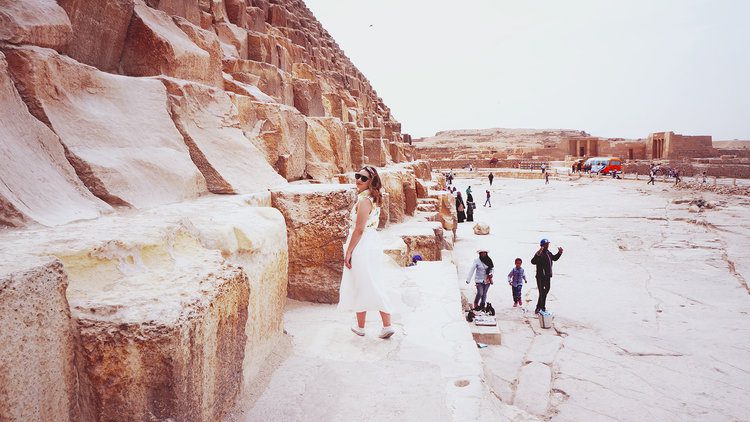 My advice: put on some sensible shoes, suncream, trousers, a pair of sunnies and take in the wonder that is the Giza Pyramids and Sphinx. Once you are there you will learn so much from your guide about how they were built.
Should you wish to visit without a tour guide, tickets are 120 EGP per adult.
Papyrus Institute
Just before taking us back to our hotel, we stopped off at the Papyrus Institute on Al Ahram road. It was here that we were shown how Papyrus is made from plant to final product. After this you have some time to look around the shop where the walls are filled from ceiling to floor with paintings on papyrus. You can either buy one on display or you can have one personalised with your name in Hieroglyphics. Should you not wish to purchase anything you can leave after you have been shown how papyrus is made.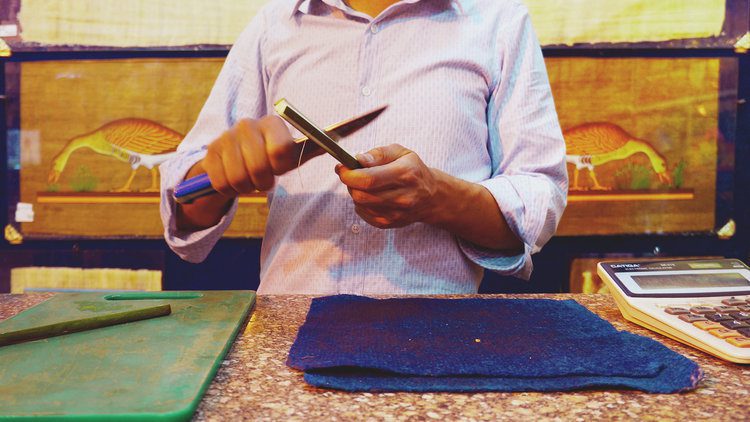 .
Shout out to Sherif and Mido at Emo Tours, they were two of the best tour guides and chauffeurs we have ever had. Thank you for teaching us more than we ever expected about ancient Egyptian history, helping to create some of these shots, holding my bag for every shoot and holding back tourists so we could get the snaps we wanted. If anyone is going to Cairo to see the Pyramids, I wholeheartedly recommend them.
PFH Top Tip: Tips aren't included in your tour ticket, so bring some small change for tipping toilet attendants, restaurant staff etc.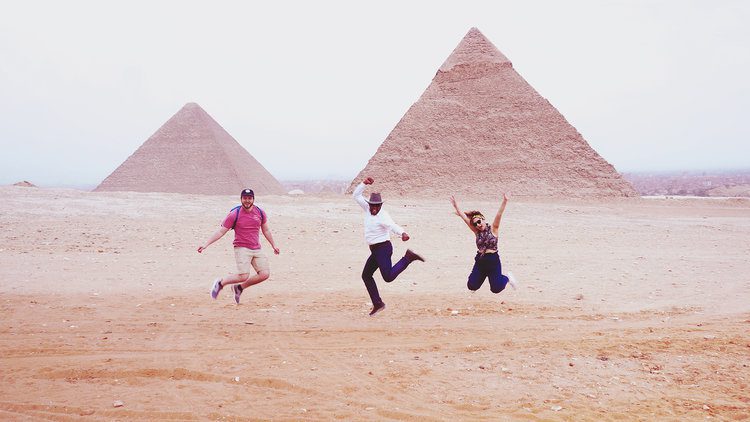 Nile
The Nile is the second longest river in the world and plays a big part in ancient Egyptian history, it is considered to be the source of life and fertility.
There are many Nile cruises operating day and night, but I suggest going during the day as you will be able to see so much more. Find a tour which takes a smaller boat so you can see all around you, a larger boat will obstruct your view. 
The air is swarming with mosquitos so it is at your own peril if you do not cover yourself in insect repellent. Bring it with you on the boat to top it up should you sweat.
Avoid dinner cruises, they are not worth the money. Most seats won't get a Nile view and the view you could get will be obstructed by the other tables, they pack you in like a herd of sheep, the food is a buffet which means you run a higher risk of getting food poisoning, plus their "entertainment" is more like karaoke night at a poorly decorated Wetherspoons. You will be much better off booking a small cruise, during the day and without food.
Any hotels on the Nile will have an incredible view, ours was in the centre of the Nile and we could see the Giza Pyramids from our balcony, but know that they are subject to noise pollution from the party boats going past. It's bearable, but you might want to ask for a room higher up to reduce the noise because it will be on and off from about 8pm-3am.
Khan el Khalili Bazaar
This is a huge bustling market on the East side of the river which has a mixed bag of stalls selling souvenirs to tourists and others selling day to day objects to locals. Depending on how far you want to venture in, you'll need at least two hours just to scratch the surface.
PFH Top Tip: Wear closed toe shoes because the market is very busy and you will be trampled – do your toes a solid and wear some sneaks.
Chances are you will be harassed verbally to go into their stalls, but it's part of the experience. Just smile and politely say no thank you and they will leave you alone. The real pushiness will come when you try to barter. If you don't barter they will rip you off and if you do, be prepared to go hard or go home. I wanted to buy a photo frame and a t-shirt and they asked for 1,400 EGP which is the equivalent of £60 GBP!! Keep in mind that both items were poorly made too. After a lot of fussing I got the photo frame down to 300 EGP which really was still too high, but we had to run to our taxi. As we were heading to our taxi he ran after us saying we could have the t-shirt for 100 EGP, so my point is, no matter what they say, it can always be sold for less.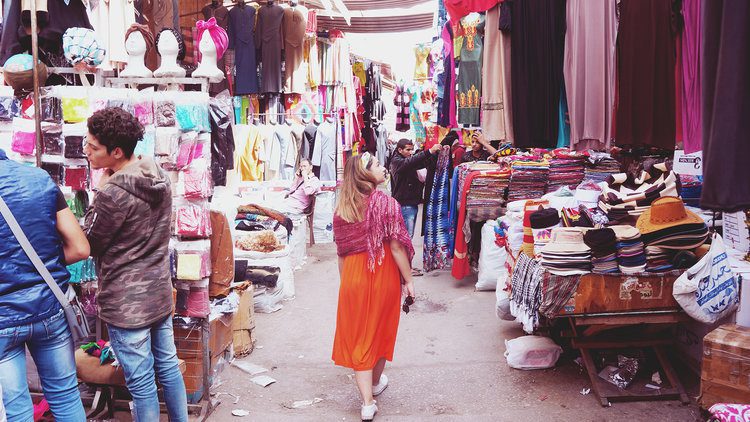 It's only worth getting your souvenirs at this market though if 1. You are willing to spend your time haggling down the price and 2. If you aren't bothered by the poor quality. Whilst you should definitely go for the experience, when it comes to getting souvenirs you're probably better off going to a shopping mall or the gift shop at your hotel.
PFH Top Tip: Make sure your money is in small notes, familiarise yourself with the currency and fold them individually so that when you barter the price down, you don't hand over more than what you just worked down to.
What to carry in your bag at all times in Egypt
Toilet roll or tissues – It's not in cubicles, if you are given any it will be a couple of squares maximum which isn't ideal if you are suffering from a funny tummy but also the desert air will make your nose dry up and you might get a nosebleed so it's good to have something on hand.
Hand sanitiser and/or antibacterial wipes – Not all toilets have soap and hygiene levels aren't great so clean your hands now and then throughout the day.
SPF lip salve – The desert air will dry out your lips and the hot sun can burn them, so keep them moisturised. 
Suncream – It's a hot desert climate and those sun rays will be getting you through the clouds and haze so reapply throughout the day.
Insect repellent – Mosquitos, ants and sandflies all want a piece of you, just like the Paps wanted a piece of Britney.
Insect bite relief – If you do get bit by one of the above it's good to have some to hand to relieve the itching and discomfort. Germaline, Lucas Paw Paw and calamine cream are all small great options.
Sunglasses – The obvious reason is to protect your eyes from the sun but the other reason is to shield your eyes from clouds of sand if the wind picks up. For this reason take some cheap ones that have UV protection but you won't cry over if they get a bit scratched up from the sand hurling at your face.
Water – You must stay hydrated in the heat, this is very important. No matter how long you are out for, take at least one bottle.
Scarf – If you are female you should carry a scarf so that you can cover your shoulders and possibly head whilst out in public. Many Egyptians may tell you not to worry but you will encounter some form of harassment if you don't.
School trips
The working week in Egypt goes from Sunday-Thursday, which makes Friday and Saturday the busiest days if you're planning on being out and about.
If you go to the big tourist locations such as the Egyptian museum there will most likely be a school trip going on during your visit. So, if you're not a local, be prepared to feel like a Disney Channel superstar – in other words, you're more than likely going to be swarmed with children who are fascinated by how you look and dress. Don't be alarmed, they're no different to cheeky school children on any field trip around the world. You will undoubtedly be asked where you are from and if they can have a selfie with you – most of them really just want to practice their English. 
PFH Top Tip: Friday is the most popular day for school trips so try to avoid planning your visit to the Giza pyramids and the Egyptian museum on those days.
Toilets
The toilets at the tourist spots such as Saqqara and the Pyramids aren't the most sanitary but given where you are they're not bad. I've been to far worst, believe me! They're kept in a fairly good condition because the attendant wants a tip. 
Toilet roll is scarce so you won't find any in the stall, you will need to get some from the attendant upon entering. Speaking of toilet roll, their sewerage system can't cope with paper so do not flush it, there is a bin provided by the side of the toilet.
PFH Top Tip: When you're out and about, bring a stash of toilet roll or tissues because you won't be given much, and it's better to be safe than sorry. Also, carry some kind of antibacterial hand cleaner because not all of them have soap.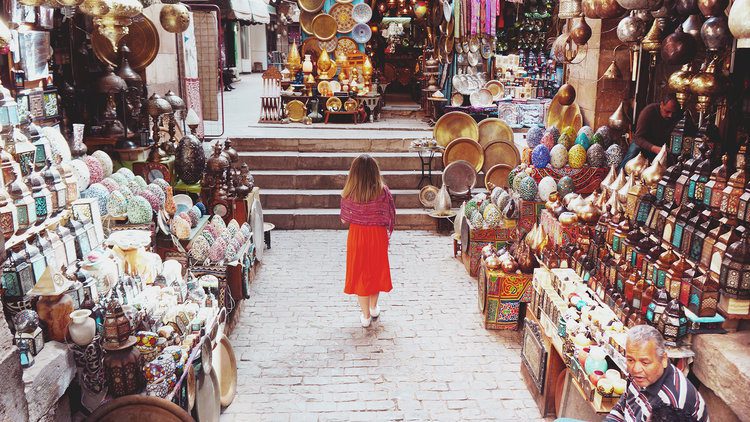 Taxis
As you would expect, taxis will do their very best to rip you off. The best way to avoid this is to ask your hotel how much a taxi costs to get to where you're going then confirm this price with your taxi driver before you get in. By saying it before you get in, they are agreeing to the price and so when they try to ask for more afterwards you can say no you agreed to the first price. No matter how nice the taxi driver is, they will always try to ask for more, just stick to the price you agreed, it won't be met with any hostile confrontation. Every time it happened we just said no and the driver went back to the original price.
When we went to Khan el Khalili Market we asked the doorman how much it would cost to get there and he said 90 EGP which we confirmed with the taxi driver. However, when he dropped us off back at the hotel after a round trip he asked for 250 EGP, to which we said no it was 90 EGP each way, he then said ok to 180 EGP without hesitation. 
Something important to note with taxis in Cairo is that they don't take payment until the end of all your journeys. For example, if you have them for a round trip to the Egyptian museum they won't take payment until you have returned to the hotel. Taxi's can't park outside tourist locations so they won't be hanging around, this means you can't just pick one up when you're done. You will need to take an educated guess at how long you will be at where you need to go and tell the taxi driver what time you want to be picked up. Be there at that time or you will be stuck. Do your best to memorise your driver and the car, but don't panic because they will be looking out for you.
The taxi driver will ask you where you have been and suggest places to go, this is just because they want to be your driver for your trip. I wouldn't try to book them for any day other than the current one, because we found that despite setting a date and time, they never turned up – my thoughts are that they just took the first job they were offered that day, and if you don't fit in, they won't show. It's not surprising given the economy, they need to make money, so my advice is just to say you have a tour booked and then get a fresh taxi from your hotel on the day.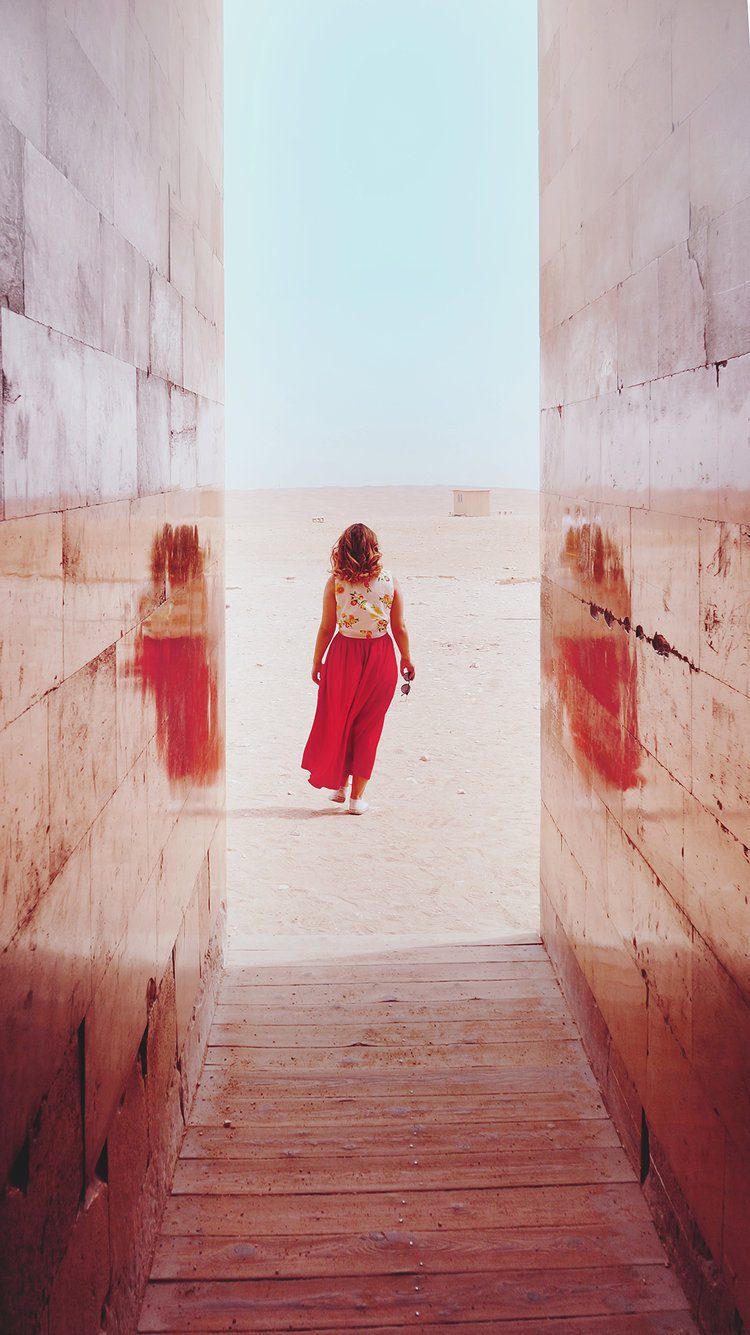 Security
For obvious reasons, security is incredibly high in Cairo. All large complexes such as tourist sites, shopping malls and hotels will require you to walk through a metal detector and your bag to go through an X-ray machine, just like you would at the airport.
Speaking of the airport, no matter what anyone says, you will need to arrive at the airport three hours minimum before your flight. This is because of the huge amount of security which is incredibly time consuming. It starts right after you have entered the airport, you must load all of your luggage into the X-ray machine before you walk through the metal detector. 
You will more than likely be asked for a tip by the security staff, this is not professional behaviour and they are just trying to target naive tourists. You are not required to tip, note how anyone who asks will be turning away from their colleagues and muttering it.
PFH Top Tip: I've only come across two airports on my travels that have security right before you board the plane and Cairo International Airport is one of them. For this reason, you will not be able to take any liquids you buy in the airport on the plane, so drink them before you arrive at your gate. You will have to ask for water during the flight to stay hydrated.
Food poisoning
Tips for preventing food poisoning
Consider all the local water to be contaminated. Use bottled water to drink, make ice, brush your teeth and boil in the kettle for hot drinks.

Make sure the lid on the bottled water is properly sealed, they will have an extra plastic wrap around the lid.

Wash your hands or use an antibacterial cleaner before eating with your hands.

All meat must be freshly cooked all the way through and eaten hot.

Don't eat any salads or cold veg, it may have been washed in local water.

Make sure any fruit you eat is properly sealed.
With amazing destinations such as Morocco and Dubai being top of everyones' travel bucket lists at the moment, it's important to know what you should and shouldn't being wearing. Next week I'll be talking about this exactly and sharing some pointers for dressing modestly in more conservative countries.
Aloha, Gabriella