Açai bowls are so hot right now! This fashionable way to eat fruit is everywhere you look on social media. Press pause on those #veganlife hashtags for a moment and you'll realise it's actually a delicious way to get a whole bunch of fruit into your diet. It's crazy healthy and it's super easy to make. 
I first came across açai smoothie bowls in Rio de Janiero when Michael took a HANGRY (I'm using caps to express that I was ready-to-eat-people hungry) Gabriella to get food but instead made us stop for drinks first, bad start. He then bragged about how well he was doing learning Portuguese with Duolingo and decided to order us drinks in Brazilian Portuguese. It wasn't a drink that came to my table though, oh no, instead a tiny plate was placed in front of me holding what I could only describe visually as a poo emoji. Turned out it was a "baby açai" which meant a small unaccompanied serving of frozen açai which could be eaten like ice-cream. It was amazing but remember I was raging hungry and now very miffed about that fact that I was promised coxinha and instead had frozen fruit. So keep this in mind when you see my face below… please.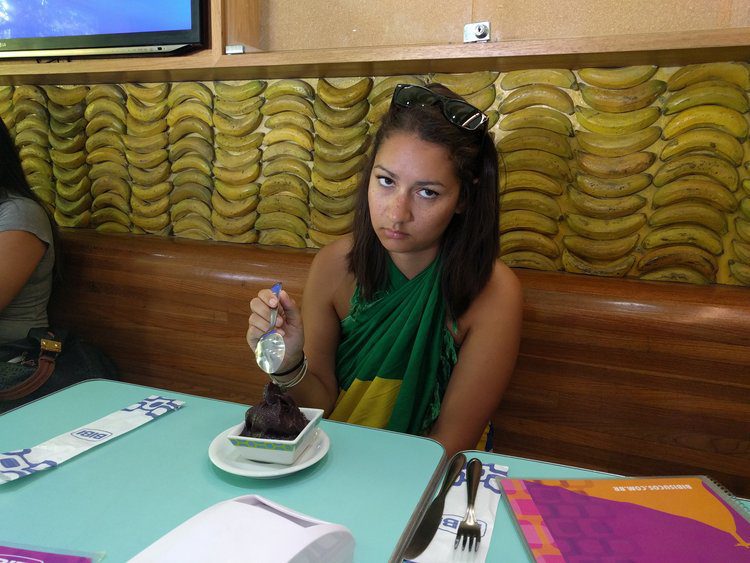 Since then I've grown to love açai, having a whole range of toppings in different spots across the world. The most recent one I had was in Tulum, Mexico where I realised that I need to share how to make this crazy easy dish with you all. You can eat it for breakfast before work, for brunch at the weekend, as a snack between meals or if you add peanut butter it makes a great dessert. 
Smoothie bowls are something the whole family can enjoy, I made one without nuts and seeds for my 2 year old cousin and she loved it so much she licked the bowl and her fingers (fingers? You try to get a toddler to eat with a spoon!). My point is, unless they don't like fruit this is a totally family-friendly and versatile recipe.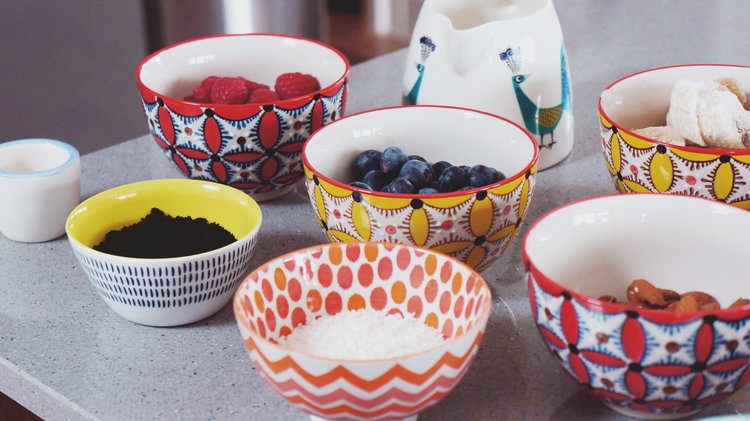 The recipe below makes one bowl. Should you not like any of the toppings I used just change them up for what you do like! There are so many options that the possibilities are endless! 
Smoothie
1 Banana (frozen)
3 Tbsp açai powder*
4 Tbsp almond milk
1 Tbsp agave syrup
3 Ice cubes
3 Strawberries 
1 Handful of blueberries
1 Handful of raspberries
Toppings
1/2 Banana 
2 Strawberries
1 Tbsp almonds
1 Tbsp goji berries
1 Tsp chia seeds
1 Tsp desiccated coconut
1 Handful of blueberries
1 Handful of raspberries
Equipment
Some sort of smoothie maker/blender such as the Nutribullet or Breville Blend-Active
Chopping board
Sharp knife
Teaspoon
Tablespoon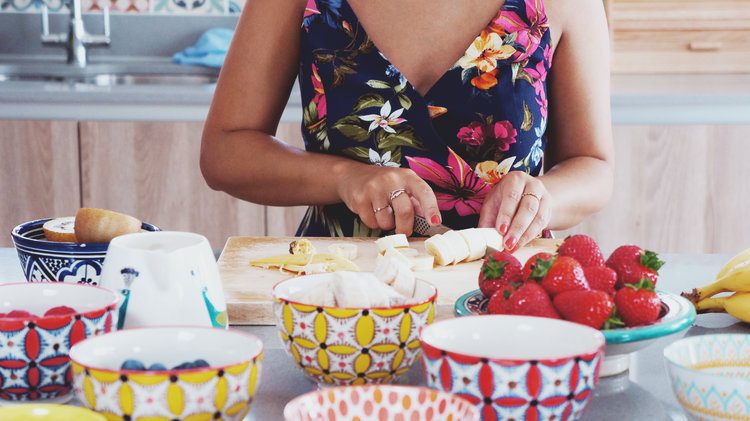 Prepare the banana going into the smoothie at least one day before you want to make the bowl. To do this, slice your banana, store in a freezer bag and pop them in the freezer overnight.
It's best to prep the toppings first because the smoothie will melt quickly once it has been blended. The problem with a melting smoothie bowl is that your toppings will sink and we want them to sit pretty on top.
Slice up the half a banana and two strawberries then put to one side.

Put the frozen banana pieces into the blender.

Measure out the açai powder, agave syrup and almond milk adding each to the blender.

Add the ice, strawberries, blueberries and raspberries.

Securely attach the lid and blend for about 45 seconds or until you can't hear the ice breaking anymore.

Pour the smoothie into a bowl.

Decorate with your toppings. Make rows with the banana, strawberries, raspberries and blueberries and to finish sprinkle over the goji berries, chia seeds, coconut and almonds.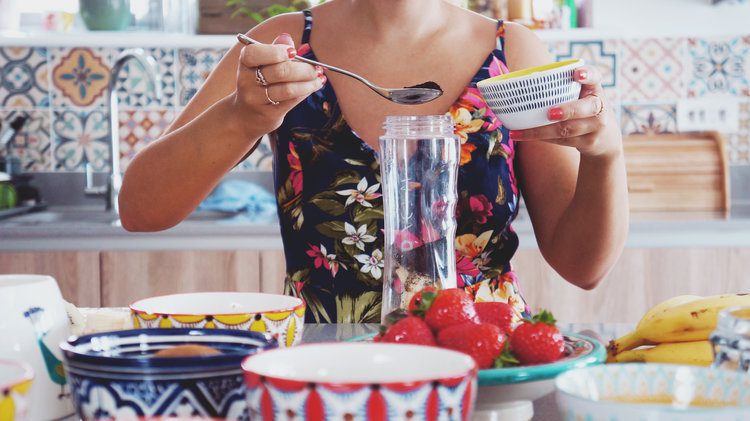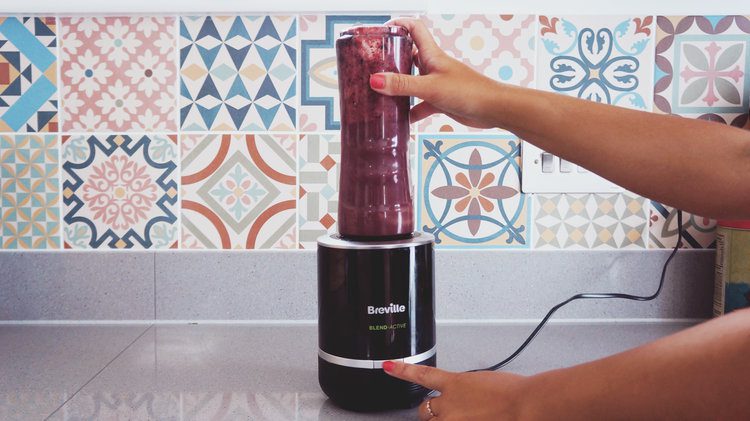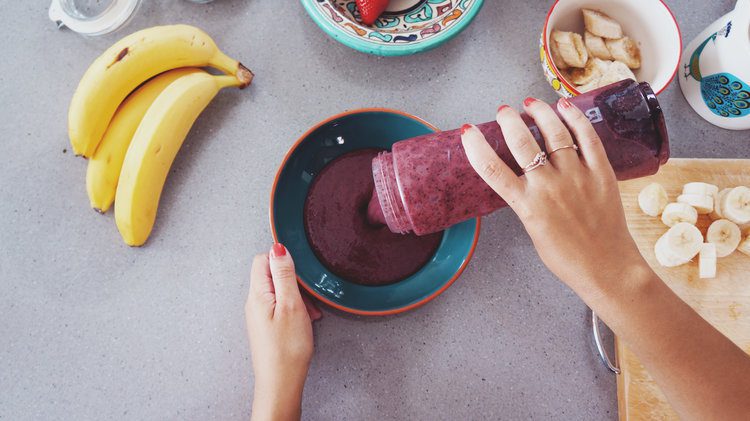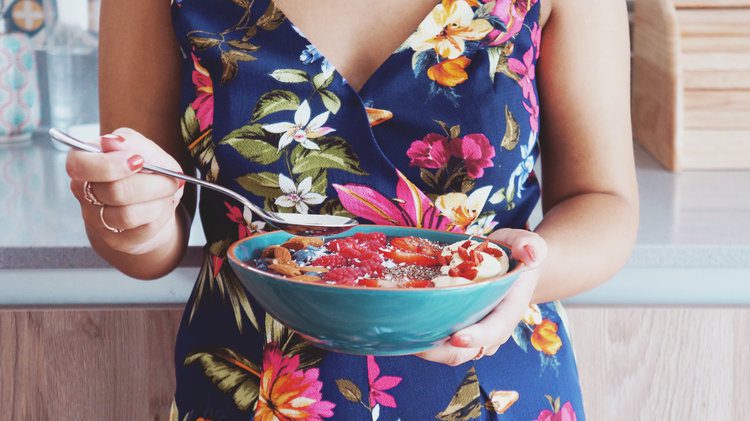 . 
If you give this a try let me know how it goes and what you topped it with. Use the hashtag #postcardsfromhawaiiblog so I can see them! 
Enjoy!
Aloha, Gabriella
*You can ask your local health food store for açai powder but it is cheaper to order on amazon, I buy this one from Sevenhills Wholefoods. You can buy bags from 50g up to 500g.
.
*Disclaimer: As an Amazon Associate I earn from qualifying purchases but please know that I recommend all of the products above from personal use which you can see throughout my blog posts.