Dating back over 2000 years to the Iron Age, Colchester in Essex is Britain's first ever city and former capital of Roman Britain.
We based our trip to Colchester around me wanting to visit the adorable pastel beach huts on Mersea Island beach and to visit Tiptree Jam Museum and Tearooms for afternoon tea. I sure was blown away by what Colchester had to offer, it was the first I learnt of the long history of the town and I found it to be such an informative trip. I strongly recommend a staycation in or trip to Colchester to learn more about England's history plus you can combine it with time at the seaside.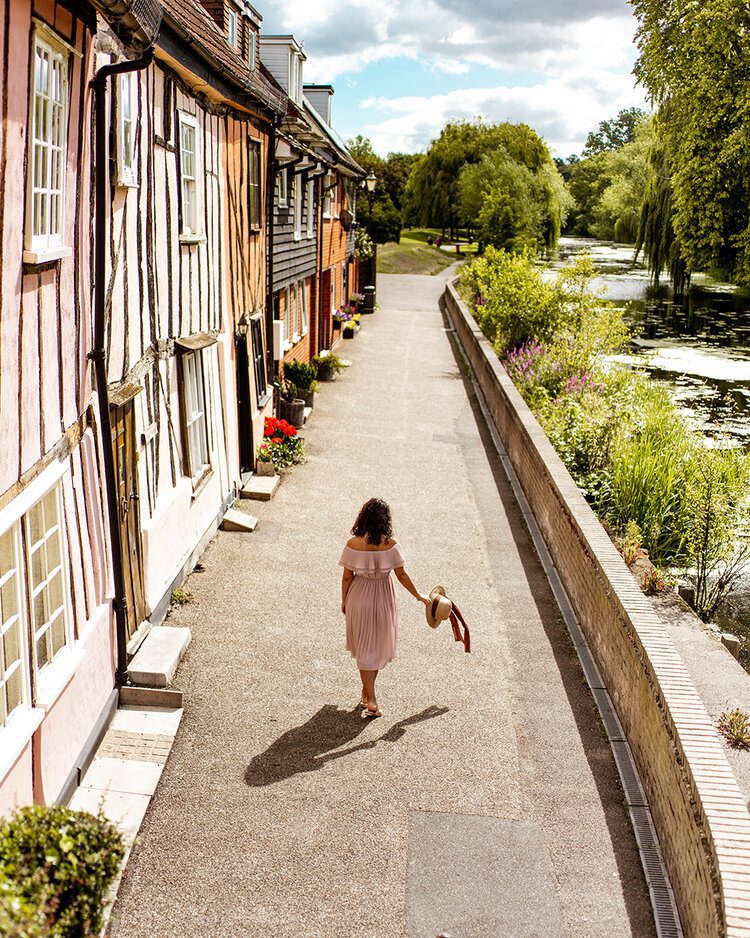 Here's 5 of the best things to do in and around Colchester, from exploring ancient Roman ruins to having afternoon tea served by one of the best jam producers in the world.
1. Visit Colchester Castle Museum
Built in 1100 – commissioned by William the Conqueror in 1076 – Colchester Castle is the largest Norman keep in all of Europe.
It wasn't the first building to be constructed upon this land though. Shortly after the Roman invasion by Emperor Claudius in AD 43, Romans built the Temple of Claudius. The temple stood until AD 60 when it was burnt down in an attack on the Roman city by Boudica, Queen of the Iceni tribe. It was rebuilt, along with a wall around the city. It remained until the Roman decline between 330 and 410. In 450, the Anglo-Saxons and Normans took control of Essex but it wasn't until 917 that Colchester was re-founded.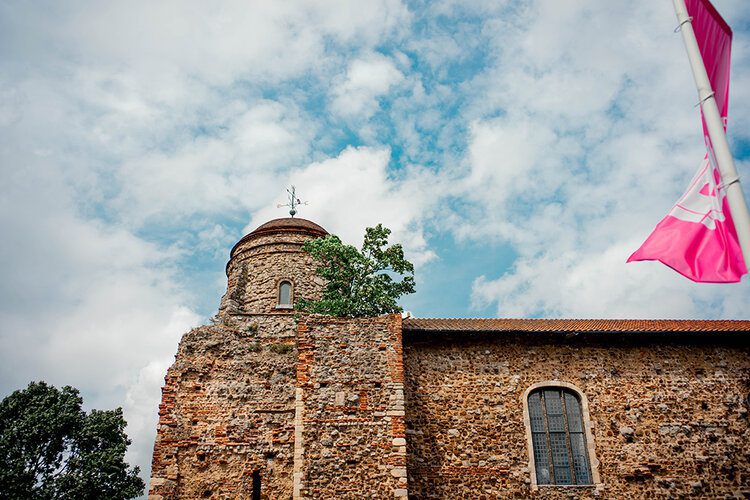 In 1076 (over 1000 years since the construction of the Temple of Claudius) the construction of the castle we can see today began upon the foundations of the Roman temple, using stones from other Roman buildings as there was a lack of quality stone in the surrounding area. Originally built as a fort, it is now a museum and has been since 1860.
If there's one thing you should do in Colchester it's visit the castle museum as it extensively documents Colchester's rich history of thousands of years from the Iron Age right through to modern day. Their collection consists of Celtic coins, a vessel from the Bronze Age, the best preserved Roman statues in Britain, medieval paintings and civil war armour.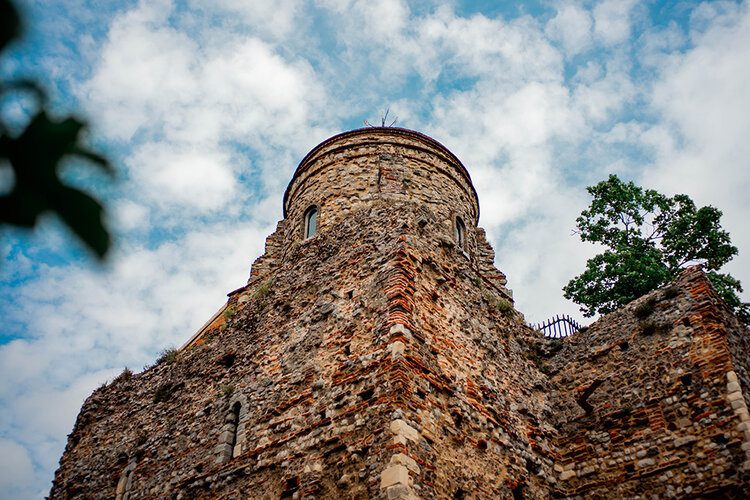 Colchester's castle didn't just go from Norman keep to present day museum. Through the middle ages the castle was used as a prison (you can explore some of cells on your visit) for around five centuries, even when the castle's interior was in near ruins. Some of the the most infamous prisoners were victims accused of witchcraft, who now have a memorial rose garden in tribute to their cruel treatment.
In 1727 Charles Gray restored the castle, though his belief that it was a Roman construction led to him tiling the roof in a Mediterranean style that doesn't match the main structure of the castle.
Fascinating, right?
Opening hours
Monday – Saturday 10am – 5pm
Sunday 11am – 5pm
Last admission 4.30pm
Ticket cost
Adult £10
Child  (4-16) £5.95
Student £6.95
2 adults & 1 child £23
1 adult & 3 children £25
2 adults & 2 children £28
COVID-19 restrictions
Please use the provided hand sanitiser before and after entering.
Pay for tickets and souvenirs by contactless card.
The castle museum has a one way system.
Wear a mask at all times indoors.
All interactive exhibitions are closed.
Please refrain from touching anything.
Please stay 1-2 metres away from others.
2. Take a stroll through Castle Park past the riverside cottages
Castle Park surrounds Colchester Castle in the north east of the town. The Roman wall divides it into an upper and lower park, perfect for taking a stroll on a dry day. Its picturesque river flowing past, lined by weeping willows and park benches offers up the perfect spot to picnic or sit with your thoughts.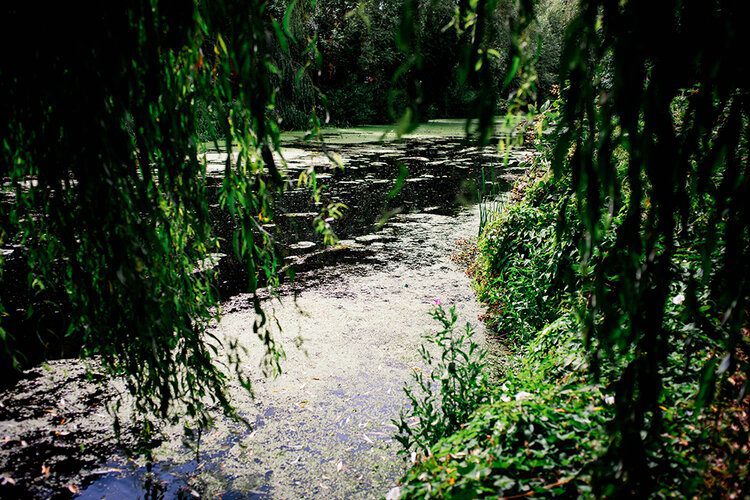 Be sure to end your walk at the riverside cottages; the row of pink Tudor houses opposite the River Colne, just next to North Bridge are so photogenic.
The park is also home to various music concerts and festivals across the year.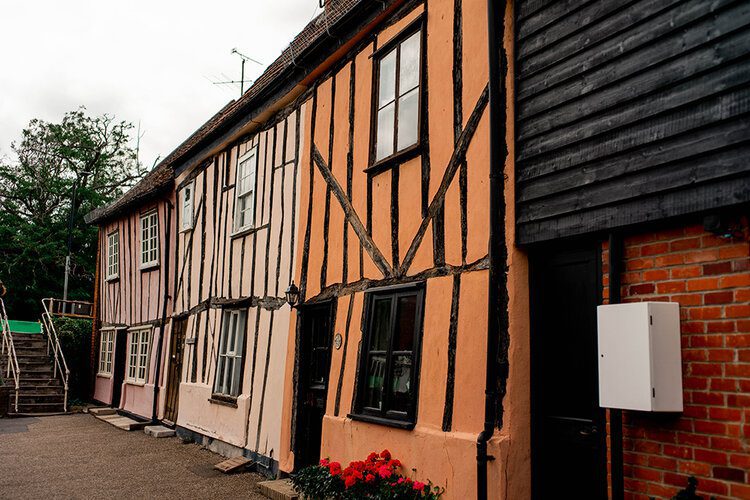 Opening hours
Everyday from 7.30am – 6.30pm
3. Explore ancient ruins
As mentioned above, ancient Romans settled in Colchester 2000 years ago and made it their capital in all of Roman Britain. Back then they called Colchester, Camulodunum: "dunum" meant fortress and Camulos meant God of War. The name was inspired by the preceding settlers in the Iron Age who also used Colchester as their fortress.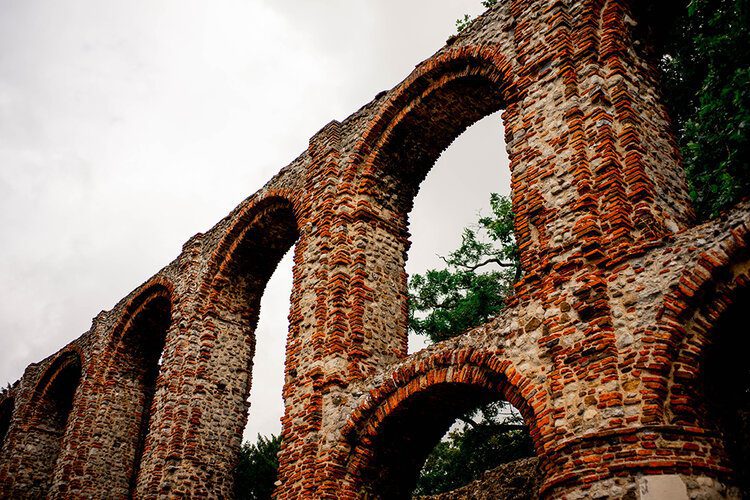 Though many of the ancient ruins have been destroyed by attacks to the settlement from Boudica (AD 60) and her people and succeeding settler William the Conqueror and the Normans (450 – 1076), there are still many Roman ruins across the city that you can see.
As mentioned, the Romans weren't the only settlers in Colchester, people came before and after, so there's also relics and ruins survived from the Anglo-Saxon, Norman and medieval periods dotted around the town ready for you to explore. Here are my highlights:
Saint John's Abbey Gate
Saint John's Abbey Gate is a beautifully crafted gatehouse that was once part of St John's Abbey. Built in the 1400s, St John's Abbey Gate is the part of the Benedictine abbey that exists today after the abbey was demolished during the 16th century Reformation.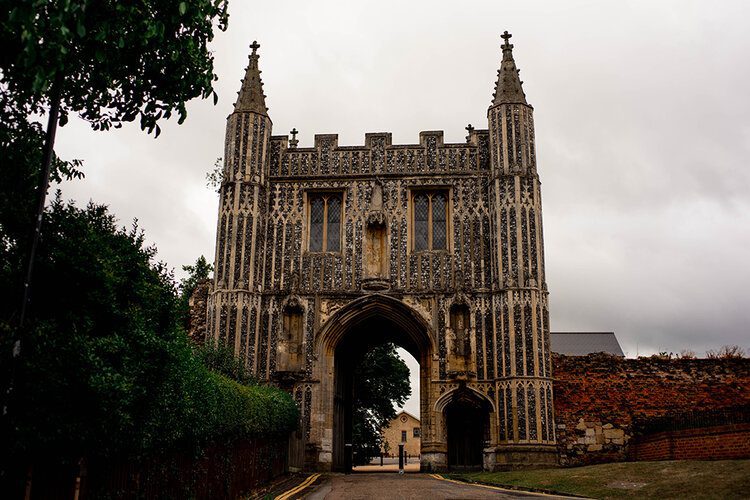 Its architecture is unusual for Colchester because it uses East Anglian flushwork, which is when the flint blocks are cemented flush to the wall in tight lines, creating a smoother surface which reflects the wealth and importance of the property.
Saint Botolph's Priory
St Botolph's Priory was once a medieval place of worship during the worship of the Augustinian rule (written around the year 400). Founded between 1093 and 1100, St Botolph's Priory was one of the first Augustinian monasteries in England until it came to an end in 1536.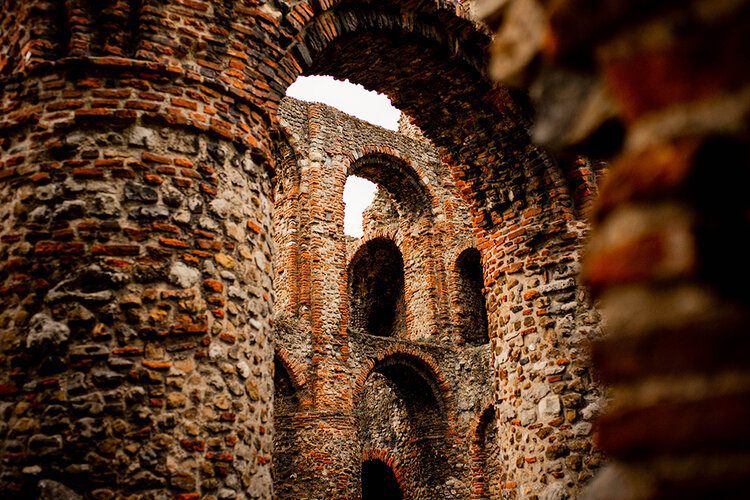 The building itself was made from stones taken from Roman buildings across the town.
Much of the building was destroyed in the siege of Colchester in 1648, but what remains of the Grade I listed building is free to explore and with many of the arches and columns intact, it's still quite a sight to see.
Balkerne Gate
Balkerne Gate is the oldest and best surviving Roman gateway in Britain, it's also known to have been the largest one. It was built into the town wall that went up shortly after Boudica's attack on Colchester in AD 60 and gives access to the town from the road to Londinium (London).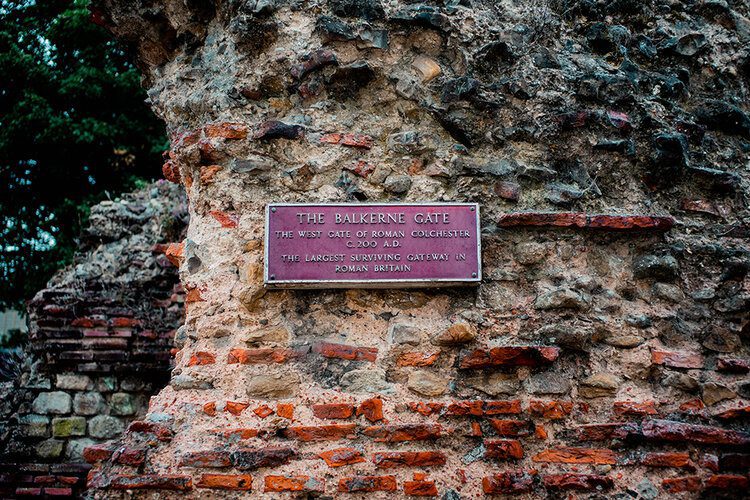 The Grade I listed building was made up of two arched passageways, wide enough for carriages, side-by-side and on either side of those were much smaller arched footways. It's known to have been the largest because there were no other 4 entranced Roman gates in Britain. Most of the gatehouse has fallen and now only the south footway arch remains, which you can still walk through, and it gives a good indication as to how big Balkerne Gate was in its heyday.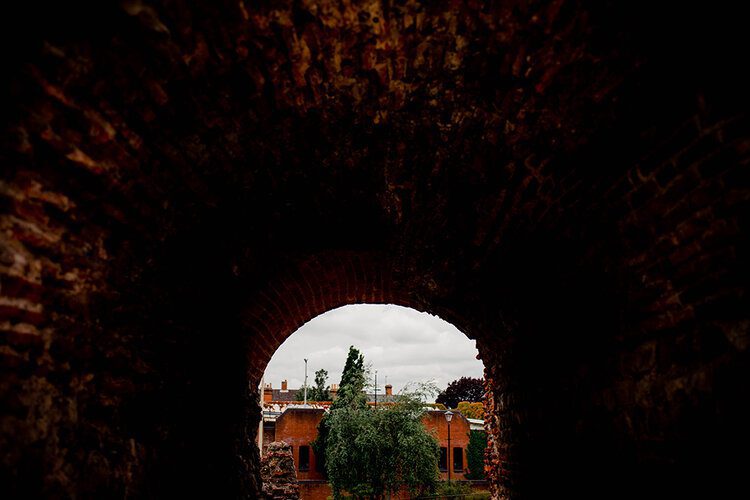 It's a pretty amazing thing to walk through, the footway that ancient Romans used to pass through either to get in or out of their capital roughly 2000 years ago.
Unfortunately no one knows the origin of the name Balkerne.
4. Have afternoon tea at Tiptree Jam Museum and Tearooms
Tiptree conserves are world famous, they are sold in over 70 countries and are served in luxury hotels and by top airlines all around the world. They received their first Royal Warrant from George V in 1911 and have remained Royal Warrant holders as purveyors of 'Tiptree' products to Her Majesty, Queen Elizabeth II.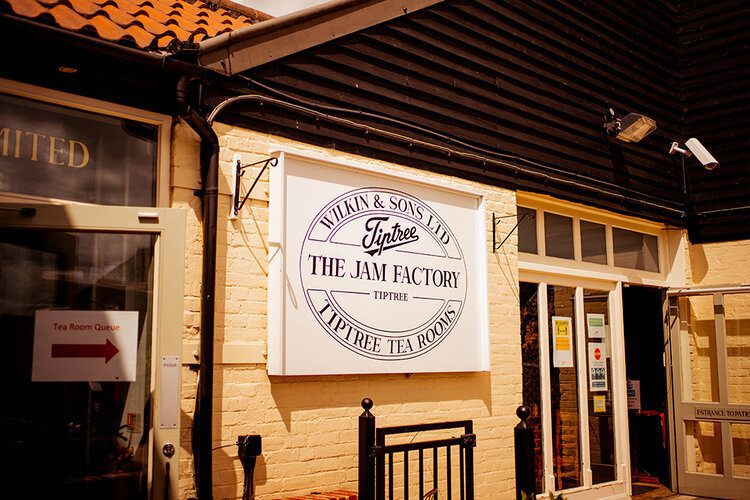 Tiptree Jam Museum and Tearooms is located just on the edge of Tiptree village and is just a 20-30mins drive from Colchester.
With a museum documenting the 135 plus years of history of Wilkin & Son's Tiptree jam production, a tearoom where you can try their many conserves with afternoon tea, cream tea or lunch and a gift shop where you can buy anything you ate in the tearooms and more, it's easy to spend a long morning or afternoon here.
I strongly advise getting the cheese and chutney sandwich with your afternoon tea as their onion chutney is amazing and their signature Little Scarlet Strawberry Jam is a must with your scone!
Opening hours
Summer hours 
Monday – Saturday 9.30am – 4.30pm
Sunday 10am – 4.30pm
Winter hours
Everyday from 9am – 4pm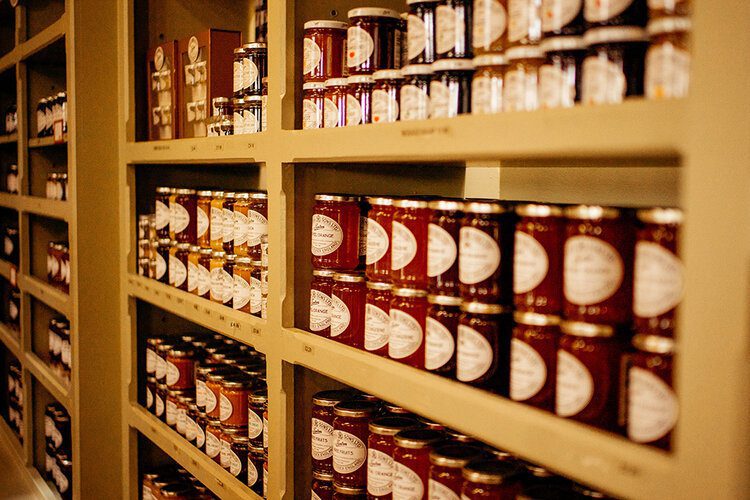 COVID-19 restrictions
Due to the current one-way system, the museum is only accessible as the exit to the tearooms.
Please use the provided hand sanitiser before and after entering.
Wear a mask at all times indoors when not eating.
Please refrain from touching anything in the museum.
Please stay 1-2 metres away from others.
5. Visit Mersea beach huts
Recently the row of identical pastel painted beach huts, owned and rented out by The Little Beach Hut Company, has become a frequently Instagrammed spot in England. As I mentioned at the start, it is why I wanted to go to Colchester in the first place, to get closer to the beach huts. Having grown up surrounded by beach huts, I can confirm that they are the cutest ones I've ever seen and well worth the visit.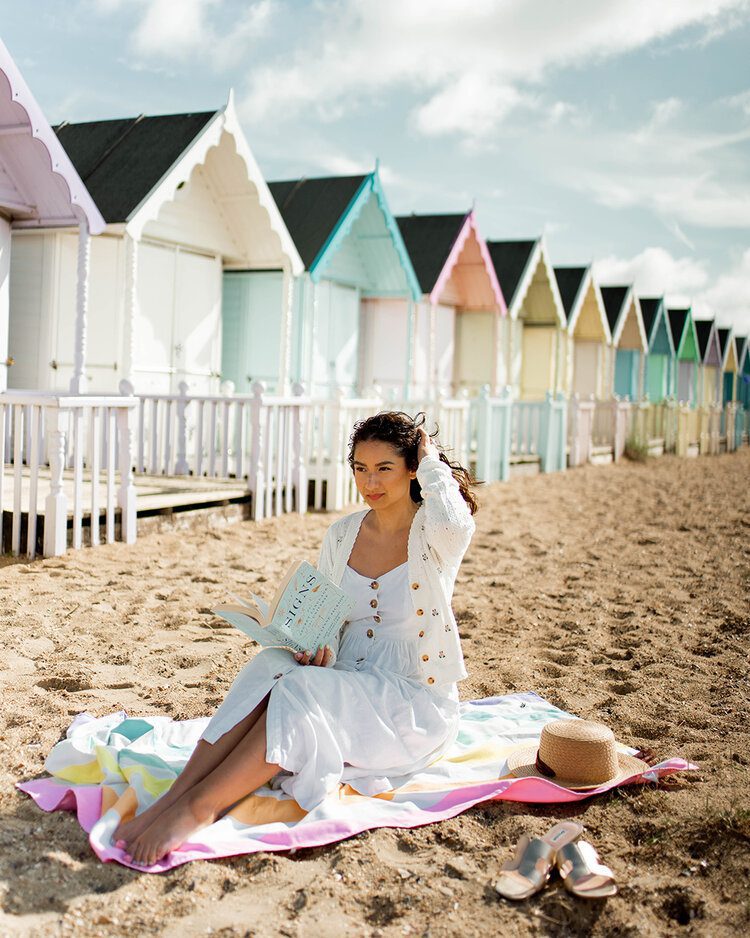 Visiting Mersea Island beach isn't just about the beach huts though, the 13 mile long beach that wraps around the coast means there's plenty of space for you and whoever you're with to set up for the day and soak up the sun, or take a long stroll on a cooler day.
How to get to Mersea Island
Mersea Island is just a half an hour drive from Colchester. The Strood is the only road taking you to and from Mersea Island. Constructed into marshland, it floods upon high tide so it's important that you check the tide times here. You must allow up to an hour and a half either side of high/low tide to make the crossing safely.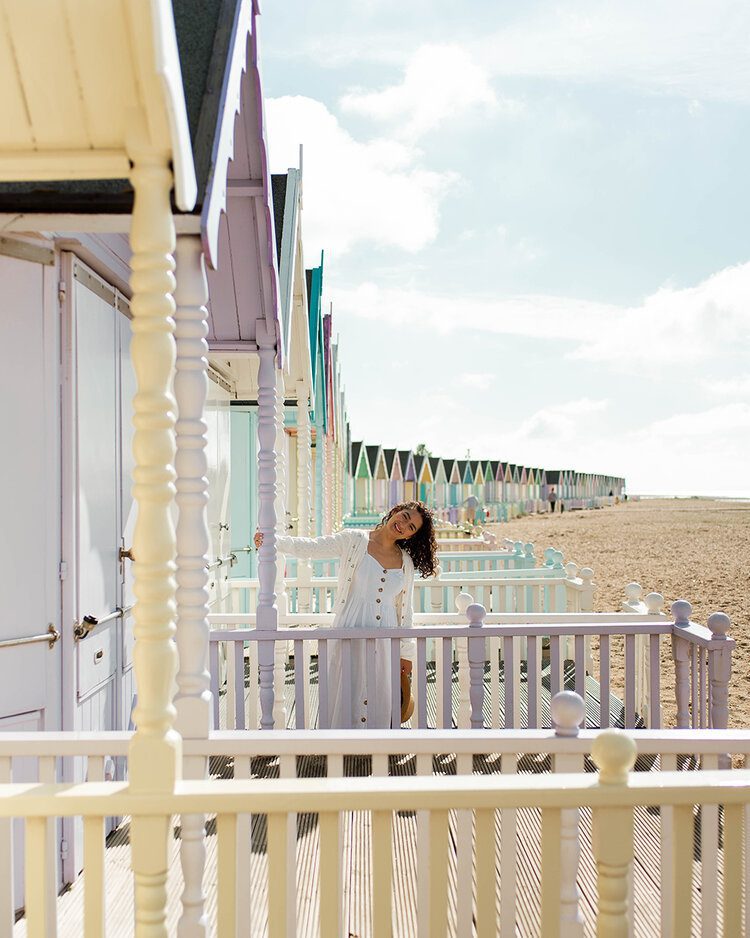 Park up your car in either of the following car parks:
West Mersea Beach

Victoria Esplanade Parking

Sea View Public Parking 
The closest car park to the pastel beach hurts is the Victoria Esplanade Parking.
.
A fascinating history lesson, a beautiful beach and a cute spot for afternoon tea; why not take a trip to Colchester!
Gabriella