Located in South West England between Gloucestershire and Somerset, Bristol is uniquely its own county which is very fitting of the city's forward thinking and progressive aura. In stark contrast to its torrid past of transporting hundreds of thousands of enslaved Black people to the Americas, the city now fights hard for racial equality and against climate change; winning the EU's European Green Capital Award in 2015 and famous for the pulling down of the statue of Edward Colston, an 18th century member of parliament who was heavily involved in the transatlantic slave trade.
Virtute et industria (with courage and industry).
Up until the industrial revolution, Bristol was one of England's leading cities. Through the 19th century, Bristol was a pioneering city in engineering with the likes of Victorian engineer, Isambard Kingdom Brunel, designing the Great Western Railway, the grandmother of all modern day ships, SS Great Britain and the Clifton Suspension Bridge. 
These aren't Bristol's only claims to fame, the city is also home to world famous artist Banksy, multiple Academy Award winning animation studio Aardman (creators of Wallace and Gromit, Chicken Run and Peter Gabriel's Sledgehammer music video), Sir Allen Lane created the first ever paperback book (Penguin paperbacks) there and Elizabeth Blackwell, England's first woman doctor was born in Bristol.
Aside from being a hub of creativity and a great place to visit with much to do and see, it's also a stone's throw away from the quaint villages of the Cotswolds and ancient Roman remains in Bath.
1. Clifton Suspension Bridge
Clifton Suspension Bridge is Bristol's most iconic landmark. Designed by Victorian engineer, Isambard Kingdom Brunel, it took 33 years to build and is one of the oldest surviving iron suspensions bridges in the world. Sitting 245ft above high water, it first opened in 1864 and is still fully functioning as a crossing over the River Avon, now a Grade I listed building.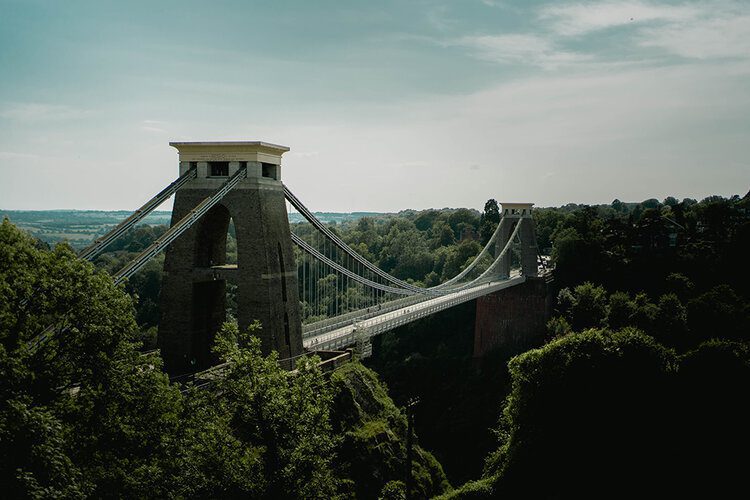 There are multiple spots to see and capture Clifton Suspension Bridge from. To name a few you can cross the bridge, look down at it from Clifton Observatory or up at it from Hotwell Rd below.
The best time to see Clifton Suspension Bridge though is annual Bristol Balloon Fiesta (which I didn't know existed until I reached Bristol a mere few days after it finished). What's the annual Bristol Balloon Fiesta? Good question. Every August, countless hot air balloons take to the sky above the bridge and on two evenings (a Thursday and a Saturday) from 6pm until midnight, the bridge closes during the Fiesta Night Glow, which is when the sun goes down and the multiples burners dot the sky like giant fireflies. Yeah, I can't believe I missed it either.
Ticket cost
Should you need to drive over Clifton suspension bridge, it costs £1 per motor vehicle, including motorcycles.
COVID-19 restrictions
The pedestrian walkway currently has a one way system and doesn't allow for stopping.
2. Street graffiti including Banksy pieces
Bristol's graffiti scene is world famous thanks to it being the birthplace and live exhibition of the elusive graffiti artist, Banksy. See some of his most iconic pieces first hand such as "Girl With the Pierced Eardrum" (2014) with her 2020 COVID-19 face mask addition in Albion Docks in Hanover Place and "Well Hung Lover" on the side of a sexual health clinic on Frogmore Street. Bristol's most recent Banksy addition went up on Valentine's Day 2020 on Marsh Lane in Barton Hill and features a young girl catapulting a firework of red flowers.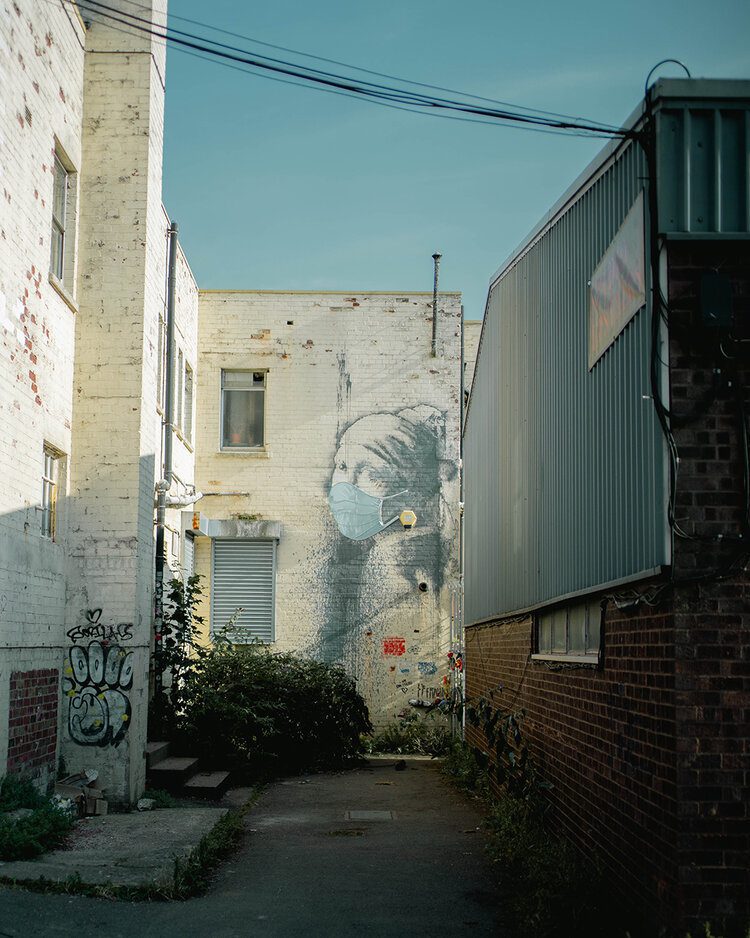 For a guide to Banksy's artwork across the city, download the Banksy Bristol Trail by Cactus Apps for IOS here and Android here.
Banky's isn't the only graffiti worth viewing across Bristol though, in fact the city is home to over 200 street artists and graffiti writers. I recommend heading to North Street for an exhibition of powerful and thought provoking pieces commenting on current affairs including climate change, racial inequality and the COVID-19 pandemic.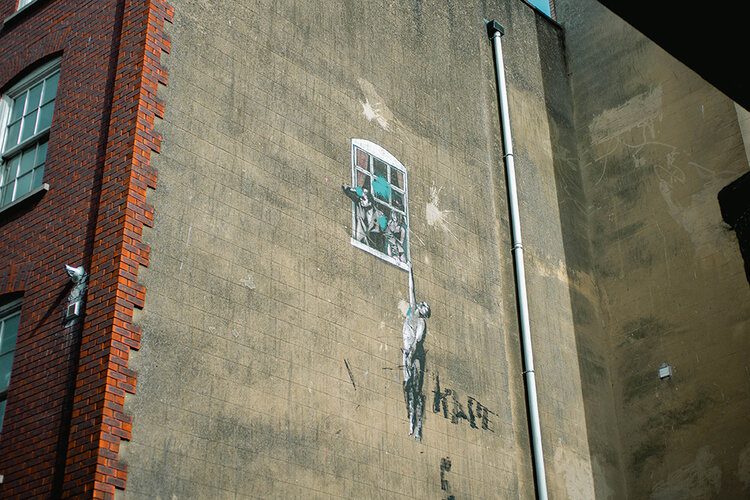 I particularly recommend seeing the giant Greta Thunberg tribute mural on the side of the Tobacco Factory (one of the most highly coveted walls for street art in Bristol) in the Aldi supermarket car park, which went up in 2019 and was painted by Jody Thomas.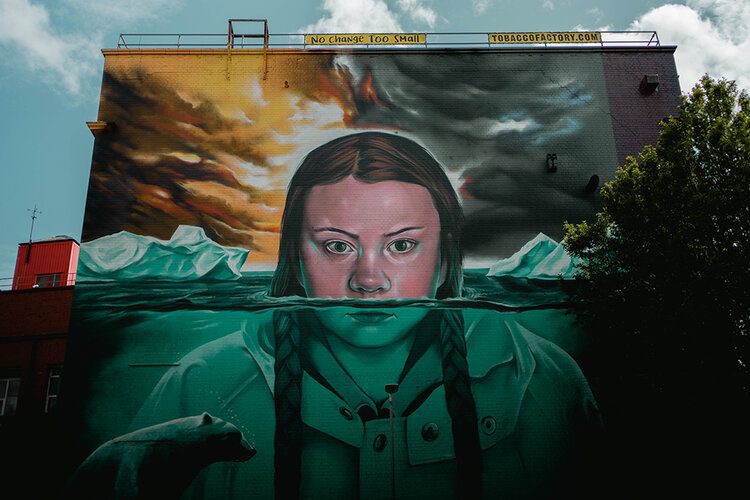 Bristol is home to Upfest, Europe's largest urban arts festival. Unfortunately it has been postponed this year (2020).
3. Bristol Beer Factory
Is beer your choice tipple? Then head to the Bristol Beer Factory Tap Room for a flight or pints of their on tap ales, stouts and wheat beers, then shop what took your fancy in their bottle shop attached to the bar.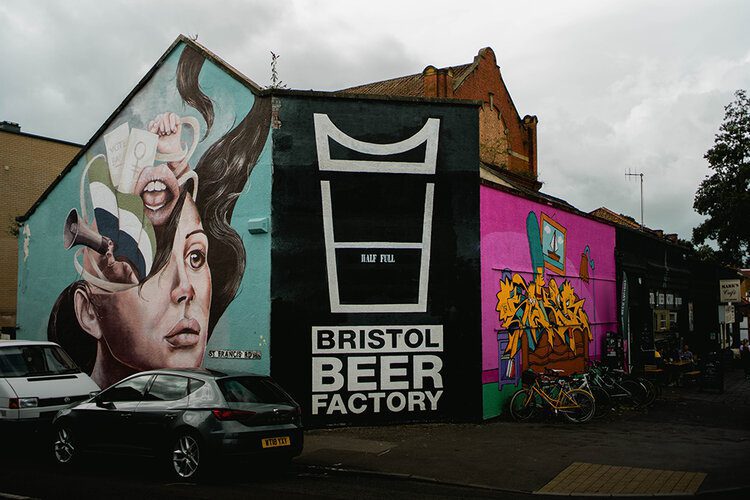 Take the sustainable route when you shop and purchase one of their reusable bottles so you can fill it with whichever beer of your choice. Their refillable container options and prices are:
£5/ltr Cask

£6/ltr Keg

£8 to fill a BBF growler
The Bristol Beer Factory began brewing in 2004 but it wasn't the first brewery to work out of their current building. It was Ashton Gate Brewery who began brewing there back in the 1820s, to read more, click here.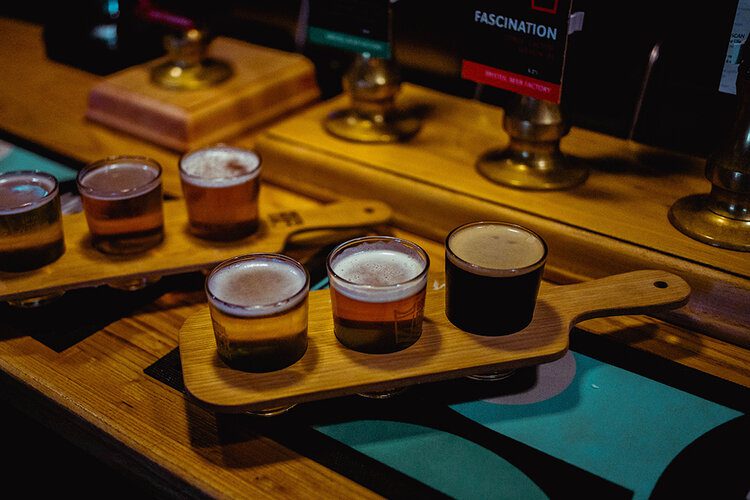 Pre-pandemic, Bristol Beer Factory offers Brewery Tours for £20 per person. I'm sure these will start again when the pandemic has improved, so if this interests you, keep an eye out here.
You can also grab a BBF pint across the city in various pubs. Our personal favourite was Grain Barge which is a floating bar and restaurant in Bristol Harbour. I seriously recommend eating here because their dishes are made with local produce and taste amazing (they have really great vegetarian options) and the view from the top deck is a real treat.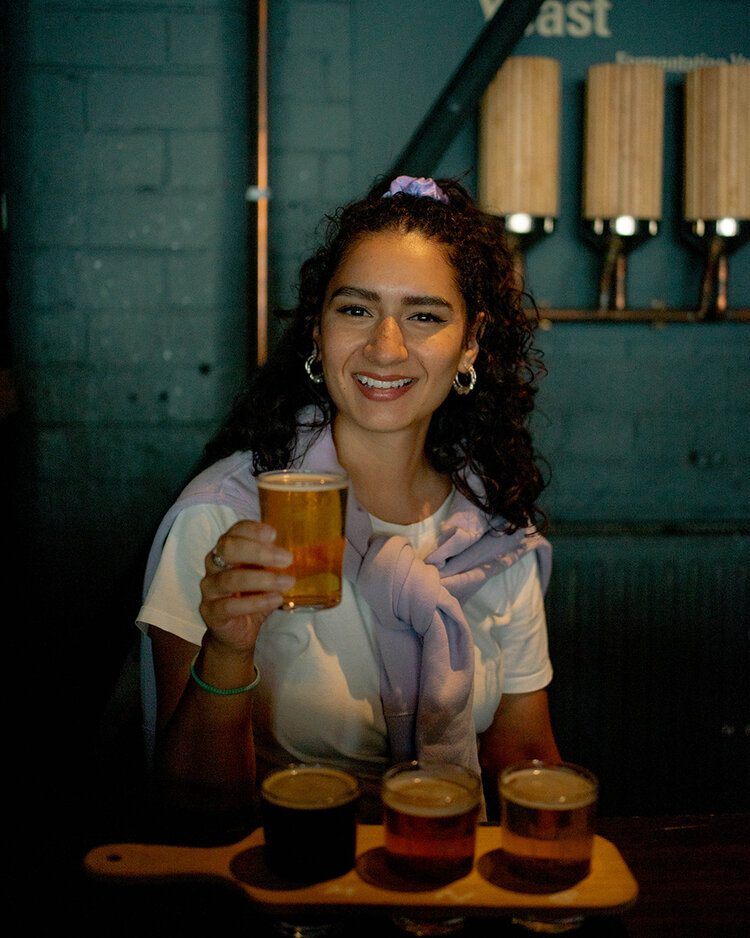 Opening hours for BBF Tap Room bottle shop and bar
Closed on Mondays
Tuesday 12pm – 6pm
Wednesday 12pm – 9pm
Thursday 12pm – 10pm
Friday & Saturday 12pm – 11pm
Sunday 12pm – 6pm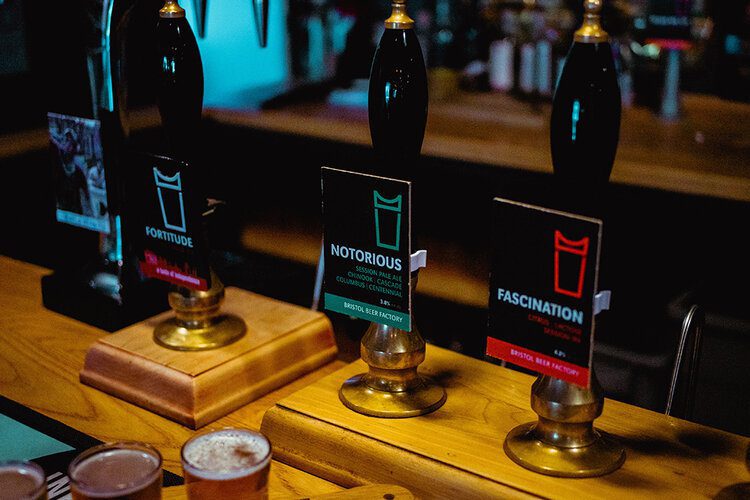 COVID-19 restrictions
Please use the provided hand sanitiser before and after entering.
Complete the Track and Trace form with your contact details.
Pay for drinks by contactless card.
Please stay 1-2 metres away from others.
4. Floating Harbour
Bristol Harbour has been in use since 13th century and in 1806, 80 acres of the tidal river were impounded to create a permanent floating harbour. It was a commercial port until 1975 when the waterway was getting too crowded and ships were getting bigger and struggling to pass through to the central port.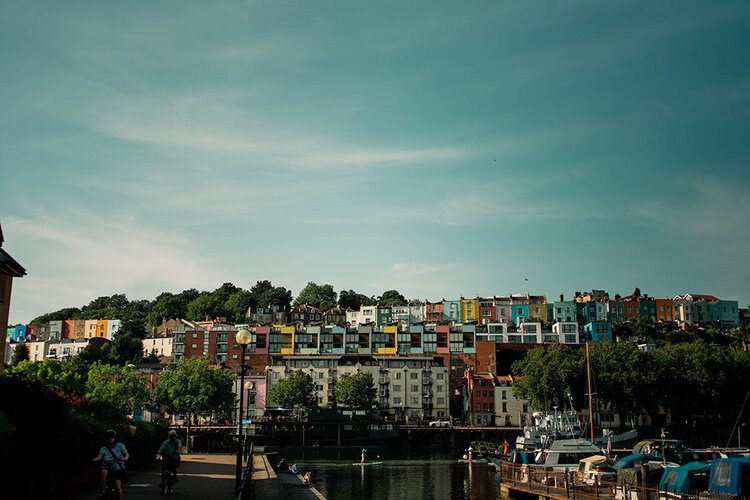 It has since been transformed into a residential and leisure area with the waterway now home to floating pubs, house boats and rental companies offering up paddle boarding and kayaking.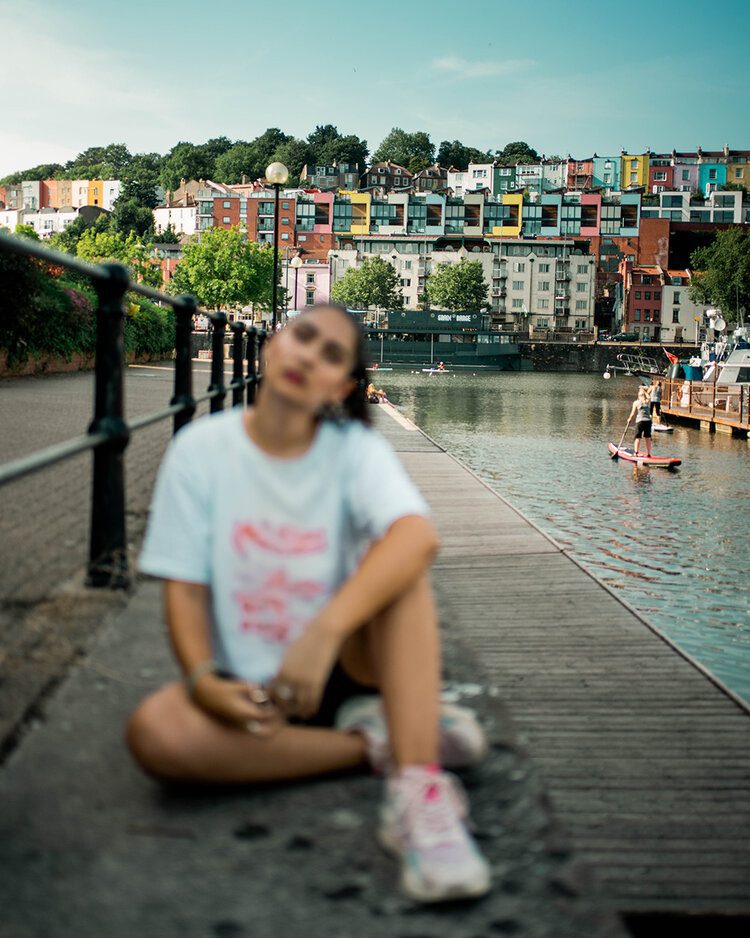 The views of the River Avon with its backdrop of rainbow houses climbing up the city hill are so beautiful and worth a visit, so for the best spot, head to Bristol Marina. 
5. Everyman Theatre
Everyman Theatre brings a touch of Hollywood glamour to your movie viewing experience within their three screening rooms. Order at the bar from a choice of snacks, soft drinks, shakes and cocktails and it will be served to you at your luxury sofa seat just before the movie starts.
Choose from both new and previous releases, plus theatre recordings, from the listings announced every Monday for the week ahead.
Opening hours
10am daily (or half an hour before the first film of the day, if earlier).
There are numerous Everyman Theatres across the UK, find out their locations here.
Ticket cost
Adult £11.40
Child  (up to age 14) £7.40
There's an online booking fee of £1.50 per transaction.
COVID-19 restrictions
Please use the provided hand sanitiser before and after entering.
Pay for tickets and refreshments by contactless card.
It is not required but it is recommended that you wear a face mask when not eating or drinking.
Please stay 1-2 metres away from others when out of your seat.
6. Charity/second hand (thrift) shops on Gloucester Road
For the best second hand charity shopping (that's philanthropic thrifting for my North American folk) head to Gloucester Road. The charity shops on Gloucester Road carry both your usual second hand clothing, accessories, books and homeware plus vintage numbers and don't charge you marked up prices that require signing off your first born (you know the kind of vintage shops I mean). I managed to pick up a couple of Marks and Spencer St. Michael dresses (a clothing line that dates back to the 1920s) for less than £15 each and a Liberty of London silk scarf for just £9.99. 
I highly recommend spending a few hours browsing each charity shop on both sides of the street hunting for gems. My personal favourite stores were Shelter, Cancer Research UK and St Peter's Hospice.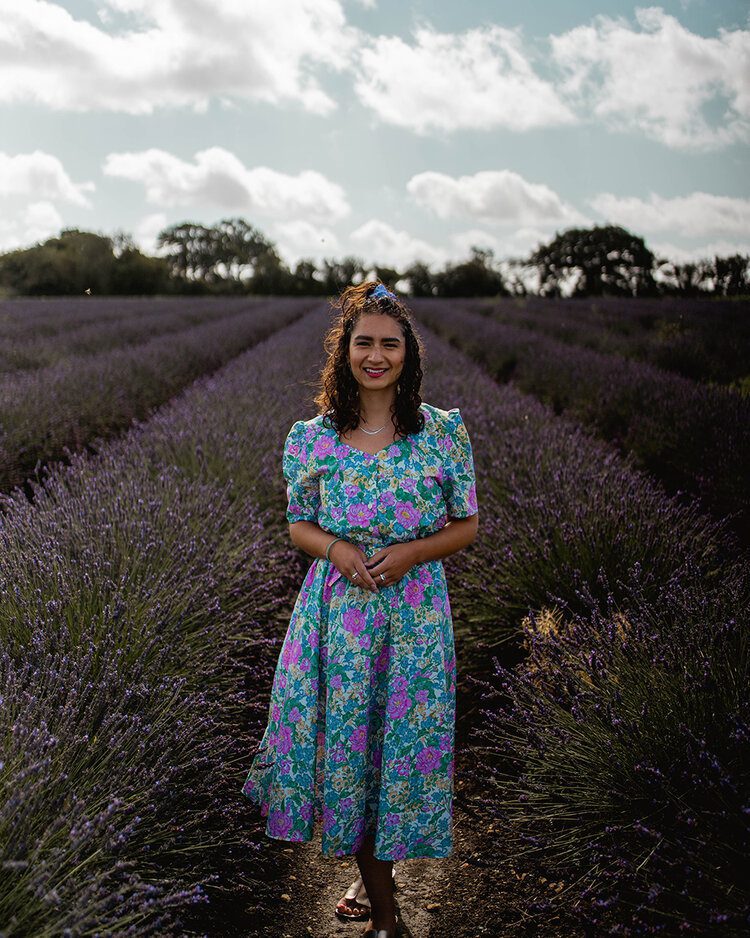 There are also numerous eco-conscious shops on Gloucester Rd selling everything from bulk buy food products to sustainably sourced clothing.
COVID-19 restrictions
Fitting rooms are closed – check with the sales assistant if they allow returns should it not fit.
Please use the provided hand sanitiser before and after entering.
Pay for items by contactless card.
Wear a face mask at all times in the shops.
Please stay 1-2 metres away from others.
7. St Nicholas Market
Open since 1743, St Nicholas Market, also known as St Nicks Market, is Bristol's oldest market. It has over 60 stalls selling nicknacks, fabrics, food, kitchenware, toiletries, clothing and more. The glass arcade is where you will find the food stalls selling a multitude of cuisines.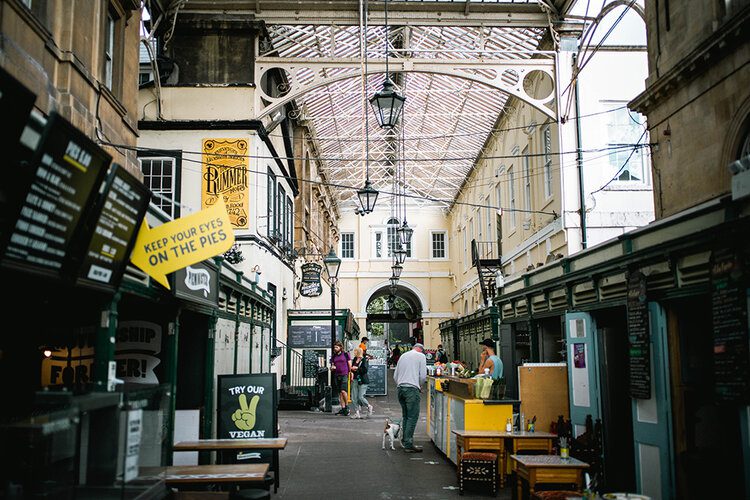 Opening hours
St Nicholas Indoor Market Monday – Saturday 9.30am – 5pm
Bristol Farmers' and Producers' Market Wednesdays 9.30am – 2.30pm
Street Food Market Tuesdays and Fridays 11am – 2.30pm 
Bristol Indies Market Fridays and Saturdays 10am – 5pm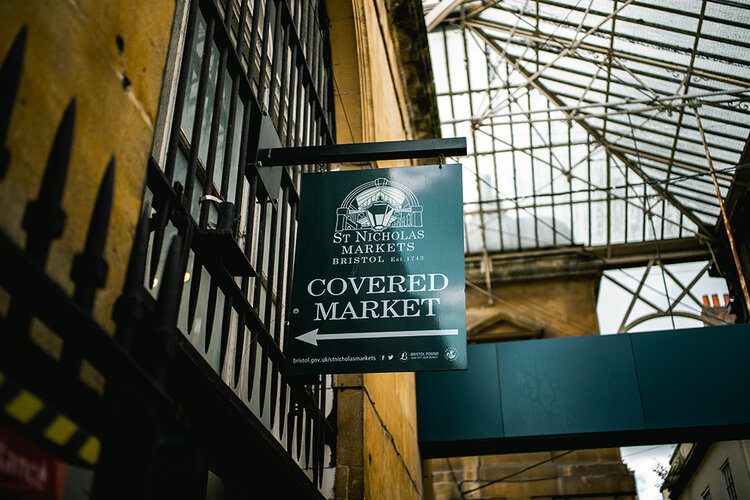 COVID-19 restrictions
Please use the provided hand sanitiser before and after entering.
Where possible, pay by contactless card.
There is a one way system in place.
Wear a mask at all times indoors.
Please stay 1-2 metres away from others.
8. SS Great Britain 
Dubbed the grandmother of all modern day ships, Brunel's (the same guy who designed the Clifton Suspension Bridge) SS Great Britain is one of the most important historic ships in the world. Launched in 1843 by Prince Albert she was the first ship of her size to be built from iron and the first to feature Brunel's newest invention, a screw propeller, to replace paddle wheels.
SS Great Britain was in service right up until 1933, an extraordinarily long time. In 1970 she was transported back to Bristol where she was restored and placed on display so that you can tour this innovative masterpiece and accompanying exhibitions.
Opening hours
Thursday – Sunday 10am – 6pm.
Ticket cost
Adult £18
Child  (5-16) £10
Student £15
An adult accompanying a person with disabilities. gets free access
Family ticket including 2 adults & 2-3 children £48
COVID-19 restrictions
Wear a mask at all times indoors.
Please use the provided hand sanitiser before and after entering.
Pay for tickets and souvenirs by contactless card.
There is a one way system in place.
Interactive exhibitions are supervised.
Please stay 1-2 metres away from others.
Bristol is such an innovative and progressive city, they embrace creativity and change for the better. It's an inspiring city to visit, with plenty to do and see from drinking at an independent brewery to seeing world famous street art and from learning about centuries old engineering to shopping second hand whilst raising money for charity. 
Bristol was an absolute delight for me and I really hope you get the opportunity to visit one day.
Gabriella