With a series of white washed cottages cascading down towards the sea from a 400ft cliff edge, Clovelly, a small living fishing village in North Devon, is one of the most picturesque spots in the county. Appearing untouched for centuries, the tiny cobbled high street of Clovelly, inaccessible by vehicle, takes you back to a simpler time where life was enjoyed without the conveniences we take for granted today. 
Once owned by the Royal Family, Clovelly has been in the hands of just three families since the 13th century. The village is still privately owned and all properties are rented and residence usually stays within a family for generations.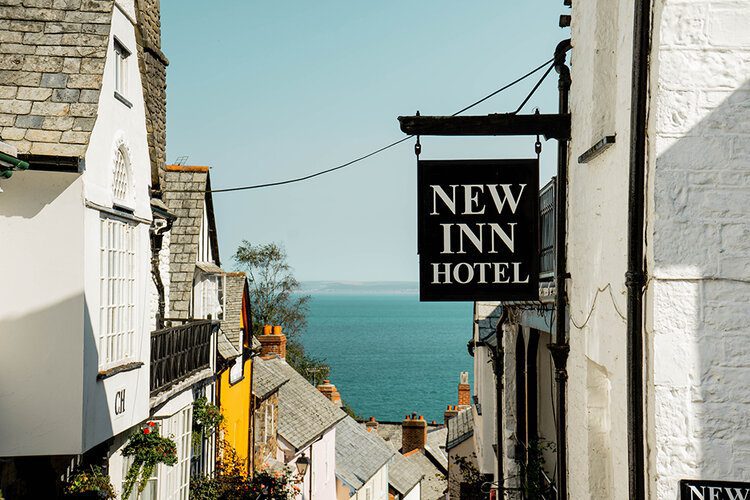 We chose to visit Clovelly after watching a re-run of the Channel 4 documentary, "Devon and Cornwall" which explored the two counties' treasures. Once I caught a glimpse on TV of this exclusive village, so lusted after that it requires an entrance fee, I wanted to see it for myself and I am so glad I did. Between shopping for handmade soap and candles from Clovelly Soap, learning about Rex Whistler's iconic "Toile de Jouy" design from Clovelly Silk, enjoying a Devon cream tea with a view of the sea and exploring a steep, meandering path down to the 14th century quay, visiting Clovelly has been one of my favourite days out in England.
Read on to find out what you need to know about visiting Clovelly, how we spent the day there and my tips on where to get the best photos.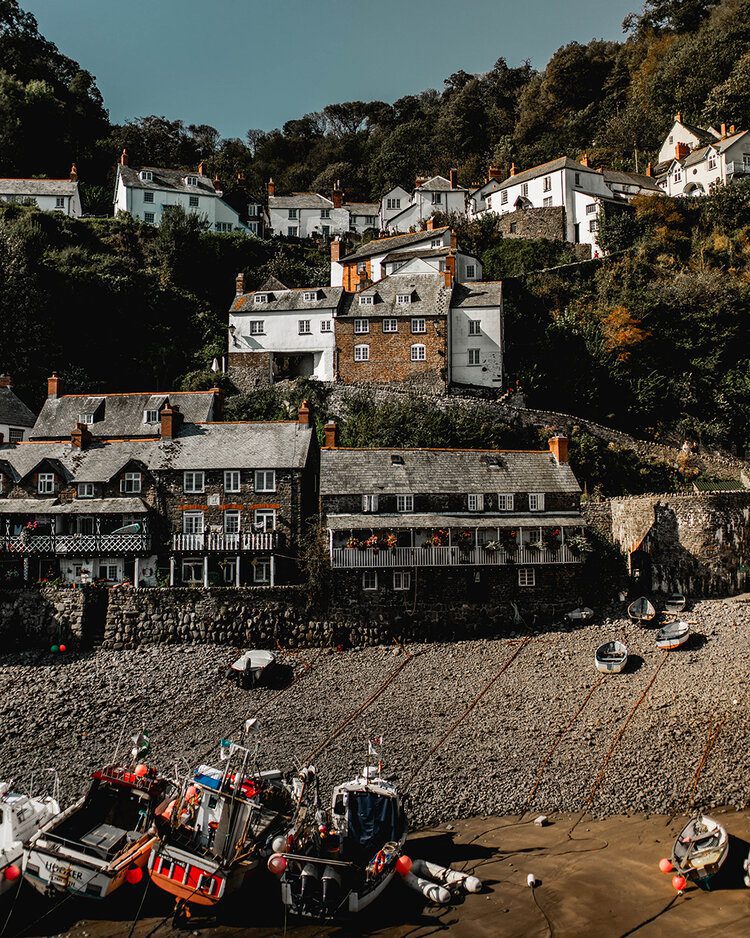 Visiting Clovelly
Before getting into what to do and where to take the best photos in Clovelly, here's the basics for getting access to the village:
How to get there 
Parking at the Clovelly Visitor's Centre is included in the entrance ticket cost (see below for more).
The village is located off the A39, 10 miles west of Bideford. Take Junction 27 to exit off the M5.
The closest train station is Barnstaple and you can take a bus from there to Clovelly.
Buses also run to Clovelly from Bideford.
Entrance cost
Adult: £7.95
Child (aged 7 – 16): £4.60
Children under the age of 7 get free entrance
Family including 2 adults and 2 children: £21
Season tickets are £26 per adult and £62 per family
Ticket costs are for 1st April 2020 – 31st March 2021
Dogs on leads are welcomed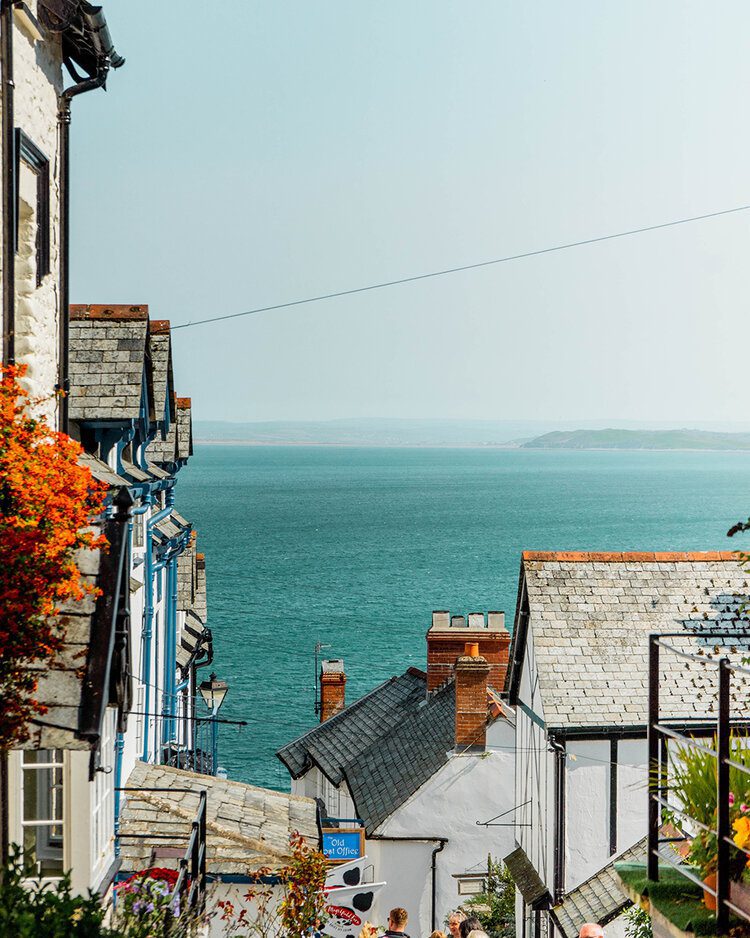 Opening hours
Clovelly is open every day except Christmas and New Year's Day.
9am – 5pm April – November
10am – 4pm November – March
PFH Top Tip: for free entry to Clovelly, visit on Boxing Day.
You'll want to allow around three hours for visiting Clovelly to make the most of your time there.
Covid-19 restrictions
You must wear a face mask when entering the Visitor's Centre, museums and shops. 
Wash your hands as often as possible and use hand sanitiser frequently.
You are required to fill out a Track and Trace form at the ticket desk.
Do not visit Clovelly if you are showing any signs of being sick.
Try to keep at least 1m away from others.
The Visitor's Centre has a one-way system. 
Accessing the village 
The village is built into a 400 foot cliff and is only accessible by foot down a steep cobbled path. It is very important that you wear comfortable shoes as the high street is made with stones from the beach that are uneven and slippery so you will slip without a decent tread on the soles of your shoes.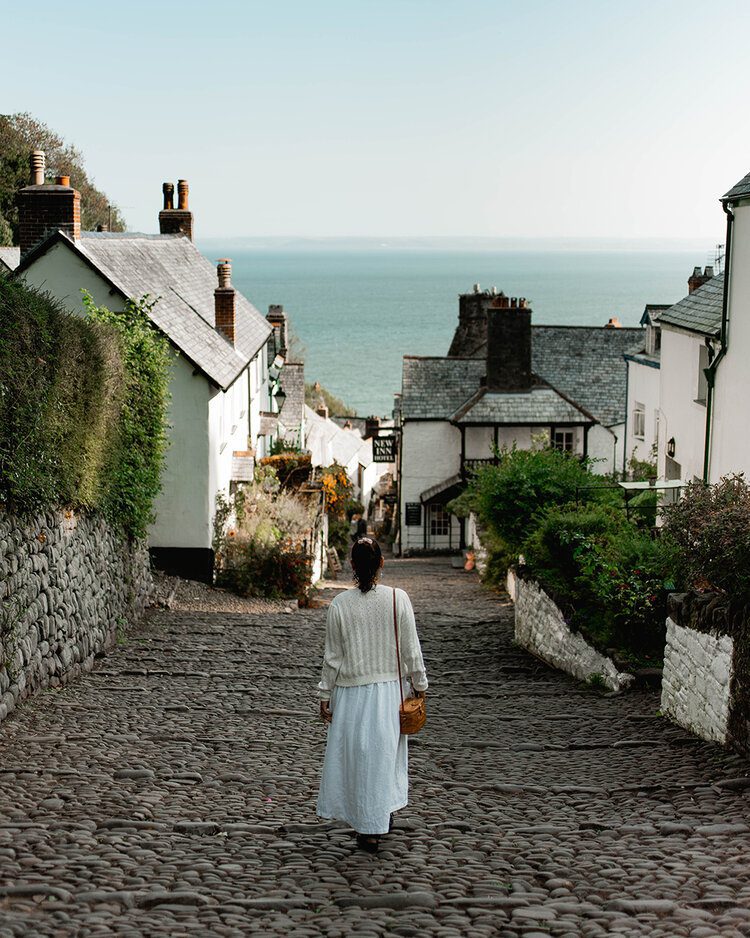 Unfortunately due to the nature of the village being built into a cliff, there is no level access to the village, however the Visitor's Centre, Mount Pleasant and craft shops (where you'll find Clovelly Silk, Clovelly Soap and Clovelly Pottery) are accessible.
Usually, between Easter and October, there is a Land Rover service that offers rides back up to the Visitor's Centre from the bottom but due to COVID-19, that service has been suspended.
Start at the Visitor's Centre and make your way straight down into the village (you can visit the shops on the way back up) as it's your best chance of seeing the high street empty and therefore the most ideal time to get the best photos of the most photogenic part of the village. I recommend arriving within the first hour of the village opening as it's the best opportunity to get photos from the top of the high street without other people wandering the street.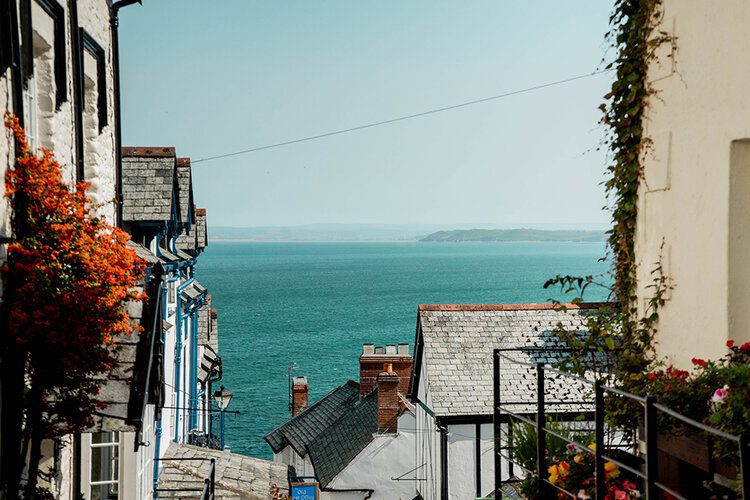 PFH photo guide
Want photos of Clovelly for the 'gram or to capture beautiful memories? Well you're in the right place, there are at least three spots that you will want to take photos of whilst in Clovelly so let me take you through where they are and what time to get there for your best chance of people-free photos:
1. Clovelly high street
Take a snap from the top of the high street looking down towards the sea. The high street is iconic as it's only accessible by foot, or in past times by donkey so you won't get a single car in your shot. The narrow, cobbled path down is sandwiched between centuries old cottages decorated by flowers with the odd cat silently judging your arrival to their village.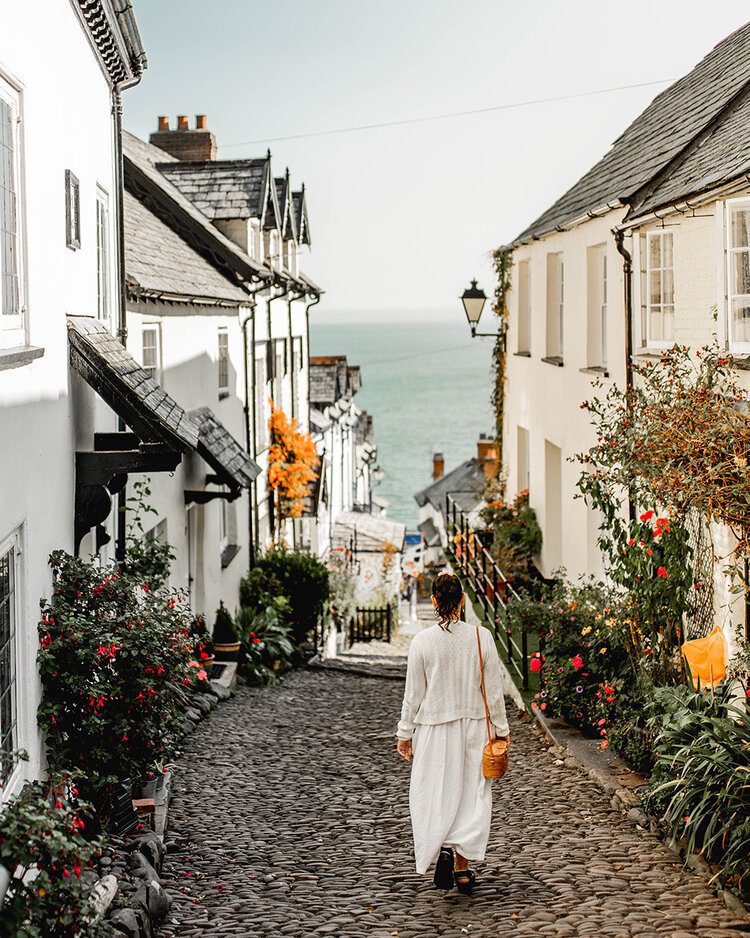 As mentioned, the cobbled path is the only way into the village so arrive early to get the best chance of an empty street.
Walk a little further down the path towards the quay to capture more beautiful photos as the sea becomes visible between the cottages, before making your final descent down to the beach.
2. Clovelly quay
Make your way down to the end of the high street to get access to Clovelly quay and the beach. If you specifically want the quay either full of water or dry then you will need to check the tide times here. We went at low tide, which is why the boats are on the ground.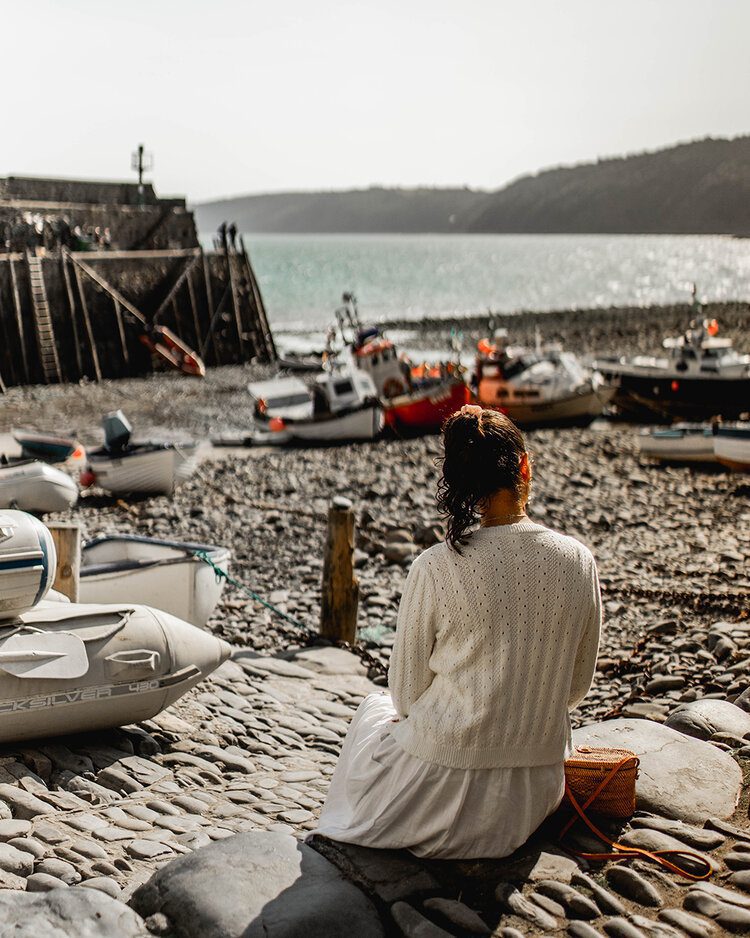 Take snaps around the quay then take a walk along the beach with the sea to your left. At low tide you'll be able to walk out to the shore and look back at Clovelly to take photos of it appearing to tumble down into the sea.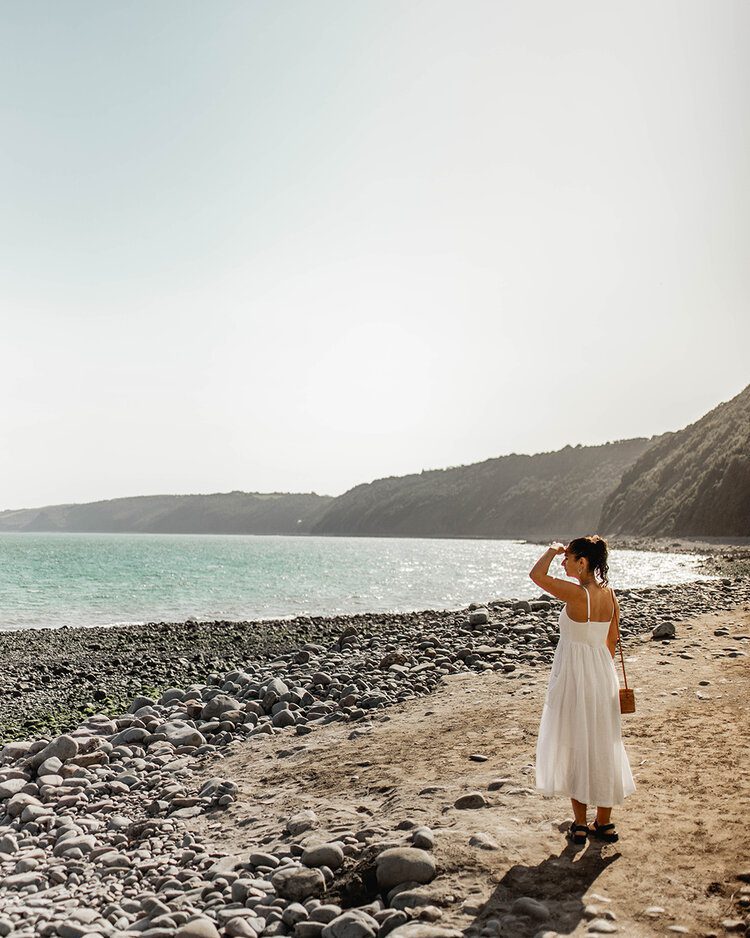 Heads up, it's not a sandy beach so if for some reason you decided to ignore my advice earlier when I said wear comfortable shoes, then PAY ATTENTION NOW; the stones are wobbly because the changing tide is forever displacing them and many are covered in seaweed and algae making them slippery, so wear practical shoes so you don't snap an ankle, capeesh?
3. Cottage Tea Rooms
Read more about eating at the Cottage Tea Rooms below under "what to do in Clovelly", but I'll quickly tell you which table to sit at to get the best photos of you enjoying a Devon cream tea with a stunning backdrop.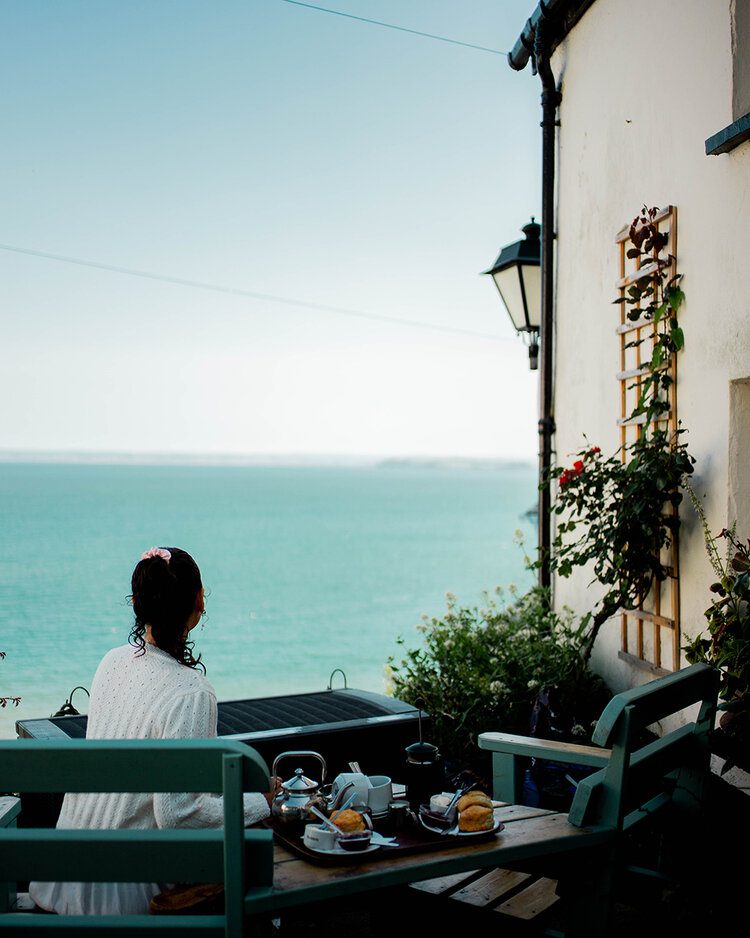 Order to eat in the garden and head straight to the back, right past all the benches, and up to the next cottage's front door. There on the left, you will find two large chairs, attached to a small table in the middle, looking out to sea. This is the best table as it's the only one that faces directly towards the sea, not side on like the others, and there's enough space to get behind it to take photos (or get someone else to take photos of you) of your Devon cream tea and the sea.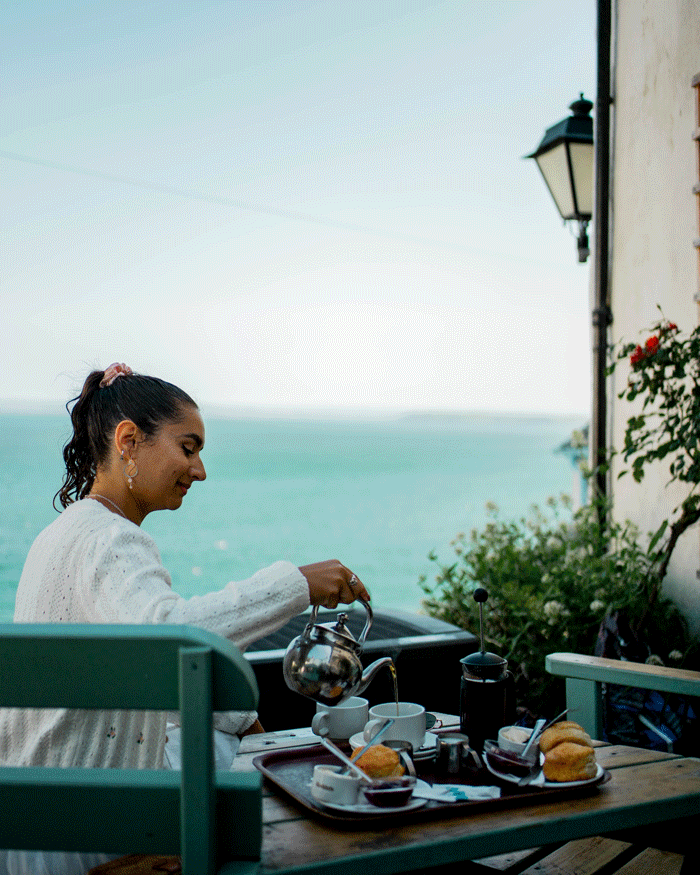 This only works if there's two of you, I should note as well, there's only two chairs. If there's more of you then you'll have to pick a larger table closest to the sea view and sulk about not being able to sit at the best table I'm afraid.
What to do in Clovelly 
With a slight crossover from my little Clovelly photo guide, here is where I expand on how you can spend your day exploring this picturesque village.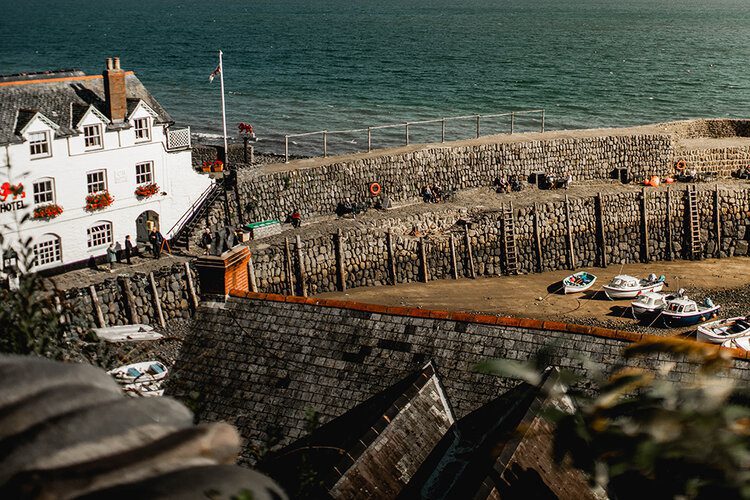 Walk along the beach
Once you've explored the quay that has been keeping boats safe from the wrath of the sea since the 14th century, take a stroll along the pebbled beach to take a look back up at the village, taking in all of its charm including the Lifeboat house which was first in service in 1870 and the oldest cottage in Clovelly, Crazy Kate's Cottage. The cottage with its long balcony looking out towards the harbour has a sad story behind its name but is one of the villages defining features. At high tide the water comes straight up to the foundations of the cottage.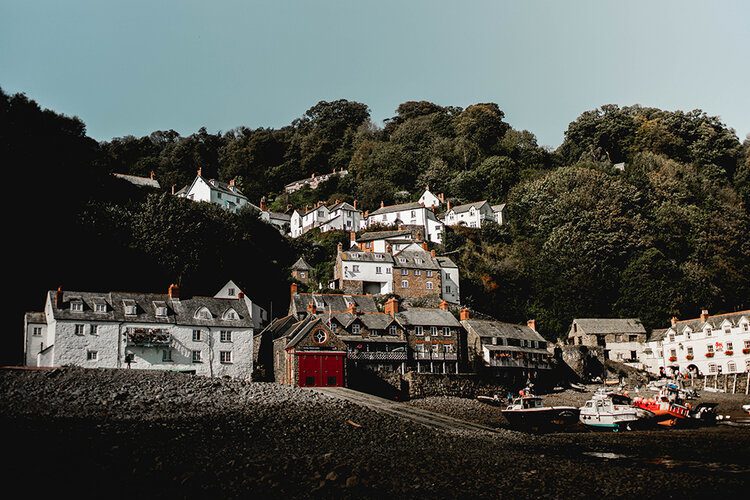 As I mentioned in my photo guide, where you can walk to on the beach depends on the tide. If the tide isn't high, you'll be able to safely walk along the beach where you'll find Clovelly Waterfall. Legend has it that Merlin the Arthurian magician was born in the cave behind this waterfall.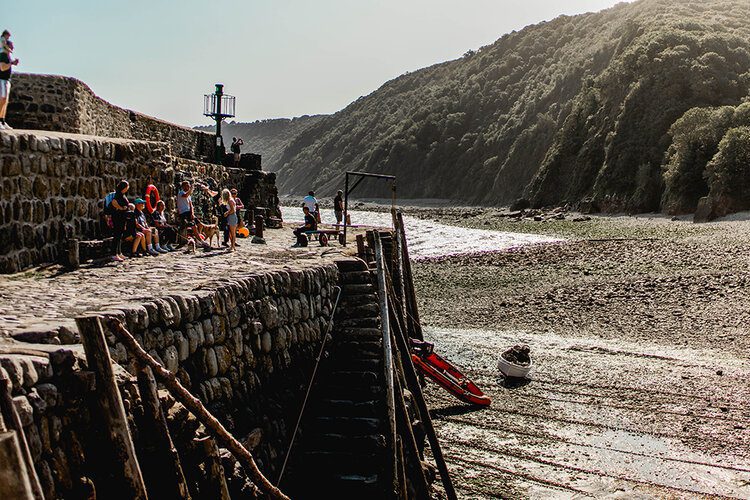 Cream tea with a view
A first glance of the village might tell you to get a Devon Cream Tea from the Red Lion pub and sit on the tables outside looking out across the quay but this is not the path for you, oh no, I have something much better for you. Once you have began your ascent up from the beach, take a left into the Cottage Tea Rooms and order to an outside table in the garden around the back of the cottage.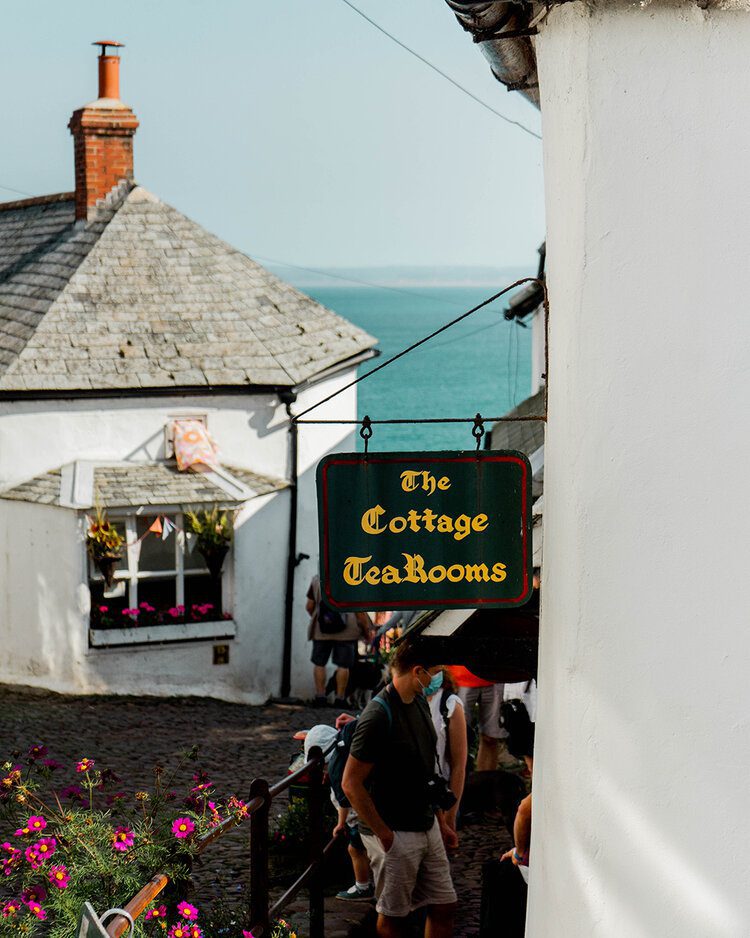 If you've read my photo guide above then you'll know which table to go for, if you haven't then do yourself a favour and scroll up to read it instead of skipping ahead! Aim for an early lunch to beat the lunchtime rush so you have a better chance of getting a seat.
Their menu offers light lunches, snacks, cakes and cream tea, including a gluten free scone option. Remember in Devon, the cream goes first!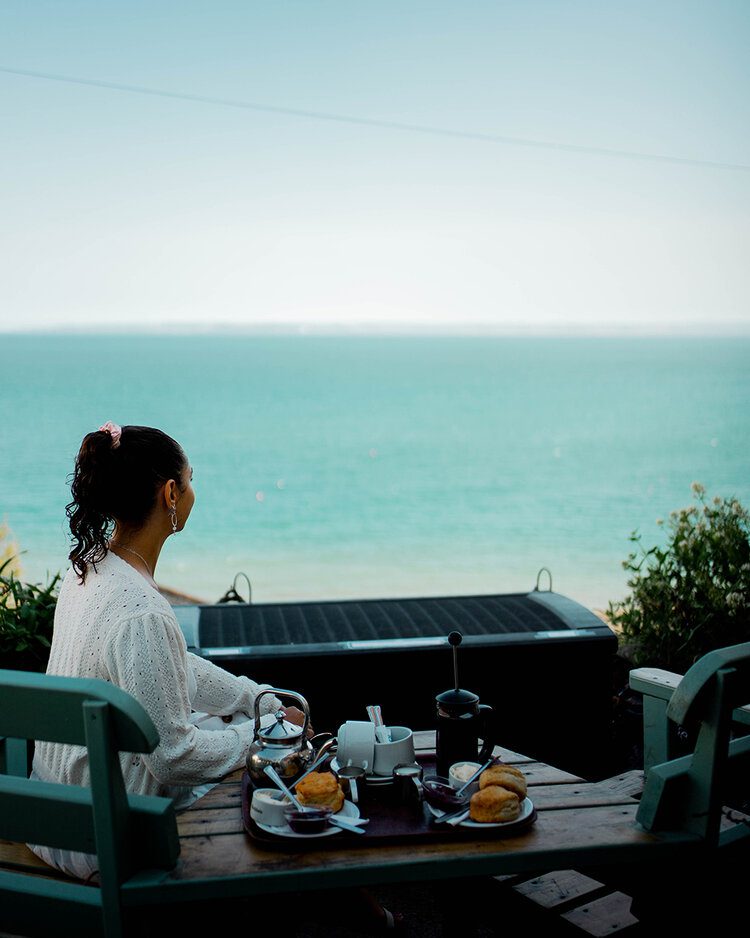 Fisherman's Cottage and Charles Kingsley museums
Just up along from where the tea rooms are located and on the same side is the Fisherman's Cottage Museum. Pop inside to take a glance at what home life looked like for a Fisherman's family in the 1930s. The rooms are decorated with period pieces, some of which have been donated by families that have lived there for generations. As you enter you will find an original well that helped to provide the village with water before the main water line was installed. There's also a collection of framed wedding photos dating back to to the late 1800s.
Attached to the Fisherman's Cottage Museum is the Kingsley Museum. Charles Kingsley (1819-1875) was a Victorian writer who grew up in the village. His most famous pieces are "The Water Babies" and "Westward Ho!". His work is known to have drawn visitors to the village.
Both the museums are free to enter under the cost of your admission ticket.
Shopping in Clovelly
Shopping in Clovelly is a real treat as the craft workshops offer an array of handmade items perfect for personal souvenirs and gifts. What's particularly precious about the Clovelly workshops is that the fabrics and soaps encourage creativity and self care, they inspire you to do more than buy something to take home, but instead to indulge yourself in a rewarding sewing project or an aromatherapy bath that's both healing for your soul and a lasting memory of your visit to Clovelly.
Clovelly Silk 
Clovelly Silk was one of my favourite parts of visiting Clovelly. The workshop is owned and ran by a couple, Ann and Bill Jarvis who have a rich history in the textiles industry; Ann was head of Liberty of London's design studio for 10 years where she worked on some of Liberty's classic prints from their archives whilst designing new ones for their dress and furniture lines. You can purchase a Liberty print bag from their small collection in their shop.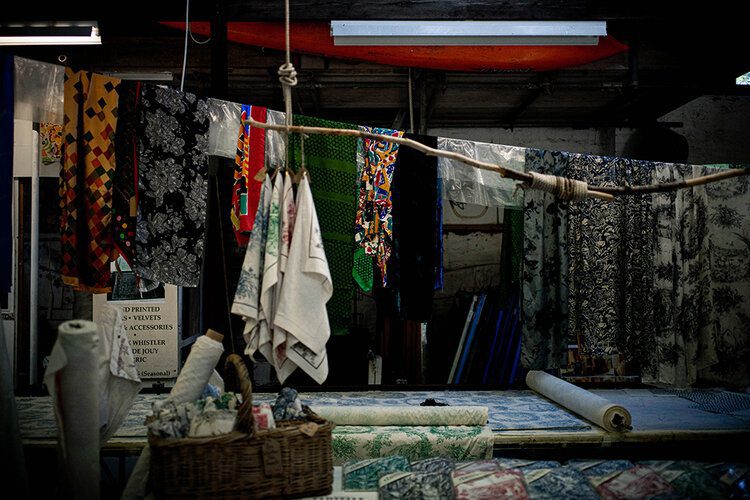 Clovelly Silk is most famous for Ann's creation of their custom repeating print, "Toile de Jouy" which she created using six of world famous artist, Rex Whistler's, illustrations of Clovelly which he originally made in 1932. Their "Toile de Jouy" print is available to buy on cushion covers, tea towels and even face masks in six colours. Alternatively, you can buy some fabric to create something yourself for just £25, how's that for the most darling and personal souvenir of Clovelly?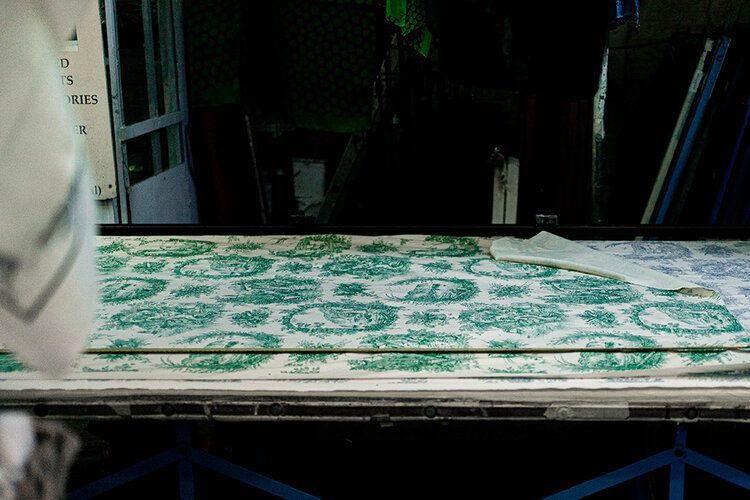 As much as I want to keep sharing about Clovelly Silk, I want to you learn about Rex Whistler's illustrations and the story behind "Toile de Jouy" yourself from Ann and Bill Jarvis because they are such wonderful people with so much passion for their work and pride in the village.
PFH Fun Fact: HRH The Princess Royal own a "Toile de Jouy" silk scarf.
Clovelly Pottery
Need a new mug for your morning cuppa or fancy egg and soldiers out of some handmade egg cups decorated with a pattern unique to Clovelly? Well isn't that that convenient as Clovelly has its very own pottery workshop selling a collection of work from Clive Pearson and Caroline Curtis.
Clovelly Soap
The Clovelly Soap Shop not only sells intoxicating handmade soap wrapped in their custom designed paper, but it also sells all the eco-friendly pampering accessories your heart desires including matching candles, organic cotton towels, bamboo hair wraps and more.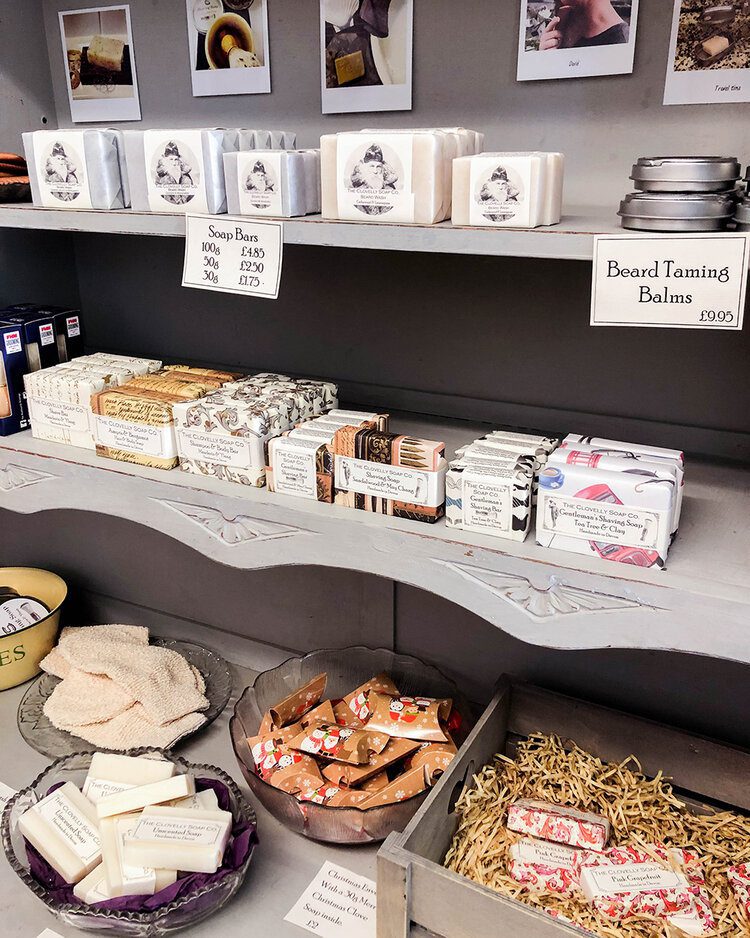 Their plastic-free artisan soap collection includes:
Hand soap

Beard wash

Shampoo

Dog shampoo
(psst, they take American Express and participate in Shop Small, so if possible, line up your visit when that offer is on).
Clovelly Fudge
Back up at the Visitor's Centre, there's a small shop selling handmade Clovelly fudge in ever changing seasonal flavours. Perfect for a sweet treat for yourself or a gift to take home.
Clovelly Court Gardens
Before leaving, visit the Clovelly Court Gardens that are located at the top of the village. The Victorian walled garden is included in your entrance ticket and features glass greenhouses filled with Mediterranean flora and fauna, which can grow thanks to a maritime microclimate. Unfortunately we didn't learn of the Clovelly Court Gardens until we had already left so I don't have any photos for you.
If you take a trip to North Devon, be sure to add Clovelly to your list! I want to add that there are two hotels in the village, The New Inn at the top of the high street and The Red Lion down at the quay, so should you be interested in extending your stay in the Clovelly, those are your options. 
.
Gabriella