One of the greatest things to come out of America is ring shaped donuts, boy do they do it well. In my quest to create this blog post I have eaten my body weight in donuts to find the very best ones to recommend to you. The weight gain is real, as is the breakout on my forehead but it's been worth it just this one time to bring you the best donuts in L.A.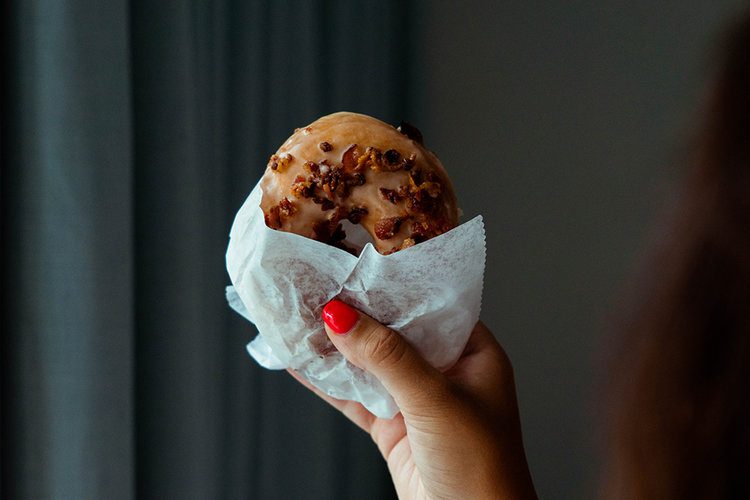 1. Bob's Doughnuts and Coffee
I first visited in L.A. during the summer of 2016 and it was then that I found Bob's Doughnuts and Coffee in the Farmer's Market next to The Grove. Every time I come back, going to get a sugar raised donut from Bob's is pretty much the first thing I do. I don't have a very strong sweet tooth so I keep it fairly simple with the sugar raised ring, but Bob's one is by far my favourite donut in the whole world! It's so light I can and have eaten more than one in a row.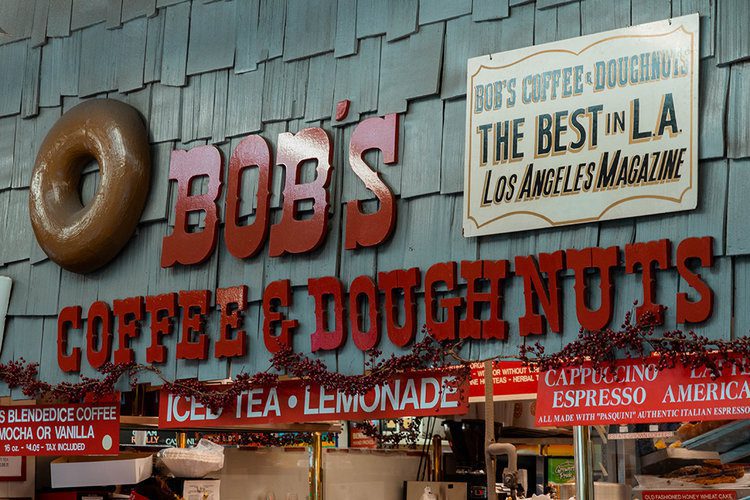 Michael on the other hand has the biggest sweet tooth and he is gaga for their maple bacon bars which we actually recommended to the person behind us in the queue and they agreed that it was the best one they have ever had.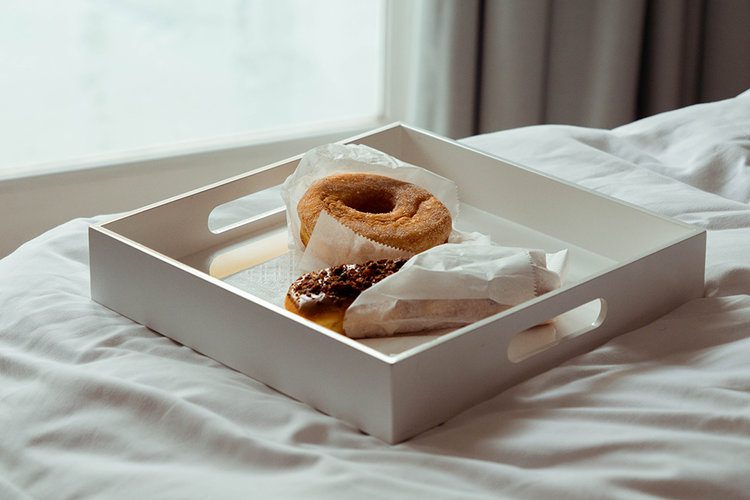 Park in the Farmer's Market parking lot and get your parking comped at Bob's.
PFH Top Tip: They only take cash.
Where?
6333 W 3rd St #450, Los Angeles, CA 90036 – Farmer's Market
Open?
6am – 9pm
2. SK's Donut & Croissant
My dear friend Kim, @kimhashai, took me to SK Donuts & Croissants whilst I was staying with her and thank goodness she did!
I was too full to eat the one I purchased on the day so I ate it for breakfast the next day and I don't think I've ever had a donut the day after and it taste so fresh! The chocolate melted in my mouth and the dough was so light.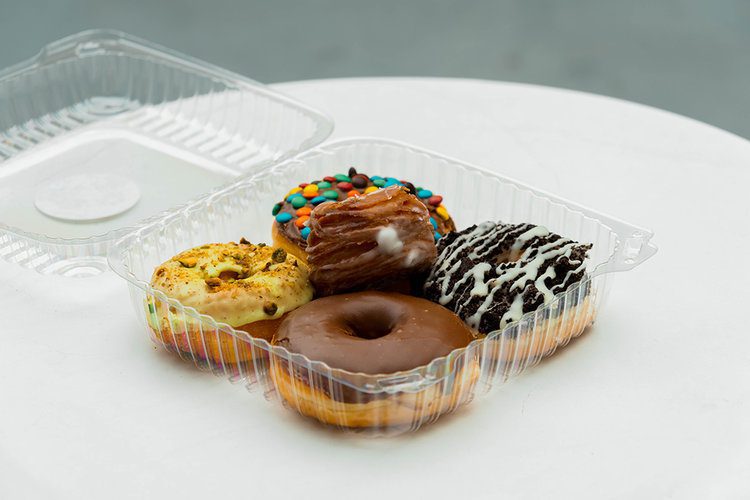 Arrive Early to get the best choice and you won't be disappointed.
If you have a really sweet tooth, go for any of the S'mores, Reece's PB cups or Oreo Blast donuts. They also have a huge selection of Vegan donuts and are also well known for their Cronuts and Skronuts, in the following flavours: strawberry, chocolate, maple bacon, glazed and blueberry.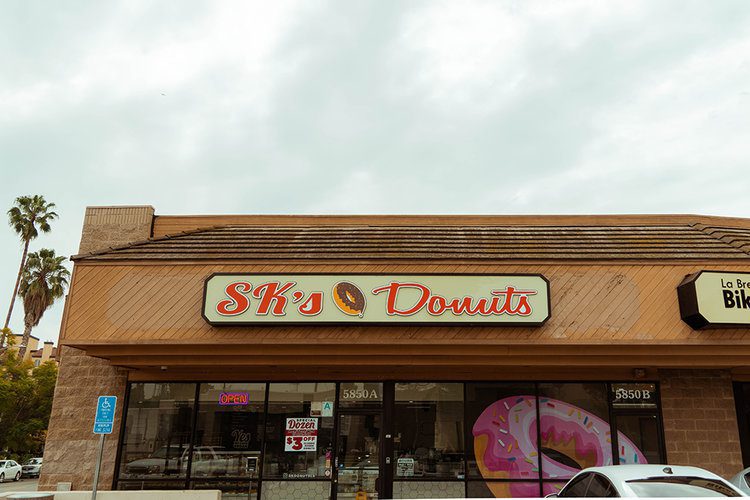 Where?
5850 W 3rd St Suite #A, Los Angeles, CA 90036
Open?
24/7
3. Krispy Kreme
I both praise and blame my friend Hannah, @hannah.rose.says, for introducing me to a complete donut revelation! Krispy Kreme came to England in 2003 but I always knew it to be all about custard filled donuts, along with all the other outrageously filled and topped donuts. I never knew what they are actually famous for and honestly I can't decide if I am happy or not, because to say they're addictive is an understatement!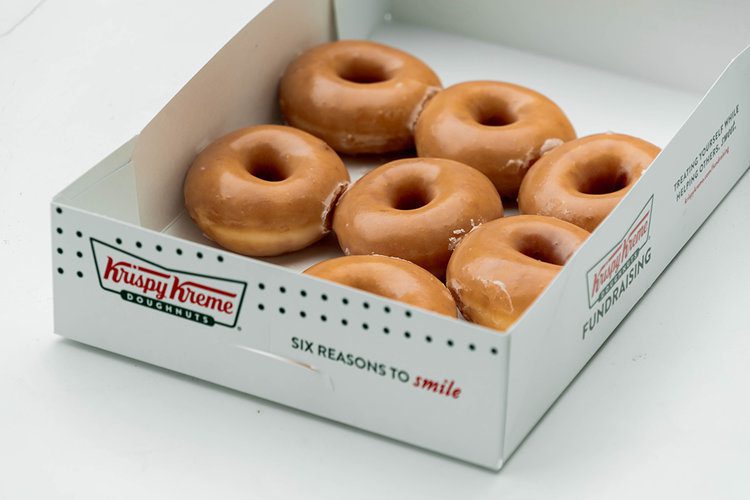 What am I talking about? Two words "HOT DOUGHNUTS"! Krispy Kreme's Original Glazed doughnuts hot and fresh off the production line are out of this world! Be prepared for a queue but it will be worth it! If you queue inside you'll get to see the whole production line from start to finish including the wall of glaze, plus you get rewarded for the long wait with a "free sample" which is actually just the freshest hot Original Glazed doughnut you'll ever have. If you don't fancy being on your feet though you can join the drive through. I dare you not to get a dozen of those hot babies though, hot or cold, they will melt in your mouth and leave you wanting more!
4. Blue Star Donuts
Unlike the others above, Blue Star is more of an artisanal donut shop. They have a very select menu with only one of each flavour displayed behind a small glass counter. Don't expect to find your classic chocolate donut here, oh no, you're looking at Chocolate Almond Ganache and Mexican Hot Chocolate. Each creation is a wild ride of flavours with the likes of Orange Olive Oil or Passion Fruit and Cacao Nibs.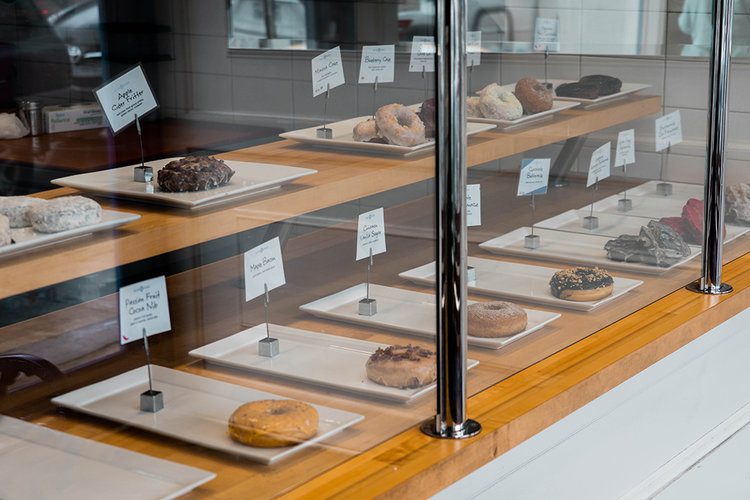 Where?
3438 Sunset Blvd, Los Angeles, CA 90026
1142 Abbot Kinney Blvd, Venice, CA 90291
Open?
Sunset Blvd
Sunday – Thursday: 7:30am – 8pm
Friday – Saturday: 7:30am – 9pm
Abbot Kinney Blvd
Daily 7am – 8pm
5. DK's Donuts
DK's Donuts is probably one of my favourites for the brightest and most fun donuts. As I mentioned, I don't have a big sweet tooth but I was tempted by almost all of them because they looked so fantastic! Unicorns, rainbows, red velvet, s'mores, Snickers, peanut butter, fruit loops… I could go on and on! They all looked incredible! I could only take a few bites out of my Rice Cripsy donut which was glazed and topped with Nutella and chunks of Rice Crispy treats, but boy was it good!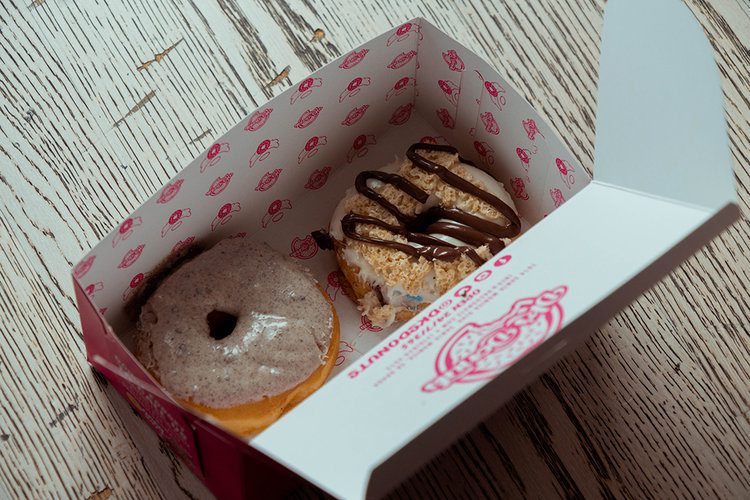 Where?
1614 Santa Monica Blvd, Santa Monica, CA 90404
Open?
24/7
6. Sidecar Doughnuts and Coffee
Sidecar probably had the most elaborate flavours of doughnuts I've ever seen! I mean have you ever heard of a Basil Eggs Benedict doughnut? Fancy! Their donuts are dense and almost a meal in theirselves, go with an empty stomach.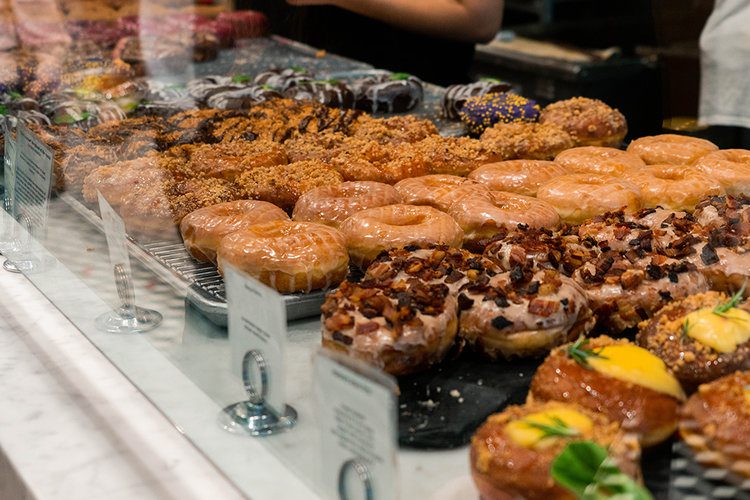 Their doughnuts change seasonally and the theme when we went (March 2019) was Girl Scout Cookies so they had Thin Mint which was chocolate topped with a chocolate glaze, a mint cream and fresh mint leaves, the Samoa – which is probably the heaviest doughnut I have ever held – is coconut flavoured which has been topped with a coconut glaze and a chocolate and caramel drizzle which has then been smothered in toasted coconut and their Rosemary Lemon Drop is something from another planet I swear! It's glazed with a rosemary honey, filled with a lemon curd, sprinkled with a rosemary and pink peppercorn crumble and topped with a sprig of rosemary! INSANE!
Where?
631 Wilshire Blvd, Santa Monica, CA 90401
Open?
Monday – Thursday: 6:30am – 4pm
Friday and Saturday: 6.30am – 9pm
Sunday: 6.30am – 6pm
Donuts are high in fat and sugar and are to be consumed in moderation.
.
Aloha, Gabriella