The current attention on the Black Lives Matter has been transformative for me in so many ways, one of which is the attention and treatment I give my hair. After watching a live stream of the @norwichsupportsblm protest on 7th June I was deeply moved by one teenager, a fellow half Mauritian and half English person, who spoke of their experiences growing up in Norfolk. It made me realise the damage I did to my hair by years of consistent straightening to fulfil a need to fit in. Throughout my school years I didn't know how to style my curls and those of us who tried were teased for it, so I straightened my hair until my curls became less defined, dry and frizzy; they were neglected. Her speech was the wake up call I needed to take a proper look at the quality of my hair and make the necessary changes to my haircare routine to bring them back to life.
Though I am finally addressing the quality of my curls, this is not the first time I am appreciating them. I have a previous blog post, Embrace your curls and waves with Umberto Giannini but I want to use this space to explore further the extra steps curly and wavy haired people need to take to maintain, protect and enhance our curls and waves in addition to embracing them.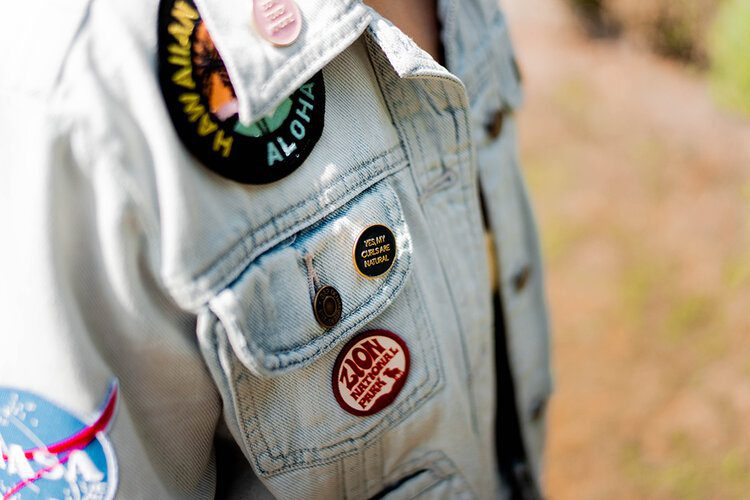 As this is a travel blog and curly/wavy people travel, I have gone through the products I've been loving for a long time as well as some new ones I've just started using to make a list of curly hair products and accessories for styling and maintenance that you can take on your travels, so the quality of your curls and waves don't take a hit when you're not at home. Just an FYI I don't travel with all of these products at once.
I have done my very best to find sustainable alternatives for you too. I've hunted high and low for recyclable packaging, natural ingredients/fibres, upcycled products, and biodegradable options to recommend to you so that we can care for our curls and waves and our planet at the same time.
I've also added a packing list for curly and wavy hair people below that you can copy!
Curly hair care products
Umberto Giannini products are vegan and cruelty free. They contain no sulphates or silicones.
Only Curls' products contain no sulphates, silicones, drying alcohols, paraffins, minerals, oils or parabens. They are cruelty free and vegan plus their bottles are made from bio-plastic (derived from Sugarcane) and are 100% recyclable. 
Shampoo/cleanser
People with curly hair should refrain from using regular shampoos as they contain sulphates and silicones which strip the scalp of natural oils which causes curly and wavy hair to be even dryer. It is important to keep curls hydrated so we need to use special sulphate and silicone free and gentle foaming shampoos like Umberto Giannini Curl Jelly Wash Shampoo and the Only Curls All Curl Cleanser. I really want to note that the Only Curls cleanser and conditioner smell exactly like some of the toiletries used in hotels in Hawaii (citrus and coconut).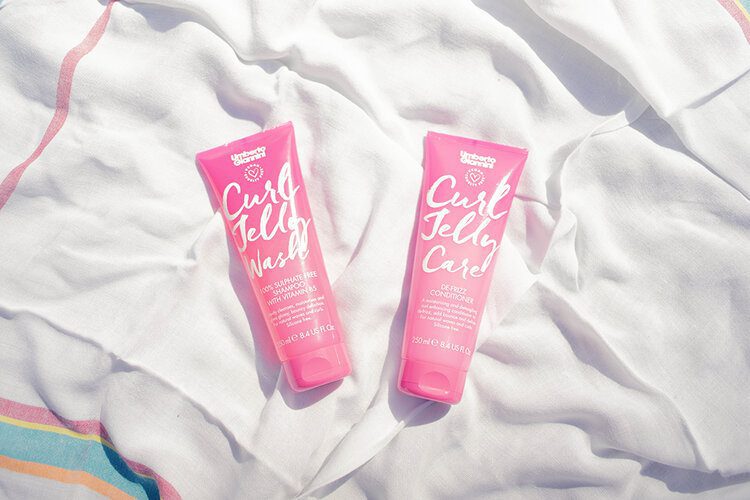 Wash your hair with a cleanser/shampoo once a week to remove any build up on the scalp. Use your finger tips to massage it in, not your fingernails: be gentle to your scalp. Section your hair off when washing for ultimate product distribution across your scalp.
Switching from a solid shampoo and conditioner back to a liquid one in a bottle was a tough decision for me as I want to eradicate waste from my toiletries but solid hair products contain sulphates and silicones so I sought out a brand that made their bottles from bio-plastic and are 100% recyclable, cue Only Curls.
Conditioner
Conditioner is THE MOST important product for all hair but particularly curly hair! Do not do anything to your hair until it is conditioned and hydrated. I use either Umberto Giannini's Curl Jelly Care De-frizz Conditioner or the Only Curls All Curl Conditioner.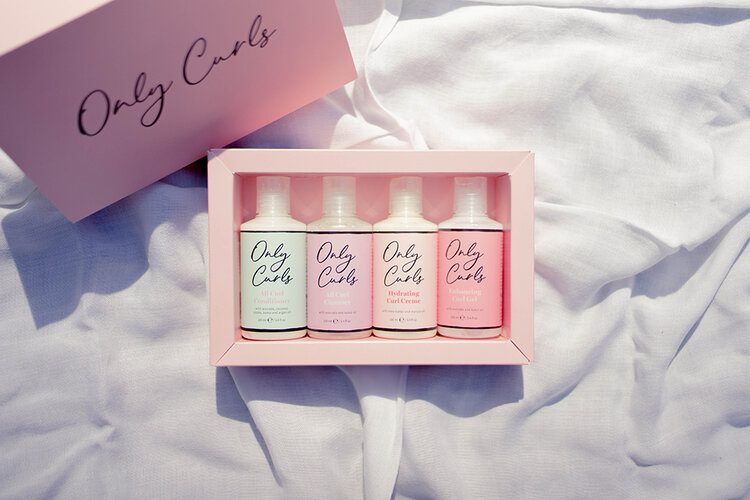 Just like when I shampoo, I section off my hair to fully distribute the product through my hair but I brush it through with my wide-tooth comb (See "Curly hair styling accessories" below for the wide-tooth hair comb I use) before moving on to the next section. I never fully rinse my conditioner out because it keeps my hair hydrated between washing and styling.
Deep conditioning hair mask
Curly hair is naturally dry and needs the extra helping hand that deep conditioning hair masks provide. I try to apply the Umberto Giannini Curl Jelly Mask 1-2 times a week. I apply it to damp hair after washing it and depending on what I have on for the day I'll leave it in for anything from a couple of minutes to a few hours before rinsing it out. This particular hair mask contains organic coconut oil and shea butter which leaves curls more defined, shiny and bouncy.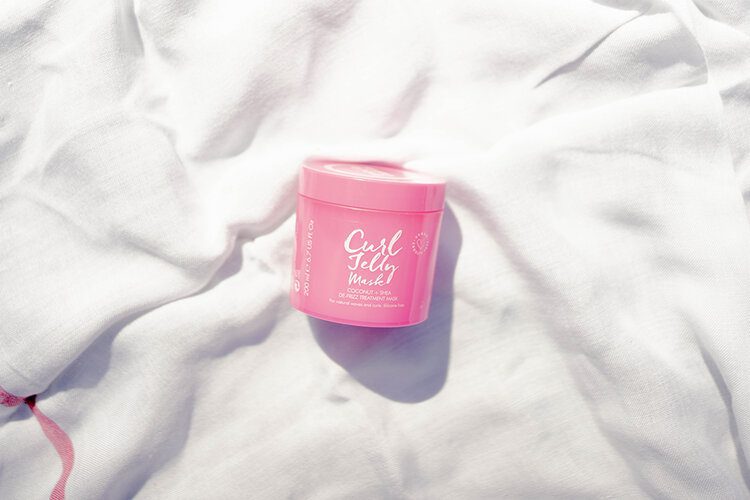 Curly hair styling products
Umberto Giannini products are vegan and cruelty free. They contain no sulphates or silicones.
Only Curls products contain no sulphates, silicones, drying alcohols, paraffins, minerals, oils or parabens. They are cruelty free and vegan plus their bottles are made from bio-plastic (derived from Sugarcane) and are 100% recyclable. 
Styling cream/creme 
Under the Curly Girl Method, The first thing you should apply to it after washing your hair is a styling cream, this locks in moisture keeping your curls healthy, defined and glossy. The two I love using is Umberto Giannini's More Than Moisture Twirling and Styling Defining Cream and the Only Curls Hydrating Curl Creme.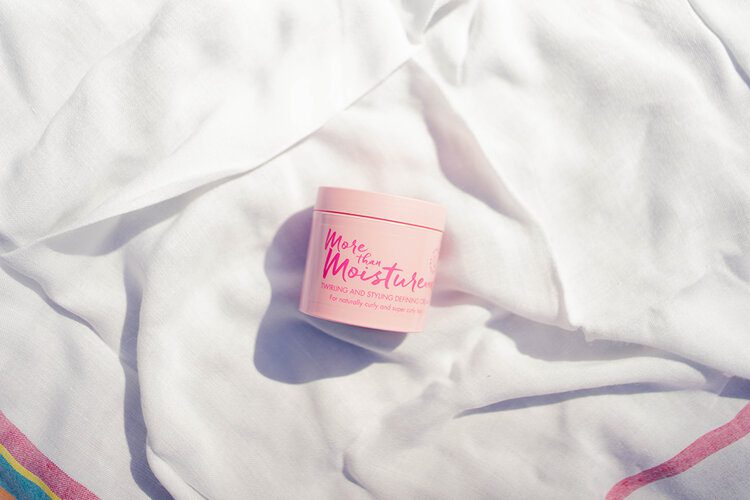 Apply using the "praying hands method" and brush through for even distribution of product through your hair. See "Curly hair styling accessories" below for the wide-tooth hair comb I use to evenly distribute my curl cream/creme.
Styling gel/jelly
Styling gel should be applied to hair after the curl cream/creme has locked in the moisture of your curls. Curl gel or jelly helps to hold the shape of your curls and gives them definition. The ones I love using are Only Curls' Enhancing Curl Gel and my all-time favourite curly hair product: Umberto Giannini's Curl Jelly. To apply your gel/jelly, scrunch it into your hair from the ends upwards.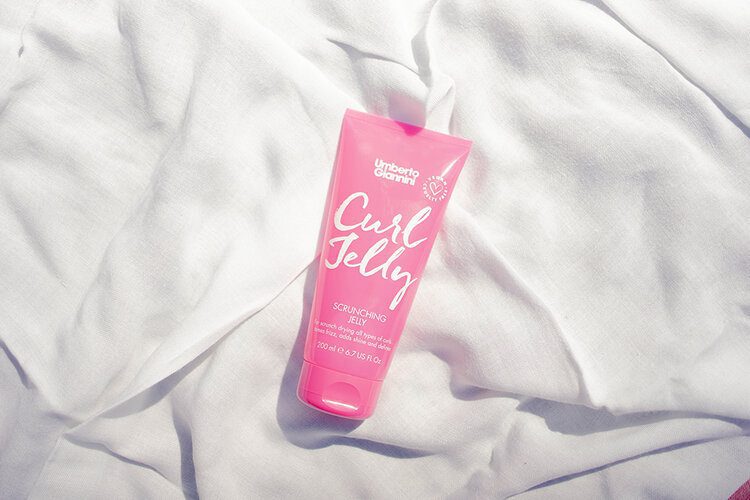 Laying edges
For YEARS I didn't know what to do about my fly-aways. They were either frizzy coils sprouting from my head or if I had straightened my hair they would just stick straight up. I tried various waxes and gels in my youth that I swiped from my brother but they would only give my fly-aways more height, resilience to laying flat and they left my hair sticky or flakey, so I gave up and rolled with the frizz.
I still remember being told by my manager in my first (and last) corporate job in my early twenties that my hair (she was referencing my fly-aways) didn't give me a "professional appearance". See the thing was, I straightened my hair because the few times I wore my hair naturally curly, my team made comments about how my hair was "trying to get the attention of and impress the owner [of where I worked]". Though it was, I assume, meant as a compliment it made me feel uncomfortable (MICRO-AGGRESSION ALERT) so I stuck with destroying (straightening) and pulling back my hair.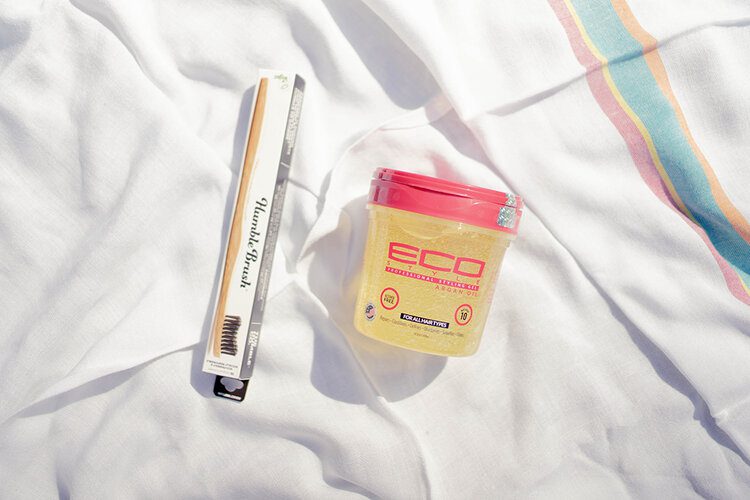 Then one day, I learnt about laying edges and my whole world changed. With the research I did online I found that Eco's Argon Oil styling gel is the top choice for laying your edges. This wonderful technique means that I can smooth down my fly-aways and baby hairs with a swooping motion of a toothbrush (see "Curly hair styling accessories" below for the toothbrush I use) lightly dipped in Eco's Argon Oil styling gel. It gives me so much joy to do I cannot explain how much CONFIDENCE this styling technique gives me.
Unfortunately this isn't the most sustainable choice but the tub will last me way into the future and I will repurpose it when it's empty. For travel, scoop some into a little tin pot with a screw on lid, laying you edges doesn't take a lot of product so a lip-balm-sized tin will do the trick.
Spray bottle
If my hair has dried whilst I'm styling it or I need to revive it in the morning after waking up, I spray a mixture of conditioner (silicone and sulphate free remember) and water on it. Instead of creating more waste by buying a spray bottle I washed out one of my old Neal's Yard deodorant bottles and use that. Yay for a zero waste moment!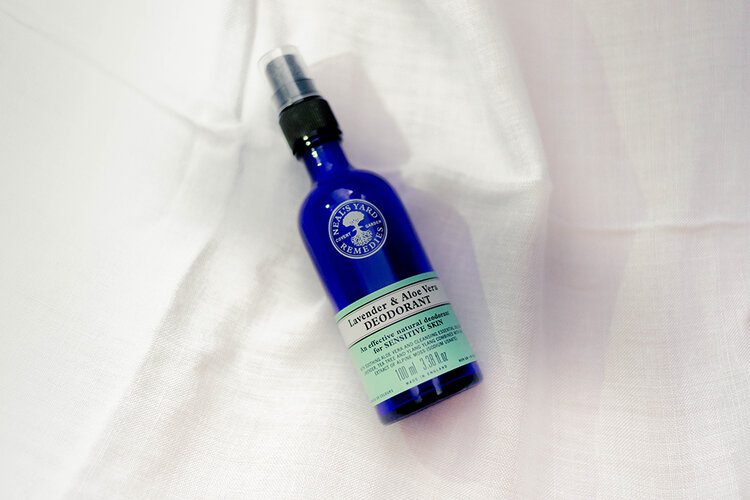 Curly hair styling accessories 
Microfibre towel
After watching many, many YouTube videos and IGTVs of curly hair styling tips, I have made all my cotton hair towels hand towels and now only use microfibre hair wraps or T-shirts. Regular cotton towels absorb more moisture leaving curly hair frizzy, microfibre towels are smooth and reduce frizz.
The Dock & Bay hair wrap is perfect for picking all of my hair up no matter how long it is. As it's quick dry I make sure to not leave too long between wrapping my hair in it and styling my hair, so it's not too dry to handle. Alternatively I use a T-shirt as it's also gentle on curls and waves. Microfibre hair wraps are great for travel as they are so compact so they take up very little room in your luggage.
Dock & Bay uses biodegradable and recyclable packaging, they have multiple products already made from recycled plastic bottles, 5% of their profits go to their partnered charities (Whale and Dolphin Conservation and One Tree Planted) and they plan to make all their products from 100% recycled post consumer plastic, by 2021. Now you really want one of their towels right? Thought so.
My Dock & Bay hair wrap is in "Waikiki Coral".
Wide-tooth hair comb 
Wide-tooth combs and brushes with help to detangle curls without snagging them. They are useful for evenly distributing product through your hair without breaking apart your curl formation. I bought a hair comb made from bamboo as it's a natural fibre and will one day be able to biodegrade.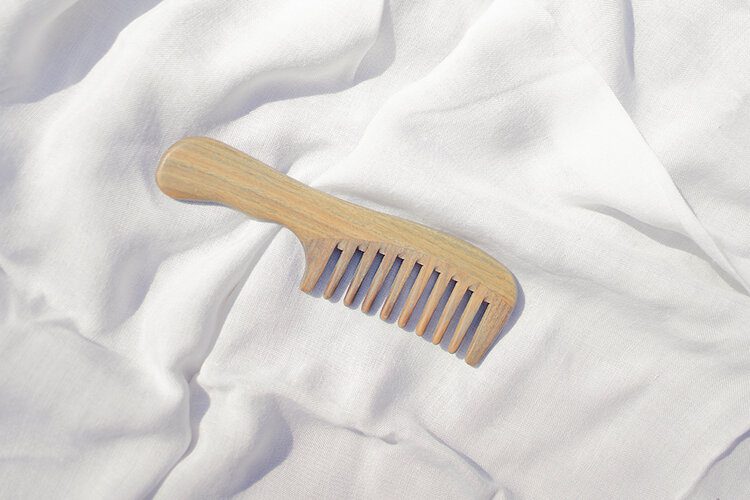 ALWAYS BRUSH CURLS WHEN THEY ARE WET AND CONDITIONED!
Hairbrush 
Again after watching many videos on styling curly hair I saw that the Denman D3 7 row is the holy grail hairbrush for defining curls. My bright yellow and hot pink brush is the "Honolulu" edition. Remember to always brush your hair away from your head and down for volume.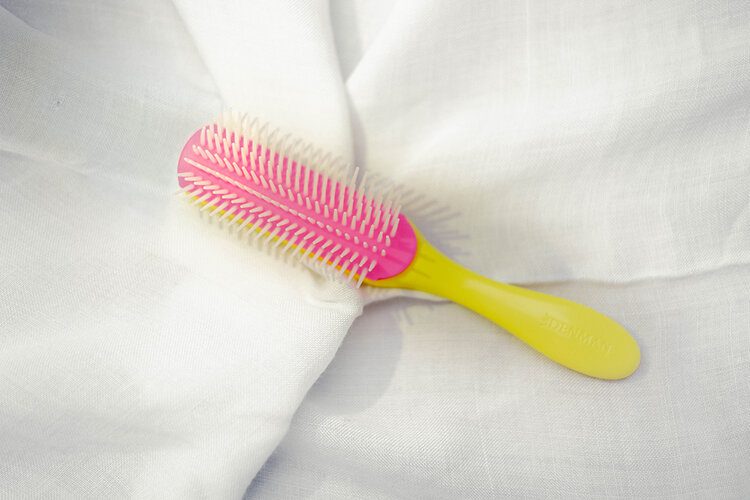 Again: ALWAYS BRUSH CURLS WHEN THEY ARE WET AND CONDITIONED!
Hairdryer and diffuser 
I got so sick of stepping into yet another hotel room bathroom to find yet again there is no diffuser because they don't cater to anything other than straight hair (like seriously, they need to sort this hidden bias out!). So I purchased a travel hairdryer with a diffuser attachment so I can dry my curls without the risk of frizz and damage.
It's not ok that people with textured hair have to spend money on something hotels should provide for inclusivity, not to mention we lose space in our luggage and it adds to the weight of the plane. So, next time you see a hairdryer with no diffuser, say something to the hotel staff and demand inclusivity! 
My travel hairdryer folds in half and has worldwide dual voltage.
Toothbrush
Under "Curly hair styling products" above, I spoke about how I use Eco's Argon Oil styling gel to lay my edges. I use an adult medium Humble Co bamboo brush to apply and style the gel on my hair as it's biodegradable.
Curly hair maintenance accessories
Silk pillowcase
The smoothness of silk helps to prevent tangles, frizz and breakage of hair. Silk absorbs less moisture than cotton so it helps curly hair (which we know is naturally dry) to keep hydrated and maintain shine. For this reason it also helps to keep your skin hydrated too so it's anti-aging as well!
Slip has spent 10 years developing Slipsilk™ a pure silk which is specially-commissioned using the highest grade (6A) long fibre mulberry silk and non-toxic dyes.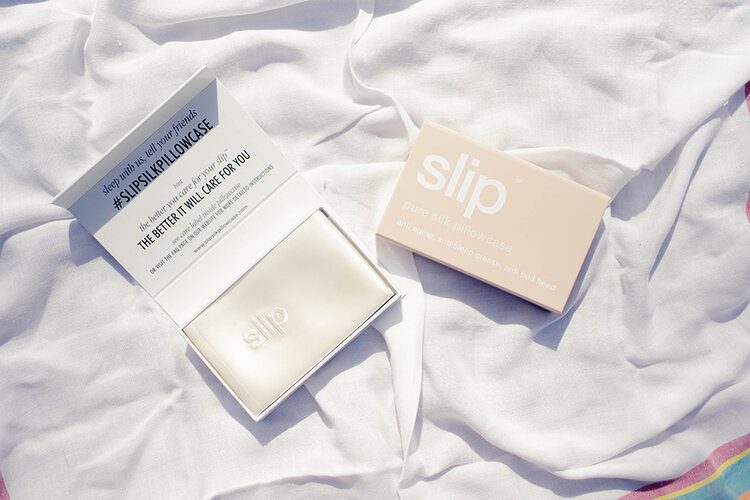 My silk pillowcases are one of the best investments I've made for myself both physically and mentally. The idea that I'm helping my hair recover from years of heat damage by reducing frizz from the friction of my cotton pillow cases, helps put my mind at ease when I go to bed with a beautiful set of curls atop my head and the physical improvement is evident, I wake up every morning with significantly less frizz.
I bought two as I wanted one for travel and one for home. I purchased them in "Caramel" and "White" as white goes with pretty much every set of bedsheets I own so it blends in well, however when I use my silk pillowcase in hotels (etc.) on my travels, I DO NOT want to leave it behind, so I went for a darker colour so that I identify it as my own and don't forget it when I check out.
I do want to address that £85 is a lot for a pillowcase and the reason I bought them from Slip is because I had vouchers to use on feelunique.com. I also didn't find Only Curls until after I made the purchase. Only Curls has silk pillow cases on sale for £40, but I can't speak for the quality as I haven't tried one but I can say that I LOVE my Slip ones.
Silk scrunchies 
Silk scrunchies are the best hair tie for curly and wavy hair as just like the smoothness of a silk pillow case, they help to reduce breakage, frizz and tangles. Either use them to tie up your hair or into your pineapple for sleeping. 
Tying your curly hair into a pineapple on the top of your head helps to prevent your curls from falling out of shape and getting damaged whilst you sleep, it keeps them up and out of the way.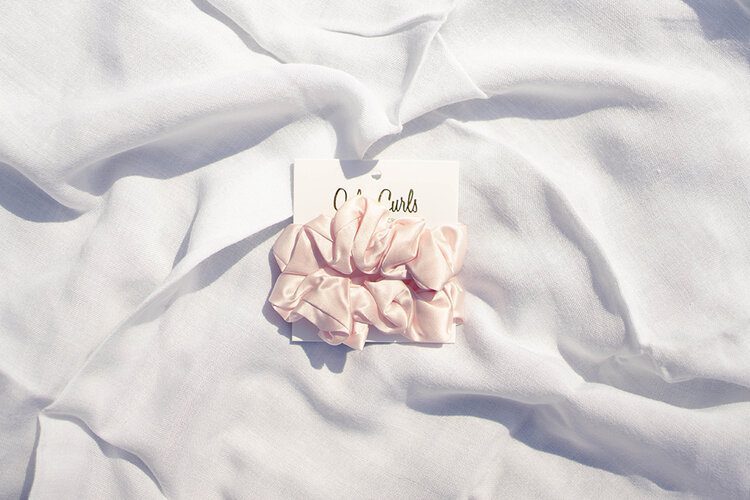 Due to pandemic-induced lockdown, I was unable to buy silk and make my own scrunchies so I bought a couple from Only Curls. Originally I was looking at silk scrunchies from Slip when I bought my silk pillowcases but I couldn't stomach spending £40 on some scrunchies that I could make myself so I didn't add them to my basket. Not long after that I came across the brand Only Curls and £10 was more reasonable to spend on a couple of scrunchies.
Essential curly hair packing list
Curly hair care products
☐ Shampoo/cleanser
☐ Conditioner
☐ Deep conditioning hair mask
Curly hair styling products
☐ Styling cream/creme
☐ Styling gel/jelly
☐ Spray bottle
Curly hair styling accessories 
☐ Microfibre towel hair wrap
☐ Wide-tooth hair comb 
☐ Hairbrush 
☐ Hairdryer and diffuser 
☐ Toothbrush
Curly hair maintenance accessories
☐ Silk pillowcase
☐ Silk scrunchies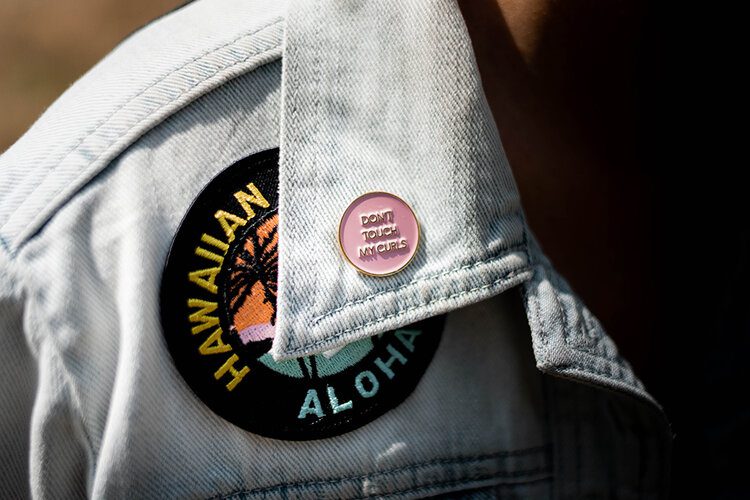 I'd love to hear what curly products you love using! Drop them in the comments below!
Gabriella
.
As an Amazon Associate I earn from qualifying purchases but please know that I recommend all of the products above from personal use which you can see throughout my blog posts.