Learn how to make handmade soap with a naturally exfoliating loofah inside with this easy step-by-step tutorial in collaboration with Earth Conscious shop, Coconut & Cotton. Soap making is not only a fun activity to do (for yourself or with kids) but it's also a great way to reduce plastic in your bathroom
Sidebar: wash out and reuse the tub that the soap base comes in to store your homemade soap.
Take your handmade loofah soap on your travels in an aluminium soap tin from Coconut & Cotton (it fits, I tried it) to prevent needing to use any plastic packaged soap or shower gel. These homemade soaps also make for great gifts and/or party favours.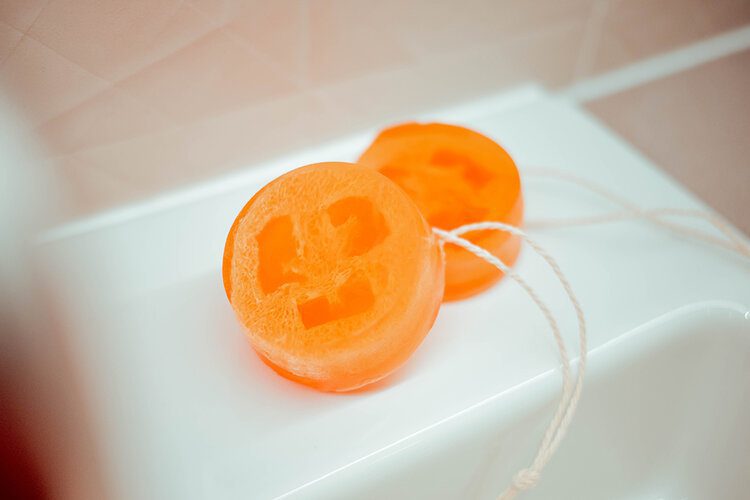 This how to make soap tutorial is brought to you by Coconut & Cotton who provided many of the items needed to make these round loofah soap bars. 
Coconut & Cotton is a female-owned plastic-free and planet-conscious shop selling an amazing range of affordably low-waste household products to help you live a more sustainable lifestyle. Coconut & Cotton is located in Shaftesbury, south west England and most of their products are available to shop online at www.coconutandcotton.co.uk. All orders are sent using reusable and plastic-free packaging and they often pop in a fun free sample.
Scroll past what you need to make handmade soap and the instructions for answers to some questions you may have.
Ingredients for making loofah soap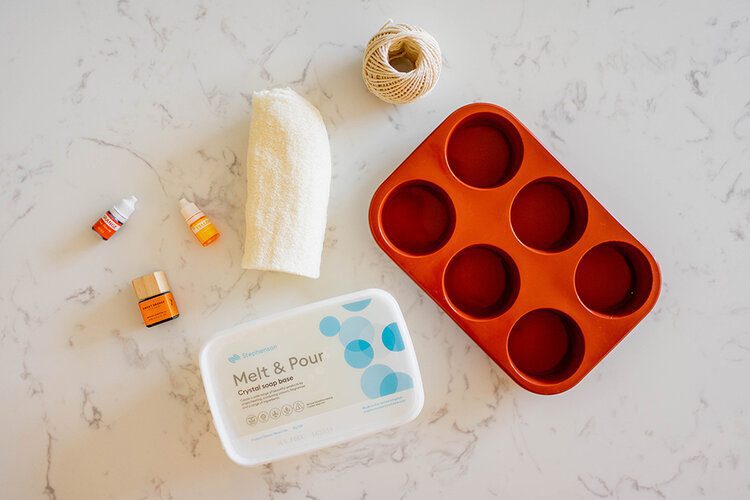 Equipment needed for making loofah soap
6 cavity round silicone mould 7cm or 2 3/4" wide and 3cm or 1.18" deep

Bread knife

Sharp knife

Chopping board

Ruler or tape measure

Scissors 

Microwave and microwaveable container or two saucepans and the stove top

Dessert spoon
Step-by-step instructions for making handmade loofah soap
1. Re-hydrate your loofah from Coconut & Cotton in the bathtub with the shower head or you can just pop it on the floor whilst you shower to hydrate it.
2. Slice your vegan loofah with a serrated knife (a bread knife will do) into x6 slices about 1.5cm or 1/2" thick.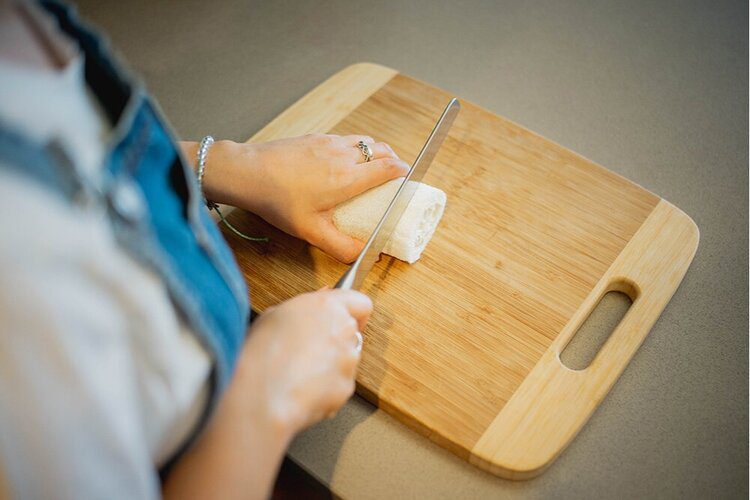 3. Cut x6 pieces of 41cm or 16" long recycled cotton string from Coconut & Cotton. Pair one loofah with one piece of string and thread the string through one of the holes in the centre of the loofah slice and tie a knot to secure a loop handle. This string loop that you've created means you can hang your soap in the shower when you're not using it and you can loop it around your fingers to stop you from dropping your soap when it gets slippery.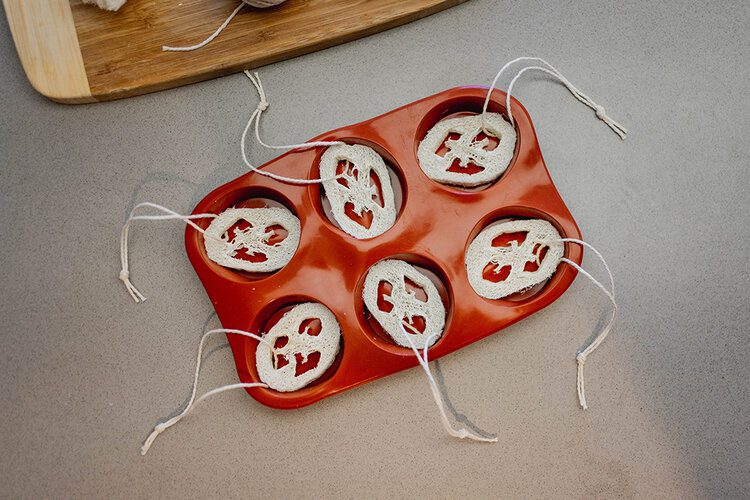 4. Next you'll need to melt your soap base, to do this first remove your soap base from its package and cut it into smaller pieces. You can either place it into a microwaveable container and melt it for a couple of 30 second bursts in the microwave or you can create a double boiler with two saucepans and melt it on the stove top. If you're using the double boiler method then it will take about 15-20 minutes on a medium heat to melt the soap base into a liquid. You may need to top up the water in your double boiler a couple of times.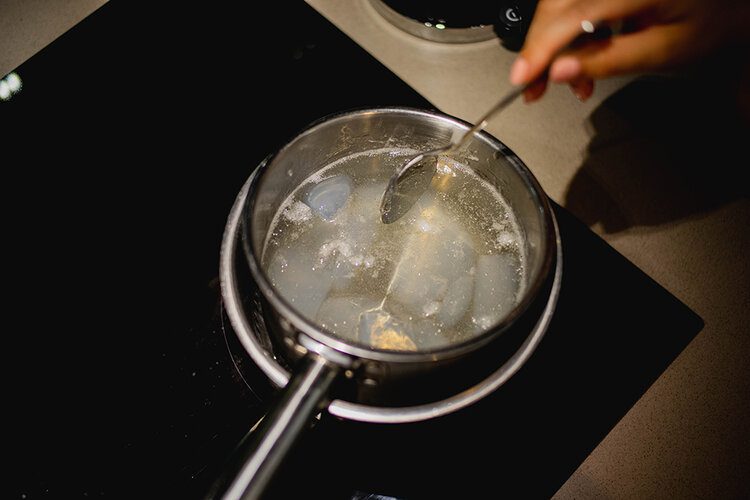 5. Once liquified, frequently stir the soap with a dessert spoon to prevent a skin from forming. Add your choice of essential oil(s) from Coconut & Cotton, you need about 3-4 drops of each oil per soap you're making.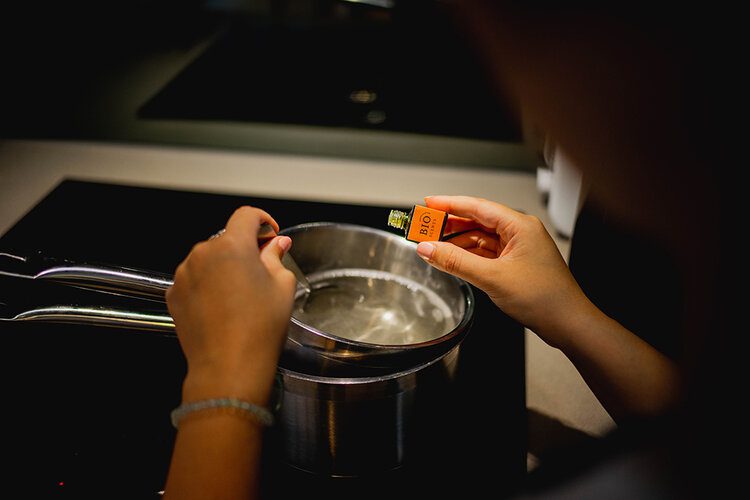 6. Then add 6-8 drops of your choice of soap colourant if you're adding it. Stir the soap base to combine the colouring and essential oils and stop a skin from forming.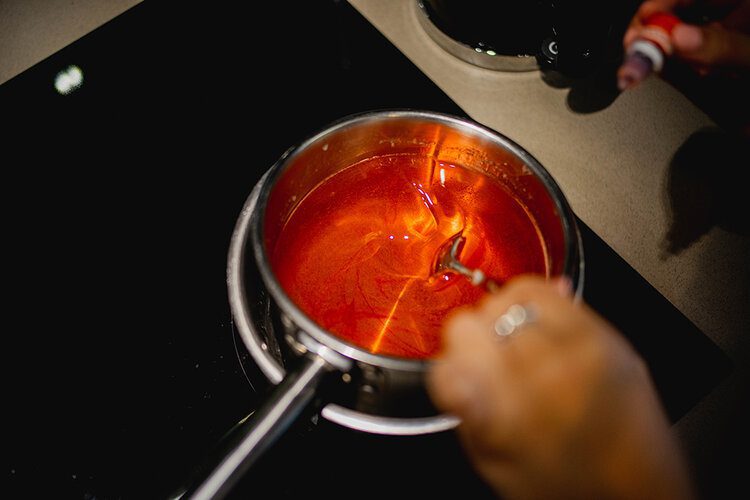 7 .Carefully remove your soap mixture from the heat and gently pour into each of your 6 moulds.
8. The loofah slices may float to the surface but you can encourage them to sink by placing 3 regular knives over the top of them. Lay each knife over 2 moulds each.
9. Leave your soaps to cool and set for an hour and a half. Once cool, you can pop them out and they're ready to use.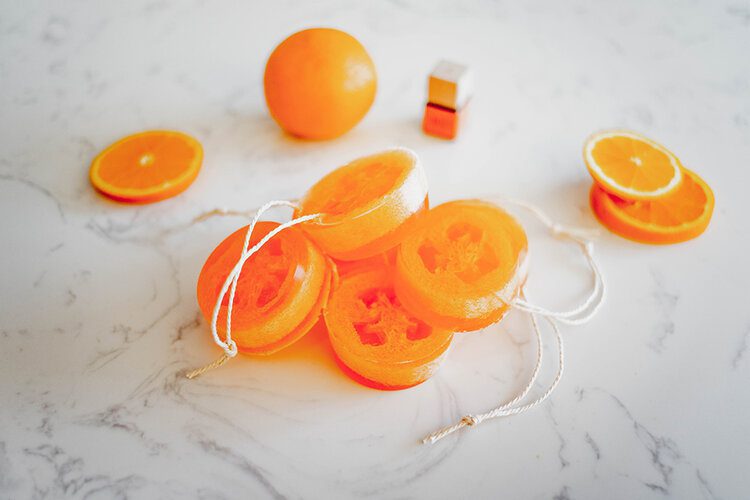 If you have any leftover soap mixture you can pour it into other moulds.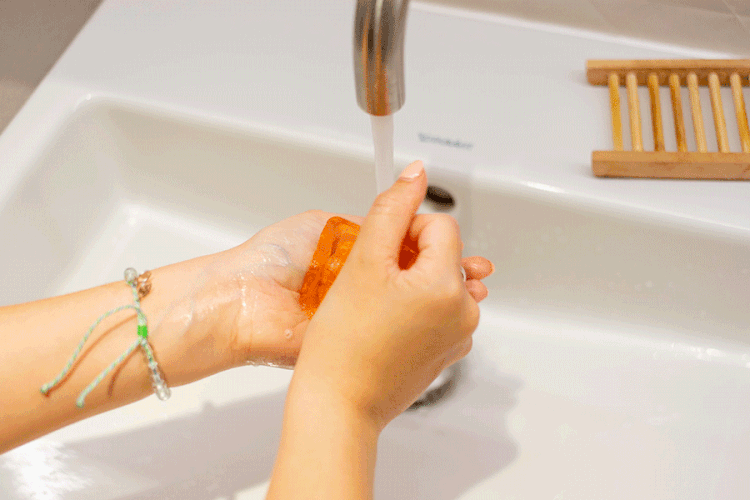 What is a loofah/luffa?
Loofah (or luffa) is the fruit of a tropical vine plant related to the cucumber family. The fruit, that looks much like a courgette, is left out to dry for 6+ months after which the husk can be re-hydrated to form a coarse sponge that will naturally exfoliate skin by brushing away dead skin cells and it stimulates blood circulation.
Once you are ready to discard your used loofah you can simply compost it.
You can either buy a slice of loofah for £1.60 or a whole loofah for £7.50 from Coconut & Cotton which you can cut up yourself.
Do I need to use a loofah to make this soap?
No you don't need to insert a loofah into your soap to use this soap making tutorial. You can leave out the loofah or alternatively you can use poppy seeds as another natural exfoliant.
Is soap making difficult?
Making homemade soap with a melt and pour soap base is not difficult. It only takes about half an hour to make and pour and then an hour and a half to set. I recommend using a melt and pour soap base because soap making with lye or sodium hydroxide can be dangerous if you don't know what you're doing.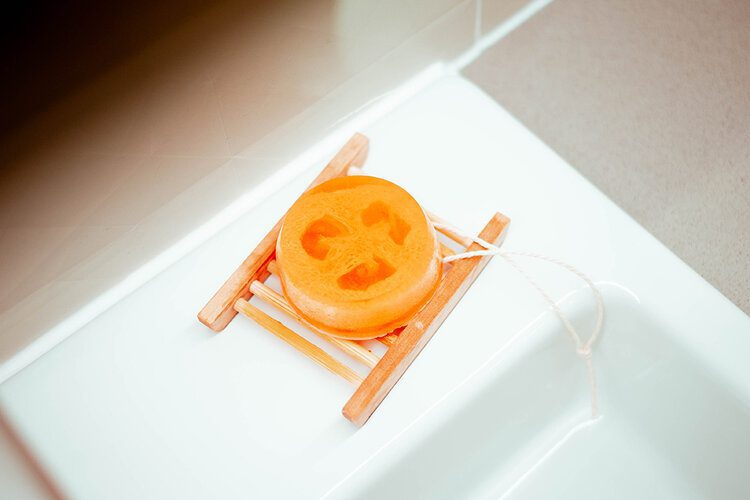 Is homemade soap vegan?
The Stephenson melt and pour crystal soap base that I use is 100% vegetable based so yes it is vegan. It is also paraben free, biodegradable and isn't tested on animals.
Which essential oils are best to use in handmade loofah soap? 
You can use any combination of essential oils you like. Coconut & Cotton has a collection of 17 essential oils by Bio Scents, a Portuguese company who bottle 100% organic essential oils in reduced plastic packaging. Choosing your essential oil really depends on the effect you want the scent of your soap to have whilst you use it, for example:
Lavender essential oil in soap
Bio Scents lavender essential oil will soothe, de-stress and encourage a relaxed state of mind. Lavender scented soap is ideal to use before bedtime. 
Citrus essential oil in soap 
Any citrus essential oil such as Bio Scents lemon essential oil or the Bio Scents sweet orange essential oil from Coconut & Cotton is known for being uplifting and specifically orange essential oil can support clean skin.
Eucalyptus essential oil in soap
Eucalyptus essential oil is known for being stimulating and rejuvenating so it's ideal for using in the shower first thing in the morning. It's also ideal for when you have a cold or the flu because it helps to clear congested sinuses.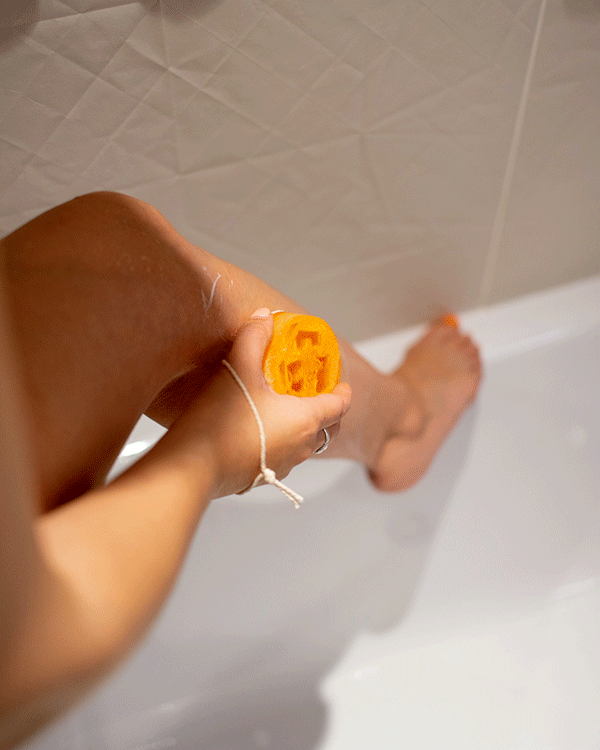 Do I need to use soap colouring in my handmade soap? 
You don't need to use soap colouring, the only thing adding soap colouring does is change the colour of the soap from translucent to whichever colour you choose. It ultimately makes the soap fun to look at so if you want to save money you don't need to add soap colouring.
If you do choose to add soap colouring you can match it to the colour of your essential oil: purple with lavender, orange with orange etc.@coconut.and.cotton for amusing content of the owner, Lucy, as she shares new products and eco-conscious tips.
How long does handmade soap take to cool?
The soap will take about an hour to set at room temperature but to be certain it has before popping it out of the mould, leave it to cool for at least an hour and a half.
.
If making your own soap isn't quite your thing and for some reason you've made it this far in this blog post then I recommend buying some heavenly scented bars of French Marseille soap – they're my favorite bars of soap when I'm not making them myself!
Follow @coconut.and.cotton for amusing content of the owner, Lucy, as she shares new products and eco-conscious tips.