On a May bank holiday Monday, Michael and I took a day trip from London to Brighton to spend a day on the beach.
As I only spent a day in Brighton this isn't a blog post that suggests the only or most important things to do in Brighton, instead it's an account of how we spent our day visiting Brighton. In this Brighton travel guide you'll find a few classic things to do such as take a leisurely stroll along the promenade and the Brighton Palace Pier, touristy adventures such as window shopping in The Lanes and taking a flight up the BA i360 and tips on parking and where to take pretty photos for Instagram.
Read on for my quick travel guide for spending a day in Brighton by the beach.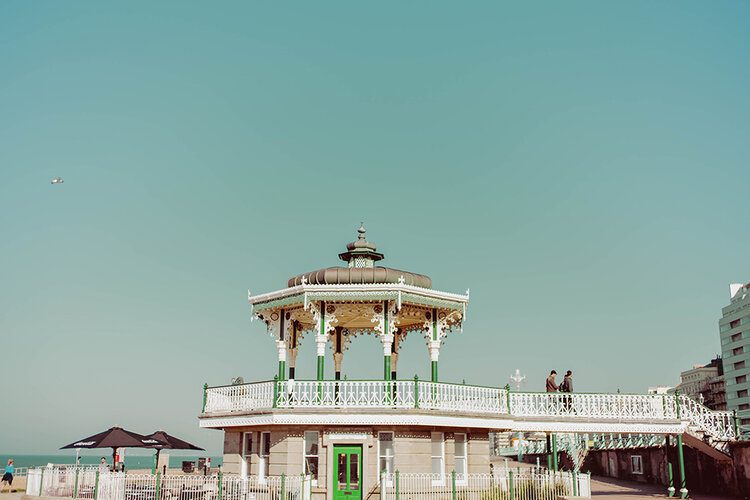 Parking in Brighton 
If you're spending most of your time in Brighton by the seaside, the best car park/parking lot for a short walk to the beach is The Lanes NCP car park.
If you're planning to visit Brighton on a sunny day you should expect very long queues into all the car parks. To guarantee a space and avoid needing to stalk other people in car parks in the hopes that they're leaving, you need to arrive and park by 8.30am. 
We got to The Lanes car park at 7am and there were plenty of spaces. It did however say full on the sign outside but it wasn't so try your luck even if the sign says otherwise.
Google Maps might send you the wrong way to the entrance of the car park like it did for us, so to avoid going around in circles, when you get close stick to the A259 (the beachfront road) and follow the road signs to The Lanes. If you aren't familiar with UK road signs, look for a blue box with a white "P" in it.
Cost of parking at The Lanes car park in Brighton
Weekdays
1 hour £4 
2 hours £8 
4 hours £17.50 
9 hours £24 
24 hours £29  
Weekends
1 hour £4.50
2 hours £10
4 hours £18.50
9 hours £24 
24 hours £29
A backup car park that's close to the beach is the Churchill Shopping Centre car park.
Brighton Beach Bandstand
Getting photos isn't the most important thing to do on any trip but if it is something important to you for work, Instagram or simply creating cute mementos (all the good reasons why I create my Instagram guides) then Brighton's bandstand is a really cute spot.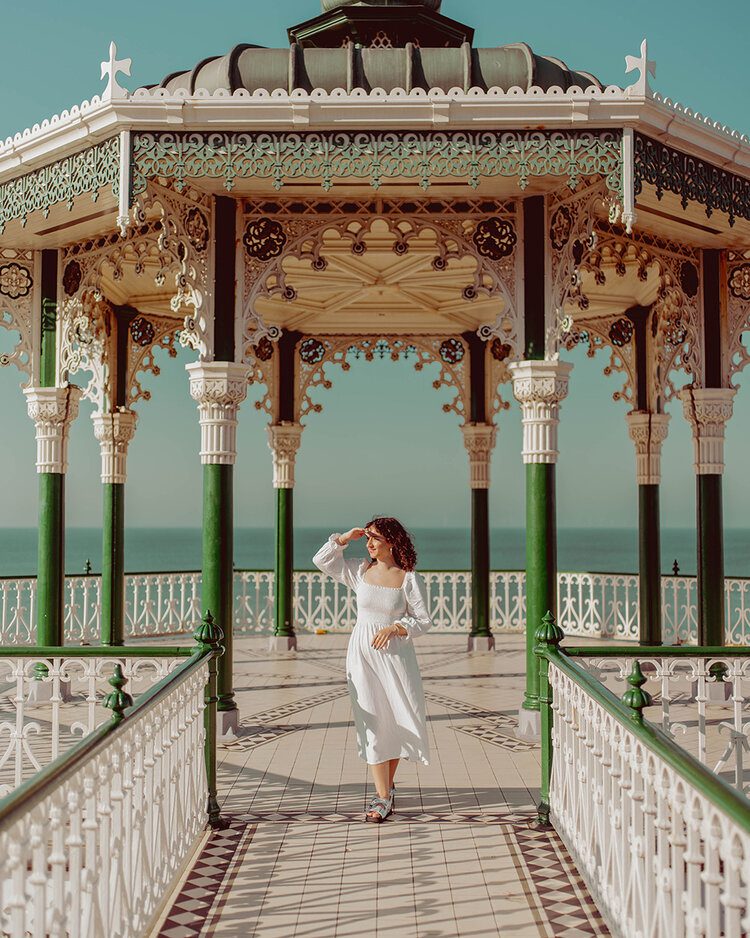 This gorgeous Victorian bandstand was originally built in 1884 and restored in 2009. From this pretty little piece of the past you can look out to sea and dream of a time gone by.
Throughout the summer months you can catch musical performances at Brighton's Bandstand.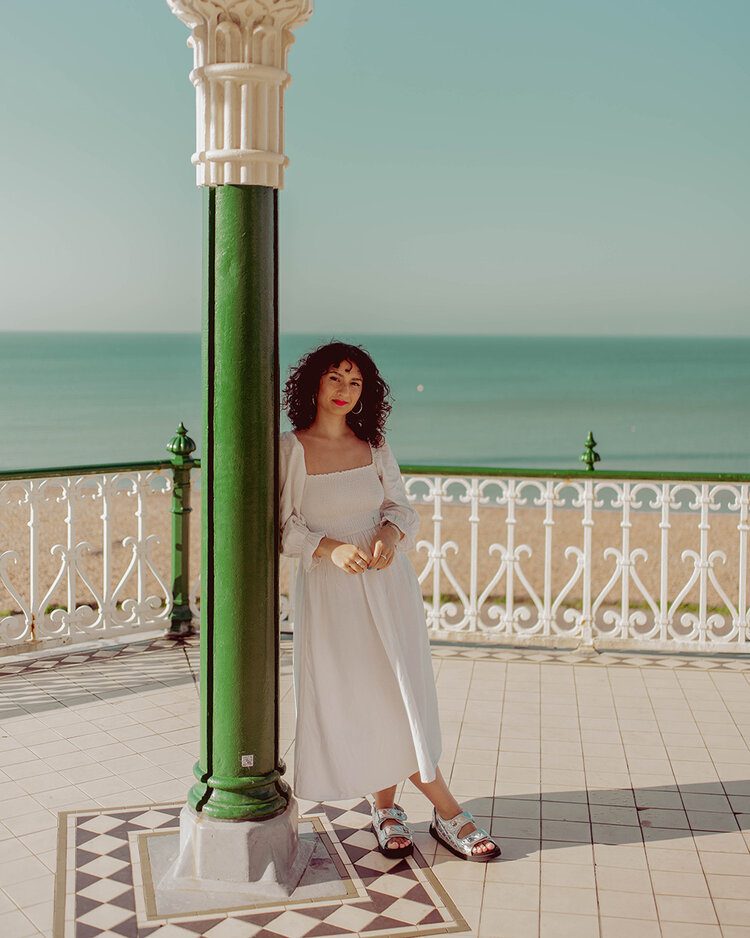 Stroll along Brighton promenade
As you can expect, on a sunny day Brighton beach is packed so I recommend taking a leisurely stroll along the promenade early in the morning. Between 7am – 9am is your sweet spot, at this time Brighton's beachfront is quiet and romantic and it's your best chance to enjoy the centuries old architecture to the soundtrack of gentles waves lapping upon the shingle shore. A stark contrast to the afternoon, particularly in summer, where it is more reminiscent of Ocean Drive in Miami: sure there's the beautiful architecture and the lovely beach but there's also multiple seafront venues pounding out karaoke hits much to the amusement of many piddled adolescents.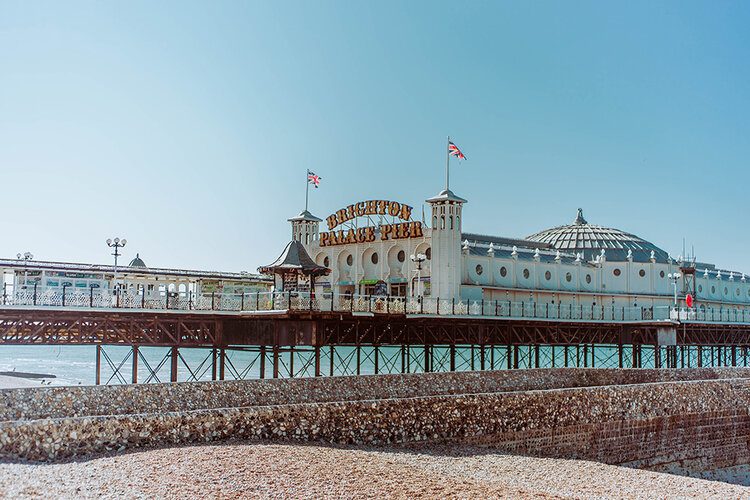 If you aren't bothered with crowds then by all means avoid the early bird walk, but if you want to experience a peaceful Brighton beachfront that feels like it's been created just for you then go early.
Where to get coffee in Brighton
If you followed my advice and arrived early to guarantee parking, then you'll possibly be flagging by this point and in need of a caffeine fix. I wasn't in Brighton long enough to try enough coffee to say where you should go but we enjoyed the two places we went so I'll happily share those. 
The first was The Flour Pot Bakery on Sydney Street where there's both outdoor and indoor seating. They have a small but delicious selection of homemade pastries including vegan options, I had a vegan croissant and Michael had a vegan coconut pain au chocolat. The Flour Pot bakery has 4 other locations including one on the beach. Make sure you bring your reusable coffee cup as they aren't currently serving mugs.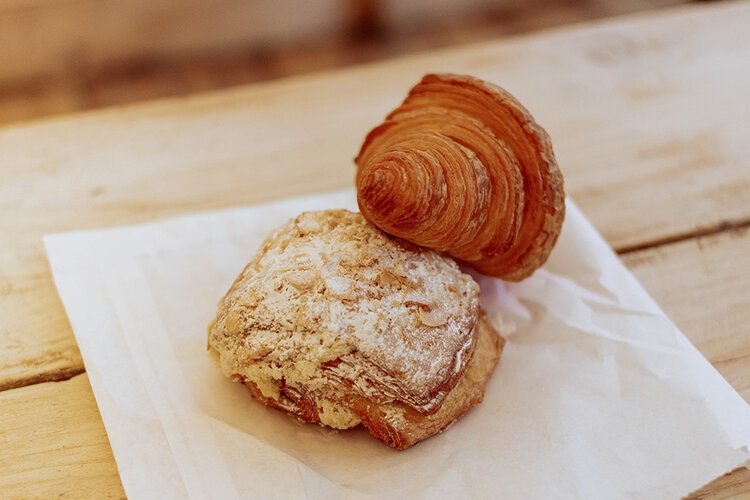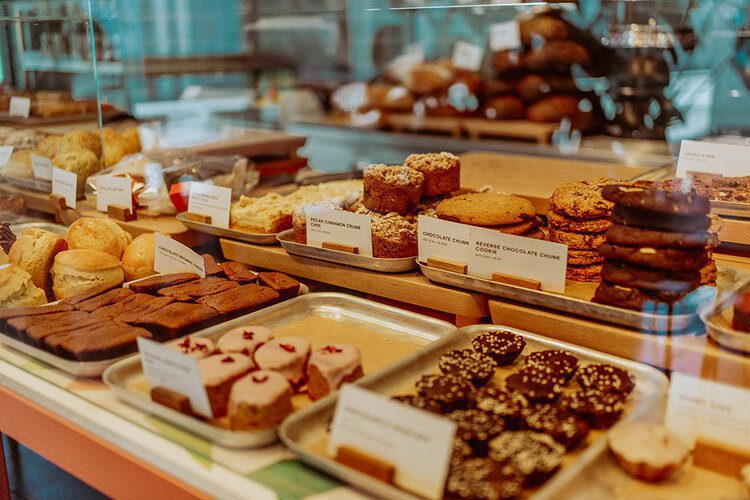 I spotted a a few cafés down Kensington Gardens whose cakes looked enticing too.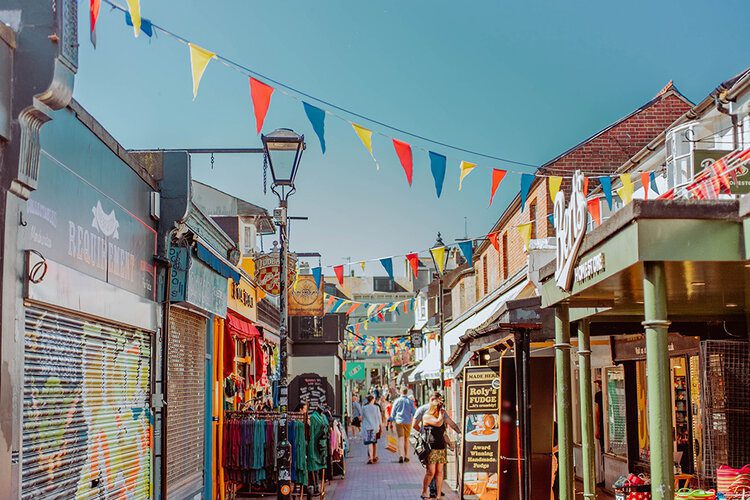 The Lanes
The Lanes is a neighbourhood in Brighton made of narrow alleyways that wind through an assortment of restaurants, pubs and many, many jewellers. I'm talking diamonds on diamonds on diamonds. Even if you're not there to shop, window shopping all the sparkles is a fun thing to do whilst in Brighton.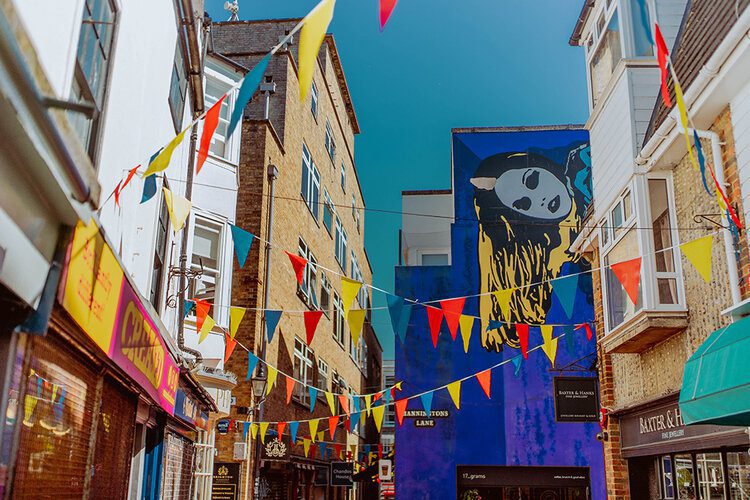 British Airways i360
As a travel blogger who hasn't stepped into an airport let alone an aeroplane for over a year, checking into the BA i360 with staff dressed in cabin crew uniform was an absolute delight and no doubt I was giddier than a 30 minute ride in a bar warranted.
The glass pod offers 360° views of Brighton and Hove and on a clear day you can see all the way to Isle of Wight. Inside is a bar serving local gin cocktails but I recommend getting your drink from the bar on the deck outside (if it's not raining) so you can beeline for the edge to guarantee a good view.
BA i360 ticket costs
Ticket prices start from:
Adult (25+) £16.50
16-24 years £11.10
Children aged 4-15 years £8.25
Under 3 years go free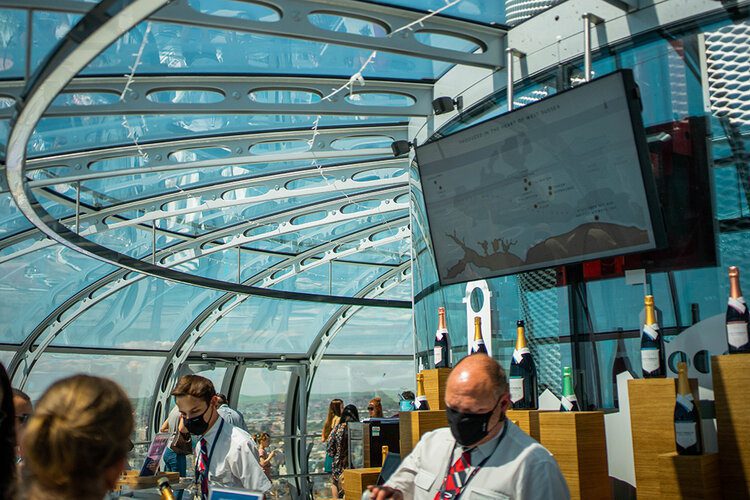 BA i360 opening hours
31st May-6th June 10am-9pm
7th June-25th July Mon-Thurs 10am-6.30pm
7th June-25th July Fri, Sat and Sun 10am-9pm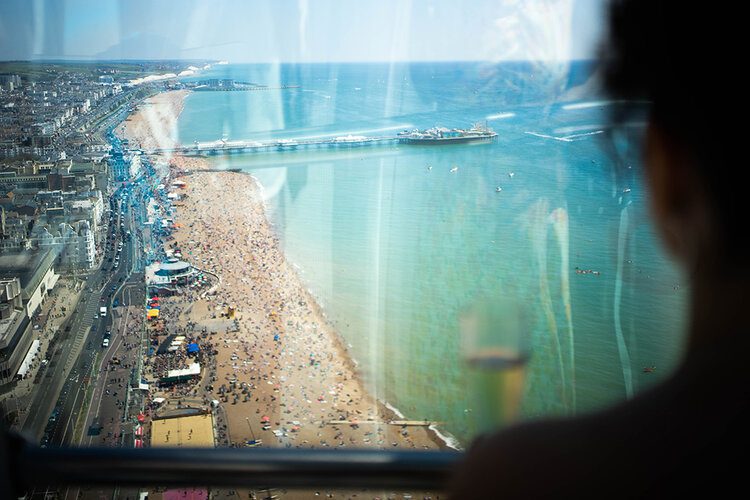 Brighton Royal Pavilion & Museums Trust
With a keen fascination with the Orient and "exotic interiors", in 1797 King George IV (before he was crowned the King of England) commissioned the Royal Pavilion to be built in Brighton. It was finally completed in 1823 leaving the King only 7 years to enjoy it before he passed away. 
The exterior was inspired by Indian architecture whilst the interior was influenced by China.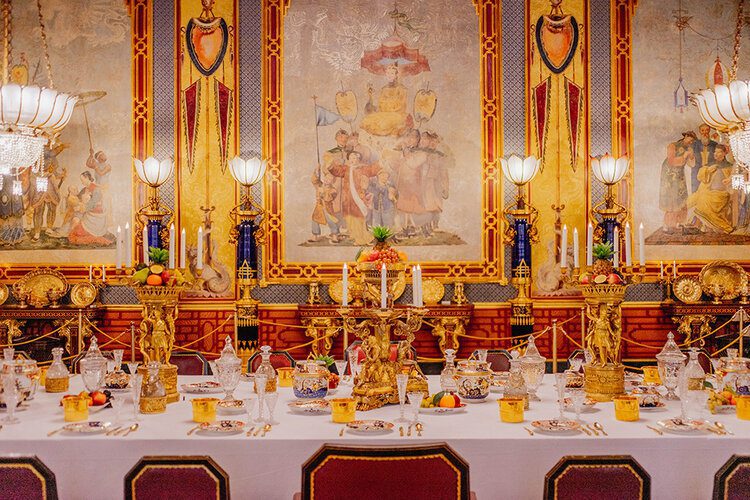 When Queen Victoria succeeded him she used the pavilion a royal residence until 1850 when she sold it to Brighton Town Commissioners. You can learn more about its past including its time served as a hospital during WWI.
PFH Fun Fact: the domes are reinforced with iron birdcages on the interior. The chandeliers hanging within the pavilion were once removed to be placed within Buckingham Palace but they were too heavy and had to return to the Pavilion. The iron birdcages are the only structures strong enough to support them.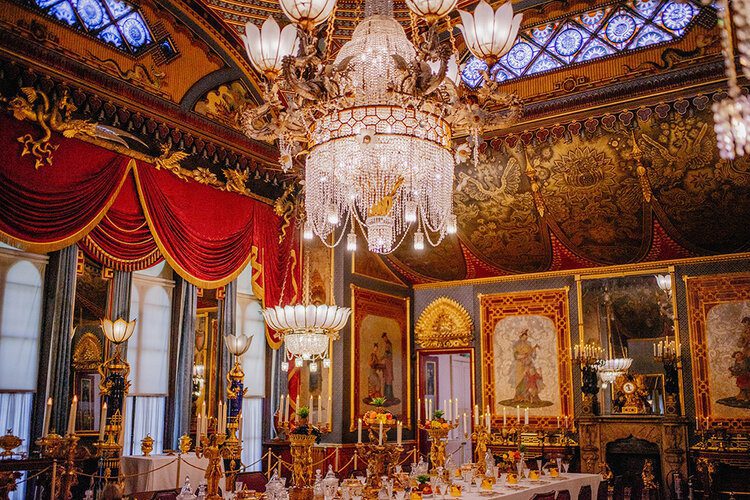 Brighton Royal Pavilion ticket costs
Adult £16
Child aged 5-18 £10
1 adult and 2 children £26
2 adults and 2 children £42
Brighton Royal Pavilion opening hours 
April-September 9.30am-5.45pm
October-March 10am-5.15pm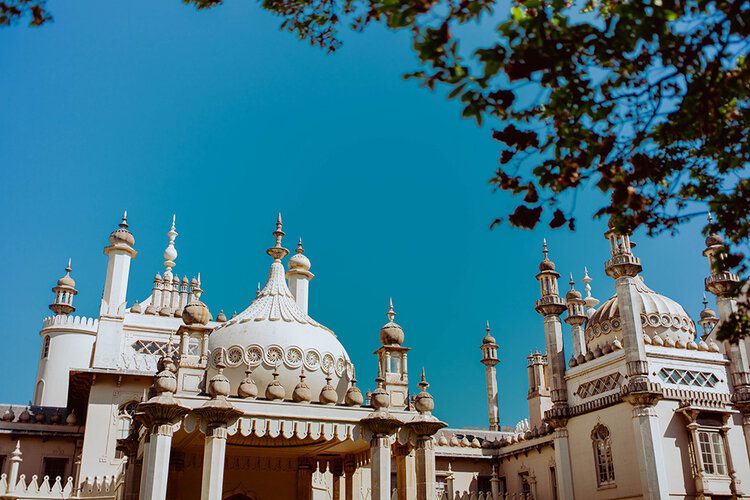 Brighton Palace Pier
Brighton Palace Pier is packed full of vendors selling all the classic seaside sweet treats you can imagine including cotton candy and rock, arcades and funfair rides. It gets packed pretty early in the day so avoid crowds by visiting early in the morning.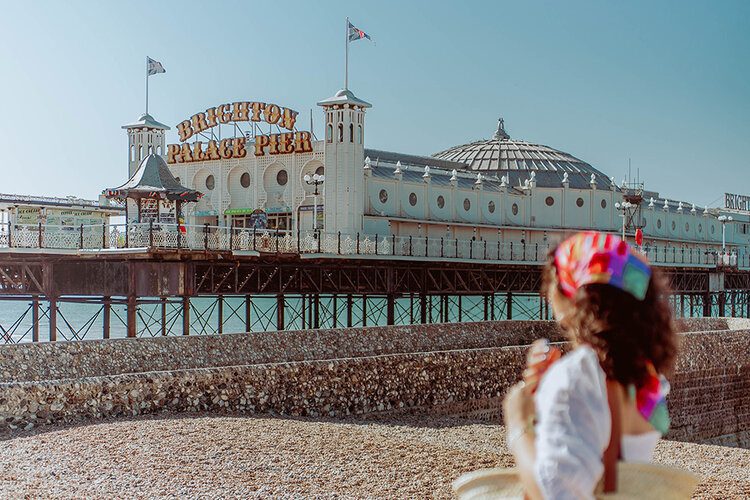 PFH Top Tip: WATCH OUT FOR SEAGULLS! If you get doughnuts, chips or cotton candy on the pier be wary of seagulls. For the second time poor Michael had his food pinched right from his hand by ruthless seagulls.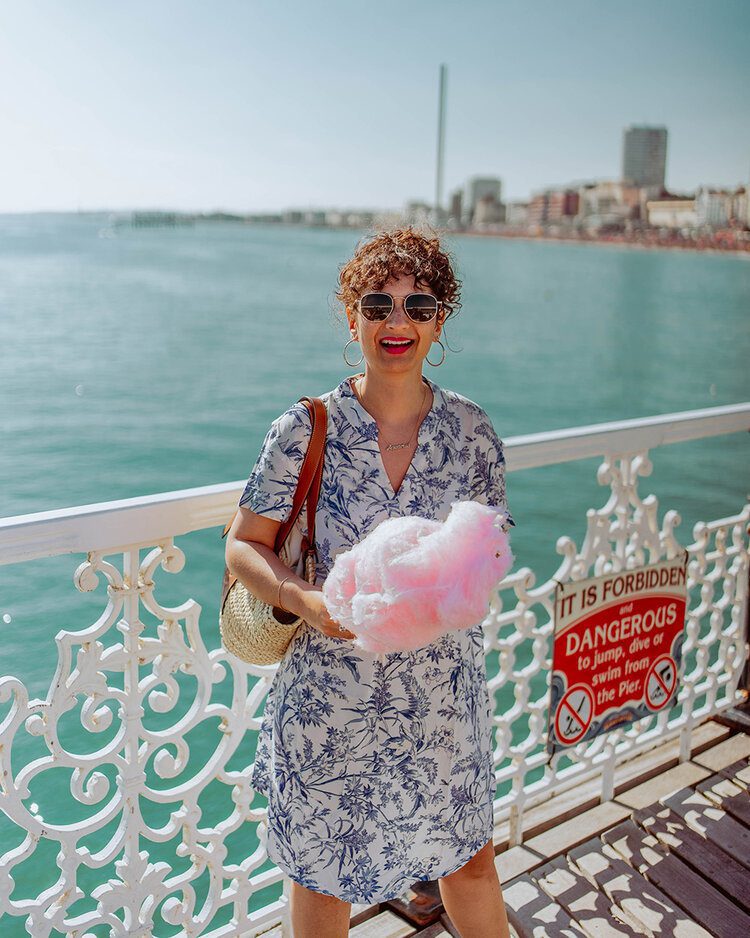 If you fancy doughnuts (you know the little sugar ring doughnuts found at all beach resort towns in England), don't get them from the kiosk on the right entrance of the pier. We got doughnuts from here and they were more like waffles and the sugar didn't stick. After Michael got his doughnut pinched by seagulls we got more on the pier and they were much better.
Chips on Brighton Beach
Eating chips on any beach in England is a classic thing to do and there's plenty of fish and chippies along the beach front and on the pier. 
Unfortunately we poorly timed getting dinner and could not face those big ass queues so we went in from the beach and found a vegan restaurant called The Vurger Co. It's a vegan fast food restaurant that serves all your favourites including shakes, fried "chicken" and burgers. Even better than this all their packaging is compostable and they have a zero to landfill policy.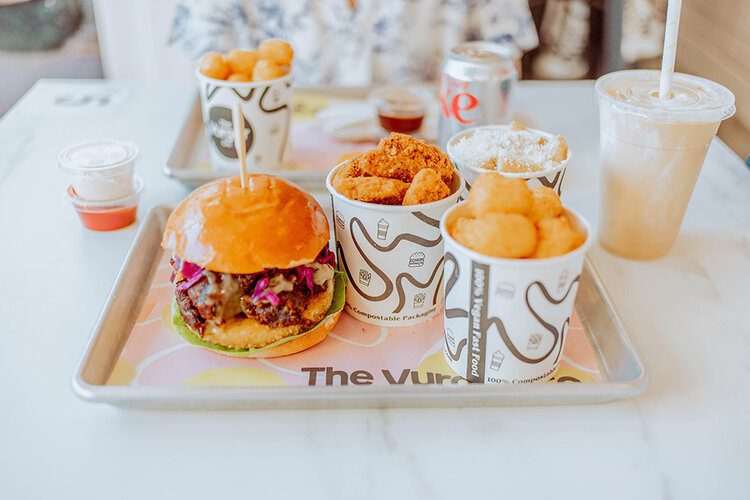 I hope you enjoy your trip to Brighton, if you find this guide for how to spend a day in Brighton useful let me know in the comments below!
Do more on & for the planet, Gabriella